May 11th 10:00: Symposium with ICR SAB member Giulio Superti-Furga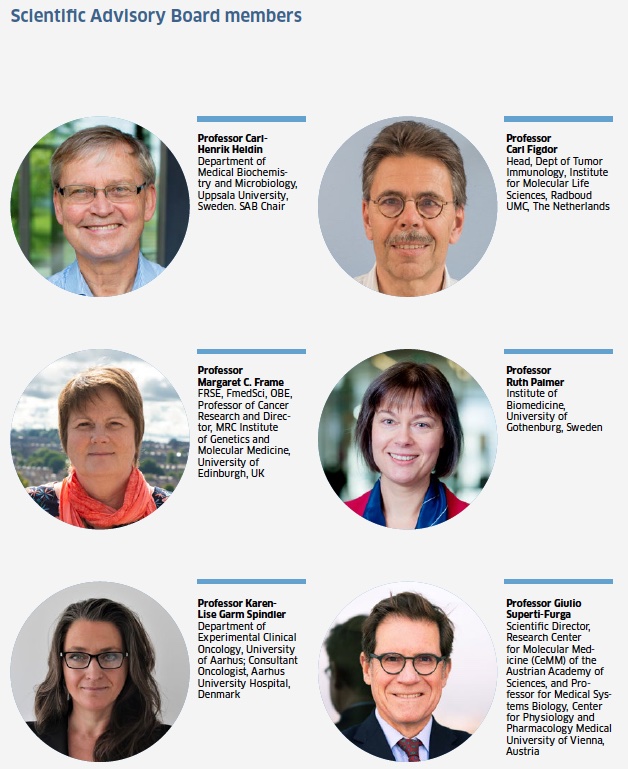 Invitation from Kjetil Taskén, head of the Institute for Cancer Research (ICR):
Get to know the ICR Scientific Advisory Board!
In conjunction with the SAB visit and evaluation/advise to the ICR on May 9-10, we had talks by the SAB members on May 8 in a symposium on Cancer Biology which had Margaret Frame, Karen-Lise Garm Spindler, Carl Figdor, Ruth Palmer and Carl-Henrik Heldin as speakers.
SAB Member Giulio Superti-Furga will give a Guest Lecture on May 11th, entitled "Understanding and modulating disease by targeting transporter".
Programme
Monday May 8th
ICR SAB Member Symposium on Cancer Biology (20 min each + 5 minutes discussion)
13:30 - 13:50 Margarete Frame
A new potent inhibitor of the Src/FAK complex; functional links between Src/FAK, gene expression in the nucleus and anti-tumour immunity
13:55 - 14:15 Karen-Lise Garm Spindler
Clincal application for ctDNA in cancer therapy – an up-date
14:20 – 14:40 Carl Figdor
Synthetic immune system approaches in cancer immunotherapy
14:45 – 15:15 Break
15:15 – 15:35 Ruth Palmer
Exploiting model organisms to interrogate ALK signaling in neuroblastoma
15:40 – 16:00 Carl-Henrik Heldin
Targeting pro-tumorigenic TGFb signaling in tumor treatment
ICR SAB Member Guest Lecture
Thursday May 11th
10:00 – 10:40 Giulio Superti-Furga
Understanding and modulating disease by targeting transporters