Prestigious grant to Tor Erik Rusten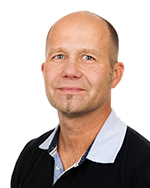 As one of 24 PIs in Norway (all disciplines included), Tor Erik Rusten, who is group leader at Institute for Cancer Research and PI in Centre for Cancer Cell Reprogramming (CanCell), has been awarded a prestigious "Toppforsk" grant from the Research Council for the project "Tumor-Host Biology".
Each of the 24 projects receive between 15 and 25 mill NOK. The grants are aimed at research communities that have the potential to become international leaders within their fields.
Two of the 24 selected projects are led by group leaders at the Institute for Cancer Research. The other is Karl-Erik Malmberg from the Department of Cancer Immunology.