Dag Berild awarded the "Akademikerprisen" for his work on antibiotic resistance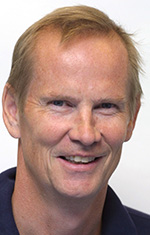 Dag Berild from the Department of Infectious Diseases at the Division of Medicine has recently been awarded the "Akademikerprisen".
Berild receives the prize for his important work within the field of antibiotic resistance, which is considered one of the major global Health threats of today.
The "Akademikerprisen" will be distributed during the Akademikernes fall Meeting October 27th. Berild will here receive a sculpture from the artist Nico Widerberg and a sum amounting to 100.000 NOK.