Oslo University Hospital has awarded 6 excellent articles for the second half-year of 2015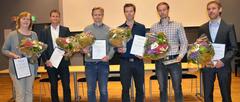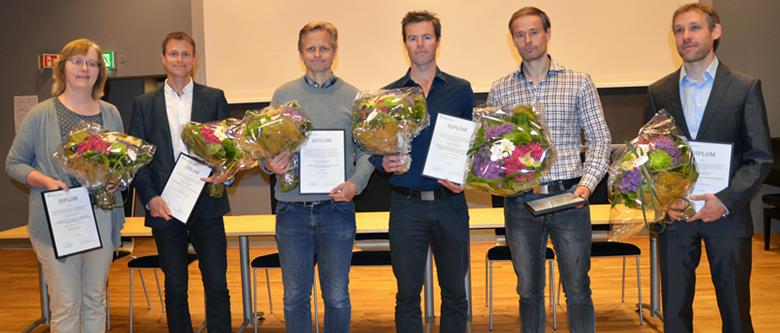 In order to stimulate excellent research and draw attention to the hospital's extensive research activity, Oslo University Hospital reward outstanding publications regularly.

Six research groups were awarded for their excellent papers published during the second half-year of 2015 during a ceremony June 17th. Each group was given NOK 50.000 for use in further research. The prize winners gave short presentations of the main findings in their respective articles.

The six selected articles are of especially high quality, and they present important finding on both-short and long-term scales. The works reflect the good quality and the interdisciplinarity that characterises several research environments at Oslo University Hospital. The research is a fundamental condition for the institution to maintain and strenghten the quality in the patient treatment.
Every half-year, six of the very best papers authored by scientists working on the hospital (first or last author must be affiliated to OUS) are selected. The nomination takes place through the research panel of each division. The final selection process is performed by an external committee.
Award winners second halv-year 2015:
Markus Krohn et al.
Accumulation of murine amyloid-β mimics early Alzheimer's disease, Brain
Authors: Markus Krohn, Alexander Bracke, Yosef Avchalumov, Toni Schumacher, Jacqueline Hofrichter, Kristin Paarmann, Christina Fröhlich, Cathleen Lange,Thomas Brüning, Oliver von Bohlen und Halbach, Jens Pahnke
---
Jarle Bruun et al.
Regulator of Chromosome Condensation 2 Identifies High-Risk Patients within Both Major Phenotypes of Colorectal Cancer, Clinical Cancer Research
Authors: Jarle Bruun, Matthias Kolberg, Terje C. Ahlquist, Ellen C. Røyrvik, Torfinn Nome, Edward Leithe, Guro E. Lind, Marianne A. Merok, Torleiv O. Rognum, Geir Bjørkøy, Terje Johansen, Annika Lindblom, Xiao-Feng Sun, Aud Svindland, Knut Liestøl, Arild Nesbakken, Rolf I. Skotheim, Ragnhild A. Lothe
---
Vesterhus og Hov et al.
Enhanced liver fibrosis score predicts transplant-free survival in primary sclerosing cholangitis, Hepatology
Authors: Mette Vesterhus, Johannes Roksund Hov, Anders Holm, Erik Schrumpf, Ståle Nygård, Kristin Godang, Ina Marie Andersen, Sigrid Næss, Douglas Thorburn, Francesca Saffioti, Morten Vatn, Odd Helge Gilja, Fridtjof Lund-Johansen, Trygve Syversveen, Knut Brabrand, Albert Parés, Cyriel Y. Ponsioen, Massimo Pinzani, Martti Färkkilä, Bjørn Moum, Thor Ueland, Helge Røsjø, William Rosenberg, Kirsten Muri Boberg, Tom H. Karlsen
---
Jarle Jortveit et al.
Sudden unexpected death in children with congenital heart defects, European Heart Journal
Authors: Jarle Jortveit, Leif Eskedal, Asle Hirth, Tatiana Fomina, Gaute Døhlen, Petter Hagemo, Grethe S. Tell, Sigurd Birkeland, Nina Øyen, Henrik Holmstrøm
---
Ruta Tuckuviene et al.
Prospective study of thromboembolism in 1038 children with acute lymphoblastic leukemia: a Nordic Society of Pediatric Hematology and Oncology (NOPHO) study, Journal of Thrombosis and Haemostasis
Authors: Tuckuviene R, Ranta S, Albertsen BK, Andersson NG, Bendtsen MD, Frisk T, Gunnes MW, Helgestad J, Heyman MM, Jonsson OG, Mäkipernaa A, Pruunsild K, Tedgård U, Trakymiene SS, Ruud E
---
Klaus Murbraech et al.
Heart Failure and Asymptomatic Left Ventricular Systolic Dysfunction in Lymphoma Survivors Treated With Autologous Stem-Cell Transplantation: A National Cross-Sectional Study, Journal of Clinical Oncology
Authors: Klaus Murbraech, Knut B. Smeland, Harald Holte, Jon Håvard Loge, May Brit Lund, Torgeir Wethal, Espen Holte, Assami Rösner, Håvard Dalen, Stein Kvaløy, Ragnhild S. Falk, Svend Aakhus, Cecilie E. Kiserud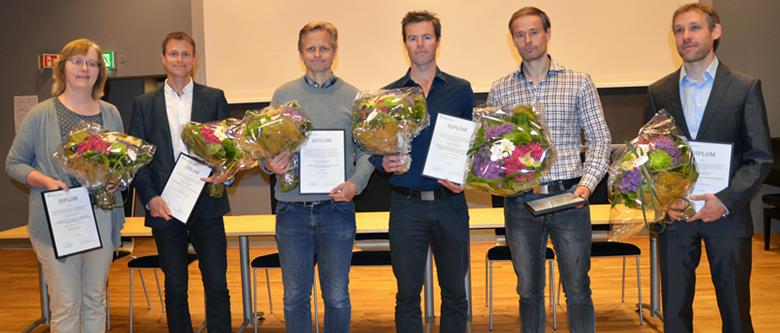 From left: Ellen Ruud (Division of Paediatric and Adolescent Medicine), Jarle Jortveit (Division of Paediatric and Adolescent Medicine), Johannes Roksund Hov (Surgery, Inflammation Medicine and Transplantation), Klaus Murbræch (Division of Cardiovascular and Pulmonary Diseases), Jarle Bruun (Divison of Cancer Medicine) og Markus Krohn (Division of Laboratory Medicine). Photo: Børge Einrem
---
Link:
Link to article from oslo-universitetssykehus.no, with presentations in Norwegian of the award winning artcles:
Seks nye vinnere av priser for fremragende forskningsartikler