Fridtjof Nansen awards for excellent research to Anne-Lise Børresen-Dale and Jan Terje Andersen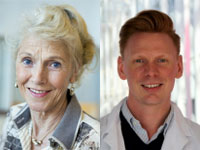 The Fridtjof Nansen's award for excellent molecular cancer research goes to Anne-Lise Børresen-Dale from the Department of Genetics at the Institue for Cancer Research, OUH for the year of 2015.
The Fridtjof Nansen award for young researchers goes to Jan Terje Andersen from the Department of Immunology at the Division of Diagnostics and Intervention, OUH. He is also associated with the Centre for Immune Regulation (CIR).
The awards will be distributed during the annual meeting for The Norwegian Academy of Science and Letters at Grand hotel Monday May 4th.