Molecular and immunological MS studies Ongoing projects
In the MultipleMS (Home - MultipleMS), Prof. Hanne F. Harbo is PI and work package leader. The consortium has more than 20 academic partners and aims at develop novel personalized medicine approaches for MS patients.
---
An advanced study of Multiple Sclerosis and Parkinson's Disease big-data to identify molecular mechanisms for disease risk
PhD fellowship project – funded by Oslo Metropolitan University
More information: visit the home page of stipendate Chiara Cappelletti.
---
Proteomic approaches to identify dysregulation of T cells in MS
Funding provided by diverse sources (Biogen Idec, Sanofy Genzymes, Odd Fellow Society, Halvor Høies foundation
---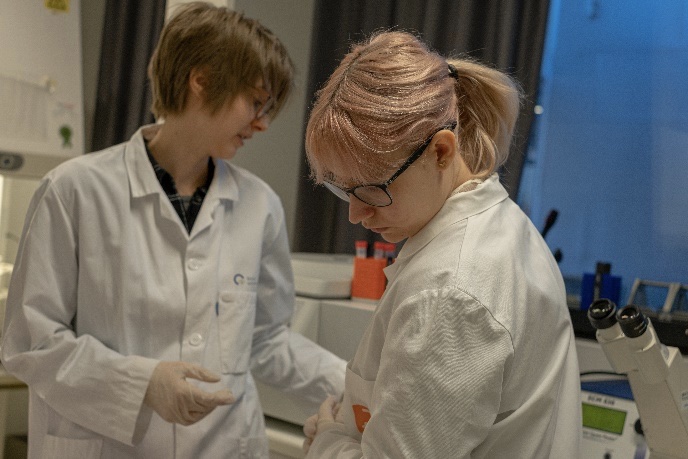 Molecular and Functional Characterization of MS susceptibility genes
This spring Yngvild Tronstad and Sophie Alseen completed their Bachelor studies in Biochemistry and Applied Chemistry at Oslo Metropolitan University. Their Bacherlor thesis work was performed in our lab, studying the function of the MS susceptibility gene, DEXI.
---
Neurofilament as an MS disease marker
PhD fellowship project – funded by South Eastern Norway Health Authorities.
---
epiNOR-MS: Identification of epigenetic biomarkers for treatment response in Multiple Sclerosis - implications for precision medicine
This is a project performed in close collaboration with NOR-MS study group (OUH) and Kristina Gervin in the Neurogenetics Research group (OUH). We have received funding from MS forbundet and Odd Fellow Society to start up the project.
---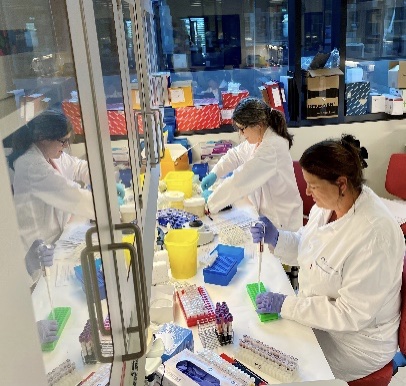 Multiple sclerosis and aging – a real world, population-based cohort study
A research project headed by Cecilia Smith Simonsen from Vestre Viken Hospital, Drammen.
Tone Berge and her colleague from the Neuroscience Research Unit (NRU), researcher and associate Professor Linda M Pedersen prepare DNA samples for epigenetic analyses in the NRU lab at Domus Medica 4, Gaustad, Oslo.