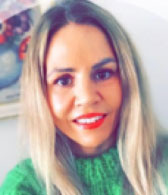 Cecilie Siegwarth
Psychiatric nurse/Quality consultant
+47 23 01 63 57
Responsibilities
Cecilie's responsibilities is to update, review and create/develop governing documentations in the electronic support system (eHåndboka) and other related documents in cooperation with the management team and other resource staff at RASP. Her work also includes some clinical activity at RASP. Among other things, she works as a therapist in the Multi-Family Therapy group, and assist in the diagnostic evaluation of patients.
Additional responsibilities include:
Follow up new employee programs are organized, coordinate and follow up students.
Follow up patient's safety and provide suggestions for advice.
Leading self-control (internally) and attend revision.
Assist in the current process of outcome assessment and register responsible in NorSpis.
Coordinate cooperation between the research team and the clinical units in the planning and implementation of research projects.
Is currently writing an article about recovery based on her master thesis.