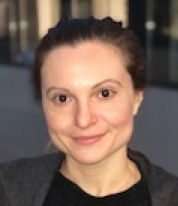 Monica Chivulescu
Dr. Chivulescu studied medicine at Faculty of Medicine, Ovidius University of Constanta, graduating in 2012. She completed her internship in cardiology in 2017 after doing her rotations at Institute for Cardiovascular Diseases, Bucharest, Romania.
Dr. Chivulescu was awarded with a six-month research grant from the Romanian Society of Cardiology and joined the research group at Oslo University Hospital late the same year.
Her research is focused on arrhythmic cardiomyopathies.
Monica Chivulescu, MD, began her PhD fellowship in 2019 under the supervision of Professor Kristina Haugaa, MD, PhD, and Professor Thor Edvardsen, MD, PhD.