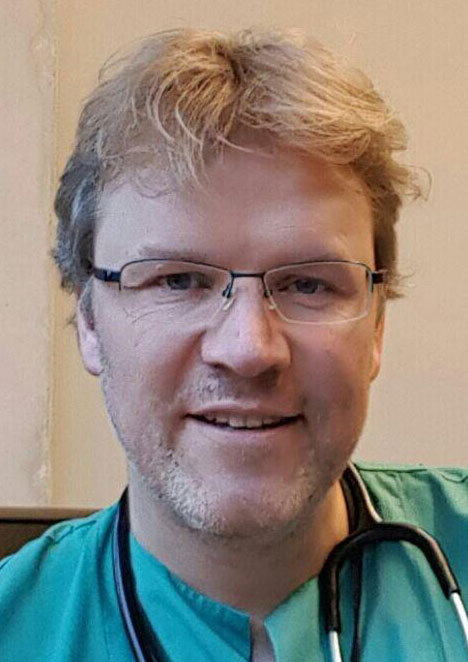 Pål Haugar Brekke
After graduating from the University of Bergen and residency at Vestfold Hospital in Tønsberg, Brekke has worked at Akershus University Hospital from 2002, and at Rikshospitalet since 2012. Brekke is a board certified Specialist in Internal Medicine and Cardiology.
From 2006-2010, Brekke was a PhD fellow at Akershus University Hospital (Ahus), focusing on markers of myocardial injury in patients with chronic obstructive pulmonary disease. Concurrently, he held a part time position at the University of Oslo, teaching research methodology and epidemiology.
Brekke joined the CCI in 2017, where his research is focused on the development of new ultrasound technologies and methods. He is also employed part time by the Norwegian Research Council funded BigMed project, in which big data analytics are being employed to improve sudden cardiac death prediction and prevention.
Publications 2019
Klaeboe LG, Brekke PH, Lie ØH, Aaberge L, Haugaa KH, Edvardsen T (2019)
Classical mechanical dyssynchrony is rare in transcatheter aortic valve implantation-induced left bundle branch block
Eur Heart J Cardiovasc Imaging, 20 (3), 271-278
DOI 10.1093/ehjci/jey127, PubMed 30247533
Kvale KF, Bersvendsen J, Remme EW, Salles S, Aalen JM, Brekke PH, Edvardsen T, Samset E (2019)
Detection of Regional Mechanical Activation of the Left Ventricular Myocardium using High Frame Rate Ultrasound Imaging
IEEE Trans Med Imaging (in press)
DOI 10.1109/TMI.2019.2909358, PubMed 30969919
Publications 2018
Hasselberg NE, Haland TF, Saberniak J, Brekke PH, Berge KE, Leren TP, Edvardsen T, Haugaa KH (2018)
Lamin A/C cardiomyopathy: young onset, high penetrance, and frequent need for heart transplantation
Eur Heart J, 39 (10), 853-860
DOI 10.1093/eurheartj/ehx596, PubMed 29095976
Publications 2017
Faiz KW, Einvik G, Brekke PH, Omland T (2017)
Cardiac Troponin T Increase in Patients with Acute Ischemic Stroke with and without Cancer
Clin Chem, 64 (2), 404-406
DOI 10.1373/clinchem.2017.280016, PubMed 29167194
Klaeboe LG, Haland TF, Leren IS, Ter Bekke RMA, Brekke PH, Røsjø H, Omland T, Gullestad L, Aakhus S, Haugaa KH, Edvardsen T (2017)
Prognostic Value of Left Ventricular Deformation Parameters in Patients with Severe Aortic Stenosis: A Pilot Study of the Usefulness of Strain Echocardiography
J Am Soc Echocardiogr, 30 (8), 727-735.e1
DOI 10.1016/j.echo.2017.04.009, PubMed 28599826
Sigernes F, Ellingsen PG, Partamies N, Syrjasuo M, Brekke P, Holmen SE, Danielsen A, Olsen B, Chen XC, Dyrland M, Baddeley L, Lorentzen DA, Krogtoft MA, Dragland T, Mortensson H, Smistad L, Heinselman CJ, Habbal S (2017)
Video cascade accumulation of the total solar eclipse on Svalbard 2015
Geosci. Instrum. Methods Data Syst., 6 (1), 9-14
Southwood D, Brekke P (2017)
Norway's most celebrated scientist
Astron. Geophys., 58 (5), 28-31
Publications 2016
Winther JA, Brynildsen J, Høiseth AD, Følling I, Brekke PH, Christensen G, Hagve TA, Verbalis JG, Omland T, Røsjø H (2016)
Prevalence and Prognostic Significance of Hyponatremia in Patients with Acute Exacerbation of Chronic Obstructive Pulmonary Disease: Data from the Akershus Cardiac Examination (ACE) 2 Study
PLoS One, 11 (8), e0161232
DOI 10.1371/journal.pone.0161232, PubMed 27529844
Publications 2015
Brekke P (2015)
NORWEGIAN NATIONAL REPORT - ARCTIC ACCESS TO SPACE
ESA SPEC PUBL, 730, 43-52
Publications 2014
Faiz KW, Thommessen B, Einvik G, Brekke PH, Omland T, Rønning OM (2014)
Determinants of high sensitivity cardiac troponin T elevation in acute ischemic stroke
BMC Neurol, 14, 96
DOI 10.1186/1471-2377-14-96, PubMed 24885286
Høiseth AD, Neukamm A, Hagve TA, Omland T, Brekke PH, Søyseth V (2014)
The clinical value of serial measurement of high-sensitivity cardiac troponin T in acute exacerbations ofchronic obstructive pulmonary disease
Open Heart, 1 (1), e000001
DOI 10.1136/openhrt-2013-000001, PubMed 25332772
Publications 2013
Brekke P (2013)
NORWEGIAN NATIONAL REPORT - ARCTIC ACCESS TO SPACE
ESA SPEC PUBL, 721, 23-32
Brekke P, Steen R, Onsager T, Wintoft P, Olaussen A, Pirjola R, Stauning P, Sundelius B, Ohnstad T, Marti L (2013)
Space Weather and Challenges for Modern Society
Space Weather, 11 (1), 3-4
Høiseth AD, Omland T, Karlsson BD, Brekke PH, Søyseth V (2013)
Standardized evaluation of lung congestion during COPD exacerbation better identifies patients at risk of dying
Int J Chron Obstruct Pulmon Dis, 8, 621-9
DOI 10.2147/COPD.S52854, PubMed 24353412
Publications 2012
Høiseth AD, Omland T, Hagve TA, Brekke PH, Søyseth V (2012)
Determinants of high-sensitivity cardiac troponin T during acute exacerbation of chronic obstructive pulmonary disease: a prospective cohort study
BMC Pulm Med, 12, 22
DOI 10.1186/1471-2466-12-22, PubMed 22651225
Høiseth AD, Omland T, Hagve TA, Brekke PH, Søyseth V (2012)
NT-proBNP independently predicts long term mortality after acute exacerbation of COPD - a prospective cohort study
Respir Res, 13, 97
DOI 10.1186/1465-9921-13-97, PubMed 23107284
Publications 2011
Brekke P (2011)
NORWEGIAN NATIONAL REPORT - ARCTIC ACCESS TO SPACE
ESA SPEC PUBL, 700, 23-31
Høiseth AD, Neukamm A, Karlsson BD, Omland T, Brekke PH, Søyseth V (2011)
Elevated high-sensitivity cardiac troponin T is associated with increased mortality after acute exacerbation of chronic obstructive pulmonary disease
Thorax, 66 (9), 775-81
DOI 10.1136/thx.2010.153122, PubMed 21653926
Juzeniene A, Brekke P, Dahlback A, Andersson-Engels S, Reichrath J, Moan K, Holick MF, Grant WB, Moan J (2011)
Solar radiation and human health
Rep. Prog. Phys., 74 (6), 066701
Sigernes F, Dyrland M, Brekke P, Chernouss S, Lorentzen DA, Oksavik K, Deehr CS (2011)
Two methods to forecast auroral displays
J. Space Weather Space Clim., 1 (1), UNSP A03
Publications 2009
Brekke PH, Omland T, Holmedal SH, Smith P, Søyseth V (2009)
Determinants of cardiac troponin T elevation in COPD exacerbation - a cross-sectional study
BMC Pulm Med, 9, 35
DOI 10.1186/1471-2466-9-35, PubMed 19615100
Publications 2008
Brekke PH, Omland T, Smith P, Søyseth V (2008)
Underdiagnosis of myocardial infarction in COPD - Cardiac Infarction Injury Score (CIIS) in patients hospitalised for COPD exacerbation
Respir Med, 102 (9), 1243-7
DOI 10.1016/j.rmed.2008.04.010, PubMed 18595681
Publications 2007
Brekke PH, Omland T, Holmedal SH, Smith P, Søyseth V (2007)
Troponin T elevation and long-term mortality after chronic obstructive pulmonary disease exacerbation
Eur Respir J, 31 (3), 563-70
DOI 10.1183/09031936.00015807, PubMed 18032444
Publications 2006
Søyseth V, Brekke PH, Smith P, Omland T (2006)
Statin use is associated with reduced mortality in COPD
Eur Respir J, 29 (2), 279-83
DOI 10.1183/09031936.00106406, PubMed 17050558