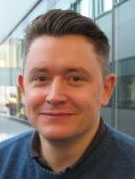 Lars Andreas Dejgaard
Lars Andreas got his medical degree at Aarhus University, Denmark 2007.
He did his internship at Kongsberg Hospital. He worked clinically for 6 years in the medical departments at Kongsberg and Drammen Hospital, starting from August 2008. He joined the Center for Cardiological Innovation as a PhD fellow in February 2015. His PhD research is focused on the use of different echocardiographic techniques for the assessment of the risk for sudden cardiac death in cardiomyopathies.
Supervisors are: Associate Professor Kristina Hermann Haugaa, MD, PhD and Professor Thor Edvardsen, MD, PhD.
Publications 2019
Dejgaard LA, Lie ØH, Helle-Valle TM, Edvardsen T, Haugaa KH (2019)
Reply: Arrhythmic Mitral Annulus Disjunction and Mitral Valve Prolapse: Components of the Same Clinical Spectrum?
J Am Coll Cardiol, 73 (6), 739-740
DOI 10.1016/j.jacc.2018.12.008, PubMed 30765047
Scheirlynck E, Dejgaard LA, Skjølsvik E, Lie OH, Motoc A, Hopp E, Tanaka K, Ueland T, Ribe M, Collet C, Edvardsen T, Droogmans S, Cosyns B, Haugaa KH (2019)
Increased levels of sST2 in patients with mitral annulus disjunction and ventricular arrhythmias
Open Heart, 6 (1), e001016
DOI 10.1136/openhrt-2019-001016, PubMed 31168386
Publications 2018
Dejgaard LA, Haland TF, Lie OH, Ribe M, Bjune T, Leren IS, Berge KE, Edvardsen T, Haugaa KH (2018)
Vigorous exercise in patients with hypertrophic cardiomyopathy
Int J Cardiol, 250, 157-163
DOI 10.1016/j.ijcard.2017.07.015, PubMed 29169752
Dejgaard LA, Skjølsvik ET, Lie ØH, Ribe M, Stokke MK, Hegbom F, Scheirlynck ES, Gjertsen E, Andresen K, Helle-Valle TM, Hopp E, Edvardsen T, Haugaa KH (2018)
The Mitral Annulus Disjunction Arrhythmic Syndrome
J Am Coll Cardiol, 72 (14), 1600-1609
DOI 10.1016/j.jacc.2018.07.070, PubMed 30261961
Haugaa KH, Dejgaard LA (2018)
Global Longitudinal Strain: Ready for Clinical Use and Guideline Implementation
J Am Coll Cardiol, 71 (18), 1958-1959
DOI 10.1016/j.jacc.2018.03.015, PubMed 29724347
Lie ØH, Dejgaard LA, Saberniak J, Rootwelt C, Stokke MK, Edvardsen T, Haugaa KH (2018)
Harmful Effects of Exercise Intensity and Exercise Duration in Patients With Arrhythmogenic Cardiomyopathy
JACC Clin Electrophysiol, 4 (6), 744-753
DOI 10.1016/j.jacep.2018.01.010, PubMed 29929667
Lie ØH, Rootwelt-Norberg C, Dejgaard LA, Leren IS, Stokke MK, Edvardsen T, Haugaa KH (2018)
Prediction of Life-Threatening Ventricular Arrhythmia in Patients With Arrhythmogenic Cardiomyopathy: A Primary Prevention Cohort Study
JACC Cardiovasc Imaging, 11 (10), 1377-1386
DOI 10.1016/j.jcmg.2018.05.017, PubMed 30031702
Rootwelt-Norberg C, Lie ØH, Dejgaard LA, Chivulescu M, Leren IS, Edvardsen T, Haugaa KH (2018)
Life-threatening arrhythmic presentation in patients with arrhythmogenic cardiomyopathy before and after entering the genomic era; a two-decade experience from a large volume center
Int J Cardiol, 279, 79-83
DOI 10.1016/j.ijcard.2018.12.066, PubMed 30638987
Publications 2017
Dejgaard LA, Haland TF, Lie OH, Ribe M, Bjune T, Leren IS, Berge KE, Edvardsen T, Haugaa KH (2017)
Data on exercise and cardiac imaging in a patient cohort with hypertrophic cardiomyopathy
Data Brief, 15, 30-39
DOI 10.1016/j.dib.2017.08.018, PubMed 28971120
Haland TF, Hasselberg NE, Almaas VM, Dejgaard LA, Saberniak J, Leren IS, Berge KE, Haugaa KH, Edvardsen T (2017)
The systolic paradox in hypertrophic cardiomyopathy
Open Heart, 4 (1), e000571
DOI 10.1136/openhrt-2016-000571, PubMed 28674623
Lie ØH, Saberniak J, Dejgaard LA, Stokke MK, Hegbom F, Anfinsen OG, Edvardsen T, Haugaa KH (2017)
Lower than expected burden of premature ventricular contractions impairs myocardial function
ESC Heart Fail, 4 (4), 585-594
DOI 10.1002/ehf2.12180, PubMed 29154430
Timmermann V, Dejgaard LA, Haugaa KH, Edwards AG, Sundnes J, McCulloch AD, Wall ST (2017)
An integrative appraisal of mechano-electric feedback mechanisms in the heart
Prog Biophys Mol Biol, 130 (Pt B), 404-417
DOI 10.1016/j.pbiomolbio.2017.08.008, PubMed 28851517