Cancer cell plasticity
Contemporary cancer therapeutics are still facing two main challenges: distal spread of the disease and therapy resistance. Multi-drug resistance evolves and the incidence of neuroendocrine prostate cancer, the most aggressive variant, is increasing.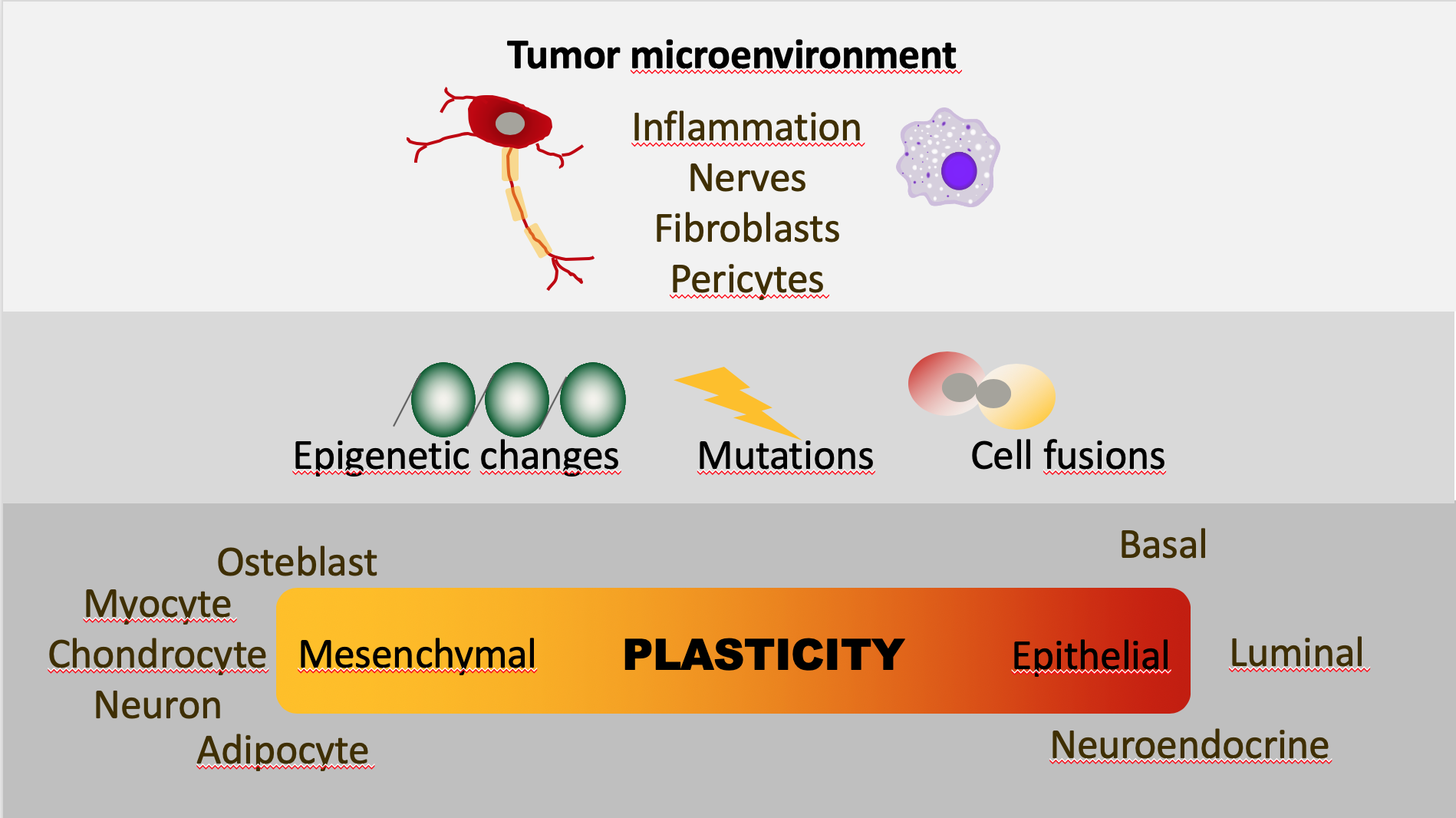 Cancers with high ability to adapt to changing conditions have a higher chance of becoming metastatic and/or drug resistant. The cancer cells can switch between an epithelial and a mesenchymal phenotype during the metastatic process or between an epithelial and neuroendocrine phenotype in therapy resistant cancers.
The sympathetic nerves are essential for tumor initiation in the prostate and have been shown to regulate reactivation of dormant cells in the bone and metastasis in several types of cancer. These nerves represent a potential route of metastasis, but they are also controlling the phenotype of the cancer cells and thereby therapy resistance.
Experimental cancer therapy
An increasing amount of epidemiological evidence points at a potential link between use of beta-blockers and increased cancer-specific survival. In 2013, our group was the first to publish that use of β-adrenergic receptor antagonists, β-blockers, is associated with reduced prostate cancer specific mortality. The publications got a lot of attention both in Norwegian media and within the international urological research community. However, many studies have included small patient cohorts, and have had insufficient statistical power to look at subtype- specific effects, dose-response relationships, and time of use- response relationships. In addition, although biological studies have indicated several potential effects of β-adrenergic signaling and – blockade, research is still needed to lay the ground for initiation of potential randomized clinical trials.
Precision cancer medicine
Clinical trials
Men radically operated for prostate cancer who have a high risk for development of metastatic disease can be offered pelvic lymph node dissection, as lymph nodes are the most common metastatic site. The success rate for finding positive lymph nodes after the dissection is low and new markers are needed to improve the rate of detection.
Sustainable prostate care requires that we are able to identify patients that will respond to the treatment given and that the optimal treatment sequence of different drugs is known. Movember has initiated a global study called IRONMAN that aim to answer these questions through collection of real-world data and blood samples. At least 5000 men with advanced prostate cancer will be included world-wide of which 200 men will be recruited from Norway.
Biomarkers
Biomarkers that guide treatment decisions are needed to optimize the care of individual patients. This can be tissue-based biomarkers or non-invasive biomarkers. The multi-focal and heterogenous nature of prostate cancer makes non-invasive biomarkers attractive, but is challenged by the contribution from other cell types and organs.
We have identified a serum biomarker that potentially can be used to select patients with locally advanced disease for either mono – or combination therapy (radiation and/or androgen deprivation therapy). The biomarker has been patented and validated in several, independent large European cohorts. We have also identified several tissue biomarkers (see table with links) and have a special interest in biomarkers associated with response to androgen deprivation therapy.
Clinical Relevance

Project

Diagnosis GS ≥7

Upgrading biopsy-RP

BCR

Metastatic

CRPC

PCSM

Therapy guidance

Non-invasive

x

x

x

x

x

x

x

x

x

x

x

Tissue

x

x

x

x

x

x

x

x

x

x

x

x

x

x

x

x