Scientific accomplishments
Early Career Award 2017
Group leader Johannes E.R.Hov was awarded Early Career Award by the Scientific Advisory Board of Oslo University Hospital. The official ceremony took place on Friday, May 5th 2016 at OUS, Rikshospitalet.
---
Prize on outstanding original article 2016
Mette Vesterhus Johannes Roksund Hov
We congratulate Mette Vesterhus and Johannes Roksund Hov on the Oslo University Hospital's prize on outstanding original article they won with:
Enhanced liver fibrosis score predicts transplant-free survival in primary sclerosing cholangitis (published in Hepatology)
The authors of the article are: Mette Vesterhus, Johannes Roksund Hov, Anders Holm, Erik Schrumpf, Ståle Nygård, Kristin Godang, Ina Marie Andersen, Sigrid Næss, Douglas Thorburn, Francesca Saffioti, Morten Vatn, Odd Helge Gilja, Fridtjof Lund-Johansen, Trygve Syversveen, Knut Brabrand, Albert Parés, Cyriel Y. Ponsioen, Massimo Pinzani, Martti Färkkilä, Bjørn Moum, Thor Ueland, Helge Røsjø, William Rosenberg, Kirsten Muri Boberg, and Tom H. Karlsen
All award winning articles were published in the second half of 2015. The awards are of NOK 50.000,- and are earmarked for further research activities.
To make research a visible part of Oslo University Hospital (OUS)'s activities and to inspire all employees to publish their scientific findings OUS has established this tradition to award the authors of the best publications in every sixth month.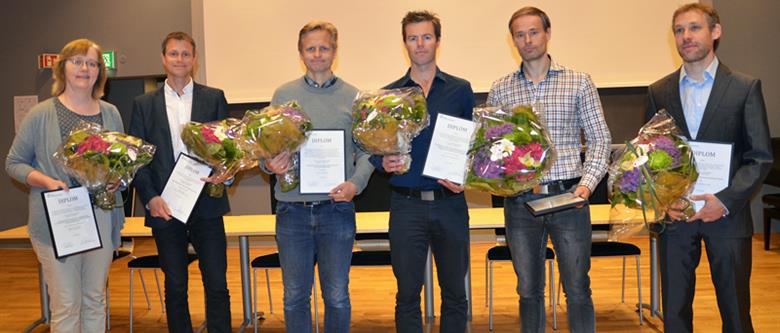 Johannes R. Hov (number three from the left) with the diploma he won together with Mette Vesterhus (Photo: Børge Einrem, OUS)
---
Early Career Award 2016
Group leader Espen Melum was awarded Early Career Award by the Scientific Advisory Board of Oslo University Hospital. The official ceremony took place on Friday, May 27th at OUS, Rikshospitalet.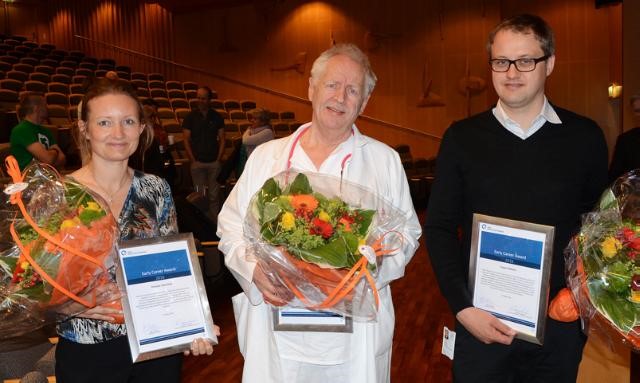 This year's outstanding scholars in 2016: Pål Aukrust (Excellent Research Award) flanked by Therese Seierstad and Espen Melum (both Early Career Awards). (Photo: Børge Einrem, OUS)
---
Same, but different? Genetic analysis of five immune mediated diseases reveals molecular taxonomy of chronic inflammation
Tom Hemming Karlsen
A genetic analysis recently published in
Nature Genetics
(journal impact factor 29.35) sheds new light on the high comorbidity between primary sclerosing cholangitis (PSC) and inflammatory bowel disease. Researchers from four large disease consortia, encompassing hundreds of researchers from 26 countries, joined forces to combine data from studies of their respective diseases, amounting to 52,262 patients and 34,213 healthy controls. "This study is important because it creates a platform for understanding the molecular make-up of each disease, in the future enabling more specified treatment of chronic inflammatory disease", says Tom Hemming Karlsen, coordinator of one of the participating consortia.
---
NoPSC study of PSC gut microbiota published in Gut
First author Martin Kummen (left) and senior author Johannes Hov
The gut microbiota of patients with primary sclerosing cholangitis (PSC) has low diversity and is highly different from both healthy individuals and inflammatory bowel disease patients without PSC, according to a study by Martin Kummen and co-workers, which is now published online in the prestigious journal Gut (journal impact factor 14.66).
The study represents a milestone at Norwegian PSC Research Center, being the first entirely based on in-house methodology, and also providing an important starting point for studies on the clinical application of gut microbiota in this disease.
---