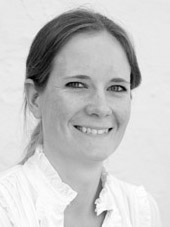 Anita Sveen
Project group leader, Assoc. professor; PhD
+47 2278 1719
Biosketch
Current positions
› Project group leader in Computational Oncology & Assistant group leader in the Lothe lab.
› Associate Professor, Inst. Clinical Medicine, Faculty of Medicine, University of Oslo.
Academic degrees
2012: PhD in cancer genomics, The Faculty of Medicine, University of Oslo, Norway.
2007: MSc in molecular biology, Faculty of Chemistry, Biotechnology and Food Science, Norwegian University of Life Sciences, Ås, Norway.
Areas of Research
› Genomics and transcriptomics for precision therapy of colorectal cancer
› Tumor heterogeneity modeling
› Molecular prediction models for risk assessment and treatment benefit
Prices and Scholarships
2019: Early Career Award (Oslo University Hospital)
2019: Open Call research grant (Norwegian Cancer Society)
2018: Young Research Talent grant (Research Council of Norway)
2018: Postdoc grant (Regional Health Authority)
2017: Onkologisk Forum Young Investigator Award
2015: Personal researcher grant (Norwegian Cancer Society)
Most relevant publications
› Sveen A, Kopetz S, Lothe RA. Biomarker-guided therapy for colorectal cancer: strength in complexity. Nat Rev Clin Oncol 2019; doi: 10.1038/s41571-019-0241-1.
› Smeby J, Sveen A, Merok MA, Danielsen SA, Eilertsen IA, Guren MG, Dienstmann R, Nesbakken A, Lothe RA. CMS-dependent prognostic impact of KRAS and BRAFV600E mutations in primary colorectal cancer. Ann Oncol 2018;29(5):1227-1234.
› Sveen A, Bruun J, Eide PW, Eilertsen IA, Ramirez L, Murumägi A, Arjama M, Danielsen SA, Kryeziu K, Elez E, Tabernero J, Guinney J, Palmer HG, Nesbakken A, Kallioniemi O, Dienstmann R, Lothe RA. Colorectal cancer consensus molecular subtypes translated to preclinical models uncover potentially targetable cancer cell dependencies. Clin Cancer Res 2017;24(4):794-806.
› Eide PW, Bruun J, Lothe RA, Sveen A. CMScaller: an R package for consensus molecular subtyping of colorectal cancer pre-clinical models. Sci Rep 2017;7(1):16618.
› Sveen A, Johannessen B, Tengs T, Danielsen SA, Eilertsen IA, Lind GE, Berg KCG, Leithe E, Meza-Zepeda LA, Domingo E, Myklebost O, Kerr D, Tomlinson I, Nesbakken A, Skotheim RI, Lothe RA. Multilevel genomics of colorectal cancers with microsatellite instability - clinical impact of JAK1 mutations and consensus molecular subtype 1. Genome Med 2017;9(1):46.
› Sveen A, Løes IM, Alagaratnam S, Nilsen G, Høland M, Lingjærde OC, Sorbye H, Berg KC, Horn A, Angelsen JH, Knappskog S, Lønning PE, Lothe RA. Intra-patient inter-metastatic genetic heterogeneity in colorectal cancer as a key determinant of survival after curative liver resection. PLoS Genet 2016;12(7):e1006225.
› Sveen A, Kilpinen S, Ruusulehto A, Lothe RA, Skotheim RI. Aberrant RNA splicing in cancer; expression changes and driver mutations of splicing factor genes. Oncogene 2015;35(19):2413-27.
› Agesen TH, Sveen A, Merok MA, Lind GE, Nesbakken A, Skotheim RI, Lothe RA. ColoGuideEx: a robust gene classifier specific for stage II colorectal cancer prognosis. Gut 2012;61(11):1560-7.
All publications
Publications 2022
Bergsland CH, Jeanmougin M, Moosavi SH, Svindland A, Bruun J, Nesbakken A, Sveen A, Lothe RA (2022)
Spatial analysis and CD25-expression identify regulatory T cells as predictors of a poor prognosis in colorectal cancer
Mod Pathol, 35 (9), 1236-1246
DOI 10.1038/s41379-022-01086-8, PubMed 35484226
Kryeziu K, Bergsland CH, Guren TK, Sveen A, Lothe RA (2022)
Multiplex immunohistochemistry of metastatic colorectal cancer and ex vivo tumor avatars
Biochim Biophys Acta Rev Cancer, 1877 (1), 188682
DOI 10.1016/j.bbcan.2022.188682, PubMed 35065193
Strømme JM, Johannessen B, Kidd SG, Bogaard M, Carm KT, Zhang X, Sveen A, Mathelier A, Lothe RA, Axcrona U, Axcrona K, Skotheim RI (2022)
Expressed prognostic biomarkers for primary prostate cancer independent of multifocality and transcriptome heterogeneity
Cancer Gene Ther, 29 (8-9), 1276-1284
DOI 10.1038/s41417-022-00444-7, PubMed 35194199
Publications 2021
Berg KCG, Brunsell TH, Sveen A, Alagaratnam S, Bjørnslett M, Hektoen M, Brudvik KW, Røsok BI, Bjørnbeth BA, Nesbakken A, Lothe RA (2021)
Genomic and prognostic heterogeneity among RAS/BRAFV600E /TP53 co-mutated resectable colorectal liver metastases
Mol Oncol, 15 (4), 830-845
DOI 10.1002/1878-0261.12885, PubMed 33325154
Eide PW, Moosavi SH, Eilertsen IA, Brunsell TH, Langerud J, Berg KCG, Røsok BI, Bjørnbeth BA, Nesbakken A, Lothe RA, Sveen A (2021)
Metastatic heterogeneity of the consensus molecular subtypes of colorectal cancer
NPJ Genom Med, 6 (1), 59
DOI 10.1038/s41525-021-00223-7, PubMed 34262039
Kryeziu K, Moosavi SH, Bergsland CH, Guren MG, Eide PW, Totland MZ, Lassen K, Abildgaard A, Nesbakken A, Sveen A, Lothe RA (2021)
Increased sensitivity to SMAC mimetic LCL161 identified by longitudinal ex vivo pharmacogenomics of recurrent, KRAS mutated rectal cancer liver metastases
J Transl Med, 19 (1), 384
DOI 10.1186/s12967-021-03062-3, PubMed 34496878
Moosavi SH, Eide PW, Eilertsen IA, Brunsell TH, Berg KCG, Røsok BI, Brudvik KW, Bjørnbeth BA, Guren MG, Nesbakken A, Lothe RA, Sveen A (2021)
De novo transcriptomic subtyping of colorectal cancer liver metastases in the context of tumor heterogeneity
Genome Med, 13 (1), 143
DOI 10.1186/s13073-021-00956-1, PubMed 34470666
Slørdahl KS, Klotz D, Olsen JÅ, Skovlund E, Undseth C, Abildgaard HL, Brændengen M, Nesbakken A, Larsen SG, Hanekamp BA, Holmboe L, Tvedt R, Sveen A, Lothe RA, Malinen E, Kaasa S, Guren MG (2021)
Treatment outcomes and prognostic factors after chemoradiotherapy for anal cancer
Acta Oncol, 60 (7), 921-930
DOI 10.1080/0284186X.2021.1918763, PubMed 33966592
Sveen A, Johannessen B, Eilertsen IA, Røsok BI, Gulla M, Eide PW, Bruun J, Kryeziu K, Meza-Zepeda LA, Myklebost O, Bjørnbeth BA, Skotheim RI, Nesbakken A, Lothe RA (2021)
The expressed mutational landscape of microsatellite stable colorectal cancers
Genome Med, 13 (1), 142
DOI 10.1186/s13073-021-00955-2, PubMed 34470667
Publications 2020
Bergsland CH, Bruun J, Guren MG, Svindland A, Bjørnslett M, Smeby J, Hektoen M, Kolberg M, Domingo E, Pellinen T, Tomlinson I, Kerr D, Church DN, Nesbakken A, Sveen A, Lothe RA (2020)
Prediction of relapse-free survival according to adjuvant chemotherapy and regulator of chromosome condensation 2 (RCC2) expression in colorectal cancer
ESMO Open, 5 (6), e001040
DOI 10.1136/esmoopen-2020-001040, PubMed 33219056
Bruun J, Kryeziu K, Eide PW, Moosavi SH, Eilertsen IA, Langerud J, Røsok B, Totland MZ, Brunsell TH, Pellinen T, Saarela J, Bergsland CH, Palmer HG, Brudvik KW, Guren T, Dienstmann R, Guren MG, Nesbakken A, Bjørnbeth BA, Sveen A, Lothe RA (2020)
Patient-Derived Organoids from Multiple Colorectal Cancer Liver Metastases Reveal Moderate Intra-patient Pharmacotranscriptomic Heterogeneity
Clin Cancer Res, 26 (15), 4107-4119
DOI 10.1158/1078-0432.CCR-19-3637, PubMed 32299813
Flatin BTB, Vedeld HM, Pinto R, Langerud J, Lind GE, Lothe RA, Sveen A, Jeanmougin M (2020)
Multiregional assessment of CIMP in primary colorectal cancers: Phenotype concordance but marker variability
Int J Cancer, 148 (7), 1652-1657
DOI 10.1002/ijc.33425, PubMed 33284993
Jeanmougin M, Håvik AB, Cekaite L, Brandal P, Sveen A, Meling TR, Ågesen TH, Scheie D, Heim S, Lothe RA, Lind GE (2020)
Improved prognostication of glioblastoma beyond molecular subtyping by transcriptional profiling of the tumor microenvironment
Mol Oncol, 14 (5), 1016-1027
DOI 10.1002/1878-0261.12668, PubMed 32171051
Smeby J, Kryeziu K, Berg KCG, Eilertsen IA, Eide PW, Johannessen B, Guren MG, Nesbakken A, Bruun J, Lothe RA, Sveen A (2020)
Molecular correlates of sensitivity to PARP inhibition beyond homologous recombination deficiency in pre-clinical models of colorectal cancer point to wild-type TP53 activity
EBioMedicine, 59, 102923
DOI 10.1016/j.ebiom.2020.102923, PubMed 32799124
Wise JF, Nakken S, Steen CB, Vodák D, Trøen G, Johannessen B, Lingjærde OC, Hilden V, Blaker YN, Bai B, Aasheim LB, Pasanen A, Lorenz S, Sveen A, Lothe RA, Myklebost O, Leppä S, Meza-Zepeda LA, Beiske K, Lawrence MS, Hovig E, Myklebust JH, Smeland EB, Holte H (2020)
Mutational dynamics and immune evasion in diffuse large B-cell lymphoma explored in a relapse-enriched patient series
Blood Adv, 4 (9), 1859-1866
DOI 10.1182/bloodadvances.2019001325, PubMed 32374878
Publications 2019
Berg KCG, Sveen A, Høland M, Alagaratnam S, Berg M, Danielsen SA, Nesbakken A, Søreide K, Lothe RA (2019)
Gene expression profiles of CMS2-epithelial/canonical colorectal cancers are largely driven by DNA copy number gains
Oncogene, 38 (33), 6109-6122
DOI 10.1038/s41388-019-0868-5, PubMed 31308487
Brunsell TH, Cengija V, Sveen A, Bjørnbeth BA, Røsok BI, Brudvik KW, Guren MG, Lothe RA, Abildgaard A, Nesbakken A (2019)
Heterogeneous radiological response to neoadjuvant therapy is associated with poor prognosis after resection of colorectal liver metastases
Eur J Surg Oncol, 45 (12), 2340-2346
DOI 10.1016/j.ejso.2019.07.017, PubMed 31350075
Brunsell TH, Sveen A, Bjørnbeth BA, Røsok BI, Danielsen SA, Brudvik KW, Berg KCG, Johannessen B, Cengija V, Abildgaard A, Guren MG, Nesbakken A, Lothe RA (2019)
High Concordance and Negative Prognostic Impact of RAS/BRAF/PIK3CA Mutations in Multiple Resected Colorectal Liver Metastases
Clin Colorectal Cancer, 19 (1), e26-e47
DOI 10.1016/j.clcc.2019.09.003, PubMed 31982351
Dienstmann R, Villacampa G, Sveen A, Mason MJ, Niedzwiecki D, Nesbakken A, Moreno V, Warren RS, Lothe RA, Guinney J (2019)
Relative contribution of clinicopathological variables, genomic markers, transcriptomic subtyping and microenvironment features for outcome prediction in stage II/III colorectal cancer
Ann Oncol, 30 (10), 1622-1629
DOI 10.1093/annonc/mdz287, PubMed 31504112
Eide PW, Eilertsen IA, Sveen A, Lothe RA (2019)
Long noncoding RNA MIR31HG is a bona fide prognostic marker with colorectal cancer cell-intrinsic properties
Int J Cancer, 144 (11), 2843-2853
DOI 10.1002/ijc.31998, PubMed 30447009
Eilertsen IA, Moosavi SH, Strømme JM, Nesbakken A, Johannessen B, Lothe RA, Sveen A (2019)
Technical differences between sequencing and microarray platforms impact transcriptomic subtyping of colorectal cancer
Cancer Lett, 469, 246-255
DOI 10.1016/j.canlet.2019.10.040, PubMed 31678167
Glaire MA, Domingo E, Sveen A, Bruun J, Nesbakken A, Nicholson G, Novelli M, Lawson K, Oukrif D, Kildal W, Danielsen HE, Kerr R, Kerr D, Tomlinson I, Lothe RA, Church DN (2019)
Tumour-infiltrating CD8+ lymphocytes and colorectal cancer recurrence by tumour and nodal stage
Br J Cancer, 121 (6), 474-482
DOI 10.1038/s41416-019-0540-4, PubMed 31388185
Glaire MA, Domingo E, Sveen A, Bruun J, Nesbakken A, Nicholson G, Novelli M, Lawson K, Oukrif D, Kildal W, Danielsen HE, Kerr R, Kerr D, Tomlinson I, Lothe RA, Church DN (2019)
Correction: Tumour-infiltrating CD8+ lymphocytes and colorectal cancer recurrence by tumour and nodal stage
Br J Cancer, 121 (9), 807
DOI 10.1038/s41416-019-0590-7, PubMed 31548598
Kryeziu K, Bruun J, Guren TK, Sveen A, Lothe RA (2019)
Combination therapies with HSP90 inhibitors against colorectal cancer
Biochim Biophys Acta Rev Cancer, 1871 (2), 240-247
DOI 10.1016/j.bbcan.2019.01.002, PubMed 30708039
Smeby J, Sveen A, Bergsland CH, Eilertsen IA, Danielsen SA, Eide PW, Hektoen M, Guren MG, Nesbakken A, Bruun J, Lothe RA (2019)
Exploratory analyses of consensus molecular subtype-dependent associations of TP53 mutations with immunomodulation and prognosis in colorectal cancer
ESMO Open, 4 (3), e000523
DOI 10.1136/esmoopen-2019-000523, PubMed 31321083
Smeby J, Sveen A, Eilertsen IA, Danielsen SA, Hoff AM, Eide PW, Johannessen B, Hektoen M, Skotheim RI, Guren MG, Nesbakken A, Lothe RA (2019)
Transcriptional and functional consequences of TP53 splice mutations in colorectal cancer
Oncogenesis, 8 (6), 35
DOI 10.1038/s41389-019-0141-3, PubMed 31092812
Sveen A, Cremolini C, Dienstmann R (2019)
Predictive modeling in colorectal cancer: time to move beyond consensus molecular subtypes
Ann Oncol, 30 (11), 1682-1685
DOI 10.1093/annonc/mdz412, PubMed 31868904
Sveen A, Kopetz S, Lothe RA (2019)
Biomarker-guided therapy for colorectal cancer: strength in complexity
Nat Rev Clin Oncol, 17 (1), 11-32
DOI 10.1038/s41571-019-0241-1, PubMed 31289352
Publications 2018
Bruun J, Sveen A, Barros R, Eide PW, Eilertsen I, Kolberg M, Pellinen T, David L, Svindland A, Kallioniemi O, Guren MG, Nesbakken A, Almeida R, Lothe RA (2018)
Prognostic, predictive, and pharmacogenomic assessments of CDX2 refine stratification of colorectal cancer
Mol Oncol, 12 (9), 1639-1655
DOI 10.1002/1878-0261.12347, PubMed 29900672
Eilertsen IA, Sveen A, Strømme JM, Skotheim RI, Nesbakken A, Lothe RA (2018)
Alternative splicing expands the prognostic impact of KRAS in microsatellite stable primary colorectal cancer
Int J Cancer, 144 (4), 841-847
DOI 10.1002/ijc.31809, PubMed 30121958
Høland M, Kolberg M, Danielsen SA, Bjerkehagen B, Eilertsen IA, Hektoen M, Mandahl N, van den Berg E, Smeland S, Mertens F, Sundby Hall K, Picci P, Sveen A, Lothe RA (2018)
Inferior survival for patients with malignant peripheral nerve sheath tumors defined by aberrant TP53
Mod Pathol, 31 (11), 1694-1707
DOI 10.1038/s41379-018-0074-y, PubMed 29946184
Smeby J, Sveen A, Merok MA, Danielsen SA, Eilertsen IA, Guren MG, Dienstmann R, Nesbakken A, Lothe RA (2018)
CMS-dependent prognostic impact of KRAS and BRAFV600E mutations in primary colorectal cancer
Ann Oncol, 29 (5), 1227-1234
DOI 10.1093/annonc/mdy085, PubMed 29518181
Publications 2017
Berg KCG, Eide PW, Eilertsen IA, Johannessen B, Bruun J, Danielsen SA, Bjørnslett M, Meza-Zepeda LA, Eknæs M, Lind GE, Myklebost O, Skotheim RI, Sveen A, Lothe RA (2017)
Multi-omics of 34 colorectal cancer cell lines - a resource for biomedical studies
Mol Cancer, 16 (1), 116
DOI 10.1186/s12943-017-0691-y, PubMed 28683746
Dienstmann R, Mason MJ, Sinicrope FA, Phipps AI, Tejpar S, Nesbakken A, Danielsen SA, Sveen A, Buchanan DD, Clendenning M, Rosty C, Bot B, Alberts SR, Milburn Jessup J, Lothe RA, Delorenzi M, Newcomb PA, Sargent D, Guinney J (2017)
Prediction of overall survival in stage II and III colon cancer beyond TNM system: a retrospective, pooled biomarker study
Ann Oncol, 28 (5), 1023-1031
DOI 10.1093/annonc/mdx052, PubMed 28453697
Eide PW, Bruun J, Lothe RA, Sveen A (2017)
CMScaller: an R package for consensus molecular subtyping of colorectal cancer pre-clinical models
Sci Rep, 7 (1), 16618
DOI 10.1038/s41598-017-16747-x, PubMed 29192179
Sveen A, Bruun J, Eide PW, Eilertsen IA, Ramirez L, Murumägi A, Arjama M, Danielsen SA, Kryeziu K, Elez E, Tabernero J, Guinney J, Palmer HG, Nesbakken A, Kallioniemi O, Dienstmann R, Lothe RA (2017)
Colorectal Cancer Consensus Molecular Subtypes Translated to Preclinical Models Uncover Potentially Targetable Cancer Cell Dependencies
Clin Cancer Res, 24 (4), 794-806
DOI 10.1158/1078-0432.CCR-17-1234, PubMed 29242316
Sveen A, Johannessen B, Tengs T, Danielsen SA, Eilertsen IA, Lind GE, Berg KCG, Leithe E, Meza-Zepeda LA, Domingo E, Myklebost O, Kerr D, Tomlinson I, Nesbakken A, Skotheim RI, Lothe RA (2017)
Multilevel genomics of colorectal cancers with microsatellite instability-clinical impact of JAK1 mutations and consensus molecular subtype 1
Genome Med, 9 (1), 46
DOI 10.1186/s13073-017-0434-0, PubMed 28539123
Publications 2016
Domingo E, Freeman-Mills L, Rayner E, Glaire M, Briggs S, Vermeulen L, Fessler E, Medema JP, Boot A, Morreau H, van Wezel T, Liefers GJ, Lothe RA, Danielsen SA, Sveen A, Nesbakken A, Zlobec I, Lugli A, Koelzer VH, Berger MD, Castellví-Bel S, Muñoz J, Epicolon consortium, de Bruyn M, Nijman HW et al. (2016)
Somatic POLE proofreading domain mutation, immune response, and prognosis in colorectal cancer: a retrospective, pooled biomarker study
Lancet Gastroenterol Hepatol, 1 (3), 207-216
DOI 10.1016/S2468-1253(16)30014-0, PubMed 28404093
Moen LV, Ramberg H, Zhao S, Grytli HH, Sveen A, Berge V, Skotheim RI, Taskén KA, Skålhegg BS (2016)
Observed correlation between the expression levels of catalytic subunit, Cβ2, of cyclic adenosine monophosphate-dependent protein kinase and prostate cancer aggressiveness
Urol Oncol, 35 (3), 111.e1-111.e8
DOI 10.1016/j.urolonc.2016.10.002, PubMed 27838142
Ramalho-Carvalho J, Martins JB, Cekaite L, Sveen A, Torres-Ferreira J, Graça I, Costa-Pinheiro P, Eilertsen IA, Antunes L, Oliveira J, Lothe RA, Henrique R, Jerónimo C (2016)
Epigenetic disruption of miR-130a promotes prostate cancer by targeting SEC23B and DEPDC1
Cancer Lett, 385, 150-159
DOI 10.1016/j.canlet.2016.10.028, PubMed 27984115
Sveen A, Løes IM, Alagaratnam S, Nilsen G, Høland M, Lingjærde OC, Sorbye H, Berg KC, Horn A, Angelsen JH, Knappskog S, Lønning PE, Lothe RA (2016)
Intra-patient Inter-metastatic Genetic Heterogeneity in Colorectal Cancer as a Key Determinant of Survival after Curative Liver Resection
PLoS Genet, 12 (7), e1006225
DOI 10.1371/journal.pgen.1006225, PubMed 27472274
Publications 2015
Hoff AM, Johannessen B, Alagaratnam S, Zhao S, Nome T, Løvf M, Bakken AC, Hektoen M, Sveen A, Lothe RA, Skotheim RI (2015)
Novel RNA variants in colorectal cancers
Oncotarget, 6 (34), 36587-602
DOI 10.18632/oncotarget.5500, PubMed 26474385
Johannessen B, Sveen A, Skotheim RI (2015)
TIN: An R Package for Transcriptome Instability Analysis
Cancer Inform, 14, 109-12
DOI 10.4137/CIN.S31363, PubMed 26448683
Sveen A, Kilpinen S, Ruusulehto A, Lothe RA, Skotheim RI (2015)
Aberrant RNA splicing in cancer; expression changes and driver mutations of splicing factor genes
Oncogene, 35 (19), 2413-27
DOI 10.1038/onc.2015.318, PubMed 26300000
Publications 2014
Oppelt A, Haugsten EM, Zech T, Danielsen HE, Sveen A, Lobert VH, Skotheim RI, Wesche J (2014)
PIKfyve, MTMR3 and their product PtdIns5P regulate cancer cell migration and invasion through activation of Rac1
Biochem J, 461 (3), 383-90
DOI 10.1042/BJ20140132, PubMed 24840251
Smebye ML, Sveen A, Haugom L, Davidson B, Tropé CG, Lothe RA, Heim S, Skotheim RI, Micci F (2014)
Chromosome 19 rearrangements in ovarian carcinomas: zinc finger genes are particularly targeted
Genes Chromosomes Cancer, 53 (7), 558-67
DOI 10.1002/gcc.22166, PubMed 24634323
Sveen A, Johannessen B, Teixeira MR, Lothe RA, Skotheim RI (2014)
Transcriptome instability as a molecular pan-cancer characteristic of carcinomas
BMC Genomics, 15 (1), 672
DOI 10.1186/1471-2164-15-672, PubMed 25109687
Publications 2013
Alagaratnam S, Harrison N, Bakken AC, Hoff AM, Jones M, Sveen A, Moore HD, Andrews PW, Lothe RA, Skotheim RI (2013)
Transforming pluripotency: an exon-level study of malignancy-specific transcripts in human embryonal carcinoma and embryonic stem cells
Stem Cells Dev, 22 (7), 1136-46
DOI 10.1089/scd.2012.0369, PubMed 23137282
Sveen A, Nesbakken A, Ågesen TH, Guren MG, Tveit KM, Skotheim RI, Lothe RA (2013)
Anticipating the clinical use of prognostic gene expression-based tests for colon cancer stage II and III: is Godot finally arriving?
Clin Cancer Res, 19 (24), 6669-77
DOI 10.1158/1078-0432.CCR-13-1769, PubMed 24166914
Publications 2012
Agesen TH, Sveen A, Merok MA, Lind GE, Nesbakken A, Skotheim RI, Lothe RA (2012)
ColoGuideEx: a robust gene classifier specific for stage II colorectal cancer prognosis
Gut, 61 (11), 1560-7
DOI 10.1136/gutjnl-2011-301179, PubMed 22213796
Paulo P, Ribeiro FR, Santos J, Mesquita D, Almeida M, Barros-Silva JD, Itkonen H, Henrique R, Jerónimo C, Sveen A, Mills IG, Skotheim RI, Lothe RA, Teixeira MR (2012)
Molecular subtyping of primary prostate cancer reveals specific and shared target genes of different ETS rearrangements
Neoplasia, 14 (7), 600-11
DOI 10.1593/neo.12600, PubMed 22904677
Sveen A, Bakken AC, Ågesen TH, Lind GE, Nesbakken A, Nordgård O, Brackmann S, Rognum TO, Lothe RA, Skotheim RI (2012)
The exon-level biomarker SLC39A14 has organ-confined cancer-specificity in colorectal cancer
Int J Cancer, 131 (6), 1479-85
DOI 10.1002/ijc.27399, PubMed 22173985
Sveen A, Ågesen TH, Nesbakken A, Meling GI, Rognum TO, Liestøl K, Skotheim RI, Lothe RA (2012)
ColoGuidePro: a prognostic 7-gene expression signature for stage III colorectal cancer patients
Clin Cancer Res, 18 (21), 6001-10
DOI 10.1158/1078-0432.CCR-11-3302, PubMed 22991413
Publications 2011
Danielsen SA, Cekaite L, Ågesen TH, Sveen A, Nesbakken A, Thiis-Evensen E, Skotheim RI, Lind GE, Lothe RA (2011)
Phospholipase C isozymes are deregulated in colorectal cancer--insights gained from gene set enrichment analysis of the transcriptome
PLoS One, 6 (9), e24419
DOI 10.1371/journal.pone.0024419, PubMed 21909432
Sveen A, Agesen TH, Nesbakken A, Rognum TO, Lothe RA, Skotheim RI (2011)
Transcriptome instability in colorectal cancer identified by exon microarray analyses: Associations with splicing factor expression levels and patient survival
Genome Med, 3 (5), 32
DOI 10.1186/gm248, PubMed 21619627
Publications 2009
Mathiesen G, Sveen A, Brurberg MB, Fredriksen L, Axelsson L, Eijsink VG (2009)
Genome-wide analysis of signal peptide functionality in Lactobacillus plantarum WCFS1
BMC Genomics, 10, 425
DOI 10.1186/1471-2164-10-425, PubMed 19744343
Publications 2008
Mathiesen G, Sveen A, Piard JC, Axelsson L, Eijsink VG (2008)
Heterologous protein secretion by Lactobacillus plantarum using homologous signal peptides
J Appl Microbiol, 105 (1), 215-26
DOI 10.1111/j.1365-2672.2008.03734.x, PubMed 18298538