Welcome to the home page of Norwegian PSC Research Center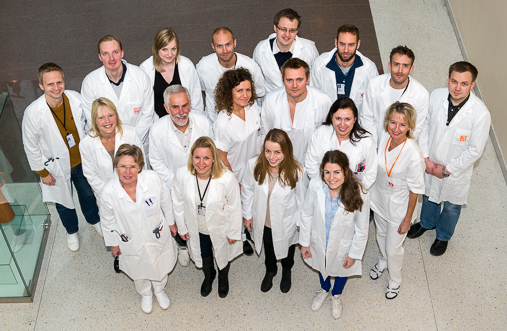 Scientific and technical personnel at Norwegian PSC Research Center (photo by Foto- og videotjenesten, Dec 2013). Not present: Bjarte Fosby, Mette Vesterhus, Jorunn Bratlie, Martin Kummen and Natalie L. Berntsen
The Norwegian PSC Research Center (NoPSC) was established 19th of May 2008 at the Medical Department, Rikshospitalet, following a donation from Stein Erik Hagen (Canica A/S) to the University of Oslo (UiO) made in 2007. The funds are exclusively dedicated to research related to basic and clinical aspects of the chronic liver disease primary sclerosing cholangitis (PSC). NoPSC is a separate unit within the Division of Cancer Medicine, Surgery and Transplantation at Oslo University Hospital (OUS), Rikshospitalet and is affiliated with the Research Institute for Internal Medicine at OUS and the Institute of Clinical Medicine at UiO. NoPSC has a broad range of both local and international collaborators (see annual reports for more information). Recently, NoPSC was involved in the establishment of the International PSC Study Group (www.ipscsg.org).
Are you interested in joining our team? There is currently a vacant position as PhD Research Fellow!
Publication update:
Immunosuppression after liver transplantation for primary sclerosing cholangitis influences activity of inflammatory bowel disease.
Jørgensen KK, Lindström L, Cvancarova M, Karlsen TH, Castedal M, Friman S, Schrumpf E, Foss A, Isoniemi H, Nordin A, Holte K, Rasmussen A, Bergquist A, Vatn MH, Boberg KM.
Clin Gastroenterol Hepatol. 2013 Jan 16.
PubMed 23333218
Article content summary :
The study included all Nordic patients with primary sclerosing cholangitis (PSC) undergoing liver transplantation (Ltx) (n=439) from 1984 up to 2007. A comparison of the activity of inflammatory bowel disease (IBD) before and after Ltx was performed. By endoscopy, 70% of patients had active IBD after Ltx, and the degree of inflammation was increased in 40%. A multivariate analysis revealed that dual treatment with tacrolimus and mycophenolate mofetil (present maintenance immunosuppressive treatment) were significant risk factors for increased IBD activity after Ltx, whereas combination treatment with ciclosporine A and azathioprine (former maintenance treatment) had protective effects. By this, immunosuppression seems to affect IBD activity after Ltx in patients with PSC; a shift from present maintenance treatment to ciclosporine A and azathioprine should be considered for these patients.
Learn more:

Contact: nopsc@ous-hf.no