Welcome to the home page of Norwegian PSC Research Center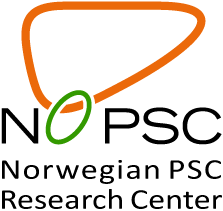 Norwegian PSC Research Center (NoPSC) was established 19th of May 2008 at the Medical Department, Rikshospitalet upon signing of a contract between the University of Oslo and Rikshospitalet on the handling of funds from Canica A/S. The funds are exclusively dedicated to research related to basic and clinical aspects of the chronic liver disease PSC.
NoPSC is now a separate center within the Clinic of Surgery, Inflammatory Medicine and Transplantation at Oslo University Hospital (OUH) Rikshospitalet, and is also affiliated with the Research Institute for Internal Medicine, OUH Rikshospitalet and the Institute of Clinical Medicine at the University of Oslo.
NoPSC has a broad range of both local and international collaborators (see annual reports for more information). NoPSC has also established the International PSC Study Group (www.ipscsg.org).
Scientific and technical personnel at Norwegian PSC Research Center. Not present: Bjarte Fosby, Sigrid Næss, Natalie Lie Berntsen (photo: Hege Dahlen Sollid, OUS).
Can knowledge about a disease help us find a treatment for another illness? Definitely.... the message from four consortia that have mapped the genetic basis of five chronic inflammatory diseases.
Read the following article on Nature's website:
Analysis of five chronic inflammatory diseases identifies 27 new associations and highlights disease-specific patterns at shared loci
Visit our UiO webpage: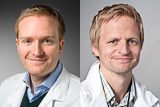 First author Martin Kummen (left) and senior author Johannes Hov
The gut microbiota of patients with primary sclerosing cholangitis (PSC) has low diversity and is highly different from both healthy individuals and inflammatory bowel disease patients without PSC, according to a study by Martin Kummen and co-workers, which is now published online in the prestigious journal Gut (journal impact factor 14.66).
The study represents a milestone at Norwegian PSC Research Center, being the first entirely based on in-house methodology, and also providing an important starting point for studies on the clinical application of gut microbiota in this disease.
More