Welcome to the project group page of Anette Weyergang:
Recombinant Light Activated Therapeutics
Drug-based cancer therapy remains together with ionizing radiation and surgery one of the major cornerstones in cancer treatment. The recent years have revealed an impressive development in cancer therapeutics moving from conventional cytostatic drugs towards targeted therapeutics which opens the possibilities for personalized cancer treatment. Clinical benefit has indeed been shown for these new targeted therapeutics although they in general have failed to demonstrate complete remission of cancer. There is therefore still an unmet need for highly effective and selective drug-based anticancer modalities.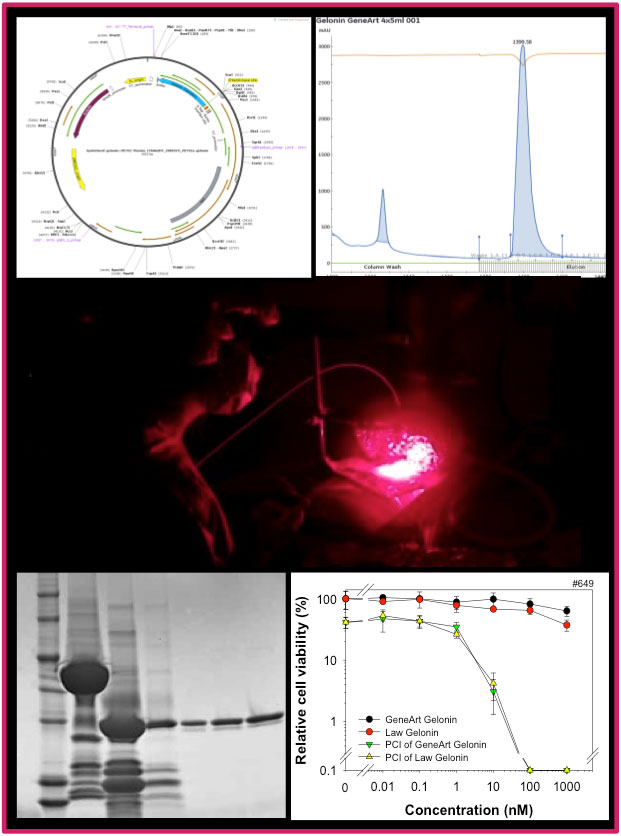 Targeted toxins represent a cancer treatment modality with high specific toxicity. The selectivity of targeted toxins may be further enhanced by utilization of a cancer targeted drug delivery system such as photochemical internalization (PCI). Recombinant technology offers the possibility of making targeted toxins that to a large extent will depend on PCI activation for efficacy. Off target adverse effects should in this way be reduced since the drug will only be activated locally by controlled light exposure. The main goal of our project group is to design and produce recombinant targeted toxins for PCI-mediated delivery at a quantity and quality sufficient for preclinical evaluation in animal models. Our vision is to develop a treatment modality with higher therapeutic potential than currently available drug-based treatment.