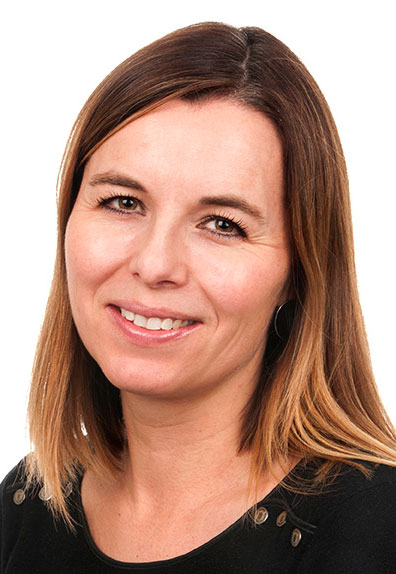 Anette Weyergang
Senior scientist; Ph.D.
+47 22 78 14 81
Anette Weyergangs project group:
Recombinant light activated therapeutics
---
Address
Department of Radiation Biology
Institute for Cancer Research
Norwegian Radium Hospital
Oslo University Hospital
Montebello
0310 Oslo, Norway
---
CURRICULUM VITAE
Dr philos Anette Weyergang
Degree-Granting Education
2009 University of Oslo, Norway, Dr. philos./ PhD, Pharmacy
PhD project: Photochemical internalization of epidermal growth factor receptor targeted drugs
Project place: Department of Radiation Biology, Institute for Cancer Research, Norwegian Radium Hospital
2003 University of Oslo, Norway, Cand. pharm./M. Pharm
Postdoc training
2009- Research fellow at Department of Radiation Biology, Institute for Cancer Research
Norwegian Radium Hospital, Oslo, Norway (Grants from The Norwegian Cancer
Society)
2009: Sister Insstitution associate post doctor researcher at department of Experimental Therapeutics, MD Anderson Cancer Center, Houston, Texas in Dr Rosenblums research group.
RESEARCH INTERESTS
My fields of interest are pharmacy, drug delivery, experimental cancer therapy and photomedicine. I am involved as a postdoctoral research fellow in the group of Photochemical Internalization (PCI). PCI is a novel method for drug delivery to cells.
Methods used: tissue culture, photodynamic therapy, photochemical internalization, toxicity assays (MTT, relative protein synthesis measurements, clonal cell survival, Coulter Counter measurments), siRNA transfection, cell free reticulocytt lysate system for ribosome inhibiting activity of toxins, fluorescence microscopy, PCR, SDS-PAGE, Western blotting, production (Fermentation), isolation and purification (Immobilized Metal Affinity Chromatography (IMAC) and Ion Exchange Chromatography with SP Sepharose) of recombinant proteins, LAL test for determination of endotoxins, measurement of cellular ROS generation, ELASA, LAL for determination of endotoxins. In vivo work with BALB C and BALB C nu/nu mice documenting PCI of targeted toxins.
SCIENTIFIC PRODUCTION
-13 original publications (research manuscripts) in per reviewed international journals
-7 Review articles in per reviewed international journals
-3 book chapters
-2 thesis (one doctoral- and one master-thesis)
-1 patent
REVIEWER IN:
Journal of controlled release
Cell Biochemistry & Function
International Journal of Cancer
Photochemical & Photobiological Sciences
TEACHING
Local contribution:
-Min Supervisor for 2 master student in our lab (Norwegian Radium Hospital) 2011-2014
-Co-supervision of 3 master students in our lab (Norwegian Radium Hospital) 2007-20011
-Currently main supervisor for three PhD students in our lab
-Teaching of students from Ullern upper secondary school in photobiology and photomedicine as a part of Oslo Cancer Cluster 2010-2012
-Course in photomedicine for bachelor-students in biophysics from Norwegian University of Science and Technology (NTNU) 2011
Regional, National or International Contributions
-Invited oral presentations (2) at School of Pharmacy, University of Oslo 2009
-Invited oral presentation (1) at the 9th International Symposium on Photodynamic Therapy and Photodiagnosis in Clinical Practice, Bressanone, Italy 2012
-Invited oral presentation at the 15th Congress of the European Society for Photobiology, Liege, Belgium, 2013
EXTERNAL FOUND RAISING
2008 Grant for a 3 years post doc position from the Norwegian Cancer Society (my former position)
2011 Grant for a 3 years PhD scholarship from the Norwegian Cancer Society (provided one of my PhD students Bente Bull-Hansen
2011 Grant for a 3 years PhD scholarship from South-Eastern Norway Regional Health Authority (provided to one of my PhD students Maria EB Berstad)
2012 Grant for a 4th year in a post doc position from the Norwegian Cancer Society
AWARDS
2007 Award for the best oral presentation in the Minisymposia on Research and development at Days of Pharmacy days 2007
2009 Travel Award from The Norwegian Cancer Society for a 3 months scientific stay at MD Anderson Cancer Center, Houston, Texas
MEMBERSHIP IN SOCIETIES
• Norwegian Society for Biochemistry
• Norwegian Society for Photobiology and Photomedicine
• European Society for Photobiology
• Norwegian Society for Pharmacy
• American Association for Cancer Research
REFERENCES
Dr.philos. Kristian Berg,
Department of Radiation Biology
Institute for Cancer Research - Norwegian Radium Hospital
Rikshospitalet University Hospital
Montebello
N-0310 Oslo
Norway
Phone: (+47) 22 78 14 79
Fax: (+47) 22 78 14 95
E-mail: kristian.berg@rr-research.no
Michael G. Rosenblum, Ph.D.
Professor of Medicine
Head, Immunopharmacology and Targeted Therapy Laboratory
Director of Research Development
Department of Experimental Therapeutics
MD Anderson Cancer Center
Houston, Texas
713-792-3554(O)
713-794-4261(FAX)
713-404-3362(PAGE)
E-mail: mrosenbl@manderson.org
Publications 2021
Engebraaten O, Yau C, Berg K, Borgen E, Garred Ø, Berstad MEB, Fremstedal ASV, DeMichele A, Veer LV', Esserman L, Weyergang A (2021)
RAB5A expression is a predictive biomarker for trastuzumab emtansine in breast cancer
Nat Commun, 12 (1), 6427
DOI 10.1038/s41467-021-26018-z, PubMed 34741021
Weisheit S, Wegner CS, Ailte I, Radulovic M, Weyergang A, Selbo PK, Brech A (2021)
Inhibiting autophagy increases the efficacy of low-dose photodynamic therapy
Biochem Pharmacol, 194, 114837
DOI 10.1016/j.bcp.2021.114837, PubMed 34780750
Publications 2020
Berstad MEB, Cheung LH, Weyergang A (2020)
Production of Recombinant Gelonin Using an Automated Liquid Chromatography System
Toxins (Basel), 12 (8)
DOI 10.3390/toxins12080519, PubMed 32823678
Jerjes W, Theodossiou TA, Hirschberg H, Høgset A, Weyergang A, Selbo PK, Hamdoon Z, Hopper C, Berg K (2020)
Photochemical Internalization for Intracellular Drug Delivery. From Basic Mechanisms to Clinical Research
J Clin Med, 9 (2)
DOI 10.3390/jcm9020528, PubMed 32075165
Wong JJW, Berstad MB, Fremstedal ASV, Berg K, Patzke S, Sørensen V, Peng Q, Selbo PK, Weyergang A (2020)
Photochemically-Induced Release of Lysosomal Sequestered Sunitinib: Obstacles for Therapeutic Efficacy
Cancers (Basel), 12 (2)
DOI 10.3390/cancers12020417, PubMed 32053965
Publications 2019
Olsen CE, Cheung LH, Weyergang A, Berg K, Vallera DA, Rosenblum MG, Selbo PK (2019)
Design, Characterization, and Evaluation of scFvCD133/rGelonin: A CD133-Targeting Recombinant Immunotoxin for Use in Combination with Photochemical Internalization
J Clin Med, 9 (1)
DOI 10.3390/jcm9010068, PubMed 31888091
Publications 2018
Eng MS, Kaur J, Prasmickaite L, Engesæter BØ, Weyergang A, Skarpen E, Berg K, Rosenblum MG, Mælandsmo GM, Høgset A, Ferrone S, Selbo PK (2018)
Enhanced targeting of triple-negative breast carcinoma and malignant melanoma by photochemical internalization of CSPG4-targeting immunotoxins
Photochem Photobiol Sci, 17 (5), 539-551
DOI 10.1039/C7PP00358G, PubMed 29565434
Weyergang A, Fremstedal AS, Skarpen E, Peng Q, Mohamedali KA, Eng MS, Cheung LH, Rosenblum MG, Waltenberger J, Berg K (2018)
Light-enhanced VEGF121/rGel: A tumor targeted modality with vascular and immune-mediated efficacy
J Control Release, 288, 161-172
DOI 10.1016/j.jconrel.2018.09.005, PubMed 30217739
Publications 2017
Norum OJ, Fremstedal ASV, Weyergang A, Golab J, Berg K (2017)
Photochemical delivery of bleomycin induces T-cell activation of importance for curative effect and systemic anti-tumor immunity
J Control Release, 268, 120-127
DOI 10.1016/j.jconrel.2017.10.015, PubMed 29042319
Olsen CE, Weyergang A, Edwards VT, Berg K, Brech A, Weisheit S, Høgset A, Selbo PK (2017)
Development of resistance to photodynamic therapy (PDT) in human breast cancer cells is photosensitizer-dependent: Possible mechanisms and approaches for overcoming PDT-resistance
Biochem Pharmacol, 144, 63-77
DOI 10.1016/j.bcp.2017.08.002, PubMed 28784290
Publications 2015
Berstad MB, Cheung LH, Berg K, Peng Q, Fremstedal AS, Patzke S, Rosenblum MG, Weyergang A (2015)
Design of an EGFR-targeting toxin for photochemical delivery: in vitro and in vivo selectivity and efficacy
Oncogene, 34 (44), 5582-92
DOI 10.1038/onc.2015.15, PubMed 25684137
Bull-Hansen B, Berstad MB, Berg K, Cao Y, Skarpen E, Fremstedal AS, Rosenblum MG, Peng Q, Weyergang A (2015)
Photochemical activation of MH3-B1/rGel: a HER2-targeted treatment approach for ovarian cancer
Oncotarget, 6 (14), 12436-51
DOI 10.18632/oncotarget.3814, PubMed 26002552
Selbo PK, Bostad M, Olsen CE, Edwards VT, Høgset A, Weyergang A, Berg K (2015)
Photochemical internalisation, a minimally invasive strategy for light-controlled endosomal escape of cancer stem cell-targeting therapeutics
Photochem Photobiol Sci, 14 (8), 1433-50
DOI 10.1039/c5pp00027k, PubMed 25805311
Weyergang A, Berstad ME, Bull-Hansen B, Olsen CE, Selbo PK, Berg K (2015)
Photochemical activation of drugs for the treatment of therapy-resistant cancers
Photochem Photobiol Sci, 14 (8), 1465-75
DOI 10.1039/c5pp00029g, PubMed 25849953
Publications 2014
Bostad M, Kausberg M, Weyergang A, Olsen CE, Berg K, Høgset A, Selbo PK (2014)
Light-triggered, efficient cytosolic release of IM7-saporin targeting the putative cancer stem cell marker CD44 by photochemical internalization
Mol Pharm, 11 (8), 2764-76
DOI 10.1021/mp500129t, PubMed 24960585
Bull-Hansen B, Cao Y, Berg K, Skarpen E, Rosenblum MG, Weyergang A (2014)
Photochemical activation of the recombinant HER2-targeted fusion toxin MH3-B1/rGel; Impact of HER2 expression on treatment outcome
J Control Release, 182, 58-66
DOI 10.1016/j.jconrel.2014.03.014, PubMed 24637464
Weyergang A, Cheung LH, Rosenblum MG, Mohamedali KA, Peng Q, Waltenberger J, Berg K (2014)
Photochemical internalization augments tumor vascular cytotoxicity and specificity of VEGF(121)/rGel fusion toxin
J Control Release, 180, 1-9
DOI 10.1016/j.jconrel.2014.02.003, PubMed 24531010
Publications 2013
Olsen CE, Berg K, Selbo PK, Weyergang A (2013)
Circumvention of resistance to photodynamic therapy in doxorubicin-resistant sarcoma by photochemical internalization of gelonin
Free Radic Biol Med, 65, 1300-1309
DOI 10.1016/j.freeradbiomed.2013.09.010, PubMed 24076428
Vikdal M, Weyergang A, Selbo PK, Berg K (2013)
Vascular endothelial cells as targets for photochemical internalization (PCI)
Photochem Photobiol, 89 (5), 1185-92
DOI 10.1111/php.12126, PubMed 23819771
Weyergang A, Selbo PK, Berg K (2013)
Sustained ERK [corrected] inhibition by EGFR targeting therapies is a predictive factor for synergistic cytotoxicity with PDT as neoadjuvant therapy
Biochim Biophys Acta, 1830 (3), 2659-70
DOI 10.1016/j.bbagen.2012.11.010, PubMed 23671927
Weyergang A, Selbo PK, Berg K (2013)
Sustained ERK inhibition by EGFR targeting therapies is a predictive factor for synergistic cytotoxicity with PDT as neoadjuvant therapy (vol 1830, pg 2659, 2013)
Biochim. Biophys. Acta-Gen. Subj., 1830 (10), 4417
DOI 10.1016/j.bbagen.2013.05.002
Publications 2012
Berstad MB, Weyergang A, Berg K (2012)
Photochemical internalization (PCI) of HER2-targeted toxins: synergy is dependent on the treatment sequence
Biochim Biophys Acta, 1820 (12), 1849-58
DOI 10.1016/j.bbagen.2012.08.027, PubMed 22981913
Selbo PK, Weyergang A, Eng MS, Bostad M, Mælandsmo GM, Høgset A, Berg K (2012)
Strongly amphiphilic photosensitizers are not substrates of the cancer stem cell marker ABCG2 and provides specific and efficient light-triggered drug delivery of an EGFR-targeted cytotoxic drug
J Control Release, 159 (2), 197-203
DOI 10.1016/j.jconrel.2012.02.003, PubMed 22349185
Publications 2011
Weyergang A, Selbo PK, Berstad ME, Bostad M, Berg K (2011)
Photochemical internalization of tumor-targeted protein toxins
Lasers Surg Med, 43 (7), 721-33
DOI 10.1002/lsm.21084, PubMed 22057500
Publications 2010
Berg K, Berstad M, Prasmickaite L, Weyergang A, Selbo PK, Hedfors I, Høgset A (2010)
Photochemical internalization: a new tool for gene and oligonucleotide delivery
Top Curr Chem, 296, 251-81
DOI 10.1007/128_2010_63, PubMed 21504105
Berg K, Weyergang A, Høgset A, Selbo PK (2010)
The Potential of Photochemical Internalixation (PCI) for the Cytosolic Delivery of Nanomedicines
In Organelle-Specific Pharmaceutical Nanotechnology (Weissing V, D'Souza, eds.), John Wiley and Sons Inc, New Jersey, USA, 311-322
PublikaID 72
Berg K, Weyergang A, Prasmickaite L, Bonsted A, Høgset A, Strand MT, Wagner E, Selbo PK (2010)
Photochemical internalization (PCI): a technology for drug delivery
Methods Mol Biol, 635, 133-45
DOI 10.1007/978-1-60761-697-9_10, PubMed 20552345
Selbo PK, Weyergang A, Høgset A, Norum OJ, Berstad MB, Vikdal M, Berg K (2010)
Photochemical internalization provides time- and space-controlled endolysosomal escape of therapeutic molecules
J Control Release, 148 (1), 2-12
DOI 10.1016/j.jconrel.2010.06.008, PubMed 20600406
Publications 2009
Norum OJ, Selbo PK, Weyergang A, Giercksky KE, Berg K (2009)
Photochemical internalization (PCI) in cancer therapy: from bench towards bedside medicine
J Photochem Photobiol B, 96 (2), 83-92
DOI 10.1016/j.jphotobiol.2009.04.012, PubMed 19467605
Weyergang A (2009)
Photochemical internalization of epidermal growth factor receptor-targeted drugs
In Series of dissertations submitted to the Faculty of Mathematics and Natural Sciences, University of Oslo, The Faculty, Oslo, nr. 839, 1 b. (flere pag.)
BIBSYS 092377823
Weyergang A, Berg K, Kaalhus O, Peng Q, Selbo PK (2009)
Photodynamic therapy targets the mTOR signaling network in vitro and in vivo
Mol Pharm, 6 (1), 255-64
DOI 10.1021/mp800156e, PubMed 19125612
Publications 2008
Berg K, Bonsted A, Weyergang A, Høgset A, Selbo PK (2008)
Photochemical Internalization
In Advances in Photodynamic therapy; basic, translational , and clinical (Hamblin MR, Mroz P, eds.), Norwood: Artech House, Norwood MA, USA, 299-312
PublikaID 71
Weyergang A, Kaalhus O, Berg K (2008)
Photodynamic therapy with an endocytically located photosensitizer cause a rapid activation of the mitogen-activated protein kinases extracellular signal-regulated kinase, p38, and c-Jun NH2 terminal kinase with opposing effects on cell survival
Mol Cancer Ther, 7 (6), 1740-50
DOI 10.1158/1535-7163.MCT-08-0020, PubMed 18566245
Weyergang A, Kaalhus O, Berg K (2008)
Photodynamic targeting of EGFR does not predict the treatment outcome in combination with the EGFR tyrosine kinase inhibitor Tyrphostin AG1478
Photochem Photobiol Sci, 7 (9), 1032-40
DOI 10.1039/b806209a, PubMed 18754049
Publications 2007
Berg K, Folini M, Prasmickaite L, Selbo PK, Bonsted A, Engesaeter BØ, Zaffaroni N, Weyergang A, Dietze A, Maelandsmo GM, Wagner E, Norum OJ, Høgset A (2007)
Photochemical internalization: a new tool for drug delivery
Curr Pharm Biotechnol, 8 (6), 362-72
DOI 10.2174/138920107783018354, PubMed 18289045
Weyergang A, Selbo PK, Berg K (2007)
Y1068 phosphorylation is the most sensitive target of disulfonated tetraphenylporphyrin-based photodynamic therapy on epidermal growth factor receptor
Biochem Pharmacol, 74 (2), 226-35
DOI 10.1016/j.bcp.2007.04.018, PubMed 17531956
Yip WL, Weyergang A, Berg K, Tønnesen HH, Selbo PK (2007)
Targeted delivery and enhanced cytotoxicity of cetuximab-saporin by photochemical internalization in EGFR-positive cancer cells
Mol Pharm, 4 (2), 241-51
DOI 10.1021/mp060105u, PubMed 17263556
Publications 2006
Berg K, Høgset A, Prasmickaite L, Weyergang A, Bonsted A, Dietze A, Lou PJ, Bown S, Norum OJ, Møllergard HM, Selbo PK (2006)
Photochemical internalization (PCI): A novel technology for activation of endocytosed therapeutic agents.
Med Laser Appl, 21, 239-251
DOI 10.1016/j.mla.2006.08.004, PublikaID 73
Dietze A, Selbo PK, Prasmickaite L, Weyergang A, Bonsted A, Engesaeter B, Hogset A, Berg K (2006)
Photochemical internalization (PCI): a new modality for light activation of endocytosed therapeuticals
J Environ Pathol Toxicol Oncol, 25 (1-2), 521-36
DOI 10.1615/jenvironpatholtoxicoloncol.v25.i1-2.330, PubMed 16566739
Selbo PK, Weyergang A, Bonsted A, Bown SG, Berg K (2006)
Photochemical internalization of therapeutic macromolecular agents: a novel strategy to kill multidrug-resistant cancer cells
J Pharmacol Exp Ther, 319 (2), 604-12
DOI 10.1124/jpet.106.109165, PubMed 16902053
Weyergang A, Selbo PK, Berg K (2006)
Photochemically stimulated drug delivery increases the cytotoxicity and specificity of EGF-saporin
J Control Release, 111 (1-2), 165-73
DOI 10.1016/j.jconrel.2005.12.002, PubMed 16466823
Publications 2005
Berg K, Selbo PK, Weyergang A, Dietze A, Prasmickaite L, Bonsted A, Engesaeter BØ, Angell-Petersen E, Warloe T, Frandsen N, Høgset A (2005)
Porphyrin-related photosensitizers for cancer imaging and therapeutic applications
J Microsc, 218 (Pt 2), 133-47
DOI 10.1111/j.1365-2818.2005.01471.x, PubMed 15857375
Publications 2003
Weyergang A (2003)
Fotokjemisk internalisering av gelonin i kreftbehandling: betydning av epidermal vekstfaktor-rettet cellulært opptak av gelonin på behandlingseffekt
A. Weyergang, Oslo, 115 s.
BIBSYS 032076487