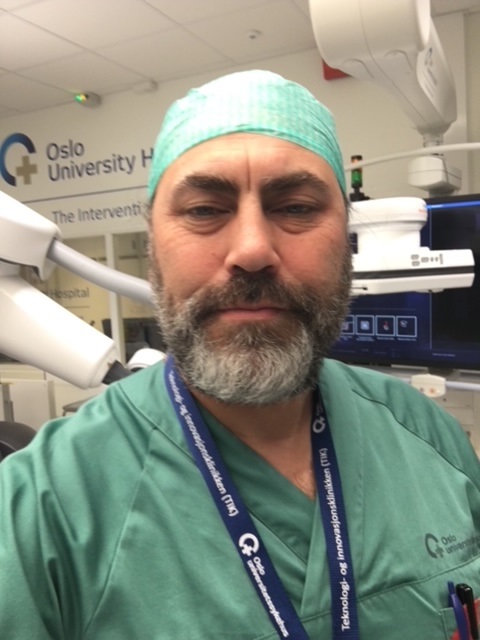 Alexis Hinojosa
Curriculum Vitae
Personalia
Name: Alexis G. Cerda Hinojosa Address: Granhekkveien 9C, 0682 Oslo
Telephone: +47 924 63 460 Email: alexishinojosa@gmail.com
Date of birth: 17/10/1968 Marital status: Married
Key qualifications
Professionally interested. Works well independently and in a team setting. Likes to work with
procedural development, optimization and quality assurance. Good skills in communication and
networking. Experience in teaching and training others.

Education
2014 Continuing education in MR (Magnetic Resonance). University College in Sør-Trøndelag -
HIST
2010 Continuin education in CT (Computed Tomography). University College in Oslo - HIO
1994 - 1997 Bsc, Radiographer. University College in Oslo - HIO - Officially Approved
Radiographer
Work experience
Worked full time at Oslo University Hospital OUS since 1997 as radiographer, gaining a full
range of work experience for 25 years.
2019 to this date; Intervention center (IVS) OUS - Rikshospitalet
Lead radiographer - hybrid OR at IVS. Responsible for professional development,
implementation and use of new technology and patient care. Treatment of AS patients whit
TAVI. We treat about 500 patients a year.
2008 - 2019 Department of Neuroradiology OUS - Ullevål
Radiographer - Treatment and diagnostic of patients using CT, MR and Angio - intervention.
Use of advanced MR techniques, e.g. fMRI, DTI, perfusion and brain tumor protocols. 1.5T and
3T magnets.
2007 to this date; Center for Implant and Radiostereometric Research Oslo (CIRRO) OUS
- Ullevål
Research Radiographer in orthopedic implants. Radiostereometric images (RSA) and DXA
(Dual energy x-ray absorptiometry)
https://www.ous-research.no/home/cirro/Cirro%20radiographs
2006 - 2008 Department of Radiology OUS - Ullevål
Radiographer - Worked with general radiology and angio - and interventional procedures. x-ray,
ultrasound, fluoroscopy and CT. Management of multi-trauma patients.
2005 - 2006 Pediatric radiology department OUS- Ullevål
CT specialist radiograph for children and adult patients.
1997 - 1998 Radiation therapy department OUS - Ullevål
Radiographer - Radiotherapy and planning the treatment of cancer patients.

Courses
August 2019 GCP - Good Clinical Practice. Helse Sør-Øst - OUS
June 2019 Animal testing course. Laboratory Animal Science for Research Workers. Norwegian
University of Life Sciences - NMBU
Languages: Spanish; first language, Norwegian; fluently, English; Good, B1.
Leisure interests: Hunting, kayaking, cooking.
References: References supplied on request
Publications 2022
Udjus C, Sjaastad I, Hjørnholm U, Tunestveit TK, Hoffmann P, Hinojosa A, Espe EKS, Christensen G, Skjønsberg OH, Larsen KO, Rostrup M (2022)
Extreme altitude induces divergent mass reduction of right and left ventricle in mountain climbers
Physiol Rep, 10 (3), e15184
DOI 10.14814/phy2.15184, PubMed 35146955