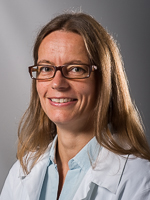 Stine Marit Moen
Head of Research and Development and Senior Consultant Neurologist at the MS-Centre Hakadal, Norway; MD, PhD
+4767062900
Background
Stine Marit Moen has a medical doctor degree from the University of Oslo in 1997. She has worked within neurology at Department of Neurology, Innlandet Hospital Lillehammer and 11 years at Department of Neurology at Oslo University Hospital. She defended her PhD degree with the thesis "Multiple sclerosis, bone health, and vitamin D" in 2012 and worked thereafter with special focus on diagnosis, treatment and follow-up of patients with MS. She also held a position from 2015 as Associate Professor in neurology at the Institute of Clinical Medicine, University of Oslo.
Stine Marit Moen entered a new position in fall 2016 as Head of Research and Development at the MS Centre Hakadal, a key national MS rehabilitation centre. The MS-Centre Hakadal is a member of the RIMS (Rehabilitation in MS, European Network for best practice and research) and a member of the Norwegian Brain Council. See their homepage at http://www.mssenteret.no/
Stine Marit Moen is from 2017 member of the Norwegian MS Competence Centre's Reference Group and from 2016 member of the Norwegian MS Society Advisory Board.
Project/Research interest:
MS and vitamin D, MS and bone health
Clinical research and clinical trials in MS
Epidemiology
Clinical neurology, symtomatic treatment and rehabilitation
A holistic approach to treatment and follow-up of MS
Stine Marit Moen has co-supervised the PhD-students:
Pål Berg-Hansen and his PhD thesis "Clinical and epidemiological studies of immigrants with multiple sclerosis in Norway" (defended 2015).
Cecilia Smith Simonsen and her ongoing PhD project on multiple sclerosis and NEDA: «Predictors for disease susceptibility and disease progression in Multiple sclerosis».
She has also co-supervised medical students in their student projects and bachelor projects.
Highlighted article in Neurology Podcast July 12 2011, Neurology, American Academy of Neurology:https://www.aan.com/rss/search/home/episodedetail/?item=2258
She was the first author in the 2016 published initiative for recommendations on the use of MRI in MS in Norway.
Publications 2021
Flemmen HØ, Simonsen CS, Broch L, Brunborg C, Berg-Hansen P, Moen SM, Kersten H, Celius EG (2021)
Maternal education has significant influence on progression in multiple sclerosis
Mult Scler Relat Disord, 53, 103052
DOI 10.1016/j.msard.2021.103052, PubMed 34111658
Simonsen CS, Flemmen HØ, Broch L, Brunborg C, Berg-Hansen P, Moen SM, Celius EG (2021)
No significant differences in absenteeism or academic achievements in a Norwegian multiple sclerosis case control study
Mult Scler Relat Disord, 54, 103141
DOI 10.1016/j.msard.2021.103141, PubMed 34273610
Simonsen CS, Flemmen HØ, Broch L, Brunborg C, Berg-Hansen P, Moen SM, Celius EG (2021)
Early High Efficacy Treatment in Multiple Sclerosis Is the Best Predictor of Future Disease Activity Over 1 and 2 Years in a Norwegian Population-Based Registry
Front Neurol, 12, 693017
DOI 10.3389/fneur.2021.693017, PubMed 34220694
Publications 2020
Flemmen HØ, Simonsen CS, Berg-Hansen P, Moen SM, Kersten H, Heldal K, Celius EG (2020)
Prevalence of multiple sclerosis in rural and urban districts in Telemark county, Norway
Mult Scler Relat Disord, 45, 102352
DOI 10.1016/j.msard.2020.102352, PubMed 32707528
Simonsen CS, Flemmen HØ, Broch L, Brunborg C, Berg-Hansen P, Moen SM, Celius EG (2020)
The course of multiple sclerosis rewritten: a Norwegian population-based study on disease demographics and progression
J Neurol, 268 (4), 1330-1341
DOI 10.1007/s00415-020-10279-7, PubMed 33090270
Simonsen CS, Flemmen HØ, Lauritzen T, Berg-Hansen P, Moen SM, Celius EG (2020)
The diagnostic value of IgG index versus oligoclonal bands in cerebrospinal fluid of patients with multiple sclerosis
Mult Scler J Exp Transl Clin, 6 (1), 2055217319901291
DOI 10.1177/2055217319901291, PubMed 32030196
Publications 2018
Rhead B, Brorson IS, Berge T, Adams C, Quach H, Moen SM, Berg-Hansen P, Celius EG, Sangurdekar DP, Bronson PG, Lea RA, Burnard S, Maltby VE, Scott RJ, Lechner-Scott J, Harbo HF, Bos SD, Barcellos LF (2018)
Increased DNA methylation of SLFN12 in CD4+ and CD8+ T cells from multiple sclerosis patients
PLoS One, 13 (10), e0206511
DOI 10.1371/journal.pone.0206511, PubMed 30379917
Sowa P, Harbo HF, White NS, Celius EG, Bartsch H, Berg-Hansen P, Moen SM, Bjørnerud A, Westlye LT, Andreassen OA, Dale AM, Beyer MK (2018)
Restriction spectrum imaging of white matter and its relation to neurological disability in multiple sclerosis
Mult Scler, 25 (5), 687-698
DOI 10.1177/1352458518765671, PubMed 29542336
Publications 2016
Gustavsen MW, Celius EG, Winsvold BS, Moen SM, Nygaard GO, Berg-Hansen P, Lie BA, Zwart JA, Harbo HF (2016)
Migraine and frequent tension-type headache are not associated with multiple sclerosis in a Norwegian case-control study
Mult Scler J Exp Transl Clin, 2, 2055217316682976
DOI 10.1177/2055217316682976, PubMed 28607748
Moen SM, Harbo HF, Celius EG, Sowa P, Nygaard GO, Beyer MK (2016)
S.M. Moen og medarbeidere svarer
Tidsskr Nor Laegeforen, 136 (20), 1702
DOI 10.4045/tidsskr.16.0865, PubMed 27830899
Moen SM, Harbo HF, Celius EG, Sowa P, Nygaard GO, Beyer MK (2016)
S.M. Moen og medarbeidere svarer
Tidsskr Nor Laegeforen, 136 (19), 1608
DOI 10.4045/tidsskr.16.0826, PubMed 27790879
Moen SM, Harbo HF, Sowa P, Celius EG, Nygaard GO, Beyer MK (2016)
MRI- investigations in multiple sclerosis
Tidsskr. Nor. Laegeforen., 136 (16), 1373-1376
Moen SM, Harbo HF, Sowa P, Celius EG, Nygaard GO, Beyer MK (2016)
[MRI in multiple sclerosis]
Tidsskr Nor Laegeforen, 136 (16), 1373-6
DOI 10.4045/tidsskr.15.1361, PubMed 27637059
Simonsen CS, Celius EG, Brunborg C, Tallaksen C, Eriksen EF, Holmøy T, Moen SM (2016)
Bone mineral density in patients with multiple sclerosis, hereditary ataxia or hereditary spastic paraplegia after at least 10 years of disease - a case control study
BMC Neurol, 16 (1), 252
DOI 10.1186/s12883-016-0771-4, PubMed 27919248
Publications 2015
Berg-Hansen P, Moen SM, Harbo HF, Celius EG (2015)
Comments on the review article 'Time trends in the incidence and prevalence of multiple sclerosis in Norway during eight decades'
Acta Neurol Scand, 132 (5), 364-7
DOI 10.1111/ane.12489, PubMed 26423981
Publications 2014
Berg-Hansen P, Moen SM, Harbo HF, Celius EG (2014)
High prevalence and no latitude gradient of multiple sclerosis in Norway
Mult Scler, 20 (13), 1780-2
DOI 10.1177/1352458514525871, PubMed 24603884
Berg-Hansen P, Moen SM, Sandvik L, Harbo HF, Bakken IJ, Stoltenberg C, Celius EG (2014)
Prevalence of multiple sclerosis among immigrants in Norway
Mult Scler, 21 (6), 695-702
DOI 10.1177/1352458514554055, PubMed 25344371
Gustavsen MW, Celius EG, Moen SM, Bjølgerud A, Berg-Hansen P, Nygaard GO, Sandvik L, Lie BA, Harbo HF (2014)
No association between multiple sclerosis and periodontitis after adjusting for smoking habits
Eur J Neurol, 22 (3), 588-90
DOI 10.1111/ene.12520, PubMed 25041906
Gustavsen MW, Page CM, Moen SM, Bjølgerud A, Berg-Hansen P, Nygaard GO, Sandvik L, Lie BA, Celius EG, Harbo HF (2014)
Environmental exposures and the risk of multiple sclerosis investigated in a Norwegian case-control study
BMC Neurol, 14, 196
DOI 10.1186/s12883-014-0196-x, PubMed 25274070
Publications 2012
Moen SM, Celius EG, Sandvik L, Brustad M, Nordsletten L, Eriksen EF, Holmøy T (2012)
Bone turnover and metabolism in patients with early multiple sclerosis and prevalent bone mass deficit: a population-based case-control study
PLoS One, 7 (9), e45703
DOI 10.1371/journal.pone.0045703, PubMed 23029191
Publications 2011
Holmøy T, Lossius A, Gundersen TE, Moen SM, Castellazzi M, Fainardi E, Casetta I (2011)
Intrathecal levels of vitamin D and IgG in multiple sclerosis
Acta Neurol Scand, 125 (6), e28-31
DOI 10.1111/j.1600-0404.2011.01577.x, PubMed 21781056
Moen SM, Celius EG, Nordsletten L, Holmøy T (2011)
Fractures and falls in patients with newly diagnosed clinically isolated syndrome and multiple sclerosis
Acta Neurol Scand Suppl (191), 79-82
DOI 10.1111/j.1600-0404.2011.01548.x, PubMed 21711261
Moen SM, Celius EG, Sandvik L, Nordsletten L, Eriksen EF, Holmøy T (2011)
Low bone mass in newly diagnosed multiple sclerosis and clinically isolated syndrome
Neurology, 77 (2), 151-7
DOI 10.1212/WNL.0b013e3182242d34, PubMed 21747073
Smolders J, Moen SM, Damoiseaux J, Huitinga I, Holmøy T (2011)
Vitamin D in the healthy and inflamed central nervous system: access and function
J Neurol Sci, 311 (1-2), 37-43
DOI 10.1016/j.jns.2011.07.033, PubMed 21862439
Publications 2010
Holmøy T, Moen SM (2010)
Assessing vitamin D in the central nervous system
Acta Neurol Scand Suppl (190), 88-92
DOI 10.1111/j.1600-0404.2010.01383.x, PubMed 20586743
Publications 2009
Holmøy T, Moen SM, Gundersen TA, Holick MF, Fainardi E, Castellazzi M, Casetta I (2009)
25-hydroxyvitamin D in cerebrospinal fluid during relapse and remission of multiple sclerosis
Mult Scler, 15 (11), 1280-5
DOI 10.1177/1352458509107008, PubMed 19808741