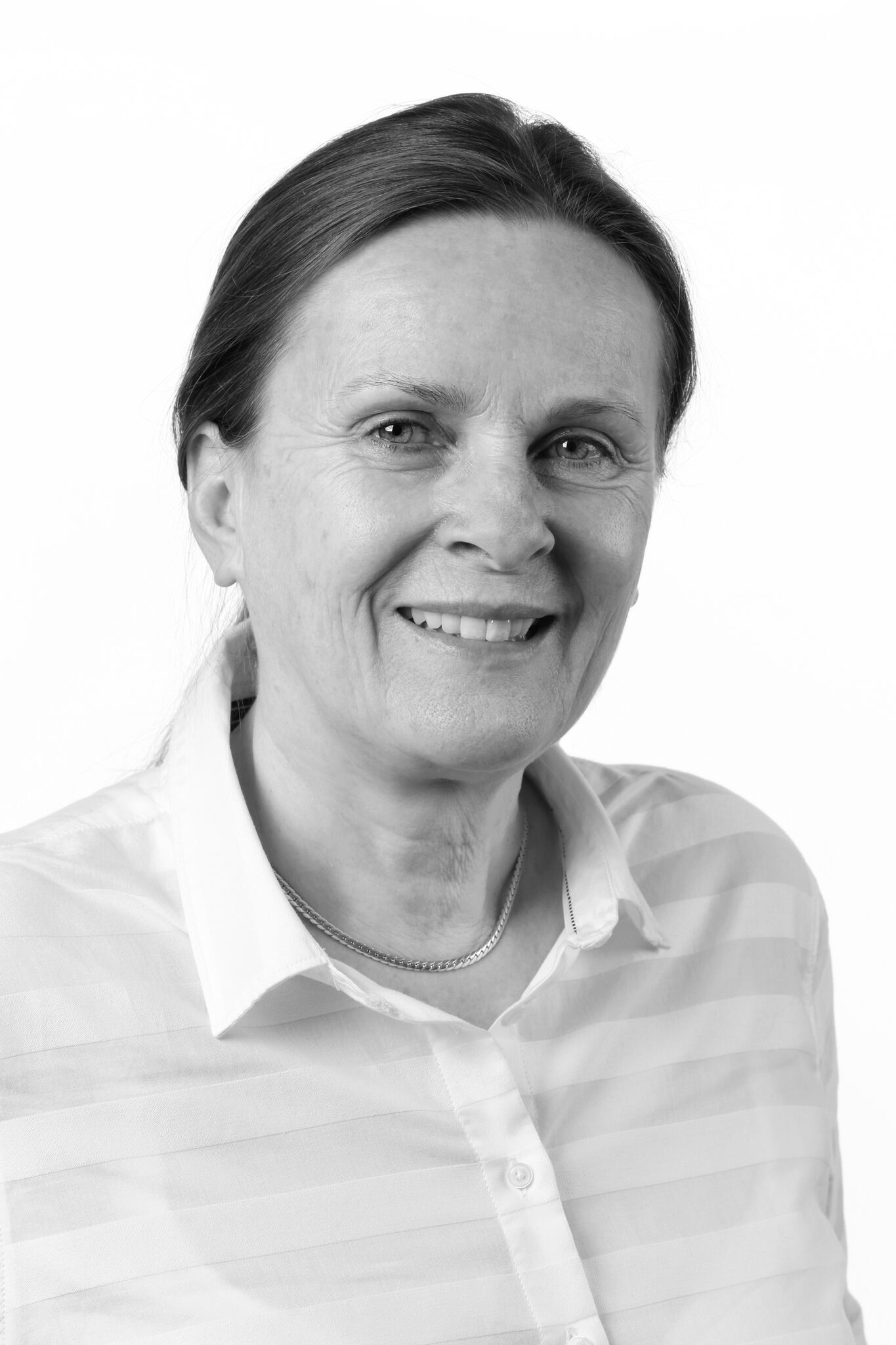 Ragnhild A. Lothe
Group leader, professor
+47 2278 1728
Fax: +47 2278 1745
Department of Molecular Oncology, Institute for Cancer Research
Oslo University Hospital, Oslo, Norway
Areas of research
I. Developmental biology of solid tumors. Molecular mechanisms underlying the development of colorectal cancer, testicular cancer and malignant peripheral nerve sheath tumors.
II. Translational research relevant for these three diseases.

Biosketch
Current positions
Head of Dept. of Cancer Prevention, Norwegian Radium Hospital, Rikshospitalet (RR).
Professor at the Department of Molecular Biosciences, Faculty of Mathematics and Natural Sciences, University of Oslo (U of Oslo).
Vice-director of CoE: Centre for Cancer Biomedicine, Faculty of Medicine, U of Oslo.
Academic degrees
1981: B.Sc. (Cand. Mag.)- Biology, Chemistry, Mathematics, Faculty of Mathematics and Natural Sciences, University (U) of Bergen
1983: M.Sc. (Cand. Scient.) – Biology, Faculty of Mathematics and Natural Sciences, U of Oslo.
1992: Ph.D. (Dr.philos) – Medicine, Faculty of Medicine, U of Oslo. Suppressor genes involved in tumorigenesis of colon and testis. A molecular and cytogenetic study. ISBN 82-7633-018-5
Hospital assignments
Scientific advisor (20% position) in molecular diagnostics, Dept. Pathology (1993-2000), and Dept. Cancer Genetics (2001), The Norwegian Radium Hospital (NRH).

Scientific activity
Publications in: cancer- genetics and epigenetics, molecular- pathology and oncology
Research group part of
Supervision

Awards and honors
2003 The Ragnar Mørk legacy prize
2007 Elected member of the Norwegian Academy of Science and Letters
2007 King Olav the Vth Cancer Research Prize
2007 Medinnova idea prize

Ongoing tasks
Chair of the research council of the Norwegian Cancer Society
Editor-in-Chief: Critical Reviews in Oncogenesis (www.begellhouse.com).
Member of the Research Council for the Rikshospitalet and the U of Oslo (second elected period).
Member of the Comprehensive Cancer Centre Advisory Board for RR.
Member of the Commision of Forensic Medicine, appointed by the Norwegian Ministry of Justice and the Police.
Chair of the board, the Norwegian Centre of Molecular Medicine (NCMM, U of Oslo) with EMBL partnership.
Board member in Oslo Cancer Cluster
Publications 2023
Bogaard M, Skotheim RI, Maltau AV, Kidd SG, Lothe RA, Axcrona K, Axcrona U (2023)
'High proliferative cribriform prostate cancer' defines a patient subgroup with an inferior prognosis
Histopathology, 83 (6), 853-869
DOI 10.1111/his.15012, PubMed 37501635
Høland M, Berg KCG, Eilertsen IA, Bjerkehagen B, Kolberg M, Boye K, Lingjærde OC, Guren TK, Mandahl N, van den Berg E, Palmerini E, Smeland S, Picci P, Mertens F, Sveen A, Lothe RA (2023)
Transcriptomic subtyping of malignant peripheral nerve sheath tumours highlights immune signatures, genomic profiles, patient survival and therapeutic targets
EBioMedicine, 97, 104829
DOI 10.1016/j.ebiom.2023.104829, PubMed 37837931
Publications 2022
Bergsland CH, Jeanmougin M, Moosavi SH, Svindland A, Bruun J, Nesbakken A, Sveen A, Lothe RA (2022)
Spatial analysis and CD25-expression identify regulatory T cells as predictors of a poor prognosis in colorectal cancer
Mod Pathol, 35 (9), 1236-1246
DOI 10.1038/s41379-022-01086-8, PubMed 35484226
Carm KT, Johannessen B, Bogaard M, Bakken AC, Maltau AV, Hoff AM, Axcrona U, Axcrona K, Lothe RA, Skotheim RI (2022)
Somatic mutations reveal complex metastatic seeding from multifocal primary prostate cancer
Int J Cancer, 152 (5), 945-951
DOI 10.1002/ijc.34226, PubMed 35880692
Grasso C, Popovic M, Isaevska E, Lazzarato F, Fiano V, Zugna D, Pluta J, Weathers B, D'Andrea K, Almstrup K, Anson-Cartwright L, Bishop DT, Chanock SJ, Chen C, Cortessis VK, Dalgaard MD, Daneshmand S, Ferlin A, Foresta C, Frone MN, Gamulin M, Gietema JA, Greene MH, Grotmol T, Hamilton RJ et al. (2022)
Association Study between Polymorphisms in DNA Methylation-Related Genes and Testicular Germ Cell Tumor Risk
Cancer Epidemiol Biomarkers Prev, 31 (9), 1769-1779
DOI 10.1158/1055-9965.EPI-22-0123, PubMed 35700037
Helland Å, Russnes HG, Fagereng GL, Al-Shibli K, Andersson Y, Berg T, Bjørge L, Blix E, Bjerkehagen B, Brabrand S, Cameron MG, Dalhaug A, Dietzel D, Dønnem T, Enerly E, Flobak Å, Fluge S, Gilje B, Gjertsen BT, Grønberg BH, Grønås K, Guren T, Hamre H, Haug Å, Heinrich D et al. (2022)
Improving public cancer care by implementing precision medicine in Norway: IMPRESS-Norway
J Transl Med, 20 (1), 225
DOI 10.1186/s12967-022-03432-5, PubMed 35568909
Helland Å, Russnes HG, Fagereng GL, Al-Shibli K, Andersson Y, Berg T, Bjørge L, Blix E, Bjerkehagen B, Brabrand S, Cameron MG, Dalhaug A, Dietzel D, Dønnem T, Enerly E, Flobak Å, Fluge S, Gilje B, Gjertsen BT, Grønberg BH, Grønås K, Guren T, Hamre H, Haug Å, Heinrich D et al. (2022)
Correction to: Improving public cancer care by implementing precision medicine in Norway: IMPRESS-Norway
J Transl Med, 20 (1), 317
DOI 10.1186/s12967-022-03518-0, PubMed 35841045
Kidd SG, Bogaard M, Carm KT, Bakken AC, Maltau AMV, Løvf M, Lothe RA, Axcrona K, Axcrona U, Skotheim RI (2022)
In situ expression of ERG protein in the context of tumor heterogeneity identifies prostate cancer patients with inferior prognosis
Mol Oncol, 16 (15), 2810-2822
DOI 10.1002/1878-0261.13225, PubMed 35574900
Kryeziu K, Bergsland CH, Guren TK, Sveen A, Lothe RA (2022)
Multiplex immunohistochemistry of metastatic colorectal cancer and ex vivo tumor avatars
Biochim Biophys Acta Rev Cancer, 1877 (1), 188682
DOI 10.1016/j.bbcan.2022.188682, PubMed 35065193
Strømme JM, Johannessen B, Kidd SG, Bogaard M, Carm KT, Zhang X, Sveen A, Mathelier A, Lothe RA, Axcrona U, Axcrona K, Skotheim RI (2022)
Expressed prognostic biomarkers for primary prostate cancer independent of multifocality and transcriptome heterogeneity
Cancer Gene Ther, 29 (8-9), 1276-1284
DOI 10.1038/s41417-022-00444-7, PubMed 35194199
Publications 2021
Berg KCG, Brunsell TH, Sveen A, Alagaratnam S, Bjørnslett M, Hektoen M, Brudvik KW, Røsok BI, Bjørnbeth BA, Nesbakken A, Lothe RA (2021)
Genomic and prognostic heterogeneity among RAS/BRAFV600E /TP53 co-mutated resectable colorectal liver metastases
Mol Oncol, 15 (4), 830-845
DOI 10.1002/1878-0261.12885, PubMed 33325154
Bruun J, Eide PW, Bergsland CH, Bruck O, Svindland A, Arjama M, Välimäki K, Bjørnslett M, Guren MG, Kallioniemi O, Nesbakken A, Lothe RA, Pellinen T (2021)
E-cadherin is a robust prognostic biomarker in colorectal cancer and low expression is associated with sensitivity to inhibitors of topoisomerase, aurora, and HSP90 in preclinical models
Mol Oncol, 16 (12), 2312-2329
DOI 10.1002/1878-0261.13159, PubMed 34890102
Eide PW, Moosavi SH, Eilertsen IA, Brunsell TH, Langerud J, Berg KCG, Røsok BI, Bjørnbeth BA, Nesbakken A, Lothe RA, Sveen A (2021)
Metastatic heterogeneity of the consensus molecular subtypes of colorectal cancer
NPJ Genom Med, 6 (1), 59
DOI 10.1038/s41525-021-00223-7, PubMed 34262039
Kidd SG, Carm KT, Bogaard M, Olsen LG, Bakken AC, Løvf M, Lothe RA, Axcrona K, Axcrona U, Skotheim RI (2021)
High expression of SCHLAP1 in primary prostate cancer is an independent predictor of biochemical recurrence, despite substantial heterogeneity
Neoplasia, 23 (6), 634-641
DOI 10.1016/j.neo.2021.05.012, PubMed 34107378
Kryeziu K, Moosavi SH, Bergsland CH, Guren MG, Eide PW, Totland MZ, Lassen K, Abildgaard A, Nesbakken A, Sveen A, Lothe RA (2021)
Increased sensitivity to SMAC mimetic LCL161 identified by longitudinal ex vivo pharmacogenomics of recurrent, KRAS mutated rectal cancer liver metastases
J Transl Med, 19 (1), 384
DOI 10.1186/s12967-021-03062-3, PubMed 34496878
Moosavi SH, Eide PW, Eilertsen IA, Brunsell TH, Berg KCG, Røsok BI, Brudvik KW, Bjørnbeth BA, Guren MG, Nesbakken A, Lothe RA, Sveen A (2021)
De novo transcriptomic subtyping of colorectal cancer liver metastases in the context of tumor heterogeneity
Genome Med, 13 (1), 143
DOI 10.1186/s13073-021-00956-1, PubMed 34470666
Pluta J, Pyle LC, Nead KT, Wilf R, Li M, Mitra N, Weathers B, D'Andrea K, Almstrup K, Anson-Cartwright L, Benitez J, Brown CD, Chanock S, Chen C, Cortessis VK, Ferlin A, Foresta C, Gamulin M, Gietema JA, Grasso C, Greene MH, Grotmol T, Hamilton RJ, Haugen TB, Hauser R et al. (2021)
Identification of 22 susceptibility loci associated with testicular germ cell tumors
Nat Commun, 12 (1), 4487
DOI 10.1038/s41467-021-24334-y, PubMed 34301922
Slørdahl KS, Klotz D, Olsen JÅ, Skovlund E, Undseth C, Abildgaard HL, Brændengen M, Nesbakken A, Larsen SG, Hanekamp BA, Holmboe L, Tvedt R, Sveen A, Lothe RA, Malinen E, Kaasa S, Guren MG (2021)
Treatment outcomes and prognostic factors after chemoradiotherapy for anal cancer
Acta Oncol, 60 (7), 921-930
DOI 10.1080/0284186X.2021.1918763, PubMed 33966592
Sveen A, Johannessen B, Eilertsen IA, Røsok BI, Gulla M, Eide PW, Bruun J, Kryeziu K, Meza-Zepeda LA, Myklebost O, Bjørnbeth BA, Skotheim RI, Nesbakken A, Lothe RA (2021)
The expressed mutational landscape of microsatellite stable colorectal cancers
Genome Med, 13 (1), 142
DOI 10.1186/s13073-021-00955-2, PubMed 34470667
Aasebø K, Bruun J, Bergsland CH, Nunes L, Eide GE, Pfeiffer P, Dahl O, Glimelius B, Lothe RA, Sorbye H (2021)
Prognostic role of tumour-infiltrating lymphocytes and macrophages in relation to MSI, CDX2 and BRAF status: a population-based study of metastatic colorectal cancer patients
Br J Cancer, 126 (1), 48-56
DOI 10.1038/s41416-021-01586-5, PubMed 34671130
Publications 2020
Bergsland CH, Bruun J, Guren MG, Svindland A, Bjørnslett M, Smeby J, Hektoen M, Kolberg M, Domingo E, Pellinen T, Tomlinson I, Kerr D, Church DN, Nesbakken A, Sveen A, Lothe RA (2020)
Prediction of relapse-free survival according to adjuvant chemotherapy and regulator of chromosome condensation 2 (RCC2) expression in colorectal cancer
ESMO Open, 5 (6), e001040
DOI 10.1136/esmoopen-2020-001040, PubMed 33219056
Bruun J, Kryeziu K, Eide PW, Moosavi SH, Eilertsen IA, Langerud J, Røsok B, Totland MZ, Brunsell TH, Pellinen T, Saarela J, Bergsland CH, Palmer HG, Brudvik KW, Guren T, Dienstmann R, Guren MG, Nesbakken A, Bjørnbeth BA, Sveen A, Lothe RA (2020)
Patient-Derived Organoids from Multiple Colorectal Cancer Liver Metastases Reveal Moderate Intra-patient Pharmacotranscriptomic Heterogeneity
Clin Cancer Res, 26 (15), 4107-4119
DOI 10.1158/1078-0432.CCR-19-3637, PubMed 32299813
Flatin BTB, Vedeld HM, Pinto R, Langerud J, Lind GE, Lothe RA, Sveen A, Jeanmougin M (2020)
Multiregional assessment of CIMP in primary colorectal cancers: Phenotype concordance but marker variability
Int J Cancer, 148 (7), 1652-1657
DOI 10.1002/ijc.33425, PubMed 33284993
Hoff AM, Kraggerud SM, Alagaratnam S, Berg KCG, Johannessen B, Høland M, Nilsen G, Lingjærde OC, Andrews PW, Lothe RA, Skotheim RI (2020)
Frequent copy number gains of SLC2A3 and ETV1 in testicular embryonal carcinomas
Endocr Relat Cancer, 27 (9), 457-468
DOI 10.1530/ERC-20-0064, PubMed 32580154
Jeanmougin M, Håvik AB, Cekaite L, Brandal P, Sveen A, Meling TR, Ågesen TH, Scheie D, Heim S, Lothe RA, Lind GE (2020)
Improved prognostication of glioblastoma beyond molecular subtyping by transcriptional profiling of the tumor microenvironment
Mol Oncol, 14 (5), 1016-1027
DOI 10.1002/1878-0261.12668, PubMed 32171051
Lopes N, Bergsland C, Bruun J, Bjørnslett M, Vieira AF, Mesquita P, Pinto R, Gomes R, Cavadas B, Bennett E, Pereira L, Lothe RA, Almeida R, David L (2020)
A panel of intestinal differentiation markers (CDX2, GPA33, and LI-cadherin) identifies gastric cancer patients with favourable prognosis
Gastric Cancer, 23 (5), 811-823
DOI 10.1007/s10120-020-01064-6, PubMed 32215766
Smeby J, Kryeziu K, Berg KCG, Eilertsen IA, Eide PW, Johannessen B, Guren MG, Nesbakken A, Bruun J, Lothe RA, Sveen A (2020)
Molecular correlates of sensitivity to PARP inhibition beyond homologous recombination deficiency in pre-clinical models of colorectal cancer point to wild-type TP53 activity
EBioMedicine, 59, 102923
DOI 10.1016/j.ebiom.2020.102923, PubMed 32799124
Wise JF, Nakken S, Steen CB, Vodák D, Trøen G, Johannessen B, Lingjærde OC, Hilden V, Blaker YN, Bai B, Aasheim LB, Pasanen A, Lorenz S, Sveen A, Lothe RA, Myklebost O, Leppä S, Meza-Zepeda LA, Beiske K, Lawrence MS, Hovig E, Myklebust JH, Smeland EB, Holte H (2020)
Mutational dynamics and immune evasion in diffuse large B-cell lymphoma explored in a relapse-enriched patient series
Blood Adv, 4 (9), 1859-1866
DOI 10.1182/bloodadvances.2019001325, PubMed 32374878
Publications 2019
Berg KCG, Sveen A, Høland M, Alagaratnam S, Berg M, Danielsen SA, Nesbakken A, Søreide K, Lothe RA (2019)
Gene expression profiles of CMS2-epithelial/canonical colorectal cancers are largely driven by DNA copy number gains
Oncogene, 38 (33), 6109-6122
DOI 10.1038/s41388-019-0868-5, PubMed 31308487
Brunsell TH, Cengija V, Sveen A, Bjørnbeth BA, Røsok BI, Brudvik KW, Guren MG, Lothe RA, Abildgaard A, Nesbakken A (2019)
Heterogeneous radiological response to neoadjuvant therapy is associated with poor prognosis after resection of colorectal liver metastases
Eur J Surg Oncol, 45 (12), 2340-2346
DOI 10.1016/j.ejso.2019.07.017, PubMed 31350075
Brunsell TH, Sveen A, Bjørnbeth BA, Røsok BI, Danielsen SA, Brudvik KW, Berg KCG, Johannessen B, Cengija V, Abildgaard A, Guren MG, Nesbakken A, Lothe RA (2019)
High Concordance and Negative Prognostic Impact of RAS/BRAF/PIK3CA Mutations in Multiple Resected Colorectal Liver Metastases
Clin Colorectal Cancer, 19 (1), e26-e47
DOI 10.1016/j.clcc.2019.09.003, PubMed 31982351
Burocziova M, Burdova K, Martinikova AS, Kasparek P, Kleiblova P, Danielsen SA, Borecka M, Jenikova G, Janečková L, Pavel J, Zemankova P, Schneiderova M, Schwarzova L, Ticha I, Sun XF, Jiraskova K, Liska V, Vodickova L, Vodicka P, Sedlacek R, Kleibl Z, Lothe RA, Korinek V, Macurek L (2019)
Truncated PPM1D impairs stem cell response to genotoxic stress and promotes growth of APC-deficient tumors in the mouse colon
Cell Death Dis, 10 (11), 818
DOI 10.1038/s41419-019-2057-4, PubMed 31659152
Carm KT, Hoff AM, Bakken AC, Axcrona U, Axcrona K, Lothe RA, Skotheim RI, Løvf M (2019)
Interfocal heterogeneity challenges the clinical usefulness of molecular classification of primary prostate cancer
Sci Rep, 9 (1), 13579
DOI 10.1038/s41598-019-49964-7, PubMed 31537872
Dienstmann R, Villacampa G, Sveen A, Mason MJ, Niedzwiecki D, Nesbakken A, Moreno V, Warren RS, Lothe RA, Guinney J (2019)
Relative contribution of clinicopathological variables, genomic markers, transcriptomic subtyping and microenvironment features for outcome prediction in stage II/III colorectal cancer
Ann Oncol, 30 (10), 1622-1629
DOI 10.1093/annonc/mdz287, PubMed 31504112
Eide PW, Eilertsen IA, Sveen A, Lothe RA (2019)
Long noncoding RNA MIR31HG is a bona fide prognostic marker with colorectal cancer cell-intrinsic properties
Int J Cancer, 144 (11), 2843-2853
DOI 10.1002/ijc.31998, PubMed 30447009
Eilertsen IA, Moosavi SH, Strømme JM, Nesbakken A, Johannessen B, Lothe RA, Sveen A (2019)
Technical differences between sequencing and microarray platforms impact transcriptomic subtyping of colorectal cancer
Cancer Lett, 469, 246-255
DOI 10.1016/j.canlet.2019.10.040, PubMed 31678167
Glaire MA, Domingo E, Sveen A, Bruun J, Nesbakken A, Nicholson G, Novelli M, Lawson K, Oukrif D, Kildal W, Danielsen HE, Kerr R, Kerr D, Tomlinson I, Lothe RA, Church DN (2019)
Tumour-infiltrating CD8+ lymphocytes and colorectal cancer recurrence by tumour and nodal stage
Br J Cancer, 121 (6), 474-482
DOI 10.1038/s41416-019-0540-4, PubMed 31388185
Glaire MA, Domingo E, Sveen A, Bruun J, Nesbakken A, Nicholson G, Novelli M, Lawson K, Oukrif D, Kildal W, Danielsen HE, Kerr R, Kerr D, Tomlinson I, Lothe RA, Church DN (2019)
Correction: Tumour-infiltrating CD8+ lymphocytes and colorectal cancer recurrence by tumour and nodal stage
Br J Cancer, 121 (9), 807
DOI 10.1038/s41416-019-0590-7, PubMed 31548598
Kryeziu K, Bruun J, Guren TK, Sveen A, Lothe RA (2019)
Combination therapies with HSP90 inhibitors against colorectal cancer
Biochim Biophys Acta Rev Cancer, 1871 (2), 240-247
DOI 10.1016/j.bbcan.2019.01.002, PubMed 30708039
Lopes N, Bergsland CH, Bjørnslett M, Pellinen T, Svindland A, Nesbakken A, Almeida R, Lothe RA, David L, Bruun J (2019)
Digital image analysis of multiplex fluorescence IHC in colorectal cancer recognizes the prognostic value of CDX2 and its negative correlation with SOX2
Lab Invest, 100 (1), 120-134
DOI 10.1038/s41374-019-0336-4, PubMed 31641225
Røsok BI, Høst-Brunsell T, Brudvik KW, Carling U, Dorenberg E, Björnsson B, Lothe RA, Bjørnbeth BA, Sandström P (2019)
Characterization of early recurrences following liver resection by ALPPS and two stage hepatectomy in patients with colorectal liver-metastases and small future liver remnants; a translational substudy of the LIGRO-RCT
HPB (Oxford), 21 (8), 1017-1023
DOI 10.1016/j.hpb.2018.12.003, PubMed 30765198
Smeby J, Sveen A, Bergsland CH, Eilertsen IA, Danielsen SA, Eide PW, Hektoen M, Guren MG, Nesbakken A, Bruun J, Lothe RA (2019)
Exploratory analyses of consensus molecular subtype-dependent associations of TP53 mutations with immunomodulation and prognosis in colorectal cancer
ESMO Open, 4 (3), e000523
DOI 10.1136/esmoopen-2019-000523, PubMed 31321083
Smeby J, Sveen A, Eilertsen IA, Danielsen SA, Hoff AM, Eide PW, Johannessen B, Hektoen M, Skotheim RI, Guren MG, Nesbakken A, Lothe RA (2019)
Transcriptional and functional consequences of TP53 splice mutations in colorectal cancer
Oncogenesis, 8 (6), 35
DOI 10.1038/s41389-019-0141-3, PubMed 31092812
Sveen A, Kopetz S, Lothe RA (2019)
Biomarker-guided therapy for colorectal cancer: strength in complexity
Nat Rev Clin Oncol, 17 (1), 11-32
DOI 10.1038/s41571-019-0241-1, PubMed 31289352
Publications 2018
Bruun J, Sveen A, Barros R, Eide PW, Eilertsen I, Kolberg M, Pellinen T, David L, Svindland A, Kallioniemi O, Guren MG, Nesbakken A, Almeida R, Lothe RA (2018)
Prognostic, predictive, and pharmacogenomic assessments of CDX2 refine stratification of colorectal cancer
Mol Oncol, 12 (9), 1639-1655
DOI 10.1002/1878-0261.12347, PubMed 29900672
Danielsen HE, Hveem TS, Domingo E, Pradhan M, Kleppe A, Syvertsen RA, Kostolomov I, Nesheim JA, Askautrud HA, Nesbakken A, Lothe RA, Svindland A, Shepherd N, Novelli M, Johnstone E, Tomlinson I, Kerr R, Kerr DJ (2018)
Prognostic markers for colorectal cancer: estimating ploidy and stroma
Ann Oncol, 29 (3), 616-623
DOI 10.1093/annonc/mdx794, PubMed 29293881
Eilertsen IA, Sveen A, Strømme JM, Skotheim RI, Nesbakken A, Lothe RA (2018)
Alternative splicing expands the prognostic impact of KRAS in microsatellite stable primary colorectal cancer
Int J Cancer, 144 (4), 841-847
DOI 10.1002/ijc.31809, PubMed 30121958
Høland M, Kolberg M, Danielsen SA, Bjerkehagen B, Eilertsen IA, Hektoen M, Mandahl N, van den Berg E, Smeland S, Mertens F, Sundby Hall K, Picci P, Sveen A, Lothe RA (2018)
Inferior survival for patients with malignant peripheral nerve sheath tumors defined by aberrant TP53
Mod Pathol, 31 (11), 1694-1707
DOI 10.1038/s41379-018-0074-y, PubMed 29946184
Løvf M, Zhao S, Axcrona U, Johannessen B, Bakken AC, Carm KT, Hoff AM, Myklebost O, Meza-Zepeda LA, Lie AK, Axcrona K, Lothe RA, Skotheim RI (2018)
Multifocal Primary Prostate Cancer Exhibits High Degree of Genomic Heterogeneity
Eur Urol, 75 (3), 498-505
DOI 10.1016/j.eururo.2018.08.009, PubMed 30181068
Oltedal S, Kørner H, Aasprong OG, Hussain I, Tjensvoll K, Smaaland R, Søreide JA, Søreide K, Lothe RA, Heikkilä R, Gilje B, Nordgård O (2018)
The Prognostic Relevance of Sentinel Lymph Node Metastases Assessed by PHGR1 mRNA Quantification in Stage I to III Colon Cancer
Transl Oncol, 11 (2), 436-443
DOI 10.1016/j.tranon.2018.01.015, PubMed 29475140
Pharo HD, Andresen K, Berg KCG, Lothe RA, Jeanmougin M, Lind GE (2018)
A robust internal control for high-precision DNA methylation analyses by droplet digital PCR
Clin Epigenetics, 10, 24
DOI 10.1186/s13148-018-0456-5, PubMed 29484034
Pinto D, Pinto C, Guerra J, Pinheiro M, Santos R, Vedeld HM, Yohannes Z, Peixoto A, Santos C, Pinto P, Lopes P, Lothe R, Lind GE, Henrique R, Teixeira MR (2018)
Contribution of MLH1 constitutional methylation for Lynch syndrome diagnosis in patients with tumor MLH1 downregulation
Cancer Med, 7 (2), 433-444
DOI 10.1002/cam4.1285, PubMed 29341452
Smeby J, Sveen A, Merok MA, Danielsen SA, Eilertsen IA, Guren MG, Dienstmann R, Nesbakken A, Lothe RA (2018)
CMS-dependent prognostic impact of KRAS and BRAFV600E mutations in primary colorectal cancer
Ann Oncol, 29 (5), 1227-1234
DOI 10.1093/annonc/mdy085, PubMed 29518181
Vedeld HM, Nesbakken A, Lothe RA, Lind GE (2018)
Re-assessing ZNF331 as a DNA methylation biomarker for colorectal cancer
Clin Epigenetics, 10, 70
DOI 10.1186/s13148-018-0503-2, PubMed 29854011
Publications 2017
Berg KCG, Eide PW, Eilertsen IA, Johannessen B, Bruun J, Danielsen SA, Bjørnslett M, Meza-Zepeda LA, Eknæs M, Lind GE, Myklebost O, Skotheim RI, Sveen A, Lothe RA (2017)
Multi-omics of 34 colorectal cancer cell lines - a resource for biomedical studies
Mol Cancer, 16 (1), 116
DOI 10.1186/s12943-017-0691-y, PubMed 28683746
Dienstmann R, Mason MJ, Sinicrope FA, Phipps AI, Tejpar S, Nesbakken A, Danielsen SA, Sveen A, Buchanan DD, Clendenning M, Rosty C, Bot B, Alberts SR, Milburn Jessup J, Lothe RA, Delorenzi M, Newcomb PA, Sargent D, Guinney J (2017)
Prediction of overall survival in stage II and III colon cancer beyond TNM system: a retrospective, pooled biomarker study
Ann Oncol, 28 (5), 1023-1031
DOI 10.1093/annonc/mdx052, PubMed 28453697
Eide PW, Bruun J, Lothe RA, Sveen A (2017)
CMScaller: an R package for consensus molecular subtyping of colorectal cancer pre-clinical models
Sci Rep, 7 (1), 16618
DOI 10.1038/s41598-017-16747-x, PubMed 29192179
Kolberg M, Bruun J, Murumägi A, Mpindi JP, Bergsland CH, Høland M, Eilertsen IA, Danielsen SA, Kallioniemi O, Lothe RA (2017)
Drug sensitivity and resistance testing identifies PLK1 inhibitors and gemcitabine as potent drugs for malignant peripheral nerve sheath tumors
Mol Oncol, 11 (9), 1156-1171
DOI 10.1002/1878-0261.12086, PubMed 28556483
Landskron J, Kraggerud SM, Wik E, Dørum A, Bjørnslett M, Melum E, Helland Ø, Bjørge L, Lothe RA, Salvesen HB, Taskén K (2017)
C77G in PTPRC (CD45) is no risk allele for ovarian cancer, but associated with less aggressive disease
PLoS One, 12 (7), e0182030
DOI 10.1371/journal.pone.0182030, PubMed 28759630
Lind GE, Guriby M, Ahlquist T, Hussain I, Jeanmougin M, Søreide K, Kørner H, Lothe RA, Nordgård O (2017)
Prognostic relevance of an epigenetic biomarker panel in sentinel lymph nodes from colon cancer patients
Clin Epigenetics, 9, 97
DOI 10.1186/s13148-017-0397-4, PubMed 28878843
Sveen A, Bruun J, Eide PW, Eilertsen IA, Ramirez L, Murumägi A, Arjama M, Danielsen SA, Kryeziu K, Elez E, Tabernero J, Guinney J, Palmer HG, Nesbakken A, Kallioniemi O, Dienstmann R, Lothe RA (2017)
Colorectal Cancer Consensus Molecular Subtypes Translated to Preclinical Models Uncover Potentially Targetable Cancer Cell Dependencies
Clin Cancer Res, 24 (4), 794-806
DOI 10.1158/1078-0432.CCR-17-1234, PubMed 29242316
Sveen A, Johannessen B, Tengs T, Danielsen SA, Eilertsen IA, Lind GE, Berg KCG, Leithe E, Meza-Zepeda LA, Domingo E, Myklebost O, Kerr D, Tomlinson I, Nesbakken A, Skotheim RI, Lothe RA (2017)
Multilevel genomics of colorectal cancers with microsatellite instability-clinical impact of JAK1 mutations and consensus molecular subtype 1
Genome Med, 9 (1), 46
DOI 10.1186/s13073-017-0434-0, PubMed 28539123
Totland MZ, Bergsland CH, Fykerud TA, Knudsen LM, Rasmussen NL, Eide PW, Yohannes Z, Sørensen V, Brech A, Lothe RA, Leithe E (2017)
The E3 ubiquitin ligase NEDD4 induces endocytosis and lysosomal sorting of connexin 43 to promote loss of gap junctions
J Cell Sci, 130 (17), 2867-2882
DOI 10.1242/jcs.202408, PubMed 28733455
Vedeld HM, Merok M, Jeanmougin M, Danielsen SA, Honne H, Presthus GK, Svindland A, Sjo OH, Hektoen M, Eknaes M, Nesbakken A, Lothe RA, Lind GE (2017)
CpG island methylator phenotype identifies high risk patients among microsatellite stable BRAF mutated colorectal cancers
Int J Cancer, 141 (5), 967-976
DOI 10.1002/ijc.30796, PubMed 28542846
Publications 2016
Cekaite L, Eide PW, Lind GE, Skotheim RI, Lothe RA (2016)
MicroRNAs as growth regulators, their function and biomarker status in colorectal cancer
Oncotarget, 7 (6), 6476-505
DOI 10.18632/oncotarget.6390, PubMed 26623728
Domingo E, Freeman-Mills L, Rayner E, Glaire M, Briggs S, Vermeulen L, Fessler E, Medema JP, Boot A, Morreau H, van Wezel T, Liefers GJ, Lothe RA, Danielsen SA, Sveen A, Nesbakken A, Zlobec I, Lugli A, Koelzer VH, Berger MD, Castellví-Bel S, Muñoz J, Epicolon consortium, de Bruyn M, Nijman HW et al. (2016)
Somatic POLE proofreading domain mutation, immune response, and prognosis in colorectal cancer: a retrospective, pooled biomarker study
Lancet Gastroenterol Hepatol, 1 (3), 207-216
DOI 10.1016/S2468-1253(16)30014-0, PubMed 28404093
Fykerud TA, Knudsen LM, Totland MZ, Sørensen V, Dahal-Koirala S, Lothe RA, Brech A, Leithe E (2016)
Mitotic cells form actin-based bridges with adjacent cells to provide intercellular communication during rounding
Cell Cycle, 15 (21), 2943-2957
DOI 10.1080/15384101.2016.1231280, PubMed 27625181
Lorenz S, Barøy T, Sun J, Nome T, Vodák D, Bryne JC, Håkelien AM, Fernandez-Cuesta L, Möhlendick B, Rieder H, Szuhai K, Zaikova O, Ahlquist TC, Thomassen GO, Skotheim RI, Lothe RA, Tarpey PS, Campbell P, Flanagan A, Myklebost O, Meza-Zepeda LA (2016)
Unscrambling the genomic chaos of osteosarcoma reveals extensive transcript fusion, recurrent rearrangements and frequent novel TP53 aberrations
Oncotarget, 7 (5), 5273-88
DOI 10.18632/oncotarget.6567, PubMed 26672768
Ramalho-Carvalho J, Martins JB, Cekaite L, Sveen A, Torres-Ferreira J, Graça I, Costa-Pinheiro P, Eilertsen IA, Antunes L, Oliveira J, Lothe RA, Henrique R, Jerónimo C (2016)
Epigenetic disruption of miR-130a promotes prostate cancer by targeting SEC23B and DEPDC1
Cancer Lett, 385, 150-159
DOI 10.1016/j.canlet.2016.10.028, PubMed 27984115
Sveen A, Løes IM, Alagaratnam S, Nilsen G, Høland M, Lingjærde OC, Sorbye H, Berg KC, Horn A, Angelsen JH, Knappskog S, Lønning PE, Lothe RA (2016)
Intra-patient Inter-metastatic Genetic Heterogeneity in Colorectal Cancer as a Key Determinant of Survival after Curative Liver Resection
PLoS Genet, 12 (7), e1006225
DOI 10.1371/journal.pgen.1006225, PubMed 27472274
Publications 2015
Andresen K, Boberg KM, Vedeld HM, Honne H, Jebsen P, Hektoen M, Wadsworth CA, Clausen OP, Lundin KE, Paulsen V, Foss A, Mathisen Ø, Aabakken L, Schrumpf E, Lothe RA, Lind GE (2015)
Four DNA methylation biomarkers in biliary brush samples accurately identify the presence of cholangiocarcinoma
Hepatology, 61 (5), 1651-9
DOI 10.1002/hep.27707, PubMed 25644509
Brabrand S, Johannessen B, Axcrona U, Kraggerud SM, Berg KG, Bakken AC, Bruun J, Fosså SD, Lothe RA, Lehne G, Skotheim RI (2015)
Exome sequencing of bilateral testicular germ cell tumors suggests independent development lineages
Neoplasia, 17 (2), 167-74
DOI 10.1016/j.neo.2014.12.005, PubMed 25748235
Bruun J, Kolberg M, Ahlquist TC, Røyrvik EC, Nome T, Leithe E, Lind GE, Merok MA, Rognum TO, Bjørkøy G, Johansen T, Lindblom A, Sun XF, Svindland A, Liestøl K, Nesbakken A, Skotheim RI, Lothe RA (2015)
Regulator of Chromosome Condensation 2 Identifies High-Risk Patients within Both Major Phenotypes of Colorectal Cancer
Clin Cancer Res, 21 (16), 3759-70
DOI 10.1158/1078-0432.CCR-14-3294, PubMed 25910952
Hoff AM, Alagaratnam S, Zhao S, Bruun J, Andrews PW, Lothe RA, Skotheim RI (2015)
Identification of Novel Fusion Genes in Testicular Germ Cell Tumors
Cancer Res, 76 (1), 108-16
DOI 10.1158/0008-5472.CAN-15-1790, PubMed 26659575
Hoff AM, Johannessen B, Alagaratnam S, Zhao S, Nome T, Løvf M, Bakken AC, Hektoen M, Sveen A, Lothe RA, Skotheim RI (2015)
Novel RNA variants in colorectal cancers
Oncotarget, 6 (34), 36587-602
DOI 10.18632/oncotarget.5500, PubMed 26474385
Kolberg M, Høland M, Lind GE, Ågesen TH, Skotheim RI, Hall KS, Mandahl N, Smeland S, Mertens F, Davidson B, Lothe RA (2015)
Protein expression of BIRC5, TK1, and TOP2A in malignant peripheral nerve sheath tumours--A prognostic test after surgical resection
Mol Oncol, 9 (6), 1129-39
DOI 10.1016/j.molonc.2015.02.005, PubMed 25769404
Mesquita D, Barros-Silva JD, Santos J, Skotheim RI, Lothe RA, Paulo P, Teixeira MR (2015)
Specific and redundant activities of ETV1 and ETV4 in prostate cancer aggressiveness revealed by co-overexpression cellular contexts
Oncotarget, 6 (7), 5217-36
DOI 10.18632/oncotarget.2847, PubMed 25595908
Sveen A, Kilpinen S, Ruusulehto A, Lothe RA, Skotheim RI (2015)
Aberrant RNA splicing in cancer; expression changes and driver mutations of splicing factor genes
Oncogene, 35 (19), 2413-27
DOI 10.1038/onc.2015.318, PubMed 26300000
Publications 2014
Almeida M, Costa VL, Costa NR, Ramalho-Carvalho J, Baptista T, Ribeiro FR, Paulo P, Teixeira MR, Oliveira J, Lothe RA, Lind GE, Henrique R, Jerónimo C (2014)
Epigenetic regulation of EFEMP1 in prostate cancer: biological relevance and clinical potential
J Cell Mol Med, 18 (11), 2287-97
DOI 10.1111/jcmm.12394, PubMed 25211630
Bruun J, Kolberg M, Nesland JM, Svindland A, Nesbakken A, Lothe RA (2014)
Prognostic Significance of β-Catenin, E-Cadherin, and SOX9 in Colorectal Cancer: Results from a Large Population-Representative Series
Front Oncol, 4, 118
DOI 10.3389/fonc.2014.00118, PubMed 24904831
Danielsen SA, Eide PW, Nesbakken A, Guren T, Leithe E, Lothe RA (2014)
Portrait of the PI3K/AKT pathway in colorectal cancer
Biochim Biophys Acta, 1855 (1), 104-21
DOI 10.1016/j.bbcan.2014.09.008, PubMed 25450577
Danielsen SA, Lind GE, Kolberg M, Høland M, Bjerkehagen B, Sundby Hall K, van den Berg E, Mertens F, Smeland S, Picci P, Lothe RA (2014)
Methylated RASSF1A in malignant peripheral nerve sheath tumors identifies neurofibromatosis type 1 patients with inferior prognosis
Neuro Oncol, 17 (1), 63-9
DOI 10.1093/neuonc/nou140, PubMed 25038505
Hveem TS, Merok MA, Pretorius ME, Novelli M, Bævre MS, Sjo OH, Clinch N, Liestøl K, Svindland A, Lothe RA, Nesbakken A, Danielsen HE (2014)
Prognostic impact of genomic instability in colorectal cancer
Br J Cancer, 110 (8), 2159-64
DOI 10.1038/bjc.2014.133, PubMed 24642618
Løvf M, Nome T, Bruun J, Eknaes M, Bakken AC, Mpindi JP, Kilpinen S, Rognum TO, Nesbakken A, Kallioniemi O, Lothe RA, Skotheim RI (2014)
A novel transcript, VNN1-AB, as a biomarker for colorectal cancer
Int J Cancer, 135 (9), 2077-84
DOI 10.1002/ijc.28855, PubMed 24687856
Sirnes S, Lind GE, Bruun J, Fykerud TA, Mesnil M, Lothe RA, Rivedal E, Kolberg M, Leithe E (2014)
Connexins in colorectal cancer pathogenesis
Int J Cancer, 137 (1), 1-11
DOI 10.1002/ijc.28911, PubMed 24752574
Smebye ML, Sveen A, Haugom L, Davidson B, Tropé CG, Lothe RA, Heim S, Skotheim RI, Micci F (2014)
Chromosome 19 rearrangements in ovarian carcinomas: zinc finger genes are particularly targeted
Genes Chromosomes Cancer, 53 (7), 558-67
DOI 10.1002/gcc.22166, PubMed 24634323
Sveen A, Johannessen B, Teixeira MR, Lothe RA, Skotheim RI (2014)
Transcriptome instability as a molecular pan-cancer characteristic of carcinomas
BMC Genomics, 15 (1), 672
DOI 10.1186/1471-2164-15-672, PubMed 25109687
Sørlie T, Johnsen H, Vu P, Lind GE, Lothe R, Børresen-Dale AL (2014)
Mutation screening of the TP53 gene by temporal temperature gel electrophoresis (TTGE)
Methods Mol Biol, 1105, 315-24
DOI 10.1007/978-1-62703-739-6_25, PubMed 24623239
Vedeld HM, Skotheim RI, Lothe RA, Lind GE (2014)
The recently suggested intestinal cancer stem cell marker DCLK1 is an epigenetic biomarker for colorectal cancer
Epigenetics, 9 (3), 346-50
DOI 10.4161/epi.27582, PubMed 24384857
Publications 2013
Ahmed D, Eide PW, Eilertsen IA, Danielsen SA, Eknæs M, Hektoen M, Lind GE, Lothe RA (2013)
Epigenetic and genetic features of 24 colon cancer cell lines
Oncogenesis, 2 (9), e71
DOI 10.1038/oncsis.2013.35, PubMed 24042735
Alagaratnam S, Harrison N, Bakken AC, Hoff AM, Jones M, Sveen A, Moore HD, Andrews PW, Lothe RA, Skotheim RI (2013)
Transforming pluripotency: an exon-level study of malignancy-specific transcripts in human embryonal carcinoma and embryonic stem cells
Stem Cells Dev, 22 (7), 1136-46
DOI 10.1089/scd.2012.0369, PubMed 23137282
Avery S, Hirst AJ, Baker D, Lim CY, Alagaratnam S, Skotheim RI, Lothe RA, Pera MF, Colman A, Robson P, Andrews PW, Knowles BB (2013)
BCL-XL mediates the strong selective advantage of a 20q11.21 amplification commonly found in human embryonic stem cell cultures
Stem Cell Reports, 1 (5), 379-86
DOI 10.1016/j.stemcr.2013.10.005, PubMed 24286026
Barros-Silva JD, Paulo P, Bakken AC, Cerveira N, Løvf M, Henrique R, Jerónimo C, Lothe RA, Skotheim RI, Teixeira MR (2013)
Novel 5' fusion partners of ETV1 and ETV4 in prostate cancer
Neoplasia, 15 (7), 720-6
DOI 10.1593/neo.13232, PubMed 23814484
Berg M, Guriby M, Nordgård O, Nedrebø BS, Ahlquist TC, Smaaland R, Oltedal S, Søreide JA, Kørner H, Lothe RA, Søreide K (2013)
Influence of microsatellite instability and KRAS and BRAF mutations on lymph node harvest in stage I-III colon cancers
Mol Med, 19 (1), 286-93
DOI 10.2119/molmed.2013.00049, PubMed 23979710
Bethge N, Lothe RA, Honne H, Andresen K, Trøen G, Eknæs M, Liestøl K, Holte H, Delabie J, Smeland EB, Lind GE (2013)
Colorectal cancer DNA methylation marker panel validated with high performance in Non-Hodgkin lymphoma
Epigenetics, 9 (3), 428-36
DOI 10.4161/epi.27554, PubMed 24362313
Chung CC, Kanetsky PA, Wang Z, Hildebrandt MA, Koster R, Skotheim RI, Kratz CP, Turnbull C, Cortessis VK, Bakken AC, Bishop DT, Cook MB, Erickson RL, Fosså SD, Jacobs KB, Korde LA, Kraggerud SM, Lothe RA, Loud JT, Rahman N, Skinner EC, Thomas DC, Wu X, Yeager M, Schumacher FR et al. (2013)
Meta-analysis identifies four new loci associated with testicular germ cell tumor
Nat Genet, 45 (6), 680-5
DOI 10.1038/ng.2634, PubMed 23666239
Håvik AB, Lind GE, Honne H, Meling TR, Scheie D, Hall KS, van den Berg E, Mertens F, Picci P, Lothe RA, Heim S, Brandal P (2013)
Sequencing IDH1/2 glioma mutation hotspots in gliomas and malignant peripheral nerve sheath tumors
Neuro Oncol, 16 (2), 320-2
DOI 10.1093/neuonc/not230, PubMed 24311631
Kraggerud SM, Hoei-Hansen CE, Alagaratnam S, Skotheim RI, Abeler VM, Rajpert-De Meyts E, Lothe RA (2013)
Molecular characteristics of malignant ovarian germ cell tumors and comparison with testicular counterparts: implications for pathogenesis
Endocr Rev, 34 (3), 339-76
DOI 10.1210/er.2012-1045, PubMed 23575763
Løvf M, Thomassen GO, Mertens F, Cerveira N, Teixeira MR, Lothe RA, Skotheim RI (2013)
Assessment of fusion gene status in sarcomas using a custom made fusion gene microarray
PLoS One, 8 (8), e70649
DOI 10.1371/journal.pone.0070649, PubMed 23967081
Mesquita B, Lopes P, Rodrigues A, Pereira D, Afonso M, Leal C, Henrique R, Lind GE, Jerónimo C, Lothe RA, Teixeira MR (2013)
Frequent copy number gains at 1q21 and 1q32 are associated with overexpression of the ETS transcription factors ETV3 and ELF3 in breast cancer irrespective of molecular subtypes
Breast Cancer Res Treat, 138 (1), 37-45
DOI 10.1007/s10549-013-2408-2, PubMed 23329352
Nome T, Thomassen GO, Bruun J, Ahlquist T, Bakken AC, Hoff AM, Rognum T, Nesbakken A, Lorenz S, Sun J, Barros-Silva JD, Lind GE, Myklebost O, Teixeira MR, Meza-Zepeda LA, Lothe RA, Skotheim RI (2013)
Common fusion transcripts identified in colorectal cancer cell lines by high-throughput RNA sequencing
Transl Oncol, 6 (5), 546-53
DOI 10.1593/tlo.13457, PubMed 24151535
Schumacher FR, Wang Z, Skotheim RI, Koster R, Chung CC, Hildebrandt MA, Kratz CP, Bakken AC, Bishop DT, Cook MB, Erickson RL, Fosså SD, Greene MH, Jacobs KB, Kanetsky PA, Kolonel LN, Loud JT, Korde LA, Le Marchand L, Lewinger JP, Lothe RA, Pike MC, Rahman N, Rubertone MV, Schwartz SM et al. (2013)
Testicular germ cell tumor susceptibility associated with the UCK2 locus on chromosome 1q23
Hum Mol Genet, 22 (13), 2748-53
DOI 10.1093/hmg/ddt109, PubMed 23462292
Sveen A, Nesbakken A, Ågesen TH, Guren MG, Tveit KM, Skotheim RI, Lothe RA (2013)
Anticipating the clinical use of prognostic gene expression-based tests for colon cancer stage II and III: is Godot finally arriving?
Clin Cancer Res, 19 (24), 6669-77
DOI 10.1158/1078-0432.CCR-13-1769, PubMed 24166914
Publications 2012
Agesen TH, Sveen A, Merok MA, Lind GE, Nesbakken A, Skotheim RI, Lothe RA (2012)
ColoGuideEx: a robust gene classifier specific for stage II colorectal cancer prognosis
Gut, 61 (11), 1560-7
DOI 10.1136/gutjnl-2011-301179, PubMed 22213796
Ahmed D, Danielsen SA, Aagesen TH, Bretthauer M, Thiis-Evensen E, Hoff G, Rognum TO, Nesbakken A, Lothe RA, Lind GE (2012)
A tissue-based comparative effectiveness analysis of biomarkers for early detection of colorectal tumors
Clin Transl Gastroenterol, 3 (12), e27
DOI 10.1038/ctg.2012.21, PubMed 23324654
Andresen K, Boberg KM, Vedeld HM, Honne H, Hektoen M, Wadsworth CA, Clausen OP, Karlsen TH, Foss A, Mathisen O, Schrumpf E, Lothe RA, Lind GE (2012)
Novel target genes and a valid biomarker panel identified for cholangiocarcinoma
Epigenetics, 7 (11), 1249-57
DOI 10.4161/epi.22191, PubMed 22983262
Camões MJ, Paulo P, Ribeiro FR, Barros-Silva JD, Almeida M, Costa VL, Cerveira N, Skotheim RI, Lothe RA, Henrique R, Jerónimo C, Teixeira MR (2012)
Potential downstream target genes of aberrant ETS transcription factors are differentially affected in Ewing's sarcoma and prostate carcinoma
PLoS One, 7 (11), e49819
DOI 10.1371/journal.pone.0049819, PubMed 23185447
Cekaite L, Rantala JK, Bruun J, Guriby M, Agesen TH, Danielsen SA, Lind GE, Nesbakken A, Kallioniemi O, Lothe RA, Skotheim RI (2012)
MiR-9, -31, and -182 deregulation promote proliferation and tumor cell survival in colon cancer
Neoplasia, 14 (9), 868-79
DOI 10.1593/neo.121094, PubMed 23019418
Celestino R, Sigstad E, Løvf M, Thomassen GO, Grøholt KK, Jørgensen LH, Berner A, Castro P, Lothe RA, Bjøro T, Sobrinho-Simões M, Soares P, Skotheim RI (2012)
Survey of 548 oncogenic fusion transcripts in thyroid tumors supports the importance of the already established thyroid fusions genes
Genes Chromosomes Cancer, 51 (12), 1154-64
DOI 10.1002/gcc.22003, PubMed 22961909
Eide PW, Cekaite L, Danielsen SA, Eilertsen IA, Kjenseth A, Fykerud TA, Ågesen TH, Bruun J, Rivedal E, Lothe RA, Leithe E (2012)
NEDD4 is overexpressed in colorectal cancer and promotes colonic cell growth independently of the PI3K/PTEN/AKT pathway
Cell Signal, 25 (1), 12-8
DOI 10.1016/j.cellsig.2012.08.012, PubMed 22974840
Håvik AB, Brandal P, Honne H, Dahlback HS, Scheie D, Hektoen M, Meling TR, Helseth E, Heim S, Lothe RA, Lind GE (2012)
MGMT promoter methylation in gliomas-assessment by pyrosequencing and quantitative methylation-specific PCR
J Transl Med, 10, 36
DOI 10.1186/1479-5876-10-36, PubMed 22390413
Kolberg M, Høland M, Agesen TH, Brekke HR, Liestøl K, Hall KS, Mertens F, Picci P, Smeland S, Lothe RA (2012)
Survival meta-analyses for >1800 malignant peripheral nerve sheath tumor patients with and without neurofibromatosis type 1
Neuro Oncol, 15 (2), 135-47
DOI 10.1093/neuonc/nos287, PubMed 23161774
Lind GE, Ahmed D, Lothe RA (2012)
Vimentin in upper gastrointestinal pathologies--letter
Cancer Epidemiol Biomarkers Prev, 21 (10), 1889; author reply 1890
DOI 10.1158/1055-9965.EPI-12-0894, PubMed 22929079
Lobert VH, Bruun J, Abrahamsen H, Lothe RA, Stenmark H, Kolberg M, Campsteijn C (2012)
Antibody crossreactivity between the tumour suppressor PHLPP1 and the proto-oncogene β-catenin
EMBO Rep, 14 (1), 10-1
DOI 10.1038/embor.2012.188, PubMed 23229585
Matheu A, Collado M, Wise C, Manterola L, Cekaite L, Tye AJ, Canamero M, Bujanda L, Schedl A, Cheah KS, Skotheim RI, Lothe RA, López de Munain A, Briscoe J, Serrano M, Lovell-Badge R (2012)
Oncogenicity of the developmental transcription factor Sox9
Cancer Res, 72 (5), 1301-15
DOI 10.1158/0008-5472.CAN-11-3660, PubMed 22246670
Merok MA, Ahlquist T, Røyrvik EC, Tufteland KF, Hektoen M, Sjo OH, Mala T, Svindland A, Lothe RA, Nesbakken A (2012)
Microsatellite instability has a positive prognostic impact on stage II colorectal cancer after complete resection: results from a large, consecutive Norwegian series
Ann Oncol, 24 (5), 1274-82
DOI 10.1093/annonc/mds614, PubMed 23235802
Nordgård O, Oltedal S, Aasprong OG, Søreide JA, Søreide K, Tjensvoll K, Gilje B, Heikkilä R, Guriby M, Lothe RA, Smaaland R, Kørner H (2012)
Prognostic relevance of occult metastases detected by cytokeratin 20 and mucin 2 mRNA levels in sentinel lymph nodes from colon cancer patients
Ann Surg Oncol, 19 (12), 3719-26
DOI 10.1245/s10434-012-2454-8, PubMed 22752373
Nyquist KB, Panagopoulos I, Thorsen J, Haugom L, Gorunova L, Bjerkehagen B, Fosså A, Guriby M, Nome T, Lothe RA, Skotheim RI, Heim S, Micci F (2012)
Whole-transcriptome sequencing identifies novel IRF2BP2-CDX1 fusion gene brought about by translocation t(1;5)(q42;q32) in mesenchymal chondrosarcoma
PLoS One, 7 (11), e49705
DOI 10.1371/journal.pone.0049705, PubMed 23185413
Paulo P, Ribeiro FR, Santos J, Mesquita D, Almeida M, Barros-Silva JD, Itkonen H, Henrique R, Jerónimo C, Sveen A, Mills IG, Skotheim RI, Lothe RA, Teixeira MR (2012)
Molecular subtyping of primary prostate cancer reveals specific and shared target genes of different ETS rearrangements
Neoplasia, 14 (7), 600-11
DOI 10.1593/neo.12600, PubMed 22904677
Skotheim RI, Meza-Zepeda LA, Hovig E, Lønning PE, Lothe RA, Myklebost O (2012)
[Genome sequencing for personalized cancer treatment]
Tidsskr Nor Laegeforen, 132 (21), 2406-8
DOI 10.4045/tidsskr.12.0784, PubMed 23160594
Sveen A, Bakken AC, Ågesen TH, Lind GE, Nesbakken A, Nordgård O, Brackmann S, Rognum TO, Lothe RA, Skotheim RI (2012)
The exon-level biomarker SLC39A14 has organ-confined cancer-specificity in colorectal cancer
Int J Cancer, 131 (6), 1479-85
DOI 10.1002/ijc.27399, PubMed 22173985
Sveen A, Ågesen TH, Nesbakken A, Meling GI, Rognum TO, Liestøl K, Skotheim RI, Lothe RA (2012)
ColoGuidePro: a prognostic 7-gene expression signature for stage III colorectal cancer patients
Clin Cancer Res, 18 (21), 6001-10
DOI 10.1158/1078-0432.CCR-11-3302, PubMed 22991413
Publications 2011
Ahmed D, Lothe RA, Rivedal E, Lind GE (2011)
Quantitative validation of GJC1 promoter hypermethylation in benign and malignant colorectal tumors
Endocr Relat Cancer, 18 (6), C31-4
DOI 10.1530/ERC-11-0204, PubMed 21868474
Alagaratnam S, Lind GE, Kraggerud SM, Lothe RA, Skotheim RI (2011)
The testicular germ cell tumour transcriptome
Int J Androl, 34 (4 Pt 2), e133-50; discussion e150-1
DOI 10.1111/j.1365-2605.2011.01169.x, PubMed 21651573
Costa VL, Henrique R, Danielsen SA, Eknaes M, Patrício P, Morais A, Oliveira J, Lothe RA, Teixeira MR, Lind GE, Jerónimo C (2011)
TCF21 and PCDH17 methylation: An innovative panel of biomarkers for a simultaneous detection of urological cancers
Epigenetics, 6 (9), 1120-30
DOI 10.4161/epi.6.9.16376, PubMed 21847011
Danielsen SA, Cekaite L, Ågesen TH, Sveen A, Nesbakken A, Thiis-Evensen E, Skotheim RI, Lind GE, Lothe RA (2011)
Phospholipase C isozymes are deregulated in colorectal cancer--insights gained from gene set enrichment analysis of the transcriptome
PLoS One, 6 (9), e24419
DOI 10.1371/journal.pone.0024419, PubMed 21909432
Lind GE, Danielsen SA, Ahlquist T, Merok MA, Andresen K, Skotheim RI, Hektoen M, Rognum TO, Meling GI, Hoff G, Bretthauer M, Thiis-Evensen E, Nesbakken A, Lothe RA (2011)
Identification of an epigenetic biomarker panel with high sensitivity and specificity for colorectal cancer and adenomas
Mol Cancer, 10, 85
DOI 10.1186/1476-4598-10-85, PubMed 21777459
Lind GE, Raiborg C, Danielsen SA, Rognum TO, Thiis-Evensen E, Hoff G, Nesbakken A, Stenmark H, Lothe RA (2011)
SPG20, a novel biomarker for early detection of colorectal cancer, encodes a regulator of cytokinesis
Oncogene, 30 (37), 3967-78
DOI 10.1038/onc.2011.109, PubMed 21499309
Løvf M, Thomassen GO, Bakken AC, Celestino R, Fioretos T, Lind GE, Lothe RA, Skotheim RI (2011)
Fusion gene microarray reveals cancer type-specificity among fusion genes
Genes Chromosomes Cancer, 50 (5), 348-57
DOI 10.1002/gcc.20860, PubMed 21305644
Ohnstad HO, Paulsen EB, Noordhuis P, Berg M, Lothe RA, Vassilev LT, Myklebost O (2011)
MDM2 antagonist Nutlin-3a potentiates antitumour activity of cytotoxic drugs in sarcoma cell lines
BMC Cancer, 11, 211:1-11
DOI 10.1186/1471-2407-11-211, PubMed 21624110
Paulo P, Barros-Silva JD, Ribeiro FR, Ramalho-Carvalho J, Jerónimo C, Henrique R, Lind GE, Skotheim RI, Lothe RA, Teixeira MR (2011)
FLI1 is a novel ETS transcription factor involved in gene fusions in prostate cancer
Genes Chromosomes Cancer, 51 (3), 240-9
DOI 10.1002/gcc.20948, PubMed 22081504
Ribeiro FR, Paulo P, Costa VL, Barros-Silva JD, Ramalho-Carvalho J, Jerónimo C, Henrique R, Lind GE, Skotheim RI, Lothe RA, Teixeira MR (2011)
Cysteine-rich secretory protein-3 (CRISP3) is strongly up-regulated in prostate carcinomas with the TMPRSS2-ERG fusion gene
PLoS One, 6 (7), e22317
DOI 10.1371/journal.pone.0022317, PubMed 21814574
Sirnes S, Bruun J, Kolberg M, Kjenseth A, Lind GE, Svindland A, Brech A, Nesbakken A, Lothe RA, Leithe E, Rivedal E (2011)
Connexin43 acts as a colorectal cancer tumor suppressor and predicts disease outcome
Int J Cancer, 131 (3), 570-81
DOI 10.1002/ijc.26392, PubMed 21866551
Sirnes S, Honne H, Ahmed D, Danielsen SA, Rognum TO, Meling GI, Leithe E, Rivedal E, Lothe RA, Lind GE (2011)
DNA methylation analyses of the connexin gene family reveal silencing of GJC1 (Connexin45) by promoter hypermethylation in colorectal cancer
Epigenetics, 6 (5), 602-9
DOI 10.4161/epi.6.5.15237, PubMed 21406965
Sjo OH, Berg M, Merok MA, Kolberg M, Svindland A, Lothe RA, Nesbakken A (2011)
Peritoneal carcinomatosis of colon cancer origin: highest incidence in women and in patients with right-sided tumors
J Surg Oncol, 104 (7), 792-7
DOI 10.1002/jso.21959, PubMed 21547915
Sveen A, Agesen TH, Nesbakken A, Rognum TO, Lothe RA, Skotheim RI (2011)
Transcriptome instability in colorectal cancer identified by exon microarray analyses: Associations with splicing factor expression levels and patient survival
Genome Med, 3 (5), 32
DOI 10.1186/gm248, PubMed 21619627
Ågesen TH, Berg M, Clancy T, Thiis-Evensen E, Cekaite L, Lind GE, Nesland JM, Bakka A, Mala T, Hauss HJ, Fetveit T, Vatn MH, Hovig E, Nesbakken A, Lothe RA, Skotheim RI (2011)
CLC and IFNAR1 are differentially expressed and a global immunity score is distinct between early- and late-onset colorectal cancer
Genes Immun, 12 (8), 653-62
DOI 10.1038/gene.2011.43, PubMed 21716316
Publications 2010
Berg M, Agesen TH, Thiis-Evensen E, INFAC-study group, Merok MA, Teixeira MR, Vatn MH, Nesbakken A, Skotheim RI, Lothe RA (2010)
Distinct high resolution genome profiles of early onset and late onset colorectal cancer integrated with gene expression data identify candidate susceptibility loci
Mol Cancer, 9, 100
DOI 10.1186/1476-4598-9-100, PubMed 20459617
Berg M, Danielsen SA, Ahlquist T, Merok MA, Ågesen TH, Vatn MH, Mala T, Sjo OH, Bakka A, Moberg I, Fetveit T, Mathisen Ø, Husby A, Sandvik O, Nesbakken A, Thiis-Evensen E, Lothe RA (2010)
DNA sequence profiles of the colorectal cancer critical gene set KRAS-BRAF-PIK3CA-PTEN-TP53 related to age at disease onset
PLoS One, 5 (11), e13978
DOI 10.1371/journal.pone.0013978, PubMed 21103049
Berge G, Costea DE, Berg M, Rasmussen H, Grotterød I, Lothe RA, Mælandsmo GM, Flatmark K (2010)
Coexpression and nuclear colocalization of metastasis-promoting protein S100A4 and p53 without mutual regulation in colorectal carcinoma
Amino Acids, 41 (4), 875-84
DOI 10.1007/s00726-010-0514-6, PubMed 20191297
Brekke HR, Ribeiro FR, Kolberg M, Agesen TH, Lind GE, Eknaes M, Hall KS, Bjerkehagen B, van den Berg E, Teixeira MR, Mandahl N, Smeland S, Mertens F, Skotheim RI, Lothe RA (2010)
Genomic changes in chromosomes 10, 16, and X in malignant peripheral nerve sheath tumors identify a high-risk patient group
J Clin Oncol, 28 (9), 1573-82
DOI 10.1200/JCO.2009.24.8989, PubMed 20159821
Burum-Auensen E, Skotheim RI, Schjølberg AR, Røislien J, Lothe RA, Clausen OP (2010)
Spindle proteins are differentially expressed in the various histological subtypes of testicular germ cell tumors
J Carcinog, 9, 1
DOI 10.4103/1477-3163.60358, PubMed 20411023
Costa VL, Henrique R, Danielsen SA, Duarte-Pereira S, Eknaes M, Skotheim RI, Rodrigues A, Magalhães JS, Oliveira J, Lothe RA, Teixeira MR, Jerónimo C, Lind GE (2010)
Three epigenetic biomarkers, GDF15, TMEFF2, and VIM, accurately predict bladder cancer from DNA-based analyses of urine samples
Clin Cancer Res, 16 (23), 5842-51
DOI 10.1158/1078-0432.CCR-10-1312, PubMed 20975101
Knævelsrud H, Ahlquist T, Merok MA, Nesbakken A, Stenmark H, Lothe RA, Simonsen A (2010)
UVRAG mutations associated with microsatellite unstable colon cancer do not affect autophagy
Autophagy, 6 (7), 863-70
DOI 10.4161/auto.6.7.13033, PubMed 20724836
Micci F, Haugom L, Ahlquist T, Andersen HK, Abeler VM, Davidson B, Trope CG, Lothe RA, Heim S (2010)
Genomic aberrations in borderline ovarian tumors
J Transl Med, 8, 21
DOI 10.1186/1479-5876-8-21, PubMed 20184781
Micci F, Skotheim RI, Haugom L, Weimer J, Eibak AM, Abeler VM, Trope CG, Arnold N, Lothe RA, Heim S (2010)
Array-CGH analysis of microdissected chromosome 19 markers in ovarian carcinoma identifies candidate target genes
Genes Chromosomes Cancer, 49 (11), 1046-53
DOI 10.1002/gcc.20813, PubMed 20725991
Pinheiro M, Ahlquist T, Danielsen SA, Lind GE, Veiga I, Pinto C, Costa V, Afonso L, Sousa O, Fragoso M, Santos L, Henrique R, Lopes P, Lopes C, Lothe RA, Teixeira MR (2010)
Colorectal carcinomas with microsatellite instability display a different pattern of target gene mutations according to large bowel site of origin
BMC Cancer, 10, 587
DOI 10.1186/1471-2407-10-587, PubMed 20979647
Publications 2009
Bottillo I, Ahlquist T, Brekke H, Danielsen SA, van den Berg E, Mertens F, Lothe RA, Dallapiccola B (2009)
Germline and somatic NF1 mutations in sporadic and NF1-associated malignant peripheral nerve sheath tumours
J Pathol, 217 (5), 693-701
DOI 10.1002/path.2494, PubMed 19142971
Brech A, Ahlquist T, Lothe RA, Stenmark H (2009)
Autophagy in tumour suppression and promotion
Mol Oncol, 3 (4), 366-75
DOI 10.1016/j.molonc.2009.05.007, PubMed 19559660
Brekke HR, Kolberg M, Skotheim RI, Hall KS, Bjerkehagen B, Risberg B, Domanski HA, Mandahl N, Liestøl K, Smeland S, Danielsen HE, Mertens F, Lothe RA (2009)
Identification of p53 as a strong predictor of survival for patients with malignant peripheral nerve sheath tumors
Neuro Oncol, 11 (5), 514-28
DOI 10.1215/15228517-2008-127, PubMed 19182148
Danielsen SA, Lind GE, Biornslett M, Meling GI, Rognum TO, Heim S, Lothe RA (2009)
Novel Mutations of the Suppressor Gene PTEN in Colorectal Carcinomas Stratified by Microsatellite Instability- and TP53 Mutation- Status (vol 29, pg E252, 2008)
Hum. Mutat., 30 (6), 1023
DOI 10.1002/humu.21048
Kraggerud SM, Oldenburg J, Alnaes GI, Berg M, Kristensen VN, Fossa SD, Lothe RA (2009)
Functional glutathione S-transferase genotypes among testicular germ cell tumor survivors: associations with primary and post-chemotherapy tumor histology
Pharmacogenet Genomics, 19 (10), 751-9
DOI 10.1097/FPC.0b013e3283304253, PubMed 19741569
Micci F, Haugom L, Ahlquist T, Abeler VM, Trope CG, Lothe RA, Heim S (2009)
Tumor spreading to the contralateral ovary in bilateral ovarian carcinoma is a late event in clonal evolution
J Oncol, 2010, 646340
DOI 10.1155/2010/646340, PubMed 19759843
Micci F, Weimer J, Haugom L, Skotheim RI, Grunewald R, Abeler VM, Silins I, Lothe RA, Trope CG, Arnold N, Heim S (2009)
Reverse painting of microdissected chromosome 19 markers in ovarian carcinoma identifies a complex rearrangement map
Genes Chromosomes Cancer, 48 (2), 184-93
DOI 10.1002/gcc.20628, PubMed 18973136
Pretorius ME, Waehre H, Abeler VM, Davidson B, Vlatkovic L, Lothe RA, Giercksky KE, Danielsen HE (2009)
Large scale genomic instability as an additive prognostic marker in early prostate cancer
Cell Oncol, 31 (4), 251-9
DOI 10.3233/CLO-2009-0463, PubMed 19633362
Skotheim RI, Thomassen GO, Eken M, Lind GE, Micci F, Ribeiro FR, Cerveira N, Teixeira MR, Heim S, Rognes T, Lothe RA (2009)
A universal assay for detection of oncogenic fusion transcripts by oligo microarray analysis
Mol Cancer, 8, 5
DOI 10.1186/1476-4598-8-5, PubMed 19152679
Publications 2008
Ahlquist T, Bottillo I, Danielsen SA, Meling GI, Rognum TO, Lind GE, Dallapiccola B, Lothe RA (2008)
RAS signaling in colorectal carcinomas through alteration of RAS, RAF, NF1, and/or RASSF1A
Neoplasia, 10 (7), 680-6, 2 p following 686
DOI 10.1593/neo.08312, PubMed 18592002
Ahlquist T, Lind GE, Costa VL, Meling GI, Vatn M, Hoff GS, Rognum TO, Skotheim RI, Thiis-Evensen E, Lothe RA (2008)
Gene methylation profiles of normal mucosa, and benign and malignant colorectal tumors identify early onset markers
Mol Cancer, 7, 94
DOI 10.1186/1476-4598-7-94, PubMed 19117505
Alagaratnam S, Hardy JR, Lothe RA, Skotheim RI, Byrne JA (2008)
TPD52, a candidate gene from genomic studies, is overexpressed in testicular germ cell tumours
Mol Cell Endocrinol, 306 (1-2), 75-80
DOI 10.1016/j.mce.2008.10.043, PubMed 19041365
Danielsen SA, Lind GE, Bjørnslett M, Meling GI, Rognum TO, Heim S, Lothe RA (2008)
Novel mutations of the suppressor gene PTEN in colorectal carcinomas stratified by microsatellite instability- and TP53 mutation- status
Hum Mutat, 29 (11), E252-62
DOI 10.1002/humu.20860, PubMed 18781614
Lind GE, Ahlquist T, Kolberg M, Berg M, Eknaes M, Alonso MA, Kallioniemi A, Meling GI, Skotheim RI, Rognum TO, Thiis-Evensen E, Lothe RA (2008)
Hypermethylated MAL gene - a silent marker of early colon tumorigenesis
J Transl Med, 6, 13
DOI 10.1186/1479-5876-6-13, PubMed 18346269
Publications 2007
Almstrup K, Leffers H, Lothe RA, Skakkebaek NE, Sonne SB, Nielsen JE, Rajpert-De Meyts E, Skotheim RI (2007)
Improved gene expression signature of testicular carcinoma in situ
Int J Androl, 30 (4), 292-302; discussion 303
DOI 10.1111/j.1365-2605.2007.00758.x, PubMed 17488342
Hoei-Hansen CE, Kraggerud SM, Abeler VM, Kaern J, Rajpert-De Meyts E, Lothe RA (2007)
Ovarian dysgerminomas are characterised by frequent KIT mutations and abundant expression of pluripotency markers
Mol Cancer, 6, 12
DOI 10.1186/1476-4598-6-12, PubMed 17274819
Kleivi K, Lind GE, Diep CB, Meling GI, Brandal LT, Nesland JM, Myklebost O, Rognum TO, Giercksky KE, Skotheim RI, Lothe RA (2007)
Gene expression profiles of primary colorectal carcinomas, liver metastases, and carcinomatoses
Mol Cancer, 6, 2
DOI 10.1186/1476-4598-6-2, PubMed 17201907
Lind GE, Ahlquist T, Lothe RA (2007)
DNA hypermethylation of MAL: a promising diagnostic biomarker for colorectal tumors
Gastroenterology, 132 (4), 1631-2; author reply 1632
DOI 10.1053/j.gastro.2007.03.003, PubMed 17408629
Lind GE, Skotheim RI, Lothe RA (2007)
The epigenome of testicular germ cell tumors
APMIS, 115 (10), 1147-60
DOI 10.1111/j.1600-0463.2007.apm_660.xml.x, PubMed 18042148
Oldenburg J, Kraggerud SM, Brydøy M, Cvancarova M, Lothe RA, Fossa SD (2007)
Association between long-term neuro-toxicities in testicular cancer survivors and polymorphisms in glutathione-s-transferase-P1 and -M1, a retrospective cross sectional study
J Transl Med, 5, 70
DOI 10.1186/1479-5876-5-70, PubMed 18162130
Oldenburg J, Kraggerud SM, Cvancarova M, Lothe RA, Fossa SD (2007)
Cisplatin-induced long-term hearing impairment is associated with specific glutathione s-transferase genotypes in testicular cancer survivors
J Clin Oncol, 25 (6), 708-14
DOI 10.1200/JCO.2006.08.9599, PubMed 17228018
Røyrvik EC, Ahlquist T, Rognes T, Lothe RA (2007)
Slip slidin' away: a duodecennial review of targeted genes in mismatch repair deficient colorectal cancer
Crit Rev Oncog, 13 (3), 229-57
DOI 10.1615/critrevoncog.v13.i3.20, PubMed 18298386
Wu Q, Lind GE, Aasheim HC, Micci F, Silins I, Tropé CG, Nesland JM, Lothe RA, Suo Z (2007)
The EPH receptor Bs (EPHBs) promoters are unmethylated in colon and ovarian cancers
Epigenetics, 2 (4), 237-43
DOI 10.4161/epi.2.4.5406, PubMed 18281782
Wu Q, Lothe RA, Ahlquist T, Silins I, Tropé CG, Micci F, Nesland JM, Suo Z, Lind GE (2007)
DNA methylation profiling of ovarian carcinomas and their in vitro models identifies HOXA9, HOXB5, SCGB3A1, and CRABP1 as novel targets
Mol Cancer, 6, 45
DOI 10.1186/1476-4598-6-45, PubMed 17623056
Publications 2006
Diep CB, Kleivi K, Ribeiro FR, Teixeira MR, Lindgjaerde OC, Lothe RA (2006)
The order of genetic events associated with colorectal cancer progression inferred from meta-analysis of copy number changes
Genes Chromosomes Cancer, 45 (1), 31-41
DOI 10.1002/gcc.20261, PubMed 16145679
Iacopetta B, Russo A, Bazan V, Dardanoni G, Gebbia N, Soussi T, Kerr D, Elsaleh H, Soong R, Kandioler D, Janschek E, Kappel S, Lung M, Leung CS, Ko JM, Yuen S, Ho J, Leung SY, Crapez E, Duffour J, Ychou M, Leahy DT, O'Donoghue DP, Agnese V, Cascio S et al. (2006)
Functional categories of TP53 mutation in colorectal cancer: results of an International Collaborative Study
Ann Oncol, 17 (5), 842-7
DOI 10.1093/annonc/mdl035, PubMed 16524972
Lind GE, Kleivi K, Meling GI, Teixeira MR, Thiis-Evensen E, Rognum TO, Lothe RA (2006)
ADAMTS1, CRABP1, and NR3C1 identified as epigenetically deregulated genes in colorectal tumorigenesis
Cell Oncol, 28 (5-6), 259-72
DOI 10.1155/2006/949506, PubMed 17167179
Lind GE, Kleivi K, Meling GI, Teixeira MR, Thiis-Evensen E, Rognum TO, Lothe RA (2006)
ADAMTS1, CRABP1, and NR3C1 identified as epigenetically deregulated genes in colorectal tumorigenesis
Cell. Oncol., 28 (5-6), 259-272
Lind GE, Skotheim RI, Fraga MF, Abeler VM, Esteller M, Lothe RA (2006)
Novel epigenetically deregulated genes in testicular cancer include homeobox genes and SCGB3A1 (HIN-1)
J Pathol, 210 (4), 441-9
DOI 10.1002/path.2064, PubMed 17029216
Lothe RA, Skotheim RI, Kallioniemi O, Esteller M (2006)
To the Readers and Future Authors of Critical Reviews in Oncogenesis
Critical Reviews in Oncogenesis, 12 (1-2), 1-2
PublikaID 27
Ribeiro FR, Diep CB, Jerónimo C, Henrique R, Lopes C, Eknaes M, Lingjaerde OC, Lothe RA, Teixeira MR (2006)
Statistical dissection of genetic pathways involved in prostate carcinogenesis
Genes Chromosomes Cancer, 45 (2), 154-63
DOI 10.1002/gcc.20279, PubMed 16235241
Ribeiro FR, Henrique R, Hektoen M, Berg M, Jerónimo C, Teixeira MR, Lothe RA (2006)
Comparison of chromosomal and array-based comparative genomic hybridization for the detection of genomic imbalances in primary prostate carcinomas
Mol Cancer, 5, 33
DOI 10.1186/1476-4598-5-33, PubMed 16952311
Ribeiro FR, Jerónimo C, Henrique R, Fonseca D, Oliveira J, Lothe RA, Teixeira MR (2006)
8q gain is an independent predictor of poor survival in diagnostic needle biopsies from prostate cancer suspects
Clin Cancer Res, 12 (13), 3961-70
DOI 10.1158/1078-0432.CCR-05-1977, PubMed 16818693
Skotheim RI, Autio R, Lind GE, Kraggerud SM, Andrews PW, Monni O, Kallioniemi O, Lothe RA (2006)
Novel genomic aberrations in testicular germ cell tumors by array-CGH, and associated gene expression changes
Cell Oncol, 28 (5-6), 315-26
DOI 10.1155/2006/219786, PubMed 17167184
Storlazzi CT, Brekke HR, Mandahl N, Brosjö O, Smeland S, Lothe RA, Mertens F (2006)
Identification of a novel amplicon at distal 17q containing the BIRC5/SURVIVIN gene in malignant peripheral nerve sheath tumours
J Pathol, 209 (4), 492-500
DOI 10.1002/path.1998, PubMed 16721726
Publications 2005
Agesen TH, Flørenes VA, Molenaar WM, Lind GE, Berner JM, Plaat BE, Komdeur R, Myklebost O, van den Berg E, Lothe RA (2005)
Expression patterns of cell cycle components in sporadic and neurofibromatosis type 1-related malignant peripheral nerve sheath tumors
J Neuropathol Exp Neurol, 64 (1), 74-81
DOI 10.1093/jnen/64.1.74, PubMed 15715087
Castro P, Eknaes M, Teixeira MR, Danielsen HE, Soares P, Lothe RA, Sobrinho-Simões M (2005)
Adenomas and follicular carcinomas of the thyroid display two major patterns of chromosomal changes
J Pathol, 206 (3), 305-11
DOI 10.1002/path.1772, PubMed 15852498
Hofer MD, Browne TJ, He L, Skotheim RI, Lothe RA, Rubin MA (2005)
Identification of two molecular groups of seminomas by using expression and tissue microarrays
Clin Cancer Res, 11 (16), 5722-9
DOI 10.1158/1078-0432.CCR-05-0533, PubMed 16115909
Kleivi K, Diep CB, Pandis N, Heim S, Teixeira MR, Lothe RA (2005)
TP53 mutations are associated with a particular pattern of genomic imbalances in breast carcinomas
J Pathol, 207 (1), 14-9
DOI 10.1002/path.1812, PubMed 16007576
Lind GE, Skotheim RI, Fraga MF, Abeler VM, Henrique R, Saatcioglu F, Esteller M, Teixeira MR, Lothe RA (2005)
The loss of NKX3.1 expression in testicular--and prostate--cancers is not caused by promoter hypermethylation
Mol Cancer, 4 (1), 8
DOI 10.1186/1476-4598-4-8, PubMed 15691383
Skotheim RI, Lind GE, Monni O, Nesland JM, Abeler VM, Fosså SD, Duale N, Brunborg G, Kallioniemi O, Andrews PW, Lothe RA (2005)
Differentiation of human embryonal carcinomas in vitro and in vivo reveals expression profiles relevant to normal development
Cancer Res, 65 (13), 5588-98
DOI 10.1158/0008-5472.CAN-05-0153, PubMed 15994931
Sørlie T, Johnsen H, Vu P, Lind GE, Lothe R, Børresen-Dale AL (2005)
Mutation screening of the TP53 gene by temporal temperature gradient gel electrophoresis
Methods Mol Biol, 291, 207-16
DOI 10.1385/1-59259-840-4:207, PubMed 15502225
Thorstensen L, Lind GE, Løvig T, Diep CB, Meling GI, Rognum TO, Lothe RA (2005)
Genetic and epigenetic changes of components affecting the WNT pathway in colorectal carcinomas stratified by microsatellite instability
Neoplasia, 7 (2), 99-108
DOI 10.1593/neo.04448, PubMed 15802015
Publications 2004
Diep CB, Teixeira MR, Thorstensen L, Wiig JN, Eknaes M, Nesland JM, Giercksky KE, Johansson B, Lothe RA (2004)
Genome characteristics of primary carcinomas, local recurrences, carcinomatoses, and liver metastases from colorectal cancer patients
Mol Cancer, 3, 6
DOI 10.1186/1476-4598-3-6, PubMed 14977426
Kildal W, Kaern J, Kraggerud SM, Abeler VM, Sudbø J, Tropè CG, Lothe RA, Danielsen HE (2004)
Evaluation of genomic changes in a large series of malignant ovarian germ cell tumors--relation to clinicopathologic variables
Cancer Genet Cytogenet, 155 (1), 25-32
DOI 10.1016/j.cancergencyto.2004.02.010, PubMed 15527899
Kleivi K, Teixeira MR, Eknaes M, Diep CB, Jakobsen KS, Hamelin R, Lothe RA (2004)
Genome signatures of colon carcinoma cell lines
Cancer Genet Cytogenet, 155 (2), 119-31
DOI 10.1016/j.cancergencyto.2004.03.014, PubMed 15571797
Lind GE, Thorstensen L, Løvig T, Meling GI, Hamelin R, Rognum TO, Esteller M, Lothe RA (2004)
A CpG island hypermethylation profile of primary colorectal carcinomas and colon cancer cell lines
Mol Cancer, 3, 28
DOI 10.1186/1476-4598-3-28, PubMed 15476557
Richard SM, Bianchi NO, Bianchi MS, Peltomäki P, Lothe RA, Pavicic W (2004)
Ethnic variation in the prevalence of AZF deletions in testicular cancer
Mutat Res, 554 (1-2), 45-51
DOI 10.1016/j.mrfmmm.2004.03.001, PubMed 15450403
Teixeira MR, Ribeiro FR, Eknaes M, Waehre H, Stenwig AE, Giercksky KE, Heim S, Lothe RA (2004)
Genomic analysis of prostate carcinoma specimens obtained via ultrasound-guided needle biopsy may be of use in preoperative decision-making
Cancer, 101 (8), 1786-93
DOI 10.1002/cncr.20527, PubMed 15386312
Teixeira MR, Ribeiro FR, Torres L, Pandis N, Andersen JA, Lothe RA, Heim S (2004)
Assessment of clonal relationships in ipsilateral and bilateral multiple breast carcinomas by comparative genomic hybridisation and hierarchical clustering analysis
Br J Cancer, 91 (4), 775-82
DOI 10.1038/sj.bjc.6602021, PubMed 15266323
Publications 2003
Brandal P, Micci F, Bjerkehagen B, Eknaes M, Larramendy M, Lothe RA, Knuutila S, Heim S (2003)
Molecular cytogenetic characterization of desmoid tumors
Cancer Genet Cytogenet, 146 (1), 1-7
DOI 10.1016/s0165-4608(03)00122-5, PubMed 14499689
Diep CB, Parada LA, Teixeira MR, Eknaes M, Nesland JM, Johansson B, Lothe RA (2003)
Genetic profiling of colorectal cancer liver metastases by combined comparative genomic hybridization and G-banding analysis
Genes Chromosomes Cancer, 36 (2), 189-97
DOI 10.1002/gcc.10162, PubMed 12508247
Diep CB, Thorstensen L, Meling GI, Skovlund E, Rognum TO, Lothe RA (2003)
Genetic tumor markers with prognostic impact in Dukes' stages B and C colorectal cancer patients
J Clin Oncol, 21 (5), 820-9
DOI 10.1200/JCO.2003.05.190, PubMed 12610180
Henriksen J, Aagesen TH, Maelandsmo GM, Lothe RA, Myklebost O, Forus A (2003)
Amplification and overexpression of COPS3 in osteosarcomas potentially target TP53 for proteasome-mediated degradation
Oncogene, 22 (34), 5358-61
DOI 10.1038/sj.onc.1206671, PubMed 12917637
Kildal W, Kraggerud SM, Abeler VM, Heim S, Tropé CG, Kristensen GB, Risberg B, Lothe RA, Danielsen HE (2003)
Genome profiles of bilateral dysgerminomas, a unilateral gonadoblastoma, and a metastasis from a 46, XY phenotypic female
Hum Pathol, 34 (9), 946-9
DOI 10.1016/s0046-8177(03)00345-9, PubMed 14562293
Kraggerud SM, Lee MP, Skotheim RI, Stenwig AE, Fosså SD, Feinberg AP, Lothe RA (2003)
Lack of parental origin specificity of altered alleles at 11p15 in testicular germ cell tumors
Cancer Genet Cytogenet, 147 (1), 1-8
DOI 10.1016/s0165-4608(03)00160-2, PubMed 14580764
Løvig T, Thorstensen L, Hofstad B, Andersen SN, Clausen OP, Vatn M, Lothe RA, Rognum TO (2003)
Genetic and protein markers related to in situ growth and multiplicity in small sporadic colorectal adenomas
Scand J Gastroenterol, 38 (3), 298-306
DOI 10.1080/00365520310000618, PubMed 12737446
Skotheim RI, Abeler VM, Nesland JM, Fosså SD, Holm R, Wagner U, Flørenes VA, Aass N, Kallioniemi OP, Lothe RA (2003)
Candidate genes for testicular cancer evaluated by in situ protein expression analyses on tissue microarrays
Neoplasia, 5 (5), 397-404
DOI 10.1016/s1476-5586(03)80042-8, PubMed 14670177
Skotheim RI, Kallioniemi A, Bjerkhagen B, Mertens F, Brekke HR, Monni O, Mousses S, Mandahl N, Soeter G, Nesland JM, Smeland S, Kallioniemi OP, Lothe RA (2003)
Topoisomerase-II alpha is upregulated in malignant peripheral nerve sheath tumors and associated with clinical outcome
J Clin Oncol, 21 (24), 4586-91
DOI 10.1200/JCO.2003.07.067, PubMed 14673046
Skotheim RI, Korkmaz KS, Klokk TI, Abeler VM, Korkmaz CG, Nesland JM, Fosså SD, Lothe RA, Saatcioglu F (2003)
NKX3.1 expression is lost in testicular germ cell tumors
Am J Pathol, 163 (6), 2149-54
DOI 10.1016/S0002-9440(10)63571-7, PubMed 14633588
Skotheim RI, Lothe RA (2003)
The testicular germ cell tumour genome
APMIS, 111 (1), 136-50; discussion 50-1
DOI 10.1034/j.1600-0463.2003.11101181.x, PubMed 12752254
Thorstensen L, Holm R, Lothe RA, Tropé C, Carvalho B, Sobrinho-Simoes M, Seruca R (2003)
WNT-inducible signaling pathway protein 3, WISP-3, is mutated in microsatellite unstable gastrointestinal carcinomas but not in endometrial carcinomas
Gastroenterology, 124 (1), 270-1
DOI 10.1053/gast.2003.50034, PubMed 12512062
Publications 2002
Kleivi K, Lothe RA, Heim S, Tsarouha H, Kraggerud SM, Pandis N, Papadopoulou A, Andersen J, Jakobsen KS, Teixeira MR (2002)
Genome profiling of breast cancer cells selected against in vitro shows copy number changes
Genes Chromosomes Cancer, 33 (3), 304-9
DOI 10.1002/gcc.10032, PubMed 11807988
Kraggerud SM, Aman P, Holm R, Stenwig AE, Fosså SD, Nesland JM, Lothe RA (2002)
Alterations of the fragile histidine triad gene, FHIT, and its encoded products contribute to testicular germ cell tumorigenesis
Cancer Res, 62 (2), 512-7
PubMed 11809703
Kraggerud SM, Skotheim RI, Szymanska J, Eknaes M, Fosså SD, Stenwig AE, Peltomäki P, Lothe RA (2002)
Genome profiles of familial/bilateral and sporadic testicular germ cell tumors
Genes Chromosomes Cancer, 34 (2), 168-74
DOI 10.1002/gcc.10058, PubMed 11979550
Langerød A, Bukholm IR, Bregård A, Lønning PE, Andersen TI, Rognum TO, Meling GI, Lothe RA, Børresen-Dale AL (2002)
The TP53 codon 72 polymorphism may affect the function of TP53 mutations in breast carcinomas but not in colorectal carcinomas
Cancer Epidemiol Biomarkers Prev, 11 (12), 1684-8
PubMed 12496062
Løvig T, Andersen SN, Thorstensen L, Diep CB, Meling GI, Lothe RA, Rognum TO (2002)
Strong HLA-DR expression in microsatellite stable carcinomas of the large bowel is associated with good prognosis
Br J Cancer, 87 (7), 756-62
DOI 10.1038/sj.bjc.6600507, PubMed 12232760
Løvig T, Meling GI, Diep CB, Thorstensen L, Norheim Andersen S, Lothe RA, Rognum TO (2002)
APC and CTNNB1 mutations in a large series of sporadic colorectal carcinomas stratified by the microsatellite instability status
Scand J Gastroenterol, 37 (10), 1184-93
DOI 10.1080/003655202760373407, PubMed 12408524
Skotheim RI, Monni O, Mousses S, Fosså SD, Kallioniemi OP, Lothe RA, Kallioniemi A (2002)
New insights into testicular germ cell tumorigenesis from gene expression profiling
Cancer Res, 62 (8), 2359-64
PubMed 11956097
Smiraglia DJ, Szymanska J, Kraggerud SM, Lothe RA, Peltomäki P, Plass C (2002)
Distinct epigenetic phenotypes in seminomatous and nonseminomatous testicular germ cell tumors
Oncogene, 21 (24), 3909-16
DOI 10.1038/sj.onc.1205488, PubMed 12032829
Smith-Sørensen B, Lind GE, Skotheim RI, Fosså SD, Fodstad Ø, Stenwig AE, Jakobsen KS, Lothe RA (2002)
Frequent promoter hypermethylation of the O6-Methylguanine-DNA Methyltransferase (MGMT) gene in testicular cancer
Oncogene, 21 (57), 8878-84
DOI 10.1038/sj.onc.1205978, PubMed 12483540
Publications 2001
Bomme L, Lothe RA, Bardi G, Fenger C, Kronborg O, Heim S (2001)
Assessments of clonal composition of colorectal adenomas by FISH analysis of chromosomes 1, 7, 13 and 20
Int J Cancer, 92 (6), 816-23
DOI 10.1002/ijc.1275, PubMed 11351301
Duval A, Iacopetta B, Thorstensen L, Meling GI, Lothe RA, Thuille B, Suraweera N, Thomas G, Hamelin R (2001)
Gender difference for mismatch repair deficiency in human colorectal cancer
Gastroenterology, 121 (4), 1026-7
DOI 10.1053/gast.2001.28585, PubMed 11665694
Gjertsen MK, Buanes T, Rosseland AR, Bakka A, Gladhaug I, Søreide O, Eriksen JA, Møller M, Baksaas I, Lothe RA, Saeterdal I, Gaudernack G (2001)
Intradermal ras peptide vaccination with granulocyte-macrophage colony-stimulating factor as adjuvant: Clinical and immunological responses in patients with pancreatic adenocarcinoma
Int J Cancer, 92 (3), 441-50
DOI 10.1002/ijc.1205, PubMed 11291084
Lothe RA, Smith-Sørensen B, Hektoen M, Stenwig AE, Mandahl N, Saeter G, Mertens F (2001)
Biallelic inactivation of TP53 rarely contributes to the development of malignant peripheral nerve sheath tumors
Genes Chromosomes Cancer, 30 (2), 202-6
DOI 10.1002/1098-2264(2000)9999:9999<::AID-GCC1079>3.0.CO;2-5, PubMed 11135438
Salahshor S, Hou H, Diep CB, Loukola A, Zhang H, Liu T, Chen J, Iselius L, Rubio C, Lothe RA, Aaltonen L, Sun XF, Lindmark G, Lindblom A (2001)
A germline E-cadherin mutation in a family with gastric and colon cancer
Int J Mol Med, 8 (4), 439-43
DOI 10.3892/ijmm.8.4.439, PubMed 11562785
Skotheim RI, Diep CB, Kraggerud SM, Jakobsen KS, Lothe RA (2001)
Evaluation of loss of heterozygosity/allelic imbalance scoring in tumor DNA
Cancer Genet Cytogenet, 127 (1), 64-70
DOI 10.1016/s0165-4608(00)00433-7, PubMed 11408068
Skotheim RI, Kraggerud SM, Fosså SD, Stenwig AE, Gedde-Dahl T, Danielsen HE, Jakobsen KS, Lothe RA (2001)
Familial/bilateral and sporadic testicular germ cell tumors show frequent genetic changes at loci with suggestive linkage evidence
Neoplasia, 3 (3), 196-203
DOI 10.1038/sj.neo.7900153, PubMed 11494113
Teixeira MR, Tsarouha H, Kraggerud SM, Pandis N, Dimitriadis E, Andersen JA, Lothe RA, Heim S (2001)
Evaluation of breast cancer polyclonality by combined chromosome banding and comparative genomic hybridization analysis
Neoplasia, 3 (3), 204-14
DOI 10.1038/sj.neo.7900152, PubMed 11494114
Thorstensen L, Diep CB, Meling GI, Aagesen TH, Ahrens CH, Rognum TO, Lothe RA (2001)
WNT1 inducible signaling pathway protein 3, WISP-3, a novel target gene in colorectal carcinomas with microsatellite instability
Gastroenterology, 121 (6), 1275-80
DOI 10.1053/gast.2001.29570, PubMed 11729105
Thorstensen L, Qvist H, Nesland JM, Giercksky KE, Lothe RA (2001)
Identification of two potential suppressor gene regions on chromosome arm 14q that are commonly lost in advanced colorectal carcinomas
Scand J Gastroenterol, 36 (12), 1327-31
DOI 10.1080/003655201317097209, PubMed 11761025
Publications 2000
Esteller M, Avizienyte E, Corn PG, Lothe RA, Baylin SB, Aaltonen LA, Herman JG (2000)
Epigenetic inactivation of LKB1 in primary tumors associated with the Peutz-Jeghers syndrome
Oncogene, 19 (1), 164-8
DOI 10.1038/sj.onc.1203227, PubMed 10644993
Helland A, Kraggerud SM, Kristensen GB, Holm R, Abeler VM, Huebner K, Borresen-Dale AL, Lothe RA (2000)
Primary cervical carcinomas show 2 common regions of deletion at 3P, 1 within the FHIT gene: evaluation of allelic imbalance at FHIT, RB1 and TP53 in relation to survival
Int J Cancer, 88 (2), 217-22
DOI 10.1002/1097-0215(20001015)88:2<217::aid-ijc11>3.0.co;2-i, PubMed 11004671
Kraggerud SM, Szymanska J, Abeler VM, Kaern J, Eknaes M, Heim S, Teixeira MR, Tropé CG, Peltomäki P, Lothe RA (2000)
DNA copy number changes in malignant ovarian germ cell tumors
Cancer Res, 60 (11), 3025-30
PubMed 10850452
Teixeira MR, Waehre H, Lothe RA, Stenwig AE, Pandis N, Giercksky KE, Heim S (2000)
High frequency of clonal chromosome abnormalities in prostatic neoplasms sampled by prostatectomy or ultrasound-guided needle biopsy
Genes Chromosomes Cancer, 28 (2), 211-9
DOI 10.1002/(SICI)1098-2264(200006)28:2<211::AID-GCC10>3.0.CO;2-Y, PubMed 10825006
Thorstensen L, Qvist H, Heim S, Liefers GJ, Nesland JM, Giercksky KE, Lothe RA (2000)
Evaluation of 1p losses in primary carcinomas, local recurrences and peripheral metastases from colorectal cancer patients
Neoplasia, 2 (6), 514-22
DOI 10.1038/sj.neo.7900111, PubMed 11228544
Publications 1999
Berner JM, Sørlie T, Mertens F, Henriksen J, Saeter G, Mandahl N, Brøgger A, Myklebost O, Lothe RA (1999)
Chromosome band 9p21 is frequently altered in malignant peripheral nerve sheath tumors: studies of CDKN2A and other genes of the pRB pathway
Genes Chromosomes Cancer, 26 (2), 151-60
DOI 10.1002/(SICI)1098-2264(199910)26:2<151::AID-GCC7>3.0.CO;2-A, PubMed 10469453
Duval A, Iacopetta B, Ranzani GN, Lothe RA, Thomas G, Hamelin R (1999)
Variable mutation frequencies in coding repeats of TCF-4 and other target genes in colon, gastric and endometrial carcinoma showing microsatellite instability
Oncogene, 18 (48), 6806-9
DOI 10.1038/sj.onc.1203287, PubMed 10597289
Publications 1998
Avizienyte E, Roth S, Loukola A, Hemminki A, Lothe RA, Stenwig AE, Fosså SD, Salovaara R, Aaltonen LA (1998)
Somatic mutations in LKB1 are rare in sporadic colorectal and testicular tumors
Cancer Res, 58 (10), 2087-90
PubMed 9605748
Bomme L, Heim S, Bardi G, Fenger C, Kronborg O, Brøgger A, Lothe RA (1998)
Allelic imbalance and cytogenetic deletion of 1p in colorectal adenomas: a target region identified between DIS199 and DIS234
Genes Chromosomes Cancer, 21 (3), 185-94
DOI 10.1002/(sici)1098-2264(199803)21:3<185::aid-gcc2>3.0.co;2-w, PubMed 9523193
Børresen-Dale AL, Lothe RA, Meling GI, Hainaut P, Rognum TO, Skovlund E (1998)
TP53 and long-term prognosis in colorectal cancer: mutations in the L3 zinc-binding domain predict poor survival
Clin Cancer Res, 4 (1), 203-10
PubMed 9516972
Børresen-Dale AL, Lothe RA, Nesland JM (1998)
[Molecular biology. Basis for increased understanding of diseases and improved diagnostics]
Tidsskr Nor Laegeforen, 118 (11), 1681
PubMed 9621751
Clausen OP, Lothe RA, Børresen-Dale AL, De Angelis P, Chen Y, Rognum TO, Meling GI (1998)
Association of p53 accumulation with TP53 mutations, loss of heterozygosity at 17p13, and DNA ploidy status in 273 colorectal carcinomas
Diagn Mol Pathol, 7 (4), 215-23
DOI 10.1097/00019606-199808000-00006, PubMed 9917132
De Angelis PM, Stokke T, Thorstensen L, Lothe RA, Clausen OP (1998)
Apoptosis and expression of Bax, Bcl-x, and Bcl-2 apoptotic regulatory proteins in colorectal carcinomas, and association with p53 genotype/phenotype
Mol Pathol, 51 (5), 254-61
DOI 10.1136/mp.51.5.254, PubMed 10193519
Lothe RA, Blomhoff HK (1998)
[Tumor suppressors--genes and proteins]
Tidsskr Nor Laegeforen, 118 (12), 1887-92
PubMed 9638059
Lothe RA, Hektoen M, Johnsen H, Meling GI, Andersen TI, Rognum TO, Lindblom A, Børresen-Dale AL (1998)
The APC gene I1307K variant is rare in Norwegian patients with familial and sporadic colorectal or breast cancer
Cancer Res, 58 (14), 2923-4
PubMed 9679946
Zhou XP, Hoang JM, Li YJ, Seruca R, Carneiro F, Sobrinho-Simoes M, Lothe RA, Gleeson CM, Russell SE, Muzeau F, Fléjou JF, Hoang-Xuan K, Lidereau R, Thomas G, Hamelin R (1998)
Determination of the replication error phenotype in human tumors without the requirement for matching normal DNA by analysis of mononucleotide repeat microsatellites
Genes Chromosomes Cancer, 21 (2), 101-7
DOI 10.1002/(sici)1098-2264(199802)21:2<101::aid-gcc4>3.0.co;2-4, PubMed 9491320
Publications 1997
Breivik J, Lothe RA, Meling GI, Rognum TO, Børresen-Dale AL, Gaudernack G (1997)
Different genetic pathways to proximal and distal colorectal cancer influenced by sex-related factors
Int J Cancer, 74 (6), 664-9
DOI 10.1002/(sici)1097-0215(19971219)74:6<664::aid-ijc18>3.0.co;2-5, PubMed 9421366
Giercksky HE, Thorstensen L, Qvist H, Nesland JM, Lothe RA (1997)
Comparison of genetic changes in frozen biopsies and microdissected archival material from the same colorectal liver metastases
Diagn Mol Pathol, 6 (6), 318-25
DOI 10.1097/00019606-199712000-00003, PubMed 9559291
Helland A, Børresen-Dale AL, Peltomäki P, Hektoen M, Kristensen GB, Nesland JM, de la Chapelle A, Lothe RA (1997)
Microsatellite instability in cervical and endometrial carcinomas
Int J Cancer, 70 (5), 499-501
DOI 10.1002/(sici)1097-0215(19970304)70:5<499::aid-ijc1>3.0.co;2-t, PubMed 9052745
Lothe RA (1997)
Microsatellite instability in human solid tumors
Mol Med Today, 3 (2), 61-8
DOI 10.1016/S1357-4310(96)10055-1, PubMed 9060003
Soares P, dos Santos NR, Seruca R, Lothe RA, Sobrinho-Simões M (1997)
Benign and malignant thyroid lesions show instability at microsatellite loci
Eur J Cancer, 33 (2), 293-6
DOI 10.1016/s0959-8049(96)00457-1, PubMed 9135503
Publications 1996
Lothe RA, Karhu R, Mandahl N, Mertens F, Saeter G, Heim S, Borresen-Dale AL, Kallioniemi OP (1996)
Gain of 17q24-qter detected by comparative genomic hybridization in malignant tumors from patients with von Recklinghausen's neurofibromatosis
Cancer Res, 56 (20), 4778-81
PubMed 8840998
Thorstensen L, Qvist H, Nesland JM, Giercksky KE, Lothe RA (1996)
Allelotype profiles of local recurrences and distant metastases from colorectal-cancer patients
Int J Cancer, 69 (6), 452-6
DOI 10.1002/(SICI)1097-0215(19961220)69:6<452::AID-IJC6>3.0.CO;2-3, PubMed 8980246
Publications 1995
Børresen AL, Lothe RA, Meling GI, Lystad S, Morrison P, Lipford J, Kane MF, Rognum TO, Kolodner RD (1995)
Somatic mutations in the hMSH2 gene in microsatellite unstable colorectal carcinomas
Hum Mol Genet, 4 (11), 2065-72
DOI 10.1093/hmg/4.11.2065, PubMed 8589682
De Angelis P, Stokke T, Smedshammer L, Lothe RA, Lehne G, Chen Y, Clausen OP (1995)
P-glycoprotein is not expressed in a majority of colorectal carcinomas and is not regulated by mutant p53 in vivo
Br J Cancer, 72 (2), 307-11
DOI 10.1038/bjc.1995.329, PubMed 7640210
Lothe RA, Andersen SN, Hofstad B, Meling GI, Peltomäki P, Heim S, Brøgger A, Vatn M, Rognum TO, Børresen AL (1995)
Deletion of 1p loci and microsatellite instability in colorectal polyps
Genes Chromosomes Cancer, 14 (3), 182-8
DOI 10.1002/gcc.2870140305, PubMed 8589034
Lothe RA, Børresen AL (1995)
[Early diagnosis of colorectal tumors]
Tidsskr Nor Laegeforen, 115 (26), 3231-2
PubMed 7482447
Lothe RA, Peltomäki P, Tommerup N, Fosså SD, Stenwig AE, Børresen AL, Nesland JM (1995)
Molecular genetic changes in human male germ cell tumors
Lab Invest, 73 (5), 606-14
PubMed 7474934
Lothe RA, Slettan A, Saeter G, Brøgger A, Børresen AL, Nesland JM (1995)
Alterations at chromosome 17 loci in peripheral nerve sheath tumors
J Neuropathol Exp Neurol, 54 (1), 65-73
DOI 10.1097/00005072-199501000-00008, PubMed 7815081
Seruca R, Santos NR, David L, Constância M, Barroca H, Carneiro F, Seixas M, Peltomäki P, Lothe R, Sobrinho-Simões M (1995)
Sporadic gastric carcinomas with microsatellite instability display a particular clinicopathologic profile
Int J Cancer, 64 (1), 32-6
DOI 10.1002/ijc.2910640108, PubMed 7665246
Publications 1994
Heimdal KR, Lothe RA, Fosså SD, Børresen AL (1994)
Association studies of a polymorphism in the Wilms' tumor 1 locus in Norwegian patients with testicular cancer
Int J Cancer, 58 (4), 523-6
DOI 10.1002/ijc.2910580412, PubMed 8056449
Publications 1993
Deangelis P, Stokke T, Smedshammer L, Lothe R, Meling G, Rofstad M, Chen Y, Clausen O (1993)
P53 expression is associated with a high-degree of tumor DNA aneuploidy and incidence of p53 gene mutation, and is localized to the aneuploid component in colorectal carcinomas
Int J Oncol, 3 (2), 305-12
DOI 10.3892/ijo.3.2.305, PubMed 21573365
Heimdal K, Lothe RA, Lystad S, Holm R, Fosså SD, Børresen AL (1993)
No germline TP53 mutations detected in familial and bilateral testicular cancer
Genes Chromosomes Cancer, 6 (2), 92-7
DOI 10.1002/gcc.2870060205, PubMed 7680893
Lothe RA, Hastie N, Heimdal K, Fosså SD, Stenwig AE, Børresen AL (1993)
Frequent loss of 11p13 and 11p15 loci in male germ cell tumours
Genes Chromosomes Cancer, 7 (2), 96-101
DOI 10.1002/gcc.2870070206, PubMed 7687459
Lothe RA, Peltomäki P, Meling GI, Aaltonen LA, Nyström-Lahti M, Pylkkänen L, Heimdal K, Andersen TI, Møller P, Rognum TO (1993)
Genomic instability in colorectal cancer: relationship to clinicopathological variables and family history
Cancer Res, 53 (24), 5849-52
PubMed 8261392
Lothe RA, Saeter G, Danielsen HE, Stenwig AE, Høyheim B, O'Connell P, Børresen AL (1993)
Genetic alterations in a malignant schwannoma from a patient with neurofibromatosis (NF1)
Pathol Res Pract, 189 (4), 465-71; discussion 471-4
DOI 10.1016/S0344-0338(11)80339-0, PubMed 8351250
Meling GI, Lothe RA, Børresen AL, Graue C, Hauge S, Clausen OP, Rognum TO (1993)
The TP53 tumour suppressor gene in colorectal carcinomas. I. Genetic alterations on chromosome 17
Br J Cancer, 67 (1), 88-92
DOI 10.1038/bjc.1993.14, PubMed 8094008
Meling GI, Lothe RA, Børresen AL, Graue C, Hauge S, Clausen OP, Rognum TO (1993)
The TP53 tumour suppressor gene in colorectal carcinomas. II. Relation to DNA ploidy pattern and clinicopathological variables
Br J Cancer, 67 (1), 93-8
DOI 10.1038/bjc.1993.15, PubMed 8427784
Peltomäki P, Lothe RA, Aaltonen LA, Pylkkänen L, Nyström-Lahti M, Seruca R, David L, Holm R, Ryberg D, Haugen A (1993)
Microsatellite instability is associated with tumors that characterize the hereditary non-polyposis colorectal carcinoma syndrome
Cancer Res, 53 (24), 5853-5
PubMed 8261393
Ridanpää M, Lothe RA, Onfelt A, Fosså S, Børresen AL, Husgafvel-Pursiainen K (1993)
K-ras oncogene codon 12 point mutations in testicular cancer
Environ Health Perspect, 101 Suppl 3 (Suppl 3), 185-7
DOI 10.1289/ehp.101-1521158, PubMed 8143614
Publications 1992
Hovig E, Smith-Sørensen B, Gebhardt MC, Ryberg D, Lothe R, Børresen AL (1992)
No alterations in exon 21 of the RB1 gene in sarcomas and carcinomas of the breast, colon, and lung
Genes Chromosomes Cancer, 5 (2), 97-103
DOI 10.1002/gcc.2870050202, PubMed 1381957
Lothe RA (1992)
Suppressor genes involved in tumourigenesis of colon and testis: a molecular and cytogenetic study
Department of Genetics, Institute for Cancer Research, The Norwegian Radium Hospital and The Norwegian Cancer Society, Oslo, 1 b (flere pag.)
BIBSYS 92138419x, ISBN 82-7633-018-5
Lothe RA, Fossli T, Danielsen HE, Stenwig AE, Nesland JM, Gallie B, Børresen AL (1992)
Molecular genetic studies of tumor suppressor gene regions on chromosomes 13 and 17 in colorectal tumors
J Natl Cancer Inst, 84 (14), 1100-8
DOI 10.1093/jnci/84.14.1100, PubMed 1619684
Lothe RA, Heimdal K, Lier ME, Fosså SD, Møller P, Brøgger A (1992)
High resolution chromosome banding in search of germ line mutations applied on testicular cancer patients
Cancer Genet Cytogenet, 59 (1), 62-7
DOI 10.1016/0165-4608(92)90160-a, PubMed 1555193
Peltomäki P, Lothe RA, Børresen AL, Fosså SD, Brøgger A, de la Chapelle A (1992)
Chromosome 12 in human testicular cancer: dosage changes and their parental origin
Cancer Genet Cytogenet, 64 (1), 21-6
DOI 10.1016/0165-4608(92)90316-z, PubMed 1458445
Tommerup N, Lothe R (1992)
Constitutional ring chromosomes and tumour suppressor genes
J Med Genet, 29 (12), 879-82
DOI 10.1136/jmg.29.12.879, PubMed 1336057
Publications 1991
Hovig E, Lothe R, Farrants G, Brøgger A, Fodstad O, Børresen AL (1991)
Chromosome 13 alterations in osteosarcoma cell lines derived from a patient with previous retinoblastoma
Cancer Genet Cytogenet, 57 (1), 31-40
DOI 10.1016/0165-4608(91)90186-x, PubMed 1684533
Meling GI, Lothe RA, Børresen AL, Hauge S, Graue C, Clausen OP, Rognum TO (1991)
Genetic alterations within the retinoblastoma locus in colorectal carcinomas. Relation to DNA ploidy pattern studied by flow cytometric analysis
Br J Cancer, 64 (3), 475-80
DOI 10.1038/bjc.1991.334, PubMed 1911187
Peltomäki P, Lothe R, Børresen AL, Fosså SD, Brøgger A, de la Chapelle A (1991)
Altered dosage of the sex chromosomes in human testicular cancer: a molecular genetic study
Int J Cancer, 47 (4), 518-22
DOI 10.1002/ijc.2910470408, PubMed 1995482
Publications 1990
Boudi FH, Lothe RA, Taggart RT (1990)
Human pepsinogen A (PGA): an informative gene complex located at 11q13
Hum Genet, 84 (3), 293-5
DOI 10.1007/BF00200579, PubMed 1968039
Fosså SD, Langmark F, Aass N, Andersen A, Lothe R, Børresen AL (1990)
Second non-germ cell malignancies after radiotherapy of testicular cancer with or without chemotherapy
Br J Cancer, 61 (4), 639-43
DOI 10.1038/bjc.1990.142, PubMed 2109999
Lothe RA, Brøgger A, Gedde-Dahl T (1990)
High-resolution karyotypes of eighteen Norwegian polyposis patients
Cancer Genet Cytogenet, 47 (1), 69-72
DOI 10.1016/0165-4608(90)90264-b, PubMed 2162732
Publications 1989
Gedde-Dahl T, Heim S, Lothe R, Bye R, Geitvik GA, Kyrkjebø HT, Hognestad J, Nygaard K, Bergan A, Olaisen B (1989)
[The polyposis project]
Nord Med, 104 (1), 12-5
PubMed 2536147
Lothe RA, Fosså SD, Stenwig AE, Nakamura Y, White R, Børresen AL, Brøgger A (1989)
Loss of 3p or 11p alleles is associated with testicular cancer tumors
Genomics, 5 (1), 134-8
DOI 10.1016/0888-7543(89)90097-9, PubMed 2767683
Publications 1988
Gedde-Dahl T, Heim S, Lothe R, Bye R, Brevik K, Geitvik GA, Kyrkjebø HT, Hognestad J, Nygaard K, Bergan A (1988)
[The polyposis project]
Tidsskr Nor Laegeforen, 108 (29), 2465-8
PubMed 2905084
Lothe RA, Nakamura Y, Woodward S, Gedde-Dahl T, White R (1988)
VNTR (variable number of tandem repeats) markers show loss of chromosome 17p sequences in human colorectal carcinomas
Cytogenet Cell Genet, 48 (3), 167-9
DOI 10.1159/000132617, PubMed 2906851
Publications 1987
Geitvik GA, Høyheim B, Gedde-Dahl T, Grzeschik KH, Lothe R, Tomter H, Olaisen B (1987)
The Kidd (JK) blood group locus assigned to chromosome 18 by close linkage to a DNA-RFLP
Hum Genet, 77 (3), 205-9
DOI 10.1007/BF00284470, PubMed 2890568
Lothe RA, Gedde-Dahl T, Lier ME, Aamdahl S, Bergan A, Stenwig AE, Broegger A (1987)
Loss of one chromosome #13 during development of a polyposis tumor
Cancer Genet Cytogenet, 28 (2), 335-42
DOI 10.1016/0165-4608(87)90220-2, PubMed 2887278
Publications 1986
Lothe RA, Gedde-Dahl T, Olaisen B, Bakker E, Pearson P (1986)
Very close linkage between D2S1 and ACP1 on chromosome 2p
Ann Hum Genet, 50 (4), 361-7
DOI 10.1111/j.1469-1809.1986.tb01757.x, PubMed 3481680
Publications 1985
Lothe RA, Frøholm LO, Westre G, Kjennerud U (1985)
Stainer and Scholte's pertussis medium with an alternative buffer
J Biol Stand, 13 (2), 129-34
DOI 10.1016/s0092-1157(85)80018-4, PubMed 2860114
Publications 1983
Lothe RA (1983)
Sammenligning av dyrkingsmedier, og serologiske studie avagglutinogener hos kikhosteorganismen Bordetella pertussis
R.A Lothe, Oslo, 85 s.
BIBSYS 961296976