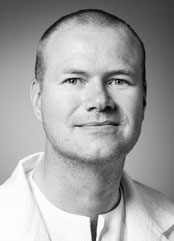 Anders Opdahl
Head of Angiography Laboratory, Ullevål Hospital, OUH; MD, PhD
+47 221 19570
Physician and researcher Anders Opdahl has demonstrated new mechanisms for how the heart changes shape during its relaxation and early filling phase. In his thesis "Mechanisms of Left Ventricular Early Diastolic Untwisting and Lengthening", Anders Opdahl and his coworkers have shown that both the contraction of the heart and the compression pressure are important mechanisms for the speed of the early prolongation and reversal of the heart and not just the previously assumed mechanism; relaxation rate. During the contraction, the heart muscle is squeezed together as a steel spring, and when the relaxation starts, it bounces out again. Furthermore, Opdahl has shown that measurement of the rotation of the heart tip can be a simplified method of assessing the heart's rotation, and thus also a measure of ejection fraction.
Measurement of the heart's pump function is important in order to detect heart disease early. The heart has cyclic motions with characteristic movement patterns during emptying and filling phase that reflects its function. In contrast to the cardiac shortening of the longitudinal axis, the twisting motion around the twisting axis is less investigated. In the heart's relaxation and early filling phase, an extension of the heart occurs in addition to the heart turning back to the untwisting. The rate of prolongation and retraction have been introduced as markers for the heart's relaxation rate, a fundamental measurement of the heart's filling capacity. The degree of twisting motion around the longitudinal axis of the heart has been introduced as a measurement for ejection fraction.
Although the rate of prolongation and retraction of the heart reflects the relaxation rate, the thesis shows that one should additionally take into account the contraction of the heart and the blood pressure in the left ventricle, and that there is thus a tight link between the contraction of the heart and the filling. Furthermore, rotation of the heart tip can represent a simplified target of the heart's twist - a shape change that is complicated and time-consuming to measure, thus being a simplified measurement of ejection fraction.
Publications 2023
Dodgson CAS, Beitnes JO, Kløve SF, Herstad J, Opdahl A, Undseth R, Eek CH, Broch K, Gullestad L, Aaberge L, Lunde K, Bendz B, Lie ØH (2023)
An investigator-sponsored pragmatic randomised controlled trial of AntiCoagulation versus AcetylSalicylic Acid after Transcatheter Aortic Valve Implantation - Rationale and design of ACASA-TAVI: Blinded outcome adjudication
Am Heart J (in press)
DOI 10.1016/j.ahj.2023.08.010, PubMed 37634655
Publications 2022
Huse C, Anstensrud AK, Michelsen AE, Ueland T, Broch K, Woxholt S, Yang K, Sharma K, Tøllefsen IM, Bendz B, Amundsen BH, Damås JK, Berg ES, Bjørkelund E, Quiles-Jiménez A, Bjerkeli V, Bendz C, Kleveland O, Stensaeth KH, Opdahl A, Kløw NE, Andersen GØ, Wiseth R, Halvorsen B, Gullestad L et al. (2022)
Interleukin-6 inhibition in ST-elevation myocardial infarction: Immune cell profile in the randomised ASSAIL-MI trial
EBioMedicine, 80, 104013
DOI 10.1016/j.ebiom.2022.104013, PubMed 35504178
Publications 2021
Broch K, Anstensrud AK, Woxholt S, Sharma K, Tøllefsen IM, Bendz B, Aakhus S, Ueland T, Amundsen BH, Damås JK, Berg ES, Bjørkelund E, Bendz C, Hopp E, Kleveland O, Stensæth KH, Opdahl A, Kløw NE, Seljeflot I, Andersen GØ, Wiseth R, Aukrust P, Gullestad L (2021)
Randomized Trial of Interleukin-6 Receptor Inhibition in Patients With Acute ST-Segment Elevation Myocardial Infarction
J Am Coll Cardiol, 77 (15), 1845-1855
DOI 10.1016/j.jacc.2021.02.049, PubMed 33858620
Due-Tønnessen N, Egeland CH, Meyerdierks OJ, Opdahl A (2021)
Is radial artery occlusion and local vascular complications following transradial coronary procedures affected by the type of haemostasis device used? A non-inferiority Randomized Controlled Trial (RadCom trial)
Eur J Cardiovasc Nurs, 20 (6), 580-587
DOI 10.1093/eurjcn/zvab004, PubMed 33615328
Publications 2019
Al-Ani A, Hoffmann P, von Lueder T, Opdahl A (2019)
Safety and efficacy of hybrid vascular closure technique using both a suture- and collagen-mediated closure device after transfemoral transcatheter aortic valve implantation
Catheter Cardiovasc Interv, 95 (6), 1171-1175
DOI 10.1002/ccd.28419, PubMed 31379116
Anstensrud AK, Woxholt S, Sharma K, Broch K, Bendz B, Aakhus S, Ueland T, Amundsen BH, Damås JK, Hopp E, Kleveland O, Stensæth KH, Opdahl A, Kløw NE, Seljeflot I, Andersen GØ, Wiseth R, Aukrust P, Gullestad L (2019)
Rationale for the ASSAIL-MI-trial: a randomised controlled trial designed to assess the effect of tocilizumab on myocardial salvage in patients with acute ST-elevation myocardial infarction (STEMI)
Open Heart, 6 (2), e001108
DOI 10.1136/openhrt-2019-001108, PubMed 31673391
Edvardsen T, Opdahl A (2019)
Yet another echocardiographic index: do we need more?
Eur Heart J, 40 (6), 526-528
DOI 10.1093/eurheartj/ehy270, PubMed 29771305
Nwabuo CC, Moreira HT, Vasconcellos HD, Mewton N, Opdahl A, Ogunyankin KO, Ambale-Venkatesh B, Schreiner PJ, Armstrong AAC, Lewis CE, Jacobs DR, Lloyd-Jones D, Gidding SS, Lima JAC (2019)
Left ventricular global function index predicts incident heart failure and cardiovascular disease in young adults: the coronary artery risk development in young adults (CARDIA) study
Eur Heart J Cardiovasc Imaging, 20 (5), 533-540
DOI 10.1093/ehjci/jey123, PubMed 30247530
Redheuil A, Kachenoura N, Bollache E, Yu WC, Opdahl A, Decesare A, Mousseaux E, Bluemke D, Lima JAC (2019)
Left ventricular and proximal aorta coupling in magnetic resonance imaging: aging together?
Am J Physiol Heart Circ Physiol, 317 (2), H300-H307
DOI 10.1152/ajpheart.00694.2018, PubMed 30978118
Aalen JM, Remme EW, Larsen CK, Andersen OS, Krogh M, Duchenne J, Hopp E, Ross S, Beela AS, Kongsgaard E, Bergsland J, Odland HH, Skulstad H, Opdahl A, Voigt JU, Smiseth OA (2019)
Mechanism of Abnormal Septal Motion in Left Bundle Branch Block: Role of Left Ventricular Wall Interactions and Myocardial Scar
JACC Cardiovasc Imaging, 12 (12), 2402-2413
DOI 10.1016/j.jcmg.2018.11.030, PubMed 30772230
Publications 2018
Hoffmann P, Al-Ani A, von Lueder T, Hoffmann J, Majak P, Hagen O, Loose H, Kløw NE, Opdahl A (2018)
Access site complications after transfemoral aortic valve implantation - a comparison of Manta and ProGlide
CVIR Endovasc, 1 (1), 20
DOI 10.1186/s42155-018-0026-0, PubMed 30652151
Hoffmann P, Al-Ani A, von Lueder T, Skoe ØW, Tran TT, Opdahl A (2018)
Late Pseudoaneurysm After Access Site Closure with Manta in Transfemoral Aortic Valve Implantation
EJVES Short Rep, 42, 34-36
DOI 10.1016/j.ejvssr.2018.10.003, PubMed 30931405
Lunde K, Al-Ani A, Bjørnerheim R, Hervold A, Opdahl A, Beitnes JO (2018)
Catheter-based left atrial appendage closure
Tidsskr Nor Laegeforen, 138 (7)
DOI 10.4045/tidsskr.17.0601, PubMed 29663763
Publications 2016
Habibi M, Samiei S, Ambale Venkatesh B, Opdahl A, Helle-Valle TM, Zareian M, Almeida AL, Choi EY, Wu C, Alonso A, Heckbert SR, Bluemke DA, Lima JA (2016)
Cardiac Magnetic Resonance-Measured Left Atrial Volume and Function and Incident Atrial Fibrillation: Results From MESA (Multi-Ethnic Study of Atherosclerosis)
Circ Cardiovasc Imaging, 9 (8)
DOI 10.1161/CIRCIMAGING.115.004299, PubMed 27511974
Publications 2015
Opdahl A, Helle-Valle T, Skulstad H, Smiseth OA (2015)
Strain, strain rate, torsion, and twist: echocardiographic evaluation
Curr Cardiol Rep, 17 (3), 568
DOI 10.1007/s11886-015-0568-x, PubMed 25676830
Smiseth OA, Torp H, Opdahl A, Haugaa KH, Urheim S (2015)
Myocardial strain imaging: how useful is it in clinical decision making?
Eur Heart J, 37 (15), 1196-207
DOI 10.1093/eurheartj/ehv529, PubMed 26508168
Zareian M, Ciuffo L, Habibi M, Opdahl A, Chamera EH, Wu CO, Bluemke DA, Lima JA, Venkatesh BA (2015)
Left atrial structure and functional quantitation using cardiovascular magnetic resonance and multimodality tissue tracking: validation and reproducibility assessment
J Cardiovasc Magn Reson, 17 (1), 52
DOI 10.1186/s12968-015-0152-y, PubMed 26126732
Publications 2014
Almeida AL, Teixido-Tura G, Choi EY, Opdahl A, Fernandes VR, Wu CO, Bluemke DA, Lima JA (2014)
Metabolic syndrome, strain, and reduced myocardial function: multi-ethnic study of atherosclerosis
Arq Bras Cardiol, 102 (4), 327-35
DOI 10.5935/abc.20140040, PubMed 24844874
Habibi M, Chahal H, Opdahl A, Gjesdal O, Helle-Valle TM, Heckbert SR, McClelland R, Wu C, Shea S, Hundley G, Bluemke DA, Lima JA (2014)
Association of CMR-measured LA function with heart failure development: results from the MESA study
JACC Cardiovasc Imaging, 7 (6), 570-9
DOI 10.1016/j.jcmg.2014.01.016, PubMed 24813967
Opdahl A, Ambale Venkatesh B, Fernandes VR, Wu CO, Nasir K, Choi EY, Almeida AL, Rosen B, Carvalho B, Edvardsen T, Bluemke DA, Lima JA (2014)
Reply: Resting heart rate: an independent predictor of congestive heart failure
J Am Coll Cardiol, 64 (4), 422
DOI 10.1016/j.jacc.2014.05.017, PubMed 25060383
Opdahl A, Ambale Venkatesh B, Fernandes VRS, Wu CO, Nasir K, Choi EY, Almeida ALC, Rosen B, Carvalho B, Edvardsen T, Bluemke DA, Lima JAC (2014)
Resting heart rate as predictor for left ventricular dysfunction and heart failure: MESA (Multi-Ethnic Study of Atherosclerosis)
J Am Coll Cardiol, 63 (12), 1182-1189
DOI 10.1016/j.jacc.2013.11.027, PubMed 24412444
Publications 2013
Choi EY, Rosen BD, Fernandes VR, Yan RT, Yoneyama K, Donekal S, Opdahl A, Almeida AL, Wu CO, Gomes AS, Bluemke DA, Lima JA (2013)
Prognostic value of myocardial circumferential strain for incident heart failure and cardiovascular events in asymptomatic individuals: the Multi-Ethnic Study of Atherosclerosis
Eur Heart J, 34 (30), 2354-61
DOI 10.1093/eurheartj/eht133, PubMed 23644181
Espinoza A, Kerans V, Opdahl A, Skulstad H, Halvorsen PS, Bugge JF, Fosse E, Edvardsen T (2013)
Effects of therapeutic hypothermia on left ventricular function assessed by ultrasound imaging
J Am Soc Echocardiogr, 26 (11), 1353-63
DOI 10.1016/j.echo.2013.06.021, PubMed 23891124
Mewton N, Opdahl A, Choi EY, Almeida AL, Kawel N, Wu CO, Burke GL, Liu S, Liu K, Bluemke DA, Lima JA (2013)
Left ventricular global function index by magnetic resonance imaging--a novel marker for assessment of cardiac performance for the prediction of cardiovascular events: the multi-ethnic study of atherosclerosis
Hypertension, 61 (4), 770-8
DOI 10.1161/HYPERTENSIONAHA.111.198028, PubMed 23424238
Publications 2012
Choi EY, Bahrami H, Wu CO, Greenland P, Cushman M, Daniels LB, Almeida AL, Yoneyama K, Opdahl A, Jain A, Criqui MH, Siscovick D, Darwin C, Maisel A, Bluemke DA, Lima JA (2012)
N-terminal pro-B-type natriuretic peptide, left ventricular mass, and incident heart failure: Multi-Ethnic Study of Atherosclerosis
Circ Heart Fail, 5 (6), 727-34
DOI 10.1161/CIRCHEARTFAILURE.112.968701, PubMed 23032197
Choi EY, Yan RT, Fernandes VR, Opdahl A, Gomes AS, Almeida AL, Wu CO, Liu K, Carr JJ, McClelland RL, Bluemke DA, Lima JA (2012)
High-sensitivity C-reactive protein as an independent predictor of progressive myocardial functional deterioration: the multiethnic study of atherosclerosis
Am Heart J, 164 (2), 251-8
DOI 10.1016/j.ahj.2012.05.010, PubMed 22877812
Opdahl A, Remme EW, Helle-Valle T, Edvardsen T, Smiseth OA (2012)
Myocardial relaxation, restoring forces, and early-diastolic load are independent determinants of left ventricular untwisting rate
Circulation, 126 (12), 1441-51
DOI 10.1161/CIRCULATIONAHA.111.080861, PubMed 22865889
Remme EW, Hoff L, Halvorsen PS, Opdahl A, Fosse E, Elle OJ (2012)
Simulation model of cardiac three dimensional accelerometer measurements
Med Eng Phys, 34 (7), 990-8
DOI 10.1016/j.medengphy.2012.04.015, PubMed 22633656
Russell K, Eriksen M, Aaberge L, Wilhelmsen N, Skulstad H, Remme EW, Haugaa KH, Opdahl A, Fjeld JG, Gjesdal O, Edvardsen T, Smiseth OA (2012)
A novel clinical method for quantification of regional left ventricular pressure-strain loop area: a non-invasive index of myocardial work
Eur Heart J, 33 (6), 724-33
DOI 10.1093/eurheartj/ehs016, PubMed 22315346
Publications 2011
Gjesdal O, Remme EW, Opdahl A, Skulstad H, Russell K, Kongsgaard E, Edvardsen T, Smiseth OA (2011)
Mechanisms of abnormal systolic motion of the interventricular septum during left bundle-branch block
Circ Cardiovasc Imaging, 4 (3), 264-73
DOI 10.1161/CIRCIMAGING.110.961417, PubMed 21393502
Remme EW, Opdahl A, Smiseth OA (2011)
Mechanics of left ventricular relaxation, early diastolic lengthening, and suction investigated in a mathematical model
Am J Physiol Heart Circ Physiol, 300 (5), H1678-87
DOI 10.1152/ajpheart.00165.2010, PubMed 21317306
Russell K, Smiseth OA, Gjesdal O, Qvigstad E, Norseng PA, Sjaastad I, Opdahl A, Skulstad H, Edvardsen T, Remme EW (2011)
Mechanism of prolonged electromechanical delay in late activated myocardium during left bundle branch block
Am J Physiol Heart Circ Physiol, 301 (6), H2334-43
DOI 10.1152/ajpheart.00644.2011, PubMed 21984549
Publications 2010
Bjornaas MA, Hovda KE, Heyerdahl F, Skog K, Drottning P, Opdahl A, Jacobsen D, Ekeberg O (2010)
Suicidal intention, psychosocial factors and referral to further treatment: a one-year cross-sectional study of self-poisoning
BMC Psychiatry, 10, 58
DOI 10.1186/1471-244X-10-58, PubMed 20653986
Russell K, Opdahl A, Remme EW, Gjesdal O, Skulstad H, Kongsgaard E, Edvardsen T, Smiseth OA (2010)
Evaluation of left ventricular dyssynchrony by onset of active myocardial force generation: a novel method that differentiates between electrical and mechanical etiologies
Circ Cardiovasc Imaging, 3 (4), 405-14
DOI 10.1161/CIRCIMAGING.109.905539, PubMed 20494943
Publications 2009
Helle-Valle T, Remme EW, Lyseggen E, Pettersen E, Vartdal T, Opdahl A, Smith HJ, Osman NF, Ihlen H, Edvardsen T, Smiseth OA (2009)
Clinical assessment of left ventricular rotation and strain: a novel approach for quantification of function in infarcted myocardium and its border zones
Am J Physiol Heart Circ Physiol, 297 (1), H257-67
DOI 10.1152/ajpheart.01116.2008, PubMed 19395547
Lyseggen E, Vartdal T, Remme EW, Helle-Valle T, Pettersen E, Opdahl A, Edvardsen T, Smiseth OA (2009)
A novel echocardiographic marker of end systole in the ischemic left ventricle: "tug of war" sign
Am J Physiol Heart Circ Physiol, 296 (3), H645-54
DOI 10.1152/ajpheart.00313.2008, PubMed 19122168
Opdahl A, Remme EW, Helle-Valle T, Lyseggen E, Vartdal T, Pettersen E, Edvardsen T, Smiseth OA (2009)
Determinants of left ventricular early-diastolic lengthening velocity: independent contributions from left ventricular relaxation, restoring forces, and lengthening load
Circulation, 119 (19), 2578-86
DOI 10.1161/CIRCULATIONAHA.108.791681, PubMed 19414640
Remme EW, Lyseggen E, Helle-Valle T, Pettersen E, Ragnarsson A, Ihlen H, Edvardsen T, Smiseth OA, Opdahl A, Vartdal T, Ljosland M (2009)
Response to Letter Regarding Article, "Mechanisms of Preejection and Postejection Velocity Spikes in Left Ventricular Myocardium: Interaction Between Wall Deformation and Valve Events"
Circulation, 119 (6), E205
DOI 10.1161/CIRCULATIONAHA.108.823716
Publications 2008
Heyerdahl F, Bjornas MA, Hovda KE, Skog K, Opdahl A, Wium C, Ekeberg O, Jacobsen D (2008)
Acute poisonings treated in hospitals in Oslo: a one-year prospective study (II): clinical outcome
Clin Toxicol (Phila), 46 (1), 42-9
DOI 10.1080/15563650701210048, PubMed 18167036
Hovda KE, Bjornaas MA, Skog K, Opdahl A, Drottning P, Ekeberg O, Jacobsen D (2008)
Acute poisonings treated in hospitals in Oslo: a one-year prospective study (I): pattern of poisoning
Clin Toxicol (Phila), 46 (1), 35-41
DOI 10.1080/15563650601185969, PubMed 18167035
Opdahl A, Helle-Valle T, Remme EW, Vartdal T, Pettersen E, Lunde K, Edvardsen T, Smiseth OA (2008)
Apical rotation by speckle tracking echocardiography: a simplified bedside index of left ventricular twist
J Am Soc Echocardiogr, 21 (10), 1121-8
DOI 10.1016/j.echo.2008.06.012, PubMed 18760568
Remme EW, Lyseggen E, Helle-Valle T, Opdahl A, Pettersen E, Vartdal T, Ragnarsson A, Ljosland M, Ihlen H, Edvardsen T, Smiseth OA (2008)
Mechanisms of preejection and postejection velocity spikes in left ventricular myocardium: interaction between wall deformation and valve events
Circulation, 118 (4), 373-80
DOI 10.1161/CIRCULATIONAHA.107.748491, PubMed 18606917
Publications 2005
Lyseggen E, Skulstad H, Helle-Valle T, Vartdal T, Urheim S, Rabben SI, Opdahl A, Ihlen H, Smiseth OA (2005)
Myocardial strain analysis in acute coronary occlusion: a tool to assess myocardial viability and reperfusion
Circulation, 112 (25), 3901-10
DOI 10.1161/CIRCULATIONAHA.105.533372, PubMed 16365210