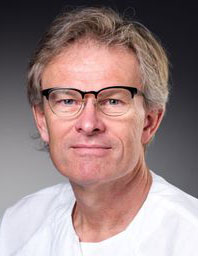 Helge Skulstad
Head of Section of Cardiac Ultrasound, MD, PhD
+47 230 72409
Helge Skulstad, MD, PhD, FESC, Head of Section of Cardiac Ultrasound at Oslo University Hospital, Rikshospitalet.
Skulstad received his MD in 1990 and Doctor of Medical Sciences degree in 2006, both degrees from University of Oslo. He is a board certified specialist in Internal Medicine and Cardiology. He currently works as Head of Section of Cardiac Ultrasound at Department of Cardiology, Rikshospitalet. Prior to this he was Head of Department of Cardiology at Akershus University Hospital.
Skulstad has extensive knowledge in Doppler echocardiography, transesophageal echocardiography and cardiac imaging, as well as in experimental research and clinical studies. The main topics of his research are regional myocardial function and deformation echocardiography.
In addition to supervising several PhD fellows at the Integrated CardioVascular Function research group, Skulstad is also a senior researcher in the group for clinical and experimental cardiovascular monitoring at the Intervention Centre at Oslo University Hospital, where one of his projects is focusing on effects of epinephrine and betablockers on systolic and diastolic left ventricular function during therapeutic hypothermia.
Skulstad has numerous publications in peer-reviewed journals of high impact and is sited several times.
Publications 2023
Halvorsen S, Mehilli J, Cassese S, Hall TS, Abdelhamid M, Barbato E, De Hert S, de Laval I, Geisler T, Hinterbuchner L, Ibanez B, Lenarczyk R, Mansmann UR, McGreavy P, Mueller C, Muneretto C, Niessner A, Potpara TS, Ristić A, Sade LE, Schirmer H, Schüpke S, Sillesen H, Skulstad H, Torracca L et al. (2023)
[2022 ESC Guidelines on cardiovascular assessment and management of patients undergoing non-cardiac surgery Developed by the task force for cardiovascular assessment and management of patients undergoing non-cardiac surgery of the European Society of Cardiology (ESC) Endorsed by the European Society of Anaesthesiology and Intensive Care (ESAIC)]
G Ital Cardiol (Rome), 24 (1), 1e-102e
DOI 10.1714/3956.39326, PubMed 36645369
Publications 2022
Castrini AI, Skjølsvik E, Estensen ME, Almaas VM, Skulstad H, Lyseggen E, Edvardsen T, Lie ØH, Picard KCI, Lakdawala NK, Haugaa KH (2022)
Pregnancy and Progression of Cardiomyopathy in Women With LMNA Genotype-Positive
J Am Heart Assoc, 11 (8), e024960
DOI 10.1161/JAHA.121.024960, PubMed 35434999
Gronningsaeter L, Skulstad H, Quattrone A, Langesaeter E, Estensen ME (2022)
Reduced left ventricular function and sustained hypertension in women seven years after severe preeclampsia
Scand Cardiovasc J, 56 (1), 292-301
DOI 10.1080/14017431.2022.2099012, PubMed 35852091
Halvorsen S, Mehilli J, Cassese S, Hall TS, Abdelhamid M, Barbato E, De Hert S, de Laval I, Geisler T, Hinterbuchner L, Ibanez B, Lenarczyk R, Mansmann UR, McGreavy P, Mueller C, Muneretto C, Niessner A, Potpara TS, Ristić A, Sade LE, Schirmer H, Schüpke S, Sillesen H, Skulstad H, Torracca L et al. (2022)
2022 ESC Guidelines on cardiovascular assessment and management of patients undergoing non-cardiac surgery
Eur Heart J, 43 (39), 3826-3924
DOI 10.1093/eurheartj/ehac270, PubMed 36017553
Jensen AS, Jørgensen TH, Christersson C, Nagy E, Sinisalo J, Furenäs E, Gjesdal O, Eriksson P, Vejlstrup N, Johansson B, Hlebowicz J, Greve G, Dellborg M, Skulstad H, Kvidal P, Jokinen E, Sairanen H, Thilén U, Søndergaard L (2022)
Cause-Specific Mortality in Patients During Long-Term Follow-Up After Atrial Switch for Transposition of the Great Arteries
J Am Heart Assoc, 11 (14), e023921
DOI 10.1161/JAHA.121.023921, PubMed 35861834
Schalit I, Espinoza A, Pettersen FJ, Skulstad H, Fosse E, Fiane AE, Halvorsen PS (2022)
Improved Detection Of Thromboembolic Complications In Left Ventricular Assist Device By Novel Accelerometer-Based Analysis
ASAIO J, 68 (9), 1117-1125
DOI 10.1097/MAT.0000000000001654, PubMed 36066353
Wisløff-Aase K, Skulstad H, Beitnes JO, Lundblad R, Halvorsen PS, Fiane A, Espinoza A (2022)
Left Ventricular Function Changes Induced by Moderate Hypothermia Are Rapidly Reversed After Rewarming-A Clinical Study
Crit Care Med, 50 (1), e52-e60
DOI 10.1097/CCM.0000000000005170, PubMed 34259452
Wisløff-Aase K, Skulstad H, Haugaa K, Lingaas PS, Beitnes JO, Halvorsen PS, Espinoza A (2022)
Myocardial electrophysiological and mechanical changes caused by moderate hypothermia-A clinical study
Physiol Rep, 10 (8), e15259
DOI 10.14814/phy2.15259, PubMed 35439365
Publications 2021
Kvaslerud AB, Santic K, Hussain AI, Auensen A, Fiane A, Skulstad H, Aaberge L, Gullestad L, Broch K (2021)
Outcomes in asymptomatic, severe aortic stenosis
PLoS One, 16 (4), e0249610
DOI 10.1371/journal.pone.0249610, PubMed 33826652
Quattrone A, Lie OH, Nestaas E, de Lange C, Try K, Lindberg HL, Skulstad H, Erikssen G, Edvardsen T, Haugaa K, Estensen ME (2021)
Impact of pregnancy and risk factors for ventricular arrhythmias in women with tetralogy of Fallot
Open Heart, 8 (1)
DOI 10.1136/openhrt-2020-001400, PubMed 33414183
Quattrone A, Lie OH, Nestaas E, de Lange C, Try K, Lindberg HL, Skulstad H, Erikssen G, Edvardsen T, Haugaa K, Estensen ME (2021)
Long-term follow-up and sex differences in adults operated for tetralogy of Fallot
Open Heart, 8 (2)
DOI 10.1136/openhrt-2021-001738, PubMed 34663747
Sletten OJ, Aalen JM, Izci H, Duchenne J, Remme EW, Larsen CK, Hopp E, Galli E, Sirnes PA, Kongsgard E, Donal E, Voigt JU, Smiseth OA, Skulstad H (2021)
Lateral Wall Dysfunction Signals Onset of Progressive Heart Failure in Left Bundle Branch Block
JACC Cardiovasc Imaging, 14 (11), 2059-2069
DOI 10.1016/j.jcmg.2021.04.017, PubMed 34147454
Smiseth OA, Aalen JM, Skulstad H (2021)
Heart failure and systolic function: time to leave diagnostics based on ejection fraction?
Eur Heart J, 42 (7), 786-788
DOI 10.1093/eurheartj/ehaa979, PubMed 33454774
Storm BS, Halvorsen PS, Skulstad H, Dybwik K, Schjalm C, Christiansen D, Wisløff-Aase K, Fosse E, Braaten T, Nielsen EW, Mollnes TE (2021)
Open chest and pericardium facilitate transpulmonary passage of venous air emboli
Acta Anaesthesiol Scand, 65 (5), 648-655
DOI 10.1111/aas.13796, PubMed 33595102
Tangen J, Aukrust P, Barratt-Due A, Skulstad H, Edvardsen T (2021)
Reduced Cardiac Function by Echocardiography in a Minority of COVID-19 Patients 3 Months after Hospitalization
J Am Soc Echocardiogr, 35 (2), 243-244
DOI 10.1016/j.echo.2021.10.014, PubMed 34758386
Publications 2020
Andersen ØS, Krogh MR, Boe E, Storsten P, Aalen JM, Larsen CK, Skulstad H, Odland HH, Smiseth OA, Remme EW (2020)
Left bundle branch block increases left ventricular diastolic pressure during tachycardia due to incomplete relaxation
J Appl Physiol (1985), 128 (4), 729-738
DOI 10.1152/japplphysiol.01002.2018, PubMed 31999529
Chivulescu M, Lie ØH, Popescu BA, Skulstad H, Edvardsen T, Jurcut RO, Haugaa KH (2020)
High penetrance and similar disease progression in probands and in family members with arrhythmogenic cardiomyopathy
Eur Heart J, 41 (14), 1401-1410
DOI 10.1093/eurheartj/ehz570, PubMed 31504415
Espinoza A, Kerans V, Bugge JF, Skulstad H, Halvorsen PS (2020)
Left Ventricular Function During Epinephrine Stimulation and Hypothermia: Effects at Spontaneous and Paced Heart Rates in a Porcine Model
Ther Hypothermia Temp Manag, 11 (1), 35-44
DOI 10.1089/ther.2019.0035, PubMed 31916922
Ismail W, Skulstad H, Aabakken L, Grindheim G, Åvitsland TL, Nordøy I, Issa-Epe AI, Lassen K (2020)
[A man in his thirties with right ventricular heart failure, jaundice and abdominal pain]
Tidsskr Nor Laegeforen, 140 (17)
DOI 10.4045/tidsskr.20.0191, PubMed 33231388
Muthiah A, Beitnes JO, Skulstad H (2020)
Patients with infective endocarditis referred to Division of Cardiovascular and Pulmonary Diseases at Oslo University Hospital between 2014 and 2017
Scand Cardiovasc J, 54 (4), 258-264
DOI 10.1080/14017431.2020.1734232, PubMed 32157906
Schalit I, Espinoza A, Pettersen FJ, Snartland S, Ringdal ML, Hoel TN, Skulstad H, Fosse E, Fiane AE, Halvorsen PS (2020)
Detection of Thromboembolic Events and Pump Thrombosis in HeartWare HVAD Using Accelerometer in a Porcine Model
ASAIO J, 66 (1), 38-48
DOI 10.1097/MAT.0000000000000954, PubMed 30688692
Skulstad H, Cosyns B, Popescu BA, Galderisi M, Salvo GD, Donal E, Petersen S, Gimelli A, Haugaa KH, Muraru D, Almeida AG, Schulz-Menger J, Dweck MR, Pontone G, Sade LE, Gerber B, Maurovich-Horvat P, Bharucha T, Cameli M, Magne J, Westwood M, Maurer G, Edvardsen T (2020)
COVID-19 pandemic and cardiac imaging: EACVI recommendations on precautions, indications, prioritization, and protection for patients and healthcare personnel
Eur Heart J Cardiovasc Imaging, 21 (6), 592-598
DOI 10.1093/ehjci/jeaa072, PubMed 32242891
Storsten P, Aalen JM, Boe E, Remme EW, Gjesdal O, Larsen CK, Andersen ØS, Eriksen M, Kongsgaard E, Duchenne J, Voigt JU, Smiseth OA, Skulstad H (2020)
Mechanical Effects on Right Ventricular Function From Left Bundle Branch Block and Cardiac Resynchronization Therapy
JACC Cardiovasc Imaging, 13 (7), 1475-1484
DOI 10.1016/j.jcmg.2019.11.016, PubMed 31954643
Wisløff-Aase K, Kerans V, Haugaa K, Halvorsen PS, Skulstad H, Espinoza A (2020)
Changes in left ventricular electromechanical relations during targeted hypothermia
Intensive Care Med Exp, 8 (1), 76
DOI 10.1186/s40635-020-00363-7, PubMed 33315166
Publications 2019
Boe E, Skulstad H, Smiseth OA (2019)
Myocardial work by echocardiography: a novel method ready for clinical testing
Eur Heart J Cardiovasc Imaging, 20 (1), 18-20
DOI 10.1093/ehjci/jey156, PubMed 30376059
Boe E, Smiseth OA, Storsten P, Andersen OS, Aalen J, Eriksen M, Krogh MR, Kongsgaard E, Remme EW, Skulstad H (2019)
Left ventricular end-systolic volume is a more sensitive marker of acute response to cardiac resynchronization therapy than contractility indices: insights from an experimental study
Europace, 21 (2), 347-355
DOI 10.1093/europace/euy221, PubMed 30418572
Pischke SE, Hestenes S, Johansen HT, Fure H, Bugge JF, Espinoza A, Skulstad H, Edvardsen T, Fosse E, Mollnes TE, Halvorsen PS, Nielsen EW (2019)
Sepsis causes right ventricular myocardial inflammation independent of pulmonary hypertension in a porcine sepsis model
PLoS One, 14 (6), e0218624
DOI 10.1371/journal.pone.0218624, PubMed 31247004
Smiseth OA, Kjeldsen SE, Andersen OS, Mistry N, Westheim AS, Skulstad H, Gude E (2019)
Heart Failure with normal ejection fraction
Tidsskr. Nor. Laegeforen., 139 (6), 522-527
Smiseth OA, Kjeldsen SE, Andersen ØS, Mistry N, Westheim AS, Skulstad H, Gude E (2019)
[Heart failure with preserved ejection fraction]
Tidsskr Nor Laegeforen, 139 (6)
DOI 10.4045/tidsskr.18.0523, PubMed 30917641
Aalen JM, Remme EW, Larsen CK, Andersen OS, Krogh M, Duchenne J, Hopp E, Ross S, Beela AS, Kongsgaard E, Bergsland J, Odland HH, Skulstad H, Opdahl A, Voigt JU, Smiseth OA (2019)
Mechanism of Abnormal Septal Motion in Left Bundle Branch Block: Role of Left Ventricular Wall Interactions and Myocardial Scar
JACC Cardiovasc Imaging, 12 (12), 2402-2413
DOI 10.1016/j.jcmg.2018.11.030, PubMed 30772230
Publications 2018
Bergan HA, Halvorsen PS, Espinoza A, Kerans V, Skulstad H, Fosse E, Bugge JF (2018)
Left Ventricle Function During Therapeutic Hypothermia with Beta1-Adrenergic Receptor Blockade
Ther Hypothermia Temp Manag, 8 (3), 156-164
DOI 10.1089/ther.2017.0051, PubMed 29394143
Erikssen G, Aboulhosn J, Lin J, Liestøl K, Estensen ME, Gjesdal O, Skulstad H, Døhlen G, Lindberg HL (2018)
Survival in patients with univentricular hearts: the impact of right versus left ventricular morphology
Open Heart, 5 (2), e000902
DOI 10.1136/openhrt-2018-000902, PubMed 30364544
Hyler S, Espinoza A, Skulstad H, Fosse E, Steinar Halvorsen P (2018)
Corrigendum to 'Left ventricular function can be continuously monitored with an epicardially attached accelerometer sensor' [Eur J Cardiothorac Surg 2014;46:313-20]
Eur J Cardiothorac Surg, 54 (5), 968
DOI 10.1093/ejcts/ezy340, PubMed 30295773
Storsten P, Eriksen M, Remme EW, Boe E, Erikssen G, Smiseth OA, Skulstad H (2018)
Dysfunction of the systemic right ventricle after atrial switch: physiological implications of altered septal geometry and load
J Appl Physiol (1985), 125 (5), 1482-1489
DOI 10.1152/japplphysiol.00255.2018, PubMed 30188795
Aalen J, Storsten P, Remme EW, Sirnes PA, Gjesdal O, Larsen CK, Kongsgaard E, Boe E, Skulstad H, Hisdal J, Smiseth OA (2018)
Afterload Hypersensitivity in Patients With Left Bundle Branch Block
JACC Cardiovasc Imaging, 12 (6), 967-977
DOI 10.1016/j.jcmg.2017.11.025, PubMed 29361486
Publications 2017
Dahlslett T, Karlsen S, Grenne B, Sjøli B, Bendz B, Skulstad H, Smiseth OA, Edvardsen T, Brunvand H (2017)
Intra-Aortic Balloon Pump Optimizes Myocardial Function During Cardiogenic Shock
JACC Cardiovasc Imaging, 11 (3), 512-514
DOI 10.1016/j.jcmg.2017.05.019, PubMed 28823741
Grymyr OH, Beitnes JO, Eidet J, Tølløfsrud S, Fiane A, Skulstad H, Fosse E, Halvorsen PS (2017)
Detection of intraoperative myocardial dysfunction by accelerometer during aortic valve replacement
Interact Cardiovasc Thorac Surg, 24 (2), 188-195
DOI 10.1093/icvts/ivw326, PubMed 28364479
Pischke SE, Gustavsen A, Orrem HL, Egge KH, Courivaud F, Fontenelle H, Despont A, Bongoni AK, Rieben R, Tønnessen TI, Nunn MA, Scott H, Skulstad H, Barratt-Due A, Mollnes TE (2017)
Complement factor 5 blockade reduces porcine myocardial infarction size and improves immediate cardiac function
Basic Res Cardiol, 112 (3), 20
DOI 10.1007/s00395-017-0610-9, PubMed 28258298
Publications 2016
Bergan HA, Halvorsen PS, Skulstad H, Fosse E, Bugge JF (2016)
Does therapeutic hypothermia during extracorporeal cardiopulmonary resuscitation preserve cardiac function?
J Transl Med, 14 (1), 345
DOI 10.1186/s12967-016-1099-y, PubMed 27998282
Publications 2015
Bergan HA, Halvorsen PS, Skulstad H, Edvardsen T, Fosse E, Bugge JF (2015)
Successful ECMO-cardiopulmonary resuscitation with the associated post-arrest cardiac dysfunction as demonstrated by MRI
Intensive Care Med Exp, 3 (1), 61
DOI 10.1186/s40635-015-0061-2, PubMed 26335546
Boe E, Russell K, Eek C, Eriksen M, Remme EW, Smiseth OA, Skulstad H (2015)
Non-invasive myocardial work index identifies acute coronary occlusion in patients with non-ST-segment elevation-acute coronary syndrome
Eur Heart J Cardiovasc Imaging, 16 (11), 1247-55
DOI 10.1093/ehjci/jev078, PubMed 25851329
Grymyr OJ, Nguyen AT, Tjulkins F, Espinoza A, Remme EW, Skulstad H, Fosse E, Imenes K, Halvorsen PS (2015)
Continuous monitoring of cardiac function by 3-dimensional accelerometers in a closed-chest pig model
Interact Cardiovasc Thorac Surg, 21 (5), 573-82
DOI 10.1093/icvts/ivv191, PubMed 26254463
Hyler S, Pischke SE, Halvorsen PS, Espinoza A, Bergsland J, Tønnessen TI, Fosse E, Skulstad H (2015)
Continuous monitoring of regional function by a miniaturized ultrasound transducer allows early quantification of low-grade myocardial ischemia
J Am Soc Echocardiogr, 28 (4), 486-94
DOI 10.1016/j.echo.2014.12.014, PubMed 25636368
Kerans V, Espinoza A, Skulstad H, Halvorsen PS, Edvardsen T, Bugge JF (2015)
Systolic left ventricular function is preserved during therapeutic hypothermia, also during increases in heart rate with impaired diastolic filling
Intensive Care Med Exp, 3 (1), 41
DOI 10.1186/s40635-015-0041-6, PubMed 26215808
Opdahl A, Helle-Valle T, Skulstad H, Smiseth OA (2015)
Strain, strain rate, torsion, and twist: echocardiographic evaluation
Curr Cardiol Rep, 17 (3), 568
DOI 10.1007/s11886-015-0568-x, PubMed 25676830
Smedsrud MK, Gravning J, Omland T, Eek C, Mørkrid L, Skulstad H, Aaberge L, Bendz B, Kjekshus J, Edvardsen T (2015)
Sensitive cardiac troponins and N-terminal pro-B-type natriuretic peptide in stable coronary artery disease: correlation with left ventricular function as assessed by myocardial strain
Int J Cardiovasc Imaging, 31 (5), 967-73
DOI 10.1007/s10554-015-0646-6, PubMed 25788439
Publications 2014
Boe E, Russell K, Remme EW, Gjesdal O, Smiseth OA, Skulstad H (2014)
Cardiac responses to left ventricular pacing in hearts with normal electrical conduction: beneficial effect of improved filling is counteracted by dyssynchrony
Am J Physiol Heart Circ Physiol, 307 (3), H370-8
DOI 10.1152/ajpheart.00089.2014, PubMed 24906920
Dahlslett T, Karlsen S, Grenne B, Eek C, Sjøli B, Skulstad H, Smiseth OA, Edvardsen T, Brunvand H (2014)
Early assessment of strain echocardiography can accurately exclude significant coronary artery stenosis in suspected non-ST-segment elevation acute coronary syndrome
J Am Soc Echocardiogr, 27 (5), 512-9
DOI 10.1016/j.echo.2014.01.019, PubMed 24612899
Erikssen G, Liestøl K, Seem E, Birkeland S, Saatvedt KJ, Hoel TN, Døhlen G, Skulstad H, Svennevig JL, Thaulow E, Lindberg HL (2014)
Achievements in congenital heart defect surgery: a prospective, 40-year study of 7038 patients
Circulation, 131 (4), 337-46; discussion 346
DOI 10.1161/CIRCULATIONAHA.114.012033, PubMed 25538230
Grymyr OJ, Remme EW, Espinoza A, Skulstad H, Elle OJ, Fosse E, Halvorsen PS (2014)
Assessment of 3D motion increases the applicability of accelerometers for monitoring left ventricular function
Interact Cardiovasc Thorac Surg, 20 (3), 329-37
DOI 10.1093/icvts/ivu404, PubMed 25472979
Hestenes SM, Halvorsen PS, Skulstad H, Remme EW, Espinoza A, Hyler S, Bugge JF, Fosse E, Nielsen EW, Edvardsen T (2014)
Advantages of strain echocardiography in assessment of myocardial function in severe sepsis: an experimental study
Crit Care Med, 42 (6), e432-40
DOI 10.1097/CCM.0000000000000310, PubMed 24633187
Hyler S, Espinoza A, Skulstad H, Fosse E, Halvorsen PS (2014)
Left ventricular function can be continuously monitored with an epicardially attached accelerometer sensor
Eur J Cardiothorac Surg, 46 (2), 313-20
DOI 10.1093/ejcts/ezt653, PubMed 24482390
Pischke SE, Hyler S, Tronstad C, Bergsland J, Fosse E, Halvorsen PS, Skulstad H, Tønnessen TI (2014)
Myocardial tissue CO2 tension detects coronary blood flow reduction after coronary artery bypass in real-time†
Br J Anaesth, 114 (3), 414-22
DOI 10.1093/bja/aeu381, PubMed 25392231
Zahid W, Eek CH, Remme EW, Skulstad H, Fosse E, Edvardsen T (2014)
Early systolic lengthening may identify minimal myocardial damage in patients with non-ST-elevation acute coronary syndrome
Eur Heart J Cardiovasc Imaging, 15 (10), 1152-60
DOI 10.1093/ehjci/jeu101, PubMed 24866900
Publications 2013
Espinoza A, Kerans V, Opdahl A, Skulstad H, Halvorsen PS, Bugge JF, Fosse E, Edvardsen T (2013)
Effects of therapeutic hypothermia on left ventricular function assessed by ultrasound imaging
J Am Soc Echocardiogr, 26 (11), 1353-63
DOI 10.1016/j.echo.2013.06.021, PubMed 23891124
Gravning J, Smedsrud MK, Omland T, Eek C, Skulstad H, Aaberge L, Bendz B, Kjekshus J, Mørkrid L, Edvardsen T (2013)
Sensitive troponin assays and N-terminal pro-B-type natriuretic peptide in acute coronary syndrome: prediction of significant coronary lesions and long-term prognosis
Am Heart J, 165 (5), 716-24
DOI 10.1016/j.ahj.2013.02.008, PubMed 23622908
Russell K, Eriksen M, Aaberge L, Wilhelmsen N, Skulstad H, Gjesdal O, Edvardsen T, Smiseth OA (2013)
Assessment of wasted myocardial work: a novel method to quantify energy loss due to uncoordinated left ventricular contractions
Am J Physiol Heart Circ Physiol, 305 (7), H996-1003
DOI 10.1152/ajpheart.00191.2013, PubMed 23893165
Smiseth OA, Edvardsen T, Skulstad H (2013)
Cardioprotection during chemotherapy: need for faster transfer of knowledge from cardiology to oncology and role for a cardio-oncologist
J Am Coll Cardiol, 61 (23), 2363-4
DOI 10.1016/j.jacc.2013.02.073, PubMed 23583243
Zahid W, Johnson J, Westholm C, Eek CH, Haugaa KH, Smedsrud MK, Skulstad H, Fosse E, Winter R, Edvardsen T (2013)
Mitral annular displacement by Doppler tissue imaging may identify coronary occlusion and predict mortality in patients with non-ST-elevation myocardial infarction
J Am Soc Echocardiogr, 26 (8), 875-84
DOI 10.1016/j.echo.2013.05.011, PubMed 23791116
Publications 2012
Broch K, Eek C, Wergeland R, Ueland T, Skårdal R, Aukrust P, Skulstad H, Gullestad L (2012)
NT-proBNP predicts myocardial recovery after non-ST-elevation acute coronary syndrome
Scand Cardiovasc J, 46 (2), 65-71
DOI 10.3109/14017431.2011.652981, PubMed 22191851
Russell K, Eriksen M, Aaberge L, Wilhelmsen N, Skulstad H, Remme EW, Haugaa KH, Opdahl A, Fjeld JG, Gjesdal O, Edvardsen T, Smiseth OA (2012)
A novel clinical method for quantification of regional left ventricular pressure-strain loop area: a non-invasive index of myocardial work
Eur Heart J, 33 (6), 724-33
DOI 10.1093/eurheartj/ehs016, PubMed 22315346
Skulstad H, Aakhus S (2012)
Stress echocardiography with semi-supine bicycle
Tidsskr Nor Laegeforen, 132 (19), 2175-8
DOI 10.4045/tidsskr.11.1538, PubMed 23076486
Publications 2011
Eek C, Grenne B, Brunvand H, Aakhus S, Endresen K, Smiseth OA, Edvardsen T, Skulstad H (2011)
Postsystolic shortening is a strong predictor of recovery of systolic function in patients with non-ST-elevation myocardial infarction
Eur J Echocardiogr, 12 (7), 483-9
DOI 10.1093/ejechocard/jer055, PubMed 21609975
Gjesdal O, Remme EW, Opdahl A, Skulstad H, Russell K, Kongsgaard E, Edvardsen T, Smiseth OA (2011)
Mechanisms of abnormal systolic motion of the interventricular septum during left bundle-branch block
Circ Cardiovasc Imaging, 4 (3), 264-73
DOI 10.1161/CIRCIMAGING.110.961417, PubMed 21393502
Grenne B, Eek C, Sjøli B, Dahlslett T, Hol PK, Orn S, Skulstad H, Smiseth OA, Edvardsen T, Brunvand H (2011)
Mean strain throughout the heart cycle by longitudinal two-dimensional speckle-tracking echocardiography enables early prediction of infarct size
J Am Soc Echocardiogr, 24 (10), 1118-25
DOI 10.1016/j.echo.2011.06.002, PubMed 21764553
Haugaa KH, Bergestuen DS, Sahakyan LG, Skulstad H, Aakhus S, Thiis-Evensen E, Edvardsen T (2011)
Evaluation of right ventricular dysfunction by myocardial strain echocardiography in patients with intestinal carcinoid disease
J Am Soc Echocardiogr, 24 (6), 644-50
DOI 10.1016/j.echo.2011.02.009, PubMed 21440415
Russell K, Smiseth OA, Gjesdal O, Qvigstad E, Norseng PA, Sjaastad I, Opdahl A, Skulstad H, Edvardsen T, Remme EW (2011)
Mechanism of prolonged electromechanical delay in late activated myocardium during left bundle branch block
Am J Physiol Heart Circ Physiol, 301 (6), H2334-43
DOI 10.1152/ajpheart.00644.2011, PubMed 21984549
Smiseth OA, Russell K, Skulstad H (2011)
The role of echocardiography in quantification of left ventricular dyssynchrony: state of the art and future directions
Eur Heart J Cardiovasc Imaging, 13 (1), 61-8
DOI 10.1093/ejechocard/jer243, PubMed 22094237
Publications 2010
Eek C, Grenne B, Brunvand H, Aakhus S, Endresen K, Hol PK, Smith HJ, Smiseth OA, Edvardsen T, Skulstad H (2010)
Strain echocardiography and wall motion score index predicts final infarct size in patients with non-ST-segment-elevation myocardial infarction
Circ Cardiovasc Imaging, 3 (2), 187-94
DOI 10.1161/CIRCIMAGING.109.910521, PubMed 20075142
Eek C, Grenne B, Brunvand H, Aakhus S, Endresen K, Smiseth OA, Edvardsen T, Skulstad H (2010)
Strain echocardiography predicts acute coronary occlusion in patients with non-ST-segment elevation acute coronary syndrome
Eur J Echocardiogr, 11 (6), 501-8
DOI 10.1093/ejechocard/jeq008, PubMed 20185525
Espinoza A, Halvorsen PS, Skulstad H, Lundblad R, Bugge JF, Hoff L, Fosse E, Edvardsen T (2010)
Automated detection of myocardial ischaemia by epicardial miniature ultrasound transducers--a novel tool for patient monitoring during cardiac surgery
Eur J Cardiothorac Surg, 39 (1), 53-9
DOI 10.1016/j.ejcts.2010.03.067, PubMed 20627751
Grenne B, Eek C, Sjøli B, Dahlslett T, Uchto M, Hol PK, Skulstad H, Smiseth OA, Edvardsen T, Brunvand H (2010)
Acute coronary occlusion in non-ST-elevation acute coronary syndrome: outcome and early identification by strain echocardiography
Heart, 96 (19), 1550-6
DOI 10.1136/hrt.2009.188391, PubMed 20643662
Grenne B, Eek C, Sjøli B, Skulstad H, Aakhus S, Smiseth OA, Edvardsen T, Brunvand H (2010)
Changes of myocardial function in patients with non-ST-elevation acute coronary syndrome awaiting coronary angiography
Am J Cardiol, 105 (9), 1212-8
DOI 10.1016/j.amjcard.2009.12.036, PubMed 20403468
Russell K, Opdahl A, Remme EW, Gjesdal O, Skulstad H, Kongsgaard E, Edvardsen T, Smiseth OA (2010)
Evaluation of left ventricular dyssynchrony by onset of active myocardial force generation: a novel method that differentiates between electrical and mechanical etiologies
Circ Cardiovasc Imaging, 3 (4), 405-14
DOI 10.1161/CIRCIMAGING.109.905539, PubMed 20494943
Publications 2009
Bergsland J, Lingaas PS, Skulstad H, Hol PK, Halvorsen PS, Andersen R, Småstuen M, Lundblad R, Svennevig J, Andersen K, Fosse E (2009)
Intracoronary shunt prevents ischemia in off-pump coronary artery bypass surgery
Ann Thorac Surg, 87 (1), 54-60
DOI 10.1016/j.athoracsur.2008.08.032, PubMed 19101268
Espinoza A, Halvorsen PS, Hoff L, Skulstad H, Fosse E, Ihlen H, Edvardsen T (2009)
Detecting myocardial ischaemia using miniature ultrasonic transducers--a feasibility study in a porcine model
Eur J Cardiothorac Surg, 37 (1), 119-26
DOI 10.1016/j.ejcts.2009.05.013, PubMed 19581103
Halvorsen PS, Remme EW, Espinoza A, Skulstad H, Lundblad R, Bergsland J, Hoff L, Imenes K, Edvardsen T, Elle OJ, Fosse E (2009)
Automatic real-time detection of myocardial ischemia by epicardial accelerometer
J Thorac Cardiovasc Surg, 139 (4), 1026-32
DOI 10.1016/j.jtcvs.2009.05.031, PubMed 19717169
Remme EW, Hoff L, Halvorsen PS, Naerum E, Skulstad H, Fleischer LA, Elle OJ, Fosse E (2009)
Validation of cardiac accelerometer sensor measurements
Physiol Meas, 30 (12), 1429-44
DOI 10.1088/0967-3334/30/12/010, PubMed 19907074
Publications 2008
Halvorsen PS, Espinoza A, Fleischer LA, Elle OJ, Hoff L, Lundblad R, Skulstad H, Edvardsen T, Ihlen H, Fosse E (2008)
Feasibility of a three-axis epicardial accelerometer in detecting myocardial ischemia in cardiac surgical patients
J Thorac Cardiovasc Surg, 136 (6), 1496-502
DOI 10.1016/j.jtcvs.2008.08.043, PubMed 19114197
Halvorsen PS, Fleischer LA, Espinoza A, Elle OJ, Hoff L, Skulstad H, Edvardsen T, Fosse E (2008)
Detection of myocardial ischaemia by epicardial accelerometers in the pig
Br J Anaesth, 102 (1), 29-37
DOI 10.1093/bja/aen331, PubMed 19022793
Publications 2007
Frich L, Halvorsen PS, Skulstad H, Damås JK, Gladhaug IP (2007)
Microbubbles in the pulmonary artery generated during experimental hepatic radiofrequency ablation is correlated with increased pulmonary arterial pressure
J Vasc Interv Radiol, 18 (3), 437-42
DOI 10.1016/j.jvir.2006.12.010, PubMed 17377191
Hol PK, Andersen K, Skulstad H, Halvorsen PS, Lingaas PS, Andersen R, Bergsland J, Fosse E (2007)
Epicardial ultrasonography: a potential method for intraoperative quality assessment of coronary bypass anastomoses?
Ann Thorac Surg, 84 (3), 801-7
DOI 10.1016/j.athoracsur.2007.04.025, PubMed 17720379
Vartdal T, Brunvand H, Pettersen E, Smith HJ, Lyseggen E, Helle-Valle T, Skulstad H, Ihlen H, Edvardsen T (2007)
Early prediction of infarct size by strain Doppler echocardiography after coronary reperfusion
J Am Coll Cardiol, 49 (16), 1715-21
DOI 10.1016/j.jacc.2006.12.047, PubMed 17448374
Publications 2006
Skulstad H (2006)
New insights into the function of normal and ischaemic myocardium: a clinical and experimental ultrasound study
In Series of dissertations submitted to the Faculty of Medicine, University of Oslo, Unipub, Oslo, no. 430, 1 b. (flere pag.)
BIBSYS 061652431, ISBN 82-8072-847-3
Skulstad H (2006)
New insights into the function of normal and ischaemic myocardium: a clinical and experimental ultrasound study
In Hjerteforum, Supplement, Norsk cardiologisk selskap, Oslo, 4, 2006, 1 b. (flere pag.)
BIBSYS 070033390
Skulstad H, Urheim S, Edvardsen T, Andersen K, Lyseggen E, Vartdal T, Ihlen H, Smiseth OA (2006)
Grading of myocardial dysfunction by tissue Doppler echocardiography: a comparison between velocity, displacement, and strain imaging in acute ischemia
J Am Coll Cardiol, 47 (8), 1672-82
DOI 10.1016/j.jacc.2006.01.051, PubMed 16631008
Publications 2005
Lyseggen E, Rabben SI, Skulstad H, Urheim S, Risoe C, Smiseth OA (2005)
Myocardial acceleration during isovolumic contraction: relationship to contractility
Circulation, 111 (11), 1362-9
DOI 10.1161/01.CIR.0000158432.86860.A6, PubMed 15753217
Lyseggen E, Skulstad H, Helle-Valle T, Vartdal T, Urheim S, Rabben SI, Opdahl A, Ihlen H, Smiseth OA (2005)
Myocardial strain analysis in acute coronary occlusion: a tool to assess myocardial viability and reperfusion
Circulation, 112 (25), 3901-10
DOI 10.1161/CIRCULATIONAHA.105.533372, PubMed 16365210
Urheim S, Rabben SI, Skulstad H, Lyseggen E, Ihlen H, Smiseth OA (2005)
Regional myocardial work by strain Doppler echocardiography and LV pressure: a new method for quantifying myocardial function
Am J Physiol Heart Circ Physiol, 288 (5), H2375-80
DOI 10.1152/ajpheart.00946.2004, PubMed 15637114
Publications 2004
Remme EW, Hunter PJ, Smiseth O, Stevens C, Rabben SI, Skulstad H, Angelsen B (2004)
Development of an in vivo method for determining material properties of passive myocardium
Model. Identif. Control, 25 (4), 237-252
DOI 10.4173/mic.2004.4.3
Remme EW, Hunter PJ, Smiseth O, Stevens C, Rabben SI, Skulstad H, Angelsen BB (2004)
Development of an in vivo method for determining material properties of passive myocardium
J Biomech, 37 (5), 669-78
DOI 10.1016/j.jbiomech.2003.09.023, PubMed 15046996
Skulstad H, Andersen K, Edvardsen T, Rein KA, Tønnessen TI, Hol PK, Fosse E, Ihlen H (2004)
Detection of ischemia and new insight into left ventricular physiology by strain Doppler and tissue velocity imaging: assessment during coronary bypass operation of the beating heart
J Am Soc Echocardiogr, 17 (12), 1225-33
DOI 10.1016/j.echo.2004.07.014, PubMed 15562259
Publications 2003
Urheim S, Edvardsen T, Steine K, Skulstad H, Lyseggen E, Rodevand O, Smiseth OA (2003)
Postsystolic shortening of ischemic myocardium: a mechanism of abnormal intraventricular filling
Am J Physiol Heart Circ Physiol, 284 (6), H2343-50
DOI 10.1152/ajpheart.00320.2002, PubMed 12574003
Publications 2002
Edvardsen T, Urheim S, Skulstad H, Steine K, Ihlen H, Smiseth OA (2002)
Quantification of left ventricular systolic function by tissue Doppler echocardiography: added value of measuring pre- and postejection velocities in ischemic myocardium
Circulation, 105 (17), 2071-7
DOI 10.1161/01.cir.0000014614.63980.ba, PubMed 11980687
Skulstad H, Edvardsen T, Urheim S, Rabben SI, Stugaard M, Lyseggen E, Ihlen H, Smiseth OA (2002)
Postsystolic shortening in ischemic myocardium: active contraction or passive recoil?
Circulation, 106 (6), 718-24
DOI 10.1161/01.cir.0000024102.55150.b6, PubMed 12163433
Publications 2001
Edvardsen T, Skulstad H, Aakhus S, Urheim S, Ihlen H (2001)
Regional myocardial systolic function during acute myocardial ischemia assessed by strain Doppler echocardiography
J Am Coll Cardiol, 37 (3), 726-30
DOI 10.1016/s0735-1097(00)01160-8, PubMed 11693743
Publications 2000
Ghanima W, Skulstad H, Falk K, Ringstad J (2000)
[Time delay in the thrombolytic treatment of myocardial infarction]
Tidsskr Nor Laegeforen, 120 (16), 1851-3
PubMed 10925610
Størdal K, Bentsen B, Skulstad H, Moum B (2000)
[Reflux disease and 24-hour esophageal pH monitoring in children]
Tidsskr Nor Laegeforen, 120 (2), 183-6
PubMed 10851912
Publications 1999
Skulstad H, Backström J (1999)
[Fatal coronary heart disease in a young woman 20 years after radiotherapy for Hodgkin disease]
Tidsskr Nor Laegeforen, 119 (10), 1431-2
PubMed 10354750
Publications 1997
Skulstad H, Jacobsen MB, Moum B, Odegaard A (1997)
[Gastrointestinal amyloidosis. Differential diagnosis or a complication of inflammatory bowel disease?]
Tidsskr Nor Laegeforen, 117 (24), 3489-91
PubMed 9411905