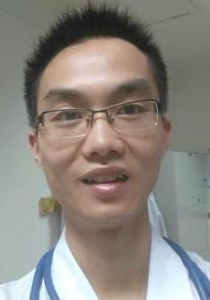 Hongxing Luo
After graduating from his master study as a cardiologist in 2018, Hongxing was sponsored by the Innovative Training Networks (ITN) under the Marie Sklodowska-Curie Actions to work as a PhD fellow in prof. Frits Prinzen's lab. The PhD project involved animal, patient and computer simulation studies to investigate heart sounds for cardiac function evaluation and pacemaker optimization.

He had his PhD defence in 2022 and later joined the research group at the Institute for Surgical Research as a postdoc fellow for Espen Remme on the topic of noninvasive assessment of cardiac function and acute response to cardiac resynchronization therapy.
His postdoc project involves experimental, clinical and in-silico simulation studies.

Hongxing has interdisciplinary skills covering medicine, engineering and computer sciences.
Publications 2023
Westphal P, Luo H, Shahmohammadi M, Prinzen FW, Delhaas T, Cornelussen RN (2023)
Machine learning-powered, device-embedded heart sound measurement can optimize AV delay in patients with CRT
Heart Rhythm, 20 (9), 1316-1324
DOI 10.1016/j.hrthm.2023.05.025, PubMed 37247684
Publications 2022
Luo H, Lamata P, Bazin S, Bautista T, Barclay N, Shahmohammadi M, Lubrecht JM, Delhaas T, Prinzen FW (2022)
Smartphone as an electronic stethoscope: factors influencing heart sound quality
Eur Heart J Digit Health, 3 (3), 473-480
DOI 10.1093/ehjdh/ztac044, PubMed 36712168
Luo H, Weerts J, Bekkers A, Achten A, Lievens S, Smeets K, van Empel V, Delhaas T, Prinzen FW (2022)
Association between phonocardiography and echocardiography in heart failure patients with preserved ejection fraction
Eur Heart J Digit Health, 4 (1), 4-11
DOI 10.1093/ehjdh/ztac073, PubMed 36743874
Luo H, Westphal P, Shahmohammadi M, Heckman LIB, Kuiper M, Cornelussen RN, Delhaas T, Prinzen FW (2022)
Heart sound-derived systolic time intervals for atrioventricular delay optimization in cardiac resynchronization therapy
Heart Rhythm, 20 (4), 572-579
DOI 10.1016/j.hrthm.2022.12.031, PubMed 36574867
Shahmohammadi M, Huberts W, Luo H, Westphal P, Cornelussen RN, Prinzen FW, Delhaas T (2022)
Hemodynamics-driven mathematical model of third heart sound generation
Front Physiol, 13, 847164
DOI 10.3389/fphys.2022.847164, PubMed 36304577
Westphal P, Luo H, Shahmohammadi M, Heckman LIB, Kuiper M, Prinzen FW, Delhaas T, Cornelussen RN (2022)
Left Ventricular Pressure Estimation Using Machine Learning-Based Heart Sound Classification
Front Cardiovasc Med, 9, 763048
DOI 10.3389/fcvm.2022.763048, PubMed 35694657
Publications 2021
Luo H, Westphal P, Shahmohammadi M, Heckman LIB, Kuiper M, Cornelussen RN, Delhaas T, Prinzen FW (2021)
Second heart sound splitting as an indicator of interventricular mechanical dyssynchrony using a novel splitting detection algorithm
Physiol Rep, 9 (1), e14687
DOI 10.14814/phy2.14687, PubMed 33400386
Shahmohammadi M, Luo H, Westphal P, Cornelussen RN, Prinzen FW, Delhaas T (2021)
Hemodynamics-driven mathematical model of first and second heart sound generation
PLoS Comput Biol, 17 (9), e1009361
DOI 10.1371/journal.pcbi.1009361, PubMed 34550969
Publications 2020
Corral-Acero J, Margara F, Marciniak M, Rodero C, Loncaric F, Feng Y, Gilbert A, Fernandes JF, Bukhari HA, Wajdan A, Martinez MV, Santos MS, Shamohammdi M, Luo H, Westphal P, Leeson P, DiAchille P, Gurev V, Mayr M, Geris L, Pathmanathan P, Morrison T, Cornelussen R, Prinzen F, Delhaas T et al. (2020)
The 'Digital Twin' to enable the vision of precision cardiology
Eur Heart J, 41 (48), 4556-4564
DOI 10.1093/eurheartj/ehaa159, PubMed 32128588
Luo H, Lie Y, Prinzen FW (2020)
Surveillance of COVID-19 in the General Population Using an Online Questionnaire: Report From 18,161 Respondents in China
JMIR Public Health Surveill, 6 (2), e18576
DOI 10.2196/18576, PubMed 32319956
Publications 2018
Luo H, Wang J, Yue F, Zhang C, Zhu J, Shao X (2018)
Effect of vaccination on heart failure patients: A systematic review and meta-analysis of observational studies
Eur J Prev Cardiol, 25 (11), 1200-1201
DOI 10.1177/2047487318772931, PubMed 29671626
Luo H, Zhang C, Liu H (2018)
A month-by-month analysis of direct oral anticoagulants for secondary prevention of acute coronary syndrome
Eur J Prev Cardiol, 25 (16), 1787-1788
DOI 10.1177/2047487318785465, PubMed 29966436
Luo H, Zhang C, Wang J, Zhu J, Jia X (2018)
Heart Failure with Preserved Ejection Fraction Trials Have Heterogeneous Control Groups: a Comparison of Kaplan-Meier Curves
Cardiovasc Drugs Ther, 32 (6), 577-580
DOI 10.1007/s10557-018-6827-5, PubMed 30187346
Wang J, Luo H, Kong C, Dong S, Li J, Yu H, Chu Y (2018)
Prognostic value of new-onset right bundle-branch block in acute myocardial infarction patients: a systematic review and meta-analysis
PeerJ, 6, e4497
DOI 10.7717/peerj.4497, PubMed 29576967
Xu Y, Luo H, Chen F, Shi Y, Sun M (2018)
Human umbilical cord mesenchymal stem cells polarize RAW264.7 macrophages to an anti-inflammatory subpopulation
Int J Clin Exp Pathol, 11 (3), 1446-1452
PubMed 31938242
Publications 2017
Liu H, Luo H, Wang S, Zhang C, Hao J, Gao C (2017)
Aliskiren for heart failure: a systematic review and meta-analysis of randomized controlled trials
Oncotarget, 8 (50), 88189-88198
DOI 10.18632/oncotarget.21112, PubMed 29152151
Luo H (2017)
Three-Dimensional Printing for Cardiology: To Be, or Not To Be?
Cardiology, 137 (1), 62-63
DOI 10.1159/000455067, PubMed 28118638
Luo H, Meyer-Szary J, Wang Z, Sabiniewicz R, Liu Y (2017)
Three-dimensional printing in cardiology: Current applications and future challenges
Cardiol J, 24 (4), 436-444
DOI 10.5603/CJ.a2017.0056, PubMed 28541602
Luo H, Xu Y, Wang Z, Liu Y, Gao C (2017)
Three-Dimensional Printing Model-Guided Percutaneous Closure of Atrial Septal Defect
Arq Bras Cardiol, 108 (5), 484-485
DOI 10.5935/abc.20170051, PubMed 28591326
Luo H, Xu Y, Yue F, Zhang C, Chen C (2017)
Quality of inclusion criteria in the registered clinical trials of heart failure with preserved ejection fraction: Is it time for a change?
Int J Cardiol, 254, 210-214
DOI 10.1016/j.ijcard.2017.12.025, PubMed 29254883
Luo H, Xu Y, Zhang X (2017)
Kaplan-Meier curve of retrospective study: Do not misuse it!
Int J Cardiol, 247, 28
DOI 10.1016/j.ijcard.2017.04.043, PubMed 28916068
Wang Z, Liu Y, Luo H, Gao C, Zhang J, Dai Y (2017)
Is a Three-Dimensional Printing Model Better Than a Traditional Cardiac Model for Medical Education? A Pilot Randomized Controlled Study
Acta Cardiol Sin, 33 (6), 664-669
DOI 10.6515/ACS20170621A, PubMed 29167621
Publications 2016
Wang Z, Liu Y, Xu Y, Gao C, Chen Y, Luo H (2016)
Three-dimensional printing-guided percutaneous transcatheter closure of secundum atrial septal defect with rim deficiency: First-in-human series
Cardiol J, 23 (6), 599-603
DOI 10.5603/CJ.a2016.0094, PubMed 27747857
Wang Z, Luo H, Gao C, Xu Y (2016)
Three-dimensional printing model for the postoperative follow-up of atrial septal defect
Int J Cardiol, 222, 891-892
DOI 10.1016/j.ijcard.2016.08.046, PubMed 27522396