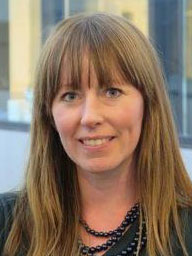 Camilla Kjellstad Larsen
Camilla Kjellstad Larsen graduated as a Medical Doctor from University of Oslo in 2008. After her internship she worked 5 years clinically at Innlandet Hospital, Divison Gjøvik, Department of Internal Medicine.
Larsen's PhD work "Contractile Reserve in Dyssynchrony (CRID): Role of cardiac magnetic resonance imaging" focuses on identifying candidates for cardiac resynchronization therapy and the effect of increased afterload on the left ventricle during left bundle branch block.
Her supervisors are Einar Hopp, MD, PhD and Professor Otto Smiseth, MD, PhD.
Larsen has presented several abstracts at both national and international conferences. So far she has published the following article:
Aalen J, Storsten P, Remme EW, Sirnes PA, Gjesdal O, Larsen CK, Kongsgaard E, Boe E, Skulstad H, Hisdal J, Smiseth OA
Afterload Hypersensitivity in Patients With Left Bundle Branch Block.
JACC Cardiovasc Imaging. 2018 Jan 12. pii: S1936-878X(17)31144-0. doi: 10.1016/j.jcmg.2017.11.025. [Epub ahead of print]
PMID: 29361486
Publications 2023
Duchenne J, Larsen CK, Cvijic M, Galli E, Aalen JM, Klop B, Mirea O, Puvrez A, Bézy S, Wouters L, Minten L, Sirnes PA, Khan FH, Voros G, Willems R, Penicka M, Kongsgård E, Hopp E, Bogaert J, Smiseth OA, Donal E, Voigt JU (2023)
Mechanical Dyssynchrony Combined with Septal Scarring Reliably Identifies Responders to Cardiac Resynchronization Therapy
J Clin Med, 12 (18)
DOI 10.3390/jcm12186108, PubMed 37763048
Publications 2022
Duchenne J, Larsen CK, Cvijic M, Galli E, Aalen JM, Klop B, Puvrez A, Mirea O, Bézy S, Minten L, Sirnes PA, Khan FH, Voros G, Willems R, Penicka M, Kongsgård E, Hopp E, Bogaert J, Smiseth OA, Donal E, Voigt JU (2022)
Visual Presence of Mechanical Dyssynchrony Combined With Septal Scarring Identifies Responders to Cardiac Resynchronization Therapy
JACC Cardiovasc Imaging, 15 (12), 2151-2153
DOI 10.1016/j.jcmg.2022.06.020, PubMed 36481085
Galli E, Oger E, Aalen JM, Duchenne J, Larsen CK, Sade E, Hubert A, Gallard A, Penicka M, Linde C, Le Rolle V, Hernandez A, Leclercq C, Voigt JU, Smiseth OA, Donal E (2022)
Left atrial strain is a predictor of left ventricular systolic and diastolic reverse remodelling in CRT candidates
Eur Heart J Cardiovasc Imaging, 23 (10), 1373-1382
DOI 10.1093/ehjci/jeab163, PubMed 34432006
Larsen CK, Galli E, Duchenne J, Aalen JM, Stokke C, Fjeld JG, Degtiarova G, Claus P, Gheysens O, Saberniak J, Sirnes PA, Lyseggen E, Bogaert J, Kongsgaard E, Penicka M, Voigt JU, Donal E, Hopp E, Smiseth OA (2022)
Scar imaging in the dyssynchronous left ventricle: Accuracy of myocardial metabolism by positron emission tomography and function by echocardiographic strain
Int J Cardiol, 372, 122-129
DOI 10.1016/j.ijcard.2022.11.042, PubMed 36460211
Svenningsen EB, Ottosen RN, Jørgensen KH, Nisavic M, Larsen CK, Hansen BK, Wang Y, Lindorff-Larsen K, Tørring T, Hacker SM, Palmfeldt J, Poulsen TB (2022)
The covalent reactivity of functionalized 5-hydroxy-butyrolactams is the basis for targeting of fatty acid binding protein 5 (FABP5) by the neurotrophic agent MT-21
RSC Chem Biol, 3 (10), 1216-1229
DOI 10.1039/d2cb00161f, PubMed 36320884
Publications 2021
Degtiarova G, Claus P, Duchenne J, Bogaert J, Nuyts J, Vöros G, Willems R, Larsen CK, Aalen JM, Fjeld JG, Stokke C, Hopp E, Smiseth OA, Voigt JU, Gheysens O (2021)
Left ventricular regional glucose metabolism in combination with septal scar extent identifies CRT responders
Eur J Nucl Med Mol Imaging, 48 (8), 2437-2446
DOI 10.1007/s00259-020-05161-7, PubMed 33416956
Galli E, Le Rolle V, Smiseth OA, Duchenne J, Aalen JM, Larsen CK, Sade EA, Hubert A, Anilkumar S, Penicka M, Linde C, Leclercq C, Hernandez A, Voigt JU, Donal E (2021)
Importance of Systematic Right Ventricular Assessment in Cardiac Resynchronization Therapy Candidates: A Machine Learning Approach
J Am Soc Echocardiogr, 34 (5), 494-502
DOI 10.1016/j.echo.2020.12.025, PubMed 33422667
Sletten OJ, Aalen JM, Izci H, Duchenne J, Remme EW, Larsen CK, Hopp E, Galli E, Sirnes PA, Kongsgard E, Donal E, Voigt JU, Smiseth OA, Skulstad H (2021)
Lateral Wall Dysfunction Signals Onset of Progressive Heart Failure in Left Bundle Branch Block
JACC Cardiovasc Imaging, 14 (11), 2059-2069
DOI 10.1016/j.jcmg.2021.04.017, PubMed 34147454
Publications 2020
Andersen ØS, Krogh MR, Boe E, Storsten P, Aalen JM, Larsen CK, Skulstad H, Odland HH, Smiseth OA, Remme EW (2020)
Left bundle branch block increases left ventricular diastolic pressure during tachycardia due to incomplete relaxation
J Appl Physiol (1985), 128 (4), 729-738
DOI 10.1152/japplphysiol.01002.2018, PubMed 31999529
Duchenne J, Aalen JM, Cvijic M, Larsen CK, Galli E, Bézy S, Beela AS, Ünlü S, Pagourelias ED, Winter S, Hopp E, Kongsgård E, Donal E, Fehske W, Smiseth OA, Voigt JU (2020)
Acute redistribution of regional left ventricular work by cardiac resynchronization therapy determines long-term remodelling
Eur Heart J Cardiovasc Imaging, 21 (6), 619-628
DOI 10.1093/ehjci/jeaa003, PubMed 32031587
Hansen BK, Larsen CK, Nielsen JT, Svenningsen EB, Van LB, Jacobsen KM, Bjerring M, Flygaard RK, Jenner LB, Nejsum LN, Brodersen DE, Mulder FAA, Tørring T, Poulsen TB (2020)
Structure and Function of the Bacterial Protein Toxin Phenomycin
Structure, 28 (5), 528-539.e9
DOI 10.1016/j.str.2020.03.003, PubMed 32220302
Larsen CK, Aalen JM, Stokke C, Fjeld JG, Kongsgaard E, Duchenne J, Degtiarova G, Gheysens O, Voigt JU, Smiseth OA, Hopp E (2020)
Regional myocardial work by cardiac magnetic resonance and non-invasive left ventricular pressure: a feasibility study in left bundle branch block
Eur Heart J Cardiovasc Imaging, 21 (2), 143-153
DOI 10.1093/ehjci/jez231, PubMed 31599327
Smiseth OA, Larsen CK (2020)
Finding the "Golden Moment" for TAVR: Look Below the Valve
JACC Cardiovasc Imaging, 13 (12), 2573-2575
DOI 10.1016/j.jcmg.2020.08.018, PubMed 33129727
Storsten P, Aalen JM, Boe E, Remme EW, Gjesdal O, Larsen CK, Andersen ØS, Eriksen M, Kongsgaard E, Duchenne J, Voigt JU, Smiseth OA, Skulstad H (2020)
Mechanical Effects on Right Ventricular Function From Left Bundle Branch Block and Cardiac Resynchronization Therapy
JACC Cardiovasc Imaging, 13 (7), 1475-1484
DOI 10.1016/j.jcmg.2019.11.016, PubMed 31954643
Aalen JM, Donal E, Larsen CK, Duchenne J, Lederlin M, Cvijic M, Hubert A, Voros G, Leclercq C, Bogaert J, Hopp E, Fjeld JG, Penicka M, Linde C, Aalen OO, Kongsgård E, Galli E, Voigt JU, Smiseth OA (2020)
Imaging predictors of response to cardiac resynchronization therapy: left ventricular work asymmetry by echocardiography and septal viability by cardiac magnetic resonance
Eur Heart J, 41 (39), 3813-3823
DOI 10.1093/eurheartj/ehaa603, PubMed 32918449
Publications 2019
Aalen JM, Remme EW, Larsen CK, Andersen OS, Krogh M, Duchenne J, Hopp E, Ross S, Beela AS, Kongsgaard E, Bergsland J, Odland HH, Skulstad H, Opdahl A, Voigt JU, Smiseth OA (2019)
Mechanism of Abnormal Septal Motion in Left Bundle Branch Block: Role of Left Ventricular Wall Interactions and Myocardial Scar
JACC Cardiovasc Imaging, 12 (12), 2402-2413
DOI 10.1016/j.jcmg.2018.11.030, PubMed 30772230
Publications 2018
Aalen J, Storsten P, Remme EW, Sirnes PA, Gjesdal O, Larsen CK, Kongsgaard E, Boe E, Skulstad H, Hisdal J, Smiseth OA (2018)
Afterload Hypersensitivity in Patients With Left Bundle Branch Block
JACC Cardiovasc Imaging, 12 (6), 967-977
DOI 10.1016/j.jcmg.2017.11.025, PubMed 29361486