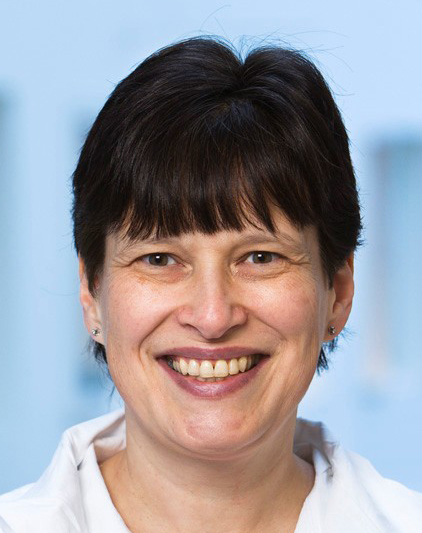 Berit Woldseth
Chief Consultant; PhD
+47 230 71 059
Education
1990–1999: PhD, University of Oslo, Norway.
1980–1986: MD, University of Oslo, Norway.
Affiliation
Research Summary
Dr. Woldseth is the Head of Section for Biochemical Genetics. She studied incorporation and stability of some fatty acids in phospholipids during her PhD studies. Her current research interest is inborn errors of metabolism.
Work Experience
Since 1990: Oslo University Hospital - Rikshospitalet, Norway.
Links
NB: Check out our NEWS PAGE for the latest!
Publications 2020
Tangeraas T, Sæves I, Klingenberg C, Jørgensen J, Kristensen E, Gunnarsdottir G, Hansen EV, Strand J, Lundman E, Ferdinandusse S, Salvador CL, Woldseth B, Bliksrud YT, Sagredo C, Olsen ØE, Berge MC, Trømborg AK, Ziegler A, Zhang JH, Sørgjerd LK, Ytre-Arne M, Hogner S, Løvoll SM, Kløvstad Olavsen MR, Navarrete D et al. (2020)
Performance of Expanded Newborn Screening in Norway Supported by Post-Analytical Bioinformatics Tools and Rapid Second-Tier DNA Analyses
Int J Neonatal Screen, 6 (3), 51
DOI 10.3390/ijns6030051, PubMed 33123633
Publications 2017
Reigstad H, Woldseth B, Häberle J (2017)
Normal Neurological Development During Infancy Despite Massive Hyperammonemia in Early Treated NAGS Deficiency
JIMD Rep, 37, 45-47
DOI 10.1007/8904_2017_13, PubMed 28275973
Publications 2016
Bremer S, Bliksrud YT, Rootwelt H, Woldseth B, Tangeraas T, Saeves I, Watle SSV (2016)
Identification of a novel BCKDHA deletion causing maple syrup urine disease
Meta Gene, 10, 86-89
DOI 10.1016/j.mgene.2016.02.004
Publications 2015
Barøy T, Koster J, Strømme P, Ebberink MS, Misceo D, Ferdinandusse S, Holmgren A, Hughes T, Merckoll E, Westvik J, Woldseth B, Walter J, Wood N, Tvedt B, Stadskleiv K, Wanders RJ, Waterham HR, Frengen E (2015)
A novel type of rhizomelic chondrodysplasia punctata, RCDP5, is caused by loss of the PEX5 long isoform
Hum Mol Genet, 24 (20), 5845-54
DOI 10.1093/hmg/ddv305, PubMed 26220973
Carrozzo R, Verrigni D, Rasmussen M, de Coo R, Amartino H, Bianchi M, Buhas D, Mesli S, Naess K, Born AP, Woldseth B, Prontera P, Batbayli M, Ravn K, Joensen F, Cordelli DM, Santorelli FM, Tulinius M, Darin N, Duno M, Jouvencel P, Burlina A, Stangoni G, Bertini E, Redonnet-Vernhet I et al. (2015)
Succinate-CoA ligase deficiency due to mutations in SUCLA2 and SUCLG1: phenotype and genotype correlations in 71 patients
J Inherit Metab Dis, 39 (2), 243-52
DOI 10.1007/s10545-015-9894-9, PubMed 26475597
Publications 2014
Strand JM, Skinnes R, Scheffler K, Rootvelt T, Woldseth B, Bjørås M, Eide L (2014)
Genome instability in Maple Syrup Urine Disease correlates with impaired mitochondrial biogenesis
Metabolism, 63 (8), 1063-70
DOI 10.1016/j.metabol.2014.05.003, PubMed 24928662
Publications 2013
Bogsrud MP, Langslet G, Ose L, Arnesen KE, Sm Stuen MC, Malt UF, Woldseth B, Retterstøl K (2013)
No effect of combined coenzyme Q10 and selenium supplementation on atorvastatin-induced myopathy
Scand Cardiovasc J, 47 (2), 80-7
DOI 10.3109/14017431.2012.756119, PubMed 23301875
Publications 2012
Bliksrud YT, Brodtkorb E, Backe PH, Woldseth B, Rootwelt H (2012)
Hereditary tyrosinaemia type I in Norway: incidence and three novel small deletions in the fumarylacetoacetase gene
Scand J Clin Lab Invest, 72 (5), 369-73
DOI 10.3109/00365513.2012.676210, PubMed 22554029
Dahl GT, Woldseth B, Lindemann R (2012)
Metabolic acidosis mimicking diabetic ketoacidosis after use of calorie-free mineral water
Eur J Pediatr, 171 (9), 1405-7
DOI 10.1007/s00431-012-1723-7, PubMed 22457081
Publications 2011
Bremer S, Ohlsson A, Brodtkorb E, Rootwelt H, Rootwelt T, Woldseth B, Mørkrid L (2011)
A novel mucopolysaccharidosis type I associated splice site mutation and IDUA splice variants
Mol Genet Metab, 104 (3), 289-94
DOI 10.1016/j.ymgme.2011.07.012, PubMed 21831683
Publications 2010
Brodtkorb E, Strand J, Backe PH, Lund AM, Bjørås M, Rootwelt T, Rootwelt H, Woldseth B, Eide L (2010)
Four novel mutations identified in Norwegian patients result in intermittent maple syrup urine disease when combined with the R301C mutation
Mol Genet Metab, 100 (4), 324-32
DOI 10.1016/j.ymgme.2010.04.017, PubMed 20570198
Elgstoen KB, Johnsen LF, Woldseth B, Morkrid L, Hartmann A (2010)
Plasma oxalate following kidney transplantation in patients without primary hyperoxaluria
Nephrol Dial Transplant, 25 (7), 2341-5
DOI 10.1093/ndt/gfq065, PubMed 20167571
Elgstoen KB, Woldseth B, Hoie K, Morkrid L (2010)
Liquid chromatography-tandem mass spectrometry determination of oxalate in spot urine
Scand J Clin Lab Invest, 70 (3), 145-50
DOI 10.3109/00365510903578765, PubMed 20402602
Publications 2008
Lindemann R, Myhre MC, Bakken M, Fugelseth D, Rustad CF, Woldseth B (2008)
[A newborn infant with hyperventilation]
Tidsskr Nor Laegeforen, 128 (13), 1535-6
PubMed 18604903
Publications 2007
Kanavin OJ, Woldseth B, Jellum E, Tvedt B, Andresen BS, Stromme P (2007)
2-methylbutyryl-CoA dehydrogenase deficiency associated with autism and mental retardation: a case report
J Med Case Rep, 1, 98
DOI 10.1186/1752-1947-1-98, PubMed 17883863
Stromme P, Kanavin OJ, Abdelnoor M, Woldseth B, Rootwelt T, Diderichsen J, Bjurulf B, Sommer F, Magnus P (2007)
Incidence rates of progressive childhood encephalopathy in Oslo, Norway: a population based study
BMC Pediatr, 7, 25
DOI 10.1186/1471-2431-7-25, PubMed 17597517
Strømme P, Magnus P, Kanavin ØJ, Rootwelt T, Woldseth B, Abdelnoor M (2007)
Mortality in childhood progressive encephalopathy from 1985 to 2004 in Oslo, Norway: a population-based study
Acta Paediatr, 97 (1), 35-40
DOI 10.1111/j.1651-2227.2007.00579.x, PubMed 18076719
Publications 2006
Woldseth B, Rootwelt T (2006)
[Mitochondrial beta-oxidation defects]
Tidsskr Nor Laegeforen, 126 (6), 756-9
PubMed 16541168
Publications 1999
Woldseth B (1999)
Incorporation and stability of some fatty acids in phospholipids: studied in isolated liver cells
Institute of Clinical Biochemistry, National Hospital, University of Oslo, Oslo, 1 b. (flere pag.)
BIBSYS 990708802, ISBN 82-7633-118-1