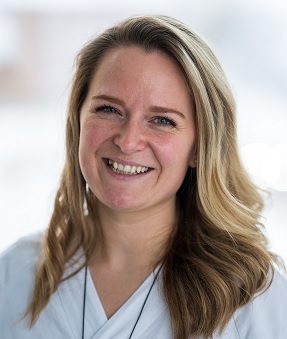 Elise Mørk Sandås
Education
2018: MSc Analytical chemistry, University of Oslo, Norway
2016: BSc Engineering (Biotechnology and chemistry), Oslo Metropolitan University, Norway
Affiliation
Research Summary
Elise's thesis was to evaluate and complete a global metabolomics method using liquid chromatography–high resolution (Q Exactive Orbitrap) mass spectrometry of dried blood spots. The group uses the method today as a supplement to diagnostics, and in several different research projects. She is currently working on method developement, among other themes.
Work Experience
2019-to date: Analytical Chemist at the Oslo University Hospital, Norway
2018-2019: Chemical Engineer at the Arcus Norway AS
2018 October-December: Implementation of a laboratory experiment for students in analytical chemistry, Oslo Metropolitan University, Norway
Links
NB: Check out our NEWS PAGE for the latest!
Publications 2022
Böhm HO, Yazdani M, Sandås EM, Østeby Vassli A, Kristensen E, Rootwelt H, Skogvold HB, Brodtkorb E, Elgstøen KBP (2022)
Global Metabolomics Discovers Two Novel Biomarkers in Pyridoxine-Dependent Epilepsy Caused by ALDH7A1 Deficiency
Int J Mol Sci, 23 (24)
DOI 10.3390/ijms232416061, PubMed 36555701
Hynne H, Sandås EM, Elgstøen KBP, Rootwelt H, Utheim TP, Galtung HK, Jensen JL (2022)
Saliva Metabolomics in Dry Mouth Patients with Head and Neck Cancer or Sjögren's Syndrome
Cells, 11 (3)
DOI 10.3390/cells11030323, PubMed 35159133
Publications 2021
Bendiksen Skogvold H, Yazdani M, Sandås EM, Østeby Vassli A, Kristensen E, Haarr D, Rootwelt H, Elgstøen KBP (2021)
A pioneer study on human 3-nitropropionic acid intoxication: Contributions from metabolomics
J Appl Toxicol, 42 (5), 818-829
DOI 10.1002/jat.4259, PubMed 34725838
Skogvold HB, Sandås EM, Østeby A, Løkken C, Rootwelt H, Rønning PO, Wilson SR, Elgstøen KBP (2021)
Bridging the Polar and Hydrophobic Metabolome in Single-Run Untargeted Liquid Chromatography-Mass Spectrometry Dried Blood Spot Metabolomics for Clinical Purposes
J Proteome Res, 20 (8), 4010-4021
DOI 10.1021/acs.jproteome.1c00326, PubMed 34296888