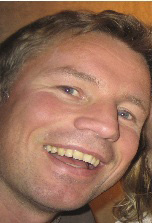 Jon Dahl
Ortopedic consultant; MD, PhD
+4791848655
Jon Dahl, MD is an orthopaedic surgeon whos main interest is hip and knee replacements.
The title of his Ph.D project is: "Wear and osteolysis in total hip replacements". Supervisors on the project are: Stephan M. Röhrl MD, Ph.D, Finnur Snorrason MD, Ph.D and Professor Lars Nordsletten MD, Ph.D. Project started 2007 and will be finished 2012/13.

About the project:
We study difference in polyethylene-wear and osteolysis around acetabular cups between ceramic (Alumina) and metal (Cobalt-Chrome) heads in total hip arthroplasty. We have followed three different patient materials from randomised trials for ten years with radiostereometry (RSA). The results from two of the materials show more than 50 % reduced wear with ceramic heads compared to metal heads. The analyses from the last material are not finished. With regard to development of osteolysis around the cups we have not found any significant differences, but there is a tendency towards more bone loss with metal heads. We have developed a new method for wear measurement with RSA. This method allows wear measurement with RSA without index RSA radiographs.
Publications 2022
Peutzfeldt A, Dahl J (2022)
Editorial Announcement
Biomater Investig Dent, 9 (1), 110
DOI 10.1080/26415275.2022.2152939, PubMed 36570489
Randers EM, Gerdhem P, Dahl J, Stuge B, Kibsgård TJ (2022)
The effect of minimally invasive sacroiliac joint fusion compared with sham operation: study protocol of a prospective double-blinded multicenter randomized controlled trial
Acta Orthop, 93, 75-81
DOI 10.1080/17453674.2021.1994185, PubMed 34694204
Publications 2019
Flatøy B, Dahl J, Röhrl SM, Nordsletten L (2019)
Does radiopaque cement conceal periprosthetic bone loss around femoral stems?
Hip Int, 30 (6), 731-738
DOI 10.1177/1120700019863352, PubMed 31359800
Publications 2018
Figved W, Svenøy S, Röhrl SM, Dahl J, Nordsletten L, Frihagen F (2018)
Higher cartilage wear in unipolar than bipolar hemiarthroplasties of the hip at 2 years: A randomized controlled radiostereometric study in 19 fit elderly patients with femoral neck fractures
Acta Orthop, 89 (5), 503-508
DOI 10.1080/17453674.2018.1475899, PubMed 29790397
Publications 2015
Flatøy B, Rydinge J, Dahl J, Röhrl SM, Nordsletten L (2015)
Low wear, high stability - promises of success in a moderately cross-linked cup?
Hip Int, 25 (3), 199-203
DOI 10.5301/hipint.5000230, PubMed 25952922
Publications 2013
Dahl J, Snorrason F, Nordsletten L, Röhrl SM (2013)
More than 50% reduction of wear in polyethylene liners with alumina heads compared to cobalt-chrome heads in hip replacements: a 10-year follow-up with radiostereometry in 43 hips
Acta Orthop, 84 (4), 360-4
DOI 10.3109/17453674.2013.810516, PubMed 23795579
Publications 2012
Dahl J, Figved W, Snorrason F, Nordsletten L, Röhrl SM (2012)
Center index method-an alternative for wear measurements with radiostereometry (RSA)
J Orthop Res, 31 (3), 480-4
DOI 10.1002/jor.22241, PubMed 23070723
Lindalen E, Dahl J, Nordsletten L, Snorrason F, Høvik Ø, Röhrl S (2012)
Reverse hybrid and cemented hip replacement compared using radiostereometry and dual-energy X-ray absorptiometry: 43 hips followed for 2 years in a prospective trial
Acta Orthop, 83 (6), 592-8
DOI 10.3109/17453674.2012.742393, PubMed 23116437
Söderlund P, Dahl J, Röhrl S, Nivbrant B, Nilsson KG (2012)
10-year results of a new low-monomer cement: follow-up of a randomized RSA study
Acta Orthop, 83 (6), 604-8
DOI 10.3109/17453674.2012.742392, PubMed 23116438
Publications 2011
Dahl J, Söderlund P, Nivbrant B, Nordsletten L, Röhrl SM (2011)
Less wear with aluminium-oxide heads than cobalt-chrome heads with ultra high molecular weight cemented polyethylene cups: a ten-year follow-up with radiostereometry
Int Orthop, 36 (3), 485-90
DOI 10.1007/s00264-011-1334-3, PubMed 21870101
Figved W, Dahl J, Snorrason F, Frihagen F, Röhrl S, Madsen JE, Nordsletten L (2011)
Radiostereometric analysis of hemiarthroplasties of the hip--a highly precise method for measurements of cartilage wear
Osteoarthritis Cartilage, 20 (1), 36-42
DOI 10.1016/j.joca.2011.11.006, PubMed 22126919
Publications 2007
Dahl J (2007)
Tro og seksualitet: bibelske tekster sin innflytelse på seksualiteten gjennomtidene
J. Dahl, Oslo, 90 bl.
BIBSYS 070835985