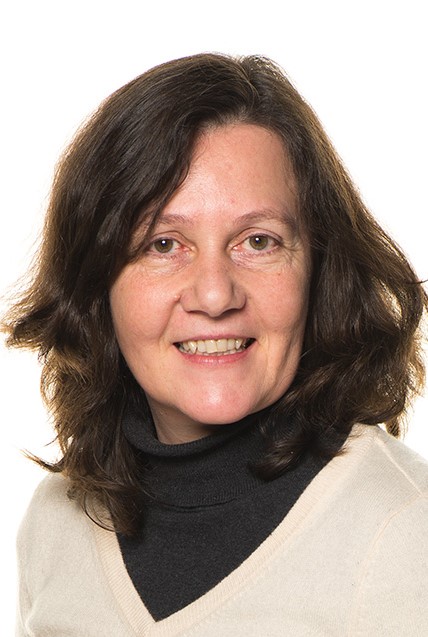 Angelika Gabriele Sorteberg
Professor, Consultant Neurosurgeon; MD, PhD
+47 23074843
Angelika Sorteberg is a professor of clinical Neurosurgery, Faculty of Medicine, University of Oslo. She graduated from medical school at Ludwig-Maximilian University in Munich, Germany. She defended her doctoral thesis about the linkage between electroencephalography and blood flow velocities in patients with vertebro-basilar insufficiency at the Ludwig Maximilian University in 1992 with laude.
In 1999 she defended her PhD thesis «A transcranial Doppler study on cerebral hemodynamics in atherosclerotic- and therapeutic carotid artery obliteration».
After immigrating to Norway, she worked at the Neurosurgical Department at Rikshospitalet-The National Hospital from 1992 and became a board certified Neurosurgeon in 2005. From 2014 to 2019 she worked as Head of Section, Department of Neurosurgery, Rikshospitalet-The National Hospital
In 2003 Professor Sorteberg was awarded the Marie Spångberg Prize for her work on intra-aneurysmal flow in cerebral aneurysms prior to and after endovascular coiling.
Her main research focus and clinical work is within cerebrovascular disease, intensive care, and cerebral hemodynamics.
Publications 2023
Capion T, Lilja-Cyron A, Olsen MH, Juhler M, Møller K, Sorteberg A, Rønning PA, Poulsen FR, Wismann J, Ravlo C, Isaksen J, Lindschou J, Gluud C, Mathiesen T (2023)
Prompt closure versus gradual weaning of external ventricular drainage for hydrocephalus following aneurysmal subarachnoid haemorrhage: Protocol for the DRAIN randomised clinical trial
Acta Anaesthesiol Scand, 67 (8), 1121-1127
DOI 10.1111/aas.14263, PubMed 37165711
Ghafaji H, Nordenmark TH, Western E, Sorteberg W, Karic T, Sorteberg A (2023)
Coping strategies in patients with good outcome but chronic fatigue after aneurysmal subarachnoid hemorrhage
Acta Neurochir (Wien), 165 (4), 1007-1019
DOI 10.1007/s00701-023-05549-y, PubMed 36912975
Publications 2022
Eide PK, Sorteberg A, Nome T, Rønning PA, Sorteberg W (2022)
Early surgical versus endovascular repair of ruptured blood-blister aneurysm of the internal carotid artery: a single-center 20-year experience
J Neurosurg, 137 (6), 1766-1775
DOI 10.3171/2022.3.JNS2216, PubMed 35453111
Frič R, Sorteberg A, Wallace S, Alonso AS, Due-Tønnessen BJ, Wiedmann M (2022)
[Moyamoya disease in children]
Tidsskr Nor Laegeforen, 142 (13)
DOI 10.4045/tidsskr.21.0776, PubMed 36164799
Sorteberg W, Sorteberg A, Jacobsen EA, Rønning P, Nome T, Eide PK (2022)
Microsurgery as first-line treatment in acute hemorrhagic cranial dural arteriovenous fistulas (dAVFs) and ruptured intracranial aneurysms-anachronism or duty?
Acta Neurochir (Wien), 164 (5), 1303-1305
DOI 10.1007/s00701-022-05197-8, PubMed 35384499
Publications 2021
Sorteberg A, Romundstad L, Sorteberg W (2021)
Timelines and rebleeds in patients admitted into neurosurgical care for aneurysmal subarachnoid haemorrhage
Acta Neurochir (Wien), 163 (3), 771-781
DOI 10.1007/s00701-020-04673-3, PubMed 33409740
Sorteberg A, Romundstad L, Sorteberg W (2021)
How preventable are rebleeds? : Reply to: Letter to the editor of Acta Neurochirurgica: "Predictive factors and timelines of rebleeding in Aneurysmal SAH: What have we gleaned?"
Acta Neurochir (Wien), 163 (5), 1481-1483
DOI 10.1007/s00701-021-04775-6, PubMed 33630142
Sorteberg W, Sorteberg A, Jacobsen EA, Rønning P, Nome T, Eide PK (2021)
Endovascular versus surgical treatment of cranial dural arteriovenous fistulas: a single-center 8-year experience
Acta Neurochir (Wien), 164 (1), 151-161
DOI 10.1007/s00701-021-04950-9, PubMed 34486069
Western E, Nordenmark TH, Sorteberg W, Karic T, Sorteberg A (2021)
Fatigue After Aneurysmal Subarachnoid Hemorrhage: Clinical Characteristics and Associated Factors in Patients With Good Outcome
Front Behav Neurosci, 15, 633616
DOI 10.3389/fnbeh.2021.633616, PubMed 34054441
Western E, Nordenmark TH, Sorteberg W, Sorteberg A, Karic T, Sorteberg A (2021)
(-)-OSU6162 in the treatment of fatigue and other sequelae after aneurysmal subarachnoid hemorrhage: a double-blind, randomized, placebo-controlled study
J Neurosurg, 136 (6), 1705-1715
DOI 10.3171/2021.7.JNS211305, PubMed 34715650
Aamodt AH, Tauboll E, Eichele T, Romundstad L, Sorteberg A, Wallace S, Fromm A, Raastad MF, Sand T, Skagen K, Eltoft A, Kefaloykos C, Frisvold SK, Nilsen KB, Carlsson M, Brathen G, Bakke I, Horn MA, Wiedmann M, Tennoe B, Totland JA, Ronning OM, Kurz M, Storstein A (2021)
Brain monitoring in hospitals needs to be strengthened
Tidsskr. Nor. Laegeforen., 141 (15), 1431-1433
Aamodt AH, Taubøll E, Eichele T, Romundstad L, Sorteberg A, Wallace S, Fromm A, Raastad MF, Sand T, Skagen K, Eltoft A, Kefaloykos C, Frisvold SK, Nilsen KB, Carlsson M, Bråthen G, Bakke I, Horn MA, Wiedmann M, Tennøe B, Totland JA, Rønning OM, Kurz M, Storstein A (2021)
Brain monitoring in hospitals needs to be strengthened
Tidsskr Nor Laegeforen, 141
DOI 10.4045/tidsskr.21.0412, PubMed 34726044
Publications 2020
Lashkarivand A, Sorteberg W, Rosseland LA, Sorteberg A (2020)
Survival and outcome in patients with aneurysmal subarachnoid hemorrhage in Glasgow coma score 3-5
Acta Neurochir (Wien), 162 (3), 533-544
DOI 10.1007/s00701-019-04190-y, PubMed 31980948
Slettebø H, Karic T, Sorteberg A (2020)
Impact of smoking on course and outcome of aneurysmal subarachnoid hemorrhage
Acta Neurochir (Wien), 162 (12), 3117-3128
DOI 10.1007/s00701-020-04506-3, PubMed 32728905
Western E, Sorteberg A, Brunborg C, Nordenmark TH (2020)
Prevalence and predictors of fatigue after aneurysmal subarachnoid hemorrhage
Acta Neurochir (Wien), 162 (12), 3107-3116
DOI 10.1007/s00701-020-04538-9, PubMed 32809068
Publications 2019
Haug Nordenmark T, Karic T, Røe C, Sorteberg W, Sorteberg A (2019)
The post-aSAH syndrome: a self-reported cluster of symptoms in patients with aneurysmal subarachnoid hemorrhage
J Neurosurg, 132 (5), 1556-1565
DOI 10.3171/2019.1.JNS183168, PubMed 31003212
Lindegaard KF, Lundar T, Hauglie-Hanssen E, Sorteberg A, Sorteberg W, Magnaes B, Wiberg J, Bakke J (2019)
OBITUARY HELGE NORNES
Tidsskr. Nor. Laegeforen., 139 (7), 654
Skodvin TØ, Evju Ø, Sorteberg A, Isaksen JG (2019)
Prerupture Intracranial Aneurysm Morphology in Predicting Risk of Rupture: A Matched Case-Control Study
Neurosurgery, 84 (1), 132-140
DOI 10.1093/neuros/nyy010, PubMed 29529238
Sorteberg A, Bredmose PP, Hansen AE, Sorteberg W (2019)
The path from ictus to Neurosurgery: chronology and transport logistics of patients with aneurysmal subarachnoid haemorrhage in the South-Eastern Norway Health Region
Acta Neurochir (Wien), 161 (8), 1497-1506
DOI 10.1007/s00701-019-03971-9, PubMed 31197472
Publications 2018
Eide PK, Sorteberg A, Sorteberg W, Lindstrøm EK, Mardal KA, Ringstad G (2018)
"Bucket" cerebrospinal fluid bulk flow: when the terrain disagrees with the map
Acta Neurochir (Wien), 161 (2), 259-261
DOI 10.1007/s00701-018-3775-6, PubMed 30560378
Haug Nordenmark T, Karic T, Sorteberg W, Sorteberg A (2018)
Predictors of cognitive function in the acute phase after aneurysmal subarachnoid hemorrhage
Acta Neurochir (Wien), 161 (1), 177-184
DOI 10.1007/s00701-018-3760-0, PubMed 30535853
Khalid Z, Sorteberg W, Nedregaard B, Sorteberg A (2018)
Efficiency and complications of Woven EndoBridge (WEB) devices for treatment of larger, complex intracranial aneurysms-a single-center experience
Acta Neurochir (Wien), 161 (2), 393-401
DOI 10.1007/s00701-018-3752-0, PubMed 30547246
Lindstrøm EK, Ringstad G, Sorteberg A, Sorteberg W, Mardal KA, Eide PK (2018)
Magnitude and direction of aqueductal cerebrospinal fluid flow: large variations in patients with intracranial aneurysms with or without a previous subarachnoid hemorrhage
Acta Neurochir (Wien), 161 (2), 247-256
DOI 10.1007/s00701-018-3730-6, PubMed 30443816
Publications 2017
Meling TR, Romundstad L, Niemi G, Narum J, Eide PK, Sorteberg AG, Sorteberg WA (2017)
Adenosine-assisted clipping of intracranial aneurysms
Neurosurg Rev, 41 (2), 585-592
DOI 10.1007/s10143-017-0896-y, PubMed 28819885
Skodvin TØ, Johnsen LH, Gjertsen Ø, Isaksen JG, Sorteberg A (2017)
Cerebral Aneurysm Morphology Before and After Rupture: Nationwide Case Series of 29 Aneurysms
Stroke, 48 (4), 880-886
DOI 10.1161/STROKEAHA.116.015288, PubMed 28265012
Publications 2016
Karic T, Røe C, Nordenmark TH, Becker F, Sorteberg A (2016)
Impact of early mobilization and rehabilitation on global functional outcome one year after aneurysmal subarachnoid hemorrhage
J Rehabil Med, 48 (8), 676-682
DOI 10.2340/16501977-2121, PubMed 27494170
Karic T, Røe C, Nordenmark TH, Becker F, Sorteberg W, Sorteberg A (2016)
Effect of early mobilization and rehabilitation on complications in aneurysmal subarachnoid hemorrhage
J Neurosurg, 126 (2), 518-526
DOI 10.3171/2015.12.JNS151744, PubMed 27058204
Publications 2015
Alnæs MS, Mardal KA, Bakke S, Sorteberg A (2015)
Computational fluid dynamics evaluation of flow reversal treatment of giant basilar tip aneurysm
Interv Neuroradiol, 21 (5), 586-91
DOI 10.1177/1591019915597415, PubMed 26253111
Rosseland LA, Narum J, Stubhaug A, Kongsgaard U, Sorteberg W, Sorteberg A (2015)
The effect of tracheotomy on drug consumption in patients with acute aneurysmal subarachnoid hemorrhage: an observational study
BMC Anesthesiol, 15, 47
DOI 10.1186/s12871-015-0029-5, PubMed 25883531
Publications 2014
Eide PK, Sorteberg A, Meling TR, Sorteberg W (2014)
Baseline pressure errors (BPEs) extensively influence intracranial pressure scores: results of a prospective observational study
Biomed Eng Online, 13, 7
DOI 10.1186/1475-925X-13-7, PubMed 24472296
Eide PK, Sorteberg A, Meling TR, Sorteberg W (2014)
The effect of baseline pressure errors on an intracranial pressure-derived index: results of a prospective observational study
Biomed Eng Online, 13, 99
DOI 10.1186/1475-925X-13-99, PubMed 25052470
Erixon HO, Sorteberg A, Sorteberg W, Eide PK (2014)
Predictors of shunt dependency after aneurysmal subarachnoid hemorrhage: results of a single-center clinical trial
Acta Neurochir (Wien), 156 (11), 2059-69
DOI 10.1007/s00701-014-2200-z, PubMed 25143185
Karic T, Sorteberg A, Haug Nordenmark T, Becker F, Roe C (2014)
Early rehabilitation in patients with acute aneurysmal subarachnoid hemorrhage
Disabil Rehabil, 37 (16), 1446-54
DOI 10.3109/09638288.2014.966162, PubMed 25264735
Sorteberg A (2014)
Balloon occlusion tests and therapeutic vessel occlusions revisited: when, when not, and how
AJNR Am J Neuroradiol, 35 (5), 862-5
DOI 10.3174/ajnr.A3852, PubMed 24457824
Publications 2013
Eide PK, Sorteberg AG, Meling TR, Sorteberg W (2013)
Directional intraoperative Doppler ultrasonography during surgery on cranial dural arteriovenous fistulas
Neurosurgery, 73 (2 Suppl Operative), ons211-22; discussion ons222-3
DOI 10.1227/NEU.0000000000000061, PubMed 23839518
Sorteberg A, Dahlberg D (2013)
Intracranial Non-traumatic Aneurysms in Children and Adolescents
Curr Pediatr Rev, 9 (4), 343-352
DOI 10.2174/221155281120100005, PubMed 24696670
Sorteberg A, Nordermark TH, Finset A, Lindegaard KF, Lundar T, Sorteberg W (2013)
Over-aggressive treatment of grade V SAH patients
Neurosurgery, 73 (3), E560-1
DOI 10.1227/NEU.0000000000000021, PubMed 23756752
Publications 2012
Eide PK, Sorteberg A, Bentsen G, Marthinsen PB, Stubhaug A, Sorteberg W (2012)
Pressure-derived versus pressure wave amplitude-derived indices of cerebrovascular pressure reactivity in relation to early clinical state and 12-month outcome following aneurysmal subarachnoid hemorrhage
J Neurosurg, 116 (5), 961-71
DOI 10.3171/2012.1.JNS111313, PubMed 22324419
Publications 2011
Eide PK, Bentsen G, Sorteberg AG, Marthinsen PB, Stubhaug A, Sorteberg W (2011)
A randomized and blinded single-center trial comparing the effect of intracranial pressure and intracranial pressure wave amplitude-guided intensive care management on early clinical state and 12-month outcome in patients with aneurysmal subarachnoid hemorrhage
Neurosurgery, 69 (5), 1105-15
DOI 10.1227/NEU.0b013e318227e0e1, PubMed 21670714
Publications 2010
Haug T, Sorteberg A, Finset A, Lindegaard KF, Lundar T, Sorteberg W (2010)
Cognitive functioning and health-related quality of life 1 year after aneurysmal subarachnoid hemorrhage in preoperative comatose patients (Hunt and Hess Grade V patients)
Neurosurgery, 66 (3), 475-84; discussion 484-5
DOI 10.1227/01.NEU.0000365364.87303.AC, PubMed 20124932
Publications 2009
Fjelstad AB, Hommelstad J, Sorteberg A (2009)
Infections related to intrathecal baclofen therapy in children and adults: frequency and risk factors
J Neurosurg Pediatr, 4 (5), 487-93
DOI 10.3171/2009.6.PEDS0921, PubMed 19877786
Haug T, Sorteberg A, Sorteberg W, Lindegaard KF, Lundar T, Finset A (2009)
Surgical repair of unruptured and ruptured middle cerebral artery aneurysms: impact on cognitive functioning and health-related quality of life
Neurosurgery, 64 (3), 412-20; discussion 421-2
DOI 10.1227/01.NEU.0000338952.13880.4E, PubMed 19240602
Haug T, Sorteberg A, Sorteberg W, Lindegaard KF, Lundar T, Finset A (2009)
Cognitive functioning and health related quality of life after rupture of an aneurysm on the anterior communicating artery versus middle cerebral artery
Br J Neurosurg, 23 (5), 507-15
DOI 10.1080/02688690902785701, PubMed 19718555
Publications 2008
Jaedicke C, Solheim A, Blikra LH, Stalsberg K, Sorteberg A, Aaheim A, Kronholm K, Vikhamar-Schuler D, Isaksen K, Sletten K, Kristensen K, Barstad I, Melchiorre C, Hoydal OA, Mestl H (2008)
Spatial and temporal variations of Norwegian geohazards in a changing climate, the GeoExtreme Project
Nat. Hazards Earth Syst. Sci., 8 (4), 893-904
DOI 10.5194/nhess-8-893-2008
Meling TR, Sorteberg A, Bakke SJ, Slettebø H, Hernesniemi J, Sorteberg W (2008)
Blood blister-like aneurysms of the internal carotid artery trunk causing subarachnoid hemorrhage: treatment and outcome
J Neurosurg, 108 (4), 662-71
DOI 10.3171/JNS/2008/108/4/0662, PubMed 18377243
Sorteberg A, Bakke SJ (2008)
The Hydrodynamic Effect of Bare Platinum Coils versus Hydrogel-Coated Platinum Coils
Interv Neuroradiol, 14 (4), 403-13
DOI 10.1177/159101990801400406, PubMed 20557740
Sorteberg A, Bakke SJ, Boysen M, Sorteberg W (2008)
Angiographic balloon test occlusion and therapeutic sacrifice of major arteries to the brain
Neurosurgery, 63 (4), 651-60; dicussion 660-1
DOI 10.1227/01.NEU.0000325727.51405.D5, PubMed 18824944
Sorteberg W, Slettebø H, Eide PK, Stubhaug A, Sorteberg A (2008)
Surgical treatment of aneurysmal subarachnoid haemorrhage in the presence of 24-h endovascular availability: management and results
Br J Neurosurg, 22 (1), 53-62
DOI 10.1080/02688690701593553, PubMed 17852110
Publications 2007
Haug T, Sorteberg A, Sorteberg W, Lindegaard KF, Lundar T, Finset A (2007)
Cognitive outcome after aneurysmal subarachnoid hemorrhage: time course of recovery and relationship to clinical, radiological, and management parameters
Neurosurgery, 60 (4), 649-56; discussion 656-7
DOI 10.1227/01.NEU.0000255414.70807.A0, PubMed 17415201
Publications 2006
Collins M, Botzet A, Carril AF, Drange H, Jouzeau A, Latif M, Masina S, Otteraa OH, Pohlmann H, Sorteberg A, Sutton R, Terray L (2006)
Interannual to decadal climate predictability in the North Atlantic: A multimodel-ensemble study
J. Clim., 19 (7), 1195-1203
DOI 10.1175/JCLI3654.1
Sorteberg A, Farhoudi D (2006)
The influence of aneurysm configuration on intra-aneurysmal pressure and flow
Interv Neuroradiol, 12 (3), 203-14
DOI 10.1177/159101990601200302, PubMed 20569573
Publications 2005
Sorteberg A, Furevik T, Drange H, Kvamsto NG (2005)
Effects of simulated natural variability on Arctic temperature projections
Geophys. Res. Lett., 32 (18), L18708
DOI 10.1029/2005GL023404
Publications 2004
Sorteberg A, Eide PK, Fremming AD (2004)
A prospective study on the clinical effect of surgical treatment of normal pressure hydrocephalus: the value of hydrodynamic evaluation
Br J Neurosurg, 18 (2), 149-57
DOI 10.1080/02688690410001681000, PubMed 15176556
Sorteberg A, Sorteberg W, Aagaard BD, Rappe A, Strother CM (2004)
Hemodynamic versus hydrodynamic effects of Guglielmi detachable coils on intra-aneurysmal pressure and flow at varying pulse rate and systemic pressure
AJNR Am J Neuroradiol, 25 (6), 1049-57
PubMed 15205147
Streefkerk HJ, Wolfs JF, Sorteberg W, Sorteberg AG, Tulleken CA (2004)
The ELANA technique: constructing a high flow bypass using a non-occlusive anastomosis on the ICA and a conventional anastomosis on the SCA in the treatment of a fusiform giant basilar trunk aneurysm
Acta Neurochir (Wien), 146 (9), 1009-19; discussion 1019
DOI 10.1007/s00701-004-0296-2, PubMed 15340813
Publications 2003
Eide PK, Fremming AD, Sorteberg A (2003)
Lack of relationship between resistance to cerebrospinal fluid outflow and intracranial pressure in normal pressure hydrocephalus
Acta Neurol Scand, 108 (6), 381-8
DOI 10.1034/j.1600-0404.2003.00163.x, PubMed 14616289
Furevik T, Bentsen M, Drange H, Kindem IKT, Kvamsto NG, Sorteberg A (2003)
Description and evaluation of the bergen climate model: ARPEGE coupled with MICOM
Clim. Dyn., 21 (1), 27-51
DOI 10.1007/s00382-003-0317-5
Publications 2002
Berge E, Walker SE, Sorteberg A, Lenkopane M, Eastwood S, Jablonska HI, Koltzow MO (2002)
A real-time operational forecast model for meteorology and air quality during peak air pollution episodes in Oslo, Norway
URBAN AIR QUALITY - RECENT ADVANCES, PROCEEDINGS, 745-757
Sorteberg A, Sorteberg W, Rappe A, Strother CM (2002)
Effect of Guglielmi detachable coils on intraaneurysmal flow: experimental study in canines
AJNR Am J Neuroradiol, 23 (2), 288-94
PubMed 11847057
Publications 2001
Sorteberg A, Sorteberg W, Turk AS, Rappe A, Nakstad PH, Strother CM (2001)
Effect of Guglielmi detachable coil placement on intraaneurysmal pressure: experimental study in canines
AJNR Am J Neuroradiol, 22 (9), 1750-6
PubMed 11673173
Publications 1999
Sorteberg W, Sorteberg A, Lindegaard KF, Boysen M, Nornes H (1999)
Transcranial Doppler ultrasonography-guided management of internal carotid artery closure
Neurosurgery, 45 (1), 76-87; discussion 87-8
DOI 10.1097/00006123-199907000-00019, PubMed 10414569
Taubøll E, Sorteberg W, Owe JO, Lindegaard KF, Rusten K, Sorteberg A, Gjerstad L (1999)
Cerebral artery blood velocity in normal subjects during acute decreases in barometric pressure
Aviat Space Environ Med, 70 (7), 692-7
PubMed 10417006
Publications 1998
Sorteberg A (1998)
A transcranial Doppler study on cerebral hemodynamics in atherosclerotic- and therapeutic carotid artery obliteration
Department of Neurosurgery, National Hospital, Universityof Oslo, Oslo, 1 b. (flere pag.)
BIBSYS 990605973, ISBN 82-7722-090-1
Sorteberg A, Hov O, Solberg S, Torseth K, Areskoug H, Ferm M, Granby K, Lattila H, Persson K, Simpson D (1998)
Gaseous and particulate oxidized and reduced nitrogen species in the atmospheric boundary layer in Scandinavia in spring
J. Atmos. Chem., 30 (2), 241-271
DOI 10.1023/A:1005901229253
Sorteberg A, Sorteberg W, Bakke SJ, Lindegaard KF, Boysen M, Nornes H (1998)
Varying impact of common carotid artery digital compression and internal carotid artery balloon test occlusion on cerebral hemodynamics
Head Neck, 20 (8), 687-94
DOI 10.1002/(sici)1097-0347(199812)20:8<687::aid-hed5>3.0.co;2-1, PubMed 9790289
Publications 1997
Hov O, Sorteberg A, Schmidbauer N, Solberg S, Stordal F, Simpson D, Lindskog A, Areskoug H, Oyola P, Lattila H, Heidam NZ (1997)
European VOC emission estimates evaluated by measurements and model calculations
J. Atmos. Chem., 28 (1-3), 173-193
DOI 10.1023/A:1005859027649
Sorteberg A (1997)
Cerebral haemodynamics in internal carotid artery trial occlusion - Comments - Reply
Acta Neurochir., 139 (11), 1073
Sorteberg A, Sorteberg W, Bakke SJ, Lindegaard KF, Boysen M, Nornes H (1997)
Cerebral haemodynamics in internal carotid artery trial occlusion
Acta Neurochir (Wien), 139 (11), 1066-73
DOI 10.1007/BF01411562, PubMed 9442222
Publications 1996
Sorteberg A, Hov O (1996)
Two parametrizations of the dry deposition exchange for SO2 and NH3 in a numerical model
Atmos. Environ., 30 (10-11), 1823-1840
DOI 10.1016/1352-2310(95)00381-9
Sorteberg A, Sorteberg W, Lindegaard KF, Bakke JS, Nornes H (1996)
Haemodynamic classification of symptomatic obstructive carotid artery disease
Acta Neurochir (Wien), 138 (9), 1079-86; discussion 1086-7
DOI 10.1007/BF01412311, PubMed 8911545
Sorteberg A, Sorteberg W, Lindegaard KF, Nornes H (1996)
Cerebral haemodynamic considerations in obstructive carotid artery disease
Acta Neurochir (Wien), 138 (1), 68-75; discussion 75-6
DOI 10.1007/BF01411727, PubMed 8686528
Publications 1981
SORTEBERG A (1981)
EFFECTS OF SEWAGE-SLUDGE APPLICATION ON THE YIELD OF DIFFERENT CROPS AND THE UPTAKE OF SOME HEAVY-METALS
J AGR SCI FINLAND, 53 (1), 1-15
Publications 1978
SELMEROLSEN AR, SORTEBERG A, ODELIEN M (1978)
POT EXPERIMENTS WITH VARIOUS SULFUR-CONTAINING-COMPOUNDS FOR RYE GRASS AND OATS
ACTA AGR SCAND, 28 (3), 293-297
DOI 10.1080/00015127809435183
SORTEBERG A (1978)
EFFECTS OF SOME HEAVY-METALS ON OATS IN POT EXPERIMENTS WITH 3 DIFFERENT SOIL TYPES
J AGR SCI FINLAND, 50 (4), 317-334