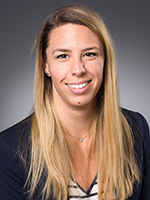 Chiara Cappelletti
PhD student; MSc
+47 939 69 183
Chiara Cappelletti has a Master of Science degree in Biology Applied to Research in Biomedicine from the Department of Biosciences, Università degli Studi di Milano 26.02.2018. She did her master thesis in the PD research group at Oslo University Hospital. The title of her thesis was "The SNCA gene in familial and sporadic Parkinson's disease. Differences in SNCA 5'-UTR transcript expression levels between blood and brain and association of rs35 6182 with a specific SNCA 5'-UTR transcript. Overexpression of p.K58N alpha-synuclein in SH-SY5Y cell line and cell viability assessment".
Cappelletti worked as research assistant in the PD research group (September-December 2017, May-December 2018) focusing on the generation of stable transfected cell lines and the isolation of CD4, CD8, CD14 and CD19 cells from blood.
Cappelletti is currently working on her PhD entitled "An advanced study of Multiple Sclerosis and Parkinson's Disease big-data to identify molecular mechanisms for disease risk".
This project makes use of state-of-art technologies such as chromatin immunoprecipitation sequencing and RNA sequencing to address two main hypotheses:
MS associated risk variants in vitamin D receptor (VDR) binding sites are affecting binding of VDR and thereby gene expression of the corresponding genes. 

PD associated risk variants in SNCA are affecting binding of defined transcription factors and thereby gene expression of genes in the SNCA region.
Main supervisor: Tone Berge (MSc, PhD)
Co-supervisor: Mathias Toft (MD, PhD)
Research interests:
Genetics
Gene expression
Molecular biology
Immunology
Methodology:
Chromatin Immunoprecipitation Sequencing
RNA sequencing data
Bioinformatics
Isolation and cultivation of primary, human T cells
Cultivation, transfection and differentiation of cells (SH-SY5Y, HEK293T, HeLa, LUHMES)
Cloning
RNA and DNA isolation
Quantitative real-time PCR
Western Blotting
Proteomics
Publications 2023
Cappelletti C, Henriksen SP, Geut H, Rozemuller AJM, van de Berg WDJ, Pihlstrøm L, Toft M (2023)
Transcriptomic profiling of Parkinson's disease brains reveals disease stage specific gene expression changes
Acta Neuropathol, 146 (2), 227-244
DOI 10.1007/s00401-023-02597-7, PubMed 37347276
Nordengen K, Cappelletti C, Bahrami S, Frei O, Pihlstrøm L, Henriksen SP, Geut H, Rozemuller AJM, van de Berg WDJ, Andreassen OA, Toft M (2023)
Pleiotropy with sex-specific traits reveals genetic aspects of sex differences in Parkinson's disease
Brain (in press)
DOI 10.1093/brain/awad297, PubMed 37671566
Publications 2022
Cappelletti C, Eriksson A, Brorson IS, Leikfoss IS, Kråbøl O, Høgestøl EA, Vitelli V, Mjaavatten O, Harbo HF, Berven F, Bos SD, Berge T (2022)
Quantitative proteomics reveals protein dysregulation during T cell activation in multiple sclerosis patients compared to healthy controls
Clin Proteomics, 19 (1), 23
DOI 10.1186/s12014-022-09361-1, PubMed 35790914
Publications 2021
Langmyhr M, Henriksen SP, Cappelletti C, van de Berg WDJ, Pihlstrøm L, Toft M (2021)
Allele-specific expression of Parkinson's disease susceptibility genes in human brain
Sci Rep, 11 (1), 504
DOI 10.1038/s41598-020-79990-9, PubMed 33436766
Publications 2019
Iqbal Z, Koht J, Pihlstrøm L, Henriksen SP, Cappelletti C, Russel MB, Norberto de Souza O, Skogseid IM, Toft M (2019)
Missense mutations in DYT-TOR1A dystonia
Neurol Genet, 5 (4), e343
DOI 10.1212/NXG.0000000000000343, PubMed 31321303
Publications 2018
Pihlstrøm L, Blauwendraat C, Cappelletti C, Berge-Seidl V, Langmyhr M, Henriksen SP, van de Berg WDJ, Gibbs JR, Cookson MR, International Parkinson Disease Genomics Consortium, North American Brain Expression Consortium, Singleton AB, Nalls MA, Toft M (2018)
A comprehensive analysis of SNCA-related genetic risk in sporadic parkinson disease
Ann Neurol, 84 (1), 117-129
DOI 10.1002/ana.25274, PubMed 30146727