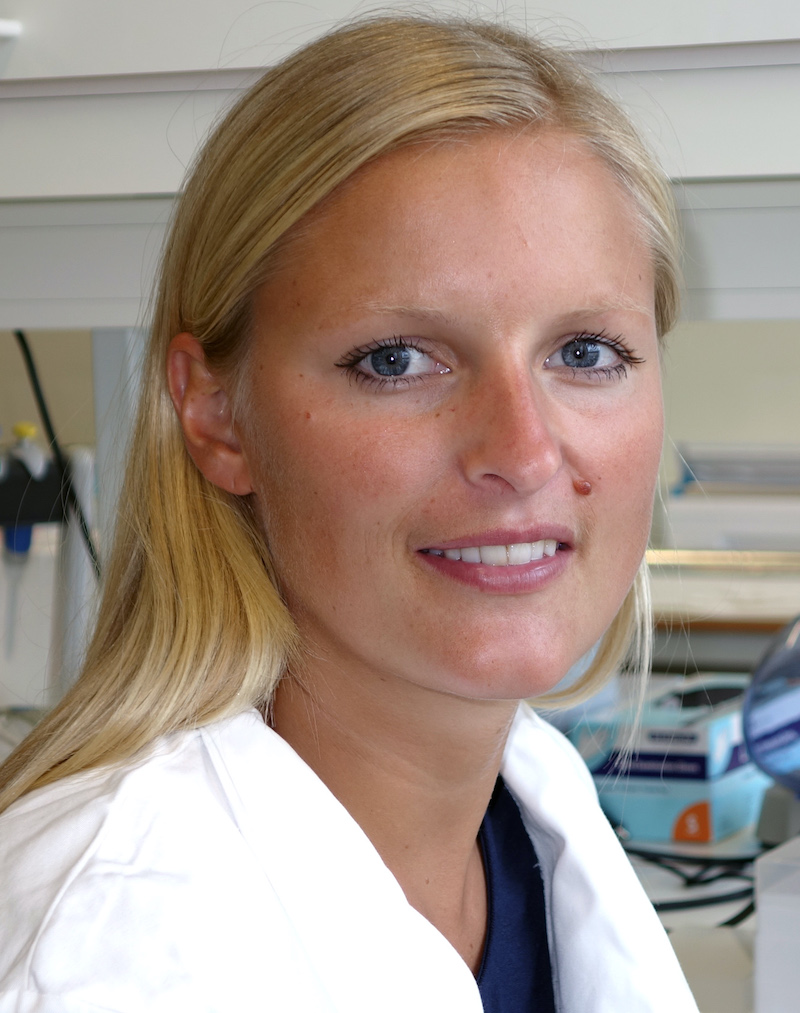 Ida Gjervold Lunde
Head of CCHR, Professor; PhD, FESC
+47 905 11 364
Education
PhD (2008-2012), Faculty of Medicine, University of Oslo
MSc (2001-2006), Molecular Biology, University of Oslo
Work record (selected)
Head of Oslo-CCHR (2023-), Department of Cardiology Ullevaal, Oslo University Hospital
Professor II (2023-), Institute for Clinical Medicine, University of Oslo
Research Leader (2021-2023), Division of Diagnostics and Technology (DDT), Akershus University Hospital
Research Group Leader (2017-2022), Institute for Experimental Medical Research (IEMR), Oslo University Hospital
Postdoc (2013-2015), Seidman Lab, Department of Genetics, Harvard Medical School, Boston
Postdoc (2012-2013 and 2015-2017), Institute for Experimental Medical Research (IEMR), Oslo University Hospital
Awards, committees, memberships
Fellow of the European Society of Cardiology (ESC), FESC lifelong title awarded by the ESC.
Several international and national awards, incl. Young Investigator Award (YIA) at the European Society of Cardiology (ESC; 2010, 2012, 2013) and His Majesty the King of Norway's Gold Medal for Young Researchers (2012).
Selected/elected member of several research committees, incl. Committee on Translational Research of the Heart Failure Association(HFA) of the European Society of Cardiology (ESC) (2014-2018), Nucleus member of the Working Group of Myocardial Function of the ESC (2020 – ), leader group of the Norwegian PhD School of Heart Research (NORHEART, 2013-2021), Cardiovascular Board of Nasjonalforeningen (2018- ).
Other
Teaching, examination, supervision and mentoring activities.
Research communication at meetings and conferences, and public outreach.
Funding from Research Council of Norway incl. Personal Postdoc and Young Research Talents, K. G. Jebsen (K.G. Jebsen Center for Cardiac Biomarkers 2022-2027), Nasjonalforeningen, Simon Fougner Hartmann, Ullevålfondet, G M Raagholt`s Fond, Blix Fond, Fondsstiftelsen, Horizon 2020 Framework Program of the EU: COST Action (EU-METAHEART 2023-).
Research Areas
Genetic cardiology
Cardiac fibrosis
Heart failure
Proteoglycans
Titin
Publications 2023
Andreassen K, Rixon C, Hansen MH, Hauge-Iversen IM, Zhang L, Sadredini M, Erusappan PM, Sjaastad I, Christensen G, Haugaa KH, Edvardsen T, Lunde IG, Stokke MK (2023)
Beneficial effects of exercise initiated before development of hypertrophic cardiomyopathy in genotype-positive mice
Am J Physiol Heart Circ Physiol, 324 (6), H881-H892
DOI 10.1152/ajpheart.00701.2022, PubMed 37115627
Li J, Sundnes J, Hou Y, Laasmaa M, Ruud M, Unger A, Kolstad TR, Frisk M, Norseng PA, Yang L, Setterberg IE, Alves ES, Kalakoutis M, Sejersted OM, Lanner JT, Linke WA, Lunde IG, de Tombe PP, Louch WE (2023)
Stretch Harmonizes Sarcomere Strain Across the Cardiomyocyte
Circ Res, 133 (3), 255-270
DOI 10.1161/CIRCRESAHA.123.322588, PubMed 37401464
Strand ME, Vanhaverbeke M, Henkens MTHM, Sikking MA, Rypdal KB, Braathen B, Almaas VM, Tønnessen T, Christensen G, Heymans S, Lunde IG (2023)
Inflammation and Syndecan-4 Shedding from Cardiac Cells in Ischemic and Non-Ischemic Heart Disease
Biomedicines, 11 (4)
DOI 10.3390/biomedicines11041066, PubMed 37189684
Stroeks SLVM, Lunde IG, Hellebrekers DMEI, Claes GRF, Wakimoto H, Gorham J, Krapels IPC, Vanhoutte EK, van den Wijngaard A, Henkens MTHM, Raafs AG, Sikking MA, Broers JLV, Nabben M, Jones EAV, Heymans SRB, Brunner HG, Verdonschot JAJ (2023)
Prevalence and Clinical Consequences of Multiple Pathogenic Variants in Dilated Cardiomyopathy
Circ Genom Precis Med, 16 (2), e003788
DOI 10.1161/CIRCGEN.122.003788, PubMed 36971006
Vistnes M, Erusappan PM, Sasi A, Nordén ES, Bergo KK, Romaine A, Lunde IG, Zhang L, Olsen MB, Øgaard J, Carlson CR, Wang CH, Riise J, Dahl CP, Fiane AE, Hauge-Iversen IM, Espe E, Melleby AO, Tønnessen T, Aronsen JM, Sjaastad I, Christensen G (2023)
Inhibition of the extracellular enzyme A disintegrin and metalloprotease with thrombospondin motif 4 prevents cardiac fibrosis and dysfunction
Cardiovasc Res, 119 (10), 1915-1927
DOI 10.1093/cvr/cvad078, PubMed 37216909
Publications 2022
Andenæs K, Rypdal KB, Palmero S, Tønnessen T, Lunde IG (2022)
The small leucine-rich proteoglycan fibromodulin exerts anti-fibrotic effects in cultured human cardiac fibroblasts
Genet Mol Res, 21 (1), 1-15
DOI 10.4238/gmr19007, PublikaID 434
Andreassen K, Dejgaard LA, Lie Ø, Fink TS, Lunde IG, Edvardsen T, Haugaa KH, Stokke MK (2022)
Exercise training during childhood and adolescence is associated with favorable diastolic function in hypertrophic cardiomyopathy
Int J Cardiol, 364, 65-71
DOI 10.1016/j.ijcard.2022.06.042, PubMed 35714718
Lunde IG, Aronsen JM, Melleby AO, Strand ME, Skogestad J, Bendiksen BA, Ahmed MS, Sjaastad I, Attramadal H, Carlson CR, Christensen G (2022)
Cardiomyocyte-specific overexpression of syndecan-4 in mice results in activation of calcineurin-NFAT signalling and exacerbated cardiac hypertrophy
Mol Biol Rep, 49 (12), 11795-11809
DOI 10.1007/s11033-022-07985-y, PubMed 36205855
Lunde IG, Skrbic B, Sjaastad I, Christensen G, Carlson CR, Tønnessen T (2022)
Calcineurin-NFAT dynamics correspond to cardiac remodeling during aortic banding and debanding, mimicking aortic valve replacement
Front Mol Med, 2, 1-14
DOI 10.3389/fmmed.2022.980717, PublikaID 435
Rixon C, Andreassen K, Shen X, Erusappan PM, Almaas VM, Palmero S, Dahl CP, Ueland T, Sjaastad I, Louch WE, Stokke MK, Tønnessen T, Christensen G, Lunde IG (2022)
Lumican accumulates with fibrillar collagen in fibrosis in hypertrophic cardiomyopathy
ESC Heart Fail, 10 (2), 858-871
DOI 10.1002/ehf2.14234, PubMed 36444917
Romaine A, Melleby AO, Alam J, Lobert VH, Lu N, Lockwood FE, Hasic A, Lunde IG, Sjaastad I, Stenmark H, Herum KM, Gullberg D, Christensen G (2022)
Integrin α11β1 and syndecan-4 dual receptor ablation attenuate cardiac hypertrophy in the pressure overloaded heart
Am J Physiol Heart Circ Physiol, 322 (6), H1057-H1071
DOI 10.1152/ajpheart.00635.2021, PubMed 35522553
Rypdal KB, Olav Melleby A, Robinson EL, Li J, Palmero S, Seifert DE, Martin D, Clark C, López B, Andreassen K, Dahl CP, Sjaastad I, Tønnessen T, Stokke MK, Louch WE, González A, Heymans S, Christensen G, Apte SS, Lunde IG (2022)
ADAMTSL3 knock-out mice develop cardiac dysfunction and dilatation with increased TGFβ signalling after pressure overload
Commun Biol, 5 (1), 1392
DOI 10.1038/s42003-022-04361-1, PubMed 36539599
Publications 2021
Coats AJS, Heymans S, Farmakis D, Anker SD, Backs J, Bauersachs J, de Boer RA, Čelutkienė J, Cleland JGF, Dobrev D, van Gelder IC, von Haehling S, Hindricks G, Jankowska E, Kotecha D, van Laake LW, Lainscak M, Lund LH, Lunde IG, Lyon AR, Manouras A, Miličić D, Mueller C, Polovina M, Ponikowski P et al. (2021)
Atrial disease and heart failure: the common soil hypothesis proposed by the Heart Failure Association of the European Society of Cardiology
Eur Heart J (in press)
DOI 10.1093/eurheartj/ehab834, PubMed 34875053
Frisk M, Le C, Shen X, Røe ÅT, Hou Y, Manfra O, Silva GJJ, van Hout I, Norden ES, Aronsen JM, Laasmaa M, Espe EKS, Zouein FA, Lambert RR, Dahl CP, Sjaastad I, Lunde IG, Coffey S, Cataliotti A, Gullestad L, Tønnessen T, Jones PP, Altara R, Louch WE (2021)
Etiology-Dependent Impairment of Diastolic Cardiomyocyte Calcium Homeostasis in Heart Failure With Preserved Ejection Fraction
J Am Coll Cardiol, 77 (4), 405-419
DOI 10.1016/j.jacc.2020.11.044, PubMed 33509397
Rypdal KB, Erusappan PM, Melleby AO, Seifert DE, Palmero S, Strand ME, Tønnessen T, Dahl CP, Almaas V, Hubmacher D, Apte SS, Christensen G, Lunde IG (2021)
The extracellular matrix glycoprotein ADAMTSL2 is increased in heart failure and inhibits TGFβ signalling in cardiac fibroblasts
Sci Rep, 11 (1), 19757
DOI 10.1038/s41598-021-99032-2, PubMed 34611183
Publications 2020
Herum KM, Romaine A, Wang A, Melleby AO, Strand ME, Pacheco J, Braathen B, Dunér P, Tønnessen T, Lunde IG, Sjaastad I, Brakebusch C, McCulloch AD, Gomez MF, Carlson CR, Christensen G (2020)
Syndecan-4 Protects the Heart From the Profibrotic Effects of Thrombin-Cleaved Osteopontin
J Am Heart Assoc, 9 (3), e013518
DOI 10.1161/JAHA.119.013518, PubMed 32000579
Mohammadzadeh N, Melleby AO, Palmero S, Sjaastad I, Chakravarti S, Engebretsen KVT, Christensen G, Lunde IG, Tønnessen T (2020)
Moderate Loss of the Extracellular Matrix Proteoglycan Lumican Attenuates Cardiac Fibrosis in Mice Subjected to Pressure Overload
Cardiology, 145 (3), 187-198
DOI 10.1159/000505318, PubMed 31968347
Publications 2019
de Boer RA, De Keulenaer G, Bauersachs J, Brutsaert D, Cleland JG, Diez J, Du XJ, Ford P, Heinzel FR, Lipson KE, McDonagh T, Lopez-Andres N, Lunde IG, Lyon AR, Pollesello P, Prasad SK, Tocchetti CG, Mayr M, Sluijter JPG, Thum T, Tschöpe C, Zannad F, Zimmermann WH, Ruschitzka F, Filippatos G et al. (2019)
Towards better definition, quantification and treatment of fibrosis in heart failure. A scientific roadmap by the Committee of Translational Research of the Heart Failure Association (HFA) of the European Society of Cardiology
Eur J Heart Fail, 21 (3), 272-285
DOI 10.1002/ejhf.1406, PubMed 30714667
Garcia-Pavia P, Kim Y, Restrepo-Cordoba MA, Lunde IG, Wakimoto H, Smith AM, Toepfer CN, Getz K, Gorham J, Patel P, Ito K, Willcox JA, Arany Z, Li J, Owens AT, Govind R, Nuñez B, Mazaika E, Bayes-Genis A, Walsh R, Finkelman B, Lupon J, Whiffin N, Serrano I, Midwinter W et al. (2019)
Genetic Variants Associated With Cancer Therapy-Induced Cardiomyopathy
Circulation, 140 (1), 31-41
DOI 10.1161/CIRCULATIONAHA.118.037934, PubMed 30987448
Mohammadzadeh N, Lunde IG, Andenæs K, Strand ME, Aronsen JM, Skrbic B, Marstein HS, Bandlien C, Nygård S, Gorham J, Sjaastad I, Chakravarti S, Christensen G, Engebretsen KVT, Tønnessen T (2019)
The extracellular matrix proteoglycan lumican improves survival and counteracts cardiac dilatation and failure in mice subjected to pressure overload
Sci Rep, 9 (1), 9206
DOI 10.1038/s41598-019-45651-9, PubMed 31235849
Ottesen AH, Carlson CR, Eken OS, Sadredini M, Myhre PL, Shen X, Dalhus B, Laver DR, Lunde PK, Kurola J, Lunde M, Hoff JE, Godang K, Sjaastad I, Pettilä V, Stridsberg M, Lehnart SE, Edwards AG, Lunde IG, Omland T, Stokke MK, Christensen G, Røsjø H, Louch WE (2019)
Secretoneurin Is an Endogenous Calcium/Calmodulin-Dependent Protein Kinase II Inhibitor That Attenuates Ca2+-Dependent Arrhythmia
Circ Arrhythm Electrophysiol, 12 (4), e007045
DOI 10.1161/CIRCEP.118.007045, PubMed 30943765
Shahini N, Ueland T, Auensen A, Michelsen AE, Ludviksen JK, Hussain AI, Pettersen KI, Aakhus S, Espeland T, Lunde IG, Kirschfink M, Nilsson PH, Mollnes TE, Gullestad L, Aukrust P, Yndestad A, Louwe MC (2019)
Increased Complement Factor B and Bb Levels Are Associated with Mortality in Patients with Severe Aortic Stenosis
J Immunol, 203 (7), 1973-1980
DOI 10.4049/jimmunol.1801244, PubMed 31492744
Tan CY, Wong JX, Chan PS, Tan H, Liao D, Chen W, Tan LW, Ackers-Johnson M, Wakimoto H, Seidman JG, Seidman CE, Lunde IG, Zhu F, Hu Q, Bian J, Wang JW, Foo RS, Jiang J (2019)
Yin Yang 1 Suppresses Dilated Cardiomyopathy and Cardiac Fibrosis Through Regulation of Bmp7 and Ctgf
Circ Res, 125 (9), 834-846
DOI 10.1161/CIRCRESAHA.119.314794, PubMed 31495264
Toepfer CN, Wakimoto H, Garfinkel AC, McDonough B, Liao D, Jiang J, Tai AC, Gorham JM, Lunde IG, Lun M, Lynch TL, McNamara JW, Sadayappan S, Redwood CS, Watkins HC, Seidman JG, Seidman CE (2019)
Hypertrophic cardiomyopathy mutations in MYBPC3 dysregulate myosin
Sci Transl Med, 11 (476)
DOI 10.1126/scitranslmed.aat1199, PubMed 30674652
Triposkiadis F, Butler J, Abboud FM, Armstrong PW, Adamopoulos S, Atherton JJ, Backs J, Bauersachs J, Burkhoff D, Bonow RO, Chopra VK, de Boer RA, de Windt L, Hamdani N, Hasenfuss G, Heymans S, Hulot JS, Konstam M, Lee RT, Linke WA, Lunde IG, Lyon AR, Maack C, Mann DL, Mebazaa A et al. (2019)
The continuous heart failure spectrum: moving beyond an ejection fraction classification
Eur Heart J, 40 (26), 2155-2163
DOI 10.1093/eurheartj/ehz158, PubMed 30957868
Publications 2018
Andenæs K, Lunde IG, Mohammadzadeh N, Dahl CP, Aronsen JM, Strand ME, Palmero S, Sjaastad I, Christensen G, Engebretsen KVT, Tønnessen T (2018)
The extracellular matrix proteoglycan fibromodulin is upregulated in clinical and experimental heart failure and affects cardiac remodeling
PLoS One, 13 (7), e0201422
DOI 10.1371/journal.pone.0201422, PubMed 30052659
Braathen B, Husebye T, Lunde IG, Tønnessen T (2018)
Trifecta has lower gradient and less prosthesis-patient mismatch than Mosaic Ultra in the aortic position: A prospective randomized study
J Thorac Cardiovasc Surg, 158 (4), 1032-1039
DOI 10.1016/j.jtcvs.2018.11.020, PubMed 30635187
Christensen G, Herum KM, Lunde IG (2018)
Sweet, yet underappreciated: Proteoglycans and extracellular matrix remodeling in heart disease
Matrix Biol, 75-76, 286-299
DOI 10.1016/j.matbio.2018.01.001, PubMed 29337052
Espeland T, Lunde IG, Amundsen BH, Gullestad L, Aakhus S (2018)
[Espeland and co-workers respond]
Tidsskr Nor Laegeforen, 138 (19)
DOI 10.4045/tidsskr.18.0865, PubMed 30497251
Espeland T, Lunde IG, Amundsen BH, Gullestad L, Aakhus S (2018)
Myocardial Fibrosis
Tidsskr. Nor. Laegeforen., 138 (16), 1533-1539
Espeland T, Lunde IG, H Amundsen B, Gullestad L, Aakhus S (2018)
Myocardial fibrosis
Tidsskr Nor Laegeforen, 138 (16)
DOI 10.4045/tidsskr.17.1027, PubMed 30344312
Melleby AO, Romaine A, Aronsen JM, Veras I, Zhang L, Sjaastad I, Lunde IG, Christensen G (2018)
A novel method for high precision aortic constriction that allows for generation of specific cardiac phenotypes in mice
Cardiovasc Res, 114 (12), 1680-1690
DOI 10.1093/cvr/cvy141, PubMed 29878127
Maack C, Lehrke M, Backs J, Heinzel FR, Hulot JS, Marx N, Paulus WJ, Rossignol P, Taegtmeyer H, Bauersachs J, Bayes-Genis A, Brutsaert D, Bugger H, Clarke K, Cosentino F, De Keulenaer G, Dei Cas A, González A, Huelsmann M, Iaccarino G, Lunde IG, Lyon AR, Pollesello P, Rena G, Riksen NP et al. (2018)
Heart failure and diabetes: metabolic alterations and therapeutic interventions: a state-of-the-art review from the Translational Research Committee of the Heart Failure Association-European Society of Cardiology
Eur Heart J, 39 (48), 4243-4254
DOI 10.1093/eurheartj/ehy596, PubMed 30295797
Publications 2017
Abraityte A, Lunde IG, Askevold ET, Michelsen AE, Christensen G, Aukrust P, Yndestad A, Fiane A, Andreassen A, Aakhus S, Dahl CP, Gullestad L, Broch K, Ueland T (2017)
Wnt5a is associated with right ventricular dysfunction and adverse outcome in dilated cardiomyopathy
Sci Rep, 7 (1), 3490
DOI 10.1038/s41598-017-03625-9, PubMed 28615692
Abraityte A, Vinge LE, Askevold ET, Lekva T, Michelsen AE, Ranheim T, Alfsnes K, Fiane A, Aakhus S, Lunde IG, Dahl CP, Aukrust P, Christensen G, Gullestad L, Yndestad A, Ueland T (2017)
Wnt5a is elevated in heart failure and affects cardiac fibroblast function
J Mol Med (Berl), 95 (7), 767-777
DOI 10.1007/s00109-017-1529-1, PubMed 28357477
Herum KM, Lunde IG, McCulloch AD, Christensen G (2017)
The Soft- and Hard-Heartedness of Cardiac Fibroblasts: Mechanotransduction Signaling Pathways in Fibrosis of the Heart
J Clin Med, 6 (5)
DOI 10.3390/jcm6050053, PubMed 28534817
Johansen IB, Sandblom E, Skov PV, Gräns A, Ekström A, Lunde IG, Vindas MA, Zhang L, Höglund E, Frisk M, Sjaastad I, Nilsson GE, Øverli Ø (2017)
Bigger is not better: cortisol-induced cardiac growth and dysfunction in salmonids
J Exp Biol, 220 (Pt 14), 2545-2553
DOI 10.1242/jeb.135046, PubMed 28476893
Norum HM, Broch K, Michelsen AE, Lunde IG, Lekva T, Abraityte A, Dahl CP, Fiane AE, Andreassen AK, Christensen G, Aakhus S, Aukrust P, Gullestad L, Ueland T (2017)
The Notch Ligands DLL1 and Periostin Are Associated with Symptom Severity and Diastolic Function in Dilated Cardiomyopathy
J Cardiovasc Transl Res, 10 (4), 401-410
DOI 10.1007/s12265-017-9748-y, PubMed 28474304
van Bilsen M, Patel HC, Bauersachs J, Böhm M, Borggrefe M, Brutsaert D, Coats AJS, de Boer RA, de Keulenaer GW, Filippatos GS, Floras J, Grassi G, Jankowska EA, Kornet L, Lunde IG, Maack C, Mahfoud F, Pollesello P, Ponikowski P, Ruschitzka F, Sabbah HN, Schultz HD, Seferovic P, Slart RHJA, Taggart P et al. (2017)
The autonomic nervous system as a therapeutic target in heart failure: a scientific position statement from the Translational Research Committee of the Heart Failure Association of the European Society of Cardiology
Eur J Heart Fail, 19 (11), 1361-1378
DOI 10.1002/ejhf.921, PubMed 28949064
Publications 2016
Eftestøl E, Egner IM, Lunde IG, Ellefsen S, Andersen T, Sjåland C, Gundersen K, Bruusgaard JC (2016)
Increased hypertrophic response with increased mechanical load in skeletal muscles receiving identical activity patterns
Am J Physiol Cell Physiol, 311 (4), C616-C629
DOI 10.1152/ajpcell.00016.2016, PubMed 27488660
Hortemo KH, Lunde PK, Anonsen JH, Kvaløy H, Munkvik M, Rehn TA, Sjaastad I, Lunde IG, Aronsen JM, Sejersted OM (2016)
Exercise training increases protein O-GlcNAcylation in rat skeletal muscle
Physiol Rep, 4 (18)
DOI 10.14814/phy2.12896, PubMed 27664189
Lunde IG, Herum KM, Carlson CC, Christensen G (2016)
Syndecans in heart fibrosis
Cell Tissue Res, 365 (3), 539-52
DOI 10.1007/s00441-016-2454-2, PubMed 27411689
Melleby AO, Strand ME, Romaine A, Herum KM, Skrbic B, Dahl CP, Sjaastad I, Fiane AE, Filmus J, Christensen G, Lunde IG (2016)
The Heparan Sulfate Proteoglycan Glypican-6 Is Upregulated in the Failing Heart, and Regulates Cardiomyocyte Growth through ERK1/2 Signaling
PLoS One, 11 (10), e0165079
DOI 10.1371/journal.pone.0165079, PubMed 27768722
Publications 2015
Cero FT, Hillestad V, Sjaastad I, Yndestad A, Aukrust P, Ranheim T, Lunde IG, Olsen MB, Lien E, Zhang L, Haugstad SB, Løberg EM, Christensen G, Larsen KO, Skjønsberg OH (2015)
Absence of the inflammasome adaptor ASC reduces hypoxia-induced pulmonary hypertension in mice
Am J Physiol Lung Cell Mol Physiol, 309 (4), L378-87
DOI 10.1152/ajplung.00342.2014, PubMed 26071556
Herum KM, Lunde IG, Skrbic B, Louch WE, Hasic A, Boye S, Unger A, Brorson SH, Sjaastad I, Tønnessen T, Linke WA, Gomez MF, Christensen G (2015)
Syndecan-4 is a key determinant of collagen cross-linking and passive myocardial stiffness in the pressure-overloaded heart
Cardiovasc Res, 106 (2), 217-26
DOI 10.1093/cvr/cvv002, PubMed 25587045
Hortemo KH, Aronsen JM, Lunde IG, Sjaastad I, Lunde PK, Sejersted OM (2015)
Exhausting treadmill running causes dephosphorylation of sMLC2 and reduced level of myofilament MLCK2 in slow twitch rat soleus muscle
Physiol Rep, 3 (2)
DOI 10.14814/phy2.12285, PubMed 25713325
Skrbic B, Engebretsen KV, Strand ME, Lunde IG, Herum KM, Marstein HS, Sjaastad I, Lunde PK, Carlson CR, Christensen G, Bjørnstad JL, Tønnessen T (2015)
Lack of collagen VIII reduces fibrosis and promotes early mortality and cardiac dilatation in pressure overload in mice
Cardiovasc Res, 106 (1), 32-42
DOI 10.1093/cvr/cvv041, PubMed 25694587
Strand ME, Aronsen JM, Braathen B, Sjaastad I, Kvaløy H, Tønnessen T, Christensen G, Lunde IG (2015)
Shedding of syndecan-4 promotes immune cell recruitment and mitigates cardiac dysfunction after lipopolysaccharide challenge in mice
J Mol Cell Cardiol, 88, 133-44
DOI 10.1016/j.yjmcc.2015.10.003, PubMed 26449522
Publications 2014
Vistnes M, Aronsen JM, Lunde IG, Sjaastad I, Carlson CR, Christensen G (2014)
Pentosan polysulfate decreases myocardial expression of the extracellular matrix enzyme ADAMTS4 and improves cardiac function in vivo in rats subjected to pressure overload by aortic banding
PLoS One, 9 (3), e89621
DOI 10.1371/journal.pone.0089621, PubMed 24595230
Wanichawan P, Hafver TL, Hodne K, Aronsen JM, Lunde IG, Dalhus B, Lunde M, Kvaløy H, Louch WE, Tønnessen T, Sjaastad I, Sejersted OM, Carlson CR (2014)
Molecular basis of calpain cleavage and inactivation of the sodium-calcium exchanger 1 in heart failure
J Biol Chem, 289 (49), 33984-98
DOI 10.1074/jbc.M114.602581, PubMed 25336645
Publications 2013
Engebretsen KV, Lunde IG, Strand ME, Waehre A, Sjaastad I, Marstein HS, Skrbic B, Dahl CP, Askevold ET, Christensen G, Bjørnstad JL, Tønnessen T (2013)
Lumican is increased in experimental and clinical heart failure, and its production by cardiac fibroblasts is induced by mechanical and proinflammatory stimuli
FEBS J, 280 (10), 2382-98
DOI 10.1111/febs.12235, PubMed 23480731
Strand ME, Herum KM, Rana ZA, Skrbic B, Askevold ET, Dahl CP, Vistnes M, Hasic A, Kvaløy H, Sjaastad I, Carlson CR, Tønnessen T, Gullestad L, Christensen G, Lunde IG (2013)
Innate immune signaling induces expression and shedding of the heparan sulfate proteoglycan syndecan-4 in cardiac fibroblasts and myocytes, affecting inflammation in the pressure-overloaded heart
FEBS J, 280 (10), 2228-47
DOI 10.1111/febs.12161, PubMed 23374111
Publications 2012
Herum KM, Lunde IG, Skrbic B, Florholmen G, Behmen D, Sjaastad I, Carlson CR, Gomez MF, Christensen G (2012)
Syndecan-4 signaling via NFAT regulates extracellular matrix production and cardiac myofibroblast differentiation in response to mechanical stress
J Mol Cell Cardiol, 54, 73-81
DOI 10.1016/j.yjmcc.2012.11.006, PubMed 23178899
Majak P, Bjørnstad JL, Braathen B, Lunde IG, Husebye T, Christensen G, Tønnessen T (2012)
Endothelin-1 in the human myocardium and circulating plasma: evaluation before, during and after correction of aortic stenosis with aortic valve replacement
Cardiology, 123 (1), 1-10
DOI 10.1159/000339756, PubMed 22907118
Waehre A, Vistnes M, Sjaastad I, Nygård S, Husberg C, Lunde IG, Aukrust P, Yndestad A, Vinge LE, Behmen D, Neukamm C, Brun H, Thaulow E, Christensen G (2012)
Chemokines regulate small leucine-rich proteoglycans in the extracellular matrix of the pressure-overloaded right ventricle
J Appl Physiol (1985), 112 (8), 1372-82
DOI 10.1152/japplphysiol.01350.2011, PubMed 22345433
Publications 2011
Finsen AV, Lunde IG, Sjaastad I, Østli EK, Lyngra M, Jarstadmarken HO, Hasic A, Nygård S, Wilcox-Adelman SA, Goetinck PF, Lyberg T, Skrbic B, Florholmen G, Tønnessen T, Louch WE, Djurovic S, Carlson CR, Christensen G (2011)
Syndecan-4 is essential for development of concentric myocardial hypertrophy via stretch-induced activation of the calcineurin-NFAT pathway
PLoS One, 6 (12), e28302
DOI 10.1371/journal.pone.0028302, PubMed 22164265
Johansen IB, Lunde IG, Røsjø H, Christensen G, Nilsson GE, Bakken M, Overli O (2011)
Cortisol response to stress is associated with myocardial remodeling in salmonid fishes
J Exp Biol, 214 (Pt 8), 1313-21
DOI 10.1242/jeb.053058, PubMed 21430209
Lunde IG, Anton SL, Bruusgaard JC, Rana ZA, Ellefsen S, Gundersen K (2011)
Hypoxia inducible factor 1 links fast-patterned muscle activity and fast muscle phenotype in rats
J Physiol, 589 (Pt 6), 1443-54
DOI 10.1113/jphysiol.2010.202762, PubMed 21262877
Lunde IG, Aronsen JM, Kvaløy H, Qvigstad E, Sjaastad I, Tønnessen T, Christensen G, Grønning-Wang LM, Carlson CR (2011)
Cardiac O-GlcNAc signaling is increased in hypertrophy and heart failure
Physiol Genomics, 44 (2), 162-72
DOI 10.1152/physiolgenomics.00016.2011, PubMed 22128088
Lunde IG, Kvaløy H, Austbø B, Christensen G, Carlson CR (2011)
Angiotensin II and norepinephrine activate specific calcineurin-dependent NFAT transcription factor isoforms in cardiomyocytes
J Appl Physiol (1985), 111 (5), 1278-89
DOI 10.1152/japplphysiol.01383.2010, PubMed 21474694
Publications 2010
Utne-Palm AC, Salvanes AG, Currie B, Kaartvedt S, Nilsson GE, Braithwaite VA, Stecyk JA, Hundt M, van der Bank M, Flynn B, Sandvik GK, Klevjer TA, Sweetman AK, Brüchert V, Pittman K, Peard KR, Lunde IG, Strandabø RA, Gibbons MJ (2010)
Trophic structure and community stability in an overfished ecosystem
Science, 329 (5989), 333-6
DOI 10.1126/science.1190708, PubMed 20647468
Publications 2009
Nilsson GE, Crawley N, Lunde IG, Munday PL (2009)
Elevated temperature reduces the respiratory scope of coral reef fishes
Glob. Change Biol., 15 (6), 1405-1412
DOI 10.1111/j.1365-2486.2008.01767.x
Publications 2007
Lunde IG, Ekmark M, Rana ZA, Buonanno A, Gundersen K (2007)
PPARdelta expression is influenced by muscle activity and induces slow muscle properties in adult rat muscles after somatic gene transfer
J Physiol, 582 (Pt 3), 1277-87
DOI 10.1113/jphysiol.2007.133025, PubMed 17463039