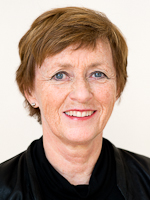 Drude Merete Fugelseth
Academic Interests.
Main topics of interest are neonatology with focus on the newborn circulation, myocardial function and ventilation.
The research has been concentrated about myocardial function and circulation in healthy and sick term and preterm newborns. The transitional phase from fetal to newborn circulation is a vulnerable period for the newborn baby and has been of main interest.
As a leader of the research group "NeoCHIBS" (Neonatal Circulation, Heart, Infection and Brain Study Group), there are ongoing projects covering newer modalities for studying the myocardial function (Tissue Doppler Imaging),  macro- and microcirculation (ultrasound, laser Doppler, video microscopy and spectroscopy), studies of the cerebral circulation and MR in neonates treated with therapeutic hypothermia after birth asphyxia, and studies of spesific GBS-antibodies in mothers and the transmition to the baby.
The main aim of the circulatory studies is developing better methods for monitoring the sick newborn baby for improving supportive circulatory treatments.
Our research group is cooperating with several other departments within Oslo University Hospital, as well as other institutions and health regions in Norway and institutions in other countries. 
Courses taught
Medical students in 9th semester with special focus on neonatology
Background
2011 Deputy Head of Institute for Clinical Medicine, Faculty of Medicine, University of Oslo (50 %) and Professor/consultant Dept. of Neonatal Intensive Care, Oslo University Hospital, Ullevål
2007 Professor in Neonatology at University of Oslo
2000 Doctor Medicinae, University of Oslo (Thesis: Ductus Venosus "Arantii" in the Newborn. "The forgotten vessel in neonatologi?" An ultrasonographic study.)
1993 Consultant in Neonatology and Paediatric Cardiology, Oslo University Hospital
1991 Spesialization in Paediatrics and Neonatology
1981 MD University of Oslo
1975 Educational Research, University of Oslo
1972 Physiotherapist, National School of Physiotherapy
Awards
The director award of excellent research 2003
Collaboration
St. Michaels Hospital, University of Bristol, UK, Dept. of Biomedical Engineering, Linköping University, Linköping, Sweden, Dept. of Physiology, Temple University, Philadelphia PA, USA, Novartis Vaccines and Diagnostics, Siena, Italia, Dept. of Cardiothoracic Surgery, Oslo University Hospital, Ullevål, Oslo, Institute of Circulation and Medical Imaging, Norwegian Institute of Science and Technology, Trondheim, Dept. of Electronics and Telecommunications, Norwegian University of Science and Technology, St. Olavs Hospital, Trondheim, Dept. of Paediatrics, Vestfold Hospital Trust, Vestfold Hospital, Tønsberg, Department of Paediatrics, Sunnmore Public Health Enterprice, Aalesund, Norway
Publications 2023
Nestaas E, Bjarkø L, Kiserud T, Haugen G, Fugelseth D (2023)
Heart function by M-mode and tissue Doppler in the early neonatal period in neonates with fetal growth restriction
Early Hum Dev, 183, 105809
DOI 10.1016/j.earlhumdev.2023.105809, PubMed 37331046
Rossholt ME, Wendel K, Bratlie M, Aas MF, Gunnarsdottir G, Fugelseth D, Pripp AH, Domellöf M, Størdal K, Stiris T, Moltu SJ (2023)
Vitamin A Status in Preterm Infants Is Associated with Inflammation and Dexamethasone Exposure
Nutrients, 15 (2)
DOI 10.3390/nu15020441, PubMed 36678312
Wendel K, Gunnarsdottir G, Fossan Aas M, Westvik ÅS, Pripp AH, Fugelseth D, Stiris T, Moltu SJ (2023)
Essential Fatty Acid Supplementation and Early Inflammation in Preterm Infants: Secondary Analysis of a Randomized Clinical Trial
Neonatology, 120 (4), 465-472
DOI 10.1159/000530129, PubMed 37121228
Publications 2022
Bjarkø L, Fugelseth D, Harsem N, Kiserud T, Haugen G, Nestaas E (2022)
Cardiac morphology in neonates with fetal growth restriction
J Perinatol, 43 (2), 187-195
DOI 10.1038/s41372-022-01538-8, PubMed 36284207
Brigtsen AK, Jacobsen AF, Dedi L, Melby KK, Espeland CN, Fugelseth D, Whitelaw A (2022)
Group B Streptococcus colonization at delivery is associated with maternal peripartum infection
PLoS One, 17 (4), e0264309
DOI 10.1371/journal.pone.0264309, PubMed 35363775
Rajar P, Dhariwal A, Salvadori G, Junges R, Åmdal HA, Berild D, Fugelseth D, Saugstad OD, Lausten-Thomsen U, Greisen G, Haaland K, Petersen FC (2022)
Microbial DNA extraction of high-host content and low biomass samples: Optimized protocol for nasopharynx metagenomic studies
Front Microbiol, 13, 1038120
DOI 10.3389/fmicb.2022.1038120, PubMed 36620054
Rossholt ME, Bratlie M, Wendel K, Aas MF, Gunnarsdottir G, Fugelseth D, Stiris T, Domellöf M, Størdal K, Moltu SJ (2022)
A standardized feeding protocol ensured recommended nutrient intakes and prevented growth faltering in preterm infants < 29 weeks gestation
Clin Nutr ESPEN, 53, 251-259
DOI 10.1016/j.clnesp.2022.12.024, PubMed 36657920
Wendel K, Aas MF, Gunnarsdottir G, Rossholt ME, Bratlie M, Nordvik T, Landsend ECS, Fugelseth D, Domellöf M, Pripp AH, Stiris T, Moltu SJ (2022)
Effect of arachidonic and docosahexaenoic acid supplementation on respiratory outcomes and neonatal morbidities in preterm infants
Clin Nutr, 42 (1), 22-28
DOI 10.1016/j.clnu.2022.11.012, PubMed 36473425
Publications 2021
Kynø NM, Fugelseth D, Knudsen LMM, Tandberg BS (2021)
Starting parenting in isolation a qualitative user-initiated study of parents' experiences with hospitalization in Neonatal Intensive Care units during the COVID-19 pandemic
PLoS One, 16 (10), e0258358
DOI 10.1371/journal.pone.0258358, PubMed 34714832
Wendel K, Pfeiffer HCV, Fugelseth DM, Nestaas E, Domellöf M, Skålhegg BS, Elgstøen KBP, Rootwelt H, Pettersen RD, Pripp AH, Stiris T, Moltu SJ, ImNuT Collaboration Group (2021)
Effects of nutrition therapy on growth, inflammation and metabolism in immature infants: a study protocol of a double-blind randomized controlled trial (ImNuT)
BMC Pediatr, 21 (1), 19
DOI 10.1186/s12887-020-02425-x, PubMed 33407269
Publications 2020
Kynoe NM, Fugelseth D, Hanssen I (2020)
When a common language is missing: Nurse-mother communication in the NICU. A qualitative study
J Clin Nurs, 29 (13-14), 2221-2230
DOI 10.1111/jocn.15212, PubMed 32045074
Publications 2018
Heier M, Espeland CN, Brunborg C, Seljeflot I, Margeirsdottir HD, Hanssen KF, Fugelseth D, Dahl-Jørgensen K (2018)
Preserved endothelial function in young adults with type 1 diabetes
PLoS One, 13 (10), e0206523
DOI 10.1371/journal.pone.0206523, PubMed 30359432
Publications 2017
Brunvand L, Heier M, Brunborg C, Hanssen KF, Fugelseth D, Stensaeth KH, Dahl-Jørgensen K, Margeirsdottir HD (2017)
Advanced glycation end products in children with type 1 diabetes and early reduced diastolic heart function
BMC Cardiovasc Disord, 17 (1), 133
DOI 10.1186/s12872-017-0551-0, PubMed 28545398
Fugelseth D (2017)
Measuring superior vena cava flow as part of echocardiography examinations performed by neonatologists
Acta Paediatr, 106 (1), 5-6
DOI 10.1111/apa.13604, PubMed 27943434
Skranes JH, Løhaugen G, Schumacher EM, Osredkar D, Server A, Cowan FM, Stiris T, Fugelseth D, Thoresen M (2017)
Amplitude-Integrated Electroencephalography Improves the Identification of Infants with Encephalopathy for Therapeutic Hypothermia and Predicts Neurodevelopmental Outcomes at 2 Years of Age
J Pediatr, 187, 34-42
DOI 10.1016/j.jpeds.2017.04.041, PubMed 28549636
Publications 2016
Brunvand L, Fugelseth D, Stensaeth KH, Dahl-Jørgensen K, Margeirsdottir HD (2016)
Early reduced myocardial diastolic function in children and adolescents with type 1 diabetes mellitus a population-based study
BMC Cardiovasc Disord, 16, 103
DOI 10.1186/s12872-016-0288-1, PubMed 27225446
Fredly S, Fugelseth D, Nygaard CS, Salerud EG, Stiris T, Kvernebo K (2016)
Noninvasive assessments of oxygen delivery from the microcirculation to skin in hypothermia-treated asphyxiated newborn infants
Pediatr Res, 79 (6), 902-6
DOI 10.1038/pr.2016.16, PubMed 26854800
Fredly S, Nygaard CS, Skranes JH, Stiris T, Fugelseth D (2016)
Cooling Effect on Skin Microcirculation in Asphyxiated Newborn Infants with Increased C-Reactive Protein
Neonatology, 110 (4), 270-276
DOI 10.1159/000446763, PubMed 27322828
Nestaas E, Støylen A, Fugelseth D (2016)
Speckle Tracking Using Gray-Scale Information from Tissue Doppler Recordings versus Regular Gray-Scale Recordings in Term Neonates
Ultrasound Med Biol, 42 (11), 2599-2605
DOI 10.1016/j.ultrasmedbio.2016.06.003, PubMed 27576591
Publications 2015
Brigtsen AK, Jacobsen AF, Dedi L, Melby KK, Fugelseth D, Whitelaw A (2015)
Maternal Colonization with Group B Streptococcus Is Associated with an Increased Rate of Infants Transferred to the Neonatal Intensive Care Unit
Neonatology, 108 (3), 157-63
DOI 10.1159/000434716, PubMed 26182960
Fredly S, Fugelseth D, Wester T, Häggblad E, Kvernebo K (2015)
Skin microcirculation in healthy term newborn infants--assessment of morphology, perfusion and oxygenation
Clin Hemorheol Microcirc, 59 (4), 309-22
DOI 10.3233/CH-131764, PubMed 24002120
Helmer C, Skranes JH, Liestøl K, Fugelseth D (2015)
Using adrenaline during neonatal resuscitation may have an impact on serum cardiac troponin-T levels
Acta Paediatr, 104 (9), e378-83
DOI 10.1111/apa.13055, PubMed 26032882
Skranes JH, Cowan FM, Stiris T, Fugelseth D, Thoresen M, Server A (2015)
Brain imaging in cooled encephalopathic neonates does not differ between four and 11 days after birth
Acta Paediatr, 104 (8), 752-8
DOI 10.1111/apa.13016, PubMed 25824694
Publications 2014
Brigtsen AK, Dedi L, Melby KK, Holberg-Petersen M, Radtke A, Lyng RV, Andresen LL, Jacobsen AF, Fugelseth D, Whitelaw A (2014)
Comparison of PCR and serotyping of Group B Streptococcus in pregnant women: the Oslo GBS-study
J Microbiol Methods, 108, 31-5
DOI 10.1016/j.mimet.2014.11.001, PubMed 25447890
Eriksen BH, Nestaas E, Hole T, Liestøl K, Støylen A, Fugelseth D (2014)
Myocardial function in term and preterm infants. Influence of heart size, gestational age and postnatal maturation
Early Hum Dev, 90 (7), 359-64
DOI 10.1016/j.earlhumdev.2014.04.010, PubMed 24794303
Nestaas E, Fugelseth D, Støylen A (2014)
Automated, objective and expert-independent assessment of the analyzability of strain and strain rate in tissue Doppler images in term neonates by analysis of beat-to-beat variation
Ultrasound Med Biol, 40 (3), 637-42
DOI 10.1016/j.ultrasmedbio.2013.10.026, PubMed 24412174
Nestaas E, Skranes JH, Støylen A, Brunvand L, Fugelseth D (2014)
The myocardial function during and after whole-body therapeutic hypothermia for hypoxic-ischemic encephalopathy, a cohort study
Early Hum Dev, 90 (5), 247-52
DOI 10.1016/j.earlhumdev.2014.01.014, PubMed 24612933
Skranes JH, Elstad M, Thoresen M, Cowan FM, Stiris T, Fugelseth D (2014)
Hypothermia makes cerebral resistance index a poor prognostic tool in encephalopathic newborns
Neonatology, 106 (1), 17-23
DOI 10.1159/000358229, PubMed 24686318
Publications 2013
Eriksen BH, Husebekk A, Fugelseth D, Salberg KR, Lindemann R (2013)
A newborn with petechiae
Tidsskr Nor Laegeforen, 133 (7), 761-4
DOI 10.4045/tidsskr.12.1009, PubMed 23588181
Eriksen BH, Nestaas E, Hole T, Liestøl K, Støylen A, Fugelseth D (2013)
Myocardial function in premature infants: a longitudinal observational study
BMJ Open, 3 (3)
DOI 10.1136/bmjopen-2012-002441, PubMed 23533215
Eriksen BH, Nestaas E, Hole T, Liestøl K, Støylen A, Fugelseth D (2013)
Longitudinal assessment of atrioventricular annulus excursion by grey-scale m-mode and colour tissue Doppler imaging in premature infants
Early Hum Dev, 89 (12), 977-82
DOI 10.1016/j.earlhumdev.2013.09.006, PubMed 24080390
Kutzsche S, Fugelseth D (2013)
Ensuring safe neonatal care for newborn babies
Tidsskr Nor Laegeforen, 133 (3), 270-1
DOI 10.4045/tidsskr.12.1222, PubMed 23381161
Lee A, Nestaas E, Liestøl K, Brunvand L, Lindemann R, Fugelseth D (2013)
Tissue Doppler imaging in very preterm infants during the first 24 h of life: an observational study
Arch Dis Child Fetal Neonatal Ed, 99 (1), F64-9
DOI 10.1136/archdischild-2013-304197, PubMed 24048254
Publications 2012
Nestaas E, Støylen A, Fugelseth D (2012)
Myocardial performance assessment in neonates by one-segment strain and strain rate analysis by tissue Doppler - a quality improvement cohort study
BMJ Open, 2 (4)
DOI 10.1136/bmjopen-2012-001636, PubMed 22923633
Publications 2011
Fugelseth D, Ramstad HB, Kvehaugen AS, Nestaas E, Støylen A, Staff AC (2011)
Myocardial function in offspring 5-8years after pregnancy complicated by preeclampsia
Early Hum Dev, 87 (8), 531-5
DOI 10.1016/j.earlhumdev.2011.04.006, PubMed 21550734
Henrichsen T, Lindenskov PH, Shaffer TH, Loekke RJ, Fugelseth D, Lindemann R (2011)
Perfluorodecalin lavage of a longstanding lung atelectasis in a child with spinal muscle atrophy
Pediatr Pulmonol, 47 (4), 415-9
DOI 10.1002/ppul.21565, PubMed 22006656
Kvehaugen AS, Dechend R, Ramstad HB, Troisi R, Fugelseth D, Staff AC (2011)
Endothelial function and circulating biomarkers are disturbed in women and children after preeclampsia
Hypertension, 58 (1), 63-9
DOI 10.1161/HYPERTENSIONAHA.111.172387, PubMed 21606387
Publications 2010
Bakkeheim E, Bergerud U, Schmidt-Melbye AC, Akkok CA, Liestol K, Fugelseth D, Lindemann R (2010)
Maternal IgG Anti-A and Anti-B Titres Predict Outcome in ABO-Incompatibility in the Neonate EDITORIAL COMMENT
Obstet. Gynecol. Surv., 65 (3), 160-162
DOI 10.1097/01.ogx.0000369672.26710.64
Nestaas E, Støylen A, Brunvand L, Fugelseth D (2010)
Longitudinal strain and strain rate by tissue Doppler are more sensitive indices than fractional shortening for assessing the reduced myocardial function in asphyxiated neonates
Cardiol Young, 21 (1), 1-7
DOI 10.1017/S1047951109991314, PubMed 20923594
Publications 2009
Bakkeheim E, Bergerud U, Schmidt-Melbye AC, Akkök CA, Liestøl K, Fugelseth D, Lindemann R (2009)
Maternal IgG anti-A and anti-B titres predict outcome in ABO-incompatibility in the neonate
Acta Paediatr, 98 (12), 1896-901
DOI 10.1111/j.1651-2227.2009.01478.x, PubMed 19703120
Lee A, Liestøl K, Nestaas E, Brunvand L, Lindemann R, Fugelseth D (2009)
Superior vena cava flow: feasibility and reliability of the off-line analyses
Arch Dis Child Fetal Neonatal Ed, 95 (2), F121-5
DOI 10.1136/adc.2009.176883, PubMed 19996328
Nestaas E, Støylen A, Brunvand L, Fugelseth D (2009)
Tissue Doppler derived longitudinal strain and strain rate during the first 3 days of life in healthy term neonates
Pediatr Res, 65 (3), 357-62
DOI 10.1203/PDR.0b013e318193f149, PubMed 19391252
Publications 2008
Fredly S, Aksnes G, Viddal KO, Lindemann R, Fugelseth D (2008)
The outcome in newborns with congenital diaphragmatic hernia in a Norwegian region
Acta Paediatr, 98 (1), 107-11
DOI 10.1111/j.1651-2227.2008.01024.x, PubMed 18795908
Lindemann R, Myhre MC, Bakken M, Fugelseth D, Rustad CF, Woldseth B (2008)
[A newborn infant with hyperventilation]
Tidsskr Nor Laegeforen, 128 (13), 1535-6
PubMed 18604903
Nestaas E, Støylen A, Fugelseth D (2008)
Optimal types of probe, and tissue Doppler frame rates, for use during tissue Doppler recording and off-line analysis of strain and strain rate in neonates at term
Cardiol Young, 18 (5), 502-11
DOI 10.1017/S1047951108002655, PubMed 18752713
Publications 2007
Lindemann R, Rajka T, Henrichsen T, Vinorum OG, de Lange C, Erichsen A, Fugelseth D (2007)
Bronchioalveolar lavage with perfluorochemical liquid during conventional ventilation
Pediatr Crit Care Med, 8 (5), 486-8
DOI 10.1097/01.PCC.0000282757.25347.6C, PubMed 17693917
Nestaas E, Stoylen A, Sandvik L, Brunvand L, Fugelseth D (2007)
Feasibility and reliability of strain and strain rate measurement in neonates by optimizing the analysis parameters settings
Ultrasound Med Biol, 33 (2), 270-8
DOI 10.1016/j.ultrasmedbio.2006.08.006, PubMed 17207903
Publications 2006
Børke WB, Edvardsen T, Fugelseth D, Lenes K, Ihlen H, Saugstad OD, Thaulow E (2006)
Reduced left ventricular function in hypoxemic newborn pigs: a strain Doppler echocardiographic study
Pediatr Res, 59 (5), 630-5
DOI 10.1203/01.pdr.0000214846.00318.36, PubMed 16627872
Publications 2005
Fugelseth D, Børke WB, Lenes K, Matthews I, Saugstad OD, Thaulow E (2005)
Restoration of cardiopulmonary function with 21% versus 100% oxygen after hypoxaemia in newborn pigs
Arch Dis Child Fetal Neonatal Ed, 90 (3), F229-34
DOI 10.1136/adc.2004.056986, PubMed 15846013
Publications 2003
Fugelseth D, Satas S, Steen PA, Thoresen M (2003)
Cardiac output, pulmonary artery pressure, and patent ductus arteriosus during therapeutic cooling after global hypoxia-ischaemia
Arch Dis Child Fetal Neonatal Ed, 88 (3), F223-8
DOI 10.1136/fn.88.3.f223, PubMed 12719397
Publications 2002
Fugelseth D (2002)
Antenatal cardiac assessment
Scand Cardiovasc J, 36 (2), 67-8
DOI 10.1080/140174302753675302, PubMed 12028865
Publications 2001
Fugelseth D (2001)
[Neonatal hypoglycemia]
Tidsskr Nor Laegeforen, 121 (14), 1713-6
PubMed 11446016
Fugelseth D (2001)
[Persistent pulmonary hypertension in newborn infants]
Tidsskr Nor Laegeforen, 121 (26), 3074-8
PubMed 11757443
Fugelseth D, Guthenberg C, Hagenfeldt L, Liestøl K, Hallerud M, Lindemann R (2001)
Patent ductus venosus does not lead to alimentary galactosaemia in preterm infants
Acta Paediatr, 90 (2), 192-5
DOI 10.1080/080352501300049424, PubMed 11236050
Nakstad B, Wolfson MR, Aspelin T, Lindemann R, Shaffer TH, Fugelseth D, Lyberg T (2001)
Perfluorochemical liquids do not stimulate endothelin-1 or nitric oxide production in human blood leukocytes
Biol Neonate, 80 (4), 267-72
DOI 10.1159/000047155, PubMed 11641549
Nakstad B, Wolfson MR, Shaffer TH, Kähler H, Lindemann R, Fugelseth D, Lyberg T (2001)
Perfluorochemical liquids modulate cell-mediated inflammatory responses
Crit Care Med, 29 (9), 1731-7
DOI 10.1097/00003246-200109000-00013, PubMed 11546973
Publications 2000
Fugelseth D, Leach CL, Morin FC, Liestøl K, Wang H, Swartz D, Lindemann R (2000)
Ductus venosus flow velocity in newborn lambs during increased pulmonary artery pressure
Pediatr Res, 47 (6), 767-72
DOI 10.1203/00006450-200006000-00014, PubMed 10832735
Fugelseth DM (2000)
Ductus venosus "Arantii" in the newborn - "the forgotten vessel in neonatology?": an ultrasonographic study
Department of Paediatrics, Ullevål University Hospital, Oslo, 1 b. (flere pag.)
BIBSYS 00151685x, ISBN 82-995674-0-8
Publications 1999
Fugelseth D, Kiserud T, Liestøl K, Langslet A, Lindemann R (1999)
Ductus venosus blood velocity in persistent pulmonary hypertension of the newborn
Arch Dis Child Fetal Neonatal Ed, 81 (1), F35-9
DOI 10.1136/fn.81.1.f35, PubMed 10375360
Fugelseth D, Satas S, Runde M, Hågå P, Thoresen M (1999)
Cardiac function and morphology studied by two-dimensional Doppler echocardiography in unsedated newborn pigs
Exp Physiol, 84 (1), 69-78
DOI 10.1111/j.1469-445x.1999.tb00073.x, PubMed 10081708
Publications 1998
Fugelseth D, Lindemann R, Liestøl K, Kiserud T, Langslet A (1998)
Postnatal closure of ductus venosus in preterm infants < or = 32 weeks. An ultrasonographic study
Early Hum Dev, 53 (2), 163-9
DOI 10.1016/s0378-3782(98)00051-6, PubMed 10195709
Nafstad P, Fugelseth D, Qvigstad E, Zahlen K, Magnus P, Lindemann R (1998)
Nicotine concentration in the hair of nonsmoking mothers and size of offspring
Am J Public Health, 88 (1), 120-4
DOI 10.2105/ajph.88.1.120, PubMed 9584018
Orstavik KH, Bechensteen AG, Fugelseth D, Orderud W (1998)
Sibs with Ritscher-Schinzel (3C) syndrome and anal malformations
Am J Med Genet, 75 (3), 300-3
DOI 10.1002/(SICI)1096-8628(19980123)75:3<300::AID-AJMG15>3.3.CO;2-B, PubMed 9475602
Publications 1997
Fugelseth D, Lindemann R, Liestøl K, Kiserud T, Langslet A (1997)
Ultrasonographic study of ductus venosus in healthy neonates
Arch Dis Child Fetal Neonatal Ed, 77 (2), F131-4
DOI 10.1136/fn.77.2.f131, PubMed 9377136
Publications 1996
Brunvand L, Fugelseth D (1996)
[Bacterial endocarditis in premature children. A complication caused by central venous catheters]
Tidsskr Nor Laegeforen, 116 (11), 1328-30
PubMed 8658414
Heier HE, Fugelseth D, Lindemann R, Qvigstad E (1996)
[Maternal blood group 0 as a risk factor of neonatal hyperbilirubinemia requiring treatment]
Tidsskr Nor Laegeforen, 116 (1), 34-6
PubMed 8553332
Publications 1994
Fugelseth D (1994)
[New principles for mechanical ventilation of neonates and infants. High-frequency ventilation]
Tidsskr Nor Laegeforen, 114 (17), 1955-8
PubMed 8079325
Fugelseth D, Lindemann R (1994)
Patient-triggered ventilation fooled by patency of ductus arteriosus
Acta Paediatr, 83 (12), 1263
DOI 10.1111/j.1651-2227.1994.tb13010.x, PubMed 7734866
Fugelseth D, Lindemann R (1994)
[Perinatal care yesterday, today, tomorrow--which way does the pendulum swing?]
Tidsskr Nor Laegeforen, 114 (1), 57-60
PubMed 8296285
Fugelseth D, Lindemann R, Sande HA, Refsum S, Nordshus T (1994)
Prenatal diagnosis of urinary tract anomalies. The value of two ultrasound examinations
Acta Obstet Gynecol Scand, 73 (4), 290-3
DOI 10.3109/00016349409015765, PubMed 8160533