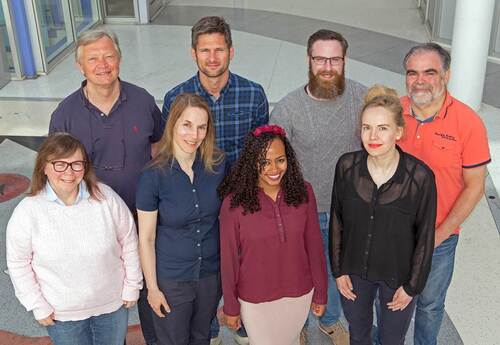 Background
Tissue engineering is a relatively new niche within the field of human therapeutics. It involves the use of cells, frequently combined with biomaterials, to regenerate diseased, damaged or surgically removed tissues. Stem cells are immature cells with great potential for self-replication, but also for differentiation to become tissue-specific cells. Work performed in our group is directed towards the use stem and progenitor cells for tissue engineering of cartilage, bone and cardiovascular tissues. In the process we aim to unravel molecular mechanisms for cell differentiation and de-differentiation, and to understand the interactions between cells, extracellular matrix and biomaterials.
Projects
The cells investigated in this project are human mesenchymal stem cells (MSCs) and chondrocytes. We are examining various differentiation strategies and ways to make cartilage discs in the laboratory. The aim is to make discs of sufficient width, thickness and biomechanical properties to enable them to be used as implants into lesions of articular cartilage.
We have taken an interest in microRNAs, and are using knock-down and overexpression technologies to investigate the role of different microRNAs in the generation and repair of articuler cartilage. Recently we have started using CRISPR/Cas technologies and human pluripotent stem cells to enable the investigation of the role of microRNAs and other genes in the entire process from pluripotent stem cells to implantable cartilage discs.
Osteoarthritis is a very common and disabling disease of joints. We are using in vitro cell- and organoid models as well as animal experiments to investigate the role of microRNAs and other genes as biomarkers and in the pathogenesis and repair of this disease.
Tissue engineering of cardiovascular tissues
The aim of this project is to use cells to re-establish blood flow to ischemic tissues, and to use cells and decellularized vessel scaffolds to create new autologous veins and arteries. To this end we have isolated and characterized a population of endothelial cells from human adipose tissue. From mesenchymal stem cells from the same tissue we can make smooth muscle-like cells. We continue to characterize these cells at molecular and functional levels using a range of in vitro assays tissue engineering models.
Production of cells for therapeutic applications
Jan E. Brinchmann is the director of the Ex Vivo cell production facility at the Department of Immunology, Oslo University Hospital Rikshospitalet. This laboratory is a clean-room facility, compliant with regulations set down in Good Manufacturing Practices and the Norwegian Regulations for Cell Production. Here, cells are produced for tissue engineering of hyaline cartilage, cardiovascular tissues and bone.
Group members
Group leader:
Jan E. Brinchmann, MD, PhD. jan.brinchmann@rr-research.no
Post docs:
Tommy A. Karlsen, PhD
Nadine Frerker, PhD
David Kunke, PhD
PhD students:
Rua Nader Al-Modawi, MSc
Mia Hauge Rambøl, MSc
Tommy Frøseth Aae, MD
Lab manager:
Åse-Karine Fjeldheim/Krisztina Szöke
Ex vivo cell laboratory:
Jim Eero Lamppu, Head of production
Kristin Flatmoen, Bioengineer
Selected recent publications

Wollert KC, Meyer GP, Müller-Ehmsen J et al. Intracoronary autologous bone marrow cell transfer after myocardial infarction: the BOOST-2 randomised placebo-controlled
clinical trial. Eur Heart J. 2017 Apr 19. doi: 10.1093/eurheartj/ehx188. [Epub ahead of print)

Behnan J, Stangeland B, Hosainey SAM, Joel M, Olsen TK, Micci F, Glover JC, Isakson P, Brinchmann JE. Differential Propagation of Stroma and Cancer Stem Cells Dictates Tumorigenesis And Multipotency. Oncogene. 2017 Jan 26;36(4):570-584

Karlsen TA, Jakobsen RB, Brinchmann JE. Early molecular events during in vitro chondrogenesis. In The Biology and Therapeutic Applications of Mesenchymal Cells, John Wiley & Sons, Ed Kerry Atkinson, 2017


Karlsen TA, de Souza G, Ødegaard B, Engebretsen L, Brinchmann JE. MicroRNA-140 inhibits inflammation and stimulates expression of essential chondrogenic proteins in a model of IL1β-induced osteoarthritis. Mol Ther Nucleic Acids. 2016;5:e373. doi: 10.1038/mtna.2016.64.


Roadmap Epigenomics Consortium, Kundaje A, Meuleman W et al. Integrative analysis of 111 reference human epigenomes. Nature 518:317-30, 2015.


Jakobsen RB, Østrup E, Zhang X, Mikkelsen TS, Brinchmann JE. Analysis of five factors relevant to in vitro chondrogenesis using factorial design and high throughput mRNA-profiling. PLOS One 9:e96615, 2014


Herlofsen SR, Høiby T, Cacchiarelli D, Zhang X, Mikkelsen TS, Brinchmann JE. Importance of SOX8 for chondrogenic differentiation of human mesenchymal stem cells. Stem Cells 32:1629-35, 2014


Olderøy MØ, Lilledahl MB, Sandvold M, Melvik JE, Reinholt F, Sikorski P, Brinchmann JE. Engineering cartilage tissue architectures in alginate hydrogels with mesenchymal stem cells. PLOS One 9:e91662, 2014


Karlsen TA, Jakobsen RB, Mikkelsen TS, Brinchmann JE.: microRNA-140 targets RALA and regulates chondrogenic differentiation of human mesenchymal stem cells by translational enhancement of SOX9 and ACAN. Stem Cells and Development 23:290-304, 2014


Karlsen TA, Brinchmann JE. Immunological off-target effects of synthetic microRNA-145 in mesenchymal stem cells require liposome delivery and is mediated by RIG-I. Molecular Therapy 21:1169-81, 2013


Herlofsen SR, Bryne JC, Høiby T, Wang L, Issner R, Zhang X, Coyne MJ, Boyle P, Gu H, Meza-Zepeda LA, Collas P, Mikkelsen TS, Brinchmann JE. Genome-wide map of quantified epigenetic changes during in vitro chondrogenic differentiation of primary human mesenchymal stem cells. BMC Genomics 14:105, 2013


Szöke K, Brinchmann JE. Concise review: Therapeutic potential of adipose tissue-derived angiogenic cells. Stem Cells Translational Medicine 9:658-67, 2012