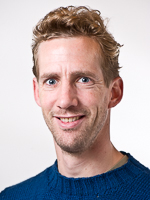 Steffan Daniël Bos
Postdoc; PhD
+47 230 79024
Bos has obtained a PhD degree in genetics after obtaining a Master degree in biopharmaceutics, University of Leiden, The Netherlands. His research has focused on the genetics of complex diseases and in particular the follow up of genes showing involvement through genome wide approaches.
Project/research interest:
Bos' main project encompasses the investigation of the epigenetic profile of MS patients' immune cells. Furthermore, the functional follow up of genes implicated in MS through recent genome wide approaches is a focus point in his research. Bos is co-supervisor for Pankaj Kumar Keshari.
Adress: Oslo University Hospital, Research Unit for Neuroscience, Domus Medica II, 2nd floor, L-268, Gaustadalleen 34, 0372 Oslo
Publications 2022
Brune S, Høgestøl EA, de Rodez Benavent SA, Berg-Hansen P, Beyer MK, Leikfoss IS, Bos SD, Sowa P, Brunborg C, Andorra M, Pulido Valdeolivas I, Asseyer S, Brandt A, Chien C, Scheel M, Blennow K, Zetterberg H, Kerlero de Rosbo N, Paul F, Uccelli A, Villoslada P, Berge T, Harbo HF (2022)
Serum neurofilament light chain concentration predicts disease worsening in multiple sclerosis
Mult Scler, 28 (12), 1859-1870
DOI 10.1177/13524585221097296, PubMed 35658739
Cappelletti C, Eriksson A, Brorson IS, Leikfoss IS, Kråbøl O, Høgestøl EA, Vitelli V, Mjaavatten O, Harbo HF, Berven F, Bos SD, Berge T (2022)
Quantitative proteomics reveals protein dysregulation during T cell activation in multiple sclerosis patients compared to healthy controls
Clin Proteomics, 19 (1), 23
DOI 10.1186/s12014-022-09361-1, PubMed 35790914
Rise HH, Brune S, Chien C, Berge T, Bos SD, Andorrà M, Valdeolivas IP, Beyer MK, Sowa P, Scheel M, Brandt AU, Asseyer S, Blennow K, Pedersen ML, Zetterberg H, de Schotten MT, Cellerino M, Uccelli A, Paul F, Villoslada P, Harbo HF, Westlye LT, Høgestøl EA (2022)
Brain disconnectome mapping derived from white matter lesions and serum neurofilament light levels in multiple sclerosis: A longitudinal multicenter study
Neuroimage Clin, 35, 103099
DOI 10.1016/j.nicl.2022.103099, PubMed 35772194
Publications 2021
Eriksson AM, Leikfoss IS, Abrahamsen G, Sundvold V, Isom MM, Keshari PK, Rognes T, Landsverk OJB, Bos SD, Harbo HF, Spurkland A, Berge T (2021)
Exploring the role of the multiple sclerosis susceptibility gene CLEC16A in T cells
Scand J Immunol, 94 (1), e13050
DOI 10.1111/sji.13050, PubMed 34643957
Publications 2020
Adams CJ, Wu SL, Shao X, Bradshaw PT, Gonzales E, Smith JB, Xiang AH, Bellesis KH, Chinn T, Bos SD, Wendel-Haga M, Olsson T, Kockum I, Langer-Gould AM, Schaefer C, Alfredsson L, Barcellos LF (2020)
Pregnancy does not modify the risk of MS in genetically susceptible women
Neurol Neuroimmunol Neuroinflamm, 7 (6)
DOI 10.1212/NXI.0000000000000898, PubMed 33037103
Publications 2019
Berge T, Eriksson A, Brorson IS, Høgestøl EA, Berg-Hansen P, Døskeland A, Mjaavatten O, Bos SD, Harbo HF, Berven F (2019)
Quantitative proteomic analyses of CD4+ and CD8+ T cells reveal differentially expressed proteins in multiple sclerosis patients and healthy controls
Clin Proteomics, 16, 19
DOI 10.1186/s12014-019-9241-5, PubMed 31080378
Brorson IS, Eriksson A, Leikfoss IS, Celius EG, Berg-Hansen P, Barcellos LF, Berge T, Harbo HF, Bos SD (2019)
No differential gene expression for CD4+ T cells of MS patients and healthy controls
Mult Scler J Exp Transl Clin, 5 (2), 2055217319856903
DOI 10.1177/2055217319856903, PubMed 31223483
Publications 2018
Akhmadeev K, Houssein A, Moussaoui S, Hogestol EA, Tutturen I, Harbo HF, Bos-Haugen SD, Graves J, Laplaud DA, Gourraud PA (2018)
SVM-based Tool to Detect Patients with Multiple Sclerosis Using a Commercial EMG Sensor
PR IEEE SEN ARRAY, 376-379
Rhead B, Brorson IS, Berge T, Adams C, Quach H, Moen SM, Berg-Hansen P, Celius EG, Sangurdekar DP, Bronson PG, Lea RA, Burnard S, Maltby VE, Scott RJ, Lechner-Scott J, Harbo HF, Bos SD, Barcellos LF (2018)
Increased DNA methylation of SLFN12 in CD4+ and CD8+ T cells from multiple sclerosis patients
PLoS One, 13 (10), e0206511
DOI 10.1371/journal.pone.0206511, PubMed 30379917
Publications 2017
Olafsson S, Stridh P, Bos SD, Ingason A, Euesden J, Sulem P, Thorleifsson G, Gustafsson O, Johannesson A, Geirsson AJ, Thorsson AV, Sigurgeirsson B, Ludviksson BR, Olafsson E, Kristjansdottir H, Jonasson JG, Olafsson JH, Orvar KB, Benediktsson R, Bjarnason R, Kristjansdottir S, Gislason T, Valdimarsson T, Mikaelsdottir E, Sigurdsson S et al. (2017)
Fourteen sequence variants that associate with multiple sclerosis discovered by meta-analysis informed by genetic correlations
NPJ Genom Med, 2, 24
DOI 10.1038/s41525-017-0027-2, PubMed 29263835
Publications 2016
George MF, Briggs FB, Shao X, Gianfrancesco MA, Kockum I, Harbo HF, Celius EG, Bos SD, Hedström A, Shen L, Bernstein A, Alfredsson L, Hillert J, Olsson T, Patsopoulos NA, De Jager PL, Oturai AB, Søndergaard HB, Sellebjerg F, Sorensen PS, Gomez R, Caillier SJ, Cree BA, Oksenberg JR, Hauser SL et al. (2016)
Multiple sclerosis risk loci and disease severity in 7,125 individuals from 10 studies
Neurol Genet, 2 (4), e87
DOI 10.1212/NXG.0000000000000087, PubMed 27540591
George MF, Briggs FBS, Shao X, Gianfrancesco MA, Kockum I, Harbo HF, Celius EG, Bos SD, Hedstrom A, Shen L, Bernstein A, Alfredsson L, Hiller J, Olsson T, Patsopoulos NA, De Jager PL, Oturai AB, Sondergaard HB, Sellebjerg F, Sorensen PS, Gomez R, Caillier SJ, Cree BAC, Oksenberg JR, Hauser SL et al. (2016)
Multiple sclerosis risk loci and disease severity in 7,125 individuals from 10 studies
Neurol.-Genet., 2 (4), eB7
DOI 10.1212/NXG.00000000000000B7
Keshari PK, Harbo HF, Myhr KM, Aarseth JH, Bos SD, Berge T (2016)
Allelic imbalance of multiple sclerosis susceptibility genes IKZF3 and IQGAP1 in human peripheral blood
BMC Genet, 17, 59
DOI 10.1186/s12863-016-0367-4, PubMed 27080863
Wang Y, Bos SD, Harbo HF, Thompson WK, Schork AJ, Bettella F, Witoelar A, Lie BA, Li W, McEvoy LK, Djurovic S, Desikan RS, Dale AM, Andreassen OA (2016)
Genetic overlap between multiple sclerosis and several cardiovascular disease risk factors
Mult Scler, 22 (14), 1783-1793
DOI 10.1177/1352458516635873, PubMed 26920376
Publications 2015
Bos SD, Page CM, Andreassen BK, Elboudwarej E, Gustavsen MW, Briggs F, Quach H, Leikfoss IS, Bjølgerud A, Berge T, Harbo HF, Barcellos LF (2015)
Genome-wide DNA methylation profiles indicate CD8+ T cell hypermethylation in multiple sclerosis
PLoS One, 10 (3), e0117403
DOI 10.1371/journal.pone.0117403, PubMed 25734800
den Hollander W, Ramos YF, Bomer N, Elzinga S, van der Breggen R, Lakenberg N, de Dijcker WJ, Suchiman HE, Duijnisveld BJ, Houwing-Duistermaat JJ, Slagboom PE, Bos SD, Nelissen RG, Meulenbelt I (2015)
Transcriptional associations of osteoarthritis-mediated loss of epigenetic control in articular cartilage
Arthritis Rheumatol, 67 (8), 2108-16
DOI 10.1002/art.39162, PubMed 25892573
Goris A, Pauwels I, Gustavsen MW, van Son B, Hilven K, Bos SD, Celius EG, Berg-Hansen P, Aarseth J, Myhr KM, D'Alfonso S, Barizzone N, Leone MA, Martinelli Boneschi F, Sorosina M, Liberatore G, Kockum I, Olsson T, Hillert J, Alfredsson L, Bedri SK, Hemmer B, Buck D, Berthele A, Knier B et al. (2015)
Genetic variants are major determinants of CSF antibody levels in multiple sclerosis
Brain, 138 (Pt 3), 632-43
DOI 10.1093/brain/awu405, PubMed 25616667
Leikfoss IS, Keshari PK, Gustavsen MW, Bjølgerud A, Brorson IS, Celius EG, Spurkland A, Bos SD, Harbo HF, Berge T (2015)
Multiple Sclerosis Risk Allele in CLEC16A Acts as an Expression Quantitative Trait Locus for CLEC16A and SOCS1 in CD4+ T Cells
PLoS One, 10 (7), e0132957
DOI 10.1371/journal.pone.0132957, PubMed 26203907
Page CM, Baranzini SE, Mevik BH, Bos SD, Harbo HF, Andreassen BK (2015)
Assessing the Power of Exome Chips
PLoS One, 10 (10), e0139642
DOI 10.1371/journal.pone.0139642, PubMed 26437075
Publications 2014
Bomer N, den Hollander W, Ramos YF, Bos SD, van der Breggen R, Lakenberg N, Pepers BA, van Eeden AE, Darvishan A, Tobi EW, Duijnisveld BJ, van den Akker EB, Heijmans BT, van Roon-Mom WM, Verbeek FJ, van Osch GJ, Nelissen RG, Slagboom PE, Meulenbelt I (2014)
Underlying molecular mechanisms of DIO2 susceptibility in symptomatic osteoarthritis
Ann Rheum Dis, 74 (8), 1571-9
DOI 10.1136/annrheumdis-2013-204739, PubMed 24695009
Eriksen AB, Berge T, Gustavsen MW, Leikfoss IS, Bos SD, Spurkland A, Harbo HF, Blomhoff HK (2014)
Retinoic acid enhances the levels of IL-10 in TLR-stimulated B cells from patients with relapsing-remitting multiple sclerosis
J Neuroimmunol, 278, 11-8
DOI 10.1016/j.jneuroim.2014.11.019, PubMed 25595247
Ramos YF, Bos SD, van der Breggen R, Kloppenburg M, Ye K, Lameijer EW, Nelissen RG, Slagboom PE, Meulenbelt I (2014)
A gain of function mutation in TNFRSF11B encoding osteoprotegerin causes osteoarthritis with chondrocalcinosis
Ann Rheum Dis, 74 (9), 1756-62
DOI 10.1136/annrheumdis-2013-205149, PubMed 24743232
Ramos YF, den Hollander W, Bovée JV, Bomer N, van der Breggen R, Lakenberg N, Keurentjes JC, Goeman JJ, Slagboom PE, Nelissen RG, Bos SD, Meulenbelt I (2014)
Genes involved in the osteoarthritis process identified through genome wide expression analysis in articular cartilage; the RAAK study
PLoS One, 9 (7), e103056
DOI 10.1371/journal.pone.0103056, PubMed 25054223
Publications 2013
Evangelou E, Kerkhof HJ, Styrkarsdottir U, Ntzani EE, Bos SD, Esko T, Evans DS, Metrustry S, Panoutsopoulou K, Ramos YF, Thorleifsson G, Tsilidis KK, arcOGEN Consortium, Arden N, Aslam N, Bellamy N, Birrell F, Blanco FJ, Carr A, Chapman K, Day-Williams AG, Deloukas P, Doherty M, Engström G, Helgadottir HT et al. (2013)
A meta-analysis of genome-wide association studies identifies novel variants associated with osteoarthritis of the hip
Ann Rheum Dis, 73 (12), 2130-6
DOI 10.1136/annrheumdis-2012-203114, PubMed 23989986
Harbo HF, Isobe N, Berg-Hansen P, Bos SD, Caillier SJ, Gustavsen MW, Mero IL, Celius EG, Hauser SL, Oksenberg JR, Gourraud PA (2013)
Oligoclonal bands and age at onset correlate with genetic risk score in multiple sclerosis
Mult Scler, 20 (6), 660-8
DOI 10.1177/1352458513506503, PubMed 24099750
Leijten JC, Bos SD, Landman EB, Georgi N, Jahr H, Meulenbelt I, Post JN, van Blitterswijk CA, Karperien M (2013)
GREM1, FRZB and DKK1 mRNA levels correlate with osteoarthritis and are regulated by osteoarthritis-associated factors
Arthritis Res Ther, 15 (5), R126
DOI 10.1186/ar4306, PubMed 24286177
Porcu E, Medici M, Pistis G, Volpato CB, Wilson SG, Cappola AR, Bos SD, Deelen J, den Heijer M, Freathy RM, Lahti J, Liu C, Lopez LM, Nolte IM, O'Connell JR, Tanaka T, Trompet S, Arnold A, Bandinelli S, Beekman M, Böhringer S, Brown SJ, Buckley BM, Camaschella C, de Craen AJ et al. (2013)
A meta-analysis of thyroid-related traits reveals novel loci and gender-specific differences in the regulation of thyroid function
PLoS Genet, 9 (2), e1003266
DOI 10.1371/journal.pgen.1003266, PubMed 23408906
Ramos YF, Bos SD, Lakenberg N, Böhringer S, den Hollander WJ, Kloppenburg M, Slagboom PE, Meulenbelt I (2013)
Genes expressed in blood link osteoarthritis with apoptotic pathways
Ann Rheum Dis, 73 (10), 1844-53
DOI 10.1136/annrheumdis-2013-203405, PubMed 23864235
Slieker RC, Bos SD, Goeman JJ, Bovée JV, Talens RP, van der Breggen R, Suchiman HE, Lameijer EW, Putter H, van den Akker EB, Zhang Y, Jukema JW, Slagboom PE, Meulenbelt I, Heijmans BT (2013)
Identification and systematic annotation of tissue-specific differentially methylated regions using the Illumina 450k array
Epigenetics Chromatin, 6 (1), 26
DOI 10.1186/1756-8935-6-26, PubMed 23919675
Publications 2012
arcOGEN Consortium, arcOGEN Collaborators, Zeggini E, Panoutsopoulou K, Southam L, Rayner NW, Day-Williams AG, Lopes MC, Boraska V, Esko T, Evangelou E, Hoffman A, Houwing-Duistermaat JJ, Ingvarsson T, Jonsdottir I, Jonnson H, Kerkhof HJ, Kloppenburg M, Bos SD, Mangino M, Metrustry S, Slagboom PE, Thorleifsson G, Raine EV, Ratnayake M et al. (2012)
Identification of new susceptibility loci for osteoarthritis (arcOGEN): a genome-wide association study
Lancet, 380 (9844), 815-23
DOI 10.1016/S0140-6736(12)60681-3, PubMed 22763110
Bos SD, Beekman M, Maier AB, Karsdal MA, Kwok WY, Bay-Jensen AC, Kloppenburg M, Slagboom PE, Meulenbelt I (2012)
Metabolic health in families enriched for longevity is associated with low prevalence of hand osteoarthritis and influences OA biomarker profiles
Ann Rheum Dis, 72 (10), 1669-74
DOI 10.1136/annrheumdis-2012-202013, PubMed 23104762
Bos SD, Bovée JV, Duijnisveld BJ, Raine EV, van Dalen WJ, Ramos YF, van der Breggen R, Nelissen RG, Slagboom PE, Loughlin J, Meulenbelt I (2012)
Increased type II deiodinase protein in OA-affected cartilage and allelic imbalance of OA risk polymorphism rs225014 at DIO2 in human OA joint tissues
Ann Rheum Dis, 71 (7), 1254-8
DOI 10.1136/annrheumdis-2011-200981, PubMed 22492780
Publications 2010
Bos SD, Lakenberg N, van der Breggen R, Houwing-Duistermaat JJ, Kloppenburg M, de Craen AJ, Beekman M, Meulenbelt I, Slagboom PE (2010)
A genome-wide linkage scan reveals CD53 as an important regulator of innate TNF-alpha levels
Eur J Hum Genet, 18 (8), 953-9
DOI 10.1038/ejhg.2010.52, PubMed 20407468
Evangelou E, Valdes AM, Kerkhof HJ, Styrkarsdottir U, Zhu Y, Meulenbelt I, Lories RJ, Karassa FB, Tylzanowski P, Bos SD, arcOGEN Consortium, Akune T, Arden NK, Carr A, Chapman K, Cupples LA, Dai J, Deloukas P, Doherty M, Doherty S, Engstrom G, Gonzalez A, Halldorsson BV, Hammond CL, Hart DJ et al. (2010)
Meta-analysis of genome-wide association studies confirms a susceptibility locus for knee osteoarthritis on chromosome 7q22
Ann Rheum Dis, 70 (2), 349-55
DOI 10.1136/ard.2010.132787, PubMed 21068099
Meulenbelt I, Bos SD, Chapman K, van der Breggen R, Houwing-Duistermaat JJ, Kremer D, Kloppenburg M, Carr A, Tsezou A, González A, Loughlin J, Slagboom PE (2010)
Meta-analyses of genes modulating intracellular T3 bio-availability reveal a possible role for the DIO3 gene in osteoarthritis susceptibility
Ann Rheum Dis, 70 (1), 164-7
DOI 10.1136/ard.2010.133660, PubMed 20724312
Meulenbelt I, Bos SD, Kloppenburg M, Lakenberg N, Houwing-Duistermaat JJ, Watt I, de Craen AJ, van Duijn CM, Slagboom PE (2010)
Interleukin-1 gene cluster variants with innate cytokine production profiles and osteoarthritis in subjects from the Genetics, Osteoarthritis and Progression Study
Arthritis Rheum, 62 (4), 1119-26
DOI 10.1002/art.27325, PubMed 20131253
Publications 2008
Bos SD, Slagboom PE, Meulenbelt I (2008)
New insights into osteoarthritis: early developmental features of an ageing-related disease
Curr Opin Rheumatol, 20 (5), 553-9
DOI 10.1097/BOR.0b013e32830aba48, PubMed 18698177
Publications 2005
Goettsch WG, Bos SD, Breekveldt-Postma N, Casparie M, Herings RM, Hogendoorn PC (2005)
Incidence of gastrointestinal stromal tumours is underestimated: results of a nation-wide study
Eur J Cancer, 41 (18), 2868-72
DOI 10.1016/j.ejca.2005.09.009, PubMed 16293410