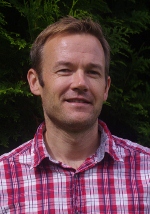 Pål Berg-Hansen
Post.doc, senior consultant of neurology; MD, PhD
+47 221 19926
Pål Berg-Hansen has a medical degree from University of Oslo (UiO) from 1998 and is a specialist in neurology from 2007. He is a senior consultant at the Department of Neurology, Oslo University Hospital with a special interest in MS patients and attended the PhD-project in January 2012.
PhD project:
The title of his PhD thesis is "Clinical and epidemiological studies of immigrants with multiple sclerosis in Norway ."
In the first part of the project he is studying differences in disease severity and oligoclonal band status between different ethnical groups with MS in Oslo. The second part is a registry based prevalence study of immigrant groups in Norway, where differences in disease severity is measured by prescription of disease modifying drugs.
Main supervisor: Elisabeth Gulowsen Celius (MD, PhD.)
Co-supervisors: Hanne F. Harbo (MD, PhD) and Stine Marit Moen (MD, PhD).
Research interests:
Epidemiology
Migration studies
Clinical studies
Environmental factors associated with MS
Biomarkers
Address: Department of Neurology, Oslo University Hospital and University of Oslo, 0407 Oslo, Norway
Publications 2023
Berg-Hansen P, Moen SM, Klyve TD, Gonzalez V, Seeberg TM, Celius EG, Austeng A, Meyer F (2023)
The instrumented single leg stance test detects early balance impairment in people with multiple sclerosis
Front Neurol, 14, 1227374
DOI 10.3389/fneur.2023.1227374, PubMed 37538255
Broch L, Flemmen HØ, Simonsen CS, Berg-Hansen P, Ormstad H, Brunborg C, Celius EG (2023)
"No association between disease modifying treatment and fatigue in multiple sclerosis"
Mult Scler Relat Disord, 79, 104993 (in press)
DOI 10.1016/j.msard.2023.104993, PubMed 37708819
Brune-Ingebretsen S, Høgestøl EA, de Rosbo NK, Berg-Hansen P, Brunborg C, Blennow K, Zetterberg H, Paul F, Uccelli A, Villoslada P, Harbo HF, Berge T (2023)
Immune cell subpopulations and serum neurofilament light chain are associated with increased risk of disease worsening in multiple sclerosis
J Neuroimmunol, 382, 578175
DOI 10.1016/j.jneuroim.2023.578175, PubMed 37573634
Publications 2022
Berg-Hansen P, Moen SM, Austeng A, Gonzales V, Klyve TD, Negård H, Seeberg TM, Celius EG, Meyer F (2022)
Sensor-based gait analyses of the six-minute walk test identify qualitative improvement in gait parameters of people with multiple sclerosis after rehabilitation
J Neurol, 269 (7), 3723-3734
DOI 10.1007/s00415-022-10998-z, PubMed 35166925
Broch L, Flemmen HØ, Simonsen CS, Berg-Hansen P, Ormstad H, Brunborg C, Celius EG (2022)
Fatigue in multiple sclerosis is associated with socioeconomic factors
Mult Scler Relat Disord, 64, 103955
DOI 10.1016/j.msard.2022.103955, PubMed 35753177
Brune S, Høgestøl EA, de Rodez Benavent SA, Berg-Hansen P, Beyer MK, Leikfoss IS, Bos SD, Sowa P, Brunborg C, Andorra M, Pulido Valdeolivas I, Asseyer S, Brandt A, Chien C, Scheel M, Blennow K, Zetterberg H, Kerlero de Rosbo N, Paul F, Uccelli A, Villoslada P, Berge T, Harbo HF (2022)
Serum neurofilament light chain concentration predicts disease worsening in multiple sclerosis
Mult Scler, 28 (12), 1859-1870
DOI 10.1177/13524585221097296, PubMed 35658739
Drobnjak Nes D, Berg-Hansen P, de Rodez Benavent SA, Høgestøl EA, Beyer MK, Rinker DA, Veiby N, Karabeg M, Petrovski BÉ, Celius EG, Harbo HF, Petrovski G (2022)
Exploring Retinal Blood Vessel Diameters as Biomarkers in Multiple Sclerosis
J Clin Med, 11 (11)
DOI 10.3390/jcm11113109, PubMed 35683496
Flemmen HØ, Simonsen CS, Broch L, Brunborg C, Berg-Hansen P, Moen SM, Kersten H, Celius EG (2022)
The influence of socioeconomic factors on access to disease modifying treatment in a Norwegian multiple sclerosis cohort
Mult Scler Relat Disord, 61, 103759
DOI 10.1016/j.msard.2022.103759, PubMed 35358792
Lindeman I, Polak J, Qiao SW, Holmøy T, Høglund RA, Vartdal F, Berg-Hansen P, Sollid LM, Lossius A (2022)
Stereotyped B-cell responses are linked to IgG constant region polymorphisms in multiple sclerosis
Eur J Immunol, 52 (4), 550-565
DOI 10.1002/eji.202149576, PubMed 35094395
Simonsen CS, Flemmen HØ, Broch L, Brekke K, Brunborg C, Berg-Hansen P, Celius EG (2022)
Rebaseline no evidence of disease activity (NEDA-3) as a predictor of long-term disease course in a Norwegian multiple sclerosis population
Front Neurol, 13, 1034056
DOI 10.3389/fneur.2022.1034056, PubMed 36452173
Publications 2021
Broch L, Simonsen CS, Flemmen HØ, Berg-Hansen P, Skardhamar Å, Ormstad H, Celius EG (2021)
High prevalence of fatigue in contemporary patients with multiple sclerosis
Mult Scler J Exp Transl Clin, 7 (1), 2055217321999826
DOI 10.1177/2055217321999826, PubMed 33796331
Flemmen HØ, Simonsen CS, Broch L, Brunborg C, Berg-Hansen P, Moen SM, Kersten H, Celius EG (2021)
Maternal education has significant influence on progression in multiple sclerosis
Mult Scler Relat Disord, 53, 103052
DOI 10.1016/j.msard.2021.103052, PubMed 34111658
Simonsen CS, Flemmen HØ, Broch L, Brunborg C, Berg-Hansen P, Moen SM, Celius EG (2021)
Early High Efficacy Treatment in Multiple Sclerosis Is the Best Predictor of Future Disease Activity Over 1 and 2 Years in a Norwegian Population-Based Registry
Front Neurol, 12, 693017
DOI 10.3389/fneur.2021.693017, PubMed 34220694
Simonsen CS, Flemmen HØ, Broch L, Brunborg C, Berg-Hansen P, Moen SM, Celius EG (2021)
No significant differences in absenteeism or academic achievements in a Norwegian multiple sclerosis case control study
Mult Scler Relat Disord, 54, 103141
DOI 10.1016/j.msard.2021.103141, PubMed 34273610
Publications 2020
Brune S, Høgestøl EA, Cengija V, Berg-Hansen P, Sowa P, Nygaard GO, Harbo HF, Beyer MK (2020)
LesionQuant for Assessment of MRI in Multiple Sclerosis-A Promising Supplement to the Visual Scan Inspection
Front Neurol, 11, 546744
DOI 10.3389/fneur.2020.546744, PubMed 33362682
Flemmen HØ, Simonsen CS, Berg-Hansen P, Moen SM, Kersten H, Heldal K, Celius EG (2020)
Prevalence of multiple sclerosis in rural and urban districts in Telemark county, Norway
Mult Scler Relat Disord, 45, 102352
DOI 10.1016/j.msard.2020.102352, PubMed 32707528
Simonsen CS, Flemmen HØ, Broch L, Brunborg C, Berg-Hansen P, Moen SM, Celius EG (2020)
The course of multiple sclerosis rewritten: a Norwegian population-based study on disease demographics and progression
J Neurol, 268 (4), 1330-1341
DOI 10.1007/s00415-020-10279-7, PubMed 33090270
Simonsen CS, Flemmen HØ, Lauritzen T, Berg-Hansen P, Moen SM, Celius EG (2020)
The diagnostic value of IgG index versus oligoclonal bands in cerebrospinal fluid of patients with multiple sclerosis
Mult Scler J Exp Transl Clin, 6 (1), 2055217319901291
DOI 10.1177/2055217319901291, PubMed 32030196
Publications 2019
Berge T, Eriksson A, Brorson IS, Høgestøl EA, Berg-Hansen P, Døskeland A, Mjaavatten O, Bos SD, Harbo HF, Berven F (2019)
Quantitative proteomic analyses of CD4+ and CD8+ T cells reveal differentially expressed proteins in multiple sclerosis patients and healthy controls
Clin Proteomics, 16, 19
DOI 10.1186/s12014-019-9241-5, PubMed 31080378
Brorson IS, Eriksson A, Leikfoss IS, Celius EG, Berg-Hansen P, Barcellos LF, Berge T, Harbo HF, Bos SD (2019)
No differential gene expression for CD4+ T cells of MS patients and healthy controls
Mult Scler J Exp Transl Clin, 5 (2), 2055217319856903
DOI 10.1177/2055217319856903, PubMed 31223483
Ghaderi S, Berg-Hansen P, Bakken IJ, Magnus P, Trogstad L, Håberg SE (2019)
Hospitalization following influenza infection and pandemic vaccination in multiple sclerosis patients: a nationwide population-based registry study from Norway
Eur J Epidemiol, 35 (4), 355-362
DOI 10.1007/s10654-019-00595-2, PubMed 31873811
Storm-Larsen C, Myhr KM, Farbu E, Midgard R, Nyquist K, Broch L, Berg-Hansen P, Buness A, Holm K, Ueland T, Fallang LE, Burum-Auensen E, Hov JR, Holmøy T (2019)
Gut microbiota composition during a 12-week intervention with delayed-release dimethyl fumarate in multiple sclerosis - a pilot trial
Mult Scler J Exp Transl Clin, 5 (4), 2055217319888767
DOI 10.1177/2055217319888767, PubMed 31798939
Publications 2018
Bajwa SK, Nilsen KB, Erichsen EAS, Berg-Hansen P, Harbo HF (2018)
[A man in his 50s with dizziness, double vision and walking difficulties]
Tidsskr Nor Laegeforen, 138 (3)
DOI 10.4045/tidsskr.16.1109, PubMed 29411576
Bajwa SK, Nilsen KB, Erichsen EAS, Berg-Hansen P, Harbo HF (2018)
A man in the 50s with dizziness, double vision and walking difficulties
Tidsskr. Nor. Laegeforen., 138 (3), 253-256
Rhead B, Brorson IS, Berge T, Adams C, Quach H, Moen SM, Berg-Hansen P, Celius EG, Sangurdekar DP, Bronson PG, Lea RA, Burnard S, Maltby VE, Scott RJ, Lechner-Scott J, Harbo HF, Bos SD, Barcellos LF (2018)
Increased DNA methylation of SLFN12 in CD4+ and CD8+ T cells from multiple sclerosis patients
PLoS One, 13 (10), e0206511
DOI 10.1371/journal.pone.0206511, PubMed 30379917
Sowa P, Harbo HF, White NS, Celius EG, Bartsch H, Berg-Hansen P, Moen SM, Bjørnerud A, Westlye LT, Andreassen OA, Dale AM, Beyer MK (2018)
Restriction spectrum imaging of white matter and its relation to neurological disability in multiple sclerosis
Mult Scler, 25 (5), 687-698
DOI 10.1177/1352458518765671, PubMed 29542336
Publications 2016
Berg-Hansen P (2016)
[Not Available]
Tidsskr Nor Laegeforen, 136 (2), 157
DOI 10.4045/tidsskr.15.1017, PubMed 26813826
Gustavsen MW, Celius EG, Winsvold BS, Moen SM, Nygaard GO, Berg-Hansen P, Lie BA, Zwart JA, Harbo HF (2016)
Migraine and frequent tension-type headache are not associated with multiple sclerosis in a Norwegian case-control study
Mult Scler J Exp Transl Clin, 2, 2055217316682976
DOI 10.1177/2055217316682976, PubMed 28607748
Simonsen CS, Edland A, Berg-Hansen P, Celius EG (2016)
High prevalence and increasing incidence of multiple sclerosis in the Norwegian county of Buskerud
Acta Neurol Scand, 135 (4), 412-418
DOI 10.1111/ane.12615, PubMed 27241360
Publications 2015
Berg-Hansen P, Celius EG (2015)
Socio-economic factors and immigrant population studies of multiple sclerosis
Acta Neurol Scand, 132 (199), 37-41
DOI 10.1111/ane.12429, PubMed 26046557
Berg-Hansen P, Moen SM, Harbo HF, Celius EG (2015)
Comments on the review article 'Time trends in the incidence and prevalence of multiple sclerosis in Norway during eight decades'
Acta Neurol Scand, 132 (5), 364-7
DOI 10.1111/ane.12489, PubMed 26423981
Goris A, Pauwels I, Gustavsen MW, van Son B, Hilven K, Bos SD, Celius EG, Berg-Hansen P, Aarseth J, Myhr KM, D'Alfonso S, Barizzone N, Leone MA, Martinelli Boneschi F, Sorosina M, Liberatore G, Kockum I, Olsson T, Hillert J, Alfredsson L, Bedri SK, Hemmer B, Buck D, Berthele A, Knier B et al. (2015)
Genetic variants are major determinants of CSF antibody levels in multiple sclerosis
Brain, 138 (Pt 3), 632-43
DOI 10.1093/brain/awu405, PubMed 25616667
Publications 2014
Berg-Hansen P, Moen SM, Harbo HF, Celius EG (2014)
High prevalence and no latitude gradient of multiple sclerosis in Norway
Mult Scler, 20 (13), 1780-2
DOI 10.1177/1352458514525871, PubMed 24603884
Berg-Hansen P, Moen SM, Sandvik L, Harbo HF, Bakken IJ, Stoltenberg C, Celius EG (2014)
Prevalence of multiple sclerosis among immigrants in Norway
Mult Scler, 21 (6), 695-702
DOI 10.1177/1352458514554055, PubMed 25344371
Gustavsen MW, Celius EG, Moen SM, Bjølgerud A, Berg-Hansen P, Nygaard GO, Sandvik L, Lie BA, Harbo HF (2014)
No association between multiple sclerosis and periodontitis after adjusting for smoking habits
Eur J Neurol, 22 (3), 588-90
DOI 10.1111/ene.12520, PubMed 25041906
Gustavsen MW, Page CM, Moen SM, Bjølgerud A, Berg-Hansen P, Nygaard GO, Sandvik L, Lie BA, Celius EG, Harbo HF (2014)
Environmental exposures and the risk of multiple sclerosis investigated in a Norwegian case-control study
BMC Neurol, 14, 196
DOI 10.1186/s12883-014-0196-x, PubMed 25274070
Gustavsen MW, Viken MK, Celius EG, Berge T, Mero IL, Berg-Hansen P, Aarseth JH, Myhr KM, Søndergaard HB, Sellebjerg F, Oturai AB, Hillert J, Alfredsson L, Olsson T, Kockum I, Lie BA, Harbo HF (2014)
Oligoclonal band phenotypes in MS differ in their HLA class II association, while specific KIR ligands at HLA class I show association to MS in general
J Neuroimmunol, 274 (1-2), 174-9
DOI 10.1016/j.jneuroim.2014.06.024, PubMed 25037176
Publications 2013
Berg-Hansen P, Smestad C, Sandvik L, Harbo HF, Celius EG (2013)
Increased disease severity in non-Western immigrants with multiple sclerosis in Oslo, Norway
Eur J Neurol, 20 (12), 1546-52
DOI 10.1111/ene.12227, PubMed 23834430
Harbo HF, Isobe N, Berg-Hansen P, Bos SD, Caillier SJ, Gustavsen MW, Mero IL, Celius EG, Hauser SL, Oksenberg JR, Gourraud PA (2013)
Oligoclonal bands and age at onset correlate with genetic risk score in multiple sclerosis
Mult Scler, 20 (6), 660-8
DOI 10.1177/1352458513506503, PubMed 24099750
Mero IL, Gustavsen MW, Sæther HS, Flåm ST, Berg-Hansen P, Søndergaard HB, Jensen PE, Berge T, Bjølgerud A, Muggerud A, Aarseth JH, International Multiple Sclerosis Genetics Consortium, Myhr KM, Celius EG, Sellebjerg F, Hillert J, Alfredsson L, Olsson T, Oturai AB, Kockum I, Lie BA, Andreassen BK, Harbo HF (2013)
Oligoclonal band status in Scandinavian multiple sclerosis patients is associated with specific genetic risk alleles
PLoS One, 8 (3), e58352
DOI 10.1371/journal.pone.0058352, PubMed 23472185
Publications 2012
Nilsen KB, Berg-Hansen P, Berge E, Petterson MA, Gjesdal K (2012)
[A man with debilitating orthostatic hypotension]
Tidsskr Nor Laegeforen, 132 (15), 1758-61
DOI 10.4045/tidsskr.11.1360, PubMed 22929944
Publications 2010
Holmøy T, Wilson JA, von der Lippe C, Andersen PM, Berg-Hansen P (2010)
G127R: A novel SOD1 mutation associated with rapidly evolving ALS and severe pain syndrome
Amyotroph Lateral Scler, 11 (5), 478-80
DOI 10.3109/17482960903580315, PubMed 20192886
Publications 2009
Berg-Hansen P, Vandvik B, Fagerhol M, Holmøy T (2009)
Calprotectin levels in the cerebrospinal fluid reflect disease activity in multiple sclerosis
J Neuroimmunol, 216 (1-2), 98-102
DOI 10.1016/j.jneuroim.2009.09.006, PubMed 19800696