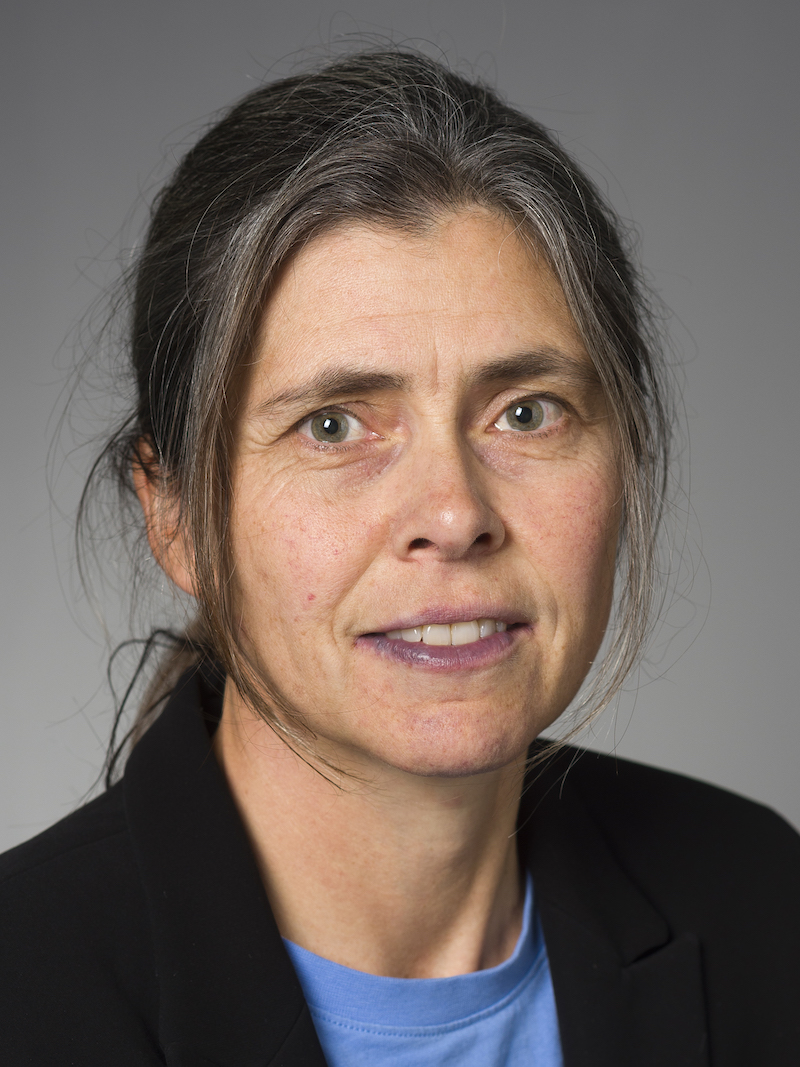 Tone Berge
Head of Section - Neuroscience Research Unit and Professor in Biotechnology at OsloMet - Oslo Metropolitan University; PhD, MSc
+47 230 79027
Tone Berge has a Master and PhD degree in Biochemistry from the Institute of Biosciences, University of Oslo, where she studied the hematopoietic transcription factor c-Myb using yeast and mammalian cell line models. At the Department of Anatomy, Institute of Basic Medical Sciences, University of Oslo, she has performed postdoctoral research on T cells signaling, studying the adapter protein TSAd, using murine models.
Project/Research interest:
Tone Berges main focus is to use molecular immunology technology to get mechanistic insights into disease mechanisms behind multiple sclerosis (MS). Berge and her students are performing molecular studies in selected immune cells to understand the biological significance behind MS susceptibility genes identified through global "omics" approaches. Berge is currently the main supervisor of PhD student Anna Erikson (UiO) and Chiara Cappelletti (OsloMet) and co-supervisor of PhD student Ina S. Brorson (UIO/OUH).
Research interest:
Autoimmunity
Multiple sclerosis
Molecular immunology
T cell activation
Transcriptional regulation
Vitamin D and MS
Biomarkers in MS
Previous students in the MS research group (as main supervisor):
PhD student Pankaj Kumar Keshari, thesis defense 23.05.17 - Genetic and molecular studies of multiple sclerosis associated genes.
PhD student Ingvild Sørum Leikfoss, thesis defense: 30.10.15 - Characterization of multiple sclerosis susceptibility genes, genetic and molecular studies in T cells.

Master students: Zakia S. Raja (2020), Oda Kråbøl (2020), Mikal Fitsum Alem (2019), Ingrid Mo (2017), Fernanda Kropf Correia (2017) Ina Skaara Brorson (2015), Anna Eriksson (2014)
Bachelor students: Oda Krabøl and Kristin Redving Haga (2018); Maite Larranga (Erasmus) (2018)
Previous students (as co supervisor):

PhD student Marte Wendel Gustavsen (main supervisor Hanne F. Harbo), thesis defence: 13.12.15 - Genetic, clinical and environmental aspects of multiple sclerosis.
Master student (Erasmus): Melanie Van Cauwenberghe (2016)
Publications 2023
Brune-Ingebretsen S, Høgestøl EA, de Rosbo NK, Berg-Hansen P, Brunborg C, Blennow K, Zetterberg H, Paul F, Uccelli A, Villoslada P, Harbo HF, Berge T (2023)
Immune cell subpopulations and serum neurofilament light chain are associated with increased risk of disease worsening in multiple sclerosis
J Neuroimmunol, 382, 578175
DOI 10.1016/j.jneuroim.2023.578175, PubMed 37573634
Publications 2022
Brune S, Høgestøl EA, de Rodez Benavent SA, Berg-Hansen P, Beyer MK, Leikfoss IS, Bos SD, Sowa P, Brunborg C, Andorra M, Pulido Valdeolivas I, Asseyer S, Brandt A, Chien C, Scheel M, Blennow K, Zetterberg H, Kerlero de Rosbo N, Paul F, Uccelli A, Villoslada P, Berge T, Harbo HF (2022)
Serum neurofilament light chain concentration predicts disease worsening in multiple sclerosis
Mult Scler, 28 (12), 1859-1870
DOI 10.1177/13524585221097296, PubMed 35658739
Cappelletti C, Eriksson A, Brorson IS, Leikfoss IS, Kråbøl O, Høgestøl EA, Vitelli V, Mjaavatten O, Harbo HF, Berven F, Bos SD, Berge T (2022)
Quantitative proteomics reveals protein dysregulation during T cell activation in multiple sclerosis patients compared to healthy controls
Clin Proteomics, 19 (1), 23
DOI 10.1186/s12014-022-09361-1, PubMed 35790914
Rise HH, Brune S, Chien C, Berge T, Bos SD, Andorrà M, Valdeolivas IP, Beyer MK, Sowa P, Scheel M, Brandt AU, Asseyer S, Blennow K, Pedersen ML, Zetterberg H, de Schotten MT, Cellerino M, Uccelli A, Paul F, Villoslada P, Harbo HF, Westlye LT, Høgestøl EA (2022)
Brain disconnectome mapping derived from white matter lesions and serum neurofilament light levels in multiple sclerosis: A longitudinal multicenter study
Neuroimage Clin, 35, 103099
DOI 10.1016/j.nicl.2022.103099, PubMed 35772194
Publications 2021
Eriksson AM, Leikfoss IS, Abrahamsen G, Sundvold V, Isom MM, Keshari PK, Rognes T, Landsverk OJB, Bos SD, Harbo HF, Spurkland A, Berge T (2021)
Exploring the role of the multiple sclerosis susceptibility gene CLEC16A in T cells
Scand J Immunol, 94 (1), e13050
DOI 10.1111/sji.13050, PubMed 34643957
König M, Lorentzen ÅR, Torgauten HM, Tran TT, Schikora-Rustad S, Vaage EB, Mygland Å, Wergeland S, Aarseth J, Aaberge IAS, Torkildsen Ø, Holmøy T, Berge T, Myhr KM, Harbo HF, Andersen JT, Munthe LA, Søraas A, Celius EG, Vaage JT, Lund-Johansen F, Nygaard GO (2021)
Humoral immunity to SARS-CoV-2 mRNA vaccination in multiple sclerosis: the relevance of time since last rituximab infusion and first experience from sporadic revaccinations
J Neurol Neurosurg Psychiatry, 94 (1), 19-22
DOI 10.1136/jnnp-2021-327612, PubMed 34670844
Aamodt AH, Høgestøl EA, Popperud TH, Holter JC, Dyrhol-Riise AM, Tonby K, Stiksrud B, Quist-Paulsen E, Berge T, Barratt-Due A, Aukrust P, Heggelund L, Blennow K, Zetterberg H, Harbo HF (2021)
Blood neurofilament light concentration at admittance: a potential prognostic marker in COVID-19
J Neurol, 268 (10), 3574-3583
DOI 10.1007/s00415-021-10517-6, PubMed 33743046
Publications 2020
Cellerino M, Ivaldi F, Pardini M, Rotta G, Vila G, Bäcker-Koduah P, Berge T, Laroni A, Lapucci C, Novi G, Boffa G, Sbragia E, Palmeri S, Asseyer S, Høgestøl E, Campi C, Piana M, Inglese M, Paul F, Harbo HF, Villoslada P, Kerlero de Rosbo N, Uccelli A (2020)
Impact of treatment on cellular immunophenotype in MS: A cross-sectional study
Neurol Neuroimmunol Neuroinflamm, 7 (3)
DOI 10.1212/NXI.0000000000000693, PubMed 32139439
Publications 2019
Berge T, Eriksson A, Brorson IS, Høgestøl EA, Berg-Hansen P, Døskeland A, Mjaavatten O, Bos SD, Harbo HF, Berven F (2019)
Quantitative proteomic analyses of CD4+ and CD8+ T cells reveal differentially expressed proteins in multiple sclerosis patients and healthy controls
Clin Proteomics, 16, 19
DOI 10.1186/s12014-019-9241-5, PubMed 31080378
Brorson IS, Eriksson A, Leikfoss IS, Celius EG, Berg-Hansen P, Barcellos LF, Berge T, Harbo HF, Bos SD (2019)
No differential gene expression for CD4+ T cells of MS patients and healthy controls
Mult Scler J Exp Transl Clin, 5 (2), 2055217319856903
DOI 10.1177/2055217319856903, PubMed 31223483
Publications 2018
Rhead B, Brorson IS, Berge T, Adams C, Quach H, Moen SM, Berg-Hansen P, Celius EG, Sangurdekar DP, Bronson PG, Lea RA, Burnard S, Maltby VE, Scott RJ, Lechner-Scott J, Harbo HF, Bos SD, Barcellos LF (2018)
Increased DNA methylation of SLFN12 in CD4+ and CD8+ T cells from multiple sclerosis patients
PLoS One, 13 (10), e0206511
DOI 10.1371/journal.pone.0206511, PubMed 30379917
Publications 2016
Keshari PK, Harbo HF, Myhr KM, Aarseth JH, Bos SD, Berge T (2016)
Allelic imbalance of multiple sclerosis susceptibility genes IKZF3 and IQGAP1 in human peripheral blood
BMC Genet, 17, 59
DOI 10.1186/s12863-016-0367-4, PubMed 27080863
Publications 2015
Bos SD, Page CM, Andreassen BK, Elboudwarej E, Gustavsen MW, Briggs F, Quach H, Leikfoss IS, Bjølgerud A, Berge T, Harbo HF, Barcellos LF (2015)
Genome-wide DNA methylation profiles indicate CD8+ T cell hypermethylation in multiple sclerosis
PLoS One, 10 (3), e0117403
DOI 10.1371/journal.pone.0117403, PubMed 25734800
Leikfoss IS, Keshari PK, Gustavsen MW, Bjølgerud A, Brorson IS, Celius EG, Spurkland A, Bos SD, Harbo HF, Berge T (2015)
Multiple Sclerosis Risk Allele in CLEC16A Acts as an Expression Quantitative Trait Locus for CLEC16A and SOCS1 in CD4+ T Cells
PLoS One, 10 (7), e0132957
DOI 10.1371/journal.pone.0132957, PubMed 26203907
Wedding IM, Kroken M, Henriksen SP, Selmer KK, Fiskerstrand T, Knappskog PM, Berge T, Tallaksen CM (2015)
Friedreich ataxia in Norway - an epidemiological, molecular and clinical study
Orphanet J Rare Dis, 10, 108
DOI 10.1186/s13023-015-0328-4, PubMed 26338206
Publications 2014
Eriksen AB, Berge T, Gustavsen MW, Leikfoss IS, Bos SD, Spurkland A, Harbo HF, Blomhoff HK (2014)
Retinoic acid enhances the levels of IL-10 in TLR-stimulated B cells from patients with relapsing-remitting multiple sclerosis
J Neuroimmunol, 278, 11-8
DOI 10.1016/j.jneuroim.2014.11.019, PubMed 25595247
Granum S, Sundvold-Gjerstad V, Gopalakrishnan RP, Berge T, Koll L, Abrahamsen G, Sørlie M, Spurkland A (2014)
The kinase Itk and the adaptor TSAd change the specificity of the kinase Lck in T cells by promoting the phosphorylation of Tyr192
Sci Signal, 7 (355), ra118
DOI 10.1126/scisignal.2005384, PubMed 25492967
Gustavsen MW, Viken MK, Celius EG, Berge T, Mero IL, Berg-Hansen P, Aarseth JH, Myhr KM, Søndergaard HB, Sellebjerg F, Oturai AB, Hillert J, Alfredsson L, Olsson T, Kockum I, Lie BA, Harbo HF (2014)
Oligoclonal band phenotypes in MS differ in their HLA class II association, while specific KIR ligands at HLA class I show association to MS in general
J Neuroimmunol, 274 (1-2), 174-9
DOI 10.1016/j.jneuroim.2014.06.024, PubMed 25037176
Publications 2013
Berge T, Leikfoss IS, Harbo HF (2013)
From Identification to Characterization of the Multiple Sclerosis Susceptibility Gene CLEC16A
Int J Mol Sci, 14 (3), 4476-97
DOI 10.3390/ijms14034476, PubMed 23439554
Mero IL, Gustavsen MW, Sæther HS, Flåm ST, Berg-Hansen P, Søndergaard HB, Jensen PE, Berge T, Bjølgerud A, Muggerud A, Aarseth JH, International Multiple Sclerosis Genetics Consortium, Myhr KM, Celius EG, Sellebjerg F, Hillert J, Alfredsson L, Olsson T, Oturai AB, Kockum I, Lie BA, Andreassen BK, Harbo HF (2013)
Oligoclonal band status in Scandinavian multiple sclerosis patients is associated with specific genetic risk alleles
PLoS One, 8 (3), e58352
DOI 10.1371/journal.pone.0058352, PubMed 23472185
Publications 2012
Berge T, Grønningsæter IH, Lorvik KB, Abrahamsen G, Granum S, Sundvold-Gjerstad V, Corthay A, Bogen B, Spurkland A (2012)
SH2D2A modulates T cell mediated protection to a B cell derived tumor in transgenic mice
PLoS One, 7 (10), e48239
DOI 10.1371/journal.pone.0048239, PubMed 23144743
Publications 2010
Berge T, Sundvold-Gjerstad V, Granum S, Andersen TC, Holthe GB, Claesson-Welsh L, Andreotti AH, Inngjerdingen M, Spurkland A (2010)
T cell specific adapter protein (TSAd) interacts with Tec kinase ITK to promote CXCL12 induced migration of human and murine T cells
PLoS One, 5 (3), e9761
DOI 10.1371/journal.pone.0009761, PubMed 20305788
Kolltveit KM, Schreurs O, Ostrem J, Søland TM, Khuu C, Berge T, Messelt E, Hayashi K, Granum S, Spurkland A, Schenck K (2010)
Expression of the T-cell-specific adapter protein in oral epithelium
Eur J Oral Sci, 118 (2), 159-67
DOI 10.1111/j.1600-0722.2010.00719.x, PubMed 20487005
Publications 2008
Granum S, Andersen TC, Sørlie M, Jørgensen M, Koll L, Berge T, Lea T, Fleckenstein B, Spurkland A, Sundvold-Gjerstad V (2008)
Modulation of Lck function through multisite docking to T cell-specific adapter protein
J Biol Chem, 283 (32), 21909-19
DOI 10.1074/jbc.M800871200, PubMed 18541536
Publications 2007
Berge T, Matre V, Brendeford EM, Saether T, Lüscher B, Gabrielsen OS (2007)
Revisiting a selection of target genes for the hematopoietic transcription factor c-Myb using chromatin immunoprecipitation and c-Myb knockdown
Blood Cells Mol Dis, 39 (3), 278-86
DOI 10.1016/j.bcmd.2007.05.007, PubMed 17587615