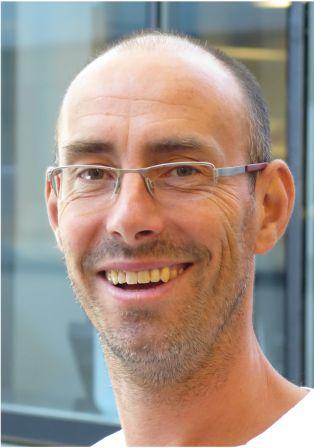 Sebastian Imre Sarvari
Sebastian Sarvari, MD, PhD, Consultant Cardiologist, Department of Cardiology, Rikshospitalet, Oslo University Hospital.
He defended his PhD thesis titled "Detection of subtle myocardial alterations by echocardiographic techniques for improved prognostic information in patients with heart disease." in September 2013. Sarvari's main supervisor was Professor Thor Edvardsen, MD, PhD.
Sarvari showed that new ultrasound methods can detect cardiac function at a very early stage in different patient groups.
Sudden cardiac death due to arrhythmia is one of the most common causes of death in the Western world and in younger is often caused by hereditary heart disease. A new ultrasound method can predict which patients are going to get serious heart rhythm abnormalities. The thesis examined patients with arrhythmogenic right ventricular cardiomyopathy. The disease is one of the most common hereditary disorders that lead to sudden cardiac death. The study shows that irregular cardiac contractility measured by the new method is a risk marker of cardiovascular arrhythmia. The method improves the selection of patients with high risk of death so that these can be fitted with a defibrillator.
Publications 2023
Forså MI, Bjerring AW, Haugaa KH, Smedsrud MK, Sarvari SI, Landgraff HW, Hallén J, Edvardsen T (2023)
Young athlete's growing heart: sex differences in cardiac adaptation to exercise training during adolescence
Open Heart, 10 (1)
DOI 10.1136/openhrt-2022-002155, PubMed 36596623
Forså MI, Smedsrud MK, Haugaa KH, Bjerring AW, Früh A, Sarvari SI, Landgraff HW, Hallén J, Edvardsen T (2023)
Distinguishing left ventricular hypertrophy from hypertrophic cardiomyopathy in adolescents - a longitudinal observation study
Eur J Prev Cardiol (in press)
DOI 10.1093/eurjpc/zwad361, PubMed 37992187
Nilsen TS, Sæter M, Sarvari SI, Reinertsen KV, Johansen SH, Edvardsen ER, Hallén J, Edvardsen E, Grydeland M, Kiserud CE, Lie HC, Solberg PA, Wisløff T, Sharples AP, Raastad T, Haugaa KH, Thorsen L (2023)
Effects of Aerobic Exercise on Cardiorespiratory Fitness, Cardiovascular Risk Factors, and Patient-Reported Outcomes in Long-Term Breast Cancer Survivors: Protocol for a Randomized Controlled Trial
JMIR Res Protoc, 12, e45244
DOI 10.2196/45244, PubMed 36920460
Nilsen TS, Sæter M, Sarvari SI, Reinertsen KV, Johansen SH, Edvardsen ER, Hallén J, Edvardsen E, Grydeland M, Kiserud CE, Lie HC, Solberg PA, Wisløff T, Sharples AP, Raastad T, Haugaa KH, Thorsen L (2023)
Correction: Effects of Aerobic Exercise on Cardiorespiratory Fitness, Cardiovascular Risk Factors, and Patient-Reported Outcomes in Long-Term Breast Cancer Survivors: Protocol for a Randomized Controlled Trial
JMIR Res Protoc, 12, e54462
DOI 10.2196/54462, PubMed 37963373
Publications 2022
Myhre PL, Røsjø H, Sarvari SI, Ukkonen H, Rademakers F, Engvall JE, Hagve TA, Nagel E, Sicari R, Zamorano JL, Monaghan M, D'hooge J, Edvardsen T, Omland T (2022)
Cardiac troponin T and NT-proBNP for detecting myocardial ischemia in suspected chronic coronary syndrome
Int J Cardiol, 361, 14-17
DOI 10.1016/j.ijcard.2022.05.027, PubMed 35577165
Publications 2021
Bjerring AW, Edvardsen T, Sarvari SI, Solberg EE (2021)
[A. Bjerring and colleagues respond]
Tidsskr Nor Laegeforen, 141
DOI 10.4045/tidsskr.21.0583, PubMed 34505484
Bjerring AW, Fosså SD, Haugnes HS, Nome R, Stokke TM, Haugaa KH, Kiserud CE, Edvardsen T, Sarvari SI (2021)
The cardiac impact of cisplatin-based chemotherapy in survivors of testicular cancer: a 30-year follow-up
Eur Heart J Cardiovasc Imaging, 22 (4), 443-450
DOI 10.1093/ehjci/jeaa289, PubMed 33152065
Bjerring AW, Landgraff HEW, Leirstein S, Haugaa KH, Edvardsen T, Sarvari SI, Hallén J (2021)
From talented child to elite athlete: The development of cardiac morphology and function in a cohort of endurance athletes from age 12 to 18
Eur J Prev Cardiol, 28 (10), 1061-1067
DOI 10.1177/2047487320921317, PubMed 33611558
Bjerring AW, Sarvari SI, Edvardsen T, Solberg EE (2021)
Should athletes be screened for heart disease?
Tidsskr Nor Laegeforen, 141 (11)
DOI 10.4045/tidsskr.21.0491, PubMed 34423946
Bjerring AW, Sarvari SI, Edvardsen T, Solberg EE (2021)
Should athletes be screened for heart disease?
Tidsskr. Nor. Laegeforen., 141 (11), 1060-1062
Rootwelt-Norberg C, Lie ØH, Chivulescu M, Castrini AI, Sarvari SI, Lyseggen E, Almaas VM, Bogsrud MP, Edvardsen T, Haugaa KH (2021)
Sex differences in disease progression and arrhythmic risk in patients with arrhythmogenic cardiomyopathy
Europace, 23 (7), 1084-1091
DOI 10.1093/europace/euab077, PubMed 33829244
Publications 2020
Kihlberg J, Gupta V, Haraldsson H, Sigfridsson A, Sarvari SI, Ebbers T, Engvall JE (2020)
Clinical validation of three cardiovascular magnetic resonance techniques to measure strain and torsion in patients with suspected coronary artery disease
J Cardiovasc Magn Reson, 22 (1), 83
DOI 10.1186/s12968-020-00684-2, PubMed 33280612
Skattebo Ø, Bjerring AW, Auensen M, Sarvari SI, Cumming KT, Capelli C, Hallén J (2020)
Blood volume expansion does not explain the increase in peak oxygen uptake induced by 10 weeks of endurance training
Eur J Appl Physiol, 120 (5), 985-999
DOI 10.1007/s00421-020-04336-2, PubMed 32172291
Publications 2019
Batlle M, Castillo N, Alcarraz A, Sarvari S, Sangüesa G, Cristóbal H, García de Frutos P, Sitges M, Mont L, Guasch E (2019)
Axl expression is increased in early stages of left ventricular remodeling in an animal model with pressure-overload
PLoS One, 14 (6), e0217926
DOI 10.1371/journal.pone.0217926, PubMed 31181097
Bjerring AW, Landgraff HE, Stokke TM, Murbræch K, Leirstein S, Aaeng A, Brun H, Haugaa KH, Hallén J, Edvardsen T, Sarvari SI (2019)
The developing athlete's heart: a cohort study in young athletes transitioning through adolescence
Eur J Prev Cardiol, 26 (18), 2001-2008
DOI 10.1177/2047487319862061, PubMed 31284749
Publications 2018
Bjerring AW, Landgraff HE, Leirstein S, Aaeng A, Ansari HZ, Saberniak J, Murbræch K, Bruun H, Stokke TM, Haugaa KH, Hallén J, Edvardsen T, Sarvari SI (2018)
Morphological changes and myocardial function assessed by traditional and novel echocardiographic methods in preadolescent athlete's heart
Eur J Prev Cardiol, 25 (9), 1000-1007
DOI 10.1177/2047487318776079, PubMed 29785884
de Barros MVL, Macedo AVS, Sarvari SI, Faleiros MH, Felipe PT, Silva JLP, Edvardsen T (2018)
Left Ventricular Regional Wall Motion Abnormality is a Strong Predictor of Cardiotoxicity in Breast Cancer Patients Undergoing Chemotherapy
Arq Bras Cardiol, 112 (1), 50-56
DOI 10.5935/abc.20180220, PubMed 30569947
Myhre PL, Omland T, Sarvari SI, Ukkonen H, Rademakers F, Engvall JE, Hagve TA, Nagel E, Sicari R, Zamorano JL, Monaghan M, D'hooge J, Edvardsen T, Røsjø H, DOPPLER-CIP Study Group (2018)
Cardiac Troponin T Concentrations, Reversible Myocardial Ischemia, and Indices of Left Ventricular Remodeling in Patients with Suspected Stable Angina Pectoris: a DOPPLER-CIP Substudy
Clin Chem, 64 (9), 1370-1379
DOI 10.1373/clinchem.2018.288894, PubMed 29959147
Stokke TM, Hasselberg NE, Smedsrud MK, Sarvari SI, Haugaa KH, Smiseth OA, Edvardsen T, Remme EW (2018)
Reply: Interaction Between Longitudinal, Circumferential, and Radial Deformations and Their Contributions to Ejection Fraction
J Am Coll Cardiol, 71 (2), 257-258
DOI 10.1016/j.jacc.2017.10.090, PubMed 29325649
Publications 2017
Almeida N, Papachristidis A, Pearson P, Sarvari SI, Engvall J, Edvardsen T, Monaghan M, Gérard O, Samset E, D'hooge J (2017)
Left atrial volumetric assessment using a novel automated framework for 3D echocardiography: a multi-centre analysis
Eur Heart J Cardiovasc Imaging, 18 (9), 1008-1015
DOI 10.1093/ehjci/jew166, PubMed 27550659
Bernardino G, Butakoff C, Nunez-Garcia M, Sarvari SI, Rodriguez-Lopez M, Crispi F, Ballester MAG, De Craene M, Bijnens B (2017)
Estimating 3D Ventricular Shape From 2D Echocardiography: Feasibility and Effect of Noise
LECT NOTES COMPUT SC, 10263, 450-460
DOI 10.1007/978-3-319-59448-4_43
Sarvari SI, Rodriguez-Lopez M, Nuñez-Garcia M, Sitges M, Sepulveda-Martinez A, Camara O, Butakoff C, Gratacos E, Bijnens B, Crispi F (2017)
Persistence of Cardiac Remodeling in Preadolescents With Fetal Growth Restriction
Circ Cardiovasc Imaging, 10 (1)
DOI 10.1161/CIRCIMAGING.116.005270, PubMed 28093413
Sarvari SI, Sitges M, Sanz M, Tolosana Viu JM, Edvardsen T, Stokke TM, Mont L, Bijnens B (2017)
Left ventricular dysfunction is related to the presence and extent of a septal flash in patients with right ventricular pacing
Europace, 19 (2), 289-296
DOI 10.1093/europace/euw020, PubMed 28175277
Stokke TM, Hasselberg NE, Smedsrud MK, Sarvari SI, Haugaa KH, Smiseth OA, Edvardsen T, Remme EW (2017)
Geometry as a Confounder When Assessing Ventricular Systolic Function: Comparison Between Ejection Fraction and Strain
J Am Coll Cardiol, 70 (8), 942-954
DOI 10.1016/j.jacc.2017.06.046, PubMed 28818204
Publications 2016
Almeida N, Sarvari SI, Orderud F, Gerard O, D'hooge J, Samset E (2016)
Automatic left-atrial segmentation from cardiac 3D ultrasound: a dual-chamber model-based approach
PROC SPIE, 9790, 97900D
DOI 10.1117/12.2216666
Edvardsen T, Sarvari SI, Haugaa KH (2016)
Strain imaging - from Scandinavian research to global deployment
Scand Cardiovasc J, 50 (5-6), 266-275
DOI 10.1080/14017431.2016.1239836, PubMed 27650726
Ortigosa N, Rodriguez-Lopez M, Bailón R, Sarvari SI, Sitges M, Gratacos E, Bijnens B, Crispi F, Laguna P (2016)
Heart morphology differences induced by intrauterine growth restriction and preterm birth measured on the ECG at preadolescent age
J Electrocardiol, 49 (3), 401-9
DOI 10.1016/j.jelectrocard.2016.03.011, PubMed 27036371
Sanz-de la Garza M, Grazioli G, Bijnens BH, Sarvari SI, Guasch E, Pajuelo C, Brotons D, Subirats E, Brugada R, Roca E, Sitges M (2016)
Acute, Exercise Dose-Dependent Impairment in Atrial Performance During an Endurance Race: 2D Ultrasound Speckle-Tracking Strain Analysis
JACC Cardiovasc Imaging, 9 (12), 1380-1388
DOI 10.1016/j.jcmg.2016.03.016, PubMed 27544898
Publications 2015
Almeida N, Friboulet D, Sarvari SI, Bernard O, Barbosa D, Samset E, Dhooge J (2015)
Left-Atrial Segmentation From 3-D Ultrasound Using B-Spline Explicit Active Surfaces With Scale Uncoupling
IEEE Trans Ultrason Ferroelectr Freq Control, 63 (2), 212-21
DOI 10.1109/TUFFC.2015.2507638, PubMed 26685231
Queirós S, Barbosa D, Engvall J, Ebbers T, Nagel E, Sarvari SI, Claus P, Fonseca JC, Vilaça JL, D'hooge J (2015)
Multi-centre validation of an automatic algorithm for fast 4D myocardial segmentation in cine CMR datasets
Eur Heart J Cardiovasc Imaging, 17 (10), 1118-27
DOI 10.1093/ehjci/jev247, PubMed 26494877
Sarvari SI, Haugaa KH, Stokke TM, Ansari HZ, Leren IS, Hegbom F, Smiseth OA, Edvardsen T (2015)
Strain echocardiographic assessment of left atrial function predicts recurrence of atrial fibrillation
Eur Heart J Cardiovasc Imaging, 17 (6), 660-7
DOI 10.1093/ehjci/jev185, PubMed 26219297
Publications 2014
Evensen K, Sarvari SI, Rønning OM, Edvardsen T, Russell D (2014)
Carotid artery intima-media thickness is closely related to impaired left ventricular function in patients with coronary artery disease: a single-centre, blinded, non-randomized study
Cardiovasc Ultrasound, 12, 39
DOI 10.1186/1476-7120-12-39, PubMed 25266446
Hasselberg NE, Haugaa KH, Sarvari SI, Gullestad L, Andreassen AK, Smiseth OA, Edvardsen T (2014)
Left ventricular global longitudinal strain is associated with exercise capacity in failing hearts with preserved and reduced ejection fraction
Eur Heart J Cardiovasc Imaging, 16 (2), 217-24
DOI 10.1093/ehjci/jeu277, PubMed 25552469
Hetland M, Haugaa KH, Sarvari SI, Erikssen G, Kongsgaard E, Edvardsen T (2014)
A novel ECG-index for prediction of ventricular arrhythmias in patients after myocardial infarction
Ann Noninvasive Electrocardiol, 19 (4), 330-7
DOI 10.1111/anec.12152, PubMed 24612066
Saberniak J, Hasselberg NE, Borgquist R, Platonov PG, Sarvari SI, Smith HJ, Ribe M, Holst AG, Edvardsen T, Haugaa KH (2014)
Vigorous physical activity impairs myocardial function in patients with arrhythmogenic right ventricular cardiomyopathy and in mutation positive family members
Eur J Heart Fail, 16 (12), 1337-44
DOI 10.1002/ejhf.181, PubMed 25319773
Stokke TM, Ruddox V, Sarvari SI, Otterstad JE, Aune E, Edvardsen T (2014)
Brief group training of medical students in focused cardiac ultrasound may improve diagnostic accuracy of physical examination
J Am Soc Echocardiogr, 27 (11), 1238-46
DOI 10.1016/j.echo.2014.08.001, PubMed 25216765
Publications 2013
Sarvari SI, Haugaa KH, Zahid W, Bendz B, Aakhus S, Aaberge L, Edvardsen T (2013)
Layer-specific quantification of myocardial deformation by strain echocardiography may reveal significant CAD in patients with non-ST-segment elevation acute coronary syndrome
JACC Cardiovasc Imaging, 6 (5), 535-44
DOI 10.1016/j.jcmg.2013.01.009, PubMed 23582354
Tsadok Y, Petrank Y, Sarvari S, Edvardsen T, Adam D (2013)
Automatic segmentation of cardiac MRI cines validated for long axis views
Comput Med Imaging Graph, 37 (7-8), 500-11
DOI 10.1016/j.compmedimag.2013.09.002, PubMed 24094590
Publications 2012
Sarvari SI, Gjesdal O, Gude E, Arora S, Andreassen AK, Gullestad L, Geiran O, Edvardsen T (2012)
Early postoperative left ventricular function by echocardiographic strain is a predictor of 1-year mortality in heart transplant recipients
J Am Soc Echocardiogr, 25 (9), 1007-14
DOI 10.1016/j.echo.2012.05.010, PubMed 22727199
Smedsrud MK, Sarvari S, Haugaa KH, Gjesdal O, Ørn S, Aaberge L, Smiseth OA, Edvardsen T (2012)
Duration of myocardial early systolic lengthening predicts the presence of significant coronary artery disease
J Am Coll Cardiol, 60 (12), 1086-93
DOI 10.1016/j.jacc.2012.06.022, PubMed 22939559
Publications 2011
Nagueh SF, Bhatt R, Vivo RP, Krim SR, Sarvari SI, Russell K, Edvardsen T, Smiseth OA, Estep JD (2011)
Echocardiographic evaluation of hemodynamics in patients with decompensated systolic heart failure
Circ Cardiovasc Imaging, 4 (3), 220-7
DOI 10.1161/CIRCIMAGING.111.963496, PubMed 21398512
Sarvari SI, Haugaa KH, Anfinsen OG, Leren TP, Smiseth OA, Kongsgaard E, Amlie JP, Edvardsen T (2011)
Right ventricular mechanical dispersion is related to malignant arrhythmias: a study of patients with arrhythmogenic right ventricular cardiomyopathy and subclinical right ventricular dysfunction
Eur Heart J, 32 (9), 1089-96
DOI 10.1093/eurheartj/ehr069, PubMed 21406439
Publications 2007
Sarvari SI, Hoddevik G, Brantsaeter AB (2007)
[Acute hepatitis E]
Tidsskr Nor Laegeforen, 127 (15), 1966-8
PubMed 17700753
Publications 2001
Sarvari S, Hahn A, Strømsøe K (2001)
Brudd i distale femur: en retrospektiv undersøkelse av 34 pasienter
In Vitenskapelige forhandlinger, Norsk kirurgisk forening., [Oslo], 2001, Abstrakt nr.197
BIBSYS 022008772