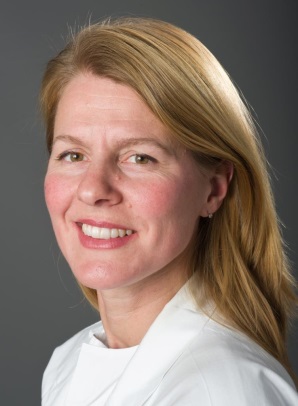 Kristina Hermann Haugaa
Professor; MD, PhD
+47 230 71393
Kristina Hermann Haugaa, MD, PhD, FESC, Head of Unit for Genetic Cardiac Diseases, Department of Cardiology, Oslo University Hospital, Rikshospitalet. She is also an associate professor at the Institute of Clinical Medicine, University of Oslo.
Kristina Haugaa is the director of cardiology research at Center for Cardiological Innovation, an SFI center for research based innovation funded by the Research Council of Norway. Together with Thor Edvardsen, the center director, Haugaa is a principal investigator for center workpackage focusing on risk assessment for sudden cardiac death (SCD) and myocardial function.
Haugaa is an EHRA Scientific Initiatives Committee member, EHRA Innovation Forum member, a Scientific Committee member at European Association of Cardiovascular Imaging and the vice-President of Norwegian Association of Cardiology. She has over 160 international scientific publications in peer-reviewed journals and was awarded with an Early Career Award in June 2018 for her excellent research and leadership skills.
Dr. Haugaa is a board certified specialist in Internal Medicine and Cardiology. She finished her PhD thesis in 2010 which included electromechanical studies in patients with cardiac genetic disorders and patients after myocardial infarction. Her research is focused on developing risk stratifying tools for life threatening ventricular arrhythmias and sudden cardiac death.
Publications 2023
Abdullah R, Bjørnebekk A, Hauger LE, Hullstein IR, Edvardsen T, Haugaa KH, Almaas VM (2023)
Severe biventricular cardiomyopathy in both current and former long-term users of anabolic-androgenic steroids
Eur J Prev Cardiol (in press)
DOI 10.1093/eurjpc/zwad362, PubMed 37992194
Andreassen K, Rixon C, Hansen MH, Hauge-Iversen IM, Zhang L, Sadredini M, Erusappan PM, Sjaastad I, Christensen G, Haugaa KH, Edvardsen T, Lunde IG, Stokke MK (2023)
Beneficial effects of exercise initiated before development of hypertrophic cardiomyopathy in genotype-positive mice
Am J Physiol Heart Circ Physiol, 324 (6), H881-H892
DOI 10.1152/ajpheart.00701.2022, PubMed 37115627
Arbelo E, Protonotarios A, Gimeno JR, Arbustini E, Barriales-Villa R, Basso C, Bezzina CR, Biagini E, Blom NA, de Boer RA, De Winter T, Elliott PM, Flather M, Garcia-Pavia P, Haugaa KH, Ingles J, Jurcut RO, Klaassen S, Limongelli G, Loeys B, Mogensen J, Olivotto I, Pantazis A, Sharma S, Van Tintelen JP et al. (2023)
2023 ESC Guidelines for the management of cardiomyopathies
Eur Heart J, 44 (37), 3503-3626
DOI 10.1093/eurheartj/ehad194, PubMed 37622657
Arbelo E, Protonotarios A, Gimeno JR, Arbustini E, Barriales-Villa R, Basso C, Bezzina CR, Biagini E, Blom NA, de Boer RA, De Winter T, Elliott PM, Flather M, Garcia-Pavia P, Haugaa KH, Ingles J, Jurcut RO, Klaassen S, Limongelli G, Loeys B, Mogensen J, Olivotto I, Pantazis A, Sharma S, Van Tintelen JP et al. (2023)
[2023 ESC Guidelines for the management of cardiomyopathies]
G Ital Cardiol (Rome), 24 (11), 1e-127e
DOI 10.1714/4127.41209, PubMed 37901944
Bergeman AT, Lieve KVV, Kallas D, Bos JM, Noguer FRY, Denjoy I, Zorio E, Kammeraad JAE, Peltenburg PJ, Tobert K, Aiba T, Atallah J, Drago F, Batra AS, Brugada R, Borggrefe M, Clur SB, Cox MGPJ, Davis A, Dhillon S, Etheridge SP, Fischbach P, Franciosi S, Haugaa K, Horie M et al. (2023)
Flecainide Is Associated With a Lower Incidence of Arrhythmic Events in a Large Cohort of Patients With Catecholaminergic Polymorphic Ventricular Tachycardia
Circulation (in press)
DOI 10.1161/CIRCULATIONAHA.123.064786, PubMed 37886885
Cosyns B, Haugaa KH (2023)
Multiparametric Approach to Asymptomatic Aortic Stenosis: New Surrogate Markers Are Welcome
JACC Cardiovasc Imaging (in press)
DOI 10.1016/j.jcmg.2023.10.011, PubMed 38032589
Erevik CB, Kleiven Ø, Frøysa V, Bjørkavoll-Bergseth M, Chivulescu M, Klæboe LG, Dejgaard L, Auestad B, Skadberg Ø, Melberg T, Urheim S, Haugaa K, Edvardsen T, Ørn S (2023)
Myocardial inefficiency is an early indicator of exercise-induced myocardial fatigue
Front Cardiovasc Med, 9, 1081664
DOI 10.3389/fcvm.2022.1081664, PubMed 36712275
Eriksson M, Haugaa K, Revêchon G (2023)
Readily Available Tools to Detect Progerin and Cardiac Disease Progression in Hutchinson-Gilford Progeria Syndrome
Circulation, 147 (23), 1745-1747
DOI 10.1161/CIRCULATIONAHA.123.064765, PubMed 37276251
Five CK, Hasselberg NE, Aaserud LT, Castrini AI, Vlaisavljevic K, Lie Ø, Rootwelt-Norberg C, Aabel EW, Haugaa KH (2023)
Lifetime exercise dose and ventricular arrhythmias in patients with mitral valve prolapse
Europace, 25 (10)
DOI 10.1093/europace/euad309, PubMed 37851515
Forså MI, Bjerring AW, Haugaa KH, Smedsrud MK, Sarvari SI, Landgraff HW, Hallén J, Edvardsen T (2023)
Young athlete's growing heart: sex differences in cardiac adaptation to exercise training during adolescence
Open Heart, 10 (1)
DOI 10.1136/openhrt-2022-002155, PubMed 36596623
Forså MI, Smedsrud MK, Haugaa KH, Bjerring AW, Früh A, Sarvari SI, Landgraff HW, Hallén J, Edvardsen T (2023)
Distinguishing left ventricular hypertrophy from hypertrophic cardiomyopathy in adolescents - a longitudinal observation study
Eur J Prev Cardiol (in press)
DOI 10.1093/eurjpc/zwad361, PubMed 37992187
Haugaa KH, Castrini AI (2023)
Sudden cardiac death in the young-Can illicit drug use explain the unexplained?
Heart Rhythm, 20 (10), 1356-1357
DOI 10.1016/j.hrthm.2023.06.014, PubMed 37352948
Kaya E, Andresen K, Lie ØH, Aaberge L, Haugaa K, Edvardsen T, Skulstad H (2023)
Left Ventricular Mechanical Dispersion as a Predictor of need for Pacemaker implantation after TAVI
Eur Heart J Cardiovasc Imaging (in press)
DOI 10.1093/ehjci/jead315, PubMed 37976177
Kirkels FP, Rootwelt-Norberg C, Bosman LP, Aabel EW, Muller SA, Castrini AI, Taha K, van Osta N, Lie ØH, Asselbergs FW, Lumens J, Te Riele ASJM, Hasselberg NE, Cramer MJ, Haugaa KH, Teske AJ (2023)
The added value of abnormal regional myocardial function for risk prediction in arrhythmogenic right ventricular cardiomyopathy
Eur Heart J Cardiovasc Imaging, 24 (12), 1710-1718
DOI 10.1093/ehjci/jead174, PubMed 37474315
Kirkels FP, van Osta N, Rootwelt-Norberg C, Chivulescu M, van Loon T, Aabel EW, Castrini AI, Lie ØH, Asselbergs FW, Delhaas T, Cramer MJ, Teske AJ, Haugaa KH, Lumens J (2023)
Monitoring of Myocardial Involvement in Early Arrhythmogenic Right Ventricular Cardiomyopathy Across the Age Spectrum
J Am Coll Cardiol, 82 (9), 785-797
DOI 10.1016/j.jacc.2023.05.065, PubMed 37612010
Nguyen TM, Melichova D, Aabel EW, Lie ØH, Klæboe LG, Grenne B, Sjøli B, Brunvand H, Haugaa K, Edvardsen T (2023)
Mortality in Patients with Acute Coronary Syndrome-A Prospective 5-Year Follow-Up Study
J Clin Med, 12 (20)
DOI 10.3390/jcm12206598, PubMed 37892735
Nilsen TS, Sæter M, Sarvari SI, Reinertsen KV, Johansen SH, Edvardsen ER, Hallén J, Edvardsen E, Grydeland M, Kiserud CE, Lie HC, Solberg PA, Wisløff T, Sharples AP, Raastad T, Haugaa KH, Thorsen L (2023)
Effects of Aerobic Exercise on Cardiorespiratory Fitness, Cardiovascular Risk Factors, and Patient-Reported Outcomes in Long-Term Breast Cancer Survivors: Protocol for a Randomized Controlled Trial
JMIR Res Protoc, 12, e45244
DOI 10.2196/45244, PubMed 36920460
Nilsen TS, Sæter M, Sarvari SI, Reinertsen KV, Johansen SH, Edvardsen ER, Hallén J, Edvardsen E, Grydeland M, Kiserud CE, Lie HC, Solberg PA, Wisløff T, Sharples AP, Raastad T, Haugaa KH, Thorsen L (2023)
Correction: Effects of Aerobic Exercise on Cardiorespiratory Fitness, Cardiovascular Risk Factors, and Patient-Reported Outcomes in Long-Term Breast Cancer Survivors: Protocol for a Randomized Controlled Trial
JMIR Res Protoc, 12, e54462
DOI 10.2196/54462, PubMed 37963373
Pannone L, Gauthey A, Conte G, Osei R, Campanale D, Baldi E, Berne P, Vicentini A, Vergara P, Sorgente A, Rootwelt-Norberg C, Della Rocca DG, Monaco C, Bisignani A, Miraglia V, Spolverini M, Paparella G, Overeinder I, Bala G, Almorad A, Ströker E, de Ravel T, Medeiros-Domingo A, Sieira J, Haugaa KH et al. (2023)
Genetics in Probands With Idiopathic Ventricular Fibrillation: A Multicenter Study
JACC Clin Electrophysiol, 9 (8 Pt 1), 1296-1306
DOI 10.1016/j.jacep.2023.03.008, PubMed 37227348
Pezel T, Coisne A, Michalski B, Soliman H, Ajmone N, Nijveldt R, Stankovic I, Donal E, van der Maaten J, Papadopoulos C, Edvardsen T, Muraru D, Petersen SE, Cosyns B, Bäck M, Bertrand PB, Haugaa KH, Keenan N, Donal E, Cosyns B (2023)
EACVI SIMULATOR-online study: evaluation of transoesophageal echocardiography knowledge and skills of young cardiologists
Eur Heart J Cardiovasc Imaging, 24 (3), 285-292
DOI 10.1093/ehjci/jeac195, PubMed 36151868
Rootwelt-Norberg C, Skjølsvik ET, Chivulescu M, Bogsrud MP, Ribe MP, Aabel EW, Beitnes JO, Brekke PH, Håland TF, Hasselberg NE, Lie ØH, Haugaa KH (2023)
Disease progression rate is a strong predictor of ventricular arrhythmias in patients with cardiac laminopathies: a primary prevention cohort study
Europace, 25 (2), 634-642
DOI 10.1093/europace/euac192, PubMed 36352512
Sabbag A, Essayagh B, Enriquez-Sarano M, Haugaa KH (2023)
Arrhythmic risk assessment of mitral valve prolapse pre- and post-mitral surgery-Authors' reply
Europace, 25 (2), 778-779
DOI 10.1093/europace/euac209, PubMed 36413621
Salte IM, Østvik A, Olaisen SH, Karlsen S, Dahlslett T, Smistad E, Eriksen-Volnes TK, Brunvand H, Haugaa KH, Edvardsen T, Dalen H, Lovstakken L, Grenne B (2023)
Deep Learning for Improved Precision and Reproducibility of Left Ventricular Strain in Echocardiography: A Test-Retest Study
J Am Soc Echocardiogr, 36 (7), 788-799
DOI 10.1016/j.echo.2023.02.017, PubMed 36933849
Salte IM, Østvik A, Olaisen SH, Karlsen S, Dahlslett T, Smistad E, Eriksen-Volnes TK, Brunvand H, Haugaa KH, Edvardsen T, Dalen H, Lovstakken L, Grenne B (2023)
Response to "Minimal Detectable Change and Reproducibility of Echocardiographic Strain: Implications for Clinical Practice"
J Am Soc Echocardiogr, 36 (11), 1223-1224
DOI 10.1016/j.echo.2023.08.017, PubMed 37640086
Stankovic I, Voigt JU, Burri H, Muraru D, Sade LE, Haugaa KH, Lumens J, Biffi M, Dacher JN, Marsan NA, Bakelants E, Manisty C, Dweck MR, Smiseth OA, Donal E (2023)
Imaging in patients with cardiovascular implantable electronic devices - Part 1: Imaging before and during device implantation
Eur Heart J Cardiovasc Imaging (in press)
DOI 10.1093/ehjci/jead272, PubMed 37861372
Stankovic I, Voigt JU, Burri H, Muraru D, Sade LE, Haugaa KH, Lumens J, Biffi M, Dacher JN, Marsan NA, Bakelants E, Manisty C, Dweck MR, Smiseth OA, Donal E (2023)
Imaging in patients with cardiovascular implantable electronic devices - Part 2: Imaging after device implantation
Eur Heart J Cardiovasc Imaging (in press)
DOI 10.1093/ehjci/jead273, PubMed 37861420
Tfelt-Hansen J, Garcia R, Albert C, Merino J, Krahn A, Marijon E, Basso C, Wilde AAM, Haugaa KH (2023)
Risk stratification of sudden cardiac death: a review
Europace, 25 (8)
DOI 10.1093/europace/euad203, PubMed 37622576
Aabel EW, Chivulescu M, Lie ØH, Hopp E, Gjertsen E, Ribe M, Helle-Valle TM, Edvardsen T, Hegbom F, Dejgaard LA, Haugaa KH (2023)
Ventricular arrhythmias in arrhythmic mitral valve syndrome-a prospective continuous long-term cardiac monitoring study
Europace, 25 (2), 506-516
DOI 10.1093/europace/euac182, PubMed 36256597
Publications 2022
Andreassen K, Dejgaard LA, Lie Ø, Fink TS, Lunde IG, Edvardsen T, Haugaa KH, Stokke MK (2022)
Exercise training during childhood and adolescence is associated with favorable diastolic function in hypertrophic cardiomyopathy
Int J Cardiol, 364, 65-71
DOI 10.1016/j.ijcard.2022.06.042, PubMed 35714718
Arbustini E, Behr ER, Carrier L, van Duijn C, Evans P, Favalli V, van der Harst P, Haugaa KH, Jondeau G, Kääb S, Kaski JP, Kavousi M, Loeys B, Pantazis A, Pinto Y, Schunkert H, Di Toro A, Thum T, Urtis M, Waltenberger J, Elliott P (2022)
Interpretation and actionability of genetic variants in cardiomyopathies: a position statement from the European Society of Cardiology Council on cardiovascular genomics
Eur Heart J, 43 (20), 1901-1916
DOI 10.1093/eurheartj/ehab895, PubMed 35089333
Beyersdorf F, Vahanian A, Milojevic M, Praz F, Baldus S, Bauersachs J, Capodanno D, Conradi L, De Bonis M, De Paulis R, Delgado V, Freemantle N, Gilard M, Haugaa KH, Jeppsson A, Jüni P, Pierard L, Prendergast BD, Sádaba JR, Tribouilloy C, Wojakowski W, ESC/EACTS Scientific Document Group (2022)
Erratum to: 2021 ESC/EACTS Guidelines for the management of valvular heart disease
Eur J Cardiothorac Surg, 61 (4), 964
DOI 10.1093/ejcts/ezab557, PubMed 35024822
Beyersdorf F, Vahanian A, Milojevic M, Praz F, Baldus S, Bauersachs J, Capodanno D, Conradi L, De Bonis M, De Paulis R, Delgado V, Freemantle N, Gilard M, Haugaa KH, Jeppsson A, Jüni P, Pierard L, Prendergast BD, Sádaba JR, Tribouilloy C, Wojakowski W, ESC/EACTS Scientific Document Group (2022)
Corrigendum to: 2021 ESC/EACTS Guidelines for the management of valvular heart disease
Eur J Cardiothorac Surg, 62 (1)
DOI 10.1093/ejcts/ezac209, PubMed 35352803
Bosman LP, Wang W, Lie ØH, van Lint FHM, Rootwelt-Norberg C, Murray B, Tichnell C, Cadrin-Tourigny J, van Tintelen JP, Asselbergs FW, Calkins H, Te Riele ASJM, Haugaa KH, James CA (2022)
Integrating Exercise Into Personalized Ventricular Arrhythmia Risk Prediction in Arrhythmogenic Right Ventricular Cardiomyopathy
Circ Arrhythm Electrophysiol, 15 (2), e010221
DOI 10.1161/CIRCEP.121.010221, PubMed 35089054
Cadrin-Tourigny J, Bosman LP, Nozza A, Wang W, Tadros R, Bhonsale A, Bourfiss M, Fortier A, Lie ØH, Saguner AM, Svensson A, Andorin A, Tichnell C, Murray B, Zeppenfeld K, van den Berg MP, Asselbergs FW, Wilde AAM, Krahn AD, Talajic M, Rivard L, Chelko S, Zimmerman SL, Kamel IR, Crosson JE et al. (2022)
A new prediction model for ventricular arrhythmias in arrhythmogenic right ventricular cardiomyopathy
Eur Heart J, 43 (32), e1-e9
DOI 10.1093/eurheartj/ehac180, PubMed 35441664
Castrini AI, Skjølsvik E, Estensen ME, Almaas VM, Skulstad H, Lyseggen E, Edvardsen T, Lie ØH, Picard KCI, Lakdawala NK, Haugaa KH (2022)
Pregnancy and Progression of Cardiomyopathy in Women With LMNA Genotype-Positive
J Am Heart Assoc, 11 (8), e024960
DOI 10.1161/JAHA.121.024960, PubMed 35434999
Chivulescu M, Aabel EW, Gjertsen E, Hopp E, Scheirlynck E, Cosyns B, Lyseggen E, Edvardsen T, Lie ØH, Dejgaard LA, Haugaa KH (2022)
Electrical markers and arrhythmic risk associated with myocardial fibrosis in mitral valve prolapse
Europace, 24 (7), 1156-1163
DOI 10.1093/europace/euac017, PubMed 35226070
Christensen AH, Platonov PG, Svensson A, Jensen HK, Rootwelt-Norberg C, Dahlberg P, Madsen T, Frederiksen TC, Heliö T, Haugaa KH, Bundgaard H, Svendsen JH (2022)
Complications of implantable cardioverter-defibrillator treatment in arrhythmogenic right ventricular cardiomyopathy
Europace, 24 (2), 306-312
DOI 10.1093/europace/euab112, PubMed 34279601
Gasperetti A, Carrick RT, Costa S, Compagnucci P, Bosman LP, Chivulescu M, Tichnell C, Murray B, Tandri H, Tadros R, Rivard L, van den Berg MP, Zeppenfeld K, Wilde AAM, Pompilio G, Carbucicchio C, Dello Russo A, Casella M, Svensson A, Brunckhorst CB, van Tintelen JP, Platonov PG, Haugaa KH, Duru F, Te Riele ASJM et al. (2022)
Programmed Ventricular Stimulation as an Additional Primary Prevention Risk Stratification Tool in Arrhythmogenic Right Ventricular Cardiomyopathy: A Multinational Study
Circulation, 146 (19), 1434-1443
DOI 10.1161/CIRCULATIONAHA.122.060866, PubMed 36205131
González A, Haugaa KH, Brekke PH, Hopp E, Ørn S, Alvestad S, Taubøll E, Aurlien D (2022)
Cardiac Structure and Function in Epilepsy Patients with Drug-Resistant Convulsive Seizures
Case Rep Neurol, 14 (1), 88-97
DOI 10.1159/000522237, PubMed 35431877
Groeneveld SA, Kirkels FP, Cramer MJ, Evertz R, Haugaa KH, Postema PG, Prakken NHJ, Teske AJ, Wilde AAM, Velthuis BK, Nijveldt R, Hassink RJ (2022)
Prevalence of Mitral Annulus Disjunction and Mitral Valve Prolapse in Patients With Idiopathic Ventricular Fibrillation
J Am Heart Assoc, 11 (16), e025364
DOI 10.1161/JAHA.121.025364, PubMed 35929463
Haugaa KH, Rootwelt-Norberg C (2022)
Cardiac desmosomal reserve: another piece of the exercise-induced arrhythmogenic cardiomyopathy puzzle?
Eur Heart J, 43 (12), 1265-1267
DOI 10.1093/eurheartj/ehab873, PubMed 34972201
Haugaa KH, Aabel EW (2022)
Mitral Annular Disjunction: Normal or Abnormal: It Is All About Location
JACC Cardiovasc Imaging, 15 (11), 1867-1869
DOI 10.1016/j.jcmg.2022.08.002, PubMed 36357129
Hunt TE, Traaen GM, Aakerøy L, Bendz C, Øverland B, Akre H, Steinshamn S, Loennechen JP, Hegbom F, Broch K, Lie ØH, Lyseggen E, Haugaa KH, Gullestad L, Anfinsen OG (2022)
Effect of continuous positive airway pressure therapy on recurrence of atrial fibrillation after pulmonary vein isolation in patients with obstructive sleep apnea: A randomized controlled trial
Heart Rhythm, 19 (9), 1433-1441
DOI 10.1016/j.hrthm.2022.06.016, PubMed 35716856
Joshi SS, Stankovic I, Demirkiran A, Haugaa K, Maurovich-Horvat P, Popescu BA, Cosyns B, Edvardsen T, Petersen SE, Carvalho RF, Cameli M, Dweck MR (2022)
EACVI survey on burnout amongst cardiac imaging specialists during the 2019 coronavirus disease pandemic
Eur Heart J Cardiovasc Imaging, 23 (4), 441-446
DOI 10.1093/ehjci/jeac002, PubMed 35061874
Mavrogeni S, Pepe A, Nijveldt R, Ntusi N, Sierra-Galan LM, Bratis K, Wei J, Mukherjee M, Markousis-Mavrogenis G, Gargani L, Sade LE, Ajmone-Marsan N, Seferovic P, Donal E, Nurmohamed M, Cerinic MM, Sfikakis P, Kitas G, Schwitter J, Lima JAC, Dawson D, Dweck M, Haugaa KH, Keenan N, Moon J et al. (2022)
Cardiovascular magnetic resonance in autoimmune rheumatic diseases: a clinical consensus document by the European Association of Cardiovascular Imaging
Eur Heart J Cardiovasc Imaging, 23 (9), e308-e322
DOI 10.1093/ehjci/jeac134, PubMed 35808990
Muraru D, Haugaa K, Donal E, Stankovic I, Voigt JU, Petersen SE, Popescu BA, Marwick T (2022)
Right ventricular longitudinal strain in the clinical routine: a state-of-the-art review
Eur Heart J Cardiovasc Imaging, 23 (7), 898-912
DOI 10.1093/ehjci/jeac022, PubMed 35147667
Podlesnikar T, Cardim N, Ajmone Marsan N, D'Andrea A, Cameli M, Popescu BA, Schulz-Menger J, Stankovic I, Toplisek J, Maurer G, Haugaa KH, Dweck MR (2022)
EACVI survey on hypertrophic cardiomyopathy
Eur Heart J Cardiovasc Imaging, 23 (5), 590-597
DOI 10.1093/ehjci/jeab270, PubMed 34957501
Rootwelt-Norberg C, Christensen AH, Skjølsvik ET, Chivulescu M, Vissing CR, Bundgaard H, Aabel EW, Bogsrud MP, Hasselberg NE, Lie ØH, Haugaa KH (2022)
Timing of cardioverter-defibrillator implantation in patients with cardiac laminopathies-External validation of the LMNA-risk ventricular tachyarrhythmia calculator
Heart Rhythm, 20 (3), 423-429
DOI 10.1016/j.hrthm.2022.11.024, PubMed 36494026
Sabbag A, Essayagh B, Barrera JDR, Basso C, Berni A, Cosyns B, Deharo JC, Deneke T, Di Biase L, Enriquez-Sarano M, Donal E, Imai K, Lim HS, Marsan NA, Turagam MK, Peichl P, Po SS, Haugaa KH, Shah D, de Riva Silva M, Bertrand P, Saba M, Dweck M, Townsend SN, Ngarmukos T et al. (2022)
EHRA expert consensus statement on arrhythmic mitral valve prolapse and mitral annular disjunction complex in collaboration with the ESC Council on valvular heart disease and the European Association of Cardiovascular Imaging endorsed cby the Heart Rhythm Society, by the Asia Pacific Heart Rhythm Society, and by the Latin American Heart Rhythm Society
Europace, 24 (12), 1981-2003
DOI 10.1093/europace/euac125, PubMed 35951656
Semsarian C, Gray B, Haugaa KH, Lampert R, Sharma S, Kovacic JC (2022)
Athletic Activity for Patients With Hypertrophic Cardiomyopathy and Other Inherited Cardiovascular Diseases: JACC Focus Seminar 3/4
J Am Coll Cardiol, 80 (13), 1268-1283
DOI 10.1016/j.jacc.2022.07.013, PubMed 36075839
Sidhu K, Castrini AI, Parikh V, Reza N, Owens A, Tremblay-Gravel M, Wheeler MT, Mestroni L, Taylor M, Graw S, Gigli M, Merlo M, Paldino A, Sinagra G, Judge DP, Ramos H, Mesubi O, Brown E, Turnbull S, Kumar S, Roy D, Tedrow UB, Ngo L, Haugaa K, Lakdawala NK (2022)
The response to cardiac resynchronization therapy in LMNA cardiomyopathy
Eur J Heart Fail, 24 (4), 685-693
DOI 10.1002/ejhf.2463, PubMed 35229420
Skjølsvik ET, Haugen Lie Ø, Chivulescu M, Ribe M, Castrini AI, Broch K, Pripp AH, Edvardsen T, Haugaa KH (2022)
Progression of cardiac disease in patients with lamin A/C mutations
Eur Heart J Cardiovasc Imaging, 23 (4), 543-550
DOI 10.1093/ehjci/jeab057, PubMed 33824984
Smedsrud MK, Chivulescu M, Forså MI, Castrini I, Aabel EW, Rootwelt-Norberg C, Bogsrud MP, Edvardsen T, Hasselberg NE, Früh A, Haugaa KH (2022)
Highly malignant disease in childhood-onset arrhythmogenic right ventricular cardiomyopathy
Eur Heart J, 43 (45), 4694-4703
DOI 10.1093/eurheartj/ehac485, PubMed 36036653
Soliman-Aboumarie H, Joshi SS, Cameli M, Michalski B, Manka R, Haugaa K, Demirkiran A, Podlesnikar T, Jurcut R, Muraru D, Badano LP, Dweck MR (2022)
EACVI survey on the multi-modality imaging assessment of the right heart
Eur Heart J Cardiovasc Imaging, 23 (11), 1417-1422
DOI 10.1093/ehjci/jeac183, PubMed 36093580
Taha K, Kirkels FP, Teske AJ, Asselbergs FW, van Tintelen JP, Doevendans PA, Kutty S, Haugaa KH, Cramer MJ (2022)
Echocardiographic Deformation Imaging for Early Detection of Genetic Cardiomyopathies: JACC Review Topic of the Week
J Am Coll Cardiol, 79 (6), 594-608
DOI 10.1016/j.jacc.2021.11.045, PubMed 35144751
Vahanian A, Beyersdorf F, Praz F, Milojevic M, Baldus S, Bauersachs J, Capodanno D, Conradi L, De Bonis M, De Paulis R, Delgado V, Freemantle N, Gilard M, Haugaa KH, Jeppsson A, Jüni P, Pierard L, Prendergast BD, Sádaba JR, Tribouilloy C, Wojakowski W, ESC/EACTS Scientific Document Group (2022)
2021 ESC/EACTS Guidelines for the management of valvular heart disease
Eur Heart J, 43 (7), 561-632
DOI 10.1093/eurheartj/ehab395, PubMed 34453165
Vahanian A, Beyersdorf F, Praz F, Milojevic M, Baldus S, Bauersachs J, Capodanno D, Conradi L, De Bonis M, De Paulis R, Delgado V, Freemantle N, Gilard M, Haugaa KH, Jeppsson A, Jüni P, Pierard L, Prendergast BD, Sádaba JR, Tribouilloy C, Wojakowski W, ESC/EACTS Scientific Document Group (2022)
2021 ESC/EACTS Guidelines for the management of valvular heart disease: Developed by the Task Force for the management of valvular heart disease of the European Society of Cardiology (ESC) and the European Association for Cardio-Thoracic Surgery (EACTS)
Rev Esp Cardiol (Engl Ed), 75 (6), 524
DOI 10.1016/j.rec.2022.05.006, PubMed 35636831
Vahanian A, Beyersdorf F, Praz F, Milojevic M, Baldus S, Bauersachs J, Capodanno D, Conradi L, De Bonis M, De Paulis R, Delgado V, Freemantle N, Gilard M, Haugaa KH, Jeppsson A, Jüni P, Pierard L, Prendergast BD, Sádaba JR, Tribouilloy C, Wojakowski W, ESC/EACTS Scientific Document Group (2022)
[2021 ESC/EACTS Guidelines for the management of valvular heart disease]
G Ital Cardiol (Rome), 23 (5 Suppl 1), e1-e75
DOI 10.1714/3787.37722, PubMed 35708463
Vahanian A, Beyersdorf F, Praz F, Milojevic M, Baldus S, Bauersachs J, Capodanno D, Conradi L, De Bonis M, De Paulis R, Delgado V, Freemantle N, Haugaa KH, Jeppsson A, Jüni P, Pierard L, Prendergast BD, Sádaba JR, Tribouilloy C, Wojakowski W (2022)
2021 ESC/EACTS Guidelines for the management of valvular heart disease
EuroIntervention, 17 (14), e1126-e1196
DOI 10.4244/EIJ-E-21-00009, PubMed 34931612
Wisløff-Aase K, Skulstad H, Haugaa K, Lingaas PS, Beitnes JO, Halvorsen PS, Espinoza A (2022)
Myocardial electrophysiological and mechanical changes caused by moderate hypothermia-A clinical study
Physiol Rep, 10 (8), e15259
DOI 10.14814/phy2.15259, PubMed 35439365
Zeppenfeld K, Tfelt-Hansen J, de Riva M, Winkel BG, Behr ER, Blom NA, Charron P, Corrado D, Dagres N, de Chillou C, Eckardt L, Friede T, Haugaa KH, Hocini M, Lambiase PD, Marijon E, Merino JL, Peichl P, Priori SG, Reichlin T, Schulz-Menger J, Sticherling C, Tzeis S, Verstrael A, Volterrani M et al. (2022)
2022 ESC Guidelines for the management of patients with ventricular arrhythmias and the prevention of sudden cardiac death
Eur Heart J, 43 (40), 3997-4126
DOI 10.1093/eurheartj/ehac262, PubMed 36017572
Aabel EW, Dejgaard LA, Chivulescu M, Helle-Valle TM, Edvardsen T, Hasselberg NE, Hegbom F, Lie ØH, Haugaa KH (2022)
Flecainide in patients with arrhythmic mitral valve syndrome: A case series
Heart Rhythm, 20 (4), 635-636
DOI 10.1016/j.hrthm.2022.12.024, PubMed 36566890
Publications 2021
Bjerring AW, Fosså SD, Haugnes HS, Nome R, Stokke TM, Haugaa KH, Kiserud CE, Edvardsen T, Sarvari SI (2021)
The cardiac impact of cisplatin-based chemotherapy in survivors of testicular cancer: a 30-year follow-up
Eur Heart J Cardiovasc Imaging, 22 (4), 443-450
DOI 10.1093/ehjci/jeaa289, PubMed 33152065
Bjerring AW, Landgraff HEW, Leirstein S, Haugaa KH, Edvardsen T, Sarvari SI, Hallén J (2021)
From talented child to elite athlete: The development of cardiac morphology and function in a cohort of endurance athletes from age 12 to 18
Eur J Prev Cardiol, 28 (10), 1061-1067
DOI 10.1177/2047487320921317, PubMed 33611558
Bularga A, Saraste A, Fontes-Carvalho R, Holte E, Cameli M, Michalski B, Williams MC, Podlesnikar T, D'Andrea A, Stankovic I, Mills NL, Manka R, Newby DE, Schultz-Menger J, Haugaa KH, Dweck MR (2021)
EACVI survey on investigations and imaging modalities in chronic coronary syndromes
Eur Heart J Cardiovasc Imaging, 22 (1), 1-7
DOI 10.1093/ehjci/jeaa300, PubMed 33165600
Chivulescu M, Krohg-Sørensen K, Scheirlynck E, Lindberg BR, Dejgaard LA, Lie ØH, Helle-Valle T, Skjølsvik ET, Estensen ME, Edvardsen T, Lingaas PS, Haugaa KH (2021)
Mitral annulus disjunction is associated with adverse outcome in Marfan and Loeys-Dietz syndromes
Eur Heart J Cardiovasc Imaging, 22 (9), 1035-1044
DOI 10.1093/ehjci/jeaa324, PubMed 33280029
Chivulescu M, Aabel E, Dejgaard L, Steen T, Dunlop O, Haugaa KH (2021)
Cardiac Arrest in a Patient With Arrhythmic Mitral Valve Prolapse Syndrome: Multiple Possible Etiologies
JACC Case Rep, 3 (16), 1769-1773
DOI 10.1016/j.jaccas.2021.08.019, PubMed 34825207
Christensen AH, Platonov PG, Jensen HK, Chivulescu M, Svensson A, Dahlberg P, Madsen T, Frederiksen TC, Heliö T, Lie ØH, Haugaa KH, Hastrup Svendsen J, Bundgaard H (2021)
Genotype-phenotype correlation in arrhythmogenic right ventricular cardiomyopathy-risk of arrhythmias and heart failure
J Med Genet, 59 (9), 858-864
DOI 10.1136/jmedgenet-2021-107911, PubMed 34400560
D'Andrea A, Dweck MR, Holte E, Fontes-Carvalho R, Cameli M, Aboumarie HS, Diener HC, Haugaa KH (2021)
EACVI survey on the management of patients with patent foramen ovale and cryptogenic stroke
Eur Heart J Cardiovasc Imaging, 22 (2), 135-141
DOI 10.1093/ehjci/jeaa318, PubMed 33346351
de Lange C, Quattrone A, Try K, Bakke AH, Borger Kvaslerud A, Haugaa K, Estensen ME (2021)
Is experienced pregnancy in women with repaired tetralogy of Fallot related to diffuse myocardial fibrosis?
Int J Cardiol, 344, 95-102
DOI 10.1016/j.ijcard.2021.09.033, PubMed 34555445
Haugaa KH, Aabel EW (2021)
Mitral Annulus Disjunction: Arrhythmic But Not Deadly?
JACC Cardiovasc Imaging, 14 (11), 2088-2090
DOI 10.1016/j.jcmg.2021.05.014, PubMed 34147448
Kirkels FP, Lie ØH, Cramer MJ, Chivulescu M, Rootwelt-Norberg C, Asselbergs FW, Teske AJ, Haugaa KH (2021)
Right Ventricular Functional Abnormalities in Arrhythmogenic Cardiomyopathy: Association With Life-Threatening Ventricular Arrhythmias
JACC Cardiovasc Imaging, 14 (5), 900-910
DOI 10.1016/j.jcmg.2020.12.028, PubMed 33582062
Lie ØH, Chivulescu M, Rootwelt-Norberg C, Ribe M, Bogsrud MP, Lyseggen E, Beitnes JO, Almaas V, Haugaa KH (2021)
Left Ventricular Dysfunction in Arrhythmogenic Cardiomyopathy: Association With Exercise Exposure, Genetic Basis, and Prognosis
J Am Heart Assoc, 10 (8), e018680
DOI 10.1161/JAHA.120.018680, PubMed 33821670
Melichova D, Nguyen TM, Salte IM, Klaeboe LG, Sjøli B, Karlsen S, Dahlslett T, Leren IS, Edvardsen T, Brunvand H, Haugaa KH (2021)
Strain echocardiography improves prediction of arrhythmic events in ischemic and non-ischemic dilated cardiomyopathy
Int J Cardiol, 342, 56-62
DOI 10.1016/j.ijcard.2021.07.044, PubMed 34324947
Ostvik A, Salte IM, Smistad E, Nguyen TM, Melichova D, Brunvand H, Haugaa K, Edvardsen T, Grenne B, Lovstakken L (2021)
Myocardial Function Imaging in Echocardiography Using Deep Learning
IEEE Trans Med Imaging, 40 (5), 1340-1351
DOI 10.1109/TMI.2021.3054566, PubMed 33493114
Peltenburg PJ, Kallas D, Bos JM, Lieve KVV, Franciosi S, Roston TM, Denjoy I, Sorensen KB, Ohno S, Roses-Noguer F, Aiba T, Maltret A, LaPage MJ, Atallah J, Giudicessi JR, Clur SB, Blom NA, Tanck M, Extramiana F, Kato K, Barc J, Borggrefe M, Behr ER, Sarquella-Brugada G, Tfelt-Hansen J et al. (2021)
An International Multicenter Cohort Study on β-Blockers for the Treatment of Symptomatic Children With Catecholaminergic Polymorphic Ventricular Tachycardia
Circulation, 145 (5), 333-344
DOI 10.1161/CIRCULATIONAHA.121.056018, PubMed 34874747
Quattrone A, Lie OH, Nestaas E, de Lange C, Try K, Lindberg HL, Skulstad H, Erikssen G, Edvardsen T, Haugaa K, Estensen ME (2021)
Impact of pregnancy and risk factors for ventricular arrhythmias in women with tetralogy of Fallot
Open Heart, 8 (1)
DOI 10.1136/openhrt-2020-001400, PubMed 33414183
Quattrone A, Lie OH, Nestaas E, de Lange C, Try K, Lindberg HL, Skulstad H, Erikssen G, Edvardsen T, Haugaa K, Estensen ME (2021)
Long-term follow-up and sex differences in adults operated for tetralogy of Fallot
Open Heart, 8 (2)
DOI 10.1136/openhrt-2021-001738, PubMed 34663747
Rootwelt-Norberg C, Lie ØH, Chivulescu M, Castrini AI, Sarvari SI, Lyseggen E, Almaas VM, Bogsrud MP, Edvardsen T, Haugaa KH (2021)
Sex differences in disease progression and arrhythmic risk in patients with arrhythmogenic cardiomyopathy
Europace, 23 (7), 1084-1091
DOI 10.1093/europace/euab077, PubMed 33829244
Salte IM, Østvik A, Smistad E, Melichova D, Nguyen TM, Karlsen S, Brunvand H, Haugaa KH, Edvardsen T, Lovstakken L, Grenne B (2021)
Artificial Intelligence for Automatic Measurement of Left Ventricular Strain in Echocardiography
JACC Cardiovasc Imaging, 14 (10), 1918-1928
DOI 10.1016/j.jcmg.2021.04.018, PubMed 34147442
Schwartz PJ, Moreno C, Kotta MC, Pedrazzini M, Crotti L, Dagradi F, Castelletti S, Haugaa KH, Denjoy I, Shkolnikova MA, Brink PA, Heradien MJ, Seyen SRM, Spätjens RLHMG, Spazzolini C, Volders PGA (2021)
Mutation location and IKs regulation in the arrhythmic risk of long QT syndrome type 1: the importance of the KCNQ1 S6 region
Eur Heart J, 42 (46), 4743-4755
DOI 10.1093/eurheartj/ehab582, PubMed 34505893
Sitges M, Ajmone Marsan N, Cameli M, D'Andrea A, Carvalho RF, Holte E, Michalski B, Podlesnikar T, Popescu BA, Schulz-Menger J, Stankovic I, Haugaa KH, Dweck MR (2021)
EACVI survey on the evaluation of left ventricular diastolic function
Eur Heart J Cardiovasc Imaging, 22 (10), 1098-1105
DOI 10.1093/ehjci/jeab087, PubMed 33969402
Stankovic I, Dweck MR, Marsan NA, Bergler-Klein J, Holte E, Manka R, Schulz-Menger J, Sitges M, Haugaa KH (2021)
The EACVI survey on cardiac imaging in cardio-oncology
Eur Heart J Cardiovasc Imaging, 22 (4), 367-371
DOI 10.1093/ehjci/jeaa111, PubMed 32464650
Svensson A, Platonov PG, Haugaa KH, Zareba W, Jensen HK, Bundgaard H, Gilljam T, Madsen T, Hansen J, Dejgaard LA, Karlsson LO, Gréen A, Polonsky B, Edvardsen T, Svendsen JH, Gunnarsson C (2021)
Genetic Variant Score and Arrhythmogenic Right Ventricular Cardiomyopathy Phenotype in Plakophilin-2 Mutation Carriers
Cardiology, 146 (6), 763-771
DOI 10.1159/000519231, PubMed 34469894
Vahanian A, Beyersdorf F, Praz F, Milojevic M, Baldus S, Bauersachs J, Capodanno D, Conradi L, De Bonis M, De Paulis R, Delgado V, Freemantle N, Gilard M, Haugaa KH, Jeppsson A, Jüni P, Pierard L, Prendergast BD, Sádaba JR, Tribouilloy C, Wojakowski W, ESC/EACTS Scientific Document Group (2021)
2021 ESC/EACTS Guidelines for the management of valvular heart disease
Eur J Cardiothorac Surg, 60 (4), 727-800
DOI 10.1093/ejcts/ezab389, PubMed 34453161
van Osta N, Kirkels FP, van Loon T, Koopsen T, Lyon A, Meiburg R, Huberts W, Cramer MJ, Delhaas T, Haugaa KH, Teske AJ, Lumens J (2021)
Uncertainty Quantification of Regional Cardiac Tissue Properties in Arrhythmogenic Cardiomyopathy Using Adaptive Multiple Importance Sampling
Front Physiol, 12, 738926
DOI 10.3389/fphys.2021.738926, PubMed 34658923
Aabel EW, Chivulescu M, Dejgaard LA, Ribe M, Gjertsen E, Hopp E, Hunt TE, Lie ØH, Haugaa KH (2021)
Tricuspid Annulus Disjunction: Novel Findings by Cardiac Magnetic Resonance in Patients With Mitral Annulus Disjunction
JACC Cardiovasc Imaging, 14 (8), 1535-1543
DOI 10.1016/j.jcmg.2021.01.028, PubMed 33744128
Aabel EW, Haugaa KH (2021)
The Authors' Reply
JACC Cardiovasc Imaging, 14 (8), 1684-1685
DOI 10.1016/j.jcmg.2021.06.006, PubMed 34353547
Publications 2020
Ajmone Marsan N, Michalski B, Cameli M, Podlesnikar T, Manka R, Sitges M, Dweck MR, Haugaa KH (2020)
EACVI survey on standardization of cardiac chambers quantification by transthoracic echocardiography
Eur Heart J Cardiovasc Imaging, 21 (2), 119-123
DOI 10.1093/ehjci/jez297, PubMed 31819943
Badano LP, Muraru D, Parati G, Haugaa K, Voigt JU (2020)
How to do right ventricular strain
Eur Heart J Cardiovasc Imaging, 21 (8), 825-827
DOI 10.1093/ehjci/jeaa126, PubMed 32504092
Cadrin-Tourigny J, Bosman LP, Wang W, Tadros R, Bhonsale A, Bourfiss M, Lie ØH, Saguner AM, Svensson A, Andorin A, Tichnell C, Murray B, Zeppenfeld K, van den Berg MP, Asselbergs FW, Wilde AAM, Krahn AD, Talajic M, Rivard L, Chelko S, Zimmerman SL, Kamel IR, Crosson JE, Judge DP, Yap SC et al. (2020)
Sudden Cardiac Death Prediction in Arrhythmogenic Right Ventricular Cardiomyopathy: A Multinational Collaboration
Circ Arrhythm Electrophysiol, 14 (1), e008509
DOI 10.1161/CIRCEP.120.008509, PubMed 33296238
Chivulescu M, Lie ØH, Popescu BA, Skulstad H, Edvardsen T, Jurcut RO, Haugaa KH (2020)
High penetrance and similar disease progression in probands and in family members with arrhythmogenic cardiomyopathy
Eur Heart J, 41 (14), 1401-1410
DOI 10.1093/eurheartj/ehz570, PubMed 31504415
Corrado D, van Tintelen PJ, McKenna WJ, Hauer RNW, Anastastakis A, Asimaki A, Basso C, Bauce B, Brunckhorst C, Bucciarelli-Ducci C, Duru F, Elliott P, Hamilton RM, Haugaa KH, James CA, Judge D, Link MS, Marchlinski FE, Mazzanti A, Mestroni L, Pantazis A, Pelliccia A, Marra MP, Pilichou K, Platonov PGA et al. (2020)
Arrhythmogenic right ventricular cardiomyopathy: evaluation of the current diagnostic criteria and differential diagnosis
Eur Heart J, 41 (14), 1414-1429
DOI 10.1093/eurheartj/ehz669, PubMed 31637441
Cosyns B, Haugaa KH, Gerber B, Gimelli A, Sade LE, Maurer G, Popescu BA, Edvardsen T (2020)
The year 2019 in the European Heart Journal - Cardiovascular Imaging: part II
Eur Heart J Cardiovasc Imaging, 21 (12), 1331-1340
DOI 10.1093/ehjci/jeaa292, PubMed 33188688
Dweck MR, Bularga A, Hahn RT, Bing R, Lee KK, Chapman AR, White A, Salvo GD, Sade LE, Pearce K, Newby DE, Popescu BA, Donal E, Cosyns B, Edvardsen T, Mills NL, Haugaa K (2020)
Global evaluation of echocardiography in patients with COVID-19
Eur Heart J Cardiovasc Imaging, 21 (9), 949-958
DOI 10.1093/ehjci/jeaa178, PubMed 32556199
Edvardsen T, Haugaa KH, Petersen SE, Gimelli A, Donal E, Maurer G, Popescu BA, Cosyns B (2020)
The year 2019 in the European Heart Journal-Cardiovascular Imaging: Part I
Eur Heart J Cardiovasc Imaging, 21 (11), 1208-1215
DOI 10.1093/ehjci/jeaa259, PubMed 32929466
Edvardsen T, Klæboe LG, Haugaa KH (2020)
The infarcted myocardium and mechanical dispersion: another brick in the wall
Eur Heart J Cardiovasc Imaging, 21 (11), 1235-1236
DOI 10.1093/ehjci/jeaa209, PubMed 32856038
Haugaa K (2020)
Improving the imaging diagnosis of mitral annular disjunction
Heart, 107 (1), 4-5
DOI 10.1136/heartjnl-2020-317667, PubMed 32928893
Haugaa KH (2020)
Exercise and detraining are modifiable factors for arrhythmic risk in arrhythmogenic cardiomyopathy needing correct dosage
Heart Rhythm, 17 (8), 1260-1261
DOI 10.1016/j.hrthm.2020.03.020, PubMed 32247014
Haugaa KH, Leren IS (2020)
Electro-mechanics or mechano-electrics, an intricate interplay
Eur Heart J Cardiovasc Imaging, 21 (11), 1246-1247
DOI 10.1093/ehjci/jeaa186, PubMed 32577742
Hetland A, Vistnes M, Haugaa KH, Liland KH, Olseng M, Edvardsen T (2020)
Obstructive sleep apnea versus central sleep apnea: prognosis in systolic heart failure
Cardiovasc Diagn Ther, 10 (3), 396-404
DOI 10.21037/cdt.2020.03.02, PubMed 32695620
Holte E, Dweck MR, Marsan NA, D'Andrea A, Manka R, Stankovic I, Haugaa KH (2020)
EACVI survey on the evaluation of infective endocarditis
Eur Heart J Cardiovasc Imaging, 21 (8), 828-832
DOI 10.1093/ehjci/jeaa066, PubMed 32361725
Klaeboe LG, Brekke PH, Aaberge L, Haugaa K, Edvardsen T (2020)
Impact of transcatheter aortic valve implantation on mechanical dispersion
Open Heart, 7 (1), e001199
DOI 10.1136/openhrt-2019-001199, PubMed 32153792
Lie ØH, Haugaa KH (2020)
The super healthy atrial fibrillation conundrum
Eur Heart J Cardiovasc Imaging, 21 (12), 1384-1385
DOI 10.1093/ehjci/jeaa217, PubMed 32810229
Lie ØH, Klaboe LG, Dejgaard LA, Skjølsvik ET, Grimsmo J, Bosse G, Hopp E, Edvardsen T, Haugaa KH (2020)
Cardiac Phenotypes and Markers of Adverse Outcome in Elite Athletes With Ventricular Arrhythmias
JACC Cardiovasc Imaging, 14 (1), 148-158
DOI 10.1016/j.jcmg.2020.07.039, PubMed 33129723
Lieve KVV, Dusi V, van der Werf C, Bos JM, Lane CM, Stokke MK, Roston TM, Djupsjöbacka A, Wada Y, Denjoy I, Bundgaard H, Noguer FRI, Semsarian C, Robyns T, Hofman N, Tanck MW, van den Berg MP, Kammeraad JAE, Krahn AD, Clur SB, Sacher F, Till J, Skinner JR, Tfelt-Hansen J, Probst V et al. (2020)
Heart Rate Recovery After Exercise Is Associated With Arrhythmic Events in Patients With Catecholaminergic Polymorphic Ventricular Tachycardia
Circ Arrhythm Electrophysiol, 13 (3), e007471
DOI 10.1161/CIRCEP.119.007471, PubMed 32063070
Michalski B, Dweck MR, Marsan NA, Cameli M, D'Andrea A, Carvalho RF, Holte E, Podlesnikar T, Manka R, Haugaa KH (2020)
The evaluation of aortic stenosis, how the new guidelines are implemented across Europe: a survey by EACVI
Eur Heart J Cardiovasc Imaging, 21 (4), 357-362
DOI 10.1093/ehjci/jeaa009, PubMed 32196100
Otterstad JE, Norum IB, Ruddox V, Bendz B, Haugaa KH, Edvardsen T (2020)
The impact of semi-automatic versus manually adjusted assessment of global longitudinal strain in post-myocardial infarction patients
Int J Cardiovasc Imaging, 36 (7), 1283-1290
DOI 10.1007/s10554-020-01826-4, PubMed 32236908
Platonov PG, Castrini AI, Svensson A, Christiansen MK, Gilljam T, Bundgaard H, Madsen T, Heliö T, Christensen AH, Åström MA, Carlson J, Edvardsen T, Jensen HK, Haugaa KH, Svendsen JH (2020)
Pregnancies, ventricular arrhythmias, and substrate progression in women with arrhythmogenic right ventricular cardiomyopathy in the Nordic ARVC Registry
Europace, 22 (12), 1873-1879
DOI 10.1093/europace/euaa136, PubMed 32681178
Ross S, Nestaas E, Kongsgaard E, Odland HH, Haland TF, Hopp E, Haugaa KH, Edvardsen T (2020)
Septal contraction predicts acute haemodynamic improvement and paced QRS width reduction in cardiac resynchronization therapy
Eur Heart J Cardiovasc Imaging, 21 (8), 845-852
DOI 10.1093/ehjci/jez315, PubMed 31925420
Scheirlynck E, Chivulescu M, Lie ØH, Motoc A, Koulalis J, de Asmundis C, Sieira J, Chierchia GB, Brugada P, Cosyns B, Edvardsen T, Droogmans S, Haugaa KH (2020)
Worse Prognosis in Brugada Syndrome Patients With Arrhythmogenic Cardiomyopathy Features
JACC Clin Electrophysiol, 6 (11), 1353-1363
DOI 10.1016/j.jacep.2020.05.026, PubMed 33121663
Skjølsvik ET, Hasselberg NE, Dejgaard LA, Lie ØH, Andersen K, Holm T, Edvardsen T, Haugaa KH (2020)
Exercise is Associated With Impaired Left Ventricular Systolic Function in Patients With Lamin A/C Genotype
J Am Heart Assoc, 9 (2), e012937
DOI 10.1161/JAHA.119.012937, PubMed 31957533
Skulstad H, Cosyns B, Popescu BA, Galderisi M, Salvo GD, Donal E, Petersen S, Gimelli A, Haugaa KH, Muraru D, Almeida AG, Schulz-Menger J, Dweck MR, Pontone G, Sade LE, Gerber B, Maurovich-Horvat P, Bharucha T, Cameli M, Magne J, Westwood M, Maurer G, Edvardsen T (2020)
COVID-19 pandemic and cardiac imaging: EACVI recommendations on precautions, indications, prioritization, and protection for patients and healthcare personnel
Eur Heart J Cardiovasc Imaging, 21 (6), 592-598
DOI 10.1093/ehjci/jeaa072, PubMed 32242891
Smistad E, Ostvik A, Salte IM, Melichova D, Nguyen TM, Haugaa K, Brunvand H, Edvardsen T, Leclerc S, Bernard O, Grenne B, Lovstakken L (2020)
Real-Time Automatic Ejection Fraction and Foreshortening Detection Using Deep Learning
IEEE Trans Ultrason Ferroelectr Freq Control, 67 (12), 2595-2604
DOI 10.1109/TUFFC.2020.2981037, PubMed 32175861
Stokke MK, Castrini AI, Aneq MÅ, Jensen HK, Madsen T, Hansen J, Bundgaard H, Gilljam T, Platonov PG, Svendsen JH, Edvardsen T, Haugaa KH (2020)
Absence of ECG Task Force Criteria does not rule out structural changes in genotype positive ARVC patients
Int J Cardiol, 317, 152-158
DOI 10.1016/j.ijcard.2020.05.095, PubMed 32504717
Stokke MK, Castrini AI, Aneq MÅ, Jensen HK, Madsen T, Hansen J, Bundgaard H, Gilljam T, Platonov PG, Svendsen JH, Edvardsen T, Haugaa KH (2020)
Reply to: TFC ECG in arrhythmogenic cardiomyopathy: Inadequate mixture of criteria?
Int J Cardiol, 323, 203
DOI 10.1016/j.ijcard.2020.08.050, PubMed 32810539
Voigt JU, Mălăescu GG, Haugaa K, Badano L (2020)
How to do LA strain
Eur Heart J Cardiovasc Imaging, 21 (7), 715-717
DOI 10.1093/ehjci/jeaa091, PubMed 32548623
Wisløff-Aase K, Kerans V, Haugaa K, Halvorsen PS, Skulstad H, Espinoza A (2020)
Changes in left ventricular electromechanical relations during targeted hypothermia
Intensive Care Med Exp, 8 (1), 76
DOI 10.1186/s40635-020-00363-7, PubMed 33315166
Publications 2019
Babić A, Odland HH, Lyseggen E, Holm T, Ross S, Hopp E, Haugaa KH, Kongsgård E, Edvardsen T, Gérard O, Samset E (2019)
An image fusion tool for echo-guided left ventricular lead placement in cardiac resynchronization therapy: Performance and workflow integration analysis
Echocardiography, 36 (10), 1834-1845
DOI 10.1111/echo.14483, PubMed 31628770
Baturova MA, Haugaa KH, Jensen HK, Svensson A, Gilljam T, Bundgaard H, Madsen T, Hansen J, Chivulescu M, Christiansen MK, Carlson J, Edvardsen T, Svendsen JH, Platonov PG (2019)
Atrial fibrillation as a clinical characteristic of arrhythmogenic right ventricular cardiomyopathy: Experience from the Nordic ARVC Registry
Int J Cardiol, 298, 39-43
DOI 10.1016/j.ijcard.2019.07.086, PubMed 31387820
Bjerring AW, Landgraff HE, Stokke TM, Murbræch K, Leirstein S, Aaeng A, Brun H, Haugaa KH, Hallén J, Edvardsen T, Sarvari SI (2019)
The developing athlete's heart: a cohort study in young athletes transitioning through adolescence
Eur J Prev Cardiol, 26 (18), 2001-2008
DOI 10.1177/2047487319862061, PubMed 31284749
Cadrin-Tourigny J, Bosman LP, Nozza A, Wang W, Tadros R, Bhonsale A, Bourfiss M, Fortier A, Lie ØH, Saguner AM, Svensson A, Andorin A, Tichnell C, Murray B, Zeppenfeld K, van den Berg MP, Asselbergs FW, Wilde AAM, Krahn AD, Talajic M, Rivard L, Chelko S, Zimmerman SL, Kamel IR, Crosson JE et al. (2019)
A new prediction model for ventricular arrhythmias in arrhythmogenic right ventricular cardiomyopathy
Eur Heart J, 40 (23), 1850-1858
DOI 10.1093/eurheartj/ehz103, PubMed 30915475
Cameli M, Marsan NA, D'Andrea A, Dweck MR, Fontes-Carvalho R, Manka R, Michalski B, Podlesnikar T, Sitges M, Popescu BA, Edvardsen T, Fox KF, Haugaa KH (2019)
EACVI survey on multimodality training in ESC countries
Eur Heart J Cardiovasc Imaging, 20 (12), 1332-1336
DOI 10.1093/ehjci/jez200, PubMed 31750533
Castrini AI, Lie ØH, Leren IS, Estensen ME, Stokke MK, Klæboe LG, Edvardsen T, Haugaa KH (2019)
Number of pregnancies and subsequent phenotype in a cross-sectional cohort of women with arrhythmogenic cardiomyopathy
Eur Heart J Cardiovasc Imaging, 20 (2), 192-198
DOI 10.1093/ehjci/jey061, PubMed 29659777
Christiansen MK, Haugaa KH, Svensson A, Gilljam T, Madsen T, Hansen J, Holst AG, Bundgaard H, Edvardsen T, Svendsen JH, Platonov PG, Jensen HK (2019)
Incidence, Predictors, and Success of Ventricular Tachycardia Catheter Ablation in Arrhythmogenic Right Ventricular Cardiomyopathy (from the Nordic ARVC Registry)
Am J Cardiol, 125 (5), 803-811
DOI 10.1016/j.amjcard.2019.11.026, PubMed 31924321
Conte G, Belhassen B, Lambiase P, Ciconte G, de Asmundis C, Arbelo E, Schaer B, Frontera A, Burri H, Calo' L, Letsas KP, Leyva F, Porter B, Saenen J, Zacà V, Berne P, Ammann P, Zardini M, Luani B, Rordorf R, Sarquella Brugada G, Medeiros-Domingo A, Geller JC, de Potter T, Stokke MK et al. (2019)
Out-of-hospital cardiac arrest due to idiopathic ventricular fibrillation in patients with normal electrocardiograms: results from a multicentre long-term registry
Europace, 21 (11), 1670-1677
DOI 10.1093/europace/euz221, PubMed 31504477
Cosyns B, Haugaa KH, Gerber BL, Gimelli A, Donal E, Maurer G, Edvardsen T (2019)
The year 2018 in the European Heart Journal-Cardiovascular Imaging: Part II
Eur Heart J Cardiovasc Imaging, 20 (12), 1337-1344
DOI 10.1093/ehjci/jez218, PubMed 31750534
Cuneo BF, Kaizer AM, Clur SA, Swan H, Herberg U, Winbo A, Rydberg A, Haugaa K, Etheridge S, Ackerman MJ, Dagradi F, Killen SAS, Wacker-Gussmann A, Benson DW, Wilde AAM, Pan Z, Lam A, Spazzolini C, Horigome H, Schwartz PJ, Fetal LQTS Consortium (2019)
Mothers with long QT syndrome are at increased risk for fetal death: findings from a multicenter international study
Am J Obstet Gynecol, 222 (3), 263.e1-263.e11
DOI 10.1016/j.ajog.2019.09.004, PubMed 31520628
Dejgaard LA, Lie ØH, Helle-Valle TM, Edvardsen T, Haugaa KH (2019)
Reply: Arrhythmic Mitral Annulus Disjunction and Mitral Valve Prolapse: Components of the Same Clinical Spectrum?
J Am Coll Cardiol, 73 (6), 739-740
DOI 10.1016/j.jacc.2018.12.008, PubMed 30765047
Donal E, Delgado V, Bucciarelli-Ducci C, Galli E, Haugaa KH, Charron P, Voigt JU, Cardim N, Masci PG, Galderisi M, Gaemperli O, Gimelli A, Pinto YM, Lancellotti P, Habib G, Elliott P, Edvardsen T, Cosyns B, Popescu BA, 2016–18 EACVI Scientific Documents Committee (2019)
Multimodality imaging in the diagnosis, risk stratification, and management of patients with dilated cardiomyopathies: an expert consensus document from the European Association of Cardiovascular Imaging
Eur Heart J Cardiovasc Imaging, 20 (10), 1075-1093
DOI 10.1093/ehjci/jez178, PubMed 31504368
Edvardsen T, Haugaa KH (2019)
Stretch and Rebound in the Search for Cardiac Resynchronization Therapy Candidates
JACC Cardiovasc Imaging, 12 (9), 1753-1754
DOI 10.1016/j.jcmg.2018.08.008, PubMed 30660515
Edvardsen T, Haugaa KH, Petersen SE, Gimelli A, Donal E, Maurer G, Popescu BA, Cosyns B (2019)
The year 2018 in the European Heart Journal - Cardiovascular Imaging: Part I
Eur Heart J Cardiovasc Imaging, 20 (8), 858-865
DOI 10.1093/ehjci/jez133, PubMed 31211353
Gibbs C, Thalamus J, Kristoffersen DT, Svendsen MV, Holla ØL, Heldal K, Haugaa KH, Hysing J (2019)
QT prolongation predicts short-term mortality independent of comorbidity
Europace, 21 (8), 1254-1260
DOI 10.1093/europace/euz058, PubMed 31220237
González A, Aurlien D, Larsson PG, Berg Olsen K, Dahl IT, Edvardsen T, Haugaa KH, Taubøll E (2019)
Corrigendum to "Seizure-like episodes and EEG abnormalities in patients with long QT syndrome" [Seizure 61 (2018) 214-220]
Seizure, 69, 304
DOI 10.1016/j.seizure.2018.12.002, PubMed 31056410
Haugaa KH, Leren IS (2019)
Prevalence, Clinical Presentation, and Management of Channelopathies and Cardiomyopathies, Long QT Syndrome, Brugada Syndrome, Arrhythmogenic Cardiomyopathy, and Hypertrophic Cardiomyopathy
Curr. Cardiovascu. Risk Rep., 13 (7), 16
DOI 10.1007/s12170-019-0612-2
Haugaa KH, Lie ØH (2019)
Cardiac amyloidosis: can imaging shed light on mechanisms and prognosis?
Eur Heart J Cardiovasc Imaging, 20 (5), 500-501
DOI 10.1093/ehjci/jez009, PubMed 30726891
Haugaa KH, Marsan NA, Cameli M, D'Andrea A, Dweck MR, Carvalho RF, Holte E, Manka R, Michalski B, Podlesnikar T, Popescu BA, Schulz-Menger J, Sitges M, Stankovic I, Maurer G, Edvardsen T (2019)
Criteria for surveys: from the European Association of Cardiovascular Imaging Scientific Initiatives Committee
Eur Heart J Cardiovasc Imaging, 20 (9), 963-966
DOI 10.1093/ehjci/jez193, PubMed 31436816
Kawakami H, Nerlekar N, Haugaa KH, Edvardsen T, Marwick TH (2019)
Prediction of Ventricular Arrhythmias With Left Ventricular Mechanical Dispersion: A Systematic Review and Meta-Analysis
JACC Cardiovasc Imaging, 13 (2 Pt 2), 562-572
DOI 10.1016/j.jcmg.2019.03.025, PubMed 31202762
Klaeboe LG, Brekke PH, Lie ØH, Aaberge L, Haugaa KH, Edvardsen T (2019)
Classical mechanical dyssynchrony is rare in transcatheter aortic valve implantation-induced left bundle branch block
Eur Heart J Cardiovasc Imaging, 20 (3), 271-278
DOI 10.1093/ehjci/jey127, PubMed 30247533
Kvisvik B, Aagaard EN, Mørkrid L, Røsjø H, Lyngbakken M, Smedsrud MK, Eek C, Bendz B, Haugaa KH, Edvardsen T, Gravning J (2019)
Mechanical dispersion as a marker of left ventricular dysfunction and prognosis in stable coronary artery disease
Int J Cardiovasc Imaging, 35 (7), 1265-1275
DOI 10.1007/s10554-019-01583-z, PubMed 31165941
Magne J, Bharucha T, Bucciarelli-Ducci C, Dahl JS, Gimelli A, Haugaa KH, Muraru D, Donal E, Edvardsen T, Popescu BA (2019)
EuroEcho-imaging 2018: highlights
Eur Heart J Cardiovasc Imaging, 20 (5), 489-497
DOI 10.1093/ehjci/jez042, PubMed 31222301
Platonov PG, Haugaa KH, Bundgaard H, Svensson A, Gilljam T, Hansen J, Madsen T, Holst AG, Carlson J, Lie ØH, Kvistholm Jensen M, Edvardsen T, Jensen HK, Svendsen JH (2019)
Primary Prevention of Sudden Cardiac Death With Implantable Cardioverter-Defibrillator Therapy in Patients With Arrhythmogenic Right Ventricular Cardiomyopathy
Am J Cardiol, 123 (7), 1156-1162
DOI 10.1016/j.amjcard.2018.12.049, PubMed 30678832
Scheirlynck E, Dejgaard LA, Skjølsvik E, Lie OH, Motoc A, Hopp E, Tanaka K, Ueland T, Ribe M, Collet C, Edvardsen T, Droogmans S, Cosyns B, Haugaa KH (2019)
Increased levels of sST2 in patients with mitral annulus disjunction and ventricular arrhythmias
Open Heart, 6 (1), e001016
DOI 10.1136/openhrt-2019-001016, PubMed 31168386
van der Werf C, Lieve KV, Bos JM, Lane CM, Denjoy I, Roses-Noguer F, Aiba T, Wada Y, Ingles J, Leren IS, Rudic B, Schwartz PJ, Maltret A, Sacher F, Skinner JR, Krahn AD, Roston TM, Tfelt-Hansen J, Swan H, Robyns T, Ohno S, Roberts JD, van den Berg MP, Kammeraad JA, Probst V et al. (2019)
Implantable cardioverter-defibrillators in previously undiagnosed patients with catecholaminergic polymorphic ventricular tachycardia resuscitated from sudden cardiac arrest
Eur Heart J, 40 (35), 2953-2961
DOI 10.1093/eurheartj/ehz309, PubMed 31145795
Publications 2018
Bjerring AW, Landgraff HE, Leirstein S, Aaeng A, Ansari HZ, Saberniak J, Murbræch K, Bruun H, Stokke TM, Haugaa KH, Hallén J, Edvardsen T, Sarvari SI (2018)
Morphological changes and myocardial function assessed by traditional and novel echocardiographic methods in preadolescent athlete's heart
Eur J Prev Cardiol, 25 (9), 1000-1007
DOI 10.1177/2047487318776079, PubMed 29785884
Boveda S, Lenarczyk R, Haugaa KH, Iliodromitis K, Finlay M, Lane D, Prinzen FW, Dagres N (2018)
Use of leadless pacemakers in Europe: results of the European Heart Rhythm Association survey
Europace, 20 (3), 555-559
DOI 10.1093/europace/eux381, PubMed 29360974
Danielsen TK, Manotheepan R, Sadredini M, Leren IS, Edwards AG, Vincent KP, Lehnart SE, Sejersted OM, Sjaastad I, Haugaa KH, Stokke MK (2018)
Arrhythmia initiation in catecholaminergic polymorphic ventricular tachycardia type 1 depends on both heart rate and sympathetic stimulation
PLoS One, 13 (11), e0207100
DOI 10.1371/journal.pone.0207100, PubMed 30399185
Dejgaard LA, Haland TF, Lie OH, Ribe M, Bjune T, Leren IS, Berge KE, Edvardsen T, Haugaa KH (2018)
Vigorous exercise in patients with hypertrophic cardiomyopathy
Int J Cardiol, 250, 157-163
DOI 10.1016/j.ijcard.2017.07.015, PubMed 29169752
Dejgaard LA, Skjølsvik ET, Lie ØH, Ribe M, Stokke MK, Hegbom F, Scheirlynck ES, Gjertsen E, Andresen K, Helle-Valle TM, Hopp E, Edvardsen T, Haugaa KH (2018)
The Mitral Annulus Disjunction Arrhythmic Syndrome
J Am Coll Cardiol, 72 (14), 1600-1609
DOI 10.1016/j.jacc.2018.07.070, PubMed 30261961
Delgado V, Cardim N, Cosyns B, Donal E, Flachskampf F, Galderisi M, Gerber B, Gimelli A, Haugaa KH, Kaufmann PA, Lancellotti P, Magne J, Masci PG, Muraru D, Habib G, Edvardsen T, Popescu BA (2018)
Criteria for recommendation, expert consensus, and appropriateness criteria papers: update from the European Association of Cardiovascular Imaging Scientific Documents Committee
Eur Heart J Cardiovasc Imaging, 19 (8), 835-837
DOI 10.1093/ehjci/jey079, PubMed 29905776
Edvardsen T, Haugaa KH, Gerber BL, Maurovich-Horvat P, Donal E, Maurer G, Popescu BA (2018)
The year 2017 in the European Heart Journal-Cardiovascular Imaging: Part II
Eur Heart J Cardiovasc Imaging, 19 (11), 1222-1229
DOI 10.1093/ehjci/jey110, PubMed 30084988
Fumagalli S, Pieragnoli P, Haugaa KH, Potpara TS, Rasero L, Ramacciati N, Ricciardi G, Solimene F, Mascia G, Mascioli G, Zuo G, Roberts AT, Marchionni N, Lenarczyk R, Boveda S, Dagres N (2018)
The influence of age on the psychological profile of patients with cardiac implantable electronic devices: results from the Italian population in a multicenter study conducted by the European Heart Rhythm Association
Aging Clin Exp Res, 31 (9), 1219-1226
DOI 10.1007/s40520-018-1088-5, PubMed 30552563
Gibbs C, Thalamus J, Heldal K, Holla ØL, Haugaa KH, Hysing J (2018)
Predictors of mortality in high-risk patients with QT prolongation in a community hospital
Europace, 20 (FI1), f99-f107
DOI 10.1093/europace/eux286, PubMed 29036623
Gibbs C, Thalamus J, Tveten K, Busk ØL, Hysing J, Haugaa KH, Holla ØL (2018)
Genetic and Phenotypic Characterization of Community Hospital Patients With QT Prolongation
J Am Heart Assoc, 7 (16), e009706
DOI 10.1161/JAHA.118.009706, PubMed 30369311
González A, Aurlien D, Haugaa KH, Taubøll E (2018)
Epilepsy in patients with long QT syndrome type 1: A Norwegian family
Epilepsy Behav Case Rep, 10, 118-121
DOI 10.1016/j.ebcr.2018.09.006, PubMed 30406014
González A, Aurlien D, Larsson PG, Olsen KB, Dahl IT, Edvardsen T, Haugaa KH, Taubøll E (2018)
Seizure-like episodes and EEG abnormalities in patients with long QT syndrome
Seizure, 61, 214-220
DOI 10.1016/j.seizure.2018.08.020, PubMed 30218808
Hasselberg NE, Berge KE, Rasmussen M, Früh A, Ørstavik K, Haugaa KH (2018)
[Cardiomyopathy in hereditary muscular dystrophies]
Tidsskr Nor Laegeforen, 138 (1)
DOI 10.4045/tidsskr.16.0683, PubMed 29313627
Hasselberg NE, Haland TF, Saberniak J, Brekke PH, Berge KE, Leren TP, Edvardsen T, Haugaa KH (2018)
Lamin A/C cardiomyopathy: young onset, high penetrance, and frequent need for heart transplantation
Eur Heart J, 39 (10), 853-860
DOI 10.1093/eurheartj/ehx596, PubMed 29095976
Haugaa KH, Dan GA, Iliodromitis K, Lenarczyk R, Marinskis G, Osca J, Scherr D, Dagres N (2018)
Management of patients with ventricular arrhythmias and prevention of sudden cardiac death-translating guidelines into practice: results of the European Heart Rhythm Association survey
Europace, 20 (FI2), f249-f253
DOI 10.1093/europace/euy112, PubMed 29878156
Haugaa KH, Dejgaard LA (2018)
Global Longitudinal Strain: Ready for Clinical Use and Guideline Implementation
J Am Coll Cardiol, 71 (18), 1958-1959
DOI 10.1016/j.jacc.2018.03.015, PubMed 29724347
Haugaa KH, Lie ØH (2018)
Reveal the Concealed: The Quest for Early Disease Detection in Family Members at Risk of Developing Arrhythmogenic Cardiomyopathy
JACC Cardiovasc Imaging, 12 (3), 456-457
DOI 10.1016/j.jcmg.2018.02.007, PubMed 29550321
Haugaa KH, Potpara TS, Boveda S, Deharo JC, Chen J, Dobreanu D, Fumagalli S, Lenarczyk R, Hernandez Madrid A, Larsen TB, Sciarrafia E, Taborsky M, Tilz RR, Pieragnoli P, Przybylski A, Dagres N (2018)
Patients' knowledge and attitudes regarding living with implantable electronic devices: results of a multicentre, multinational patient survey conducted by the European Heart Rhythm Association
Europace, 20 (2), 386-391
DOI 10.1093/europace/eux365, PubMed 29300970
Haugaa KH, Stokke MK (2018)
Cardiac electrical and mechanical alterations - united in the long QT syndrome
Int J Cardiol, 274, 190-191
DOI 10.1016/j.ijcard.2018.09.048, PubMed 30236503
Jurcut R, Haugaa K, La Gerche A (2018)
The Right Ventricle: From Bench to Bedside
Biomed Res Int, 2018, 2868437
DOI 10.1155/2018/2868437, PubMed 29862260
Lenarczyk R, Boveda S, Haugaa KH, Potpara TS, Syska P, Jedrzejczyk-Patej E, Chauvin M, Sadoul N, Dagres N (2018)
Peri-procedural routines, implantation techniques, and procedure-related complications in patients undergoing implantation of subcutaneous or transvenous automatic cardioverter-defibrillators: results of the European Snapshot Survey on S-ICD Implantation (ESSS-SICDI)
Europace, 20 (7), 1218-1224
DOI 10.1093/europace/euy092, PubMed 29762683
Lie ØH, Dejgaard LA, Saberniak J, Rootwelt C, Stokke MK, Edvardsen T, Haugaa KH (2018)
Harmful Effects of Exercise Intensity and Exercise Duration in Patients With Arrhythmogenic Cardiomyopathy
JACC Clin Electrophysiol, 4 (6), 744-753
DOI 10.1016/j.jacep.2018.01.010, PubMed 29929667
Lie ØH, Rootwelt-Norberg C, Dejgaard LA, Leren IS, Stokke MK, Edvardsen T, Haugaa KH (2018)
Prediction of Life-Threatening Ventricular Arrhythmia in Patients With Arrhythmogenic Cardiomyopathy: A Primary Prevention Cohort Study
JACC Cardiovasc Imaging, 11 (10), 1377-1386
DOI 10.1016/j.jcmg.2018.05.017, PubMed 30031702
Linde C, Bongiorni MG, Birgersdotter-Green U, Curtis AB, Deisenhofer I, Furokawa T, Gillis AM, Haugaa KH, Lip GYH, Van Gelder I, Malik M, Poole J, Potpara T, Savelieva I, Sarkozy A, ESC Scientific Document Group (2018)
Sex differences in cardiac arrhythmia: a consensus document of the European Heart Rhythm Association, endorsed by the Heart Rhythm Society and Asia Pacific Heart Rhythm Society
Europace, 20 (10), 1565-1565ao
DOI 10.1093/europace/euy067, PubMed 29961863
Magne J, Bucciarelli-Ducci C, Dahl JS, Gimelli A, Haugaa KH, Miller O, Muraru D, Donal E, Edvardsen T, Popescu BA (2018)
EuroEcho-imaging 2017: highlights
Eur Heart J Cardiovasc Imaging, 19 (5), 482-489
DOI 10.1093/ehjci/jey037, PubMed 29548013
Popescu BA, Petersen SE, Maurovich-Horvat P, Haugaa KH, Donal E, Maurer G, Edvardsen T (2018)
The year 2017 in the European Heart Journal-Cardiovascular Imaging: Part I
Eur Heart J Cardiovasc Imaging, 19 (10), 1099-1106
DOI 10.1093/ehjci/jey109, PubMed 30085023
Rootwelt-Norberg C, Lie ØH, Dejgaard LA, Chivulescu M, Leren IS, Edvardsen T, Haugaa KH (2018)
Life-threatening arrhythmic presentation in patients with arrhythmogenic cardiomyopathy before and after entering the genomic era; a two-decade experience from a large volume center
Int J Cardiol, 279, 79-83
DOI 10.1016/j.ijcard.2018.12.066, PubMed 30638987
Sharma S, Haugaa KH (2018)
12-Lead Electrocardiography Parameters for Differentiating Athlete's Heart From Arrhythmogenic Right Ventricular Cardiomyopathy
JACC Clin Electrophysiol, 4 (12), 1626-1628
DOI 10.1016/j.jacep.2018.10.002, PubMed 30573128
Stokke TM, Hasselberg NE, Smedsrud MK, Sarvari SI, Haugaa KH, Smiseth OA, Edvardsen T, Remme EW (2018)
Reply: Interaction Between Longitudinal, Circumferential, and Radial Deformations and Their Contributions to Ejection Fraction
J Am Coll Cardiol, 71 (2), 257-258
DOI 10.1016/j.jacc.2017.10.090, PubMed 29325649
Stokke TM, Haugaa KH, Smiseth OA, Edvardsen T, Remme EW (2018)
Reply: Left Ventricular Twist: An Often Ignored But Crucial Determinant of Left Ventricular Function
J Am Coll Cardiol, 71 (5), 584-585
DOI 10.1016/j.jacc.2017.12.002, PubMed 29406870
Tilz RR, Lenarczyk R, Scherr D, Haugaa KH, Iliodromitis K, Pürerfellner H, Kiliszek M, Dagres N (2018)
Management of ventricular tachycardia in the ablation era: results of the European Heart Rhythm Association Survey
Europace, 20 (1), 209-213
DOI 10.1093/europace/eux332, PubMed 29186419
Publications 2017
Anderson HN, Bos JM, Haugaa KH, Morlan BW, Tarrell RF, Caraballo PJ, Ackerman MJ (2017)
Prevalence and Outcome of High-Risk QT Prolongation Recorded in the Emergency Department from an Institution-Wide QT Alert System
J Emerg Med, 54 (1), 8-15
DOI 10.1016/j.jemermed.2017.08.073, PubMed 29107482
Broch K, Leren IS, Saberniak J, Ueland T, Edvardsen T, Gullestad L, Haugaa KH (2017)
Soluble ST2 is associated with disease severity in arrhythmogenic right ventricular cardiomyopathy
Biomarkers, 22 (3-4), 367-371
DOI 10.1080/1354750X.2016.1278266, PubMed 28067540
Chambers JB, Garbi M, Nieman K, Myerson S, Pierard LA, Habib G, Zamorano JL, Edvardsen T, Lancellotti P, This document was reviewed by members of the 2014—16 EACVI Scientific Documents Committee:, Delgado V, Cosyns B, Donal E, Dulgheru R, Galderisi M, Lombardi M, Muraru D, Kauffmann P, Cardim N, Haugaa K, Rosenhek R (2017)
Appropriateness criteria for the use of cardiovascular imaging in heart valve disease in adults: a European Association of Cardiovascular Imaging report of literature review and current practice
Eur Heart J Cardiovasc Imaging, 18 (5), 489-498
DOI 10.1093/ehjci/jew309, PubMed 28586420
Chivulescu M, Haugaa K, Lie ØH, Edvardsen T, Ginghină C, Popescu BA, Jurcut R (2017)
Right ventricular remodeling in athletes and in arrhythmogenic cardiomyopathy
Scand Cardiovasc J, 52 (1), 13-19
DOI 10.1080/14017431.2017.1416158, PubMed 29254378
Dejgaard LA, Haland TF, Lie OH, Ribe M, Bjune T, Leren IS, Berge KE, Edvardsen T, Haugaa KH (2017)
Data on exercise and cardiac imaging in a patient cohort with hypertrophic cardiomyopathy
Data Brief, 15, 30-39
DOI 10.1016/j.dib.2017.08.018, PubMed 28971120
Edvardsen T, Haugaa KH (2017)
Strain Echocardiography: From Variability to Predictability
JACC Cardiovasc Imaging, 11 (1), 35-37
DOI 10.1016/j.jcmg.2017.03.012, PubMed 28528163
Fumagalli S, Potpara TS, Bjerregaard Larsen T, Haugaa KH, Dobreanu D, Proclemer A, Dagres N (2017)
Frailty syndrome: an emerging clinical problem in the everyday management of clinical arrhythmias. The results of the European Heart Rhythm Association survey
Europace, 19 (11), 1896-1902
DOI 10.1093/europace/eux288, PubMed 29040554
Gilljam T, Haugaa KH, Jensen HK, Svensson A, Bundgaard H, Hansen J, Dellgren G, Gustafsson F, Eiskjær H, Andreassen AK, Sjögren J, Edvardsen T, Holst AG, Svendsen JH, Platonov PG (2017)
Heart transplantation in arrhythmogenic right ventricular cardiomyopathy - Experience from the Nordic ARVC Registry
Int J Cardiol, 250, 201-206
DOI 10.1016/j.ijcard.2017.10.076, PubMed 29107359
Glover BM, Chen J, Hong KL, Boveda S, Baranchuk A, Haugaa KH, Dorian P, Potpara TS, Crystal E, Mitchell B, Tilz R, Leong-Sit P, Dagres N (2017)
Retracted. Catheter ablation for atrial flutter: a survey by the European Heart Rhythm Association and Canadian Heart Rhythm Society
Europace, 19 (4), e1 (Retracted)
DOI 10.1093/europace/euw392, PubMed 28057775
Gorcsan J, Haugaa KH (2017)
Ventricular Arrhythmias and Reduced Echocardiographic Inferior Wall Strain: Is Regional Function an Important Risk Marker?
Circ Cardiovasc Imaging, 10 (1)
DOI 10.1161/CIRCIMAGING.116.005900, PubMed 28003223
Haland TF, Hasselberg NE, Almaas VM, Dejgaard LA, Saberniak J, Leren IS, Berge KE, Haugaa KH, Edvardsen T (2017)
The systolic paradox in hypertrophic cardiomyopathy
Open Heart, 4 (1), e000571
DOI 10.1136/openhrt-2016-000571, PubMed 28674623
Haugaa KH, Basso C, Badano LP, Bucciarelli-Ducci C, Cardim N, Gaemperli O, Galderisi M, Habib G, Knuuti J, Lancellotti P, McKenna W, Neglia D, Popescu BA, Edvardsen T, , (2017)
Comprehensive multi-modality imaging approach in arrhythmogenic cardiomyopathy-an expert consensus document of the European Association of Cardiovascular Imaging
Eur Heart J Cardiovasc Imaging, 18 (3), 237-253
DOI 10.1093/ehjci/jew229, PubMed 28069601
Haugaa KH, Edvardsen T, Smiseth OA (2017)
Mechanical dyssynchrony-resurrected as a flashing and rocking parameter to predict prognosis after cardiac resynchronization therapy
Eur Heart J Cardiovasc Imaging, 18 (10), 1118-1119
DOI 10.1093/ehjci/jex198, PubMed 28984891
Haugaa KH, Tilz R, Boveda S, Dobreanu D, Sciaraffia E, Mansourati J, Papiashvili G, Dagres N (2017)
Implantable cardioverter defibrillator use for primary prevention in ischaemic and non-ischaemic heart disease-indications in the post-DANISH trial era: results of the European Heart Rhythm Association survey
Europace, 19 (4), 660-664
DOI 10.1093/europace/eux089, PubMed 28431077
Hetland A, Lerum TV, Haugaa KH, Edvardsen T (2017)
Patients with Cheyne-Stokes respiration and heart failure: patient tolerance after three-month discontinuation of treatment with adaptive servo-ventilation
Heart Vessels, 32 (8), 909-915
DOI 10.1007/s00380-017-0951-1, PubMed 28188451
Klaeboe LG, Haland TF, Leren IS, Ter Bekke RMA, Brekke PH, Røsjø H, Omland T, Gullestad L, Aakhus S, Haugaa KH, Edvardsen T (2017)
Prognostic Value of Left Ventricular Deformation Parameters in Patients with Severe Aortic Stenosis: A Pilot Study of the Usefulness of Strain Echocardiography
J Am Soc Echocardiogr, 30 (8), 727-735.e1
DOI 10.1016/j.echo.2017.04.009, PubMed 28599826
Lenarczyk R, Potpara TS, Haugaa KH, Deharo JC, Hernandez-Madrid A, Del Carmen Exposito Pineda M, Kiliszek M, Dagres N (2017)
Approach to cardio-oncologic patients with special focus on patients with cardiac implantable electronic devices planned for radiotherapy: results of the European Heart Rhythm Association survey
Europace, 19 (9), 1579-1584
DOI 10.1093/europace/eux195, PubMed 28934410
Leren IS, Saberniak J, Haland TF, Edvardsen T, Haugaa KH (2017)
Combination of ECG and Echocardiography for Identification of Arrhythmic Events in Early ARVC
JACC-Cardiovasc. Imag., 10 (5), 504-513
Lie ØH, Saberniak J, Dejgaard LA, Stokke MK, Hegbom F, Anfinsen OG, Edvardsen T, Haugaa KH (2017)
Lower than expected burden of premature ventricular contractions impairs myocardial function
ESC Heart Fail, 4 (4), 585-594
DOI 10.1002/ehf2.12180, PubMed 29154430
Nestaas E, Shih JY, Smedsrud MK, Gjesdal O, Hopp E, Haugaa KH, Edvardsen T (2017)
Comparison of Electrocardiography Markers and Speckle Tracking Echocardiography for Assessment of Left Ventricular Myocardial Scar Burden in Patients With Previous Myocardial Infarction
Am J Cardiol, 119 (9), 1307-1312
DOI 10.1016/j.amjcard.2017.01.020, PubMed 28274572
Orstavik K, Garfelt B, Leren TP, Saberniak J, Haugaa K, Jonsrud C (2017)
A 50 year old man with proximal power failure and heart disease
Tidsskr. Nor. Laegeforen., 137 (16), 1206-1209
Rodríguez-Zanella H, Haugaa K, Boccalini F, Secco E, Edvardsen T, Badano LP, Muraru D (2017)
Physiological Determinants of Left Ventricular Mechanical Dispersion: A 2-Dimensional Speckle Tracking Echocardiographic Study in Healthy Volunteers
JACC Cardiovasc Imaging, 11 (4), 650-651
DOI 10.1016/j.jcmg.2017.06.015, PubMed 28917676
Stokke TM, Hasselberg NE, Smedsrud MK, Sarvari SI, Haugaa KH, Smiseth OA, Edvardsen T, Remme EW (2017)
Geometry as a Confounder When Assessing Ventricular Systolic Function: Comparison Between Ejection Fraction and Strain
J Am Coll Cardiol, 70 (8), 942-954
DOI 10.1016/j.jacc.2017.06.046, PubMed 28818204
Tilz RR, Potpara T, Chen J, Dobreanu D, Larsen TB, Haugaa KH, Dagres N (2017)
Left atrial appendage occluder implantation in Europe: indications and anticoagulation post-implantation. Results of the European Heart Rhythm Association Survey
Europace, 19 (10), 1737-1742
DOI 10.1093/europace/eux254, PubMed 29016910
Timmermann V, Dejgaard LA, Haugaa KH, Edwards AG, Sundnes J, McCulloch AD, Wall ST (2017)
An integrative appraisal of mechano-electric feedback mechanisms in the heart
Prog Biophys Mol Biol, 130 (Pt B), 404-417
DOI 10.1016/j.pbiomolbio.2017.08.008, PubMed 28851517
Turkowski KL, Tester DJ, Bos JM, Haugaa KH, Ackerman MJ (2017)
Whole exome sequencing with genomic triangulation implicates CDH2-encoded N-cadherin as a novel pathogenic substrate for arrhythmogenic cardiomyopathy
Congenit Heart Dis, 12 (2), 226-235
DOI 10.1111/chd.12462, PubMed 28326674
Ørstavik K, Garfelt B, Leren TP, Saberniak J, Haugaa K, Jonsrud C (2017)
[A 50-year-old man with proximal pareses and heart disease]
Tidsskr Nor Laegeforen, 137 (16)
DOI 10.4045/tidsskr.16.0789, PubMed 28871726
Publications 2016
Barros MV, Leren IS, Edvardsen T, Haugaa KH, Carmo AA, Lage TA, Nunes MC, Rocha MO, Ribeiro AL (2016)
Mechanical Dispersion Assessed by Strain Echocardiography Is Associated with Malignant Arrhythmias in Chagas Cardiomyopathy
J Am Soc Echocardiogr, 29 (4), 368-74
DOI 10.1016/j.echo.2015.12.008, PubMed 26833338
Boveda S, Lenarczyk R, Haugaa K, Fumagalli S, Madrid AH, Defaye P, Broadhurst P, Dagres N (2016)
Implantation of subcutaneous implantable cardioverter defibrillators in Europe: results of the European Heart Rhythm Association survey
Europace, 18 (9), 1434-9
DOI 10.1093/europace/euw258, PubMed 27582309
Di Marco A, Anguera I, Schmitt M, Klem I, Neilan TG, White JA, Sramko M, Masci PG, Barison A, Mckenna P, Mordi I, Haugaa KH, Leyva F, Rodriguez Capitán J, Satoh H, Nabeta T, Dallaglio PD, Campbell NG, Sabaté X, Cequier Á (2016)
Late Gadolinium Enhancement and the Risk for Ventricular Arrhythmias or Sudden Death in Dilated Cardiomyopathy: Systematic Review and Meta-Analysis
JACC Heart Fail, 5 (1), 28-38
DOI 10.1016/j.jchf.2016.09.017, PubMed 28017348
Donal E, Lip GY, Galderisi M, Goette A, Shah D, Marwan M, Lederlin M, Mondillo S, Edvardsen T, Sitges M, Grapsa J, Garbi M, Senior R, Gimelli A, Potpara TS, Van Gelder IC, Gorenek B, Mabo P, Lancellotti P, Kuck KH, Popescu BA, Hindricks G, Habib G, Cardim NM, Cosyns B et al. (2016)
EACVI/EHRA Expert Consensus Document on the role of multi-modality imaging for the evaluation of patients with atrial fibrillation
Eur Heart J Cardiovasc Imaging, 17 (4), 355-83
DOI 10.1093/ehjci/jev354, PubMed 26864186
Edvardsen T, Cardim N, Cosyns B, Delgado V, Donal E, Dulgheru R, Galderisi M, Haugaa KH, Kaufmann PA, Lancellotti P, Lombardi M, Muraru D, Plein S, Maurer G, Popescu BA, Habib G, EACVI Scientific Documents Committee (2016)
Criteria for recommendation and expert consensus papers: from the European Association of Cardiovascular Imaging Scientific Documents Committee
Eur Heart J Cardiovasc Imaging, 17 (10), 1098-100
DOI 10.1093/ehjci/jew157, PubMed 27491437
Edvardsen T, Sarvari SI, Haugaa KH (2016)
Strain imaging - from Scandinavian research to global deployment
Scand Cardiovasc J, 50 (5-6), 266-275
DOI 10.1080/14017431.2016.1239836, PubMed 27650726
Früh A, Siem G, Holmström H, Døhlen G, Haugaa KH (2016)
The Jervell and Lange-Nielsen syndrome; atrial pacing combined with ß-blocker therapy, a favorable approach in young high-risk patients with long QT syndrome?
Heart Rhythm, 13 (11), 2186-2192
DOI 10.1016/j.hrthm.2016.07.020, PubMed 27451284
Glover BM, Chen J, Hong KL, Boveda S, Baranchuk A, Haugaa KH, Dorian P, Potpara TS, Crystal E, Mitchell B, Tilz R, Leong-Sit P, Dagres N (2016)
Catheter ablation for atrial flutter: a survey by the European Heart Rhythm Association and Canadian Heart Rhythm Society
Europace, 18 (12), 1880-1885
DOI 10.1093/europace/euw402, PubMed 28130373
Haland TF, Almaas VM, Hasselberg NE, Saberniak J, Leren IS, Hopp E, Edvardsen T, Haugaa KH (2016)
Strain echocardiography is related to fibrosis and ventricular arrhythmias in hypertrophic cardiomyopathy
Eur Heart J Cardiovasc Imaging, 17 (6), 613-21
DOI 10.1093/ehjci/jew005, PubMed 26873460
Haland TF, Saberniak J, Leren IS, Edvardsen T, Haugaa KH (2016)
Echocardiographic comparison between left ventricular non-compaction and hypertrophic cardiomyopathy
Int J Cardiol, 228, 900-905
DOI 10.1016/j.ijcard.2016.11.162, PubMed 27894062
Haugaa KH, Edvardsen T (2016)
Global longitudinal strain: the best biomarker for predicting prognosis in heart failure?
Eur J Heart Fail, 18 (11), 1340-1341
DOI 10.1002/ejhf.632, PubMed 27813299
Hetland A, Haugaa KH, Vistnes M, Liland KH, Olseng M, Jacobsen MB, Edvardsen T (2016)
A retrospective analysis of cardiovascular outcomes in patients treated with ASV
Scand Cardiovasc J, 51 (2), 106-113
DOI 10.1080/14017431.2016.1262546, PubMed 27854123
Lancellotti P, Price S, Edvardsen T, Cosyns B, Neskovic AN, Dulgheru R, Flachskampf FA, Hassager C, Pasquet A, Gargani L, Galderisi M, Cardim N, Haugaa KH, Ancion A, Zamorano JL, Donal E, Bueno H, Habib G (2016)
The use of echocardiography in acute cardiovascular care: Recommendations of the European Association of Cardiovascular Imaging and the Acute Cardiovascular Care Association
Turk Kardiyol. Dern. Ars., 44 1, 53-80
Lenarczyk R, Potpara TS, Haugaa KH, Hernández-Madrid A, Sciaraffia E, Dagres N, Scientific Initiatives Committee, European Heart Rhythm Association (2016)
The use of wearable cardioverter-defibrillators in Europe: results of the European Heart Rhythm Association survey
Europace, 18 (1), 146-50
DOI 10.1093/europace/euw003, PubMed 26842735
Leren IS, Saberniak J, Haland TF, Edvardsen T, Haugaa KH (2016)
Combination of ECG and Echocardiography for Identification of Arrhythmic Events in Early ARVC
JACC Cardiovasc Imaging, 10 (5), 503-513
DOI 10.1016/j.jcmg.2016.06.011, PubMed 27771401
McLeod K, Wall S, Leren IS, Saberniak J, Haugaa KH (2016)
Ventricular structure in ARVC: going beyond volumes as a measure of risk
J Cardiovasc Magn Reson, 18 (1), 73
DOI 10.1186/s12968-016-0291-9, PubMed 27756409
Saberniak J, Leren IS, Haland TF, Beitnes JO, Hopp E, Borgquist R, Edvardsen T, Haugaa KH (2016)
Comparison of patients with early-phase arrhythmogenic right ventricular cardiomyopathy and right ventricular outflow tract ventricular tachycardia
Eur Heart J Cardiovasc Imaging, 18 (1), 62-69
DOI 10.1093/ehjci/jew014, PubMed 26903598
Tilz R, Boveda S, Deharo JC, Dobreanu D, Haugaa KH, Dagres N (2016)
Replacement of implantable cardioverter defibrillators and cardiac resynchronization therapy devices: results of the European Heart Rhythm Association survey
Europace, 18 (6), 945-9
DOI 10.1093/europace/euw157, PubMed 27297231
Publications 2015
Anderson HN, Bos JM, Haugaa KH, Morlan BW, Tarrell RF, Caraballo PJ, Ackerman MJ (2015)
Phenotype of Children with QT Prolongation Identified Using an Institution-Wide QT Alert System
Pediatr Cardiol, 36 (7), 1350-6
DOI 10.1007/s00246-015-1164-y, PubMed 25845942
Edvardsen T, Haugaa KH (2015)
The thorny way of 3D strain from research to clinical use: are we getting closer?
JACC Cardiovasc Imaging, 8 (3), 246-247
DOI 10.1016/j.jcmg.2015.01.005, PubMed 25772831
Hasselberg NE, Haugaa KH, Bernard A, Ribe MP, Kongsgaard E, Donal E, Edvardsen T (2015)
Left ventricular markers of mortality and ventricular arrhythmias in heart failure patients with cardiac resynchronization therapy
Eur Heart J Cardiovasc Imaging, 17 (3), 343-50
DOI 10.1093/ehjci/jev173, PubMed 26164406
Haugaa KH, Bundgaard H, Edvardsen T, Eschen O, Gilljam T, Hansen J, Jensen HK, Platonov PG, Svensson A, Svendsen JH (2015)
Management of patients with Arrhythmogenic Right Ventricular Cardiomyopathy in the Nordic countries
Scand Cardiovasc J, 49 (6), 299-307
DOI 10.3109/14017431.2015.1086017, PubMed 26395672
Haugaa KH, Haland TF, Leren IS, Saberniak J, Edvardsen T (2015)
Arrhythmogenic right ventricular cardiomyopathy, clinical manifestations, and diagnosis
Europace, 18 (7), 965-72
DOI 10.1093/europace/euv340, PubMed 26498164
Joyce DD, Bos JM, Haugaa KH, Tarrell RF, Morlan BW, Caraballo PJ, Ackerman MJ (2015)
Frequency and cause of transient QT prolongation after surgery
Am J Cardiol, 116 (10), 1605-9
DOI 10.1016/j.amjcard.2015.08.027, PubMed 26409639
Kallhovd S, Gjerald SU, Wall ST, Saberniak J, Haugaa K, Maleckar MM (2015)
Localization and not Extent of Fibrofatty Infiltration is the Primary Factor Determining Conduction Disturbance in a Computational Model of Arrhythmogenic Cardiomyopathy
E-HEALTH BIOENG CONF
Lancellotti P, Price S, Edvardsen T, Cosyns B, Neskovic AN, Dulgheru R, Flachskampf FA, Hassager C, Pasquet A, Gargani L, Galderisi M, Cardim N, Haugaa KH, Ancion A, Zamorano JL, Donal E, Bueno H, Habib G (2015)
The use of echocardiography in acute cardiovascular care: recommendations of the European Association of Cardiovascular Imaging and the Acute Cardiovascular Care Association
Eur Heart J Acute Cardiovasc Care, 4 (1), 3-5
DOI 10.1177/2048872614568073, PubMed 25635106
Leren IS, Hasselberg NE, Saberniak J, Håland TF, Kongsgård E, Smiseth OA, Edvardsen T, Haugaa KH (2015)
Cardiac Mechanical Alterations and Genotype Specific Differences in Subjects With Long QT Syndrome
JACC Cardiovasc Imaging, 8 (5), 501-510
DOI 10.1016/j.jcmg.2014.12.023, PubMed 25890583
Leren IS, Saberniak J, Majid E, Haland TF, Edvardsen T, Haugaa KH (2015)
Nadolol decreases the incidence and severity of ventricular arrhythmias during exercise stress testing compared with β1-selective β-blockers in patients with catecholaminergic polymorphic ventricular tachycardia
Heart Rhythm, 13 (2), 433-40
DOI 10.1016/j.hrthm.2015.09.029, PubMed 26432584
McLeod K, Noack M, Saberniak J, Haugaa K (2015)
Structural Abnormality Detection of ARVC Patients via Localised Distance-to-Average Mapping
LECT NOTES COMPUT SC, 8896, 177-186
DOI 10.1007/978-3-319-14678-2_18
Sarvari SI, Haugaa KH, Stokke TM, Ansari HZ, Leren IS, Hegbom F, Smiseth OA, Edvardsen T (2015)
Strain echocardiographic assessment of left atrial function predicts recurrence of atrial fibrillation
Eur Heart J Cardiovasc Imaging, 17 (6), 660-7
DOI 10.1093/ehjci/jev185, PubMed 26219297
Seethala S, Singh P, Shusterman V, Ribe M, Haugaa KH, Němec J (2015)
QT Adaptation and Intrinsic QT Variability in Congenital Long QT Syndrome
J Am Heart Assoc, 4 (12)
DOI 10.1161/JAHA.115.002395, PubMed 26675252
Smiseth OA, Torp H, Opdahl A, Haugaa KH, Urheim S (2015)
Myocardial strain imaging: how useful is it in clinical decision making?
Eur Heart J, 37 (15), 1196-207
DOI 10.1093/eurheartj/ehv529, PubMed 26508168
Tayal B, Gorcsan J, Delgado-Montero A, Marek JJ, Haugaa KH, Ryo K, Goda A, Olsen NT, Saba S, Risum N, Sogaard P (2015)
Mechanical Dyssynchrony by Tissue Doppler Cross-Correlation is Associated with Risk for Complex Ventricular Arrhythmias after Cardiac Resynchronization Therapy
J Am Soc Echocardiogr, 28 (12), 1474-81
DOI 10.1016/j.echo.2015.07.021, PubMed 26342653
Zahid W, Bergestuen D, Haugaa KH, Ueland T, Thiis-Evensen E, Aukrust P, Fosse E, Edvardsen T (2015)
Myocardial Function by Two-Dimensional Speckle Tracking Echocardiography and Activin A May Predict Mortality in Patients with Carcinoid Intestinal Disease
Cardiology, 132 (2), 81-90
DOI 10.1159/000431076, PubMed 26111973
Publications 2014
Borgquist R, Haugaa KH, Gilljam T, Bundgaard H, Hansen J, Eschen O, Jensen HK, Holst AG, Edvardsen T, Svendsen JH, Platonov PG (2014)
The diagnostic performance of imaging methods in ARVC using the 2010 Task Force criteria
Eur Heart J Cardiovasc Imaging, 15 (11), 1219-25
DOI 10.1093/ehjci/jeu109, PubMed 24939949
Goebel B, Haugaa KH, Meyer K, Otto S, Jung C, Lauten A, Figulla HR, Edvardsen T, Poerner TC (2014)
Early diastolic strain rate predicts response to heart failure therapy in patients with dilated cardiomyopathy
Int J Cardiovasc Imaging, 30 (3), 505-13
DOI 10.1007/s10554-014-0361-8, PubMed 24477357
Hasselberg NE, Haugaa KH, Sarvari SI, Gullestad L, Andreassen AK, Smiseth OA, Edvardsen T (2014)
Left ventricular global longitudinal strain is associated with exercise capacity in failing hearts with preserved and reduced ejection fraction
Eur Heart J Cardiovasc Imaging, 16 (2), 217-24
DOI 10.1093/ehjci/jeu277, PubMed 25552469
Haugaa KH, Bos JM, Borkenhagen EJ, Tarrell RF, Morlan BW, Caraballo PJ, Ackerman MJ (2014)
Impact of left ventricular hypertrophy on QT prolongation and associated mortality
Heart Rhythm, 11 (11), 1957-65
DOI 10.1016/j.hrthm.2014.06.025, PubMed 24956189
Haugaa KH, Edvardsen T (2014)
Can exercise echocardiography help optimal timing of surgery in patients with aortic regurgitation?
Scand Cardiovasc J, 48 (1), 2-3
DOI 10.3109/14017431.2013.879199, PubMed 24475789
Haugaa KH, Hasselberg NE, Edvardsen T (2014)
Mechanical dispersion by strain echocardiography: a predictor of ventricular arrhythmias in subjects with lamin A/C mutations
JACC Cardiovasc Imaging, 8 (1), 104-106
DOI 10.1016/j.jcmg.2014.04.029, PubMed 25457755
Haugaa KH, Marek JJ, Ahmed M, Ryo K, Adelstein EC, Schwartzman D, Saba S, Gorcsan J (2014)
Mechanical dyssynchrony after cardiac resynchronization therapy for severely symptomatic heart failure is associated with risk for ventricular arrhythmias
J Am Soc Echocardiogr, 27 (8), 872-9
DOI 10.1016/j.echo.2014.04.001, PubMed 24798865
Hetland M, Haugaa KH, Sarvari SI, Erikssen G, Kongsgaard E, Edvardsen T (2014)
A novel ECG-index for prediction of ventricular arrhythmias in patients after myocardial infarction
Ann Noninvasive Electrocardiol, 19 (4), 330-7
DOI 10.1111/anec.12152, PubMed 24612066
Lancellotti P, Price S, Edvardsen T, Cosyns B, Neskovic AN, Dulgheru R, Flachskampf FA, Hassager C, Pasquet A, Gargani L, Galderisi M, Cardim N, Haugaa KH, Ancion A, Zamorano JL, Donal E, Bueno H, Habib G (2014)
The use of echocardiography in acute cardiovascular care: recommendations of the European Association of Cardiovascular Imaging and the Acute Cardiovascular Care Association
Eur Heart J Cardiovasc Imaging, 16 (2), 119-46
DOI 10.1093/ehjci/jeu210, PubMed 25378470
Lancellotti P, Price S, Edvardsen T, Cosyns B, Neskovic AN, Dulgheru R, Flachskampf FA, Hassager C, Pasquet A, Gargani L, Galderisi M, Cardim N, Haugaa KH, Ancion A, Zamorano JL, Donal E, Bueno H, Habib G (2014)
The use of echocardiography in acute cardiovascular care: Recommendations of the European Association of Cardiovascular Imaging and the Acute Cardiovascular Care Association
Eur Heart J Acute Cardiovasc Care, 4 (1), 100-132
DOI 10.1177/2048872614549739, PubMed 25378666
Manotheepan R, Saberniak J, Danielsen TK, Edvardsen T, Sjaastad I, Haugaa KH, Stokke MK (2014)
Effects of individualized exercise training in patients with catecholaminergic polymorphic ventricular tachycardia type 1
Am J Cardiol, 113 (11), 1829-33
DOI 10.1016/j.amjcard.2014.03.012, PubMed 24837260
Saberniak J, Hasselberg NE, Borgquist R, Platonov PG, Sarvari SI, Smith HJ, Ribe M, Holst AG, Edvardsen T, Haugaa KH (2014)
Vigorous physical activity impairs myocardial function in patients with arrhythmogenic right ventricular cardiomyopathy and in mutation positive family members
Eur J Heart Fail, 16 (12), 1337-44
DOI 10.1002/ejhf.181, PubMed 25319773
ter Bekke RM, Haugaa KH, van den Wijngaard A, Bos JM, Ackerman MJ, Edvardsen T, Volders PG (2014)
Electromechanical window negativity in genotyped long-QT syndrome patients: relation to arrhythmia risk
Eur Heart J, 36 (3), 179-86
DOI 10.1093/eurheartj/ehu370, PubMed 25205533
Publications 2013
Ahmed M, Gorcsan J, Marek J, Ryo K, Haugaa K, R Ludwig D, Schwartzman D (2013)
Right ventricular apical pacing-induced left ventricular dyssynchrony is associated with a subsequent decline in ejection fraction
Heart Rhythm, 11 (4), 602-8
DOI 10.1016/j.hrthm.2013.12.020, PubMed 24333287
Almaas VM, Haugaa KH, Strøm EH, Scott H, Dahl CP, Leren TP, Geiran OR, Endresen K, Edvardsen T, Aakhus S, Amlie JP (2013)
Increased amount of interstitial fibrosis predicts ventricular arrhythmias, and is associated with reduced myocardial septal function in patients with obstructive hypertrophic cardiomyopathy
Europace, 15 (9), 1319-27
DOI 10.1093/europace/eut028, PubMed 23426552
Almaas VM, Haugaa KH, Strøm EH, Scott H, Smith HJ, Dahl CP, Geiran OR, Endresen K, Aakhus S, Amlie JP, Edvardsen T (2013)
Noninvasive assessment of myocardial fibrosis in patients with obstructive hypertrophic cardiomyopathy
Heart, 100 (8), 631-8
DOI 10.1136/heartjnl-2013-304923, PubMed 24368281
Hasselberg NE, Edvardsen T, Petri H, Berge KE, Leren TP, Bundgaard H, Haugaa KH (2013)
Risk prediction of ventricular arrhythmias and myocardial function in Lamin A/C mutation positive subjects
Europace, 16 (4), 563-71
DOI 10.1093/europace/eut291, PubMed 24058181
Haugaa KH, Bos JM, Tarrell RF, Morlan BW, Caraballo PJ, Ackerman MJ (2013)
Institution-wide QT alert system identifies patients with a high risk of mortality
Mayo Clin Proc, 88 (4), 315-25
DOI 10.1016/j.mayocp.2013.01.013, PubMed 23541006
Haugaa KH, Grenne BL, Eek CH, Ersbøll M, Valeur N, Svendsen JH, Florian A, Sjøli B, Brunvand H, Køber L, Voigt JU, Desmet W, Smiseth OA, Edvardsen T (2013)
Strain echocardiography improves risk prediction of ventricular arrhythmias after myocardial infarction
JACC Cardiovasc Imaging, 6 (8), 841-50
DOI 10.1016/j.jcmg.2013.03.005, PubMed 23850251
Haugaa KH, Vestervik TT, Andersson S, Amlie JP, Jørum E, Gjerstad L, Taubøll E (2013)
Abnormal electroencephalograms in patients with long QT syndrome
Heart Rhythm, 10 (12), 1877-83
DOI 10.1016/j.hrthm.2013.09.070, PubMed 24080067
Hetland A, Haugaa KH, Olseng M, Gjesdal O, Ross S, Saberniak J, Jacobsen MB, Edvardsen T (2013)
Three-month treatment with adaptive servoventilation improves cardiac function and physical activity in patients with chronic heart failure and cheyne-stokes respiration: a prospective randomized controlled trial
Cardiology, 126 (2), 81-90
DOI 10.1159/000350826, PubMed 23941739
Sarvari SI, Haugaa KH, Zahid W, Bendz B, Aakhus S, Aaberge L, Edvardsen T (2013)
Layer-specific quantification of myocardial deformation by strain echocardiography may reveal significant CAD in patients with non-ST-segment elevation acute coronary syndrome
JACC Cardiovasc Imaging, 6 (5), 535-44
DOI 10.1016/j.jcmg.2013.01.009, PubMed 23582354
Zahid W, Johnson J, Westholm C, Eek CH, Haugaa KH, Smedsrud MK, Skulstad H, Fosse E, Winter R, Edvardsen T (2013)
Mitral annular displacement by Doppler tissue imaging may identify coronary occlusion and predict mortality in patients with non-ST-elevation myocardial infarction
J Am Soc Echocardiogr, 26 (8), 875-84
DOI 10.1016/j.echo.2013.05.011, PubMed 23791116
Publications 2012
Edvardsen T, Haugaa KH (2012)
Republished article: Imaging assessment of ventricular mechanics
Postgrad Med J, 88 (1036), 105-12
DOI 10.1136/pgmj.2009.184390rep, PubMed 22262782
Erikssen G, Liestøl K, Gullestad L, Haugaa KH, Bendz B, Amlie JP (2012)
The terminal part of the QT interval (T peak to T end): a predictor of mortality after acute myocardial infarction
Ann Noninvasive Electrocardiol, 17 (2), 85-94
DOI 10.1111/j.1542-474X.2012.00493.x, PubMed 22537325
Haugaa KH, Goebel B, Dahlslett T, Meyer K, Jung C, Lauten A, Figulla HR, Poerner TC, Edvardsen T (2012)
Risk assessment of ventricular arrhythmias in patients with nonischemic dilated cardiomyopathy by strain echocardiography
J Am Soc Echocardiogr, 25 (6), 667-73
DOI 10.1016/j.echo.2012.02.004, PubMed 22421028
Haugaa KH, Johnson JN, Bos JM, Phillips BL, Eidem BW, Ackerman MJ (2012)
Subclinical cardiomyopathy and long QT syndrome: an echocardiographic observation
Congenit Heart Dis, 8 (4), 352-9
DOI 10.1111/chd.12011, PubMed 23095322
Russell K, Eriksen M, Aaberge L, Wilhelmsen N, Skulstad H, Remme EW, Haugaa KH, Opdahl A, Fjeld JG, Gjesdal O, Edvardsen T, Smiseth OA (2012)
A novel clinical method for quantification of regional left ventricular pressure-strain loop area: a non-invasive index of myocardial work
Eur Heart J, 33 (6), 724-33
DOI 10.1093/eurheartj/ehs016, PubMed 22315346
Smedsrud MK, Sarvari S, Haugaa KH, Gjesdal O, Ørn S, Aaberge L, Smiseth OA, Edvardsen T (2012)
Duration of myocardial early systolic lengthening predicts the presence of significant coronary artery disease
J Am Coll Cardiol, 60 (12), 1086-93
DOI 10.1016/j.jacc.2012.06.022, PubMed 22939559
Publications 2011
Edvardsen T, Haugaa KH (2011)
Imaging assessment of ventricular mechanics
Heart, 97 (16), 1349-56
DOI 10.1136/hrt.2009.184390, PubMed 21775511
Haugaa KH (2011)
Prediction of cardiac ventricular arrhythmias by echocardiography in patients at risk
In Hjerteforum, Supplement, Norsk cardiologisk selskap, Oslo, 24(2011)1, 1 b. (flere pag.)
BIBSYS 111821630
Haugaa KH, Bergestuen DS, Sahakyan LG, Skulstad H, Aakhus S, Thiis-Evensen E, Edvardsen T (2011)
Evaluation of right ventricular dysfunction by myocardial strain echocardiography in patients with intestinal carcinoid disease
J Am Soc Echocardiogr, 24 (6), 644-50
DOI 10.1016/j.echo.2011.02.009, PubMed 21440415
Haugaa KH, Edvardsen T (2011)
Myocardial contraction and long QT syndrome
Trends Cardiovasc Med, 21 (3), 65-9
DOI 10.1016/j.tcm.2012.02.005, PubMed 22626244
Haugaa KH, Edvardsen T, Amlie JP (2011)
Prediction of life-threatening arrhythmias--still an unresolved problem
Cardiology, 118 (2), 129-37
DOI 10.1159/000327093, PubMed 21555886
Sarvari SI, Haugaa KH, Anfinsen OG, Leren TP, Smiseth OA, Kongsgaard E, Amlie JP, Edvardsen T (2011)
Right ventricular mechanical dispersion is related to malignant arrhythmias: a study of patients with arrhythmogenic right ventricular cardiomyopathy and subclinical right ventricular dysfunction
Eur Heart J, 32 (9), 1089-96
DOI 10.1093/eurheartj/ehr069, PubMed 21406439
Tsai HR, Gjesdal O, Wethal T, Haugaa KH, Fosså A, Fosså SD, Edvardsen T (2011)
Left ventricular function assessed by two-dimensional speckle tracking echocardiography in long-term survivors of Hodgkin's lymphoma treated by mediastinal radiotherapy with or without anthracycline therapy
Am J Cardiol, 107 (3), 472-7
DOI 10.1016/j.amjcard.2010.09.048, PubMed 21257017
Publications 2010
Bergestuen DS, Gravning J, Haugaa KH, Sahakyan LG, Aakhus S, Thiis-Evensen E, Øie E, Aukrust P, Attramadal H, Edvardsen T (2010)
Plasma CCN2/connective tissue growth factor is associated with right ventricular dysfunction in patients with neuroendocrine tumors
BMC Cancer, 10, 6
DOI 10.1186/1471-2407-10-6, PubMed 20053285
Haugaa KH (2010)
Prediction of cardiac ventricular arrhytmias by echocardiography in patients at risk
In Series of dissertations submitted to the Faculty of Medicine, University of Oslo, Unipub, Oslo, no. 1048, 1 b. (flere pag.)
BIBSYS 102813329, ISBN 978-82-8072-551-6
Haugaa KH, Amlie JP, Berge KE, Leren TP, Smiseth OA, Edvardsen T (2010)
Transmural differences in myocardial contraction in long-QT syndrome: mechanical consequences of ion channel dysfunction
Circulation, 122 (14), 1355-63
DOI 10.1161/CIRCULATIONAHA.110.960377, PubMed 20855658
Haugaa KH, Leren IS, Berge KE, Bathen J, Loennechen JP, Anfinsen OG, Früh A, Edvardsen T, Kongsgård E, Leren TP, Amlie JP (2010)
High prevalence of exercise-induced arrhythmias in catecholaminergic polymorphic ventricular tachycardia mutation-positive family members diagnosed by cascade genetic screening
Europace, 12 (3), 417-23
DOI 10.1093/europace/eup448, PubMed 20106799
Haugaa KH, Smedsrud MK, Steen T, Kongsgaard E, Loennechen JP, Skjaerpe T, Voigt JU, Willems R, Smith G, Smiseth OA, Amlie JP, Edvardsen T (2010)
Mechanical dispersion assessed by myocardial strain in patients after myocardial infarction for risk prediction of ventricular arrhythmia
JACC Cardiovasc Imaging, 3 (3), 247-56
DOI 10.1016/j.jcmg.2009.11.012, PubMed 20223421
Leren IS, Haugaa KH, Edvardsen T, Anfinsen OG, Kongsgård E, Berge KE, Leren TP, Amlie JP (2010)
[Catecholaminergic polymorphic ventricular tachycardia]
Tidsskr Nor Laegeforen, 130 (2), 139-42
DOI 10.4045/tidsskr.09.0529, PubMed 20125202
Nakstad AR, Eek C, Aarhus D, Larsen A, Haugaa KH (2010)
Survival after prolonged resuscitation with 99 defibrillations due to Torsade De Pointes cardiac electrical storm: a case report
Scand J Trauma Resusc Emerg Med, 18, 7
DOI 10.1186/1757-7241-18-7, PubMed 20137096
Publications 2009
Haugaa KH, Edvardsen T, Leren TP, Smiseth OA, Amlie JP (2009)
Abnormal left ventricular relaxation in patients with long QT syndrome: reply
Eur. Heart J., 30 (22), 2814-2815
DOI 10.1093/eurheartj/ehp445
Haugaa KH, Leren TP, Amlie JP (2009)
Genetic testing in specific cardiomyopathies
F1000 Med Rep, 1
DOI 10.3410/M1-52, PubMed 20948728
Lysaker OM, Nielsen BF, Grottum P, Haugaa K, Fjeld J, Abildgaard A (2009)
Mathematical Based Imaging of Regional Ischemia
IFMBE PROC, 25, 98-101
Publications 2008
Berge KE, Haugaa KH, Früh A, Anfinsen OG, Gjesdal K, Siem G, Oyen N, Greve G, Carlsson A, Rognum TO, Hallerud M, Kongsgård E, Amlie JP, Leren TP (2008)
Molecular genetic analysis of long QT syndrome in Norway indicating a high prevalence of heterozygous mutation carriers
Scand J Clin Lab Invest, 68 (5), 362-8
DOI 10.1080/00365510701765643, PubMed 18752142
Haugaa KH, Edvardsen T, Leren TP, Gran JM, Smiseth OA, Amlie JP (2008)
Left ventricular mechanical dispersion by tissue Doppler imaging: a novel approach for identifying high-risk individuals with long QT syndrome
Eur Heart J, 30 (3), 330-7
DOI 10.1093/eurheartj/ehn466, PubMed 18940888
Publications 2005
Berge KE, Haugaa KH, Anfinsen OG, Früh A, Hallerud M, Jonsrud C, Øyen N, Gjesdal K, Amlie JP, Leren TP (2005)
[DNA-based diagnostics of long QT syndrome]
Tidsskr Nor Laegeforen, 125 (20), 2783-6
PubMed 16244680
Haugaa KH, Berge KE, Früh A, Anfinsen OG, Arnestad M, Hallerud M, Gjesdal K, Leren TP, Amlie JP (2005)
[Cardiac ion channel disorders--diagnosis and treatment]
Tidsskr Nor Laegeforen, 125 (20), 2778-81
PubMed 16244679
Aarønaes M, Haugaa KH, Andreassen AK, Simonsen S, Strøm EH, Geiran O (2005)
[Giant cell myocarditis--a rare, but dangerous disease]
Tidsskr Nor Laegeforen, 125 (16), 2198-201
PubMed 16138135