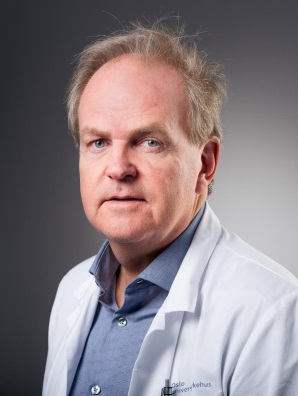 Thor Edvardsen
Professor; MD, PhD
+47 23 07 11 76
Thor Edvardsen, MD, PhD, FESC, Specialist in Internal Medicine and Cardiology, Head of Department of Cardiology, Oslo University Hospital.
Professor Thor Edvardsen is Head, Dept. of Cardiology at Oslo University Hospital in Norway and a professor at the Institute of Clinical Medicine at the University of Oslo. Edvardsen is elected as the EACVI President 2018-20 and has been an elected Board member in EACVI since 2010.
He has more than 300 international scientific publications in peer-reviewed journals, and more than 20 book chapters and books. Numerous of these articles are published in Circulation, Journal of the American College of Cardiology, European Heart Journal and other prestigious journals in cardiology. Average impact factor pr article is 7.3 and Hirsch index is 55. He is active in clinical and experimental research in the area of myocardial function and has extensive knowledge of cardiac ultrasound, CMR, CT and hemodynamics.
Publications 2023
Abdullah R, Bjørnebekk A, Hauger LE, Hullstein IR, Edvardsen T, Haugaa KH, Almaas VM (2023)
Severe biventricular cardiomyopathy in both current and former long-term users of anabolic-androgenic steroids
Eur J Prev Cardiol (in press)
DOI 10.1093/eurjpc/zwad362, PubMed 37992194
Andreassen K, Rixon C, Hansen MH, Hauge-Iversen IM, Zhang L, Sadredini M, Erusappan PM, Sjaastad I, Christensen G, Haugaa KH, Edvardsen T, Lunde IG, Stokke MK (2023)
Beneficial effects of exercise initiated before development of hypertrophic cardiomyopathy in genotype-positive mice
Am J Physiol Heart Circ Physiol, 324 (6), H881-H892
DOI 10.1152/ajpheart.00701.2022, PubMed 37115627
Cosyns B, Sade LE, Gerber BL, Gimelli A, Muraru D, Maurer G, Edvardsen T (2023)
The year 2021 in the European Heart Journal: Cardiovascular Imaging Part II
Eur Heart J Cardiovasc Imaging, 24 (3), 276-284
DOI 10.1093/ehjci/jeac273, PubMed 36718129
Erevik CB, Kleiven Ø, Frøysa V, Bjørkavoll-Bergseth M, Chivulescu M, Klæboe LG, Dejgaard L, Auestad B, Skadberg Ø, Melberg T, Urheim S, Haugaa K, Edvardsen T, Ørn S (2023)
Myocardial inefficiency is an early indicator of exercise-induced myocardial fatigue
Front Cardiovasc Med, 9, 1081664
DOI 10.3389/fcvm.2022.1081664, PubMed 36712275
Faletra FF, Agricola E, Flachskampf FA, Hahn R, Pepi M, Ajmone Marsan N, Wunderlich N, Elif Sade L, Donal E, Zamorano JL, Cosyns B, Vannan M, Edvardsen T, Berrebi A, Popescu BA, Lancellotti P, Lang R, Bäck M, Bertrand PB, Dweck M, Keenan N, Stankovic I (2023)
Three-dimensional transoesophageal echocardiography: how to use and when to use-a clinical consensus statement from the European Association of Cardiovascular Imaging of the European Society of Cardiology
Eur Heart J Cardiovasc Imaging, 24 (8), e119-e197
DOI 10.1093/ehjci/jead090, PubMed 37259019
Forså MI, Bjerring AW, Haugaa KH, Smedsrud MK, Sarvari SI, Landgraff HW, Hallén J, Edvardsen T (2023)
Young athlete's growing heart: sex differences in cardiac adaptation to exercise training during adolescence
Open Heart, 10 (1)
DOI 10.1136/openhrt-2022-002155, PubMed 36596623
Forså MI, Smedsrud MK, Haugaa KH, Bjerring AW, Früh A, Sarvari SI, Landgraff HW, Hallén J, Edvardsen T (2023)
Distinguishing left ventricular hypertrophy from hypertrophic cardiomyopathy in adolescents - a longitudinal observation study
Eur J Prev Cardiol (in press)
DOI 10.1093/eurjpc/zwad361, PubMed 37992187
Kaya E, Andresen K, Lie ØH, Aaberge L, Haugaa K, Edvardsen T, Skulstad H (2023)
Left Ventricular Mechanical Dispersion as a Predictor of need for Pacemaker implantation after TAVI
Eur Heart J Cardiovasc Imaging (in press)
DOI 10.1093/ehjci/jead315, PubMed 37976177
Neglia D, Liga R, Gimelli A, Podlesnikar T, Cvijić M, Pontone G, Miglioranza MH, Guaricci AI, Seitun S, Clemente A, Sumin A, Vitola J, Saraste A, Paunonen C, Sia CH, Paleev F, Sade LE, Zamorano JL, Maroz-Vadalazhskaya N, Anagnostopoulos C, Macedo F, Knuuti J, Edvardsen T, Cosyns B, Petersen SE et al. (2023)
Use of cardiac imaging in chronic coronary syndromes: the EURECA Imaging registry
Eur Heart J, 44 (2), 142-158
DOI 10.1093/eurheartj/ehac640, PubMed 36452988
Nguyen TM, Melichova D, Aabel EW, Lie ØH, Klæboe LG, Grenne B, Sjøli B, Brunvand H, Haugaa K, Edvardsen T (2023)
Mortality in Patients with Acute Coronary Syndrome-A Prospective 5-Year Follow-Up Study
J Clin Med, 12 (20)
DOI 10.3390/jcm12206598, PubMed 37892735
Pezel T, Coisne A, Michalski B, Soliman H, Ajmone N, Nijveldt R, Stankovic I, Donal E, van der Maaten J, Papadopoulos C, Edvardsen T, Muraru D, Petersen SE, Cosyns B, Bäck M, Bertrand PB, Haugaa KH, Keenan N, Donal E, Cosyns B (2023)
EACVI SIMULATOR-online study: evaluation of transoesophageal echocardiography knowledge and skills of young cardiologists
Eur Heart J Cardiovasc Imaging, 24 (3), 285-292
DOI 10.1093/ehjci/jeac195, PubMed 36151868
Sade LE, Joshi SS, Cameli M, Cosyns B, Delgado V, Donal E, Edvardsen T, Carvalho RF, Manka R, Podlesnikar T, Popescu BA, Hanzevacki JS, Sitges M, Dweck MR (2023)
Current clinical use of speckle-tracking strain imaging: insights from a worldwide survey from the European Association of Cardiovascular Imaging (EACVI)
Eur Heart J Cardiovasc Imaging, 24 (12), 1583-1592
DOI 10.1093/ehjci/jead170, PubMed 37463125
Salte IM, Østvik A, Olaisen SH, Karlsen S, Dahlslett T, Smistad E, Eriksen-Volnes TK, Brunvand H, Haugaa KH, Edvardsen T, Dalen H, Lovstakken L, Grenne B (2023)
Deep Learning for Improved Precision and Reproducibility of Left Ventricular Strain in Echocardiography: A Test-Retest Study
J Am Soc Echocardiogr, 36 (7), 788-799
DOI 10.1016/j.echo.2023.02.017, PubMed 36933849
Salte IM, Østvik A, Olaisen SH, Karlsen S, Dahlslett T, Smistad E, Eriksen-Volnes TK, Brunvand H, Haugaa KH, Edvardsen T, Dalen H, Lovstakken L, Grenne B (2023)
Response to "Minimal Detectable Change and Reproducibility of Echocardiographic Strain: Implications for Clinical Practice"
J Am Soc Echocardiogr, 36 (11), 1223-1224
DOI 10.1016/j.echo.2023.08.017, PubMed 37640086
Santoro C, Donal E, Magne J, Sade LE, Penicka M, Katbeh A, Cosyns B, Cameli M, Hanzevacki JS, Luksic VR, Agricola E, Citro R, Hagendorff A, Lancellotti P, Habib G, Moreo A, Cardim N, Parato VM, Neskovic A, Rosca M, Galli E, Motoc A, Mandoli G, Ingallina G, Prota C et al. (2023)
Inter-center reproducibility of standard and advanced echocardiographic parameters in the EACVI-AFib echo registry
Echocardiography, 40 (8), 775-783
DOI 10.1111/echo.15640, PubMed 37351556
Zha SZ, Rogstadkjernet M, Klæboe LG, Skulstad H, Singstad BJ, Gilbert A, Edvardsen T, Samset E, Brekke PH (2023)
Deep learning for automated left ventricular outflow tract diameter measurements in 2D echocardiography
Cardiovasc Ultrasound, 21 (1), 19
DOI 10.1186/s12947-023-00317-5, PubMed 37833731
Aabel EW, Chivulescu M, Lie ØH, Hopp E, Gjertsen E, Ribe M, Helle-Valle TM, Edvardsen T, Hegbom F, Dejgaard LA, Haugaa KH (2023)
Ventricular arrhythmias in arrhythmic mitral valve syndrome-a prospective continuous long-term cardiac monitoring study
Europace, 25 (2), 506-516
DOI 10.1093/europace/euac182, PubMed 36256597
Publications 2022
Andreassen K, Dejgaard LA, Lie Ø, Fink TS, Lunde IG, Edvardsen T, Haugaa KH, Stokke MK (2022)
Exercise training during childhood and adolescence is associated with favorable diastolic function in hypertrophic cardiomyopathy
Int J Cardiol, 364, 65-71
DOI 10.1016/j.ijcard.2022.06.042, PubMed 35714718
Bardan S, Kvaslerud AB, Andresen K, Kløve SF, Edvardsen T, Gullestad L, Broch K (2022)
Intravenous ferric derisomaltose in iron-deficient patients undergoing transcatheter aortic valve implantation due to severe aortic stenosis: study protocol of the randomised controlled IIISAS trial
BMJ Open, 12 (9), e059546
DOI 10.1136/bmjopen-2021-059546, PubMed 36691165
Benfari G, Mandoli GE, Magne J, Miglioranza MH, Ancona R, Luksic VR, Pastore MC, Santoro C, Michalski B, Malagoli A, Muraru D, Donal E, Cosyns B, Edvardsen T, Popescu BA, Cameli M, MASCOT investigators (2022)
Left atrial strain determinants and clinical features according to the heart failure stages. New insight from EACVI MASCOT registry
Int J Cardiovasc Imaging, 38 (12), 2635-2644
DOI 10.1007/s10554-022-02669-x, PubMed 36445656
Castrini AI, Skjølsvik E, Estensen ME, Almaas VM, Skulstad H, Lyseggen E, Edvardsen T, Lie ØH, Picard KCI, Lakdawala NK, Haugaa KH (2022)
Pregnancy and Progression of Cardiomyopathy in Women With LMNA Genotype-Positive
J Am Heart Assoc, 11 (8), e024960
DOI 10.1161/JAHA.121.024960, PubMed 35434999
Chivulescu M, Aabel EW, Gjertsen E, Hopp E, Scheirlynck E, Cosyns B, Lyseggen E, Edvardsen T, Lie ØH, Dejgaard LA, Haugaa KH (2022)
Electrical markers and arrhythmic risk associated with myocardial fibrosis in mitral valve prolapse
Europace, 24 (7), 1156-1163
DOI 10.1093/europace/euac017, PubMed 35226070
Edvardsen T, Asch FM, Davidson B, Delgado V, DeMaria A, Dilsizian V, Gaemperli O, Garcia MJ, Kamp O, Lee DC, Neglia D, Neskovic AN, Pellikka PA, Plein S, Sechtem U, Shea E, Sicari R, Villines TC, Lindner JR, Popescu BA (2022)
Non-invasive imaging in coronary syndromes: recommendations of the European Association of Cardiovascular Imaging and the American Society of Echocardiography, in collaboration with the American Society of Nuclear Cardiology, Society of Cardiovascular Computed Tomography, and Society for Cardiovascular Magnetic Resonance
Eur Heart J Cardiovasc Imaging, 23 (2), e6-e33
DOI 10.1093/ehjci/jeab244, PubMed 34751391
Edvardsen T, Asch FM, Davidson B, Delgado V, DeMaria A, Dilsizian V, Gaemperli O, Garcia MJ, Kamp O, Lee DC, Neglia D, Neskovic AN, Pellikka PA, Plein S, Sechtem U, Shea E, Sicari R, Villines TC, Lindner JR, Popescu BA (2022)
Non-Invasive Imaging in Coronary Syndromes: Recommendations of The European Association of Cardiovascular Imaging and the American Society of Echocardiography, in Collaboration with The American Society of Nuclear Cardiology, Society of Cardiovascular Computed Tomography, and Society for Cardiovascular Magnetic Resonance
J Am Soc Echocardiogr, 35 (4), 329-354
DOI 10.1016/j.echo.2021.12.012, PubMed 35379446
Edvardsen T, Asch FM, Davidson B, Delgado V, DeMaria A, Dilsizian V, Gaemperli O, Garcia MJ, Kamp O, Lee DC, Neglia D, Neskovic AN, Pellikka PA, Plein S, Sechtem U, Shea E, Sicari R, Villines TC, Lindner JR, Popescu BA (2022)
Non-Invasive Imaging in Coronary Syndromes: Recommendations of The European Association of Cardiovascular Imaging and the American Society of Echocardiography, in Collaboration with The American Society of Nuclear Cardiology, Society of Cardiovascular Computed Tomography, and Society for Cardiovascular Magnetic Resonance
J Cardiovasc Comput Tomogr, 16 (4), 362-383
DOI 10.1016/j.jcct.2022.05.006, PubMed 35729014
Edvardsen T, Donal E, Muraru D, Gimelli A, Fontes-Carvalho R, Maurer G, Petersen SE, Cosyns B (2022)
The year 2021 in the European Heart Journal-Cardiovascular Imaging: Part I
Eur Heart J Cardiovasc Imaging, 23 (12), 1576-1583
DOI 10.1093/ehjci/jeac210, PubMed 36308337
Gregersen I, Ueland T, Holter JC, Olsen MB, Michelsen AE, Murphy SL, Tveita AA, Henriksen KN, Hoel H, Nordberg LB, Holten AR, Edvardsen T, Yang K, Heggelund L, Trøseid M, Müller F, Kildal AB, Dyrhol-Riise AM, Barratt-Due A, Dahl TB, Aukrust P, Halvorsen B, NOR-SOLIDARITY consortium, The Norwegian SARS-CoV-2 Study Group investigators (2022)
CXCL16 associates with adverse outcome and cardiac involvement in hospitalized patients with Covid-19
J Infect, 85 (6), 702-769
DOI 10.1016/j.jinf.2022.09.029, PubMed 36216188
Joshi SS, Stankovic I, Demirkiran A, Haugaa K, Maurovich-Horvat P, Popescu BA, Cosyns B, Edvardsen T, Petersen SE, Carvalho RF, Cameli M, Dweck MR (2022)
EACVI survey on burnout amongst cardiac imaging specialists during the 2019 coronavirus disease pandemic
Eur Heart J Cardiovasc Imaging, 23 (4), 441-446
DOI 10.1093/ehjci/jeac002, PubMed 35061874
Karlsen S, Melichova D, Dahlslett T, Grenne B, Sjøli B, Smiseth O, Edvardsen T, Brunvand H (2022)
Increased deformation of the left ventricle during exercise test measured by global longitudinal strain can rule out significant coronary artery disease in patients with suspected unstable angina pectoris
Echocardiography, 39 (2), 233-239
DOI 10.1111/echo.15295, PubMed 35043455
Kvaslerud AB, Bardan S, Andresen K, Kløve SF, Fagerland MW, Edvardsen T, Gullestad L, Broch K (2022)
Intravenous iron supplement for iron deficiency in patients with severe aortic stenosis scheduled for transcatheter aortic valve implantation: results of the IIISAS randomised trial
Eur J Heart Fail, 24 (7), 1269-1279
DOI 10.1002/ejhf.2557, PubMed 35579454
Marwick TH, Gimelli A, Plein S, Bax JJ, Charron P, Delgado V, Donal E, Lancellotti P, Levelt E, Maurovich-Horvat P, Neubauer S, Pontone G, Saraste A, Cosyns B, Edvardsen T, Popescu BA, Galderisi M, Derumeaux G, Reviewers: This document was reviewed by members of the 2020–2022 EACVI Scientific Documents Committee, Bäck M, Bertrand PB, Dweck M, Keenan N, Magne J, Neglia D et al. (2022)
Multimodality imaging approach to left ventricular dysfunction in diabetes: an expert consensus document from the European Association of Cardiovascular Imaging
Eur Heart J Cardiovasc Imaging, 23 (2), e62-e84
DOI 10.1093/ehjci/jeab220, PubMed 34739054
Myhre PL, Røsjø H, Sarvari SI, Ukkonen H, Rademakers F, Engvall JE, Hagve TA, Nagel E, Sicari R, Zamorano JL, Monaghan M, D'hooge J, Edvardsen T, Omland T (2022)
Cardiac troponin T and NT-proBNP for detecting myocardial ischemia in suspected chronic coronary syndrome
Int J Cardiol, 361, 14-17
DOI 10.1016/j.ijcard.2022.05.027, PubMed 35577165
Norum IB, Otterstad JE, Ruddox V, Bendz B, Edvardsen T (2022)
Novel regional longitudinal strain by speckle tracking to detect significant coronary artery disease in patients admitted to the emergency department for chest pain suggestive of acute coronary syndrome
J Echocardiogr, 20 (3), 166-177
DOI 10.1007/s12574-022-00568-7, PubMed 35290613
Skjølsvik ET, Haugen Lie Ø, Chivulescu M, Ribe M, Castrini AI, Broch K, Pripp AH, Edvardsen T, Haugaa KH (2022)
Progression of cardiac disease in patients with lamin A/C mutations
Eur Heart J Cardiovasc Imaging, 23 (4), 543-550
DOI 10.1093/ehjci/jeab057, PubMed 33824984
Smedsrud MK, Chivulescu M, Forså MI, Castrini I, Aabel EW, Rootwelt-Norberg C, Bogsrud MP, Edvardsen T, Hasselberg NE, Früh A, Haugaa KH (2022)
Highly malignant disease in childhood-onset arrhythmogenic right ventricular cardiomyopathy
Eur Heart J, 43 (45), 4694-4703
DOI 10.1093/eurheartj/ehac485, PubMed 36036653
Smiseth OA, Morris DA, Cardim N, Cikes M, Delgado V, Donal E, Flachskampf FA, Galderisi M, Gerber BL, Gimelli A, Klein AL, Knuuti J, Lancellotti P, Mascherbauer J, Milicic D, Seferovic P, Solomon S, Edvardsen T, Popescu BA, Reviewers: This document was reviewed by members of the 2018–2020 EACVI Scientific Documents Committee (2022)
Multimodality imaging in patients with heart failure and preserved ejection fraction: an expert consensus document of the European Association of Cardiovascular Imaging
Eur Heart J Cardiovasc Imaging, 23 (2), e34-e61
DOI 10.1093/ehjci/jeab154, PubMed 34729586
Task Force for the management of COVID-19 of the European Society of Cardiology, Baigent C, Windecker S, Andreini D, Arbelo E, Barbato E, Bartorelli AL, Baumbach A, Behr ER, Berti S, Bueno H, Capodanno D, Cappato R, Chieffo A, Collet JP, Cuisset T, de Simone G, Delgado V, Dendale P, Dudek D, Edvardsen T, Elvan A, González-Juanatey JR, Gori M, Grobbee D et al. (2022)
European Society of Cardiology guidance for the diagnosis and management of cardiovascular disease during the COVID-19 pandemic: part 1-epidemiology, pathophysiology, and diagnosis
Cardiovasc Res, 118 (6), 1385-1412
DOI 10.1093/cvr/cvab342, PubMed 34864874
Aabel EW, Dejgaard LA, Chivulescu M, Helle-Valle TM, Edvardsen T, Hasselberg NE, Hegbom F, Lie ØH, Haugaa KH (2022)
Flecainide in patients with arrhythmic mitral valve syndrome: A case series
Heart Rhythm, 20 (4), 635-636
DOI 10.1016/j.hrthm.2022.12.024, PubMed 36566890
Publications 2021
Agricola E, Ancona F, Brochet E, Donal E, Dweck M, Faletra F, Lancellotti P, Mahmoud-Elsayed H, Marsan NA, Maurovich-Hovart P, Monaghan M, Ribeiro J, Sade LE, Swaans M, Von Bardeleben RS, Wunderlich N, Zamorano JL, Popescu BA, Cosyns B, Edvardsen T, Reviewers: This document was reviewed by members of the 2018-2020 EACVI Scientific Documents Committee (2021)
The structural heart disease interventional imager rationale, skills and training: a position paper of the European Association of Cardiovascular Imaging
Eur Heart J Cardiovasc Imaging, 22 (5), 471-479
DOI 10.1093/ehjci/jeab005, PubMed 33564848
Azevedo ACA, Barros MVL, Klaboe LG, Edvardsen T, Costa HS, Paixao GMM, Junior ORS, Nunes MCP, Rocha MOC (2021)
Association between myocardial mechanical dispersion and ventricular arrhythmogenicity in chagas cardiomyopathy
Int J Cardiovasc Imaging, 37 (9), 2727-2734
DOI 10.1007/s10554-021-02246-8, PubMed 33881664
Bjerring AW, Edvardsen T, Sarvari SI, Solberg EE (2021)
[A. Bjerring and colleagues respond]
Tidsskr Nor Laegeforen, 141
DOI 10.4045/tidsskr.21.0583, PubMed 34505484
Bjerring AW, Fosså SD, Haugnes HS, Nome R, Stokke TM, Haugaa KH, Kiserud CE, Edvardsen T, Sarvari SI (2021)
The cardiac impact of cisplatin-based chemotherapy in survivors of testicular cancer: a 30-year follow-up
Eur Heart J Cardiovasc Imaging, 22 (4), 443-450
DOI 10.1093/ehjci/jeaa289, PubMed 33152065
Bjerring AW, Landgraff HEW, Leirstein S, Haugaa KH, Edvardsen T, Sarvari SI, Hallén J (2021)
From talented child to elite athlete: The development of cardiac morphology and function in a cohort of endurance athletes from age 12 to 18
Eur J Prev Cardiol, 28 (10), 1061-1067
DOI 10.1177/2047487320921317, PubMed 33611558
Bjerring AW, Sarvari SI, Edvardsen T, Solberg EE (2021)
Should athletes be screened for heart disease?
Tidsskr Nor Laegeforen, 141 (11)
DOI 10.4045/tidsskr.21.0491, PubMed 34423946
Bjerring AW, Sarvari SI, Edvardsen T, Solberg EE (2021)
Should athletes be screened for heart disease?
Tidsskr. Nor. Laegeforen., 141 (11), 1060-1062
Bjørkavoll-Bergseth M, Erevik CB, Kleiven Ø, Eijsvogels TMH, Skadberg Ø, Frøysa V, Wiktorski T, Auestad B, Edvardsen T, Moberg Aakre K, Ørn S (2021)
Determinants of Interindividual Variation in Exercise-Induced Cardiac Troponin I Levels
J Am Heart Assoc, 10 (17), e021710
DOI 10.1161/JAHA.121.021710, PubMed 34459237
Budts W, Miller O, Babu-Narayan SV, Li W, Valsangiacomo Buechel E, Frigiola A, van den Bosch A, Bonello B, Mertens L, Hussain T, Parish V, Habib G, Edvardsen T, Geva T, Roos-Hesselink JW, Hanseus K, Dos Subira L, Baumgartner H, Gatzoulis M, Di Salvo G (2021)
Imaging the adult with simple shunt lesions: position paper from the EACVI and the ESC WG on ACHD. Endorsed by AEPC (Association for European Paediatric and Congenital Cardiology)
Eur Heart J Cardiovasc Imaging, 22 (6), e58-e70
DOI 10.1093/ehjci/jeaa314, PubMed 33338215
Chivulescu M, Krohg-Sørensen K, Scheirlynck E, Lindberg BR, Dejgaard LA, Lie ØH, Helle-Valle T, Skjølsvik ET, Estensen ME, Edvardsen T, Lingaas PS, Haugaa KH (2021)
Mitral annulus disjunction is associated with adverse outcome in Marfan and Loeys-Dietz syndromes
Eur Heart J Cardiovasc Imaging, 22 (9), 1035-1044
DOI 10.1093/ehjci/jeaa324, PubMed 33280029
Coats AJS, Anker SD, Baumbach A, Alfieri O, von Bardeleben RS, Bauersachs J, Bax JJ, Boveda S, Čelutkienė J, Cleland JG, Dagres N, Deneke T, Farmakis D, Filippatos G, Hausleiter J, Hindricks G, Jankowska EA, Lainscak M, Leclercq C, Lund LH, McDonagh T, Mehra MR, Metra M, Mewton N, Mueller C et al. (2021)
The management of secondary mitral regurgitation in patients with heart failure: a joint position statement from the Heart Failure Association (HFA), European Association of Cardiovascular Imaging (EACVI), European Heart Rhythm Association (EHRA), and European Association of Percutaneous Cardiovascular Interventions (EAPCI) of the ESC
Eur Heart J, 42 (13), 1254-1269
DOI 10.1093/eurheartj/ehab086, PubMed 33734354
Cohen A, Donal E, Delgado V, Pepi M, Tsang T, Gerber B, Soulat-Dufour L, Habib G, Lancellotti P, Evangelista A, Cujec B, Fine N, Andrade MJ, Sprynger M, Dweck M, Edvardsen T, Popescu BA, Reviewers: This document was reviewed by members of the 2018–2020 EACVI Scientific Documents Committee, chair of the 2018–2020 EACVI Scientific Documents Committee (2021)
EACVI recommendations on cardiovascular imaging for the detection of embolic sources: endorsed by the Canadian Society of Echocardiography
Eur Heart J Cardiovasc Imaging, 22 (6), e24-e57
DOI 10.1093/ehjci/jeab008, PubMed 33709114
Collet JP, Thiele H, Barbato E, Barthelemy O, Bauersachs J, Bhatt DL, Dendale P, Dorobantu M, Edvardsen T, Folliguet T, Gale CP, Gilard M, Jobs A, Juni P, Lambrinou E, Lewis BS, Mehilli J, Meliga E, Merkely B, Mueller C, Roffi M, Rutten FH, Sibbing D, Siontis GCM (2021)
2020 ESC Guidelines on the Diagnosis and Treatment of Non-ST-Segment Elevation Acute Coronary Syndrome Working Group of the European Society of Cardiology (ESC) for the diagnosis and treatment of acute coronary syndrome (ACS) in patients without persistent ST segment elevation
Rev. Esp. Cardiol., 74 (6)
Collet JP, Thiele H, Barbato E, Barthélémy O, Bauersachs J, Bhatt DL, Dendale P, Dorobantu M, Edvardsen T, Folliguet T, Gale CP, Gilard M, Jobs A, Jüni P, Lambrinou E, Lewis BS, Mehilli J, Meliga E, Merkely B, Mueller C, Roffi M, Rutten FH, Sibbing D, Siontis GCM, ESC Scientific Document Group (2021)
2020 ESC Guidelines for the management of acute coronary syndromes in patients presenting without persistent ST-segment elevation
Eur Heart J, 42 (14), 1289-1367
DOI 10.1093/eurheartj/ehaa575, PubMed 32860058
Collet JP, Thiele H, Barbato E, Barthélémy O, Bauersachs J, Bhatt DL, Dendale P, Dorobantu M, Edvardsen T, Folliguet T, Gale CP, Gilard M, Jobs A, Jüni P, Lambrinou E, Lewis BS, Mehilli J, Meliga E, Merkely B, Mueller C, Roffi M, Rutten FH, Sibbing D, Siontis GCM, ESC Scientific Document Group (2021)
2020 ESC Guidelines for the management of acute coronary syndromes in patients presenting without persistent ST-segment elevation
Rev Esp Cardiol (Engl Ed), 74 (6), 544
DOI 10.1016/j.rec.2021.05.002, PubMed 34020768
Cosyns B, Sade LE, Gerber BL, Gimelli A, Muraru D, Maurer G, Edvardsen T (2021)
The year 2020 in the European Heart Journal-Cardiovascular Imaging: part II
Eur Heart J Cardiovasc Imaging (in press)
DOI 10.1093/ehjci/jeab225, PubMed 34718480
Crea F, Thiele H, Sibbing D, Barthélémy O, Bauersachs J, Bhatt DL, Dendale P, Dorobantu M, Edvardsen T, Folliguet T, Gale CP, Gilard M, Jobs A, Jüni P, Lambrinou E, Lewis BS, Mehilli J, Meliga E, Merkely B, Mueller C, Roffi M, Rutten FH, Siontis GCM, Barbato E, Collet JP et al. (2021)
Debate: Prasugrel rather than ticagrelor is the preferred treatment for NSTE-ACS patients who proceed to PCI and pretreatment should not be performed in patients planned for an early invasive strategy
Eur Heart J, 42 (31), 2973-2985
DOI 10.1093/eurheartj/ehab277, PubMed 34110420
Edvardsen T, Donal E, Marsan NA, Maurovich-Horvat P, Dweck MR, Maurer G, Petersen SE, Cosyns B (2021)
The year 2020 in the European Heart Journal - Cardiovascular Imaging: part I
Eur Heart J Cardiovasc Imaging, 22 (11), 1219-1227
DOI 10.1093/ehjci/jeab148, PubMed 34463734
Kleiven Ø, Edvardsen T, Ørn S (2021)
Echocardiography in the pre-participation evaluation of asymptomatic athletes: the never-ending story
Eur J Prev Cardiol, 28 (10), 1068-1070
DOI 10.1177/2047487320932269, PubMed 32580569
Melichova D, Nguyen TM, Salte IM, Klaeboe LG, Sjøli B, Karlsen S, Dahlslett T, Leren IS, Edvardsen T, Brunvand H, Haugaa KH (2021)
Strain echocardiography improves prediction of arrhythmic events in ischemic and non-ischemic dilated cardiomyopathy
Int J Cardiol, 342, 56-62
DOI 10.1016/j.ijcard.2021.07.044, PubMed 34324947
Mullens W, Auricchio A, Martens P, Witte K, Cowie MR, Delgado V, Dickstein K, Linde C, Vernooy K, Leyva F, Bauersachs J, Israel CW, Lund L, Donal E, Boriani G, Jaarsma T, Berruezo A, Traykov V, Yousef Z, Kalarus Z, Cosedis Nielsen J, Steffel J, Vardas P, Coats A, Seferovic P et al. (2021)
Optimized Implementation of cardiac resynchronization therapy - a call for action for referral and optimization of care
Europace (in press)
DOI 10.1093/europace/euab035, PubMed 33544835
Mullens W, Auricchio A, Martens P, Witte K, Cowie MR, Delgado V, Dickstein K, Linde C, Vernooy K, Leyva F, Bauersachs J, Israel CW, Lund LH, Donal E, Boriani G, Jaarsma T, Berruezo A, Traykov V, Yousef Z, Kalarus Z, Nielsen JC, Steffel J, Vardas P, Coats A, Seferovic P et al. (2021)
Optimized implementation of cardiac resynchronization therapy: a call for action for referral and optimization of care
Europace, 23 (8), 1324-1342
DOI 10.1093/europace/euaa411, PubMed 34037728
Ostvik A, Salte IM, Smistad E, Nguyen TM, Melichova D, Brunvand H, Haugaa K, Edvardsen T, Grenne B, Lovstakken L (2021)
Myocardial Function Imaging in Echocardiography Using Deep Learning
IEEE Trans Med Imaging, 40 (5), 1340-1351
DOI 10.1109/TMI.2021.3054566, PubMed 33493114
Otterstad JE, Norum IB, Ruddox V, Le ACM, Bendz B, Munkhaugen J, Klungsøyr O, Edvardsen T (2021)
Prognostic impact of non-improvement of global longitudinal strain in patients with revascularized acute myocardial infarction
Int J Cardiovasc Imaging, 37 (12), 3477-3487
DOI 10.1007/s10554-021-02349-2, PubMed 34327649
Quattrone A, Lie OH, Nestaas E, de Lange C, Try K, Lindberg HL, Skulstad H, Erikssen G, Edvardsen T, Haugaa K, Estensen ME (2021)
Impact of pregnancy and risk factors for ventricular arrhythmias in women with tetralogy of Fallot
Open Heart, 8 (1)
DOI 10.1136/openhrt-2020-001400, PubMed 33414183
Quattrone A, Lie OH, Nestaas E, de Lange C, Try K, Lindberg HL, Skulstad H, Erikssen G, Edvardsen T, Haugaa K, Estensen ME (2021)
Long-term follow-up and sex differences in adults operated for tetralogy of Fallot
Open Heart, 8 (2)
DOI 10.1136/openhrt-2021-001738, PubMed 34663747
Riveland E, Larsen TH, Edvardsen T, Saeed S (2021)
Metastatic tumor of the interventricular septum mimicking myocardial calcification: The role of multimodality imaging
Echocardiography, 38 (5), 774-776
DOI 10.1111/echo.14991, PubMed 33751640
Rootwelt-Norberg C, Lie ØH, Chivulescu M, Castrini AI, Sarvari SI, Lyseggen E, Almaas VM, Bogsrud MP, Edvardsen T, Haugaa KH (2021)
Sex differences in disease progression and arrhythmic risk in patients with arrhythmogenic cardiomyopathy
Europace, 23 (7), 1084-1091
DOI 10.1093/europace/euab077, PubMed 33829244
Saeed S, Edvardsen T (2021)
Basal septal hypertrophy in hypertension; about time to introduce an objective and reproducible quantification
J Hypertens, 39 (7), 1316-1318
DOI 10.1097/HJH.0000000000002844, PubMed 34074971
Salte IM, Østvik A, Smistad E, Melichova D, Nguyen TM, Karlsen S, Brunvand H, Haugaa KH, Edvardsen T, Lovstakken L, Grenne B (2021)
Artificial Intelligence for Automatic Measurement of Left Ventricular Strain in Echocardiography
JACC Cardiovasc Imaging, 14 (10), 1918-1928
DOI 10.1016/j.jcmg.2021.04.018, PubMed 34147442
Senior R, Lindner JR, Edvardsen T, Cosyns B (2021)
Ultrasound contrast agent hypersensitivity in patients allergic to polyethylene glycol: position statement by the European Association of Cardiovascular Imaging
Eur Heart J Cardiovasc Imaging, 22 (9), 959-960
DOI 10.1093/ehjci/jeab120, PubMed 34164650
Senior R, Lindner JR, Edvardsen T, Cosyns B (2021)
Erratum to: Ultrasound contrast agent hypersensitivity in patients allergic to polyethylene glycol: position statement by the European Association of Cardiovascular Imaging
Eur Heart J Cardiovasc Imaging, 22 (9), 960
DOI 10.1093/ehjci/jeab144, PubMed 34323965
Stankovic I, Muraru D, Fox K, Di Salvo G, Hasselberg NE, Breithardt OA, Hansen TB, Neskovic AN, Gargani L, Cosyns B, Edvardsen T, Reviewers: This document was reviewed by members of the 2020-2022 EACVI Scientific Documents Committee: Daniele Andreini, Magnus Báck, Philippe B. Bertrand, Marc Dweck, Niall Keenan, Julien Magne, Leyla Elif Sade; and by the Chair of the 2020-2022 EACVI Scientific Documents Committee: Erwan Donal. (2021)
Level 1 of Entrustable Professional Activities in adult echocardiography: a position statement from the EACVI regarding the training and competence requirements for selecting and interpreting echocardiographic examinations
Eur Heart J Cardiovasc Imaging, 22 (10), 1091-1097
DOI 10.1093/ehjci/jeab143, PubMed 34383895
Svensson A, Platonov PG, Haugaa KH, Zareba W, Jensen HK, Bundgaard H, Gilljam T, Madsen T, Hansen J, Dejgaard LA, Karlsson LO, Gréen A, Polonsky B, Edvardsen T, Svendsen JH, Gunnarsson C (2021)
Genetic Variant Score and Arrhythmogenic Right Ventricular Cardiomyopathy Phenotype in Plakophilin-2 Mutation Carriers
Cardiology, 146 (6), 763-771
DOI 10.1159/000519231, PubMed 34469894
Tangen J, Aukrust P, Barratt-Due A, Skulstad H, Edvardsen T (2021)
Reduced Cardiac Function by Echocardiography in a Minority of COVID-19 Patients 3 Months after Hospitalization
J Am Soc Echocardiogr, 35 (2), 243-244
DOI 10.1016/j.echo.2021.10.014, PubMed 34758386
Thiele H, Sibbing D, Barthelemy O, Bauersachs J, Bhatt DL, Dendale P, Dorobantu M, Edvardsen T, Folliguet T, Gale CP, Gilard M, Jobs A, Juni P, Lambrinou E, Lewis BS, Mehilli J, Meliga E, Merkely B, Mueller C, Roffi M, Rutten FH, Siontis GCM, Barbato E, Collet JP (2021)
Pro
Eur. Heart J., 42 (31), 2974-2979
Publications 2020
Cameli M, Miglioranza MH, Magne J, Mandoli GE, Benfari G, Ancona R, Sibilio G, Reskovic Luksic V, Dejan D, Griseli L, Van De Heyning CM, Mortelmans P, Michalski B, Kupczynska K, Di Giannuario G, Devito F, Dulgheru R, Ilardi F, Salustri A, Abushahba G, Morrone D, Fabiani I, Penicka M, Katbeh A, Sammarco G et al. (2020)
Multicentric Atrial Strain COmparison between Two Different Modalities: MASCOT HIT Study
Diagnostics (Basel), 10 (11)
DOI 10.3390/diagnostics10110946, PubMed 33202837
Čelutkienė J, Pudil R, López-Fernández T, Grapsa J, Nihoyannopoulos P, Bergler-Klein J, Cohen-Solal A, Farmakis D, Tocchetti CG, von Haehling S, Barberis V, Flachskampf FA, Čeponienė I, Haegler-Laube E, Suter T, Lapinskas T, Prasad S, de Boer RA, Wechalekar K, Anker MS, Iakobishvili Z, Bucciarelli-Ducci C, Schulz-Menger J, Cosyns B, Gaemperli O et al. (2020)
Role of cardiovascular imaging in cancer patients receiving cardiotoxic therapies: a position statement on behalf of the Heart Failure Association (HFA), the European Association of Cardiovascular Imaging (EACVI) and the Cardio-Oncology Council of the European Society of Cardiology (ESC)
Eur J Heart Fail, 22 (9), 1504-1524
DOI 10.1002/ejhf.1957, PubMed 32621569
Chivulescu M, Lie ØH, Popescu BA, Skulstad H, Edvardsen T, Jurcut RO, Haugaa KH (2020)
High penetrance and similar disease progression in probands and in family members with arrhythmogenic cardiomyopathy
Eur Heart J, 41 (14), 1401-1410
DOI 10.1093/eurheartj/ehz570, PubMed 31504415
Cosyns B, Haugaa KH, Gerber B, Gimelli A, Sade LE, Maurer G, Popescu BA, Edvardsen T (2020)
The year 2019 in the European Heart Journal - Cardiovascular Imaging: part II
Eur Heart J Cardiovasc Imaging, 21 (12), 1331-1340
DOI 10.1093/ehjci/jeaa292, PubMed 33188688
Cosyns B, Lochy S, Luchian ML, Gimelli A, Pontone G, Allard SD, de Mey J, Rosseel P, Dweck M, Petersen SE, Edvardsen T (2020)
The role of cardiovascular imaging for myocardial injury in hospitalized COVID-19 patients
Eur Heart J Cardiovasc Imaging, 21 (7), 709-714
DOI 10.1093/ehjci/jeaa136, PubMed 32391912
Dweck MR, Bularga A, Hahn RT, Bing R, Lee KK, Chapman AR, White A, Salvo GD, Sade LE, Pearce K, Newby DE, Popescu BA, Donal E, Cosyns B, Edvardsen T, Mills NL, Haugaa K (2020)
Global evaluation of echocardiography in patients with COVID-19
Eur Heart J Cardiovasc Imaging, 21 (9), 949-958
DOI 10.1093/ehjci/jeaa178, PubMed 32556199
Edvardsen T (2020)
How to interpret assessment of left ventricular function by strain in acromegaly?
Rev Port Cardiol (Engl Ed), 39 (4), 197-198
DOI 10.1016/j.repc.2020.04.004, PubMed 32376064
Edvardsen T, Cosyns B, Popescu BA, Maurer G (2020)
Maurizio Galderisi (31 August 1954-27 March 2020)
Eur Heart J Cardiovasc Imaging, 21 (6), 591
DOI 10.1093/ehjci/jeaa077, PubMed 32432321
Edvardsen T, Cosyns B, Popescu BA, Maurer G (2020)
Maurizio Galderisi (31 August 1954-27 March 2020)
Eur Heart J, 41 (25), 2350-2351
DOI 10.1093/eurheartj/ehaa268, PubMed 32608492
Edvardsen T, Haugaa KH, Petersen SE, Gimelli A, Donal E, Maurer G, Popescu BA, Cosyns B (2020)
The year 2019 in the European Heart Journal-Cardiovascular Imaging: Part I
Eur Heart J Cardiovasc Imaging, 21 (11), 1208-1215
DOI 10.1093/ehjci/jeaa259, PubMed 32929466
Edvardsen T, Klæboe LG, Haugaa KH (2020)
The infarcted myocardium and mechanical dispersion: another brick in the wall
Eur Heart J Cardiovasc Imaging, 21 (11), 1235-1236
DOI 10.1093/ehjci/jeaa209, PubMed 32856038
Hetland A, Vistnes M, Haugaa KH, Liland KH, Olseng M, Edvardsen T (2020)
Obstructive sleep apnea versus central sleep apnea: prognosis in systolic heart failure
Cardiovasc Diagn Ther, 10 (3), 396-404
DOI 10.21037/cdt.2020.03.02, PubMed 32695620
Klaeboe LG, Brekke PH, Aaberge L, Haugaa K, Edvardsen T (2020)
Impact of transcatheter aortic valve implantation on mechanical dispersion
Open Heart, 7 (1), e001199
DOI 10.1136/openhrt-2019-001199, PubMed 32153792
Kleiven Ø, Bjørkavoll-Bergseth MF, Omland T, Aakre KM, Frøysa V, Erevik CB, Greve OJ, Melberg TH, Auestad B, Skadberg Ø, Edvardsen T, Ørn S (2020)
Endurance exercise training volume is not associated with progression of coronary artery calcification
Scand J Med Sci Sports, 30 (6), 1024-1032
DOI 10.1111/sms.13643, PubMed 32100340
Knuuti J, Wijns W, Saraste A, Capodanno D, Barbato E, Funck-Brentano C, Prescott E, Storey RF, Deaton C, Cuisset T, Agewall S, Dickstein K, Edvardsen T, Escaned J, Gersh BJ, Svitil P, Gilard M, Hasdai D, Hatala R, Mahfoud F, Masip J, Muneretto C, Valgimigli M, Achenbach S, Bax JJ et al. (2020)
2019 ESC Guidelines for the diagnosis and management of chronic coronary syndromes
Eur Heart J, 41 (3), 407-477
DOI 10.1093/eurheartj/ehz425, PubMed 31504439
Knuuti J, Wijns W, Saraste A, Capodanno D, Barbato E, Funck-Brentano C, Prescott E, Storey RF, Deaton C, Cuisset T, Agewall S, Dickstein K, Edvardsen T, Escaned J, Gersh BJ, Svitil P, Gilard M, Hasdai D, Hatala R, Mahfoud F, Masip J, Muneretto C, Valgimigli M, Achenbach S, Bax JJ et al. (2020)
2019 ESC Guide on the Diagnosis and Treatment of Chronic Coronary Syndromes
Rev. Esp. Cardiol., 73 (6)
DOI 10.1016/j.recesp.2019.10.032
Lie ØH, Klaboe LG, Dejgaard LA, Skjølsvik ET, Grimsmo J, Bosse G, Hopp E, Edvardsen T, Haugaa KH (2020)
Cardiac Phenotypes and Markers of Adverse Outcome in Elite Athletes With Ventricular Arrhythmias
JACC Cardiovasc Imaging, 14 (1), 148-158
DOI 10.1016/j.jcmg.2020.07.039, PubMed 33129723
Magne J, Bharucha T, Cikes M, Galderisi M, Price S, Sade LE, Popescu BA, Cosyns B, Edvardsen T (2020)
EuroEcho 2019: highlights
Eur Heart J Cardiovasc Imaging, 21 (5), 469-478
DOI 10.1093/ehjci/jeaa037, PubMed 32182333
Mullens W, Auricchio A, Martens P, Witte K, Cowie MR, Delgado V, Dickstein K, Linde C, Vernooy K, Leyva F, Bauersachs J, Israel CW, Lund LH, Donal E, Boriani G, Jaarsma T, Berruezo A, Traykov V, Yousef Z, Kalarus Z, Cosedis Nielsen J, Steffel J, Vardas P, Coats A, Seferovic P et al. (2020)
Optimized implementation of cardiac resynchronization therapy: a call for action for referral and optimization of care: A joint position statement from the Heart Failure Association (HFA), European Heart Rhythm Association (EHRA), and European Association of Cardiovascular Imaging (EACVI) of the European Society of Cardiology
Eur J Heart Fail, 22 (12), 2349-2369
DOI 10.1002/ejhf.2046, PubMed 33136300
Norum IB, Edvardsen T, Ruddox V, Gunther A, Dahle G, Otterstad JE (2020)
Three-dimensional versus two-dimensional transthoracic echocardiography for left ventricular outflow tract measurements in severe aortic stenosis. A cross-sectional study using computer tomography and Haegar sizers as reference
Scand Cardiovasc J, 54 (4), 220-226
DOI 10.1080/14017431.2020.1761559, PubMed 32408833
Otterstad JE, Norum IB, Ruddox V, Bendz B, Haugaa KH, Edvardsen T (2020)
The impact of semi-automatic versus manually adjusted assessment of global longitudinal strain in post-myocardial infarction patients
Int J Cardiovasc Imaging, 36 (7), 1283-1290
DOI 10.1007/s10554-020-01826-4, PubMed 32236908
Pezel T, Coisne A, Mahmoud-Elsayed H, Mandoli GE, Elgamal SM, Podlesnikar T, Cameli M, Grapsa J, Lafitte S, Edvardsen T, Donal E, Dreyfus J (2020)
EACVI communication paper: first international young dedicated multimodal cardiovascular imaging simulation education event organized by the ESC
Eur Heart J Cardiovasc Imaging, 21 (2), 124-126
DOI 10.1093/ehjci/jez299, PubMed 31834376
Platonov PG, Castrini AI, Svensson A, Christiansen MK, Gilljam T, Bundgaard H, Madsen T, Heliö T, Christensen AH, Åström MA, Carlson J, Edvardsen T, Jensen HK, Haugaa KH, Svendsen JH (2020)
Pregnancies, ventricular arrhythmias, and substrate progression in women with arrhythmogenic right ventricular cardiomyopathy in the Nordic ARVC Registry
Europace, 22 (12), 1873-1879
DOI 10.1093/europace/euaa136, PubMed 32681178
Popescu BA, Stefanidis A, Fox KF, Cosyns B, Delgado V, Di Salvo GD, Donal E, Flachskampf FA, Galderisi M, Lancellotti P, Muraru D, Sade LE, Edvardsen T, Reviewers: This document was reviewed by members of the 2018–2020 EACVI Scientific Documents Committee: Philippe Bertrand, Marc Dweck, Bernhard Gerber, Ivan Stankovic (2020)
Training, competence, and quality improvement in echocardiography: the European Association of Cardiovascular Imaging Recommendations: update 2020
Eur Heart J Cardiovasc Imaging, 21 (12), 1305-1319
DOI 10.1093/ehjci/jeaa266, PubMed 33245758
Rodriguez-Palomares JF, Edvardsen T, Almeida AG, Petersen SE (2020)
EuroCMR 2019 highlights
Eur Heart J Cardiovasc Imaging, 21 (2), 127-131
DOI 10.1093/ehjci/jez307, PubMed 31821461
Ross S, Nestaas E, Kongsgaard E, Odland HH, Haland TF, Hopp E, Haugaa KH, Edvardsen T (2020)
Septal contraction predicts acute haemodynamic improvement and paced QRS width reduction in cardiac resynchronization therapy
Eur Heart J Cardiovasc Imaging, 21 (8), 845-852
DOI 10.1093/ehjci/jez315, PubMed 31925420
Scheirlynck E, Chivulescu M, Lie ØH, Motoc A, Koulalis J, de Asmundis C, Sieira J, Chierchia GB, Brugada P, Cosyns B, Edvardsen T, Droogmans S, Haugaa KH (2020)
Worse Prognosis in Brugada Syndrome Patients With Arrhythmogenic Cardiomyopathy Features
JACC Clin Electrophysiol, 6 (11), 1353-1363
DOI 10.1016/j.jacep.2020.05.026, PubMed 33121663
Skjølsvik ET, Hasselberg NE, Dejgaard LA, Lie ØH, Andersen K, Holm T, Edvardsen T, Haugaa KH (2020)
Exercise is Associated With Impaired Left Ventricular Systolic Function in Patients With Lamin A/C Genotype
J Am Heart Assoc, 9 (2), e012937
DOI 10.1161/JAHA.119.012937, PubMed 31957533
Skulstad H, Cosyns B, Popescu BA, Galderisi M, Salvo GD, Donal E, Petersen S, Gimelli A, Haugaa KH, Muraru D, Almeida AG, Schulz-Menger J, Dweck MR, Pontone G, Sade LE, Gerber B, Maurovich-Horvat P, Bharucha T, Cameli M, Magne J, Westwood M, Maurer G, Edvardsen T (2020)
COVID-19 pandemic and cardiac imaging: EACVI recommendations on precautions, indications, prioritization, and protection for patients and healthcare personnel
Eur Heart J Cardiovasc Imaging, 21 (6), 592-598
DOI 10.1093/ehjci/jeaa072, PubMed 32242891
Smistad E, Ostvik A, Salte IM, Melichova D, Nguyen TM, Haugaa K, Brunvand H, Edvardsen T, Leclerc S, Bernard O, Grenne B, Lovstakken L (2020)
Real-Time Automatic Ejection Fraction and Foreshortening Detection Using Deep Learning
IEEE Trans Ultrason Ferroelectr Freq Control, 67 (12), 2595-2604
DOI 10.1109/TUFFC.2020.2981037, PubMed 32175861
Stokke MK, Castrini AI, Aneq MÅ, Jensen HK, Madsen T, Hansen J, Bundgaard H, Gilljam T, Platonov PG, Svendsen JH, Edvardsen T, Haugaa KH (2020)
Absence of ECG Task Force Criteria does not rule out structural changes in genotype positive ARVC patients
Int J Cardiol, 317, 152-158
DOI 10.1016/j.ijcard.2020.05.095, PubMed 32504717
Stokke MK, Castrini AI, Aneq MÅ, Jensen HK, Madsen T, Hansen J, Bundgaard H, Gilljam T, Platonov PG, Svendsen JH, Edvardsen T, Haugaa KH (2020)
Reply to: TFC ECG in arrhythmogenic cardiomyopathy: Inadequate mixture of criteria?
Int J Cardiol, 323, 203
DOI 10.1016/j.ijcard.2020.08.050, PubMed 32810539
Publications 2019
Babić A, Odland HH, Lyseggen E, Holm T, Ross S, Hopp E, Haugaa KH, Kongsgård E, Edvardsen T, Gérard O, Samset E (2019)
An image fusion tool for echo-guided left ventricular lead placement in cardiac resynchronization therapy: Performance and workflow integration analysis
Echocardiography, 36 (10), 1834-1845
DOI 10.1111/echo.14483, PubMed 31628770
Baturova MA, Haugaa KH, Jensen HK, Svensson A, Gilljam T, Bundgaard H, Madsen T, Hansen J, Chivulescu M, Christiansen MK, Carlson J, Edvardsen T, Svendsen JH, Platonov PG (2019)
Atrial fibrillation as a clinical characteristic of arrhythmogenic right ventricular cardiomyopathy: Experience from the Nordic ARVC Registry
Int J Cardiol, 298, 39-43
DOI 10.1016/j.ijcard.2019.07.086, PubMed 31387820
Bjerring AW, Landgraff HE, Stokke TM, Murbræch K, Leirstein S, Aaeng A, Brun H, Haugaa KH, Hallén J, Edvardsen T, Sarvari SI (2019)
The developing athlete's heart: a cohort study in young athletes transitioning through adolescence
Eur J Prev Cardiol, 26 (18), 2001-2008
DOI 10.1177/2047487319862061, PubMed 31284749
Brynildsen J, Myhre PL, Lyngbakken MN, Klaeboe LG, Stridsberg M, Christensen G, Edvardsen T, Omland T, Røsjø H (2019)
Circulating secretoneurin concentrations in patients with moderate to severe aortic stenosis
Clin Biochem, 71, 17-23
DOI 10.1016/j.clinbiochem.2019.06.008, PubMed 31228433
Cameli M, Marsan NA, D'Andrea A, Dweck MR, Fontes-Carvalho R, Manka R, Michalski B, Podlesnikar T, Sitges M, Popescu BA, Edvardsen T, Fox KF, Haugaa KH (2019)
EACVI survey on multimodality training in ESC countries
Eur Heart J Cardiovasc Imaging, 20 (12), 1332-1336
DOI 10.1093/ehjci/jez200, PubMed 31750533
Cardim N, Dalen H, Voigt JU, Ionescu A, Price S, Neskovic AN, Edvardsen T, Galderisi M, Sicari R, Donal E, Stefanidis A, Delgado V, Zamorano J, Popescu BA (2019)
The use of handheld ultrasound devices: a position statement of the European Association of Cardiovascular Imaging (2018 update)
Eur Heart J Cardiovasc Imaging, 20 (3), 245-252
DOI 10.1093/ehjci/jey145, PubMed 30351358
Castrini AI, Lie ØH, Leren IS, Estensen ME, Stokke MK, Klæboe LG, Edvardsen T, Haugaa KH (2019)
Number of pregnancies and subsequent phenotype in a cross-sectional cohort of women with arrhythmogenic cardiomyopathy
Eur Heart J Cardiovasc Imaging, 20 (2), 192-198
DOI 10.1093/ehjci/jey061, PubMed 29659777
Christiansen MK, Haugaa KH, Svensson A, Gilljam T, Madsen T, Hansen J, Holst AG, Bundgaard H, Edvardsen T, Svendsen JH, Platonov PG, Jensen HK (2019)
Incidence, Predictors, and Success of Ventricular Tachycardia Catheter Ablation in Arrhythmogenic Right Ventricular Cardiomyopathy (from the Nordic ARVC Registry)
Am J Cardiol, 125 (5), 803-811
DOI 10.1016/j.amjcard.2019.11.026, PubMed 31924321
Cosyns B, Haugaa KH, Gerber BL, Gimelli A, Donal E, Maurer G, Edvardsen T (2019)
The year 2018 in the European Heart Journal-Cardiovascular Imaging: Part II
Eur Heart J Cardiovasc Imaging, 20 (12), 1337-1344
DOI 10.1093/ehjci/jez218, PubMed 31750534
Dejgaard LA, Lie ØH, Helle-Valle TM, Edvardsen T, Haugaa KH (2019)
Reply: Arrhythmic Mitral Annulus Disjunction and Mitral Valve Prolapse: Components of the Same Clinical Spectrum?
J Am Coll Cardiol, 73 (6), 739-740
DOI 10.1016/j.jacc.2018.12.008, PubMed 30765047
Donal E, Delgado V, Bucciarelli-Ducci C, Galli E, Haugaa KH, Charron P, Voigt JU, Cardim N, Masci PG, Galderisi M, Gaemperli O, Gimelli A, Pinto YM, Lancellotti P, Habib G, Elliott P, Edvardsen T, Cosyns B, Popescu BA, 2016–18 EACVI Scientific Documents Committee (2019)
Multimodality imaging in the diagnosis, risk stratification, and management of patients with dilated cardiomyopathies: an expert consensus document from the European Association of Cardiovascular Imaging
Eur Heart J Cardiovasc Imaging, 20 (10), 1075-1093
DOI 10.1093/ehjci/jez178, PubMed 31504368
Edvardsen T (2019)
EuroEcho-Imaging 2018
Eur Heart J, 40 (14), 1098-1100
DOI 10.1093/eurheartj/ehz144, PubMed 30955038
Edvardsen T (2019)
Focused cardiac ultrasound examination is ready for use as a diagnostic tool of acute aortic syndromes in the emergency room
Eur Heart J, 40 (24), 1961-1962
DOI 10.1093/eurheartj/ehz356, PubMed 31162537
Edvardsen T, Haugaa KH (2019)
Stretch and Rebound in the Search for Cardiac Resynchronization Therapy Candidates
JACC Cardiovasc Imaging, 12 (9), 1753-1754
DOI 10.1016/j.jcmg.2018.08.008, PubMed 30660515
Edvardsen T, Haugaa KH, Petersen SE, Gimelli A, Donal E, Maurer G, Popescu BA, Cosyns B (2019)
The year 2018 in the European Heart Journal - Cardiovascular Imaging: Part I
Eur Heart J Cardiovasc Imaging, 20 (8), 858-865
DOI 10.1093/ehjci/jez133, PubMed 31211353
Edvardsen T, Klaeboe LG (2019)
Imaging and heart failure: myocardial strain
Curr Opin Cardiol, 34 (5), 490-494
DOI 10.1097/HCO.0000000000000653, PubMed 31219880
Edvardsen T, Opdahl A (2019)
Yet another echocardiographic index: do we need more?
Eur Heart J, 40 (6), 526-528
DOI 10.1093/eurheartj/ehy270, PubMed 29771305
Fox K, Achenbach S, Bax J, Cosyns B, Delgado V, Dweck MR, Edvardsen T, Flachskampf F, Habib G, Lancellotti P, Muraru D, Neglia D, Pontone G, Schwammenthal E, Sechtem U, Westwood M, Popescu BA (2019)
Multimodality imaging in cardiology: a statement on behalf of the Task Force on Multimodality Imaging of the European Association of Cardiovascular Imaging
Eur Heart J, 40 (6), 553-558
DOI 10.1093/eurheartj/ehy669, PubMed 30380037
González A, Aurlien D, Larsson PG, Berg Olsen K, Dahl IT, Edvardsen T, Haugaa KH, Taubøll E (2019)
Corrigendum to "Seizure-like episodes and EEG abnormalities in patients with long QT syndrome" [Seizure 61 (2018) 214-220]
Seizure, 69, 304
DOI 10.1016/j.seizure.2018.12.002, PubMed 31056410
Haland TF, Edvardsen T (2019)
The role of echocardiography in management of hypertrophic cardiomyopathy
J Echocardiogr, 18 (2), 77-85
DOI 10.1007/s12574-019-00454-9, PubMed 31858431
Haugaa KH, Marsan NA, Cameli M, D'Andrea A, Dweck MR, Carvalho RF, Holte E, Manka R, Michalski B, Podlesnikar T, Popescu BA, Schulz-Menger J, Sitges M, Stankovic I, Maurer G, Edvardsen T (2019)
Criteria for surveys: from the European Association of Cardiovascular Imaging Scientific Initiatives Committee
Eur Heart J Cardiovasc Imaging, 20 (9), 963-966
DOI 10.1093/ehjci/jez193, PubMed 31436816
Karlsen S, Dahlslett T, Grenne B, Sjøli B, Smiseth O, Edvardsen T, Brunvand H (2019)
Global longitudinal strain is a more reproducible measure of left ventricular function than ejection fraction regardless of echocardiographic training
Cardiovasc Ultrasound, 17 (1), 18
DOI 10.1186/s12947-019-0168-9, PubMed 31477137
Kawakami H, Nerlekar N, Haugaa KH, Edvardsen T, Marwick TH (2019)
Prediction of Ventricular Arrhythmias With Left Ventricular Mechanical Dispersion: A Systematic Review and Meta-Analysis
JACC Cardiovasc Imaging, 13 (2 Pt 2), 562-572
DOI 10.1016/j.jcmg.2019.03.025, PubMed 31202762
Klaeboe LG, Brekke PH, Lie ØH, Aaberge L, Haugaa KH, Edvardsen T (2019)
Classical mechanical dyssynchrony is rare in transcatheter aortic valve implantation-induced left bundle branch block
Eur Heart J Cardiovasc Imaging, 20 (3), 271-278
DOI 10.1093/ehjci/jey127, PubMed 30247533
Kvale KF, Bersvendsen J, Remme EW, Salles S, Aalen JM, Brekke PH, Edvardsen T, Samset E (2019)
Detection of Regional Mechanical Activation of the Left Ventricular Myocardium Using High Frame Rate Ultrasound Imaging
IEEE Trans Med Imaging, 38 (11), 2665-2675
DOI 10.1109/TMI.2019.2909358, PubMed 30969919
Kvale KF, Salles S, Brekke PH, Edvardsen T, Samset E (2019)
Velocity estimation of naturally occurring mechanical waves in the left ventricle in healthy persons
IEEE INT ULTRA SYM, 1425-1428
Kvale KF, Salles S, Brekke PH, Remme EW, Aalen JM, Edvardsen T, Samset E (2019)
Comparison of two methods for mechanical activation detection using high frame rate ultrasound imaging
IEEE INT ULTRA SYM, 1410-1413
Kvisvik B, Aagaard EN, Mørkrid L, Røsjø H, Lyngbakken M, Smedsrud MK, Eek C, Bendz B, Haugaa KH, Edvardsen T, Gravning J (2019)
Mechanical dispersion as a marker of left ventricular dysfunction and prognosis in stable coronary artery disease
Int J Cardiovasc Imaging, 35 (7), 1265-1275
DOI 10.1007/s10554-019-01583-z, PubMed 31165941
Magne J, Bharucha T, Bucciarelli-Ducci C, Dahl JS, Gimelli A, Haugaa KH, Muraru D, Donal E, Edvardsen T, Popescu BA (2019)
EuroEcho-imaging 2018: highlights
Eur Heart J Cardiovasc Imaging, 20 (5), 489-497
DOI 10.1093/ehjci/jez042, PubMed 31222301
Moharem-Elgamal S, Cameli M, Muraru D, Brassart V, Esperou-Surrel A, Mahmoud-Elsayed H, Bucciarelli-Ducci C, Popescu BA, Cosyns B, Edvardsen T (2019)
HIT communication paper: strategies and tips to increase your chances of winning an EACVI grant
Eur Heart J Cardiovasc Imaging, 20 (7), 735-739
DOI 10.1093/ehjci/jez088, PubMed 31119264
Nagueh SF, Abraham TP, Aurigemma GP, Bax JJ, Beladan C, Browning A, Chamsi-Pasha MA, Delgado V, Derumeaux G, Dolci G, Donal E, Edvardsen T, El Tallawi KC, Ernande L, Esposito R, Flachskampf FA, Galderisi M, Gentry J, Goldstein SA, Harb SC, Hubert A, Hung J, Klein AL, Lancellotti P, Mahmood RZ et al. (2019)
Interobserver Variability in Applying American Society of Echocardiography/European Association of Cardiovascular Imaging 2016 Guidelines for Estimation of Left Ventricular Filling Pressure
Circ Cardiovasc Imaging, 12 (1), e008122
DOI 10.1161/CIRCIMAGING.118.008122, PubMed 30632389
Pischke SE, Hestenes S, Johansen HT, Fure H, Bugge JF, Espinoza A, Skulstad H, Edvardsen T, Fosse E, Mollnes TE, Halvorsen PS, Nielsen EW (2019)
Sepsis causes right ventricular myocardial inflammation independent of pulmonary hypertension in a porcine sepsis model
PLoS One, 14 (6), e0218624
DOI 10.1371/journal.pone.0218624, PubMed 31247004
Platonov PG, Haugaa KH, Bundgaard H, Svensson A, Gilljam T, Hansen J, Madsen T, Holst AG, Carlson J, Lie ØH, Kvistholm Jensen M, Edvardsen T, Jensen HK, Svendsen JH (2019)
Primary Prevention of Sudden Cardiac Death With Implantable Cardioverter-Defibrillator Therapy in Patients With Arrhythmogenic Right Ventricular Cardiomyopathy
Am J Cardiol, 123 (7), 1156-1162
DOI 10.1016/j.amjcard.2018.12.049, PubMed 30678832
Saraste A, Barbato E, Capodanno D, Edvardsen T, Prescott E, Achenbach S, Bax JJ, Wijns W, Knuuti J (2019)
Imaging in ESC clinical guidelines: chronic coronary syndromes
Eur Heart J Cardiovasc Imaging, 20 (11), 1187-1197
DOI 10.1093/ehjci/jez219, PubMed 31642920
Scheirlynck E, Dejgaard LA, Skjølsvik E, Lie OH, Motoc A, Hopp E, Tanaka K, Ueland T, Ribe M, Collet C, Edvardsen T, Droogmans S, Cosyns B, Haugaa KH (2019)
Increased levels of sST2 in patients with mitral annulus disjunction and ventricular arrhythmias
Open Heart, 6 (1), e001016
DOI 10.1136/openhrt-2019-001016, PubMed 31168386
Publications 2018
Badano LP, Kolias TJ, Muraru D, Abraham TP, Aurigemma G, Edvardsen T, D'Hooge J, Donal E, Fraser AG, Marwick T, Mertens L, Popescu BA, Sengupta PP, Lancellotti P, Thomas JD, Voigt JU, Industry representatives, Reviewers: This document was reviewed by members of the 2016–2018 EACVI Scientific Documents Committee (2018)
Standardization of left atrial, right ventricular, and right atrial deformation imaging using two-dimensional speckle tracking echocardiography: a consensus document of the EACVI/ASE/Industry Task Force to standardize deformation imaging
Eur Heart J Cardiovasc Imaging, 19 (6), 591-600
DOI 10.1093/ehjci/jey042, PubMed 29596561
Bjerring AW, Landgraff HE, Leirstein S, Aaeng A, Ansari HZ, Saberniak J, Murbræch K, Bruun H, Stokke TM, Haugaa KH, Hallén J, Edvardsen T, Sarvari SI (2018)
Morphological changes and myocardial function assessed by traditional and novel echocardiographic methods in preadolescent athlete's heart
Eur J Prev Cardiol, 25 (9), 1000-1007
DOI 10.1177/2047487318776079, PubMed 29785884
de Barros MVL, Macedo AVS, Sarvari SI, Faleiros MH, Felipe PT, Silva JLP, Edvardsen T (2018)
Left Ventricular Regional Wall Motion Abnormality is a Strong Predictor of Cardiotoxicity in Breast Cancer Patients Undergoing Chemotherapy
Arq Bras Cardiol, 112 (1), 50-56
DOI 10.5935/abc.20180220, PubMed 30569947
Dejgaard LA, Haland TF, Lie OH, Ribe M, Bjune T, Leren IS, Berge KE, Edvardsen T, Haugaa KH (2018)
Vigorous exercise in patients with hypertrophic cardiomyopathy
Int J Cardiol, 250, 157-163
DOI 10.1016/j.ijcard.2017.07.015, PubMed 29169752
Dejgaard LA, Skjølsvik ET, Lie ØH, Ribe M, Stokke MK, Hegbom F, Scheirlynck ES, Gjertsen E, Andresen K, Helle-Valle TM, Hopp E, Edvardsen T, Haugaa KH (2018)
The Mitral Annulus Disjunction Arrhythmic Syndrome
J Am Coll Cardiol, 72 (14), 1600-1609
DOI 10.1016/j.jacc.2018.07.070, PubMed 30261961
Delgado V, Cardim N, Cosyns B, Donal E, Flachskampf F, Galderisi M, Gerber B, Gimelli A, Haugaa KH, Kaufmann PA, Lancellotti P, Magne J, Masci PG, Muraru D, Habib G, Edvardsen T, Popescu BA (2018)
Criteria for recommendation, expert consensus, and appropriateness criteria papers: update from the European Association of Cardiovascular Imaging Scientific Documents Committee
Eur Heart J Cardiovasc Imaging, 19 (8), 835-837
DOI 10.1093/ehjci/jey079, PubMed 29905776
Di Salvo G, Miller O, Babu Narayan S, Li W, Budts W, Valsangiacomo Buechel ER, Frigiola A, van den Bosch AE, Bonello B, Mertens L, Hussain T, Parish V, Habib G, Edvardsen T, Geva T, Baumgartner H, Gatzoulis MA, 2016–2018 EACVI Scientific Documents Committee (2018)
Imaging the adult with congenital heart disease: a multimodality imaging approach-position paper from the EACVI
Eur Heart J Cardiovasc Imaging, 19 (10), 1077-1098
DOI 10.1093/ehjci/jey102, PubMed 30084968
Edvardsen T, Haugaa KH, Gerber BL, Maurovich-Horvat P, Donal E, Maurer G, Popescu BA (2018)
The year 2017 in the European Heart Journal-Cardiovascular Imaging: Part II
Eur Heart J Cardiovasc Imaging, 19 (11), 1222-1229
DOI 10.1093/ehjci/jey110, PubMed 30084988
Edvardsen T, Smiseth OA (2018)
Evaluation of diastolic function by echocardiography: important progression, but issues to be resolved
Eur Heart J Cardiovasc Imaging, 19 (4), 387-388
DOI 10.1093/ehjci/jex319, PubMed 29236972
Galderisi M, Donal E, Magne J, Lo Iudice F, Agricola E, Sade LE, Cameli M, Schwammenthal E, Cardim N, Cosyns B, Hagendorff A, Neskovic AN, Zamorano JL, Lancellotti P, Habib G, Edvardsen T, Popescu BA (2018)
Rationale and design of the EACVI AFib Echo Europe Registry for assessing relationships of echocardiographic parameters with clinical thrombo-embolic and bleeding risk profile in non-valvular atrial fibrillation
Eur Heart J Cardiovasc Imaging, 19 (3), 245-252
DOI 10.1093/ehjci/jex322, PubMed 29474699
Gimelli A, Achenbach S, Buechel RR, Edvardsen T, Francone M, Gaemperli O, Hacker M, Hyafil F, Kaufmann PA, Lancellotti P, Nieman K, Pontone G, Pugliese F, Verberne HJ, Gutberlet M, Bax JJ, Neglia D, EACVI Scientific Documents Committee (2018)
Strategies for radiation dose reduction in nuclear cardiology and cardiac computed tomography imaging: a report from the European Association of Cardiovascular Imaging (EACVI), the Cardiovascular Committee of European Association of Nuclear Medicine (EANM), and the European Society of Cardiovascular Radiology (ESCR)
Eur Heart J, 39 (4), 286-296
DOI 10.1093/eurheartj/ehx582, PubMed 29059384
González A, Aurlien D, Larsson PG, Olsen KB, Dahl IT, Edvardsen T, Haugaa KH, Taubøll E (2018)
Seizure-like episodes and EEG abnormalities in patients with long QT syndrome
Seizure, 61, 214-220
DOI 10.1016/j.seizure.2018.08.020, PubMed 30218808
Hasselberg NE, Haland TF, Saberniak J, Brekke PH, Berge KE, Leren TP, Edvardsen T, Haugaa KH (2018)
Lamin A/C cardiomyopathy: young onset, high penetrance, and frequent need for heart transplantation
Eur Heart J, 39 (10), 853-860
DOI 10.1093/eurheartj/ehx596, PubMed 29095976
Klaeboe LG, Edvardsen T (2018)
Echocardiographic assessment of left ventricular systolic function
J Echocardiogr, 17 (1), 10-16
DOI 10.1007/s12574-018-0405-5, PubMed 30390189
Lie ØH, Dejgaard LA, Saberniak J, Rootwelt C, Stokke MK, Edvardsen T, Haugaa KH (2018)
Harmful Effects of Exercise Intensity and Exercise Duration in Patients With Arrhythmogenic Cardiomyopathy
JACC Clin Electrophysiol, 4 (6), 744-753
DOI 10.1016/j.jacep.2018.01.010, PubMed 29929667
Lie ØH, Rootwelt-Norberg C, Dejgaard LA, Leren IS, Stokke MK, Edvardsen T, Haugaa KH (2018)
Prediction of Life-Threatening Ventricular Arrhythmia in Patients With Arrhythmogenic Cardiomyopathy: A Primary Prevention Cohort Study
JACC Cardiovasc Imaging, 11 (10), 1377-1386
DOI 10.1016/j.jcmg.2018.05.017, PubMed 30031702
Magne J, Bucciarelli-Ducci C, Dahl JS, Gimelli A, Haugaa KH, Miller O, Muraru D, Donal E, Edvardsen T, Popescu BA (2018)
EuroEcho-imaging 2017: highlights
Eur Heart J Cardiovasc Imaging, 19 (5), 482-489
DOI 10.1093/ehjci/jey037, PubMed 29548013
Magne J, Schwammenthal E, Maurer G, Edvardsen T, Popescu BA (2018)
The European Association of Cardiovascular Imaging Research and Innovations Committee: a platform for research in cardiovascular imaging
Eur Heart J Cardiovasc Imaging, 19 (1), 1-2
DOI 10.1093/ehjci/jex250, PubMed 29121174
Munkhaugen J, Ruddox V, Halvorsen S, Dammen T, Fagerland MW, Hernæs KH, Vethe NT, Prescott E, Jensen SE, Rødevand O, Jortveit J, Bendz B, Schirmer H, Køber L, Bøtker HE, Larsen AI, Vikenes K, Steigen T, Wiseth R, Pedersen T, Edvardsen T, Otterstad JE, Atar D (2018)
BEtablocker Treatment After acute Myocardial Infarction in revascularized patients without reduced left ventricular ejection fraction (BETAMI): Rationale and design of a prospective, randomized, open, blinded end point study
Am Heart J, 208, 37-46
DOI 10.1016/j.ahj.2018.10.005, PubMed 30530121
Myhre PL, Omland T, Sarvari SI, Ukkonen H, Rademakers F, Engvall JE, Hagve TA, Nagel E, Sicari R, Zamorano JL, Monaghan M, D'hooge J, Edvardsen T, Røsjø H, DOPPLER-CIP Study Group (2018)
Cardiac Troponin T Concentrations, Reversible Myocardial Ischemia, and Indices of Left Ventricular Remodeling in Patients with Suspected Stable Angina Pectoris: a DOPPLER-CIP Substudy
Clin Chem, 64 (9), 1370-1379
DOI 10.1373/clinchem.2018.288894, PubMed 29959147
Neskovic AN, Skinner H, Price S, Via G, De Hert S, Stankovic I, Galderisi M, Donal E, Muraru D, Sloth E, Gargani L, Cardim N, Stefanidis A, Cameli M, Habib G, Cosyns B, Lancellotti P, Edvardsen T, Popescu BA, Reviewers: This document was reviewed by members of the 2016–2018 EACVI Scientific Documents Committee (2018)
Focus cardiac ultrasound core curriculum and core syllabus of the European Association of Cardiovascular Imaging
Eur Heart J Cardiovasc Imaging, 19 (5), 475-481
DOI 10.1093/ehjci/jey006, PubMed 29529170
Nunes MCP, Badano LP, Marin-Neto JA, Edvardsen T, Fernández-Golfín C, Bucciarelli-Ducci C, Popescu BA, Underwood R, Habib G, Zamorano JL, Saraiva RM, Sabino EC, Botoni FA, Barbosa MM, Barros MVL, Falqueto E, Simões MV, Schmidt A, Rochitte CE, Rocha MOC, Ribeiro ALP, Lancellotti P (2018)
Multimodality imaging evaluation of Chagas disease: an expert consensus of Brazilian Cardiovascular Imaging Department (DIC) and the European Association of Cardiovascular Imaging (EACVI)
Eur Heart J Cardiovasc Imaging, 19 (4), 459-460n
DOI 10.1093/ehjci/jex154, PubMed 29029074
Pelliccia A, Caselli S, Sharma S, Basso C, Bax JJ, Corrado D, D'Andrea A, D'Ascenzi F, Di Paolo FM, Edvardsen T, Gati S, Galderisi M, Heidbuchel H, Nchimi A, Nieman K, Papadakis M, Pisicchio C, Schmied C, Popescu BA, Habib G, Grobbee D, Lancellotti P, Internal reviewers for EAPC and EACVI (2018)
European Association of Preventive Cardiology (EAPC) and European Association of Cardiovascular Imaging (EACVI) joint position statement: recommendations for the indication and interpretation of cardiovascular imaging in the evaluation of the athlete's heart
Eur Heart J, 39 (21), 1949-1969
DOI 10.1093/eurheartj/ehx532, PubMed 29029207
Popescu BA, Petersen SE, Maurovich-Horvat P, Haugaa KH, Donal E, Maurer G, Edvardsen T (2018)
The year 2017 in the European Heart Journal-Cardiovascular Imaging: Part I
Eur Heart J Cardiovasc Imaging, 19 (10), 1099-1106
DOI 10.1093/ehjci/jey109, PubMed 30085023
Rootwelt-Norberg C, Lie ØH, Dejgaard LA, Chivulescu M, Leren IS, Edvardsen T, Haugaa KH (2018)
Life-threatening arrhythmic presentation in patients with arrhythmogenic cardiomyopathy before and after entering the genomic era; a two-decade experience from a large volume center
Int J Cardiol, 279, 79-83
DOI 10.1016/j.ijcard.2018.12.066, PubMed 30638987
Ross S, Odland HH, Aranda A, Edvardsen T, Gammelsrud LO, Haland TF, Cornelussen R, Hopp E, Kongsgaard E (2018)
Cardiac resynchronization therapy when no lateral pacing option exists: vectorcardiographic guided non-lateral left ventricular lead placement predicts acute hemodynamic response
Europace, 20 (8), 1294-1302
DOI 10.1093/europace/eux249, PubMed 29036446
Ross S, Odland HH, Fischer T, Edvardsen T, Gammelsrud LO, Haland TF, Cornelussen R, Hopp E, Kongsgaard E (2018)
Contractility surrogates derived from three-dimensional lead motion analysis and prediction of acute haemodynamic response to CRT
Open Heart, 5 (2), e000874
DOI 10.1136/openhrt-2018-000874, PubMed 30613408
Ruddox V, Otterstad JE, Atar D, Bendz B, Edvardsen T (2018)
In Current Clinical Practice, after Percutaneous Coronary Intervention for Acute Myocardial Infarction, Are β-Blockers Prescribed for Heart Failure or as Secondary Prevention? A Pilot Study
Cardiology, 140 (3), 152-154
DOI 10.1159/000490656, PubMed 30089282
Sprynger M, Rigo F, Moonen M, Aboyans V, Edvardsen T, de Alcantara ML, Brodmann M, Naka KK, Kownator S, Simova I, Vlachopoulos C, Wautrecht JC, Lancellotti P, EACVI Scientific Documents Committee (2018)
Focus on echovascular imaging assessment of arterial disease: complement to the ESC guidelines (PARTIM 1) in collaboration with the Working Group on Aorta and Peripheral Vascular Diseases
Eur Heart J Cardiovasc Imaging, 19 (11), 1195-1221
DOI 10.1093/ehjci/jey103, PubMed 30239635
Stokke TM, Hasselberg NE, Smedsrud MK, Sarvari SI, Haugaa KH, Smiseth OA, Edvardsen T, Remme EW (2018)
Reply: Interaction Between Longitudinal, Circumferential, and Radial Deformations and Their Contributions to Ejection Fraction
J Am Coll Cardiol, 71 (2), 257-258
DOI 10.1016/j.jacc.2017.10.090, PubMed 29325649
Stokke TM, Haugaa KH, Smiseth OA, Edvardsen T, Remme EW (2018)
Reply: Left Ventricular Twist: An Often Ignored But Crucial Determinant of Left Ventricular Function
J Am Coll Cardiol, 71 (5), 584-585
DOI 10.1016/j.jacc.2017.12.002, PubMed 29406870
Traaen GM, Aakerøy L, Hunt TE, Øverland B, Lyseggen E, Aukrust P, Ueland T, Helle-Valle T, Steinshamn S, Edvardsen T, Khiabani Zaré H, Aakhus S, Akre H, Anfinsen OG, Loennechen JP, Gullestad L (2018)
Treatment of sleep apnea in patients with paroxysmal atrial fibrillation: design and rationale of a randomized controlled trial
Scand Cardiovasc J, 52 (6), 372-377
DOI 10.1080/14017431.2019.1567933, PubMed 30638392
van Mourik MJW, Zaar DVJ, Smulders MW, Heijman J, Lumens J, Dokter JE, Lima Passos V, Schalla S, Knackstedt C, Schummers G, Gjesdal O, Edvardsen T, Bekkers SCAM (2018)
Adding Speckle-Tracking Echocardiography to Visual Assessment of Systolic Wall Motion Abnormalities Improves the Detection of Myocardial Infarction
J Am Soc Echocardiogr, 32 (1), 65-73
DOI 10.1016/j.echo.2018.09.007, PubMed 30340888
Publications 2017
Almeida N, Papachristidis A, Pearson P, Sarvari SI, Engvall J, Edvardsen T, Monaghan M, Gérard O, Samset E, D'hooge J (2017)
Left atrial volumetric assessment using a novel automated framework for 3D echocardiography: a multi-centre analysis
Eur Heart J Cardiovasc Imaging, 18 (9), 1008-1015
DOI 10.1093/ehjci/jew166, PubMed 27550659
Baumgartner H, Hung J, Bermejo J, Chambers JB, Edvardsen T, Goldstein S, Lancellotti P, LeFevre M, Miller F, Otto CM (2017)
Recommendations on the echocardiographic assessment of aortic valve stenosis: a focused update from the European Association of Cardiovascular Imaging and the American Society of Echocardiography
Eur Heart J Cardiovasc Imaging, 18 (3), 254-275
DOI 10.1093/ehjci/jew335, PubMed 28363204
Baumgartner H, Hung J, Bermejo J, Chambers JB, Edvardsen T, Goldstein S, Lancellotti P, LeFevre M, Miller F, Otto CM (2017)
Recommendations on the Echocardiographic Assessment of Aortic Valve Stenosis: A Focused Update from the European Association of Cardiovascular Imaging and the American Society of Echocardiography
J Am Soc Echocardiogr, 30 (4), 372-392
DOI 10.1016/j.echo.2017.02.009, PubMed 28385280
Broch K, Leren IS, Saberniak J, Ueland T, Edvardsen T, Gullestad L, Haugaa KH (2017)
Soluble ST2 is associated with disease severity in arrhythmogenic right ventricular cardiomyopathy
Biomarkers, 22 (3-4), 367-371
DOI 10.1080/1354750X.2016.1278266, PubMed 28067540
Chambers JB, Garbi M, Nieman K, Myerson S, Pierard LA, Habib G, Zamorano JL, Edvardsen T, Lancellotti P, This document was reviewed by members of the 2014—16 EACVI Scientific Documents Committee:, Delgado V, Cosyns B, Donal E, Dulgheru R, Galderisi M, Lombardi M, Muraru D, Kauffmann P, Cardim N, Haugaa K, Rosenhek R (2017)
Appropriateness criteria for the use of cardiovascular imaging in heart valve disease in adults: a European Association of Cardiovascular Imaging report of literature review and current practice
Eur Heart J Cardiovasc Imaging, 18 (5), 489-498
DOI 10.1093/ehjci/jew309, PubMed 28586420
Chivulescu M, Haugaa K, Lie ØH, Edvardsen T, Ginghină C, Popescu BA, Jurcut R (2017)
Right ventricular remodeling in athletes and in arrhythmogenic cardiomyopathy
Scand Cardiovasc J, 52 (1), 13-19
DOI 10.1080/14017431.2017.1416158, PubMed 29254378
Dahlslett T, Karlsen S, Grenne B, Sjøli B, Bendz B, Skulstad H, Smiseth OA, Edvardsen T, Brunvand H (2017)
Intra-Aortic Balloon Pump Optimizes Myocardial Function During Cardiogenic Shock
JACC Cardiovasc Imaging, 11 (3), 512-514
DOI 10.1016/j.jcmg.2017.05.019, PubMed 28823741
Dejgaard LA, Haland TF, Lie OH, Ribe M, Bjune T, Leren IS, Berge KE, Edvardsen T, Haugaa KH (2017)
Data on exercise and cardiac imaging in a patient cohort with hypertrophic cardiomyopathy
Data Brief, 15, 30-39
DOI 10.1016/j.dib.2017.08.018, PubMed 28971120
Donal E, Delgado V, Magne J, Bucciarelli-Ducci C, Leclercq C, Cosyns B, Sitges M, Edvardsen T, Sade E, Stankovic I, Agricola E, Galderisi M, Lancellotti P, Hernandez A, Plein S, Muraru D, Schwammenthal E, Hindricks G, Popescu BA, Habib G (2017)
Rational and design of EuroCRT: an international observational study on multi-modality imaging and cardiac resynchronization therapy
Eur Heart J Cardiovasc Imaging, 18 (10), 1120-1127
DOI 10.1093/ehjci/jex021, PubMed 28329299
Edvardsen T, Donal E, Bucciarelli-Ducci C, Maurovich-Horvat P, Maurer G, Popescu BA (2017)
The years 2015-2016 in the European Heart Journal-Cardiovascular Imaging. Part I
Eur Heart J Cardiovasc Imaging, 18 (10), 1092-1098
DOI 10.1093/ehjci/jex192, PubMed 28984893
Edvardsen T, Gerber B, Donal E, Maurovich-Horvat P, Maurer G, Popescu BA (2017)
The year 2015-16 in the European Heart Journal-Cardiovascular Imaging. Part II
Eur Heart J Cardiovasc Imaging, 18 (12), 1322-1330
DOI 10.1093/ehjci/jex237, PubMed 29069381
Edvardsen T, Haugaa KH (2017)
Strain Echocardiography: From Variability to Predictability
JACC Cardiovasc Imaging, 11 (1), 35-37
DOI 10.1016/j.jcmg.2017.03.012, PubMed 28528163
Galderisi M, Cosyns B, Edvardsen T, Cardim N, Delgado V, Di Salvo G, Donal E, Sade LE, Ernande L, Garbi M, Grapsa J, Hagendorff A, Kamp O, Magne J, Santoro C, Stefanidis A, Lancellotti P, Popescu B, Habib G, , (2017)
Standardization of adult transthoracic echocardiography reporting in agreement with recent chamber quantification, diastolic function, and heart valve disease recommendations: an expert consensus document of the European Association of Cardiovascular Imaging
Eur Heart J Cardiovasc Imaging, 18 (12), 1301-1310
DOI 10.1093/ehjci/jex244, PubMed 29045589
Gilljam T, Haugaa KH, Jensen HK, Svensson A, Bundgaard H, Hansen J, Dellgren G, Gustafsson F, Eiskjær H, Andreassen AK, Sjögren J, Edvardsen T, Holst AG, Svendsen JH, Platonov PG (2017)
Heart transplantation in arrhythmogenic right ventricular cardiomyopathy - Experience from the Nordic ARVC Registry
Int J Cardiol, 250, 201-206
DOI 10.1016/j.ijcard.2017.10.076, PubMed 29107359
Günther A, Andersen R, Gude E, Jakobsen J, Edvardsen T, Sandvik L, Abildgaard A, Aaberge L, Gullestad L (2017)
The predictive value of coronary artery calcium detected by computed tomography in a prospective study on cardiac allograft vasculopathy in heart transplant patients
Transpl Int, 31 (1), 82-91
DOI 10.1111/tri.13057, PubMed 28865096
Günther A, Aaberge L, Abildgaard A, Ragnarsson A, Edvardsen T, Jakobsen J, Andersen R (2017)
Coronary computed tomography in heart transplant patients: detection of significant stenosis and cardiac allograft vasculopathy, image quality, and radiation dose
Acta Radiol, 59 (9), 1066-1073
DOI 10.1177/0284185117748354, PubMed 29260577
Habib G, Bucciarelli-Ducci C, Caforio ALP, Cardim N, Charron P, Cosyns B, Dehaene A, Derumeaux G, Donal E, Dweck MR, Edvardsen T, Erba PA, Ernande L, Gaemperli O, Galderisi M, Grapsa J, Jacquier A, Klingel K, Lancellotti P, Neglia D, Pepe A, Perrone-Filardi P, Petersen SE, Plein S, Popescu BA et al. (2017)
Multimodality Imaging in Restrictive Cardiomyopathies: An EACVI expert consensus document In collaboration with the "Working Group on myocardial and pericardial diseases" of the European Society of Cardiology Endorsed by The Indian Academy of Echocardiography
Eur Heart J Cardiovasc Imaging, 18 (10), 1090-1121
DOI 10.1093/ehjci/jex034, PubMed 28510718
Haland TF, Hasselberg NE, Almaas VM, Dejgaard LA, Saberniak J, Leren IS, Berge KE, Haugaa KH, Edvardsen T (2017)
The systolic paradox in hypertrophic cardiomyopathy
Open Heart, 4 (1), e000571
DOI 10.1136/openhrt-2016-000571, PubMed 28674623
Haugaa KH, Basso C, Badano LP, Bucciarelli-Ducci C, Cardim N, Gaemperli O, Galderisi M, Habib G, Knuuti J, Lancellotti P, McKenna W, Neglia D, Popescu BA, Edvardsen T, , (2017)
Comprehensive multi-modality imaging approach in arrhythmogenic cardiomyopathy-an expert consensus document of the European Association of Cardiovascular Imaging
Eur Heart J Cardiovasc Imaging, 18 (3), 237-253
DOI 10.1093/ehjci/jew229, PubMed 28069601
Haugaa KH, Edvardsen T, Smiseth OA (2017)
Mechanical dyssynchrony-resurrected as a flashing and rocking parameter to predict prognosis after cardiac resynchronization therapy
Eur Heart J Cardiovasc Imaging, 18 (10), 1118-1119
DOI 10.1093/ehjci/jex198, PubMed 28984891
Hetland A, Lerum TV, Haugaa KH, Edvardsen T (2017)
Patients with Cheyne-Stokes respiration and heart failure: patient tolerance after three-month discontinuation of treatment with adaptive servo-ventilation
Heart Vessels, 32 (8), 909-915
DOI 10.1007/s00380-017-0951-1, PubMed 28188451
Klaeboe LG, Haland TF, Leren IS, Ter Bekke RMA, Brekke PH, Røsjø H, Omland T, Gullestad L, Aakhus S, Haugaa KH, Edvardsen T (2017)
Prognostic Value of Left Ventricular Deformation Parameters in Patients with Severe Aortic Stenosis: A Pilot Study of the Usefulness of Strain Echocardiography
J Am Soc Echocardiogr, 30 (8), 727-735.e1
DOI 10.1016/j.echo.2017.04.009, PubMed 28599826
Kvisvik B, Morkrid L, Rosjo H, Cvancarova M, Rowe AD, Eek C, Bendz B, Edvardsen T, Gravning J (2017)
High-Sensitivity Troponin T vs I in Acute Coronary Syndrome: Prediction of Significant Coronary Lesions and Long-term Prognosis
Acta Bioquim. Clin. Latinoam., 51 (3), 395-407
Lancellotti P, Galderisi M, Donal E, Edvardsen T, Popescu BA, Farmakis D, Filippatos G, Habib G, Lestuzzi C, Santoro C, Moonen M, Jerusalem G, Andarala M, Anker SD, ESC Cardiac Oncology Toxicity Long-Term Registry Investigators (2017)
Protocol update and preliminary results of EACVI/HFA Cardiac Oncology Toxicity (COT) Registry of the European Society of Cardiology
ESC Heart Fail, 4 (3), 312-318
DOI 10.1002/ehf2.12162, PubMed 28772051
Lancellotti P, Galderisi M, Edvardsen T, Donal E, Goliasch G, Cardim N, Magne J, Laginha S, Hagendorff A, Haland TF, Aaberge L, Martinez C, Rapacciuolo A, Santoro C, Ilardi F, Postolache A, Dulgheru R, Mateescu AD, Beladan CC, Deleanu D, Marchetta S, Auffret V, Schwammenthal E, Habib G, Popescu BA (2017)
Echo-Doppler estimation of left ventricular filling pressure: results of the multicentre EACVI Euro-Filling study
Eur Heart J Cardiovasc Imaging, 18 (9), 961-968
DOI 10.1093/ehjci/jex067, PubMed 28444160
Lancellotti P, Pellikka PA, Budts W, Chaudhry FA, Donal E, Dulgheru R, Edvardsen T, Garbi M, Ha JW, Kane GC, Kreeger J, Mertens L, Pibarot P, Picano E, Ryan T, Tsutsui JM, Varga A (2017)
The Clinical Use of Stress Echocardiography in Non-Ischaemic Heart Disease: Recommendations from the European Association of Cardiovascular Imaging and the American Society of Echocardiography
J Am Soc Echocardiogr, 30 (2), 101-138
DOI 10.1016/j.echo.2016.10.016, PubMed 28164802
Leren IS, Saberniak J, Haland TF, Edvardsen T, Haugaa KH (2017)
Combination of ECG and Echocardiography for Identification of Arrhythmic Events in Early ARVC
JACC-Cardiovasc. Imag., 10 (5), 504-513
Lie ØH, Saberniak J, Dejgaard LA, Stokke MK, Hegbom F, Anfinsen OG, Edvardsen T, Haugaa KH (2017)
Lower than expected burden of premature ventricular contractions impairs myocardial function
ESC Heart Fail, 4 (4), 585-594
DOI 10.1002/ehf2.12180, PubMed 29154430
Nestaas E, Shih JY, Smedsrud MK, Gjesdal O, Hopp E, Haugaa KH, Edvardsen T (2017)
Comparison of Electrocardiography Markers and Speckle Tracking Echocardiography for Assessment of Left Ventricular Myocardial Scar Burden in Patients With Previous Myocardial Infarction
Am J Cardiol, 119 (9), 1307-1312
DOI 10.1016/j.amjcard.2017.01.020, PubMed 28274572
Pedrosa J, Queiros S, Bernard O, Engvall J, Edvardsen T, Nagel E, D'hooge J (2017)
Fast and Fully Automatic Left Ventricular Segmentation and Tracking in Echocardiography Using Shape-Based B-Spline Explicit Active Surfaces
IEEE Trans Med Imaging, 36 (11), 2287-2296
DOI 10.1109/TMI.2017.2734959, PubMed 28783626
Rodríguez-Zanella H, Haugaa K, Boccalini F, Secco E, Edvardsen T, Badano LP, Muraru D (2017)
Physiological Determinants of Left Ventricular Mechanical Dispersion: A 2-Dimensional Speckle Tracking Echocardiographic Study in Healthy Volunteers
JACC Cardiovasc Imaging, 11 (4), 650-651
DOI 10.1016/j.jcmg.2017.06.015, PubMed 28917676
Ruddox V, Norum IB, Stokke TM, Edvardsen T, Otterstad JE (2017)
Focused cardiac ultrasound by unselected residents-the challenges
BMC Med Imaging, 17 (1), 22
DOI 10.1186/s12880-017-0191-y, PubMed 28259149
Ruddox V, Sandven I, Munkhaugen J, Skattebu J, Edvardsen T, Otterstad JE (2017)
Atrial fibrillation and the risk for myocardial infarction, all-cause mortality and heart failure: A systematic review and meta-analysis
Eur J Prev Cardiol, 24 (14), 1555-1566
DOI 10.1177/2047487317715769, PubMed 28617620
Sarvari SI, Sitges M, Sanz M, Tolosana Viu JM, Edvardsen T, Stokke TM, Mont L, Bijnens B (2017)
Left ventricular dysfunction is related to the presence and extent of a septal flash in patients with right ventricular pacing
Europace, 19 (2), 289-296
DOI 10.1093/europace/euw020, PubMed 28175277
Senior R, Becher H, Monaghan M, Agati L, Zamorano J, Vanoverschelde JL, Nihoyannopoulos P, Edvardsen T, Lancellotti P, , (2017)
Clinical practice of contrast echocardiography: recommendation by the European Association of Cardiovascular Imaging (EACVI) 2017
Eur Heart J Cardiovasc Imaging, 18 (11), 1205-1205af
DOI 10.1093/ehjci/jex182, PubMed 28950366
Steeds RP, Garbi M, Cardim N, Kasprzak JD, Sade E, Nihoyannopoulos P, Popescu BA, Stefanidis A, Cosyns B, Monaghan M, Aakhus S, Edvardsen T, Flachskampf F, Galiuto L, Athanassopoulos G, Lancellotti P, , (2017)
EACVI appropriateness criteria for the use of transthoracic echocardiography in adults: a report of literature and current practice review
Eur Heart J Cardiovasc Imaging, 18 (11), 1191-1204
DOI 10.1093/ehjci/jew333, PubMed 28329307
Stokke TM, Hasselberg NE, Smedsrud MK, Sarvari SI, Haugaa KH, Smiseth OA, Edvardsen T, Remme EW (2017)
Geometry as a Confounder When Assessing Ventricular Systolic Function: Comparison Between Ejection Fraction and Strain
J Am Coll Cardiol, 70 (8), 942-954
DOI 10.1016/j.jacc.2017.06.046, PubMed 28818204
Publications 2016
Barros MV, Leren IS, Edvardsen T, Haugaa KH, Carmo AA, Lage TA, Nunes MC, Rocha MO, Ribeiro AL (2016)
Mechanical Dispersion Assessed by Strain Echocardiography Is Associated with Malignant Arrhythmias in Chagas Cardiomyopathy
J Am Soc Echocardiogr, 29 (4), 368-74
DOI 10.1016/j.echo.2015.12.008, PubMed 26833338
Cardim N, Galderisi M, Edvardsen T, Plein S, Popescu BA, D'Andrea A, Bruder O, Cosyns B, Davin L, Donal E, Freitas A, Habib G, Kitsiou A, Petersen SE, Schroeder S, Lancellotti P (2016)
Role of multimodality cardiac imaging in the management of patients with hypertrophic cardiomyopathy: an expert consensus of the European Association of Cardiovascular Imaging Endorsed by the Saudi Heart Association
Turk Kardiyol. Dern. Ars., 44 1, 81-115
DOI 10.1093/ehjci/jeu291
Donal E, Lip GY, Galderisi M, Goette A, Shah D, Marwan M, Lederlin M, Mondillo S, Edvardsen T, Sitges M, Grapsa J, Garbi M, Senior R, Gimelli A, Potpara TS, Van Gelder IC, Gorenek B, Mabo P, Lancellotti P, Kuck KH, Popescu BA, Hindricks G, Habib G, Cardim NM, Cosyns B et al. (2016)
EACVI/EHRA Expert Consensus Document on the role of multi-modality imaging for the evaluation of patients with atrial fibrillation
Eur Heart J Cardiovasc Imaging, 17 (4), 355-83
DOI 10.1093/ehjci/jev354, PubMed 26864186
Edvardsen T (2016)
Proud cardiologist
Tidsskr. Nor. Laegeforen., 136 (11), 1047
Edvardsen T, Cardim N, Cosyns B, Delgado V, Donal E, Dulgheru R, Galderisi M, Haugaa KH, Kaufmann PA, Lancellotti P, Lombardi M, Muraru D, Plein S, Maurer G, Popescu BA, Habib G, EACVI Scientific Documents Committee (2016)
Criteria for recommendation and expert consensus papers: from the European Association of Cardiovascular Imaging Scientific Documents Committee
Eur Heart J Cardiovasc Imaging, 17 (10), 1098-100
DOI 10.1093/ehjci/jew157, PubMed 27491437
Edvardsen T, Sarvari SI, Haugaa KH (2016)
Strain imaging - from Scandinavian research to global deployment
Scand Cardiovasc J, 50 (5-6), 266-275
DOI 10.1080/14017431.2016.1239836, PubMed 27650726
Galderisi M, Cardim N, D'Andrea A, Bruder O, Cosyns B, Davin L, Donal E, Edvardsen T, Freitas A, Habib G, Kitsiou A, Plein S, Petersen SE, Popescu BA, Schroeder S, Burgstahler C, Lancellotti P (2016)
The multi-modality cardiac imaging approach to the Athlete's heart: an expert consensus of the European Association of Cardiovascular Imaging
Turk Kardiyol. Dern. Ars., 44 1, 1-21
Garbi M, Edvardsen T, Bax J, Petersen SE, McDonagh T, Filippatos G, Lancellotti P, Reviewer panel: (2016)
EACVI appropriateness criteria for the use of cardiovascular imaging in heart failure derived from European National Imaging Societies voting
Eur Heart J Cardiovasc Imaging, 17 (7), 711-21
DOI 10.1093/ehjci/jew081, PubMed 27129538
Haland TF, Almaas VM, Hasselberg NE, Saberniak J, Leren IS, Hopp E, Edvardsen T, Haugaa KH (2016)
Strain echocardiography is related to fibrosis and ventricular arrhythmias in hypertrophic cardiomyopathy
Eur Heart J Cardiovasc Imaging, 17 (6), 613-21
DOI 10.1093/ehjci/jew005, PubMed 26873460
Haland TF, Saberniak J, Leren IS, Edvardsen T, Haugaa KH (2016)
Echocardiographic comparison between left ventricular non-compaction and hypertrophic cardiomyopathy
Int J Cardiol, 228, 900-905
DOI 10.1016/j.ijcard.2016.11.162, PubMed 27894062
Haugaa KH, Edvardsen T (2016)
Global longitudinal strain: the best biomarker for predicting prognosis in heart failure?
Eur J Heart Fail, 18 (11), 1340-1341
DOI 10.1002/ejhf.632, PubMed 27813299
Hetland A, Haugaa KH, Vistnes M, Liland KH, Olseng M, Jacobsen MB, Edvardsen T (2016)
A retrospective analysis of cardiovascular outcomes in patients treated with ASV
Scand Cardiovasc J, 51 (2), 106-113
DOI 10.1080/14017431.2016.1262546, PubMed 27854123
Kolias TJ, Edvardsen T (2016)
Beyond Ejection Fraction: Adding Strain to the Armamentarium
JACC Cardiovasc Imaging, 9 (8), 922-3
DOI 10.1016/j.jcmg.2015.10.029, PubMed 27344420
Kvisvik B, Mørkrid L, Røsjø H, Cvancarova M, Rowe AD, Eek C, Bendz B, Edvardsen T, Gravning J (2016)
High-Sensitivity Troponin T vs I in Acute Coronary Syndrome: Prediction of Significant Coronary Lesions and Long-term Prognosis
Clin Chem, 63 (2), 552-562
DOI 10.1373/clinchem.2016.261107, PubMed 27974383
Lancellotti P, Pellikka PA, Budts W, Chaudhry FA, Donal E, Dulgheru R, Edvardsen T, Garbi M, Ha JW, Kane GC, Kreeger J, Mertens L, Pibarot P, Picano E, Ryan T, Tsutsui JM, Varga A (2016)
The clinical use of stress echocardiography in non-ischaemic heart disease: recommendations from the European Association of Cardiovascular Imaging and the American Society of Echocardiography
Eur Heart J Cardiovasc Imaging, 17 (11), 1191-1229
DOI 10.1093/ehjci/jew190, PubMed 27880640
Lancellotti P, Pibarot P, Chambers J, Edvardsen T, Delgado V, Dulgheru R, Pepi M, Cosyns B, Dweck MR, Garbi M, Magne J, Nieman K, Rosenhek R, Bernard A, Lowenstein J, Vieira ML, Rabischoffsky A, Vyhmeister RH, Zhou X, Zhang Y, Zamorano JL, Habib G (2016)
Recommendations for the imaging assessment of prosthetic heart valves: a report from the European Association of Cardiovascular Imaging endorsed by the Chinese Society of Echocardiography, the Inter-American Society of Echocardiography, and the Brazilian Department of Cardiovascular Imaging
Eur Heart J Cardiovasc Imaging, 17 (6), 589-90
DOI 10.1093/ehjci/jew025, PubMed 27143783
Lancellotti P, Price S, Edvardsen T, Cosyns B, Neskovic AN, Dulgheru R, Flachskampf FA, Hassager C, Pasquet A, Gargani L, Galderisi M, Cardim N, Haugaa KH, Ancion A, Zamorano JL, Donal E, Bueno H, Habib G (2016)
The use of echocardiography in acute cardiovascular care: Recommendations of the European Association of Cardiovascular Imaging and the Acute Cardiovascular Care Association
Turk Kardiyol. Dern. Ars., 44 1, 53-80
Leren IS, Saberniak J, Haland TF, Edvardsen T, Haugaa KH (2016)
Combination of ECG and Echocardiography for Identification of Arrhythmic Events in Early ARVC
JACC Cardiovasc Imaging, 10 (5), 503-513
DOI 10.1016/j.jcmg.2016.06.011, PubMed 27771401
Marchlinski FE, Edvardsen T (2016)
Arrhythmogenic Right Ventricular Cardiomyopathy: Better Tools for Detecting Early Disease and Progression
J Am Coll Cardiol, 68 (20), 2198-2200
DOI 10.1016/j.jacc.2016.09.916, PubMed 27855809
Nagueh SF, Smiseth OA, Appleton CP, Byrd BF, Dokainish H, Edvardsen T, Flachskampf FA, Gillebert TC, Klein AL, Lancellotti P, Marino P, Oh JK, Alexandru Popescu B, Waggoner AD, Houston, Texas; Oslo, Norway; Phoenix, Arizona; Nashville, Tennessee; Hamilton, Ontario, Canada; Uppsala, Sweden; Ghent and Liège, Belgium; Cleveland, Ohio; Novara, Italy; Rochester, Minnesota; Bucharest, Romania; and St. Louis, Missouri (2016)
Recommendations for the Evaluation of Left Ventricular Diastolic Function by Echocardiography: An Update from the American Society of Echocardiography and the European Association of Cardiovascular Imaging
Eur Heart J Cardiovasc Imaging, 17 (12), 1321-1360
DOI 10.1093/ehjci/jew082, PubMed 27422899
Nagueh SF, Smiseth OA, Appleton CP, Byrd BF, Dokainish H, Edvardsen T, Flachskampf FA, Gillebert TC, Klein AL, Lancellotti P, Marino P, Oh JK, Popescu BA, Waggoner AD (2016)
Recommendations for the Evaluation of Left Ventricular Diastolic Function by Echocardiography: An Update from the American Society of Echocardiography and the European Association of Cardiovascular Imaging
J Am Soc Echocardiogr, 29 (4), 277-314
DOI 10.1016/j.echo.2016.01.011, PubMed 27037982
Pedrosa J, Heyde B, Heeren L, Engvall J, Zamorano J, Papachristidis A, Edvardsen T, Claus P, D'hooge J (2016)
Automatic Short Axis Orientation of the Left Ventricle in 3D Ultrasound Recordings
PROC SPIE, 9790, 97900E
DOI 10.1117/12.2214106
Saberniak J, Leren IS, Haland TF, Beitnes JO, Hopp E, Borgquist R, Edvardsen T, Haugaa KH (2016)
Comparison of patients with early-phase arrhythmogenic right ventricular cardiomyopathy and right ventricular outflow tract ventricular tachycardia
Eur Heart J Cardiovasc Imaging, 18 (1), 62-69
DOI 10.1093/ehjci/jew014, PubMed 26903598
Publications 2015
Badano LP, Miglioranza MH, Edvardsen T, Colafranceschi AS, Muraru D, Bacal F, Nieman K, Zoppellaro G, Marcondes Braga FG, Binder T, Habib G, Lancellotti P, Document reviewers (2015)
European Association of Cardiovascular Imaging/Cardiovascular Imaging Department of the Brazilian Society of Cardiology recommendations for the use of cardiac imaging to assess and follow patients after heart transplantation
Eur Heart J Cardiovasc Imaging, 16 (9), 919-48
DOI 10.1093/ehjci/jev139, PubMed 26139361
Bergan HA, Halvorsen PS, Skulstad H, Edvardsen T, Fosse E, Bugge JF (2015)
Successful ECMO-cardiopulmonary resuscitation with the associated post-arrest cardiac dysfunction as demonstrated by MRI
Intensive Care Med Exp, 3 (1), 61
DOI 10.1186/s40635-015-0061-2, PubMed 26335546
Cardim N, Galderisi M, Edvardsen T, Plein S, Popescu BA, D'Andrea A, Bruder O, Cosyns B, Davin L, Donal E, Freitas A, Habib G, Kitsiou A, Petersen SE, Schroeder S, Lancellotti P, Camici P, Dulgheru R, Hagendorff A, Lombardi M, Muraru D, Sicari R (2015)
Role of multimodality cardiac imaging in the management of patients with hypertrophic cardiomyopathy: an expert consensus of the European Association of Cardiovascular Imaging Endorsed by the Saudi Heart Association
Eur Heart J Cardiovasc Imaging, 16 (3), 280
DOI 10.1093/ehjci/jeu291, PubMed 25650407
Edvardsen T, Bucciarelli-Ducci C, Saraste A, Pierard LA, Knuuti J, Maurer G, Habib G, Lancellotti P (2015)
The year 2014 in the European Heart Journal – Cardiovascular Imaging. Part I
Eur Heart J Cardiovasc Imaging, 16 (7), 712-8
DOI 10.1093/ehjci/jev150, PubMed 26069302
Edvardsen T, Haugaa KH (2015)
The thorny way of 3D strain from research to clinical use: are we getting closer?
JACC Cardiovasc Imaging, 8 (3), 246-247
DOI 10.1016/j.jcmg.2015.01.005, PubMed 25772831
Espe EK, Aronsen JM, Eriksen GS, Zhang L, Smiseth OA, Edvardsen T, Sjaastad I, Eriksen M (2015)
Assessment of regional myocardial work in rats
Circ Cardiovasc Imaging, 8 (2), e002695
DOI 10.1161/CIRCIMAGING.114.002695, PubMed 25673647
Galderisi M, Cardim N, D'Andrea A, Bruder O, Cosyns B, Davin L, Donal E, Edvardsen T, Freitas A, Habib G, Kitsiou A, Plein S, Petersen SE, Popescu BA, Schroeder S, Burgstahler C, Lancellotti P (2015)
The multi-modality cardiac imaging approach to the Athlete's heart: an expert consensus of the European Association of Cardiovascular Imaging
Eur Heart J Cardiovasc Imaging, 16 (4), 353
DOI 10.1093/ehjci/jeu323, PubMed 25681828
Gerber BL, Edvardsen T, Pierard LA, Saraste A, Knuuti J, Maurer G, Habib G, Lancellotti P (2015)
The year 2014 in the European Heart Journal--Cardiovascular Imaging: part II
Eur Heart J Cardiovasc Imaging, 16 (11), 1180-4
DOI 10.1093/ehjci/jev223, PubMed 26377903
Hasselberg NE, Haugaa KH, Bernard A, Ribe MP, Kongsgaard E, Donal E, Edvardsen T (2015)
Left ventricular markers of mortality and ventricular arrhythmias in heart failure patients with cardiac resynchronization therapy
Eur Heart J Cardiovasc Imaging, 17 (3), 343-50
DOI 10.1093/ehjci/jev173, PubMed 26164406
Haugaa KH, Bundgaard H, Edvardsen T, Eschen O, Gilljam T, Hansen J, Jensen HK, Platonov PG, Svensson A, Svendsen JH (2015)
Management of patients with Arrhythmogenic Right Ventricular Cardiomyopathy in the Nordic countries
Scand Cardiovasc J, 49 (6), 299-307
DOI 10.3109/14017431.2015.1086017, PubMed 26395672
Haugaa KH, Haland TF, Leren IS, Saberniak J, Edvardsen T (2015)
Arrhythmogenic right ventricular cardiomyopathy, clinical manifestations, and diagnosis
Europace, 18 (7), 965-72
DOI 10.1093/europace/euv340, PubMed 26498164
Kerans V, Espinoza A, Skulstad H, Halvorsen PS, Edvardsen T, Bugge JF (2015)
Systolic left ventricular function is preserved during therapeutic hypothermia, also during increases in heart rate with impaired diastolic filling
Intensive Care Med Exp, 3 (1), 41
DOI 10.1186/s40635-015-0041-6, PubMed 26215808
Lancellotti P, Anker SD, Donal E, Edvardsen T, Popescu BA, Farmakis D, Filippatos G, Habib G, Maggioni AP, Jerusalem G, Galderisi M (2015)
EACVI/HFA Cardiac Oncology Toxicity Registry in breast cancer patients: rationale, study design, and methodology (EACVI/HFA COT Registry)--EURObservational Research Program of the European Society of Cardiology
Eur Heart J Cardiovasc Imaging, 16 (5), 466-70
DOI 10.1093/ehjci/jev024, PubMed 25744342
Lancellotti P, Płońska-Gościniak E, Garbi M, Bucciarelli-ducci C, Cosyns B, Cardim N, Galderisi M, Edvardsen T, Neglia D, Plein S, Kitsiou A, Nieman K, Stefanidis A, Maurer G, Popescu BA, Habib G (2015)
Cardiovascular imaging practice in Europe: a report from the European Association of Cardiovascular Imaging
Eur Heart J Cardiovasc Imaging, 16 (7), 697-702
DOI 10.1093/ehjci/jev116, PubMed 25944050
Lancellotti P, Price S, Edvardsen T, Cosyns B, Neskovic AN, Dulgheru R, Flachskampf FA, Hassager C, Pasquet A, Gargani L, Galderisi M, Cardim N, Haugaa KH, Ancion A, Zamorano JL, Donal E, Bueno H, Habib G (2015)
The use of echocardiography in acute cardiovascular care: recommendations of the European Association of Cardiovascular Imaging and the Acute Cardiovascular Care Association
Eur Heart J Acute Cardiovasc Care, 4 (1), 3-5
DOI 10.1177/2048872614568073, PubMed 25635106
Leren IS, Hasselberg NE, Saberniak J, Håland TF, Kongsgård E, Smiseth OA, Edvardsen T, Haugaa KH (2015)
Cardiac Mechanical Alterations and Genotype Specific Differences in Subjects With Long QT Syndrome
JACC Cardiovasc Imaging, 8 (5), 501-510
DOI 10.1016/j.jcmg.2014.12.023, PubMed 25890583
Leren IS, Saberniak J, Majid E, Haland TF, Edvardsen T, Haugaa KH (2015)
Nadolol decreases the incidence and severity of ventricular arrhythmias during exercise stress testing compared with β1-selective β-blockers in patients with catecholaminergic polymorphic ventricular tachycardia
Heart Rhythm, 13 (2), 433-40
DOI 10.1016/j.hrthm.2015.09.029, PubMed 26432584
Maret E, Liehl M, Brudin L, Todt T, Edvardsen T, Engvall JE (2015)
Phase analysis detects heterogeneity of myocardial deformation on cine MRI
Scand Cardiovasc J, 49 (3), 149-58
DOI 10.3109/14017431.2015.1023343, PubMed 25752486
Norum IB, Ruddox V, Edvardsen T, Otterstad JE (2015)
Diagnostic accuracy of left ventricular longitudinal function by speckle tracking echocardiography to predict significant coronary artery stenosis. A systematic review
BMC Med Imaging, 15, 25
DOI 10.1186/s12880-015-0067-y, PubMed 26204938
Sarvari SI, Haugaa KH, Stokke TM, Ansari HZ, Leren IS, Hegbom F, Smiseth OA, Edvardsen T (2015)
Strain echocardiographic assessment of left atrial function predicts recurrence of atrial fibrillation
Eur Heart J Cardiovasc Imaging, 17 (6), 660-7
DOI 10.1093/ehjci/jev185, PubMed 26219297
Smedsrud MK, Gravning J, Omland T, Eek C, Mørkrid L, Skulstad H, Aaberge L, Bendz B, Kjekshus J, Edvardsen T (2015)
Sensitive cardiac troponins and N-terminal pro-B-type natriuretic peptide in stable coronary artery disease: correlation with left ventricular function as assessed by myocardial strain
Int J Cardiovasc Imaging, 31 (5), 967-73
DOI 10.1007/s10554-015-0646-6, PubMed 25788439
Trägårdh E, Hesse B, Knuuti J, Flotats A, Kaufmann PA, Kitsiou A, Hacker M, Verberne HJ, Edenbrandt L, Delgado V, Donal E, Edvardsen T, Galderisi M, Habib G, Lancellotti P, Nieman K, Rosenhek R, EACVI, Agostini D, Gimelli A, Lindner O, Slart R, Ubleis C, EANM (2015)
Reporting nuclear cardiology: a joint position paper by the European Association of Nuclear Medicine (EANM) and the European Association of Cardiovascular Imaging (EACVI)
Eur Heart J Cardiovasc Imaging, 16 (3), 272-9
DOI 10.1093/ehjci/jeu304, PubMed 25618478
Valsangiacomo Buechel ER, Grosse-Wortmann L, Fratz S, Eichhorn J, Sarikouch S, Greil GF, Beerbaum P, Bucciarelli-Ducci C, Bonello B, Sieverding L, Schwitter J, Helbing WA, EACVI, Galderisi M, Miller O, Sicari R, Rosa J, Thaulow E, Edvardsen T, Brockmeier K, Qureshi S, Stein J (2015)
Indications for cardiovascular magnetic resonance in children with congenital and acquired heart disease: an expert consensus paper of the Imaging Working Group of the AEPC and the Cardiovascular Magnetic Resonance Section of the EACVI
Eur Heart J Cardiovasc Imaging, 16 (3), 281-97
DOI 10.1093/ehjci/jeu129, PubMed 25712078
Zahid W, Bergestuen D, Haugaa KH, Ueland T, Thiis-Evensen E, Aukrust P, Fosse E, Edvardsen T (2015)
Myocardial Function by Two-Dimensional Speckle Tracking Echocardiography and Activin A May Predict Mortality in Patients with Carcinoid Intestinal Disease
Cardiology, 132 (2), 81-90
DOI 10.1159/000431076, PubMed 26111973
Publications 2014
Borgquist R, Haugaa KH, Gilljam T, Bundgaard H, Hansen J, Eschen O, Jensen HK, Holst AG, Edvardsen T, Svendsen JH, Platonov PG (2014)
The diagnostic performance of imaging methods in ARVC using the 2010 Task Force criteria
Eur Heart J Cardiovasc Imaging, 15 (11), 1219-25
DOI 10.1093/ehjci/jeu109, PubMed 24939949
Dahlslett T, Karlsen S, Grenne B, Eek C, Sjøli B, Skulstad H, Smiseth OA, Edvardsen T, Brunvand H (2014)
Early assessment of strain echocardiography can accurately exclude significant coronary artery stenosis in suspected non-ST-segment elevation acute coronary syndrome
J Am Soc Echocardiogr, 27 (5), 512-9
DOI 10.1016/j.echo.2014.01.019, PubMed 24612899
Edvardsen T, Plein S, Saraste A, Pierard LA, Knuuti J, Maurer G, Lancellotti P (2014)
The year 2013 in the European Heart Journal--Cardiovascular Imaging. Part I
Eur Heart J Cardiovasc Imaging, 15 (7), 730-5
DOI 10.1093/ehjci/jeu094, PubMed 24855217
Espinoza A, Edvardsen T (2014)
Mechanisms of QT prolongation during hypothermia
J Am Soc Echocardiogr, 27 (6), 680-1
DOI 10.1016/j.echo.2014.04.003, PubMed 24774223
Evensen K, Sarvari SI, Rønning OM, Edvardsen T, Russell D (2014)
Carotid artery intima-media thickness is closely related to impaired left ventricular function in patients with coronary artery disease: a single-centre, blinded, non-randomized study
Cardiovasc Ultrasound, 12, 39
DOI 10.1186/1476-7120-12-39, PubMed 25266446
Flachskampf FA, Wouters PF, Edvardsen T, Evangelista A, Habib G, Hoffman P, Hoffmann R, Lancellotti P, Pepi M (2014)
Recommendations for transoesophageal echocardiography: EACVI update 2014
Turk Kardiyol. Dern. Ars., 42 3, 1-16
Flachskampf FA, Wouters PF, Edvardsen T, Evangelista A, Habib G, Hoffman P, Hoffmann R, Lancellotti P, Pepi M, European Association of Cardiovascular Imaging Document reviewers: Erwan Donal and Fausto Rigo (2014)
Recommendations for transoesophageal echocardiography: EACVI update 2014
Eur Heart J Cardiovasc Imaging, 15 (4), 353-65
DOI 10.1093/ehjci/jeu015, PubMed 24554131
Galderisi M, Lancellotti P, Donal E, Cardim N, Edvardsen T, Habib G, Magne J, Maurer G, Popescu BA (2014)
European multicentre validation study of the accuracy of E/e' ratio in estimating invasive left ventricular filling pressure: EURO-FILLING study
Eur Heart J Cardiovasc Imaging, 15 (7), 810-6
DOI 10.1093/ehjci/jeu022, PubMed 24596053
Garbi M, Habib G, Plein S, Neglia D, Kitsiou A, Donal E, Pinto F, Bax J, Achenbach S, Popescu BA, Edvardsen T, Badano LP, Stefanidis A, Bucciarelli-Ducci C, Derumeaux G, Luis Zamorano J, Lüscher TF, Maurer G, Lancellotti P (2014)
Appropriateness criteria for cardiovascular imaging use in clinical practice: a position statement of the ESC/EACVI taskforce
Eur Heart J Cardiovasc Imaging, 15 (5), 477-82
DOI 10.1093/ehjci/jeu031, PubMed 24639554
Garbi M, McDonagh T, Cosyns B, Bucciarelli-Ducci C, Edvardsen T, Kitsiou A, Nieman K, Lancellotti P, EACVI Imaging Task Force (2014)
Appropriateness criteria for cardiovascular imaging use in heart failure: report of literature review
Eur Heart J Cardiovasc Imaging, 16 (2), 147-53
DOI 10.1093/ehjci/jeu299, PubMed 25550363
Gimelli A, Lancellotti P, Badano LP, Lombardi M, Gerber B, Plein S, Neglia D, Edvardsen T, Kitsiou A, Scholte AJ, Schröder S, Cosyns B, Gargiulo P, Zamorano JL, Perrone-Filardi P (2014)
Non-invasive cardiac imaging evaluation of patients with chronic systolic heart failure: a report from the European Association of Cardiovascular Imaging (EACVI)
Eur Heart J, 35 (48), 3417-25
DOI 10.1093/eurheartj/ehu433, PubMed 25416326
Goebel B, Haugaa KH, Meyer K, Otto S, Jung C, Lauten A, Figulla HR, Edvardsen T, Poerner TC (2014)
Early diastolic strain rate predicts response to heart failure therapy in patients with dilated cardiomyopathy
Int J Cardiovasc Imaging, 30 (3), 505-13
DOI 10.1007/s10554-014-0361-8, PubMed 24477357
Hasselberg NE, Haugaa KH, Sarvari SI, Gullestad L, Andreassen AK, Smiseth OA, Edvardsen T (2014)
Left ventricular global longitudinal strain is associated with exercise capacity in failing hearts with preserved and reduced ejection fraction
Eur Heart J Cardiovasc Imaging, 16 (2), 217-24
DOI 10.1093/ehjci/jeu277, PubMed 25552469
Haugaa KH, Edvardsen T (2014)
Can exercise echocardiography help optimal timing of surgery in patients with aortic regurgitation?
Scand Cardiovasc J, 48 (1), 2-3
DOI 10.3109/14017431.2013.879199, PubMed 24475789
Haugaa KH, Hasselberg NE, Edvardsen T (2014)
Mechanical dispersion by strain echocardiography: a predictor of ventricular arrhythmias in subjects with lamin A/C mutations
JACC Cardiovasc Imaging, 8 (1), 104-106
DOI 10.1016/j.jcmg.2014.04.029, PubMed 25457755
Hestenes SM, Halvorsen PS, Skulstad H, Remme EW, Espinoza A, Hyler S, Bugge JF, Fosse E, Nielsen EW, Edvardsen T (2014)
Advantages of strain echocardiography in assessment of myocardial function in severe sepsis: an experimental study
Crit Care Med, 42 (6), e432-40
DOI 10.1097/CCM.0000000000000310, PubMed 24633187
Hetland M, Haugaa KH, Sarvari SI, Erikssen G, Kongsgaard E, Edvardsen T (2014)
A novel ECG-index for prediction of ventricular arrhythmias in patients after myocardial infarction
Ann Noninvasive Electrocardiol, 19 (4), 330-7
DOI 10.1111/anec.12152, PubMed 24612066
Lancellotti P, Price S, Edvardsen T, Cosyns B, Neskovic AN, Dulgheru R, Flachskampf FA, Hassager C, Pasquet A, Gargani L, Galderisi M, Cardim N, Haugaa KH, Ancion A, Zamorano JL, Donal E, Bueno H, Habib G (2014)
The use of echocardiography in acute cardiovascular care: recommendations of the European Association of Cardiovascular Imaging and the Acute Cardiovascular Care Association
Eur Heart J Cardiovasc Imaging, 16 (2), 119-46
DOI 10.1093/ehjci/jeu210, PubMed 25378470
Lancellotti P, Price S, Edvardsen T, Cosyns B, Neskovic AN, Dulgheru R, Flachskampf FA, Hassager C, Pasquet A, Gargani L, Galderisi M, Cardim N, Haugaa KH, Ancion A, Zamorano JL, Donal E, Bueno H, Habib G (2014)
The use of echocardiography in acute cardiovascular care: Recommendations of the European Association of Cardiovascular Imaging and the Acute Cardiovascular Care Association
Eur Heart J Acute Cardiovasc Care, 4 (1), 100-132
DOI 10.1177/2048872614549739, PubMed 25378666
Manotheepan R, Saberniak J, Danielsen TK, Edvardsen T, Sjaastad I, Haugaa KH, Stokke MK (2014)
Effects of individualized exercise training in patients with catecholaminergic polymorphic ventricular tachycardia type 1
Am J Cardiol, 113 (11), 1829-33
DOI 10.1016/j.amjcard.2014.03.012, PubMed 24837260
Neskovic AN, Edvardsen T, Galderisi M, Garbi M, Gullace G, Jurcut R, Dalen H, Hagendorff A, Lancellotti P, European Association of Cardiovascular Imaging Document Reviewers:, Popescu BA, Sicari R, Stefanidis A (2014)
Focus cardiac ultrasound: the European Association of Cardiovascular Imaging viewpoint
Eur Heart J Cardiovasc Imaging, 15 (9), 956-60
DOI 10.1093/ehjci/jeu081, PubMed 24866902
Opdahl A, Ambale Venkatesh B, Fernandes VR, Wu CO, Nasir K, Choi EY, Almeida AL, Rosen B, Carvalho B, Edvardsen T, Bluemke DA, Lima JA (2014)
Reply: Resting heart rate: an independent predictor of congestive heart failure
J Am Coll Cardiol, 64 (4), 422
DOI 10.1016/j.jacc.2014.05.017, PubMed 25060383
Opdahl A, Ambale Venkatesh B, Fernandes VRS, Wu CO, Nasir K, Choi EY, Almeida ALC, Rosen B, Carvalho B, Edvardsen T, Bluemke DA, Lima JAC (2014)
Resting heart rate as predictor for left ventricular dysfunction and heart failure: MESA (Multi-Ethnic Study of Atherosclerosis)
J Am Coll Cardiol, 63 (12), 1182-1189
DOI 10.1016/j.jacc.2013.11.027, PubMed 24412444
Plana JC, Galderisi M, Barac A, Ewer MS, Ky B, Scherrer-Crosbie M, Ganame J, Sebag IA, Agler DA, Badano LP, Banchs J, Cardinale D, Carver J, Cerqueira M, DeCara JM, Edvardsen T, Flamm SD, Force T, Griffin BP, Jerusalem G, Liu JE, Magalhães A, Marwick T, Sanchez LY, Sicari R et al. (2014)
Expert consensus for multimodality imaging evaluation of adult patients during and after cancer therapy: a report from the American Society of Echocardiography and the European Association of Cardiovascular Imaging
J Am Soc Echocardiogr, 27 (9), 911-39
DOI 10.1016/j.echo.2014.07.012, PubMed 25172399
Plana JC, Galderisi M, Barac A, Ewer MS, Ky B, Scherrer-Crosbie M, Ganame J, Sebag IA, Agler DA, Badano LP, Banchs J, Cardinale D, Carver J, Cerqueira M, DeCara JM, Edvardsen T, Flamm SD, Force T, Griffin BP, Jerusalem G, Liu JE, Magalhães A, Marwick T, Sanchez LY, Sicari R et al. (2014)
Expert consensus for multimodality imaging evaluation of adult patients during and after cancer therapy: a report from the American Society of Echocardiography and the European Association of Cardiovascular Imaging
Eur Heart J Cardiovasc Imaging, 15 (10), 1063-93
DOI 10.1093/ehjci/jeu192, PubMed 25239940
Plein S, Edvardsen T, Pierard LA, Saraste A, Knuuti J, Maurer G, Lancellotti P (2014)
The year 2013 in the European Heart Journal--Cardiovascular Imaging: Part II
Eur Heart J Cardiovasc Imaging, 15 (8), 837-41
DOI 10.1093/ehjci/jeu088, PubMed 24855216
Popescu BA, Stefanidis A, Nihoyannopoulos P, Fox KF, Ray S, Cardim N, Rigo F, Badano LP, Fraser AG, Pinto F, Zamorano JL, Habib G, Maurer G, Lancellotti P, Andrade MJ, Donal E, Edvardsen T, Varga A (2014)
Updated standards and processes for accreditation of echocardiographic laboratories from The European Association of Cardiovascular Imaging
Eur Heart J Cardiovasc Imaging, 15 (7), 717-27
DOI 10.1093/ehjci/jeu039, PubMed 24662444
Ruddox V, Edvardsen T, Bækkevar M, Otterstad JE (2014)
Measurements of left ventricular volumes and ejection fraction with three-dimensional echocardiography: feasibility and agreement compared to two-dimensional echocardiography
Int J Cardiovasc Imaging, 30 (7), 1325-30
DOI 10.1007/s10554-014-0478-9, PubMed 24972778
Røsjø H, Dahl MB, Bye A, Andreassen J, Jørgensen M, Wisløff U, Christensen G, Edvardsen T, Omland T (2014)
Prognostic value of circulating microRNA-210 levels in patients with moderate to severe aortic stenosis
PLoS One, 9 (3), e91812
DOI 10.1371/journal.pone.0091812, PubMed 24626394
Saberniak J, Hasselberg NE, Borgquist R, Platonov PG, Sarvari SI, Smith HJ, Ribe M, Holst AG, Edvardsen T, Haugaa KH (2014)
Vigorous physical activity impairs myocardial function in patients with arrhythmogenic right ventricular cardiomyopathy and in mutation positive family members
Eur J Heart Fail, 16 (12), 1337-44
DOI 10.1002/ejhf.181, PubMed 25319773
Stokke TM, Ruddox V, Sarvari SI, Otterstad JE, Aune E, Edvardsen T (2014)
Brief group training of medical students in focused cardiac ultrasound may improve diagnostic accuracy of physical examination
J Am Soc Echocardiogr, 27 (11), 1238-46
DOI 10.1016/j.echo.2014.08.001, PubMed 25216765
ter Bekke RM, Haugaa KH, van den Wijngaard A, Bos JM, Ackerman MJ, Edvardsen T, Volders PG (2014)
Electromechanical window negativity in genotyped long-QT syndrome patients: relation to arrhythmia risk
Eur Heart J, 36 (3), 179-86
DOI 10.1093/eurheartj/ehu370, PubMed 25205533
Zahid W, Eek CH, Remme EW, Skulstad H, Fosse E, Edvardsen T (2014)
Early systolic lengthening may identify minimal myocardial damage in patients with non-ST-elevation acute coronary syndrome
Eur Heart J Cardiovasc Imaging, 15 (10), 1152-60
DOI 10.1093/ehjci/jeu101, PubMed 24866900
Publications 2013
Almaas VM, Haugaa KH, Strøm EH, Scott H, Dahl CP, Leren TP, Geiran OR, Endresen K, Edvardsen T, Aakhus S, Amlie JP (2013)
Increased amount of interstitial fibrosis predicts ventricular arrhythmias, and is associated with reduced myocardial septal function in patients with obstructive hypertrophic cardiomyopathy
Europace, 15 (9), 1319-27
DOI 10.1093/europace/eut028, PubMed 23426552
Almaas VM, Haugaa KH, Strøm EH, Scott H, Smith HJ, Dahl CP, Geiran OR, Endresen K, Aakhus S, Amlie JP, Edvardsen T (2013)
Noninvasive assessment of myocardial fibrosis in patients with obstructive hypertrophic cardiomyopathy
Heart, 100 (8), 631-8
DOI 10.1136/heartjnl-2013-304923, PubMed 24368281
Edvardsen T, Plein S, Saraste A, Knuuti J, Maurer G, Lancellotti P (2013)
The year 2012 in the European Heart Journal-Cardiovascular Imaging: Part I
Eur Heart J Cardiovasc Imaging, 14 (6), 509-14
DOI 10.1093/ehjci/jet069, PubMed 23671232
Espinoza A, Kerans V, Opdahl A, Skulstad H, Halvorsen PS, Bugge JF, Fosse E, Edvardsen T (2013)
Effects of therapeutic hypothermia on left ventricular function assessed by ultrasound imaging
J Am Soc Echocardiogr, 26 (11), 1353-63
DOI 10.1016/j.echo.2013.06.021, PubMed 23891124
Gjesdal O, Almeida AL, Hopp E, Beitnes JO, Lunde K, Smith HJ, Lima JA, Edvardsen T (2013)
Long axis strain by MRI and echocardiography in a postmyocardial infarct population
J Magn Reson Imaging, 40 (5), 1247-51
DOI 10.1002/jmri.24485, PubMed 24214923
Gravning J, Ahmed MS, Qvigstad E, Krobert K, Edvardsen T, Moe IT, Hagelin EM, Sagave J, Valen G, Levy FO, Osnes JB, Skomedal T, Attramadal H (2013)
Connective tissue growth factor/CCN2 attenuates β-adrenergic receptor responsiveness and cardiotoxicity by induction of G protein-coupled receptor kinase-5 in cardiomyocytes
Mol Pharmacol, 84 (3), 372-83
DOI 10.1124/mol.113.087312, PubMed 23778361
Gravning J, Ahmed MS, von Lueder TG, Edvardsen T, Attramadal H (2013)
CCN2/CTGF attenuates myocardial hypertrophy and cardiac dysfunction upon chronic pressure-overload
Int J Cardiol, 168 (3), 2049-56
DOI 10.1016/j.ijcard.2013.01.165, PubMed 23452880
Gravning J, Smedsrud MK, Omland T, Eek C, Skulstad H, Aaberge L, Bendz B, Kjekshus J, Mørkrid L, Edvardsen T (2013)
Sensitive troponin assays and N-terminal pro-B-type natriuretic peptide in acute coronary syndrome: prediction of significant coronary lesions and long-term prognosis
Am Heart J, 165 (5), 716-24
DOI 10.1016/j.ahj.2013.02.008, PubMed 23622908
Hasselberg NE, Edvardsen T, Petri H, Berge KE, Leren TP, Bundgaard H, Haugaa KH (2013)
Risk prediction of ventricular arrhythmias and myocardial function in Lamin A/C mutation positive subjects
Europace, 16 (4), 563-71
DOI 10.1093/europace/eut291, PubMed 24058181
Haugaa KH, Grenne BL, Eek CH, Ersbøll M, Valeur N, Svendsen JH, Florian A, Sjøli B, Brunvand H, Køber L, Voigt JU, Desmet W, Smiseth OA, Edvardsen T (2013)
Strain echocardiography improves risk prediction of ventricular arrhythmias after myocardial infarction
JACC Cardiovasc Imaging, 6 (8), 841-50
DOI 10.1016/j.jcmg.2013.03.005, PubMed 23850251
Hetland A, Haugaa KH, Olseng M, Gjesdal O, Ross S, Saberniak J, Jacobsen MB, Edvardsen T (2013)
Three-month treatment with adaptive servoventilation improves cardiac function and physical activity in patients with chronic heart failure and cheyne-stokes respiration: a prospective randomized controlled trial
Cardiology, 126 (2), 81-90
DOI 10.1159/000350826, PubMed 23941739
Hopp E, Bjørnerud A, Lunde K, Solheim S, Aakhus S, Arnesen H, Forfang K, Edvardsen T, Smith HJ (2013)
Perfusion MRI at rest in subacute and chronic myocardial infarct
Acta Radiol, 54 (4), 401-11
DOI 10.1177/0284185113475605, PubMed 23401603
Lancellotti P, Badano LP, Lang RM, Akhaladze N, Athanassopoulos GD, Barone D, Baroni M, Cardim N, Gomez de Diego JJ, Derumeaux G, Dulgheru R, Edvardsen T, Galderisi M, Gonçalves A, Habib G, Hagendorff A, Hristova K, Kou S, Lopez T, Magne J, de la Morena G, Popescu BA, Penicka M, Rasit T, Rodrigo Carbonero JD et al. (2013)
Normal Reference Ranges for Echocardiography: rationale, study design, and methodology (NORRE Study)
Eur Heart J Cardiovasc Imaging, 14 (4), 303-8
DOI 10.1093/ehjci/jet008, PubMed 23376837
Lancellotti P, Nkomo VT, Badano LP, Bergler-Klein J, Bogaert J, Davin L, Cosyns B, Coucke P, Dulgheru R, Edvardsen T, Gaemperli O, Galderisi M, Griffin B, Heidenreich PA, Nieman K, Plana JC, Port SC, Scherrer-Crosbie M, Schwartz RG, Sebag IA, Voigt JU, Wann S, Yang PC, European Society of Cardiology Working Groups on Nuclear Cardiology and Cardiac Computed Tomography and Cardiovascular Magnetic Resonance, American Society of Nuclear Cardiology, Society for Cardiovascular Magnetic Resonance, and Society of Cardiovascular Computed Tomography (2013)
Expert consensus for multi-modality imaging evaluation of cardiovascular complications of radiotherapy in adults: a report from the European Association of Cardiovascular Imaging and the American Society of Echocardiography
J Am Soc Echocardiogr, 26 (9), 1013-32
DOI 10.1016/j.echo.2013.07.005, PubMed 23998694
Lancellotti P, Nkomo VT, Badano LP, Bergler-Klein J, Bogaert J, Davin L, Cosyns B, Coucke P, Dulgheru R, Edvardsen T, Gaemperli O, Galderisi M, Griffin B, Heidenreich PA, Nieman K, Plana JC, Port SC, Scherrer-Crosbie M, Schwartz RG, Sebag IA, Voigt JU, Wann S, Yang PC, European Society of Cardiology Working Groups on Nuclear Cardiology and Cardiac Computed Tomography and Cardiovascular Magnetic Resonance, American Society of Nuclear Cardiology et al. (2013)
Expert consensus for multi-modality imaging evaluation of cardiovascular complications of radiotherapy in adults: a report from the European Association of Cardiovascular Imaging and the American Society of Echocardiography
Eur Heart J Cardiovasc Imaging, 14 (8), 721-40
DOI 10.1093/ehjci/jet123, PubMed 23847385
Lancellotti P, Tribouilloy C, Hagendorff A, Popescu BA, Edvardsen T, Pierard LA, Badano L, Zamorano JL, Scientific Document Committee of the European Association of Cardiovascular Imaging (2013)
Recommendations for the echocardiographic assessment of native valvular regurgitation: an executive summary from the European Association of Cardiovascular Imaging
Eur Heart J Cardiovasc Imaging, 14 (7), 611-44
DOI 10.1093/ehjci/jet105, PubMed 23733442
Plein S, Knuuti J, Edvardsen T, Saraste A, Piérard LA, Maurer G, Lancellotti P (2013)
The year 2012 in the European Heart Journal-Cardiovascular Imaging. Part II
Eur Heart J Cardiovasc Imaging, 14 (7), 613-7
DOI 10.1093/ehjci/jet084, PubMed 23729757
Rademakers F, Engvall J, Edvardsen T, Monaghan M, Sicari R, Nagel E, Zamorano J, Ukkonen H, Ebbers T, Di Bello V, Voigt JU, Herbots L, Claus P, D'hooge J (2013)
Determining optimal noninvasive parameters for the prediction of left ventricular remodeling in chronic ischemic patients
Scand Cardiovasc J, 47 (6), 329-34
DOI 10.3109/14017431.2013.857039, PubMed 24295289
Ruddox V, Mathisen M, Bækkevar M, Aune E, Edvardsen T, Otterstad JE (2013)
Is 3D echocardiography superior to 2D echocardiography in general practice? A systematic review of studies published between 2007 and 2012
Int J Cardiol, 168 (2), 1306-15
DOI 10.1016/j.ijcard.2012.12.002, PubMed 23295040
Ruddox V, Stokke TM, Edvardsen T, Hjelmesæth J, Aune E, Bækkevar M, Norum IB, Otterstad JE (2013)
The diagnostic accuracy of pocket-size cardiac ultrasound performed by unselected residents with minimal training
Int J Cardiovasc Imaging, 29 (8), 1749-57
DOI 10.1007/s10554-013-0278-7, PubMed 23974908
Russell K, Eriksen M, Aaberge L, Wilhelmsen N, Skulstad H, Gjesdal O, Edvardsen T, Smiseth OA (2013)
Assessment of wasted myocardial work: a novel method to quantify energy loss due to uncoordinated left ventricular contractions
Am J Physiol Heart Circ Physiol, 305 (7), H996-1003
DOI 10.1152/ajpheart.00191.2013, PubMed 23893165
Sarvari SI, Haugaa KH, Zahid W, Bendz B, Aakhus S, Aaberge L, Edvardsen T (2013)
Layer-specific quantification of myocardial deformation by strain echocardiography may reveal significant CAD in patients with non-ST-segment elevation acute coronary syndrome
JACC Cardiovasc Imaging, 6 (5), 535-44
DOI 10.1016/j.jcmg.2013.01.009, PubMed 23582354
Sicari R, Edvardsen T, Badano L, Lancellotti P, Habib G, Maurer G (2013)
2013 European Association cardiovascular imaging research grants
Eur Heart J Cardiovasc Imaging, 14 (3), 294
DOI 10.1093/ehjci/jes318, PubMed 23302391
Smiseth OA, Edvardsen T, Skulstad H (2013)
Cardioprotection during chemotherapy: need for faster transfer of knowledge from cardiology to oncology and role for a cardio-oncologist
J Am Coll Cardiol, 61 (23), 2363-4
DOI 10.1016/j.jacc.2013.02.073, PubMed 23583243
Tsadok Y, Petrank Y, Sarvari S, Edvardsen T, Adam D (2013)
Automatic segmentation of cardiac MRI cines validated for long axis views
Comput Med Imaging Graph, 37 (7-8), 500-11
DOI 10.1016/j.compmedimag.2013.09.002, PubMed 24094590
Woie L, Måløy F, Eftestøl T, Engan K, Edvardsen T, Kvaløy JT, Ørn S (2013)
Comparing a novel automatic 3D method for LGE-CMR quantification of scar size with established methods
Int J Cardiovasc Imaging, 30 (2), 339-47
DOI 10.1007/s10554-013-0329-0, PubMed 24249515
Zahid W, Johnson J, Westholm C, Eek CH, Haugaa KH, Smedsrud MK, Skulstad H, Fosse E, Winter R, Edvardsen T (2013)
Mitral annular displacement by Doppler tissue imaging may identify coronary occlusion and predict mortality in patients with non-ST-elevation myocardial infarction
J Am Soc Echocardiogr, 26 (8), 875-84
DOI 10.1016/j.echo.2013.05.011, PubMed 23791116
Publications 2012
Edvardsen T (2012)
The continued discovery of left atrial function
Eur Heart J Cardiovasc Imaging, 13 (3), 203-4
DOI 10.1093/ehjci/jes014, PubMed 22277116
Edvardsen T, Haugaa KH (2012)
Republished article: Imaging assessment of ventricular mechanics
Postgrad Med J, 88 (1036), 105-12
DOI 10.1136/pgmj.2009.184390rep, PubMed 22262782
Goebel B, Handrick V, Lauten A, Fritzenwanger M, Schütze J, Otto S, Figulla HR, Edvardsen T, Poerner TC, Jung C (2012)
Impact of acute normobaric hypoxia on regional and global myocardial function: a speckle tracking echocardiography study
Int J Cardiovasc Imaging, 29 (3), 561-70
DOI 10.1007/s10554-012-0117-2, PubMed 22918573
Gravning J, Ørn S, Kaasbøll OJ, Martinov VN, Manhenke C, Dickstein K, Edvardsen T, Attramadal H, Ahmed MS (2012)
Myocardial connective tissue growth factor (CCN2/CTGF) attenuates left ventricular remodeling after myocardial infarction
PLoS One, 7 (12), e52120
DOI 10.1371/journal.pone.0052120, PubMed 23284892
Gullestad L, Orn S, Dickstein K, Eek C, Edvardsen T, Aakhus S, Askevold ET, Michelsen A, Bendz B, Skårdal R, Smith HJ, Yndestad A, Ueland T, Aukrust P (2012)
Intravenous immunoglobulin does not reduce left ventricular remodeling in patients with myocardial dysfunction during hospitalization after acute myocardial infarction
Int J Cardiol, 168 (1), 212-8
DOI 10.1016/j.ijcard.2012.09.092, PubMed 23046599
Haugaa KH, Goebel B, Dahlslett T, Meyer K, Jung C, Lauten A, Figulla HR, Poerner TC, Edvardsen T (2012)
Risk assessment of ventricular arrhythmias in patients with nonischemic dilated cardiomyopathy by strain echocardiography
J Am Soc Echocardiogr, 25 (6), 667-73
DOI 10.1016/j.echo.2012.02.004, PubMed 22421028
Odland HH, Brun H, Sejersted Y, Dalen M, Edvardsen T, Saugstad OD, Thaulow E (2012)
Myocardial longitudinal peak systolic acceleration (pSac): relationship to ejection phase, pressure, and contractility
Echocardiography, 29 (5), 541-53
DOI 10.1111/j.1540-8175.2011.01628.x, PubMed 22329750
Opdahl A, Remme EW, Helle-Valle T, Edvardsen T, Smiseth OA (2012)
Myocardial relaxation, restoring forces, and early-diastolic load are independent determinants of left ventricular untwisting rate
Circulation, 126 (12), 1441-51
DOI 10.1161/CIRCULATIONAHA.111.080861, PubMed 22865889
Russell K, Eriksen M, Aaberge L, Wilhelmsen N, Skulstad H, Remme EW, Haugaa KH, Opdahl A, Fjeld JG, Gjesdal O, Edvardsen T, Smiseth OA (2012)
A novel clinical method for quantification of regional left ventricular pressure-strain loop area: a non-invasive index of myocardial work
Eur Heart J, 33 (6), 724-33
DOI 10.1093/eurheartj/ehs016, PubMed 22315346
Sarvari SI, Gjesdal O, Gude E, Arora S, Andreassen AK, Gullestad L, Geiran O, Edvardsen T (2012)
Early postoperative left ventricular function by echocardiographic strain is a predictor of 1-year mortality in heart transplant recipients
J Am Soc Echocardiogr, 25 (9), 1007-14
DOI 10.1016/j.echo.2012.05.010, PubMed 22727199
Sikkeland LI, Dahl CP, Ueland T, Andreassen AK, Gude E, Edvardsen T, Holm T, Yndestad A, Gullestad L, Kongerud J, Aukrust P, Øie E (2012)
Increased levels of inflammatory cytokines and endothelin-1 in alveolar macrophages from patients with chronic heart failure
PLoS One, 7 (5), e36815
DOI 10.1371/journal.pone.0036815, PubMed 22615818
Smedsrud MK, Sarvari S, Haugaa KH, Gjesdal O, Ørn S, Aaberge L, Smiseth OA, Edvardsen T (2012)
Duration of myocardial early systolic lengthening predicts the presence of significant coronary artery disease
J Am Coll Cardiol, 60 (12), 1086-93
DOI 10.1016/j.jacc.2012.06.022, PubMed 22939559
Vartdal T, Pettersen E, Helle-Valle T, Lyseggen E, Andersen K, Smith HJ, Aaberge L, Smiseth OA, Edvardsen T (2012)
Identification of viable myocardium in acute anterior infarction using duration of systolic lengthening by tissue Doppler strain: a preliminary study
J Am Soc Echocardiogr, 25 (7), 718-25
DOI 10.1016/j.echo.2012.04.016, PubMed 22622107
Øie E, Berge RK, Ueland T, Dahl CP, Edvardsen T, Beitnes JO, Bohov P, Aukrust P, Yndestad A (2012)
Tetradecylthioacetic acid increases fat metabolism and improves cardiac function in experimental heart failure
Lipids, 48 (2), 139-54
DOI 10.1007/s11745-012-3749-z, PubMed 23266898
Publications 2011
Edvardsen T (2011)
Can modern echocardiographic techniques predict drug-induced cardiotoxicity?
J Am Coll Cardiol, 57 (22), 2271-2
DOI 10.1016/j.jacc.2010.11.064, PubMed 21616288
Edvardsen T, Haugaa KH (2011)
Imaging assessment of ventricular mechanics
Heart, 97 (16), 1349-56
DOI 10.1136/hrt.2009.184390, PubMed 21775511
Eek C, Grenne B, Brunvand H, Aakhus S, Endresen K, Smiseth OA, Edvardsen T, Skulstad H (2011)
Postsystolic shortening is a strong predictor of recovery of systolic function in patients with non-ST-elevation myocardial infarction
Eur J Echocardiogr, 12 (7), 483-9
DOI 10.1093/ejechocard/jer055, PubMed 21609975
Gjesdal O, Remme EW, Opdahl A, Skulstad H, Russell K, Kongsgaard E, Edvardsen T, Smiseth OA (2011)
Mechanisms of abnormal systolic motion of the interventricular septum during left bundle-branch block
Circ Cardiovasc Imaging, 4 (3), 264-73
DOI 10.1161/CIRCIMAGING.110.961417, PubMed 21393502
Goebel B, Gjesdal O, Kottke D, Otto S, Jung C, Lauten A, Figulla HR, Edvardsen T, Poerner TC (2011)
Detection of irregular patterns of myocardial contraction in patients with hypertensive heart disease: a two-dimensional ultrasound speckle tracking study
J Hypertens, 29 (11), 2255-64
DOI 10.1097/HJH.0b013e32834bdd09, PubMed 21946697
Grenne B, Eek C, Sjøli B, Dahlslett T, Hol PK, Orn S, Skulstad H, Smiseth OA, Edvardsen T, Brunvand H (2011)
Mean strain throughout the heart cycle by longitudinal two-dimensional speckle-tracking echocardiography enables early prediction of infarct size
J Am Soc Echocardiogr, 24 (10), 1118-25
DOI 10.1016/j.echo.2011.06.002, PubMed 21764553
Haugaa KH, Bergestuen DS, Sahakyan LG, Skulstad H, Aakhus S, Thiis-Evensen E, Edvardsen T (2011)
Evaluation of right ventricular dysfunction by myocardial strain echocardiography in patients with intestinal carcinoid disease
J Am Soc Echocardiogr, 24 (6), 644-50
DOI 10.1016/j.echo.2011.02.009, PubMed 21440415
Haugaa KH, Edvardsen T (2011)
Myocardial contraction and long QT syndrome
Trends Cardiovasc Med, 21 (3), 65-9
DOI 10.1016/j.tcm.2012.02.005, PubMed 22626244
Haugaa KH, Edvardsen T, Amlie JP (2011)
Prediction of life-threatening arrhythmias--still an unresolved problem
Cardiology, 118 (2), 129-37
DOI 10.1159/000327093, PubMed 21555886
Hopp E, Lunde K, Solheim S, Aakhus S, Arnesen H, Forfang K, Edvardsen T, Smith HJ (2011)
Regional myocardial function after intracoronary bone marrow cell injection in reperfused anterior wall infarction - a cardiovascular magnetic resonance tagging study
J Cardiovasc Magn Reson, 13 (1), 22
DOI 10.1186/1532-429X-13-22, PubMed 21414223
Nagueh SF, Bhatt R, Vivo RP, Krim SR, Sarvari SI, Russell K, Edvardsen T, Smiseth OA, Estep JD (2011)
Echocardiographic evaluation of hemodynamics in patients with decompensated systolic heart failure
Circ Cardiovasc Imaging, 4 (3), 220-7
DOI 10.1161/CIRCIMAGING.111.963496, PubMed 21398512
Odland HH, Brun H, Sejersted Y, Dalen M, Edvardsen T, Saugstad OD, Thaulow E (2011)
Longitudinal myocardial contribution to peak systolic flow and stroke volume in the neonatal heart
Pediatr Res, 70 (4), 345-51
DOI 10.1203/PDR.0b013e318229032b, PubMed 21691252
Odland HH, Kro GA, Edvardsen T, Thaulow E, Saugstad OD (2011)
Impaired diastolic function and disruption of the force-frequency relationship in the right ventricle of newborn pigs resuscitated with 100% oxygen
Neonatology, 101 (2), 147-53
DOI 10.1159/000330804, PubMed 21952615
Russell K, Smiseth OA, Gjesdal O, Qvigstad E, Norseng PA, Sjaastad I, Opdahl A, Skulstad H, Edvardsen T, Remme EW (2011)
Mechanism of prolonged electromechanical delay in late activated myocardium during left bundle branch block
Am J Physiol Heart Circ Physiol, 301 (6), H2334-43
DOI 10.1152/ajpheart.00644.2011, PubMed 21984549
Røsjø H, Andreassen J, Edvardsen T, Omland T (2011)
Prognostic usefulness of circulating high-sensitivity troponin T in aortic stenosis and relation to echocardiographic indexes of cardiac function and anatomy
Am J Cardiol, 108 (1), 88-91
DOI 10.1016/j.amjcard.2011.02.346, PubMed 21529731
Sarvari SI, Haugaa KH, Anfinsen OG, Leren TP, Smiseth OA, Kongsgaard E, Amlie JP, Edvardsen T (2011)
Right ventricular mechanical dispersion is related to malignant arrhythmias: a study of patients with arrhythmogenic right ventricular cardiomyopathy and subclinical right ventricular dysfunction
Eur Heart J, 32 (9), 1089-96
DOI 10.1093/eurheartj/ehr069, PubMed 21406439
Sjøli B, Grenne B, Smiseth OA, Edvardsen T, Brunvand H (2011)
The advantage of global strain compared to left ventricular ejection fraction to predict outcome after acute myocardial infarction
Echocardiography, 28 (5), 556-63
DOI 10.1111/j.1540-8175.2011.01384.x, PubMed 21535118
Smedsrud MK, Pettersen E, Gjesdal O, Svennevig JL, Andersen K, Ihlen H, Edvardsen T (2011)
Detection of left ventricular dysfunction by global longitudinal systolic strain in patients with chronic aortic regurgitation
J Am Soc Echocardiogr, 24 (11), 1253-9
DOI 10.1016/j.echo.2011.08.003, PubMed 21908174
Tsai HR, Gjesdal O, Wethal T, Haugaa KH, Fosså A, Fosså SD, Edvardsen T (2011)
Left ventricular function assessed by two-dimensional speckle tracking echocardiography in long-term survivors of Hodgkin's lymphoma treated by mediastinal radiotherapy with or without anthracycline therapy
Am J Cardiol, 107 (3), 472-7
DOI 10.1016/j.amjcard.2010.09.048, PubMed 21257017
Publications 2010
Ahmed MS, Gravning J, Martinov VN, von Lueder TG, Edvardsen T, Czibik G, Moe IT, Vinge LE, Øie E, Valen G, Attramadal H (2010)
Mechanisms of novel cardioprotective functions of CCN2/CTGF in myocardial ischemia-reperfusion injury
Am J Physiol Heart Circ Physiol, 300 (4), H1291-302
DOI 10.1152/ajpheart.00604.2010, PubMed 21186275
Beitnes JO, Gjesdal O, Lunde K, Solheim S, Edvardsen T, Arnesen H, Forfang K, Aakhus S (2010)
Left ventricular systolic and diastolic function improve after acute myocardial infarction treated with acute percutaneous coronary intervention, but are not influenced by intracoronary injection of autologous mononuclear bone marrow cells: a 3 year serial echocardiographic sub-study of the randomized-controlled ASTAMI study
Eur J Echocardiogr, 12 (2), 98-106
DOI 10.1093/ejechocard/jeq116, PubMed 20851818
Bergestuen DS, Edvardsen T, Aakhus S, Ueland T, Oie E, Vatn M, Aukrust P, Thiis-Evensen E (2010)
Activin A in carcinoid heart disease: a possible role in diagnosis and pathogenesis
Neuroendocrinology, 92 (3), 168-77
DOI 10.1159/000318014, PubMed 20720391
Bergestuen DS, Gravning J, Haugaa KH, Sahakyan LG, Aakhus S, Thiis-Evensen E, Øie E, Aukrust P, Attramadal H, Edvardsen T (2010)
Plasma CCN2/connective tissue growth factor is associated with right ventricular dysfunction in patients with neuroendocrine tumors
BMC Cancer, 10, 6
DOI 10.1186/1471-2407-10-6, PubMed 20053285
Dale E, Heggelund L, Leegard TM, Samdal HH, Edvardsen T, Gjertsen E (2010)
[Dramatic case report caused by a rare bacteria]
Tidsskr Nor Laegeforen, 130 (2), 149-51
DOI 10.4045/tidsskr.08.0715, PubMed 20125205
Eek C, Grenne B, Brunvand H, Aakhus S, Endresen K, Hol PK, Smith HJ, Smiseth OA, Edvardsen T, Skulstad H (2010)
Strain echocardiography and wall motion score index predicts final infarct size in patients with non-ST-segment-elevation myocardial infarction
Circ Cardiovasc Imaging, 3 (2), 187-94
DOI 10.1161/CIRCIMAGING.109.910521, PubMed 20075142
Eek C, Grenne B, Brunvand H, Aakhus S, Endresen K, Smiseth OA, Edvardsen T, Skulstad H (2010)
Strain echocardiography predicts acute coronary occlusion in patients with non-ST-segment elevation acute coronary syndrome
Eur J Echocardiogr, 11 (6), 501-8
DOI 10.1093/ejechocard/jeq008, PubMed 20185525
Espinoza A, Halvorsen PS, Skulstad H, Lundblad R, Bugge JF, Hoff L, Fosse E, Edvardsen T (2010)
Automated detection of myocardial ischaemia by epicardial miniature ultrasound transducers--a novel tool for patient monitoring during cardiac surgery
Eur J Cardiothorac Surg, 39 (1), 53-9
DOI 10.1016/j.ejcts.2010.03.067, PubMed 20627751
Grenne B, Eek C, Sjøli B, Dahlslett T, Uchto M, Hol PK, Skulstad H, Smiseth OA, Edvardsen T, Brunvand H (2010)
Acute coronary occlusion in non-ST-elevation acute coronary syndrome: outcome and early identification by strain echocardiography
Heart, 96 (19), 1550-6
DOI 10.1136/hrt.2009.188391, PubMed 20643662
Grenne B, Eek C, Sjøli B, Skulstad H, Aakhus S, Smiseth OA, Edvardsen T, Brunvand H (2010)
Changes of myocardial function in patients with non-ST-elevation acute coronary syndrome awaiting coronary angiography
Am J Cardiol, 105 (9), 1212-8
DOI 10.1016/j.amjcard.2009.12.036, PubMed 20403468
Haugaa KH, Amlie JP, Berge KE, Leren TP, Smiseth OA, Edvardsen T (2010)
Transmural differences in myocardial contraction in long-QT syndrome: mechanical consequences of ion channel dysfunction
Circulation, 122 (14), 1355-63
DOI 10.1161/CIRCULATIONAHA.110.960377, PubMed 20855658
Haugaa KH, Leren IS, Berge KE, Bathen J, Loennechen JP, Anfinsen OG, Früh A, Edvardsen T, Kongsgård E, Leren TP, Amlie JP (2010)
High prevalence of exercise-induced arrhythmias in catecholaminergic polymorphic ventricular tachycardia mutation-positive family members diagnosed by cascade genetic screening
Europace, 12 (3), 417-23
DOI 10.1093/europace/eup448, PubMed 20106799
Haugaa KH, Smedsrud MK, Steen T, Kongsgaard E, Loennechen JP, Skjaerpe T, Voigt JU, Willems R, Smith G, Smiseth OA, Amlie JP, Edvardsen T (2010)
Mechanical dispersion assessed by myocardial strain in patients after myocardial infarction for risk prediction of ventricular arrhythmia
JACC Cardiovasc Imaging, 3 (3), 247-56
DOI 10.1016/j.jcmg.2009.11.012, PubMed 20223421
Leren IS, Haugaa KH, Edvardsen T, Anfinsen OG, Kongsgård E, Berge KE, Leren TP, Amlie JP (2010)
[Catecholaminergic polymorphic ventricular tachycardia]
Tidsskr Nor Laegeforen, 130 (2), 139-42
DOI 10.4045/tidsskr.09.0529, PubMed 20125202
Odland HH, Kro GA, Munkeby BH, Edvardsen T, Saugstad OD, Thaulow E (2010)
Ejection time-corrected systolic velocity improves accuracy in the evaluation of myocardial dysfunction: a study in piglets
Pediatr Cardiol, 31 (7), 1070-8
DOI 10.1007/s00246-010-9767-9, PubMed 20721662
Russell K, Opdahl A, Remme EW, Gjesdal O, Skulstad H, Kongsgaard E, Edvardsen T, Smiseth OA (2010)
Evaluation of left ventricular dyssynchrony by onset of active myocardial force generation: a novel method that differentiates between electrical and mechanical etiologies
Circ Cardiovasc Imaging, 3 (4), 405-14
DOI 10.1161/CIRCIMAGING.109.905539, PubMed 20494943
Øie E, Ahmed MS, Ueland T, Sikkeland LI, Dahl CP, Hagelin EM, von Lueder T, Edvardsen T, Andreassen AK, Gullestad L, Aukrust P, Yndestad A, Vinge LE, Attramadal H (2010)
Adrenomedullin is increased in alveolar macrophages and released from the lungs into the circulation in severe heart failure
Basic Res Cardiol, 105 (1), 89-98
DOI 10.1007/s00395-009-0070-y, PubMed 19823891
Publications 2009
Andersen R, Wethal T, Günther A, Fosså A, Edvardsen T, Fosså SD, Kjekshus J (2009)
Relation of coronary artery calcium score to premature coronary artery disease in survivors >15 years of Hodgkin's lymphoma
Am J Cardiol, 105 (2), 149-52
DOI 10.1016/j.amjcard.2009.09.005, PubMed 20102909
Espinoza A, Halvorsen PS, Hoff L, Skulstad H, Fosse E, Ihlen H, Edvardsen T (2009)
Detecting myocardial ischaemia using miniature ultrasonic transducers--a feasibility study in a porcine model
Eur J Cardiothorac Surg, 37 (1), 119-26
DOI 10.1016/j.ejcts.2009.05.013, PubMed 19581103
Gjesdal O, Gude E, Arora S, Leivestad T, Andreassen AK, Gullestad L, Aaberge L, Brunvand H, Edvardsen T, Geiran OR, Simonsen S (2009)
Intra-aortic balloon counterpulsation as a bridge to heart transplantation does not impair long-term survival
Eur J Heart Fail, 11 (7), 709-14
DOI 10.1093/eurjhf/hfp078, PubMed 19515719
Gjesdal O, Vartdal T, Hopp E, Lunde K, Brunvand H, Smith HJ, Edvardsen T (2009)
Left ventricle longitudinal deformation assessment by mitral annulus displacement or global longitudinal strain in chronic ischemic heart disease: are they interchangeable?
J Am Soc Echocardiogr, 22 (7), 823-30
DOI 10.1016/j.echo.2009.04.023, PubMed 19505792
Halvorsen PS, Remme EW, Espinoza A, Skulstad H, Lundblad R, Bergsland J, Hoff L, Imenes K, Edvardsen T, Elle OJ, Fosse E (2009)
Automatic real-time detection of myocardial ischemia by epicardial accelerometer
J Thorac Cardiovasc Surg, 139 (4), 1026-32
DOI 10.1016/j.jtcvs.2009.05.031, PubMed 19717169
Haugaa KH, Edvardsen T, Leren TP, Smiseth OA, Amlie JP (2009)
Abnormal left ventricular relaxation in patients with long QT syndrome: reply
Eur. Heart J., 30 (22), 2814-2815
DOI 10.1093/eurheartj/ehp445
Helle-Valle T, Remme EW, Lyseggen E, Pettersen E, Vartdal T, Opdahl A, Smith HJ, Osman NF, Ihlen H, Edvardsen T, Smiseth OA (2009)
Clinical assessment of left ventricular rotation and strain: a novel approach for quantification of function in infarcted myocardium and its border zones
Am J Physiol Heart Circ Physiol, 297 (1), H257-67
DOI 10.1152/ajpheart.01116.2008, PubMed 19395547
Kjekshus JK, Torp-Pedersen C, Gullestad L, Køber L, Edvardsen T, Olsen IC, Sjaastad I, Qvigstad E, Skomedal T, Osnes JB, Levy FO (2009)
Effect of piboserod, a 5-HT4 serotonin receptor antagonist, on left ventricular function in patients with symptomatic heart failure
Eur J Heart Fail, 11 (8), 771-8
DOI 10.1093/eurjhf/hfp087, PubMed 19567409
Lyseggen E, Vartdal T, Remme EW, Helle-Valle T, Pettersen E, Opdahl A, Edvardsen T, Smiseth OA (2009)
A novel echocardiographic marker of end systole in the ischemic left ventricle: "tug of war" sign
Am J Physiol Heart Circ Physiol, 296 (3), H645-54
DOI 10.1152/ajpheart.00313.2008, PubMed 19122168
Odland HH, Kro GA, Edvardsen T, Thaulow E, Saugstad OD (2009)
Atrioventricular valve annulus velocity and acceleration during global hypoxia in newborn pigs - assessment of myocardial function
Neonatology, 97 (2), 100-7
DOI 10.1159/000235806, PubMed 19713716
Opdahl A, Remme EW, Helle-Valle T, Lyseggen E, Vartdal T, Pettersen E, Edvardsen T, Smiseth OA (2009)
Determinants of left ventricular early-diastolic lengthening velocity: independent contributions from left ventricular relaxation, restoring forces, and lengthening load
Circulation, 119 (19), 2578-86
DOI 10.1161/CIRCULATIONAHA.108.791681, PubMed 19414640
Remme EW, Lyseggen E, Helle-Valle T, Pettersen E, Ragnarsson A, Ihlen H, Edvardsen T, Smiseth OA, Opdahl A, Vartdal T, Ljosland M (2009)
Response to Letter Regarding Article, "Mechanisms of Preejection and Postejection Velocity Spikes in Left Ventricular Myocardium: Interaction Between Wall Deformation and Valve Events"
Circulation, 119 (6), E205
DOI 10.1161/CIRCULATIONAHA.108.823716
Sjøli B, Ørn S, Grenne B, Ihlen H, Edvardsen T, Brunvand H (2009)
Diagnostic capability and reproducibility of strain by Doppler and by speckle tracking in patients with acute myocardial infarction
JACC Cardiovasc Imaging, 2 (1), 24-33
DOI 10.1016/j.jcmg.2008.10.007, PubMed 19356529
Sjøli B, Ørn S, Grenne B, Vartdal T, Smiseth OA, Edvardsen T, Brunvand H (2009)
Comparison of left ventricular ejection fraction and left ventricular global strain as determinants of infarct size in patients with acute myocardial infarction
J Am Soc Echocardiogr, 22 (11), 1232-8
DOI 10.1016/j.echo.2009.07.027, PubMed 19815383
Wethal T, Lund MB, Edvardsen T, Fosså SD, Pripp AH, Holte H, Kjekshus J, Fosså A (2009)
Valvular dysfunction and left ventricular changes in Hodgkin's lymphoma survivors. A longitudinal study
Br J Cancer, 101 (4), 575-81
DOI 10.1038/sj.bjc.6605191, PubMed 19623176
Ørn S, Manhenke C, Greve OJ, Larsen AI, Bonarjee VV, Edvardsen T, Dickstein K (2009)
Microvascular obstruction is a major determinant of infarct healing and subsequent left ventricular remodelling following primary percutaneous coronary intervention
Eur Heart J, 30 (16), 1978-85
DOI 10.1093/eurheartj/ehp219, PubMed 19502624
Ørn S, Manhenke C, Ueland T, Damås JK, Mollnes TE, Edvardsen T, Aukrust P, Dickstein K (2009)
C-reactive protein, infarct size, microvascular obstruction, and left-ventricular remodelling following acute myocardial infarction
Eur Heart J, 30 (10), 1180-6
DOI 10.1093/eurheartj/ehp070, PubMed 19299430
Publications 2008
Gjesdal O, Helle-Valle T, Hopp E, Lunde K, Vartdal T, Aakhus S, Smith HJ, Ihlen H, Edvardsen T (2008)
Noninvasive separation of large, medium, and small myocardial infarcts in survivors of reperfused ST-elevation myocardial infarction: a comprehensive tissue Doppler and speckle-tracking echocardiography study
Circ Cardiovasc Imaging, 1 (3), 189-96, 2 p following 196
DOI 10.1161/CIRCIMAGING.108.784900, PubMed 19808542
Halvorsen PS, Espinoza A, Fleischer LA, Elle OJ, Hoff L, Lundblad R, Skulstad H, Edvardsen T, Ihlen H, Fosse E (2008)
Feasibility of a three-axis epicardial accelerometer in detecting myocardial ischemia in cardiac surgical patients
J Thorac Cardiovasc Surg, 136 (6), 1496-502
DOI 10.1016/j.jtcvs.2008.08.043, PubMed 19114197
Halvorsen PS, Fleischer LA, Espinoza A, Elle OJ, Hoff L, Skulstad H, Edvardsen T, Fosse E (2008)
Detection of myocardial ischaemia by epicardial accelerometers in the pig
Br J Anaesth, 102 (1), 29-37
DOI 10.1093/bja/aen331, PubMed 19022793
Haugaa KH, Edvardsen T, Leren TP, Gran JM, Smiseth OA, Amlie JP (2008)
Left ventricular mechanical dispersion by tissue Doppler imaging: a novel approach for identifying high-risk individuals with long QT syndrome
Eur Heart J, 30 (3), 330-7
DOI 10.1093/eurheartj/ehn466, PubMed 18940888
Opdahl A, Helle-Valle T, Remme EW, Vartdal T, Pettersen E, Lunde K, Edvardsen T, Smiseth OA (2008)
Apical rotation by speckle tracking echocardiography: a simplified bedside index of left ventricular twist
J Am Soc Echocardiogr, 21 (10), 1121-8
DOI 10.1016/j.echo.2008.06.012, PubMed 18760568
Remme EW, Lyseggen E, Helle-Valle T, Opdahl A, Pettersen E, Vartdal T, Ragnarsson A, Ljosland M, Ihlen H, Edvardsen T, Smiseth OA (2008)
Mechanisms of preejection and postejection velocity spikes in left ventricular myocardium: interaction between wall deformation and valve events
Circulation, 118 (4), 373-80
DOI 10.1161/CIRCULATIONAHA.107.748491, PubMed 18606917
Publications 2007
Fernandes VR, Edvardsen T, Rosen BD, Carvalho B, Campos O, Cordeiro MA, Kronmal R, Bluemke DA, Lima JA (2007)
The influence of left ventricular size and global function on regional myocardial contraction and relaxation in an adult population free of cardiovascular disease: a tagged CMR study of the MESA cohort
J Cardiovasc Magn Reson, 9 (6), 921-30
DOI 10.1080/10976640701693824, PubMed 18066753
Gjesdal A, Edvardsen T (2007)
Global longitudinal strain by two-dimensional speckle tracking echocardiography is closely related to myocardial infarct size in chronic ischaemic heart disease: authors' reply
Clin. Sci., 113 (9-10), 394-395
DOI 10.1042/CS20070177
Gjesdal O, Hopp E, Vartdal T, Lunde K, Helle-Valle T, Aakhus S, Smith HJ, Ihlen H, Edvardsen T (2007)
Global longitudinal strain measured by two-dimensional speckle tracking echocardiography is closely related to myocardial infarct size in chronic ischaemic heart disease
Clin Sci (Lond), 113 (6), 287-96
DOI 10.1042/CS20070066, PubMed 17501720
Jonassen AA, Bjørnerheim R, Edvardsen T, Veel T, Kirkebøen KA (2007)
Effects of preload alterations on peak early diastolic mitral annulus velocities evaluated by tissue Doppler echocardiography
Eur J Anaesthesiol, 24 (2), 159-65
DOI 10.1017/S026502150600127X, PubMed 17202014
Nasir K, Rosen BD, Kramer HJ, Edvardsen T, Bluemke DA, Liu K, Lima JA (2007)
Regional left ventricular function in individuals with mild to moderate renal insufficiency: the Multi-Ethnic Study of Atherosclerosis
Am Heart J, 153 (4), 545-51
DOI 10.1016/j.ahj.2006.12.025, PubMed 17383292
Orn S, Manhenke C, Anand IS, Squire I, Nagel E, Edvardsen T, Dickstein K (2007)
Effect of left ventricular scar size, location, and transmurality on left ventricular remodeling with healed myocardial infarction
Am J Cardiol, 99 (8), 1109-14
DOI 10.1016/j.amjcard.2006.11.059, PubMed 17437737
Pettersen E, Helle-Valle T, Edvardsen T, Lindberg H, Smith HJ, Smevik B, Smiseth OA, Andersen K (2007)
Contraction pattern of the systemic right ventricle shift from longitudinal to circumferential shortening and absent global ventricular torsion
J Am Coll Cardiol, 49 (25), 2450-6
DOI 10.1016/j.jacc.2007.02.062, PubMed 17599609
Pettersen E, Lindberg H, Smith HJ, Smevik B, Edvardsen T, Smiseth OA, Andersen K (2007)
Left ventricular function in patients with transposition of the great arteries operated with atrial switch
Pediatr Cardiol, 29 (3), 597-603
DOI 10.1007/s00246-007-9156-1, PubMed 18040733
Rosen BD, Cushman M, Nasir K, Bluemke DA, Edvardsen T, Fernandes V, Lai S, Tracy RP, Lima JA (2007)
Relationship between C-reactive protein levels and regional left ventricular function in asymptomatic individuals: the Multi-Ethnic Study of Atherosclerosis
J Am Coll Cardiol, 49 (5), 594-600
DOI 10.1016/j.jacc.2006.09.040, PubMed 17276184
Vartdal T, Brunvand H, Pettersen E, Smith HJ, Lyseggen E, Helle-Valle T, Skulstad H, Ihlen H, Edvardsen T (2007)
Early prediction of infarct size by strain Doppler echocardiography after coronary reperfusion
J Am Coll Cardiol, 49 (16), 1715-21
DOI 10.1016/j.jacc.2006.12.047, PubMed 17448374
Vinge LE, von Lueder TG, Aasum E, Qvigstad E, Gravning JA, How OJ, Edvardsen T, Bjørnerheim R, Ahmed MS, Mikkelsen BW, Oie E, Attramadal T, Skomedal T, Smiseth OA, Koch WJ, Larsen TS, Attramadal H (2007)
Cardiac-restricted expression of the carboxyl-terminal fragment of GRK3 Uncovers Distinct Functions of GRK3 in regulation of cardiac contractility and growth: GRK3 controls cardiac alpha1-adrenergic receptor responsiveness
J Biol Chem, 283 (16), 10601-10
DOI 10.1074/jbc.M708912200, PubMed 18165681
Publications 2006
Amundsen BH, Helle-Valle T, Edvardsen T, Torp H, Crosby J, Lyseggen E, Støylen A, Ihlen H, Lima JA, Smiseth OA, Slørdahl SA (2006)
Noninvasive myocardial strain measurement by speckle tracking echocardiography: validation against sonomicrometry and tagged magnetic resonance imaging
J Am Coll Cardiol, 47 (4), 789-93
DOI 10.1016/j.jacc.2005.10.040, PubMed 16487846
Brunvand H, Kongsgård E, Edvardsen T, Simonsen S, Pedersen TH, Karlsen HM, Geiran O (2006)
[Treatment of cardiac failure with an intra-aortic balloon pump]
Tidsskr Nor Laegeforen, 126 (16), 2104-6
PubMed 16932779
Børke WB, Edvardsen T, Fugelseth D, Lenes K, Ihlen H, Saugstad OD, Thaulow E (2006)
Reduced left ventricular function in hypoxemic newborn pigs: a strain Doppler echocardiographic study
Pediatr Res, 59 (5), 630-5
DOI 10.1203/01.pdr.0000214846.00318.36, PubMed 16627872
Edvardsen T, Helle-Valle T, Smiseth OA (2006)
Systolic dysfunction in heart failure with normal ejection fraction: speckle-tracking echocardiography
Prog Cardiovasc Dis, 49 (3), 207-14
DOI 10.1016/j.pcad.2006.08.008, PubMed 17084180
Edvardsen T, Rosen BD, Pan L, Jerosch-Herold M, Lai S, Hundley WG, Sinha S, Kronmal RA, Bluemke DA, Lima JA (2006)
Regional diastolic dysfunction in individuals with left ventricular hypertrophy measured by tagged magnetic resonance imaging--the Multi-Ethnic Study of Atherosclerosis (MESA)
Am Heart J, 151 (1), 109-14
DOI 10.1016/j.ahj.2005.02.018, PubMed 16368301
Eldadah ZA, Rosen B, Hay I, Edvardsen T, Jayam V, Dickfeld T, Meininger GR, Judge DP, Hare J, Lima JB, Calkins H, Berger RD (2006)
The benefit of upgrading chronically right ventricle-paced heart failure patients to resynchronization therapy demonstrated by strain rate imaging
Heart Rhythm, 3 (4), 435-42
DOI 10.1016/j.hrthm.2005.12.003, PubMed 16567291
Fernandes VR, Polak JF, Edvardsen T, Carvalho B, Gomes A, Bluemke DA, Nasir K, O'Leary DH, Lima JA (2006)
Subclinical atherosclerosis and incipient regional myocardial dysfunction in asymptomatic individuals: the Multi-Ethnic Study of Atherosclerosis (MESA)
J Am Coll Cardiol, 47 (12), 2420-8
DOI 10.1016/j.jacc.2005.12.075, PubMed 16781369
Rosen BD, Lima JA, Nasir K, Edvardsen T, Folsom AR, Lai S, Bluemke DA, Jerosch-Herold M (2006)
Lower myocardial perfusion reserve is associated with decreased regional left ventricular function in asymptomatic participants of the multi-ethnic study of atherosclerosis
Circulation, 114 (4), 289-97
DOI 10.1161/CIRCULATIONAHA.105.588525, PubMed 16847154
Rosen BD, Saad MF, Shea S, Nasir K, Edvardsen T, Burke G, Jerosch-Herold M, Arnett DK, Lai S, Bluemke DA, Lima JA (2006)
Hypertension and smoking are associated with reduced regional left ventricular function in asymptomatic: individuals the Multi-Ethnic Study of Atherosclerosis
J Am Coll Cardiol, 47 (6), 1150-8
DOI 10.1016/j.jacc.2005.08.078, PubMed 16545644
Skulstad H, Urheim S, Edvardsen T, Andersen K, Lyseggen E, Vartdal T, Ihlen H, Smiseth OA (2006)
Grading of myocardial dysfunction by tissue Doppler echocardiography: a comparison between velocity, displacement, and strain imaging in acute ischemia
J Am Coll Cardiol, 47 (8), 1672-82
DOI 10.1016/j.jacc.2006.01.051, PubMed 16631008
Publications 2005
Azevedo CF, Amado LC, Kraitchman DL, Gerber BL, Edvardsen T, Osman NF, Rochitte CE, Wu KC, Lima JA (2005)
The effect of intra-aortic balloon counterpulsation on left ventricular functional recovery early after acute myocardial infarction: a randomized experimental magnetic resonance imaging study
Eur Heart J, 26 (12), 1235-41
DOI 10.1093/eurheartj/ehi137, PubMed 15716282
Edvardsen T, Detrano R, Rosen BD, Carr JJ, Liu K, Lai S, Shea S, Pan L, Bluemke DA, Lima JA (2005)
Coronary artery atherosclerosis is related to reduced regional left ventricular function in individuals without history of clinical cardiovascular disease: the Multiethnic Study of Atherosclerosis
Arterioscler Thromb Vasc Biol, 26 (1), 206-11
DOI 10.1161/01.ATV.0000194077.23234.ae, PubMed 16269666
Edvardsen T, Rodevand O, Endresen K, Ihlen H (2005)
Interaction between left ventricular wall motion and intraventricular flow propagation in acute and chronic ischemia
Am J Physiol Heart Circ Physiol, 289 (2), H732-7
DOI 10.1152/ajpheart.00821.2004, PubMed 15849233
Edvardsen T, Rosen BD (2005)
Why do we need magnetic resonance imaging in cardiology?
Scand Cardiovasc J, 39 (5), 260-3
DOI 10.1080/14017430500405015, PubMed 16269394
Helle-Valle T, Crosby J, Edvardsen T, Lyseggen E, Amundsen BH, Smith HJ, Rosen BD, Lima JA, Torp H, Ihlen H, Smiseth OA (2005)
New noninvasive method for assessment of left ventricular rotation: speckle tracking echocardiography
Circulation, 112 (20), 3149-56
DOI 10.1161/CIRCULATIONAHA.104.531558, PubMed 16286606
Rosen BD, Edvardsen T, Lai S, Castillo E, Pan L, Jerosch-Herold M, Sinha S, Kronmal R, Arnett D, Crouse JR, Heckbert SR, Bluemke DA, Lima JA (2005)
Left ventricular concentric remodeling is associated with decreased global and regional systolic function: the Multi-Ethnic Study of Atherosclerosis
Circulation, 112 (7), 984-91
DOI 10.1161/CIRCULATIONAHA104.500488, PubMed 16103253
Publications 2004
Azevedo CF, Amado LC, Kraitchman DL, Gerber BL, Osman NF, Rochitte CE, Edvardsen T, Lima JA (2004)
Persistent diastolic dysfunction despite complete systolic functional recovery after reperfused acute myocardial infarction demonstrated by tagged magnetic resonance imaging
Eur Heart J, 25 (16), 1419-27
DOI 10.1016/j.ehj.2004.06.024, PubMed 15321700
Gullestad L, Myers J, Edvardsen T, Kjekshus J, Geiran O, Simonsen S (2004)
Predictors of exercise capacity and the impact of angiographic coronary artery disease in heart transplant recipients
Am Heart J, 147 (1), 49-54
DOI 10.1016/j.ahj.2003.07.013, PubMed 14691418
Rosen BD, Gerber BL, Edvardsen T, Castillo E, Amado LC, Nasir K, Kraitchman DL, Osman NF, Bluemke DA, Lima JA (2004)
Late systolic onset of regional LV relaxation demonstrated in three-dimensional space by MRI tissue tagging
Am J Physiol Heart Circ Physiol, 287 (4), H1740-6
DOI 10.1152/ajpheart.00080.2004, PubMed 15205167
Skulstad H, Andersen K, Edvardsen T, Rein KA, Tønnessen TI, Hol PK, Fosse E, Ihlen H (2004)
Detection of ischemia and new insight into left ventricular physiology by strain Doppler and tissue velocity imaging: assessment during coronary bypass operation of the beating heart
J Am Soc Echocardiogr, 17 (12), 1225-33
DOI 10.1016/j.echo.2004.07.014, PubMed 15562259
von Lueder TG, Kjekshus H, Edvardsen T, ØIe E, Urheim S, Vinge LE, Ahmed MS, Smiseth OA, Attramadal H (2004)
Mechanisms of elevated plasma endothelin-1 in CHF: congestion increases pulmonary synthesis and secretion of endothelin-1
Cardiovasc Res, 63 (1), 41-50
DOI 10.1016/j.cardiores.2004.03.016, PubMed 15194460
Publications 2003
Smiseth OA, Edvardsen T, Gerber BL, Garot J, Bluemke DA, Lima JAC (2003)
Doppler strain rate echocardiography versus magnetic resonance imaging - Response
Circulation, 107 (3), E23
Smiseth OA, Edvardsen T, Gerber BL, Garot J, Bluemke DA, Lima JAC (2003)
Quantitative assessment of intrinsic regional myocardial deformation by Doppler strain rate echocardiography in humans - Response
Circulation, 107 (7), E49
Urheim S, Edvardsen T, Steine K, Skulstad H, Lyseggen E, Rodevand O, Smiseth OA (2003)
Postsystolic shortening of ischemic myocardium: a mechanism of abnormal intraventricular filling
Am J Physiol Heart Circ Physiol, 284 (6), H2343-50
DOI 10.1152/ajpheart.00320.2002, PubMed 12574003
Publications 2002
Edvardsen T (2002)
Assessment of regional myocardial function by tissue Doppler and strain Doppler echocardiography
In Hjerteforum, Supplement, Norsk cardiologisk selskap, Oslo, 5, 2002, 82 s.
BIBSYS 022840222
Edvardsen T, Gerber BL, Garot J, Bluemke DA, Lima JA, Smiseth OA (2002)
Quantitative assessment of intrinsic regional myocardial deformation by Doppler strain rate echocardiography in humans: validation against three-dimensional tagged magnetic resonance imaging
Circulation, 106 (1), 50-6
DOI 10.1161/01.cir.0000019907.77526.75, PubMed 12093769
Edvardsen T, Urheim S, Skulstad H, Steine K, Ihlen H, Smiseth OA (2002)
Quantification of left ventricular systolic function by tissue Doppler echocardiography: added value of measuring pre- and postejection velocities in ischemic myocardium
Circulation, 105 (17), 2071-7
DOI 10.1161/01.cir.0000014614.63980.ba, PubMed 11980687
Skulstad H, Edvardsen T, Urheim S, Rabben SI, Stugaard M, Lyseggen E, Ihlen H, Smiseth OA (2002)
Postsystolic shortening in ischemic myocardium: active contraction or passive recoil?
Circulation, 106 (6), 718-24
DOI 10.1161/01.cir.0000024102.55150.b6, PubMed 12163433
Publications 2001
Edvardsen T (2001)
Myocardial function in ischemic heart disease - Reply
J. Am. Soc. Echocardiogr., 14 (5), 414
DOI 10.1067/mje.2001.114393
Edvardsen T, Skulstad H, Aakhus S, Urheim S, Ihlen H (2001)
Regional myocardial systolic function during acute myocardial ischemia assessed by strain Doppler echocardiography
J Am Coll Cardiol, 37 (3), 726-30
DOI 10.1016/s0735-1097(00)01160-8, PubMed 11693743
Publications 2000
Edvardsen T, Aakhus S, Endresen K, Bjomerheim R, Smiseth OA, Ihlen H (2000)
Acute regional myocardial ischemia identified by 2-dimensional multiregion tissue Doppler imaging technique
J Am Soc Echocardiogr, 13 (11), 986-94
DOI 10.1067/mje.2000.108466, PubMed 11093100
Urheim S, Edvardsen T, Torp H, Angelsen B, Smiseth OA (2000)
Myocardial strain by Doppler echocardiography. Validation of a new method to quantify regional myocardial function
Circulation, 102 (10), 1158-64
DOI 10.1161/01.cir.102.10.1158, PubMed 10973846
Publications 1999
Edvardsen T, Rodevand O, Aakhus S, Bjornerheim R, Ihlen H (1999)
Reversal of intraventricular flow propagation during isovolumic relaxation: A marker of anterior wall dysfunction
J Am Soc Echocardiogr, 12 (10), 801-10
DOI 10.1016/s0894-7317(99)70184-7, PubMed 10511648
Rodevand O, Bjornerheim R, Edvardsen T, Smiseth OA, Ihlen H (1999)
Diastolic flow pattern in the normal left ventricle
J Am Soc Echocardiogr, 12 (6), 500-7
DOI 10.1016/s0894-7317(99)70087-8, PubMed 10359922