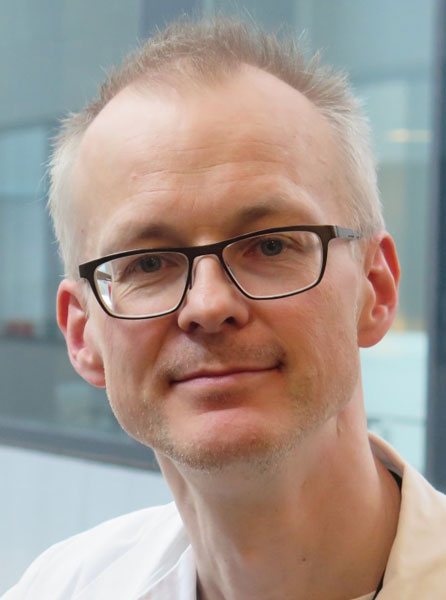 Eystein Skjølsvik
Consultant cardiologist; MD, PhD
Eystein Theodor Ek Skjølsvik, MD, PhD fellow, Specialist in Internal Medicine and Cardiology, Department of Cardiology, Rikshospitalet, Oslo University Hospital.
Skjølsviks PhD research is titled "Impact of exercise on myocardial function and ventricular arrhythmias in patients with cardiomyopathies" and "risk markers for sudden cardiac death in patients with valvular heart disease".
Supervisors are: Associate Professor Kristina Hermann Haugaa, MD, PhD and Professor Thor Edvardsen, MD, PhD.
Publications 2022
Castrini AI, Skjølsvik E, Estensen ME, Almaas VM, Skulstad H, Lyseggen E, Edvardsen T, Lie ØH, Picard KCI, Lakdawala NK, Haugaa KH (2022)
Pregnancy and Progression of Cardiomyopathy in Women With LMNA Genotype-Positive
J Am Heart Assoc, 11 (8), e024960
DOI 10.1161/JAHA.121.024960, PubMed 35434999
Publications 2019
Scheirlynck E, Dejgaard LA, Skjølsvik E, Lie OH, Motoc A, Hopp E, Tanaka K, Ueland T, Ribe M, Collet C, Edvardsen T, Droogmans S, Cosyns B, Haugaa KH (2019)
Increased levels of sST2 in patients with mitral annulus disjunction and ventricular arrhythmias
Open Heart, 6 (1), e001016
DOI 10.1136/openhrt-2019-001016, PubMed 31168386
Publications 2015
Almdahl SM, Valkov A, Skjølsvik E, Bekkelund SI (2015)
[Sea anemone tumor]
Tidsskr Nor Laegeforen, 135 (2), 143
DOI 10.4045/tidsskr.14.1001, PubMed 25625993
Miroslawska A, Solbu M, Skjølsvik E, Toft I, Steigen TK (2015)
Renal sympathetic denervation: effect on ambulatory blood pressure and blood pressure variability in patients with treatment-resistant hypertension. The ReShape CV-risk study
J Hum Hypertens, 30 (3), 153-7
DOI 10.1038/jhh.2015.69, PubMed 26134621