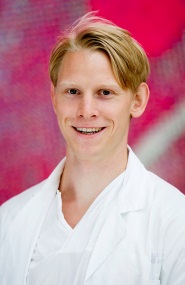 Thomas Muri Stokke
Thomas Muri Stokke, MD, PhD fellow, University of Oslo.
Stokke got his medical degree at the University of Oslo in 2016 and did his internship at Akershus University Hospital. He joined Center for Cardiological Innovation as a medical research student in 2012. Since 2017, his research has focused on assessment of left ventricular systolic function by different echocardiographic methods such as pocket-sized devices, 2D and 3D speckle tracking strain.
Supervisors are: Professor Thor Edvardsen, MD, PhD and Sebastian I. Sarvari, MD, PhD.
Publications 2021
Bjerring AW, Fosså SD, Haugnes HS, Nome R, Stokke TM, Haugaa KH, Kiserud CE, Edvardsen T, Sarvari SI (2021)
The cardiac impact of cisplatin-based chemotherapy in survivors of testicular cancer: a 30-year follow-up
Eur Heart J Cardiovasc Imaging, 22 (4), 443-450
DOI 10.1093/ehjci/jeaa289, PubMed 33152065
Publications 2019
Bjerring AW, Landgraff HE, Stokke TM, Murbræch K, Leirstein S, Aaeng A, Brun H, Haugaa KH, Hallén J, Edvardsen T, Sarvari SI (2019)
The developing athlete's heart: a cohort study in young athletes transitioning through adolescence
Eur J Prev Cardiol, 26 (18), 2001-2008
DOI 10.1177/2047487319862061, PubMed 31284749
Publications 2018
Bjerring AW, Landgraff HE, Leirstein S, Aaeng A, Ansari HZ, Saberniak J, Murbræch K, Bruun H, Stokke TM, Haugaa KH, Hallén J, Edvardsen T, Sarvari SI (2018)
Morphological changes and myocardial function assessed by traditional and novel echocardiographic methods in preadolescent athlete's heart
Eur J Prev Cardiol, 25 (9), 1000-1007
DOI 10.1177/2047487318776079, PubMed 29785884
Stokke TM, Hasselberg NE, Smedsrud MK, Sarvari SI, Haugaa KH, Smiseth OA, Edvardsen T, Remme EW (2018)
Reply: Interaction Between Longitudinal, Circumferential, and Radial Deformations and Their Contributions to Ejection Fraction
J Am Coll Cardiol, 71 (2), 257-258
DOI 10.1016/j.jacc.2017.10.090, PubMed 29325649
Stokke TM, Haugaa KH, Smiseth OA, Edvardsen T, Remme EW (2018)
Reply: Left Ventricular Twist: An Often Ignored But Crucial Determinant of Left Ventricular Function
J Am Coll Cardiol, 71 (5), 584-585
DOI 10.1016/j.jacc.2017.12.002, PubMed 29406870
Publications 2017
Ruddox V, Norum IB, Stokke TM, Edvardsen T, Otterstad JE (2017)
Focused cardiac ultrasound by unselected residents-the challenges
BMC Med Imaging, 17 (1), 22
DOI 10.1186/s12880-017-0191-y, PubMed 28259149
Sarvari SI, Sitges M, Sanz M, Tolosana Viu JM, Edvardsen T, Stokke TM, Mont L, Bijnens B (2017)
Left ventricular dysfunction is related to the presence and extent of a septal flash in patients with right ventricular pacing
Europace, 19 (2), 289-296
DOI 10.1093/europace/euw020, PubMed 28175277
Stokke TM, Hasselberg NE, Smedsrud MK, Sarvari SI, Haugaa KH, Smiseth OA, Edvardsen T, Remme EW (2017)
Geometry as a Confounder When Assessing Ventricular Systolic Function: Comparison Between Ejection Fraction and Strain
J Am Coll Cardiol, 70 (8), 942-954
DOI 10.1016/j.jacc.2017.06.046, PubMed 28818204
Publications 2015
Sarvari SI, Haugaa KH, Stokke TM, Ansari HZ, Leren IS, Hegbom F, Smiseth OA, Edvardsen T (2015)
Strain echocardiographic assessment of left atrial function predicts recurrence of atrial fibrillation
Eur Heart J Cardiovasc Imaging, 17 (6), 660-7
DOI 10.1093/ehjci/jev185, PubMed 26219297
Publications 2014
Stokke TM, Ruddox V, Sarvari SI, Otterstad JE, Aune E, Edvardsen T (2014)
Brief group training of medical students in focused cardiac ultrasound may improve diagnostic accuracy of physical examination
J Am Soc Echocardiogr, 27 (11), 1238-46
DOI 10.1016/j.echo.2014.08.001, PubMed 25216765
Publications 2013
Ruddox V, Stokke TM, Edvardsen T, Hjelmesæth J, Aune E, Bækkevar M, Norum IB, Otterstad JE (2013)
The diagnostic accuracy of pocket-size cardiac ultrasound performed by unselected residents with minimal training
Int J Cardiovasc Imaging, 29 (8), 1749-57
DOI 10.1007/s10554-013-0278-7, PubMed 23974908