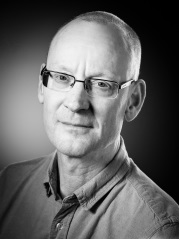 Jørg Saberniak
Associated researcher; MD, PhD
Jørg Saberniak, MD, PhD, Certified Cpecialist in Internal Medicine and Cardiology, Consultant Cardiologist, Akershus University Hospital

Doctor and researcher Saberniak defended his PhD thesis "Arrhythmogenic right ventricular cardiomyopathy (ARVC) - Impact of exercise on cardiac outcome, differential diagnoses and risk stratification of arrhythmic events" in October 2017.
He focused on investigating arrhythmogenic right ventricular cardiomyopathy (ARVC) and right ventricular outflow tract ventricular tachycardia (RVOT-VT), together with his fellow researchers with main results:
- Too much exercise may accelerate and aggravate cardiac dysfunction in patients and mutation-positive family members with ARVC.
- Electric parameters, echocardiography and cardiac MR are useful tools to improve the diagnosis of early ARVC, distinguishing ARVC from the benign condition RVOT-VT.
- Identification of early ARVC patients with severe arrhythmias can be improved by combining electrical and echocardiographic parameters.
Dr. Saberniak won the Oslo University Hospital prize for an outstanding research article in 2014 for the publication of the first study which was also featured on unikard.org. Dr. Saberniak has also been interviewed by Unikard in regards ARVC and RVOT-VT and the research around these diseases. He won two prizes for high quality poster presentations at EuroEcho-Imaging congress in Istanbul in 2013 and in Wien in 2014. Furthermore he had oral presentations at the Heart Rhythm congress in Denver, USA in 2013, at the ACC congress in Washington, USA in 2014 and at the EuroEcho-Imaging congress in Sevilla, Spain in 2015.
His supervisors were Associate Professor Kristina Hermann Haugaa, MD, PhD and Professor Thor Edvardsen, MD, PhD.
Publications 2023
Saberniak J, Skrebelyte-Strøm L, Orstad EB, Hilde JM, Solberg MG, Rønning OM, Kjekshus H, Steine K (2023)
Left atrial appendage strain predicts subclinical atrial fibrillation in embolic strokes of undetermined source
Eur Heart J Open, 3 (3), oead039
DOI 10.1093/ehjopen/oead039, PubMed 37180468
Publications 2022
Larsen CK, Galli E, Duchenne J, Aalen JM, Stokke C, Fjeld JG, Degtiarova G, Claus P, Gheysens O, Saberniak J, Sirnes PA, Lyseggen E, Bogaert J, Kongsgaard E, Penicka M, Voigt JU, Donal E, Hopp E, Smiseth OA (2022)
Scar imaging in the dyssynchronous left ventricle: Accuracy of myocardial metabolism by positron emission tomography and function by echocardiographic strain
Int J Cardiol, 372, 122-129
DOI 10.1016/j.ijcard.2022.11.042, PubMed 36460211
Publications 2018
Bjerring AW, Landgraff HE, Leirstein S, Aaeng A, Ansari HZ, Saberniak J, Murbræch K, Bruun H, Stokke TM, Haugaa KH, Hallén J, Edvardsen T, Sarvari SI (2018)
Morphological changes and myocardial function assessed by traditional and novel echocardiographic methods in preadolescent athlete's heart
Eur J Prev Cardiol, 25 (9), 1000-1007
DOI 10.1177/2047487318776079, PubMed 29785884
Hasselberg NE, Haland TF, Saberniak J, Brekke PH, Berge KE, Leren TP, Edvardsen T, Haugaa KH (2018)
Lamin A/C cardiomyopathy: young onset, high penetrance, and frequent need for heart transplantation
Eur Heart J, 39 (10), 853-860
DOI 10.1093/eurheartj/ehx596, PubMed 29095976
Lie ØH, Dejgaard LA, Saberniak J, Rootwelt C, Stokke MK, Edvardsen T, Haugaa KH (2018)
Harmful Effects of Exercise Intensity and Exercise Duration in Patients With Arrhythmogenic Cardiomyopathy
JACC Clin Electrophysiol, 4 (6), 744-753
DOI 10.1016/j.jacep.2018.01.010, PubMed 29929667
Saberniak J (2018)
[Not Available]
Tidsskr Nor Laegeforen, 138 (6)
DOI 10.4045/tidsskr.17.1066, PubMed 29557132
Saberniak J (2018)
Arrhythmogenic right ventricular cardiomyopathy
Tidsskr. Nor. Laegeforen., 138 (6), 540
Publications 2017
Broch K, Leren IS, Saberniak J, Ueland T, Edvardsen T, Gullestad L, Haugaa KH (2017)
Soluble ST2 is associated with disease severity in arrhythmogenic right ventricular cardiomyopathy
Biomarkers, 22 (3-4), 367-371
DOI 10.1080/1354750X.2016.1278266, PubMed 28067540
Haland TF, Hasselberg NE, Almaas VM, Dejgaard LA, Saberniak J, Leren IS, Berge KE, Haugaa KH, Edvardsen T (2017)
The systolic paradox in hypertrophic cardiomyopathy
Open Heart, 4 (1), e000571
DOI 10.1136/openhrt-2016-000571, PubMed 28674623
Leren IS, Saberniak J, Haland TF, Edvardsen T, Haugaa KH (2017)
Combination of ECG and Echocardiography for Identification of Arrhythmic Events in Early ARVC
JACC-Cardiovasc. Imag., 10 (5), 504-513
Lie ØH, Saberniak J, Dejgaard LA, Stokke MK, Hegbom F, Anfinsen OG, Edvardsen T, Haugaa KH (2017)
Lower than expected burden of premature ventricular contractions impairs myocardial function
ESC Heart Fail, 4 (4), 585-594
DOI 10.1002/ehf2.12180, PubMed 29154430
Orstavik K, Garfelt B, Leren TP, Saberniak J, Haugaa K, Jonsrud C (2017)
A 50 year old man with proximal power failure and heart disease
Tidsskr. Nor. Laegeforen., 137 (16), 1206-1209
Ørstavik K, Garfelt B, Leren TP, Saberniak J, Haugaa K, Jonsrud C (2017)
[A 50-year-old man with proximal pareses and heart disease]
Tidsskr Nor Laegeforen, 137 (16)
DOI 10.4045/tidsskr.16.0789, PubMed 28871726
Publications 2016
Haland TF, Almaas VM, Hasselberg NE, Saberniak J, Leren IS, Hopp E, Edvardsen T, Haugaa KH (2016)
Strain echocardiography is related to fibrosis and ventricular arrhythmias in hypertrophic cardiomyopathy
Eur Heart J Cardiovasc Imaging, 17 (6), 613-21
DOI 10.1093/ehjci/jew005, PubMed 26873460
Haland TF, Saberniak J, Leren IS, Edvardsen T, Haugaa KH (2016)
Echocardiographic comparison between left ventricular non-compaction and hypertrophic cardiomyopathy
Int J Cardiol, 228, 900-905
DOI 10.1016/j.ijcard.2016.11.162, PubMed 27894062
Leren IS, Saberniak J, Haland TF, Edvardsen T, Haugaa KH (2016)
Combination of ECG and Echocardiography for Identification of Arrhythmic Events in Early ARVC
JACC Cardiovasc Imaging, 10 (5), 503-513
DOI 10.1016/j.jcmg.2016.06.011, PubMed 27771401
McLeod K, Wall S, Leren IS, Saberniak J, Haugaa KH (2016)
Ventricular structure in ARVC: going beyond volumes as a measure of risk
J Cardiovasc Magn Reson, 18 (1), 73
DOI 10.1186/s12968-016-0291-9, PubMed 27756409
Saberniak J, Leren IS, Haland TF, Beitnes JO, Hopp E, Borgquist R, Edvardsen T, Haugaa KH (2016)
Comparison of patients with early-phase arrhythmogenic right ventricular cardiomyopathy and right ventricular outflow tract ventricular tachycardia
Eur Heart J Cardiovasc Imaging, 18 (1), 62-69
DOI 10.1093/ehjci/jew014, PubMed 26903598
Publications 2015
Haugaa KH, Haland TF, Leren IS, Saberniak J, Edvardsen T (2015)
Arrhythmogenic right ventricular cardiomyopathy, clinical manifestations, and diagnosis
Europace, 18 (7), 965-72
DOI 10.1093/europace/euv340, PubMed 26498164
Kallhovd S, Gjerald SU, Wall ST, Saberniak J, Haugaa K, Maleckar MM (2015)
Localization and not Extent of Fibrofatty Infiltration is the Primary Factor Determining Conduction Disturbance in a Computational Model of Arrhythmogenic Cardiomyopathy
E-HEALTH BIOENG CONF
Leren IS, Hasselberg NE, Saberniak J, Håland TF, Kongsgård E, Smiseth OA, Edvardsen T, Haugaa KH (2015)
Cardiac Mechanical Alterations and Genotype Specific Differences in Subjects With Long QT Syndrome
JACC Cardiovasc Imaging, 8 (5), 501-510
DOI 10.1016/j.jcmg.2014.12.023, PubMed 25890583
Leren IS, Saberniak J, Majid E, Haland TF, Edvardsen T, Haugaa KH (2015)
Nadolol decreases the incidence and severity of ventricular arrhythmias during exercise stress testing compared with β1-selective β-blockers in patients with catecholaminergic polymorphic ventricular tachycardia
Heart Rhythm, 13 (2), 433-40
DOI 10.1016/j.hrthm.2015.09.029, PubMed 26432584
McLeod K, Noack M, Saberniak J, Haugaa K (2015)
Structural Abnormality Detection of ARVC Patients via Localised Distance-to-Average Mapping
LECT NOTES COMPUT SC, 8896, 177-186
DOI 10.1007/978-3-319-14678-2_18
Publications 2014
Manotheepan R, Saberniak J, Danielsen TK, Edvardsen T, Sjaastad I, Haugaa KH, Stokke MK (2014)
Effects of individualized exercise training in patients with catecholaminergic polymorphic ventricular tachycardia type 1
Am J Cardiol, 113 (11), 1829-33
DOI 10.1016/j.amjcard.2014.03.012, PubMed 24837260
Saberniak J, Hasselberg NE, Borgquist R, Platonov PG, Sarvari SI, Smith HJ, Ribe M, Holst AG, Edvardsen T, Haugaa KH (2014)
Vigorous physical activity impairs myocardial function in patients with arrhythmogenic right ventricular cardiomyopathy and in mutation positive family members
Eur J Heart Fail, 16 (12), 1337-44
DOI 10.1002/ejhf.181, PubMed 25319773
Publications 2013
Hetland A, Haugaa KH, Olseng M, Gjesdal O, Ross S, Saberniak J, Jacobsen MB, Edvardsen T (2013)
Three-month treatment with adaptive servoventilation improves cardiac function and physical activity in patients with chronic heart failure and cheyne-stokes respiration: a prospective randomized controlled trial
Cardiology, 126 (2), 81-90
DOI 10.1159/000350826, PubMed 23941739