OUS Researcher Awards 2022 Awards for excellent research to Danielsen, Fjellgård Jørgensen and Ringstad
Three Oslo University Hospital scientists received prestigous awards for their outstanding research on Friday June 10th. The major prize - the "Excellent Researcher Award" - went to Håvard Danielsen. Silje Fjellgård Jørgensen and Geir Ringstrøm both received the "Early Career Award".
The prize money - 300.000 and 150.000 NOK respectively - is earmarked for research activities.
The awards are distributed anually in order to honour excellent scientific work. The awarding process is organized by the hospital's research committee, while an external Scientific Advisory Board has evaluated the candidates.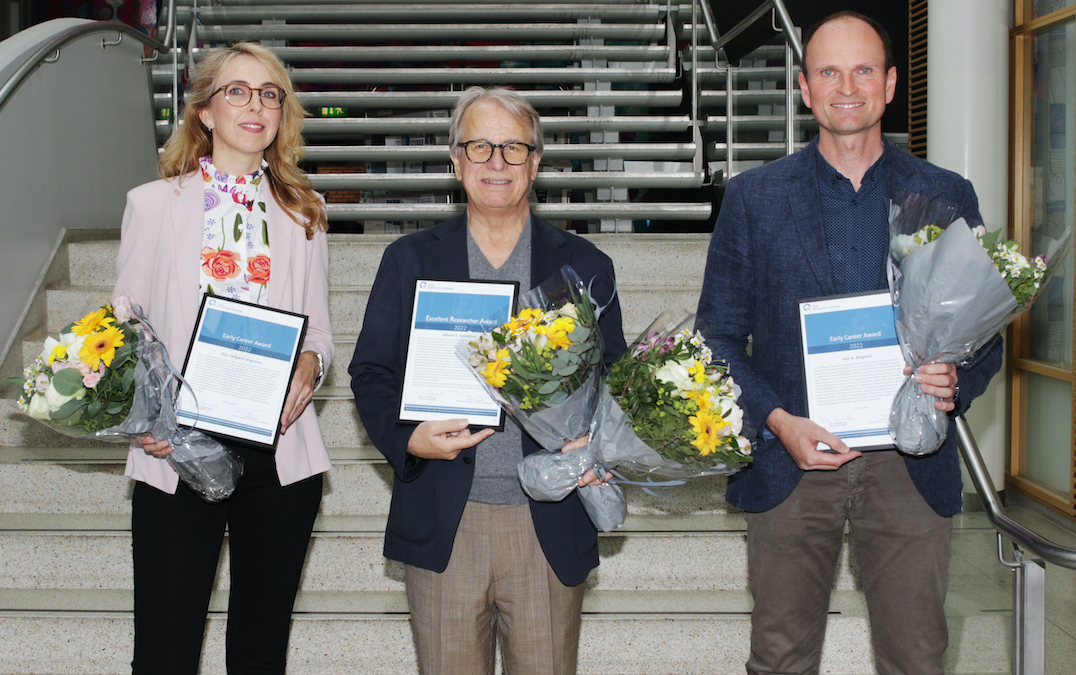 About this year's award winners:
Excellent Researcher Award
Håvard Danielsen:

Committee statement:
Håvard E. Danielsen is professor at the Institute for informatics at the University of Oslo and director for the Institute for Cancer Genetics and Informatics at Oslo University Hospital. He is a world leading researcher within artificial intelligence (AI) with regard to image-based cancer diagnostics. His main working hypothesis has been that large scale genomic instability is a driving force in cancer. In line with this, he has developed automated systems for the measurement of DNA ploidy and chromatin organization by image cytometry and published extensively within this field in high-impact journals. He has established a national diagnostic service for DNA ploidy analysis at Oslo University Hospital, where different types of cancer samples are diagnosed. During recent years Danielsen has been able to use his skills in the development of prognostic markers for outcome prediction in cancer based on deep learning and scanned tissue samples.
Danielsen has been very successful in obtaining grants for his research, notably a large grant from the Research Council of Norway ("Lighthouse project") for improved diagnostics and prognostic markers in prostatic cancer. He has established several innovative projects within virtual microscopy, medical registers and dissemination of treatment protocols and information to oncologists and patients (Oncolex and Kreftlex), work station for DNA analysis and image analysis by deep learning. This has resulted in a number of patents and several innovation companies. Danielsen has created a multidisciplinary environment at the University of Oslo/Oslo University Hospital consisting of biologists, clinicians and computer scientists. This is linked to a large international network with a close collaboration with the University of Oxford where he holds a visiting professorship.
Håvard E. Danielsen is an outstanding scientist and leader within his field and has contributed substantially to strengthening of the research environment at Oslo University Hospital.
Håvard Danielsen's publications
Institute for Cancer Genetics and Informatics
---
Early Career Awards:
Silje Fjellgård Jørgensen
Committe statement:

Silje Fjellgård Jørgensen got her PhD in 2017 at the University of Oslo and is now 50% postdoctoral fellow at the Institute of Internal Medicine and 50% consultant at the Section of Clinical Immunology and Infectious Diseases at Oslo University Hospital. She has made important contributions to our understanding of the interactions between gut microbiota, the intestinal wall and peripheral blood in relation to immunological, inflammatory and metabolic disturbances in patients with primary immunodeficiency. In particular, she has studied the disease common variable immunodeficiency (CVID). Jørgensen has made seminal contributions to the genetics of this disease, as well as on the involvement of the gastrointestinal tract and the microbiota. Jørgensen has an excellent publication record. She has established a large biobank of samples from CVID patients, is part of a strong international network and has formed a large network of scientists at Oslo University Hospital focusing on gut microbiota, immunodeficiency and systemic inflammation.
Silje Fjellgård Jørgensen's publications
Home page of the Clinical immunology and infectious diseases research group, headed by Børre Fevang
Research Institute of Internal Medicine (RIIM)
---
Geir Ringstad
Committe statement:
Geir Ringstad defended his thesis in 2018 at the University of Oslo. He is now Head of the Neuroimaging Research Group at Oslo University Hospital. Ringstad has performed pioneering research using intrathecal injection of tracers and MRI to assess brain and dural lymphatic molecular clearance. He has provided the first clear evidence in vivo in humans of a direct communication and transport of non-water, larger molecules between the cerebrospinal fluid-filled spaces outside the brain and the entire brain parenchyma. He has further shown efflux of neurofluids to the parasagittal dura, providing novel insight into normal brain physiology with relevance for immune surveillance. He has also shown that sleep deprivation impairs molecular clearance from the brain, with potential implications for neurodegeneration and other brain pathologies. Ringstad has an impressive list of publications and is uniquely positioned to address the potential relevance of neurofluid biology across a wide range of brain pathologies.
Geir Ringstad's publications
Neuroimaging Research Group research group, headed by Geir Ringstad
Division of Radiology and Nuclear Medicine
---
Link:
News article from oslo-universitetssykehus.no, where the award winners answer questions about their current research and how their findings may be of benefit for patients (text partly in Norwegian):
Priser til fremragende forskere ved Oslo Universitetssykehus (from www.oslo-universitetssykehus.no)
---
Previous award winners:
(click on year to read more)
Year

Excellent Researcher Award

Early Career Award (alphabetically listed)

Ragnhild A. Lothe

Marina Vietri
Lasse Pihlstrøm

Michael Bretthauer

Anna Hoffmann-Vold
Olav Kristianslund

Ole A. Andreassen

Mette Kalager
Anita Sveen

Arne Klungland

Kristina H. Haugaa
Lars Tjelta Westlye

Kirsten Sandvig

Johannes Espolin Roksund Hov

Tor Paaske Utheim

Pål Aukrust

Espen Melum

Therese Seierstad

Anne-Lise Børresen-Dale

Jan Terje Andersen

John Arne Dahl

Ludvig M. Sollid

Harald Stenmark

Guro Lind

Tom Hemming Karlsen