PANCAIM: A European consortium to improve pancreatic cancer treatment with artificial intelligence optimizing, integrating genomics and medical imaging

Pancreatic cancer is often quickly fatal, and the incidence is rising. These cancer patients face the lowest survival of all cancers in Europe (median survival time 4.6 months). Europe has the highest incidence of pancreatic cancer, with 150 000 new cases in 2018 and 95 000 deaths/year and worldwide, half a million deaths. The trend is that it will soon become the second leading cause of cancer-related death in Western societies. Potential new treatments are emerging, but the main challenge is to select the right drug for an individual patient.
PANCAIM will optimize and integrate genomics and imaging phenomics using artificial intelligence (AI). Firstly, to help generate breakthrough knowledge to increase understanding of pancreas cancer biology. Secondly, to develop trusted, impactful AI applications for regular clinical use. The aim is to help clinical decision-makers to give the right treatment to the right patients at the right time. The aimed effect is to improve treatment outcomes of pancreas cancer patients avoiding the current costly trial-and-error use of expensive drugs with strong side-effects.
PANCAIM builds on four key concepts of AI in Healthcare: clinical expertise and high amounts of carefully documented data, AI experts, and MedTech companies to collect the data and bring AI to healthcare. Six top-expert clinical partners provide eleven Pan European repositories of almost 6000 patients open to ongoing accrual. These clinical centers treat more than 2,000 PDAC cases each year.


The PANCAIM project was granted >8 M€ where >1 M€ was granted OUS.
| | |
| --- | --- |
| Project partner | Country |
| RADBOUD UNIVERSITY MEDICAL CENTRE | Netherlands |
| KAROLINSKA INSTITUTET | Sweden |
| OSLO UNIVERSITETSSYKEHUS HF | Norway |
| FUNDACION CENTRO NACIONAL DE INVESTIGACIONES ONCOLOGICAS CARLOS III | Spain |
| UNIVERSITY OF GLASGOW | United Kingdom |
| COLLECTIVE MINDS RADIOLOGY AB | Sweden |
| SIEMENS HEALTHCARE GMBH | Germany |
| THE HYVE BV | Netherlands |
| AMIRES SRO | Czech Republic |
Project duration: 1st of January 2021 – 31st of December 2024
| | | |
| --- | --- | --- |
| Contact persons: | Coordinator: | Project Manager: |
| Name | Dr. Henkjan Huisman | Kristina Nehilčová |
| Organisation | RADBOUD UNIVERSITY MEDICAL CENTRE | AMIres |
| Email | Henkjan.Huisman@radboudumc.nl | nehilcova@amires.eu |
This project has received funding from the European Union's Horizon 2020 research and innovation programme under grant agreement n°101016851.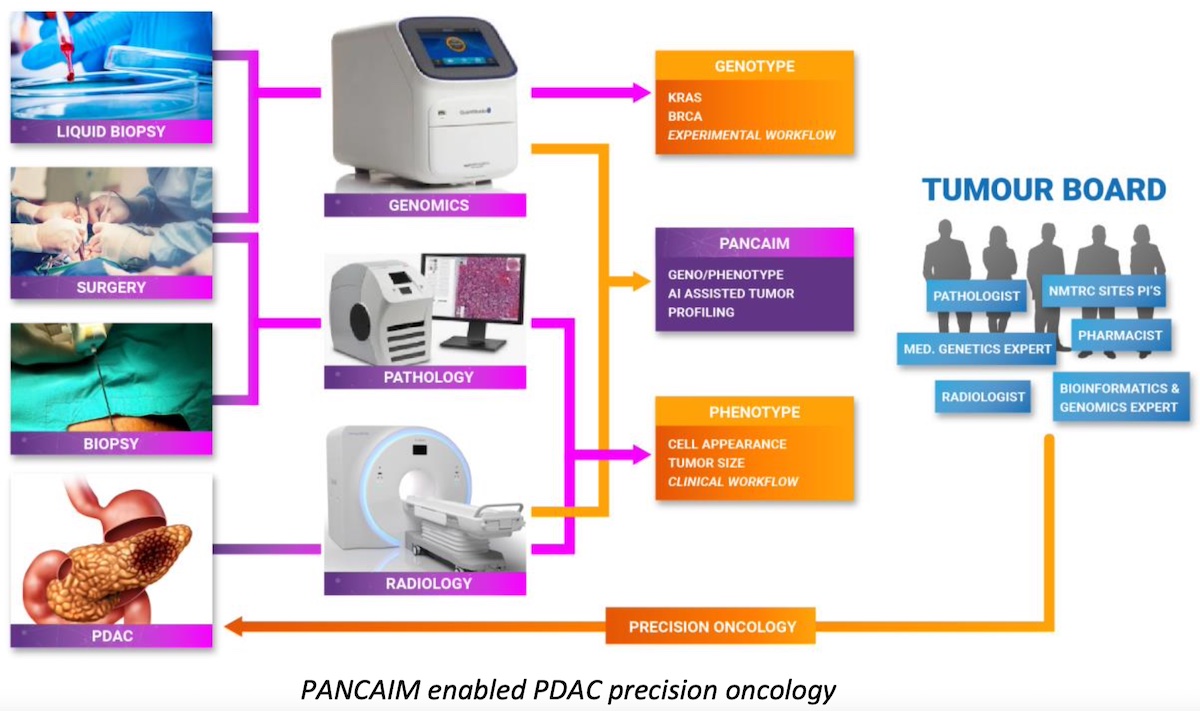 Links:
Download press release (PDF format):
PANCAIM: A European consortium to improve pancreatic cancer treatment with artificial intelligence optimizing, integrating genomics and medical imaging
PANCAIM home page - pancaim.eu
The PANCAIMs OUS team:
From Department of Cancer Genetics, Institute for Cancer Research:
Prof. Tero Aittokallio (AI modeling)
Prof. Elin H. Kure (-omics, Liquid biopsies)
Gry A. Geitvik (Laboratory infrastructure)
From Department of Pathology:
Prof. Caroline Verbeke (Pathology)
Department of Hepatic, Gastrointestinal and Paediatric Surgery:
Prof. Knut Jørgen Labori (Clinical data)