Bicycling the whole of Norway and gathering funds for the Norwegian Cancer Society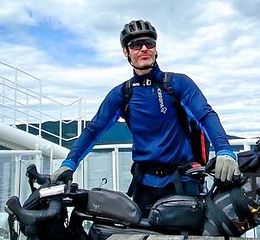 Summer letter from Jarle Bruun, scientist from the Lothe group at the Department of Molecular Oncology:
This summer I choose to have an active vacation with a purpose, so I decided to bicycle the whole of Norway (up and down) to gather funds for the Norwegian Cancer Society ("Kreftforeningen") and to inspire people to discover on their own what Norway has to offer in amazingly diverse landscapes, culture, food, and last, but not least genuinely refreshing people with fascinating stories to tell.
I have made a webpage where the project is described with my personal story ("norskeomveier.no"). There is also a detailed travel route and links to daily updates on Instagram (account "norskeomveier") and Strava for exact travel routes, as well as live tracking via Glympse: https://www.norskeomveier.no/
I would sincerely appreciate if you find this interesting to follow, and hopefully inspiring and useful for your own travels. It would be great if you have a few bucks spare to support the cause and essential work done by Kreftforeningen: it is very easy, just use this link and Vips the money directly: https://innsamling.kreftforeningen.no/14471 (all the money goes to Kreftforeningen).

Finally, I would be more than happy to share tips and advice for travelling in Norway where I can, I have travelled quite a bit in Norway over the years, so do not hesitate to contact me either via this mail, jarlebruun@gmail.com or by phone (41234614).
---
Links:
Homepage for the project (in Norwegian):
Norske omveier: Sykler Norge Rundt for kreftsaken i sommer
About the project from the Kreftforeningen home page, with link to donate money:
Kreftforsker sykler Norge Rundt for kreftsaken
Jarle Bruun's research web site
Ragnhild A. Lothes "Genetics" research group
Department of Molecular Oncology