Mouldy Sioud editor of new Methods in Molecular Biology book: Harnessing RNA and CRISPR interferences for cancer therapy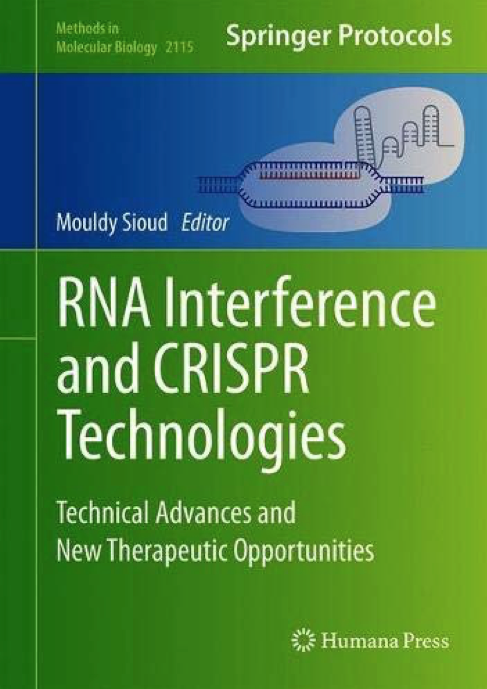 To regulate gene expression, two methods, RNA interference and CRISPR, have emerged as the most popular methods in the past few years. These two technologies have moved quickly from the lab to bedside.
For example, treatment of dendritic cells or T cells with small interfering RNAs targeting immune inhibitory molecules boosted the efficacy of dendritic cell cancer vaccines and T cell therapy. CRISPR-Cas9 gene editing was used to generate off-the-shelf universal gene-modified T cells for cancer immunotherapy.
Additionally, genome editing in human induced pluripotent stem cells (iPSCs) or hematopoietic stem cells generated gene-modified cells for use in basic research and therapy. By incorporating chemical modifications in the effector RNA molecules, off-target gene silencing and genome editing was significantly reduced or eliminated. High-fidelity Cas9 nucleases with no detectable genome-wide off-target effects were also engineered.
These technical advances offer an exciting array of opportunities for immune-cell engineering to ameliorate, and potentially cure, certain human diseases such as cancer.
The current book highlights the therapeutic opportunities of these two RNA-based technologies and provides an overview of strategies being pursued to improve specificity and efficacy.
Further information on this book can be found at Springer/Nature website: https://www.springer.com/gp/book/9781071602898.
---
Links:
Methods in Molecular Biology
RNA Interference and CRISPR Technologies
Technical Advances and New Therapeutic Opportunities
Editors: Sioud, Mouldy (Ed.)
Home page of Mouldy Sioud's "Immunomodulation and Targeted Therapies" research group