Award ceremony December 7th Oslo University Hospital awards 6 excellent articles for the first half-year of 2018
In order to stimulate excellent research and draw attention to the hospital's extensive research activity, Oslo University Hospital reward outstanding publications regularly.
Six research groups were awarded for their excellent papers published during the first half-year of 2018 on December 7th in the large auditorium at Ullevål sykehus. Each group received NOK 50.000 for use in further research. The prize winners gave short presentations of the main findings in their respective articles.
Every half-year, six of the very best papers authored by scientists working on the hospital (first or last author must be affiliated to OUS) are selected. The nomination takes place through the research panel of each division. The final selection process is performed by an external committee.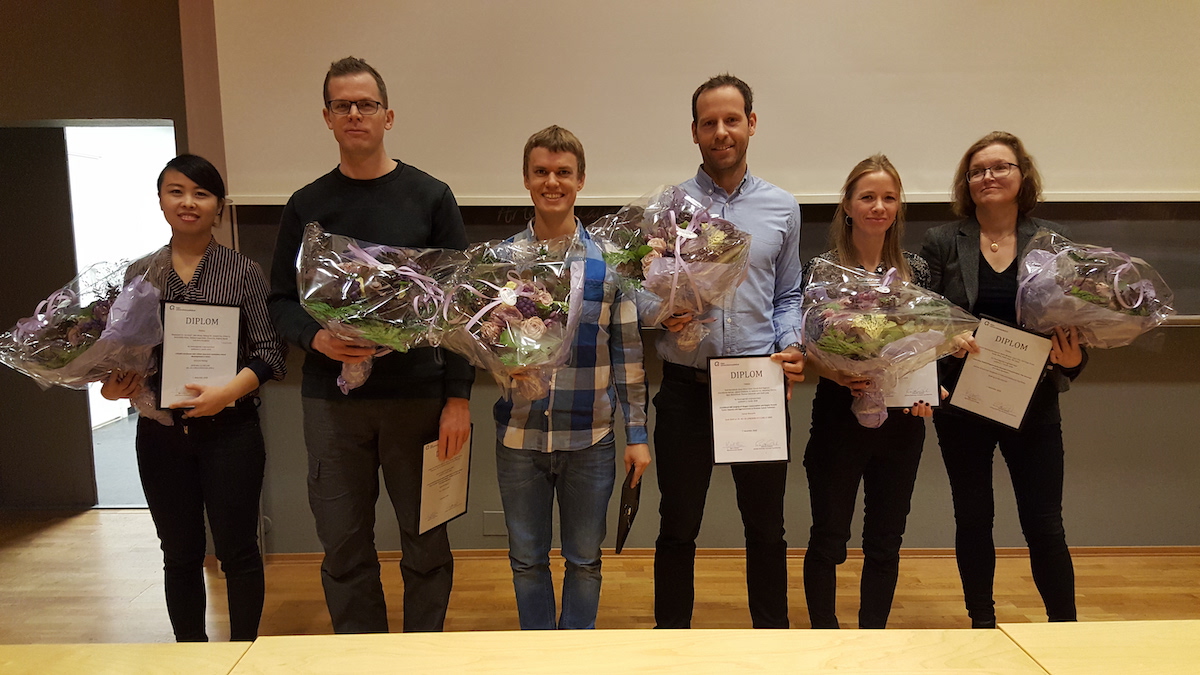 Each year around 2000 scientific papers from the hospital's researchers are published, and up to 25 of them are nominated twice a year. The six selected articles are of especially high quality, and they present important finding on both-short and long-term scales. The works reflect the good quality and the interdisciplinarity that characterises several research environments at Oslo University Hospital. The research is a fundamental condition for the institution to maintain and strenghten the quality in the patient treatment.
The half-yearly article award ceremony has become an important tradition that both presents a selection of the very best papers published at the hospital and at the same time acknowledges outstanding research milieus. The selected articles have been through a very thorough selection process and represent long-term work that is based on broad cooperation, both internally and internationally. The results presented in the articles are very important and will contribute to better understanding of various diseases and be of importance to future diagnosis and treatment. We are incredibly proud of the impressive quality and broad range of research at Oslo University Hospital, says Director of Research, Innovation and Education Erlend B. Smeland.
Popular science summaries of each of the articles (in Norwegian)
---
The award winners listed below are ranked equally:
---
Kristin Romvig Øvergaard et al., Child and Adolescent Mental Health Research Unit
Attention-Deficit/Hyperactivity Disorder in Preschoolers: The Accuracy of a Short Screener.
Øvergaard KR, Oerbeck B, Friis S, Pripp AH, Biele G, Aase H, Zeiner P.
J Am Acad Child Adolesc Psychiatry. 2018 Jun;57(6):428-435. doi: 10.1016/j.jaac.2018.03.008. Epub 2018 Apr 7.
PMID: 29859558
---
Magne Sand Sivertsen et al, Department of Ophthalmology
Pharmaceutical compounding of aflibercept in prefilled syringes does not affect structural integrity, stability or VEGF and Fc binding properties.
Sivertsen MS, Jørstad ØK, Grevys A, Foss S, Moe MC, Andersen JT.
Sci Rep. 2018 Feb 1;8(1):2101. doi: 10.1038/s41598-018-20525-8.
PMID: 29391560
---
Andreas Kleppe et al., Institute for Cancer Genetics and Informatics
Chromatin organisation and cancer prognosis: a pan-cancer study.
Kleppe A, Albregtsen F, Vlatkovic L, Pradhan M, Nielsen B, Hveem TS, Askautrud HA, Kristensen GB, Nesbakken A, Trovik J, Wæhre H, Tomlinson I, Shepherd NA, Novelli M, Kerr DJ, Danielsen HE.
Lancet Oncol. 2018 Mar;19(3):356-369. doi: 10.1016/S1470-2045(17)30899-9. Epub 2018 Feb 3.
PMID: 29402700
---
Miaomiao Li, Xu Zhao et al., Laboratory for Dynamic gene regulation (Arne Klungland's group)

Ythdf2-mediated m6A mRNA clearance modulates neural development in mice.
Li M, Zhao X, Wang W, Shi H, Pan Q, Lu Z, Perez SP, Suganthan R, He C, Bjørås M, Klungland A.
Genome Biol. 2018 May 31;19(1):69. doi: 10.1186/s13059-018-1436-y.
PMID: 29855337
---
Maria H. Mehlum et al., Stroke Research Group, Department of Geriatric Medicine
Blood pressure variability and risk of cardiovascular events and death in patients with hypertension and different baseline risks.
Mehlum MH, Liestøl K, Kjeldsen SE, Julius S, Hua TA, Rothwell PM, Mancia G, Parati G, Weber MA, Berge E.
Eur Heart J. 2018 Jun 21;39(24):2243-2251. doi: 10.1093/eurheartj/ehx760.
PMID: 29365085
---
Tord Hompland et al., Clinical Radiation Biology group (Heidi Lyng's group)

Combined MR Imaging of Oxygen Consumption and Supply Reveals Tumor Hypoxia and Aggressiveness in Prostate Cancer Patients.
Hompland T, Hole KH, Ragnum HB, Aarnes EK, Vlatkovic L, Lie AK, Patzke S, Brennhovd B, Seierstad T, Lyng H.
Cancer Res. 2018 Aug 15;78(16):4774-4785. doi: 10.1158/0008-5472.CAN-17-3806. Epub 2018 Jun 26.
PMID: 29945958
---
Popular science summaries of each of the articles (in Norwegian)
---
Link:
News article from oslo-universitetssykehus.no (in Norwegian)
Priser til halvårets fremragende forskningsartikler, våren 2018