The Anders Jahre Award for Young Scientists 2018 to Espen Melum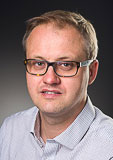 Anders Jahre's Awards for Medical Research honor research of outstanding quality in basic and clinical medicine. The prizes are awarded by the University of Oslo and are among the largest within Nordic biomedical research.
Espen Melum is the 2018 receipient of the Anders Jahre's medical award to young researchers for his work on primary sclerosing cholangitis (PSC). He shares the prize with Martin Roelsgaard Jakobsen, Århus University.
The prize ceremony takes place on Thursday 11th of October at 18 hrs in the University aula at Karl Johans gate, while the Jahre lectures are held on Wednesday 10th of October at 14 hrs at Domus Medica.