Work from Bjørås' group published in "Cell Report"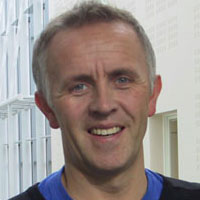 An article from Magnar Bjørås' "Cellular responses to DNA damage" group at the Department of Microbiology has recently (December 29th) been published in "Cell Report" (journal impact factor 8.4).
The paper is entitled "Synergistic Actions of Ogg1 and Mutyh DNA Glycosylases Modulate Anxiety-like Behavior in Mice". Monica D. Bjørge, Gunn A. Hildrestrand and Katja Scheffler are co-first authors, while Bjørås (photo) is senior author.
Links:
Synergistic Actions of Ogg1 and Mutyh DNA Glycosylases Modulate Anxiety-like Behavior in Mice
Monica D. Bjørge, Gunn A. Hildrestrand, Katja Scheffler, Rajikala Suganthan, Veslemøy Rolseth, Anna Kuśnierczyk, Alexander D. Rowe, Cathrine B. Vågbø, Susanne Vetlesen, Lars Eide, Geir Slupphaug, Yusaku Nakabeppu, Timothy W. Bredy, Arne Klungland, Magnar Bjørås
Cell Reports, Volume 13, Issue 12, p2671–2678, 29 December 2015
DOI: http://dx.doi.org/10.1016/j.celrep.2015.12.001
Home page of Magnar Bjørås' group - Cellular responses to DNA damage