Official opening of the KG Jebsen Colorectal Cancer Research Centre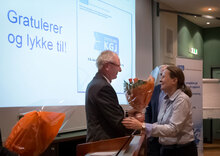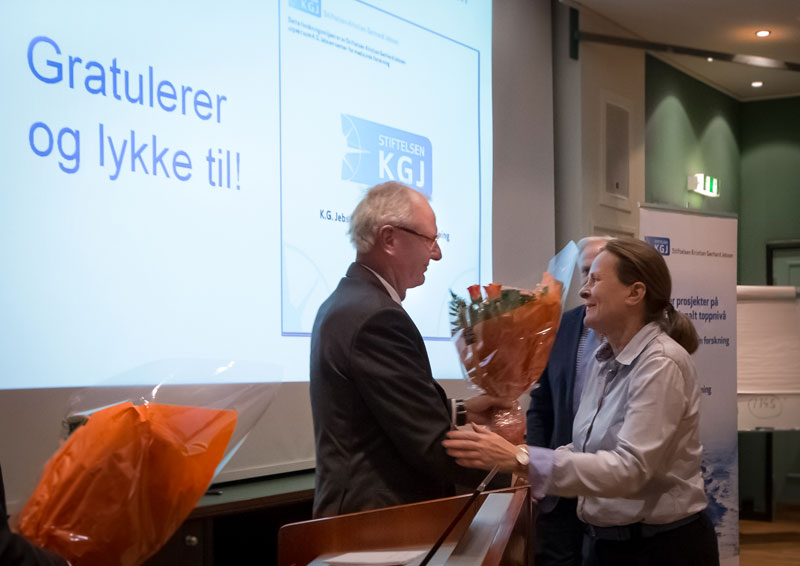 The K.G. Jebsen Colorectal Cancer Research Centre was recently officially opened by the chair of the Jebsen Foundation's board of directors, Hans Peter Jebsen. Prof. Ragnhild A. Lothe will lead the Centre together with the interdisciplinary PI team consisting of Prof. Michael Bretthauer (gastroenterologist), Prof. Arild Nesbakken (surgeon), Prof. Kjell Tveit (oncologist) and ass. Prof. Rolf I. Skotheim (bioinformatician).

This is the only Jebsen Centre in Oslo that has Oslo University Hospital as its main host institution. Prof. Sigbjørn Smeland, head of the hosting Division of Cancer, Surgery and Transplantation, said in his talk that the Centre was an excellent example of how to organise and succeed in translational research within a Comprehensive Cancer Centre.
The event was held at Holmenkollen Park Hotel for all the members of the new Centre as well as invited guests. Present from the board of directors of the Foundation were also Birger Magnus and Borger Lenth, as well as the general manager of the Foundation, Kåre Rommetveit, who presented the Foundation's strategy for supporting medical research.

The rector of the University of Oslo, Prof. Ole Petter Ottersen, underlined the many challenges in building real integrated research among disciplines, but also the necessity of doing so to combat global health challenges such as colorectal cancer, a disease which kills seven hundred thousand individuals annually.

The Centre addresses both early detection strategies and novel treatment strategies, and got off to a flying start with the article published by the Bretthauer group in the NEJM on the same day.

The Centre's guest lecturer for the day, Prof. Hans Olav Adami from Harvard, presented his ideas on why Harvard is ranked as a world leading institution of research and which factors we need to address in Scandinavia. Among others, he pointed out the importance of using the strength that lies in the public health system.

The director of Research and Innovation of the South-Eastern Norway Regional Health Authority, John Torgils Vaage, congratulated on the opening of the Centre and explained that excellent clinical research argued strongly for prioritization of increased research funding from the Health Authority.
Interdisciplinary research teams:
The five principal investigators (PIs) of the centre - Michael Bretthauer (gastroenterologist), Arild Nesbakken (surgeon), Rolf I. Skotheim (bioinformatician), Kjell Magne Tveit (oncologist) and Ragnhild A. Lothe (geneticist) presented their research groups. (click to enlarge images)
More photos from the cermony: (click to enlarge images)

| | |
| --- | --- |
| | |
| The KG Jebsen Colorectal Cancer Research Centre is the first centre hosted by Oslo University Hospital. From left: Hans Peter Jebsen, Sigbjørn Smeland and Ragnhild A. Lothe | Kåre Rommetveit - general manager of the KG Jebsen foundation. |
| | |
| | |
| Guest lecturer Professor Hans Olov Adami from Harvard School of Public Health, Karolinska Instituttet and University of Oslo in the audience | Another audience photo with prominent listeners. |
Links
News article from Norwegian web sites:
Oslo University Hospital: Nytt forskningssenter for tarmkreft ved OUS
Uniforum: Åpnet nytt senter for tarmkreft
UiO, Institutt for klinisk medisin: Åpnet nytt Jebsen-senter for tarmkreft