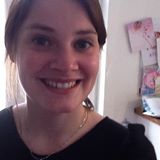 Maria Moksnes Bjaanæs
Molecular characterisation of lung adenocarcinomas. Microarray analyses on miRNA, mRNA, DNA and methylation. Difference between EGFR-mutated and EGFR wild type tumours.
Publications 2020
Chen C, Wei Y, Wei L, Chen J, Chen X, Dong X, He J, Lin L, Zhu Y, Huang H, You D, Lai L, Shen S, Duan W, Su L, Shafer A, Fleischer T, Bjaanæs MM, Karlsson A, Planck M, Wang R, Staaf J, Helland Å, Esteller M, Zhang R et al. (2020)
Epigenome-wide gene-age interaction analysis reveals reversed effects of PRODH DNA methylation on survival between young and elderly early-stage NSCLC patients
Aging (Albany NY), 12 (11), 10642-10662
DOI 10.18632/aging.103284, PubMed 32511103
Ji XY, Lin LJ, Shen SP, Dong XS, Chen C, Li Y, Zhu Y, Huang H, Chen JJ, Chen X, Wei LM, He JY, Duan WW, Su L, Jiang Y, Fan JJ, Guan JX, You DF, Shafer A, Bjaanaes MM, Karlsson A, Planck M, Staaf J, Helland A, Esteller M et al. (2020)
Epigenetic-smoking interaction reveals histologically heterogeneous effects ofTRIM27DNA methylation on overall survival among early-stage NSCLC patients
Mol. Oncol.
Publications 2019
Dong X, Zhang R, He J, Lai L, Alolga RN, Shen S, Zhu Y, You D, Lin L, Chen C, Zhao Y, Duan W, Su L, Shafer A, Salama M, Fleischer T, Bjaanæs MM, Karlsson A, Planck M, Wang R, Staaf J, Helland Å, Esteller M, Wei Y, Chen F et al. (2019)
Trans-omics biomarker model improves prognostic prediction accuracy for early-stage lung adenocarcinoma
Aging (Albany NY), 11 (16), 6312-6335
DOI 10.18632/aging.102189, PubMed 31434796
Shao B, Bjaanæs MM, Helland Å, Schütte C, Conrad T (2019)
EMT network-based feature selection improves prognosis prediction in lung adenocarcinoma
PLoS One, 14 (1), e0204186
DOI 10.1371/journal.pone.0204186, PubMed 30703089
Zhang R, Lai L, Dong X, He J, You D, Chen C, Lin L, Zhu Y, Huang H, Shen S, Wei L, Chen X, Guo Y, Liu L, Su L, Shafer A, Moran S, Fleischer T, Bjaanaes MM, Karlsson A, Planck M, Staaf J, Helland Å, Esteller M, Wei Y et al. (2019)
SIPA1L3 methylation modifies the benefit of smoking cessation on lung adenocarcinoma survival: an epigenomic-smoking interaction analysis
Mol Oncol, 13 (5), 1235-1248
DOI 10.1002/1878-0261.12482, PubMed 30924596
Zhang R, Lai L, He J, Chen C, You D, Duan W, Dong X, Zhu Y, Lin L, Shen S, Guo Y, Su L, Shafer A, Moran S, Fleischer T, Bjaanæs MM, Karlsson A, Planck M, Staaf J, Helland Å, Esteller M, Wei Y, Chen F, Christiani DC (2019)
EGLN2 DNA methylation and expression interact with HIF1A to affect survival of early-stage NSCLC
Epigenetics, 14 (2), 118-129
DOI 10.1080/15592294.2019.1573066, PubMed 30665327
Publications 2018
Guo Y, Zhang R, Shen S, Wei Y, Salama SM, Fleischer T, Bjaanæs MM, Karlsson A, Planck M, Su L, Zhu Z, Staaf J, Helland Å, Esteller M, Christiani DC (2018)
DNA Methylation of LRRC3B: A Biomarker for Survival of Early-Stage Non-Small Cell Lung Cancer Patients
Cancer Epidemiol Biomarkers Prev, 27 (12), 1527-1535
DOI 10.1158/1055-9965.EPI-18-0454, PubMed 30185536
Shen S, Zhang R, Guo Y, Loehrer E, Wei Y, Zhu Y, Yuan Q, Moran S, Fleischer T, Bjaanaes MM, Karlsson A, Planck M, Staaf J, Helland Å, Esteller M, Su L, Chen F, Christiani DC (2018)
A multi-omic study reveals BTG2 as a reliable prognostic marker for early-stage non-small cell lung cancer
Mol Oncol, 12 (6), 913-924
DOI 10.1002/1878-0261.12204, PubMed 29656435
Wei Y, Liang J, Zhang R, Guo Y, Shen S, Su L, Lin X, Moran S, Helland Å, Bjaanæs MM, Karlsson A, Planck M, Esteller M, Fleischer T, Staaf J, Zhao Y, Chen F, Christiani DC (2018)
Epigenetic modifications in KDM lysine demethylases associate with survival of early-stage NSCLC
Clin Epigenetics, 10, 41
DOI 10.1186/s13148-018-0474-3, PubMed 29619118
Publications 2016
Eide HA, Halvorsen AR, Bjaanæs MM, Piri H, Holm R, Solberg S, Jørgensen L, Brustugun OT, Kiserud CE, Helland Å (2016)
The MYCN-HMGA2-CDKN2A pathway in non-small cell lung carcinoma--differences in histological subtypes
BMC Cancer, 16, 71
DOI 10.1186/s12885-016-2104-9, PubMed 26858029
Halvorsen AR, Bjaanæs M, LeBlanc M, Holm AM, Bolstad N, Rubio L, Peñalver JC, Cervera J, Mojarrieta JC, López-Guerrero JA, Brustugun OT, Helland Å (2016)
A unique set of 6 circulating microRNAs for early detection of non-small cell lung cancer
Oncotarget, 7 (24), 37250-37259
DOI 10.18632/oncotarget.9363, PubMed 27191990
Publications 2015
Bjaanæs MM, Fleischer T, Halvorsen AR, Daunay A, Busato F, Solberg S, Jørgensen L, Kure E, Edvardsen H, Børresen-Dale AL, Brustugun OT, Tost J, Kristensen V, Helland Å (2015)
Genome-wide DNA methylation analyses in lung adenocarcinomas: Association with EGFR, KRAS and TP53 mutation status, gene expression and prognosis
Mol Oncol, 10 (2), 330-43
DOI 10.1016/j.molonc.2015.10.021, PubMed 26601720
Publications 2014
Bjaanaes MM, Halvorsen AR, Solberg S, Jørgensen L, Dragani TA, Galvan A, Colombo F, Anderlini M, Pastorino U, Kure E, Børresen-Dale AL, Brustugun OT, Helland A (2014)
Unique microRNA-profiles in EGFR-mutated lung adenocarcinomas
Int J Cancer, 135 (8), 1812-21
DOI 10.1002/ijc.28828, PubMed 24599520