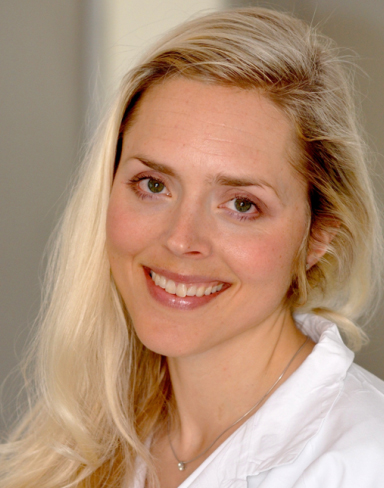 Marit Kristine Smedsrud
Consultant paediatric cardiologist, postdoctoral fellow; MD, PhD
+47 23 02 84 84
Marit Kristine Smedsrud MD, PhD is a consultant paediatric cardiologist at the Department of Paediatric Cardiology at Oslo University Hospital, Rikshospitalet and Postdoctoral fellow at ProCardio. Smedsrud got her medical degree from University of Oslo in 2006 and she did her internship at Molde Hospital.
In 2013 she defended her PhD thesis entitled "Assessment of incipient global myocardial dysfunction by speckle tracking echocardiography. Clinical studies with emphasis on patients with stable coronary artery disease and patients with chronic aortic regurgitation". Her supervisors were Professor Thor Edvardsen and Professor Otto Smiseth.
Smedsrud is a specialist in paediatrics and in paediatric cardiology. Her research is focused on children with genetic cardiac diseases.
Dr. Smedsrud was awarded with the Marie Spångberg Prize for the most valuable scientific original article written by a Norwegian female doctor in 2022 for her work on children with arrhythmogenic right ventricular cardiomyopathy. She did also receive the Oslo University Hospital prize for outstanding research article. The awarded article, «Highly malignant disease in childhood-onset arrhythmogenic right ventricular cardiomyopathy», was published in European Heart Journal.
Publications 2023
Forså MI, Bjerring AW, Haugaa KH, Smedsrud MK, Sarvari SI, Landgraff HW, Hallén J, Edvardsen T (2023)
Young athlete's growing heart: sex differences in cardiac adaptation to exercise training during adolescence
Open Heart, 10 (1)
DOI 10.1136/openhrt-2022-002155, PubMed 36596623
Publications 2022
Smedsrud MK, Chivulescu M, Forså MI, Castrini I, Aabel EW, Rootwelt-Norberg C, Bogsrud MP, Edvardsen T, Hasselberg NE, Früh A, Haugaa KH (2022)
Highly malignant disease in childhood-onset arrhythmogenic right ventricular cardiomyopathy
Eur Heart J, 43 (45), 4694-4703
DOI 10.1093/eurheartj/ehac485, PubMed 36036653
Publications 2019
Kvisvik B, Aagaard EN, Mørkrid L, Røsjø H, Lyngbakken M, Smedsrud MK, Eek C, Bendz B, Haugaa KH, Edvardsen T, Gravning J (2019)
Mechanical dispersion as a marker of left ventricular dysfunction and prognosis in stable coronary artery disease
Int J Cardiovasc Imaging, 35 (7), 1265-1275
DOI 10.1007/s10554-019-01583-z, PubMed 31165941
Publications 2018
Stokke TM, Hasselberg NE, Smedsrud MK, Sarvari SI, Haugaa KH, Smiseth OA, Edvardsen T, Remme EW (2018)
Reply: Interaction Between Longitudinal, Circumferential, and Radial Deformations and Their Contributions to Ejection Fraction
J Am Coll Cardiol, 71 (2), 257-258
DOI 10.1016/j.jacc.2017.10.090, PubMed 29325649
Publications 2017
Nestaas E, Shih JY, Smedsrud MK, Gjesdal O, Hopp E, Haugaa KH, Edvardsen T (2017)
Comparison of Electrocardiography Markers and Speckle Tracking Echocardiography for Assessment of Left Ventricular Myocardial Scar Burden in Patients With Previous Myocardial Infarction
Am J Cardiol, 119 (9), 1307-1312
DOI 10.1016/j.amjcard.2017.01.020, PubMed 28274572
Stokke TM, Hasselberg NE, Smedsrud MK, Sarvari SI, Haugaa KH, Smiseth OA, Edvardsen T, Remme EW (2017)
Geometry as a Confounder When Assessing Ventricular Systolic Function: Comparison Between Ejection Fraction and Strain
J Am Coll Cardiol, 70 (8), 942-954
DOI 10.1016/j.jacc.2017.06.046, PubMed 28818204
Publications 2015
Smedsrud MK, Gravning J, Omland T, Eek C, Mørkrid L, Skulstad H, Aaberge L, Bendz B, Kjekshus J, Edvardsen T (2015)
Sensitive cardiac troponins and N-terminal pro-B-type natriuretic peptide in stable coronary artery disease: correlation with left ventricular function as assessed by myocardial strain
Int J Cardiovasc Imaging, 31 (5), 967-73
DOI 10.1007/s10554-015-0646-6, PubMed 25788439
Publications 2013
Gravning J, Smedsrud MK, Omland T, Eek C, Skulstad H, Aaberge L, Bendz B, Kjekshus J, Mørkrid L, Edvardsen T (2013)
Sensitive troponin assays and N-terminal pro-B-type natriuretic peptide in acute coronary syndrome: prediction of significant coronary lesions and long-term prognosis
Am Heart J, 165 (5), 716-24
DOI 10.1016/j.ahj.2013.02.008, PubMed 23622908
Zahid W, Johnson J, Westholm C, Eek CH, Haugaa KH, Smedsrud MK, Skulstad H, Fosse E, Winter R, Edvardsen T (2013)
Mitral annular displacement by Doppler tissue imaging may identify coronary occlusion and predict mortality in patients with non-ST-elevation myocardial infarction
J Am Soc Echocardiogr, 26 (8), 875-84
DOI 10.1016/j.echo.2013.05.011, PubMed 23791116
Publications 2012
Smedsrud MK, Sarvari S, Haugaa KH, Gjesdal O, Ørn S, Aaberge L, Smiseth OA, Edvardsen T (2012)
Duration of myocardial early systolic lengthening predicts the presence of significant coronary artery disease
J Am Coll Cardiol, 60 (12), 1086-93
DOI 10.1016/j.jacc.2012.06.022, PubMed 22939559
Publications 2011
Smedsrud MK, Pettersen E, Gjesdal O, Svennevig JL, Andersen K, Ihlen H, Edvardsen T (2011)
Detection of left ventricular dysfunction by global longitudinal systolic strain in patients with chronic aortic regurgitation
J Am Soc Echocardiogr, 24 (11), 1253-9
DOI 10.1016/j.echo.2011.08.003, PubMed 21908174
Publications 2010
Haugaa KH, Smedsrud MK, Steen T, Kongsgaard E, Loennechen JP, Skjaerpe T, Voigt JU, Willems R, Smith G, Smiseth OA, Amlie JP, Edvardsen T (2010)
Mechanical dispersion assessed by myocardial strain in patients after myocardial infarction for risk prediction of ventricular arrhythmia
JACC Cardiovasc Imaging, 3 (3), 247-56
DOI 10.1016/j.jcmg.2009.11.012, PubMed 20223421
Publications 2005
Smedsrud MK, Hem E, Ekeberg Ø (2005)
[Psychological intervention after trauma--does it work?]
Tidsskr Nor Laegeforen, 125 (13), 1828-30
PubMed 16012553